Care. It's the single word that sums up our recent stay at Banyan Tree Bangkok.
Arriving mid afternoon, after a long taxi ride that has left me drowsy with all the stopping and starting in Bangkok's seemingly endless stream of bumper to bumper traffic, my first contact with the Banyan Tree team comes before I've even unclipped my seatbelt. Boot is lifted, luggage is out, door is open and someone is checking that I've left nothing on the seat in the back of the cab. A brigade of smiles, accompanied by palms pressed together, slight bows of the head and a chorus of "sawatdi khrap," greets me as my first foot hits the pavement. I'm whisked up to the 19th floor for Serenity Club Room check-in, seated on a lounge, served a chilled and scented moist towel and refreshing beverage made from the Thai butterfly pea, and even though I was on the street mere minutes ago, the outside world has faded to nothing but a faded recollection.   
Passport handed over, papers signed, I'm informed it's afternoon tea time in the lounge and asked if I'd like to go directly to the room or enjoy a cup of coffee and perhaps a sweet treat before I settle in. Caffeine; finger sandwiches; a seat by the window; and a further opportunity to be pampered: You know what I choose.
The Serenity Club Lounge is bordered by floor to ceiling windows elegantly dressed with amber and beige curtains, furnished with Thai fabric upholstered chairs and marble topped tables given a splash of colour with vases of red orchids at every setting. Recessed baffle lighting and table lamps enhance the room with a warm glow.  It's here where clubroom guests can enjoy a light buffet breakfast, non-alcoholic beverages throughout the day, afternoon tea, and evening cocktails. Bathing in the sunlight streaming through my window-side table, pleasantly fresh with soft air-conditioning, and non-stop service throughout the day, I find it a comfortable place to catch up on writing during my stay – and a fabulous distraction at sunset with a glass of bubbly and a cheese plate.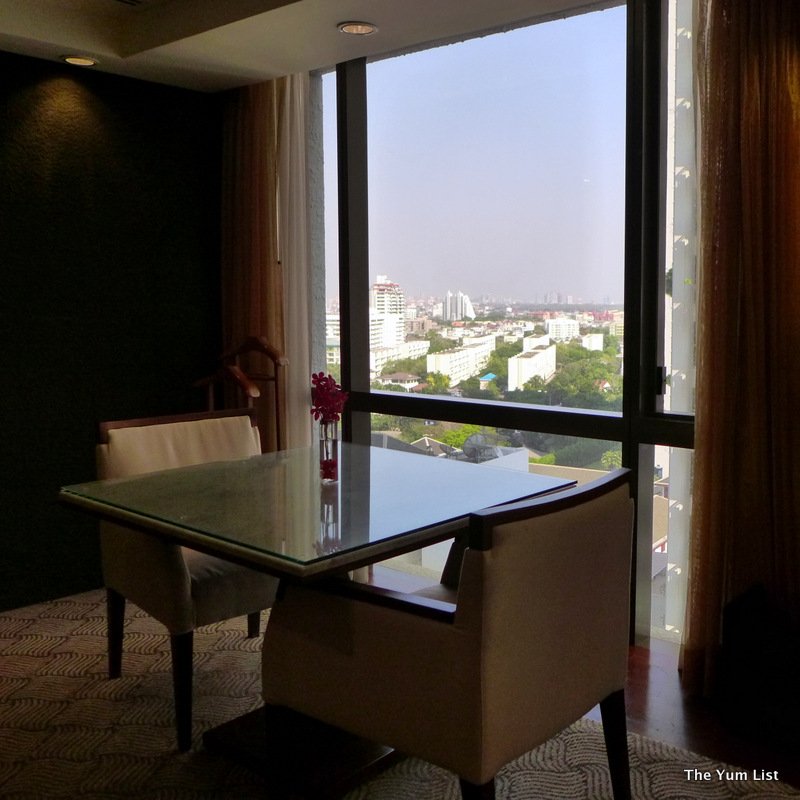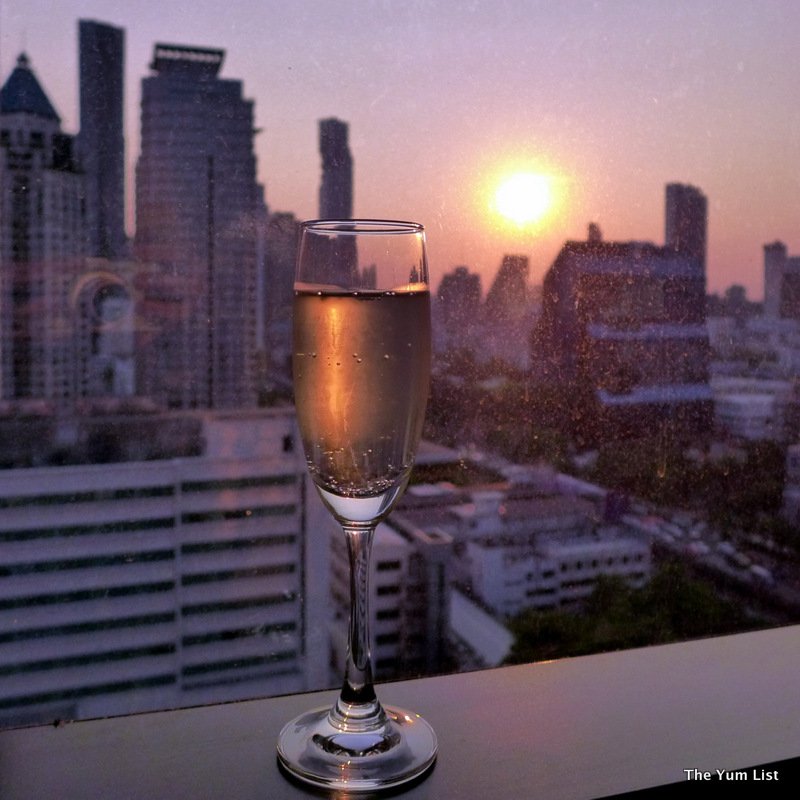 Serenity Club Room guests are also entitled to two pieces of laundry per day, priority use of a duo of dedicated spa treatment rooms on the 19th floor (and a spa visit is a must at the Banyan Tree – they are the leaders in spa therapies around the world), complimentary Wi-Fi, and use of the business centre and meeting rooms subject to availability and abiding to specified time limits. Even the laundry indicates a true sense of care. Not only is it returned neatly folded as instructed, but is accompanied by a note, an orchid and small bag of potpourri.
Stimulated by the period of relaxation and refreshments I finally totter off to find my room. Well-tended to again, I'm chaperoned to the 56th floor and given a tour pointing out air-conditioning controls, service switches and so on. Aromatherapy oil and incense burner are supplied, with scents changing daily, and my lovely attendant shares a pamphlet naming each aroma and its benefit. The bathtub includes not only bath salts, but a choice of bubbly bath foam and bath oil too! The reusable glass water bottles are covered with Banyan Tree signature fabric, and bathrobes and matching slippers carry the same black and white design.
The interior has the appeal of a newly refurbished space. While keeping to the stylish Thai theme, it's much brighter and lighter than what I expected based on the dark wooden finishings of the lobby and main entrance.
The immediate attention grabber however is the magnificent view. Large windows overlook the city's rooftops, out to the Chao Phraya River, and further beyond to greater Bangkok. The panorama morphs with the change of light: from early morning gentle awakenings, to a striking midday glare, unfolding to a warm afternoon glow, and climaxing with a magical display of twinkling lights in the evening.
Our studio style room contains a lounge area, dedicated working space, mini-bar, entertainment cabinet and a gorgeously headed bed with a Thai art piece above the headboard. A bathtub, glass walled shower and dual tapped sink are accompanied by the closet and storage space in the well-used space of the bathroom.
I'm delighted to find power sockets everywhere: by the bed, by the desk, by the lounge, in the bathroom. There will be no negotiating with hubby about whose work is more important, or who should have remembered to charge their batteries earlier on this trip (i.e. if hubby has thought to bring his own chargers and not rely on mine). And, while on the subject of forgetting things, Guest Services must have seen a few men like my own husband more times than they care to count, as they provide a whole list of supplies for the forgetful male. Yes, 'male.' The list: polo shirt; trousers; shorts; socks; neck tie; mobile phone charger; cufflinks; belt; sandals; cap. I'll say no more.
The shower is high-pressured with instant hot water. The bed is sumptuously cloud-like, and robust black-out curtains ensure a sound night's sleep – although I'm tempted not to draw the drapes, as falling asleep counting glittering rooftops would be much more dream inspiring than counting sheep.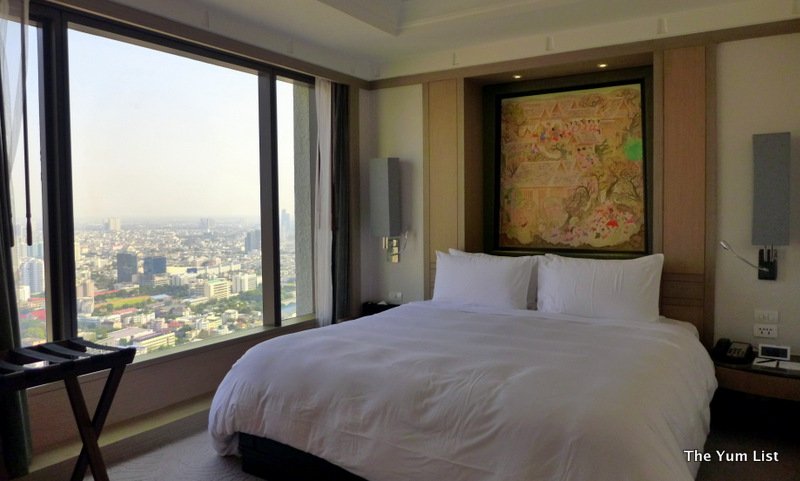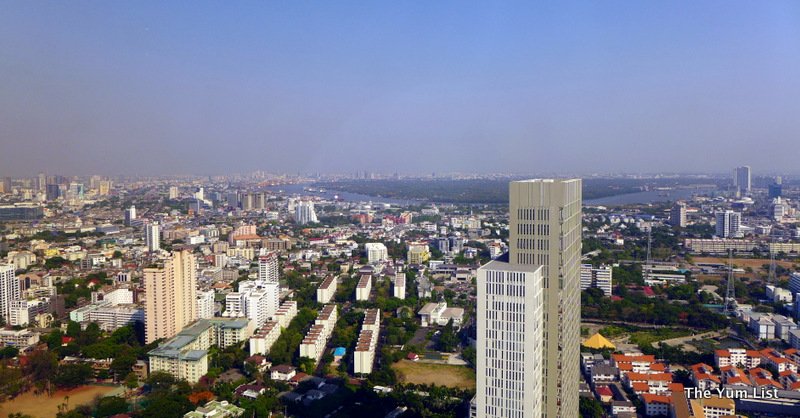 As I wander the hotel capturing photos for my blog I'm consistently met with warm-hearted smiles and offers of assistance. I have the feeling that if requested, any one of the staff members would graciously keep me company on my self-guided tour.
Facilities are fabulous. Truly. Hotels like this make it difficult to leave to explore the city, as there's so much to discover within the property itself – and it would appear that every space is designed to present mind-blowing vistas of the city.
A compact yet charmingly designed outdoor pool sits on the 20th floor. I note the bar is well used with waiters in continuous stream up and down the stairs, balancing trays of cocktails and snacks in delivery to well-indulged pool loungers.
The floor is shared with a well-provisioned gym, a boutique vending luxurious Banyan Tree labeled products, jewelry and clothing, and the world-renowned Banyan Tree Spa. If you visit one spa in your life – make it one by the Banyan Tree. The group is the leader, not only in luxurious pampering treatments, but too in training. Spa therapists from around the world visit their training ground in Phuket for the ultimate in relaxation education.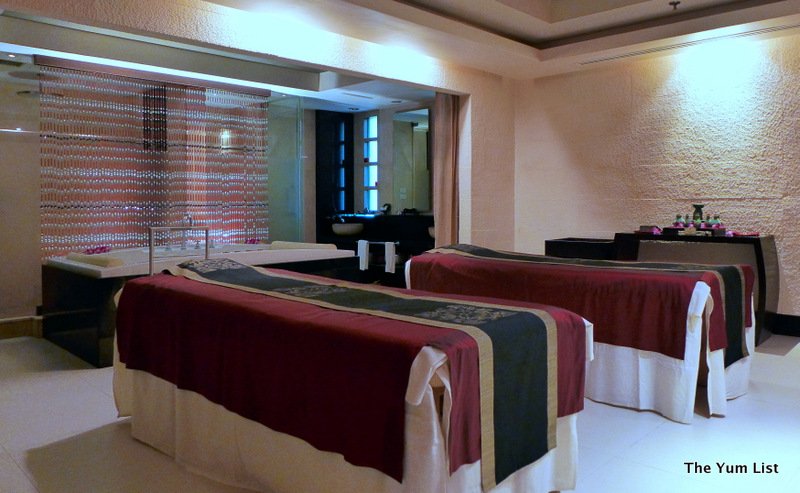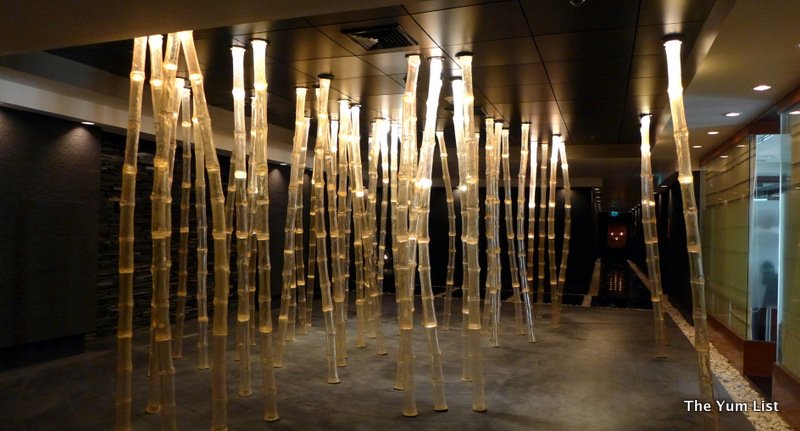 Food glorious food is another highlight of the Banyan Tree experience. The lobby comprises a lounge and all-day-dining restaurant, walled by glass overlooking a lush tropical garden and water feature. Sitting here, we feel miles away from the city centre. The greenscape is an invigorating way to begin the day.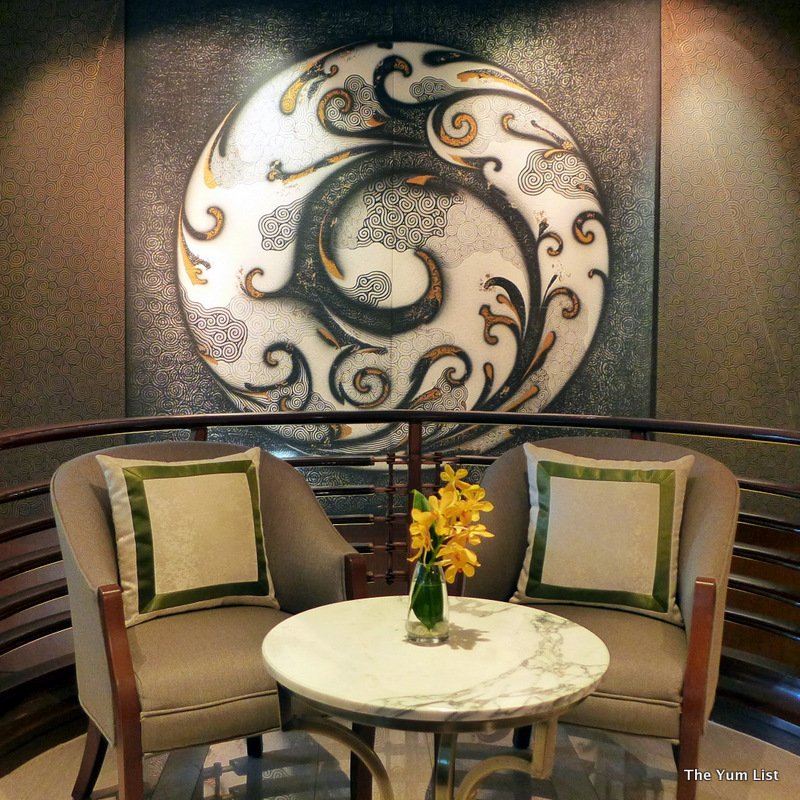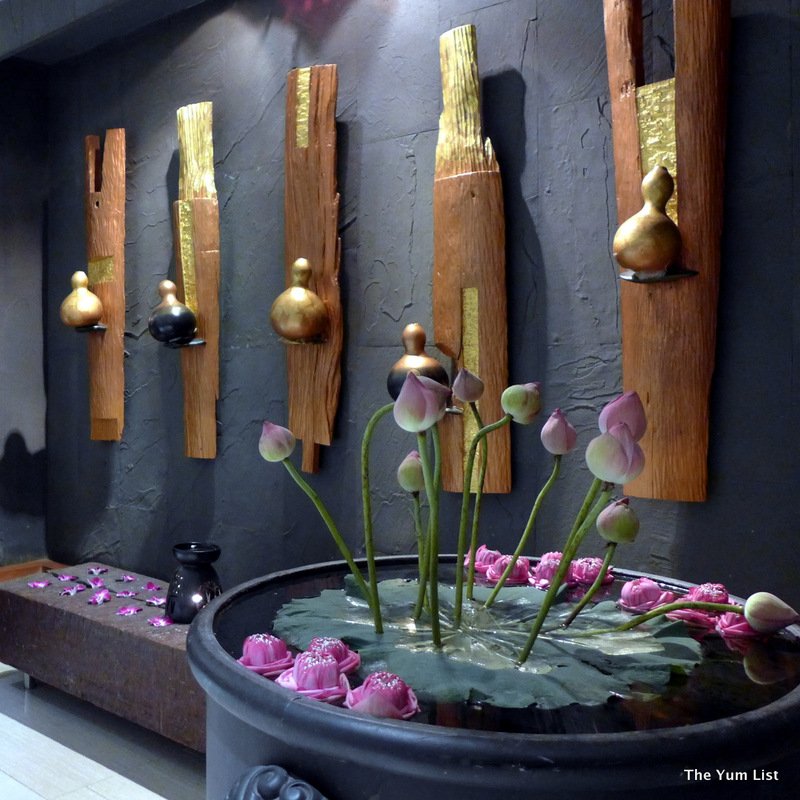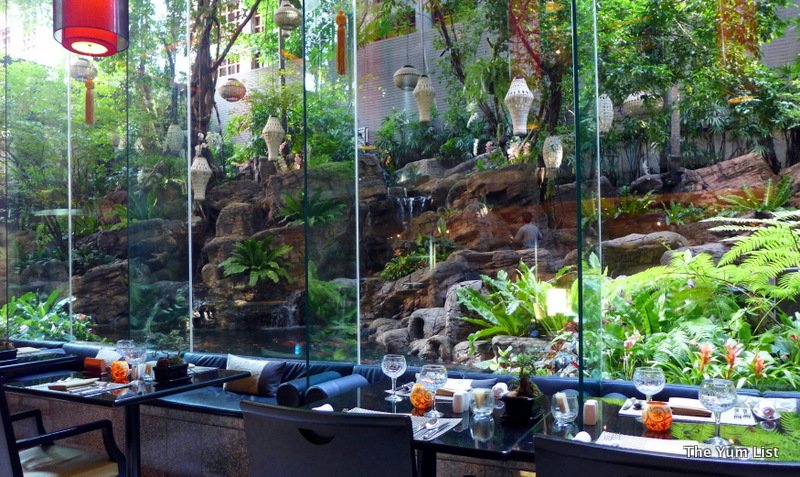 As the sun fades however, the rooftop floors are the place to be. Chinese, Japanese, Thai and international cuisine are each assigned uniquely designed outlets – with spectacular views a common theme.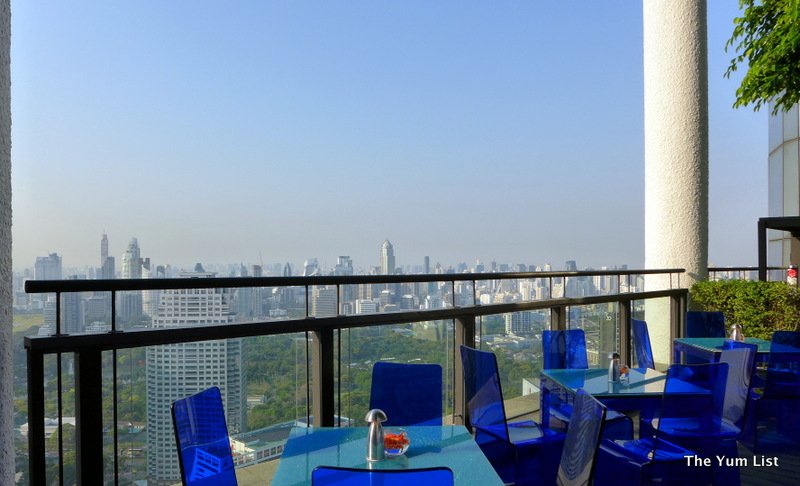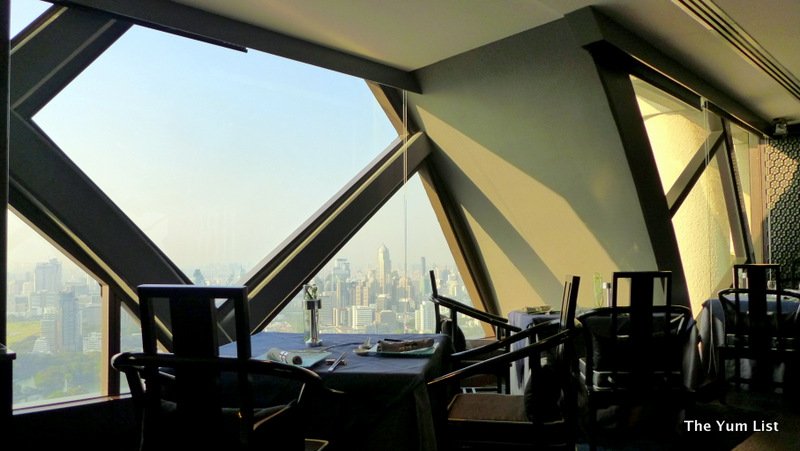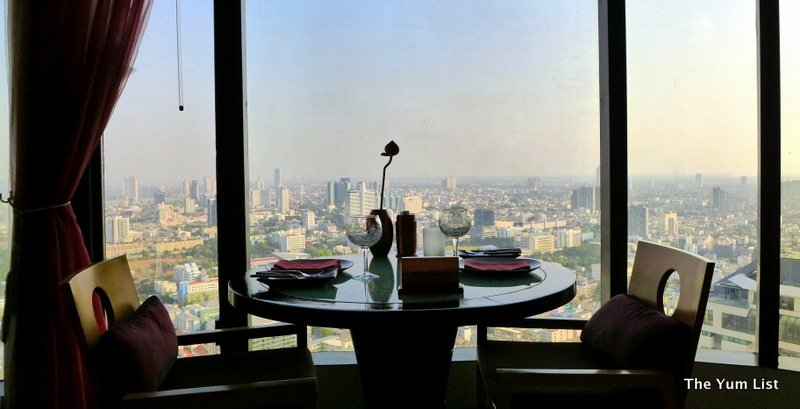 Perhaps the most popular however, is Vertigo and Moon Bar, the al fresco restaurant and bar on the rooftop. Google any "best rooftop bars in Bangkok" list and these two are bound to come out in the top five. Follow this link to see more.
A newbie on the scene is Vertigo TOO providing a sublime, weather-proof adventure one floor from the rooftop. Taking full advantage of the arched architecture the space is walled with glass with curved beams generating an incredibly interesting pad for dining and entertainment. No worries here if the skies play foul, as it's equipped with its own canopy of lights mimicking a starry night. Follow us here to find details of the menu, our personal recommendations and prices.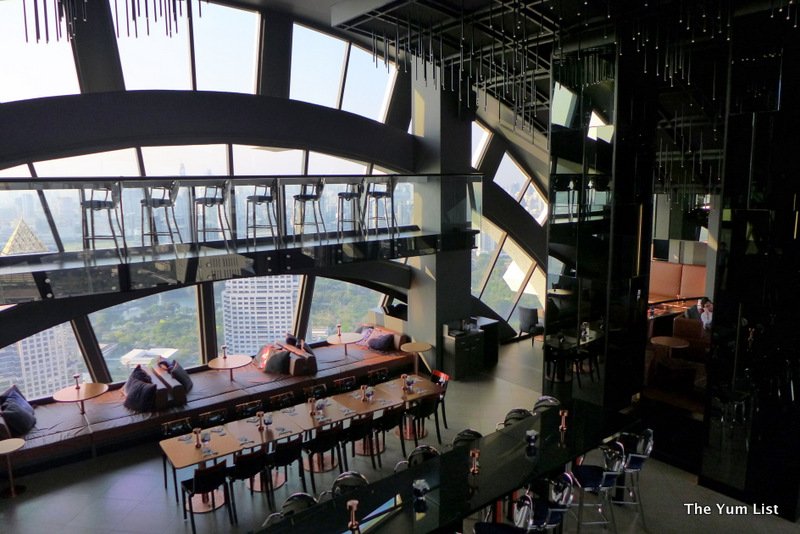 Querying the details of our departure flight, staff have arranged a late check-out and booked a taxi for our outward journey. They've done a personal sweep of the room ensuring nothing has been left in the safe, all of our belongings are safely with us, and our luggage has been swept away leaving us nothing to do, but bid a fond farewell.
We've been so warmly cared for over the duration of our stay that we have to make a conscious effort to reacquaint ourselves with our surroundings and be responsible once again for life.
Goodbye Banyan Tree. Once again you've provided a dreamy escape, and once more we can't wait to return.
Reasons to visit: light bright refurbished rooms; a must-visit spa; incredible views from all dining outlets; warm care and gracious service of the Banyan Tree team.
Banyan Tree Bangkok
21/100 South Sathon Road
Sathon
Bangkok 10120
Thailand
+66 (0) 2679 1200
[email protected]
www.banyantree.com/en/ap-thailand-bangkok