The sun is on its decent as we take our lounge seat by the window at Vertigo TOO. Tan leather seats and deep lavender cushions glow as the fingertips of the last rays of sunshine reach into our space. DJ music bounces off the black structures, and lines of golden light furnish a spritz of glamour to the setting. Further pizzazz is designated with a ceiling of twinkling lights resembling stars and assuring a night of sparkle even when the sky misbehaves.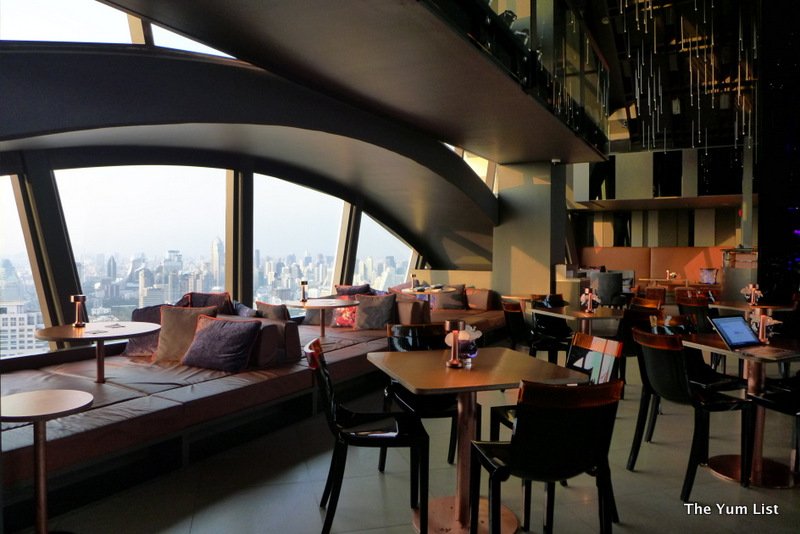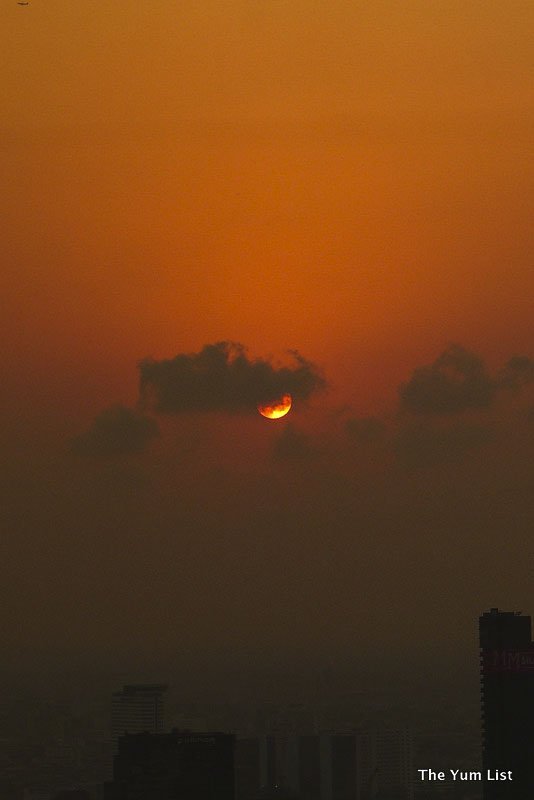 Vertigo TOO is the Banyan Tree Bangkok's latest food and beverage outlet. One floor below the famous Moon Bar and Vertigo, Vertigo TOO is an extremely hip all-weather addition. While the upstairs al fresco scene is a hotspot for tourists, this location is in vogue with both trendsetting locals and chic expats and visitors alike.
We begin with an award winning cocktail, The Haole (420). This Bacardi Legacy Thailand prize cocktail consists of Bacardi Rum, Bianco Vermouth, pineapple, lemon and ginger ale. We can see why it's a winner: the mixologist has achieved that fine balance of elegantly see-sawing the ingredients allowing each to contribute to the overall flavour profile, while ensure no single component dominates.
You know we love our rum, so a mix featuring the local version of the spirit is next on our order. Sling on 60 (450) combines kaffir lime, Lamoon Lamai rum, Maekhong rum, lychee lime and soda. Served in a hi-ball glass over crushed ice, it's fruity and refreshing.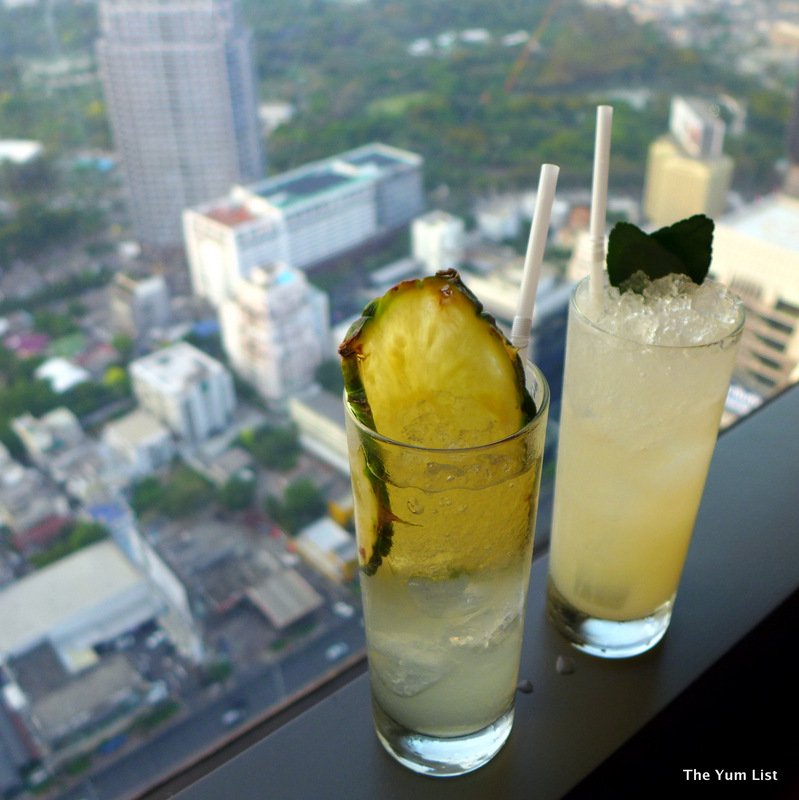 And well, you're also aware of our Latin American connection so when we catch Venezuelan Diplomatico Anejo rum on the menu, it must too be requested. This cocktail, White Chai (470) accompanies hubby's pride and joy with DOM Benedictine, homemade chai, cream and the frothed white of a quail egg. Que rico!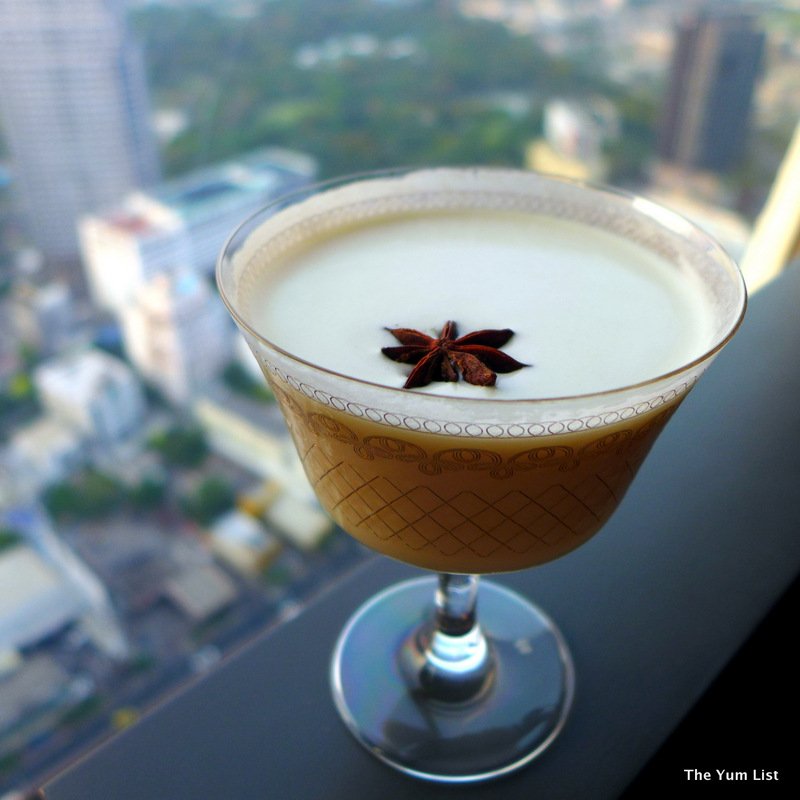 I love the simplicity of the glow-in-the-dark folder menu. Front page sets the scene with some Trendsetter cocktails and mocktails. The first page opens up to a page of spirits and beers. The middle is an uncomplicated selection of cold, hot and sweet dishes, and the back pages end the booklet with a carefully chosen wine list.
At first glance, bar snacks look like the common peanuts and fried bits. Upon tasting however, we're quickly fingering back for me. Peanuts have a delicious lime and chili dressing. Crisps are not potato, but instead wonderfully delightful lace-thin shreds of pumpkin. Completing the trio are wasabi peas streaming a powerful blow up the nose and clearing the nostrils.
Wishing to filter some of the spice, I continue on the rum theme with plans to teach hubby to share. From the "2 Share" cocktail section Wiki-Wiki Express (970) pledges to delight South Pacific lovers with a giant tiki head filled with Chalong Bay rum, Lamoon Lamai rum, Diplomatico Anejo rum, orange Curacao, Amaretto, passionfruit, pineapple, lime and Tiki bitters in a portion designed for two. Ice cold and flavoursome, I can see my social courtesy plan is not going to work once hubby has wrapped his lips around this one.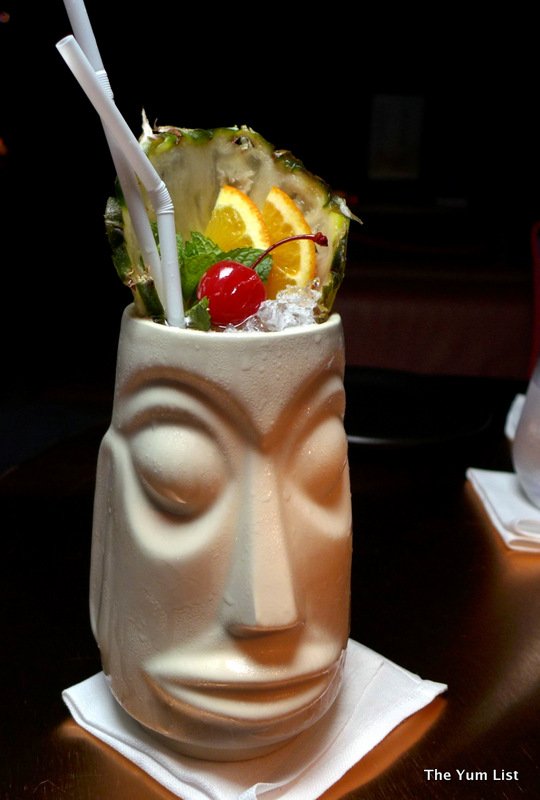 The food menu can all be viewed in one page. Finding it hard to choose, and not believing that any kitchen can do too many dishes extremely well at the same time, I do love a compact selection.
Marinated Tuna Rolls (510) are presented beautifully in a trio of ahi tuna rolls scented with ginger. They're dressed in white miso, and accompanied by drops of radish mayonnaise and avocado mousse. Crunchy shreddings of Japanese purple sweet potato supply crunch on the side.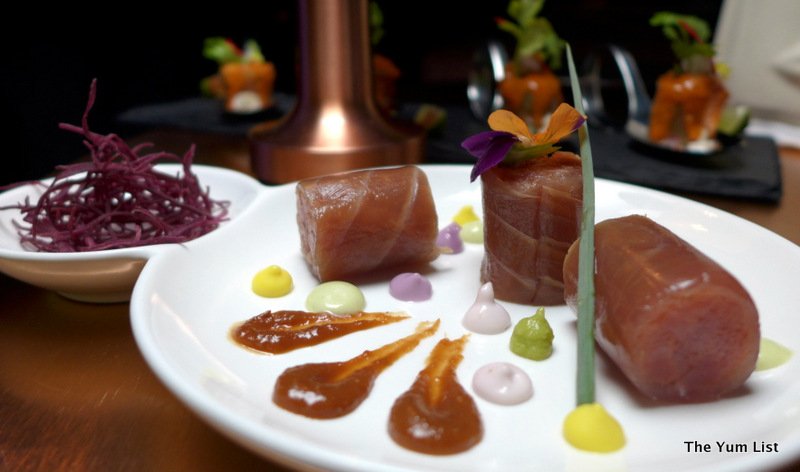 My lovely waitress assures me that the Tom Yum Springs Rolls (510) are popular orders and so I'm happy to try the fresh rolls stuffed with poached tiger prawns, coated in a tom yum reduction and accompanied by Thai herbs and spices. They arrive on individual spoons with four tiny wedges of lime, which are recommended to be squeezed atop each before devouring. All I can say is, "Scrumptious!" Oh please order these – they are just as addictive as the soup.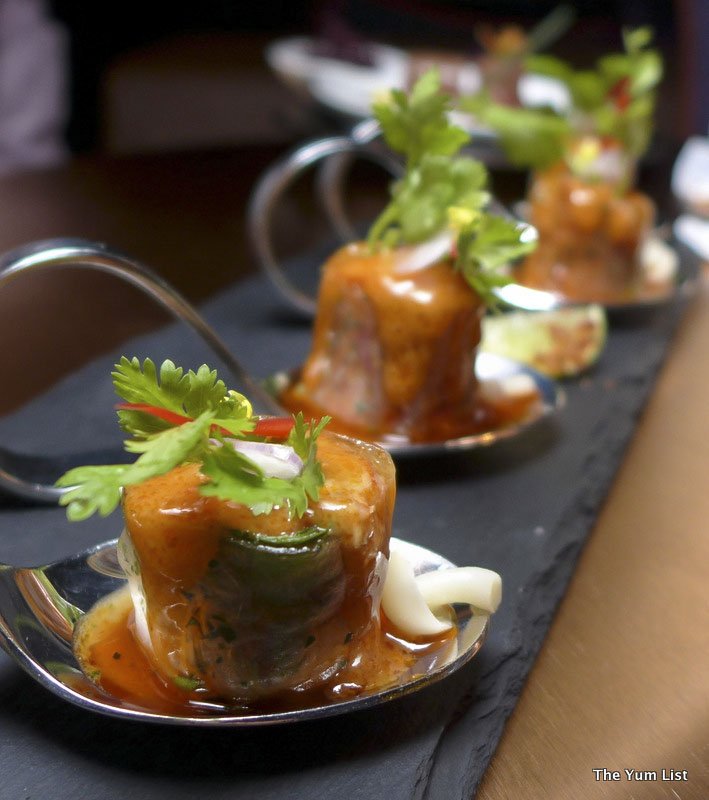 A fabulous idea is found in the vegetarian Potato Bruschetta Quartet (430). Fried potato skins hold a quartet of toppings: hummus, tomato salsa, guacamole and Greek Salad. Even bread lovers would be happy to swap out the typical baguette slices with these crunchy potato bases. My favourite topping is the chickpea puree and hubby's is the avocado smash.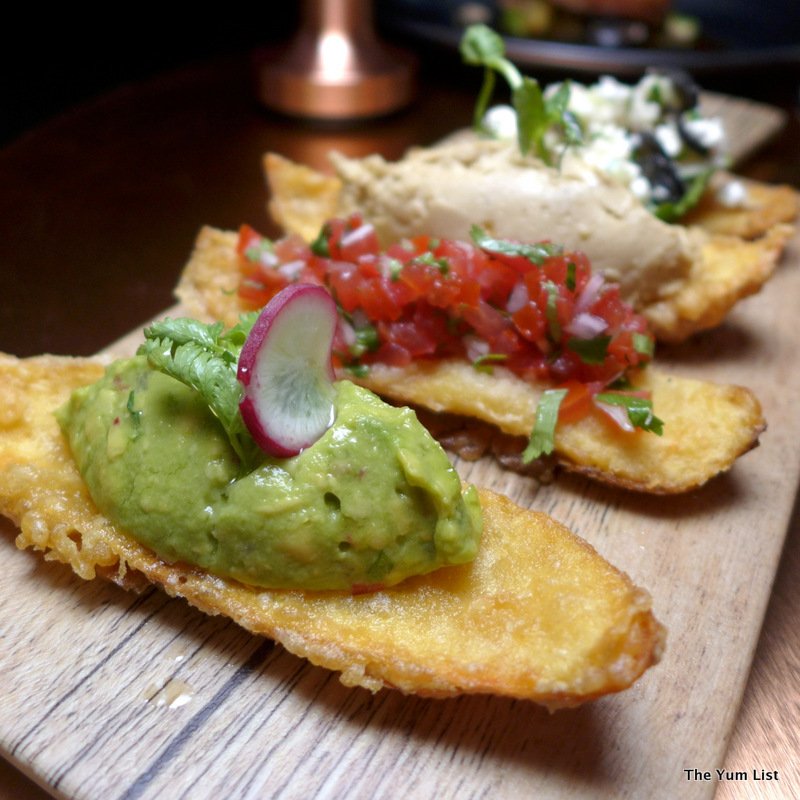 For the mains, hubby picks the Angus Beef Medallion (650) from The Black Board, which is seductively wrapped in bacon and served with wild mushrooms, garlic potatoes, black truffle and pepper sauce. Unfortunately my plan for 'teaching hubby to share' earlier in the evening has been spoiled by the fact that he drank the entire 'for 2 to share' cocktail by himself, and now has devoured his meaty principal plate before I've even finished photographing the highlights. I guess from the affirmations of, "Very good. Nicely cooked. Mmm," that it was executed to his pernickety standards.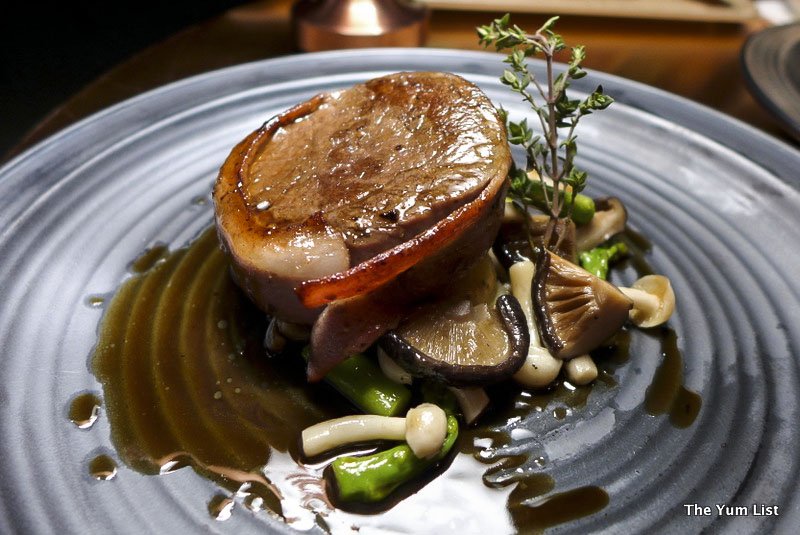 Again, the wait staff has a recommendation for my main: Boston Lobster Risotto (900).  Half a Main lobster comes with an al dente risotto tinged with the local flower, the butterfly pea. Lemon tapioca pearls, lobster bisque beads and droplets of mayonnaise annex additional flavours. At the same time wafers of Parmesan and seaweed paper contribute a change in texture and supplementary layers of taste.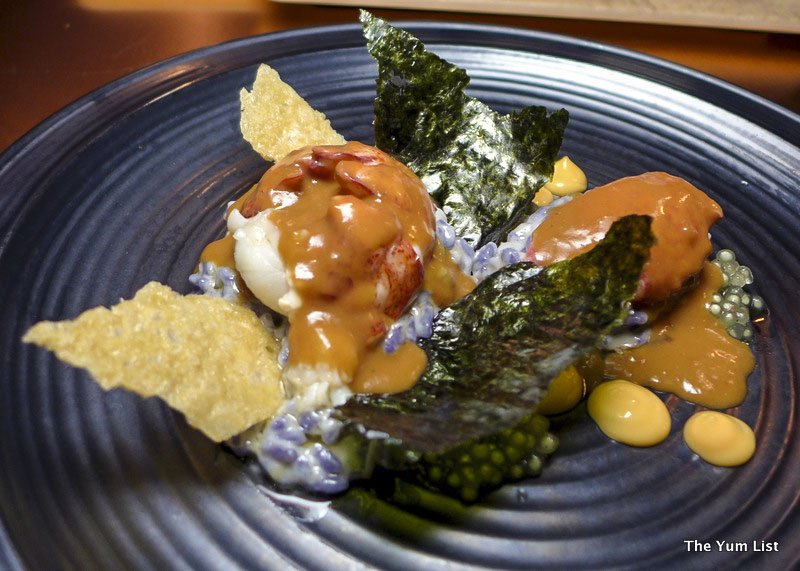 For a sweet ending hubby has plunged straight into the Young Coconut and Malibu Cake (280). Mixed berries, mango coulis and a cashew nut brittle brighten the side of a hearty prism of the super moist cake. Vanilla ice cream donates a familiar side and it's truly large enough to share between two, or even three.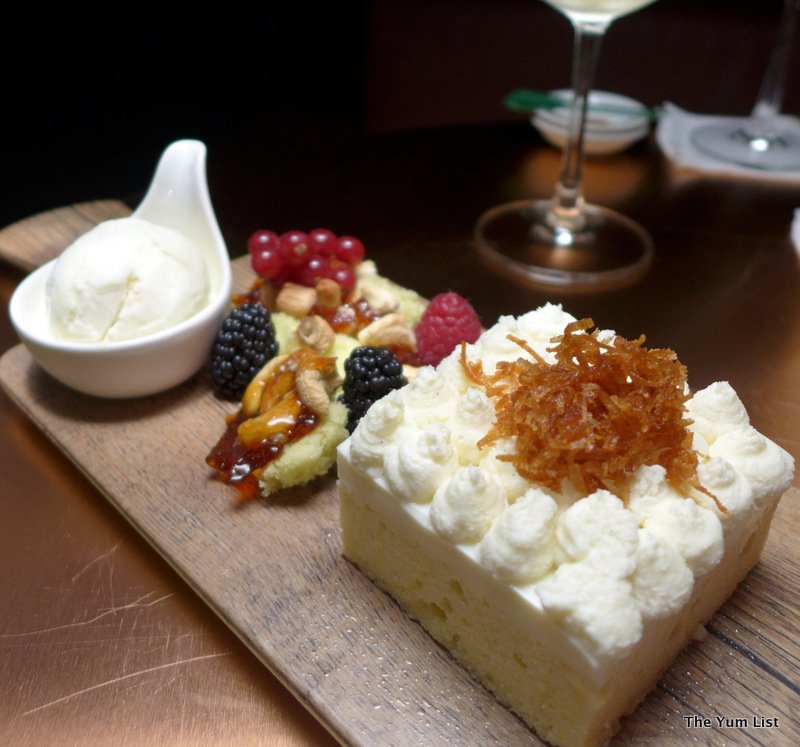 The Deconstructed Banana Split (280) comes on a rectangular glass platter. It's filled with quarters of banana that has been brûléed, globlets of mascarpone, roughly torn pieces of banana sponge cake and pools of Mars sauce. Chocolate-BACON ice cream certainly delivers a spark to a conventional dish, and out of interest I might be tempted to order the gelato alone just to sample the thought provoking combination.

By dinner's end, the sun has disappeared, the sky has become an unforgiving black and the city's lights sparkle into what seems a never-ending horizon. Live music comprising keyboards and vocals, bass, and percussionist are playing melodies from the 80's such as those by Lionel Richie. It would be easy to fritter away hours here so plan on a coming with people you adore and capitalizing on the fabulous environs, delectable cocktails and scrummy food.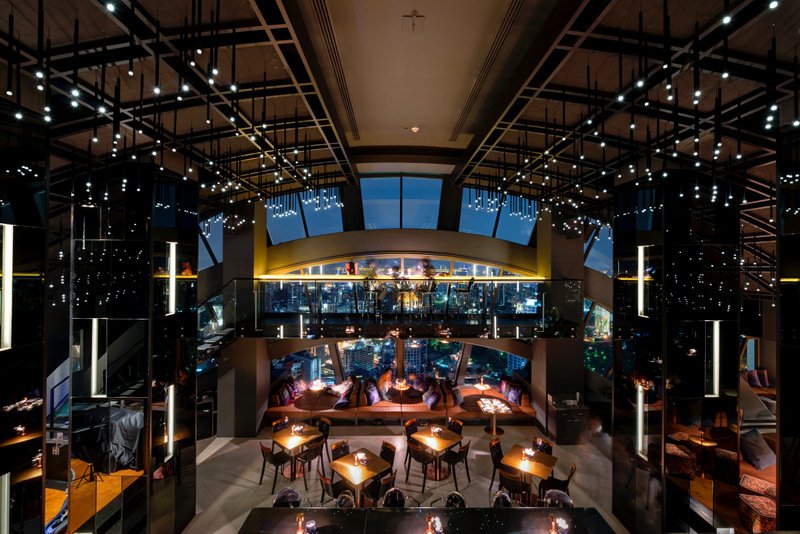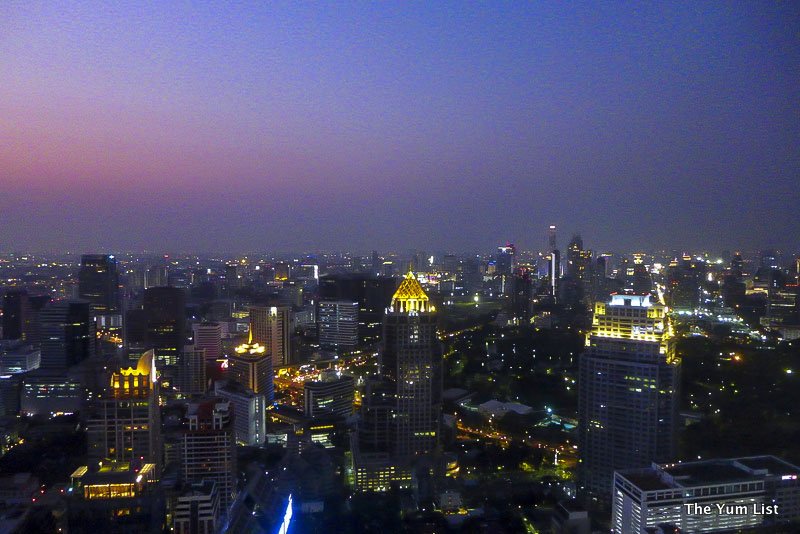 Reasons to visit: breath-taking views; an all-weather venue; White Chai and The Haole cocktails; Tom Yum Springs Rolls (MUST order!); Potato Bruschetta Quartet.
Vertigo TOO
Banyan Tree Bangkok
21/100 South Sathon Road
Sathon
Bangkok 10120
Thailand
+66 (0) 2679 1200
[email protected]
www.banyantree.com/en/ap-thailand-bangkok