Heather Onderick    Photos: Monica Tindall
Ekkamai locale in Bangkok is a blend of old and new. Som Tum stalls and Noodle push carts line the street; simultaneously, chic high-end spas and open air playground like bars are beginning to fill up the neighborhood.  One thing is for certain, at the corner of Soi Ekkamai 10, there is a restaurant that serves a wonderful Tom Yum Goong and arguably, the best roast chicken on the planet. The experience at Ekkamai, a Thai restaurant in Publika is both authentic and parallel to the real Ekkamai in Bangkok. One bite into the Chiang Mai Grilled Chicken Wings (RM24), served with sticky rice and Som Tum papaya salad, will transport the diner on a mini food tour around some of Thailand's best dishes.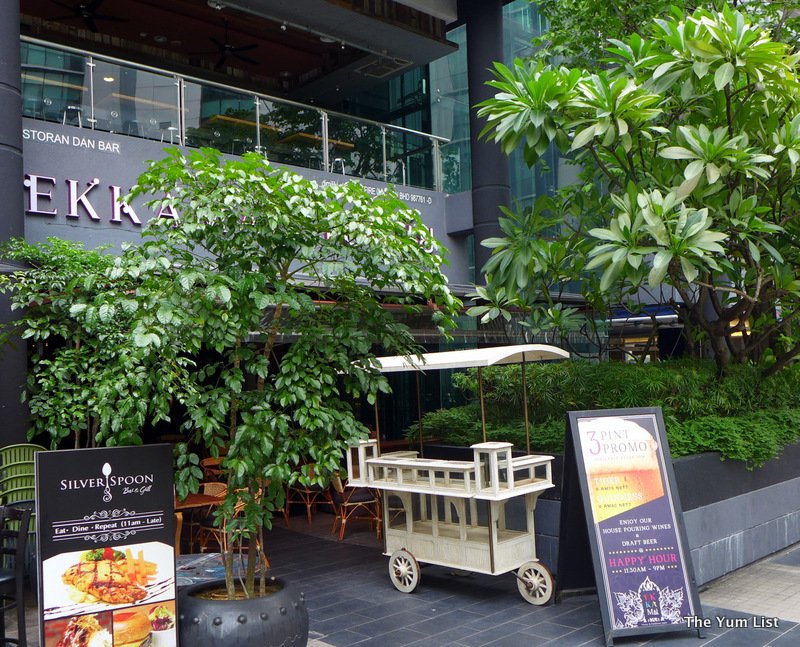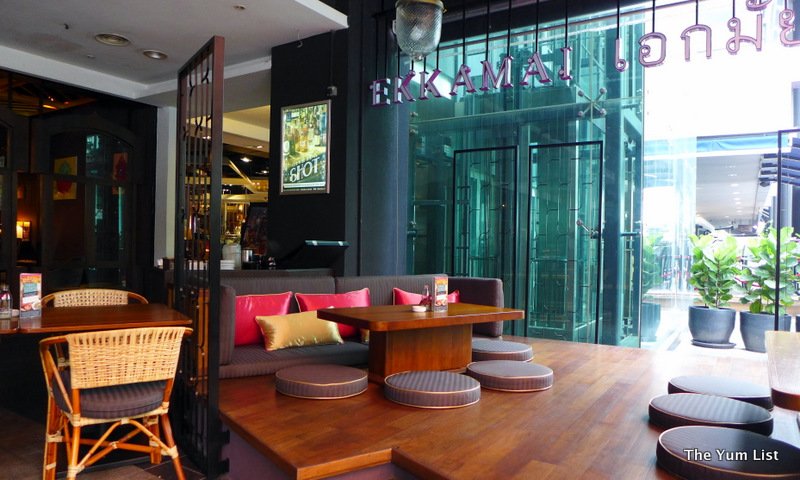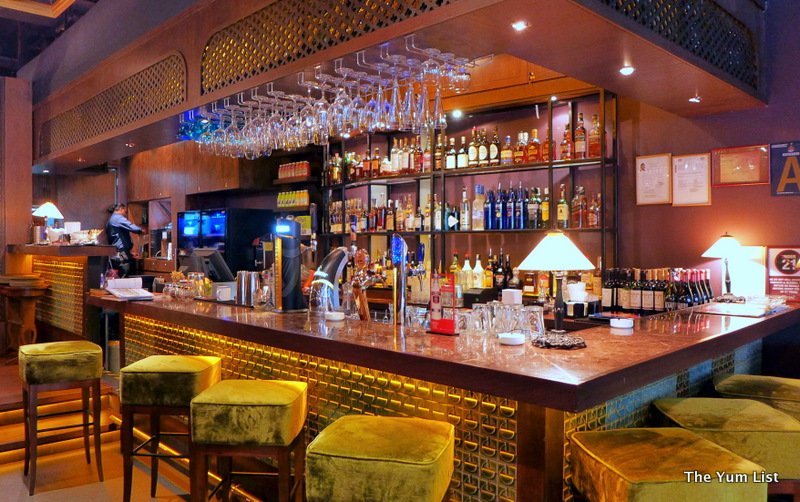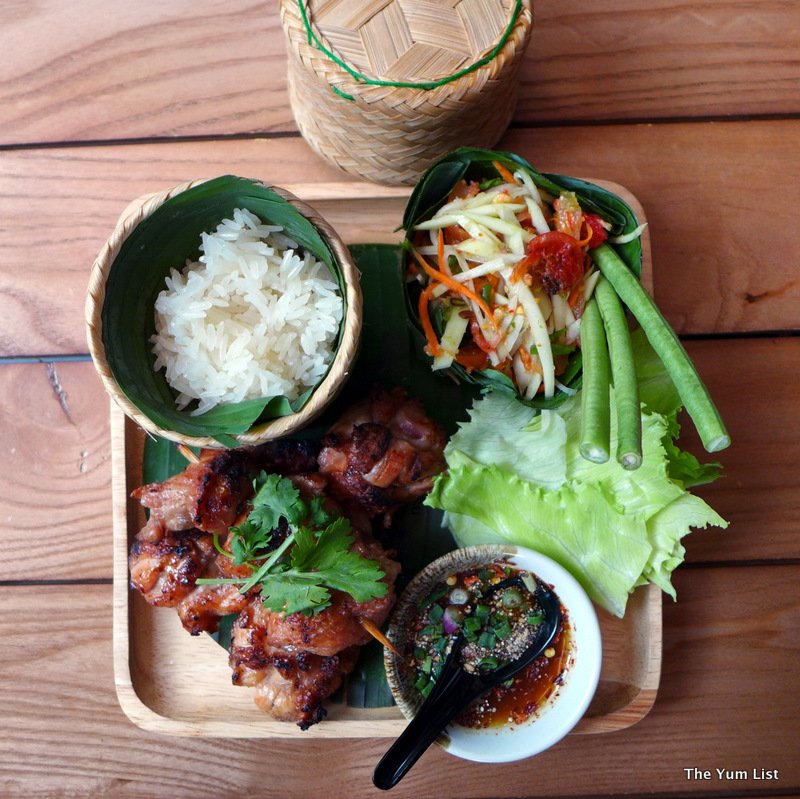 Thai food is all about balance.  It is important to include the assortment of all flavors and like a good wine, try to get those flavors to complement one another and layer sophistication in getting the flavors to appear one after the next. Ekkamai at Publika has worked hard to create that balance both in its food and its space. For those seeking a more casual experience, you can eat outside on comfortable lounges. If you would like a more intimate air-conditioned setting, the warm teak walls and golden plush seating welcome those needs.
The recent humid heavy days called for cool, refreshing cocktails to take off the edge. Not wanting anything too sweet but not being able to resist the temptation of passion fruit, I ordered the Aroi Citrus Tea (RM 32). This summer like drink took me home to iced tea afternoons, it was made with Skyy Vodka, Earl Grey tea, passionfruit, Lychee liqueur, lemon and kaffir lime leaves. This drink was helpful in countering the spice of some of the Thai dishes, as was the even lighter, Kaffir Collins (RM 29), served with Broker's gin, soda lemon and jungle green kaffir lime leaves. Because of the dramatic heat and coconuts just in from Thailand, we also indulged in some fresh electrolytes, in the form of revitalizing coconut water.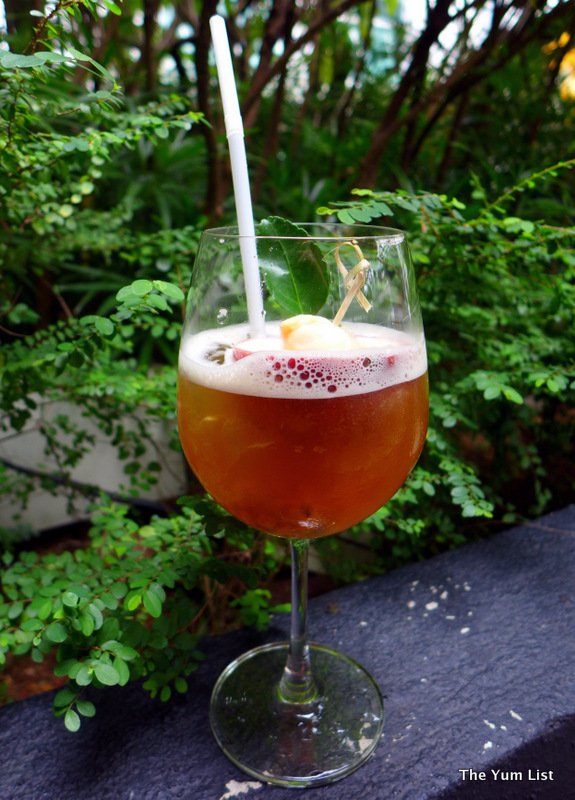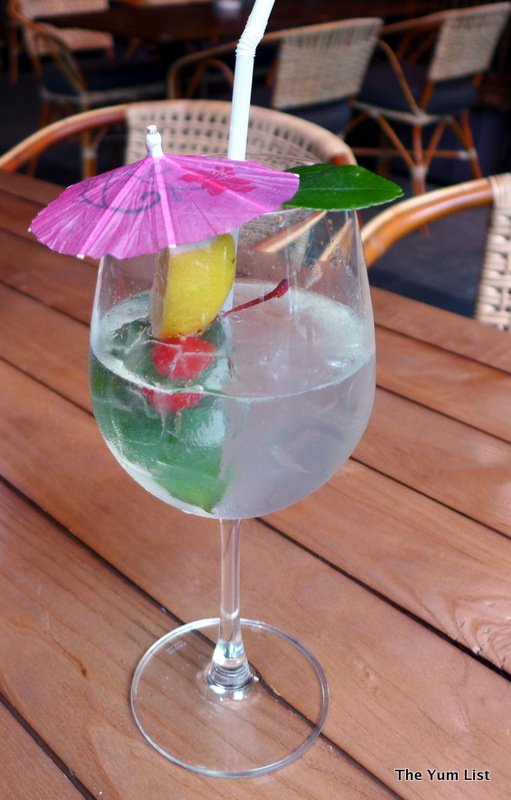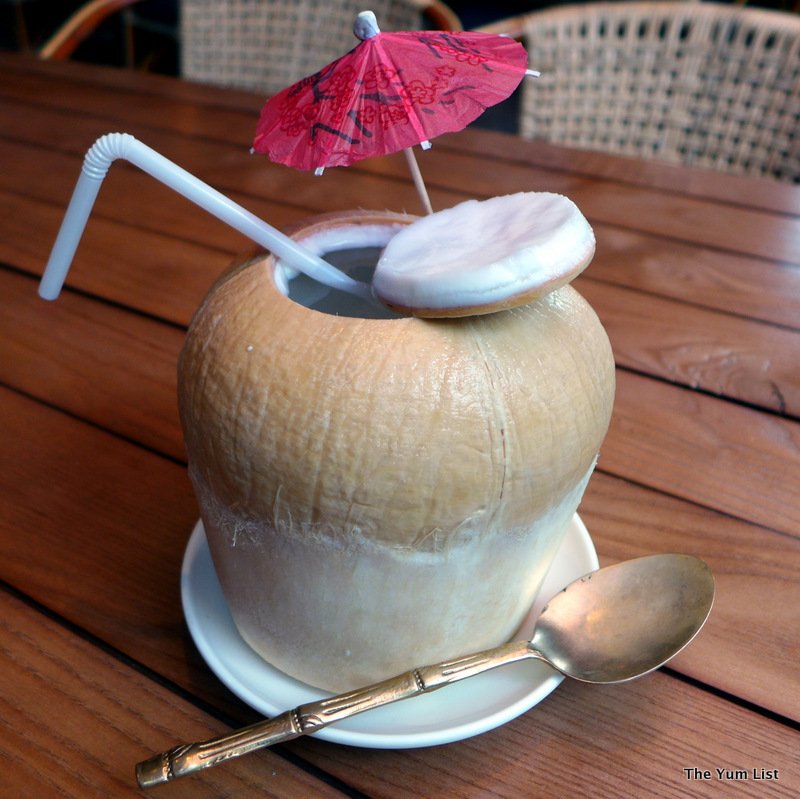 Swiftly, the parade of plates started with the recommended Salmon Belly Tataki Salad (RM 28). This dish is satisfying on so many levels. The seared salmon belly soaks up the Thai dressing which has whispers of tamarind, lime and fish sauce. The fat of the salmon belly is smooth and to top it all off, this is a low calorie meal, weighing in at only 280 calories.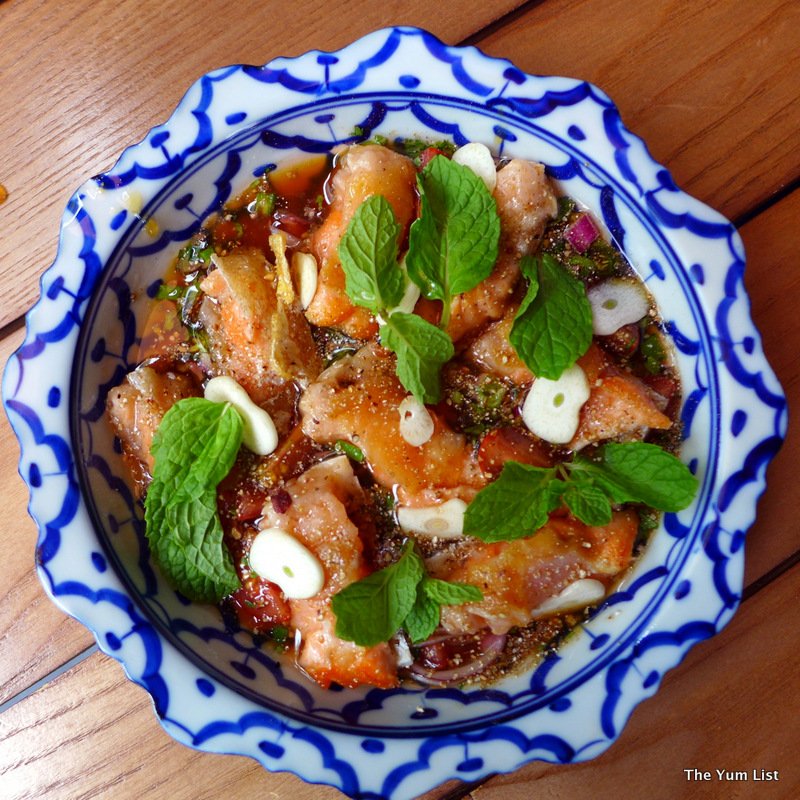 A strong start to the meal, but knowing what was next had me smiling. One of my favorite Thai dishes, Pomelo Salad, (RM 24).  Drizzled in lime juice, dashed with chili flakes and sweetened by the toasted golden coconut, this dish was balanced with a sour start and a spicy finish.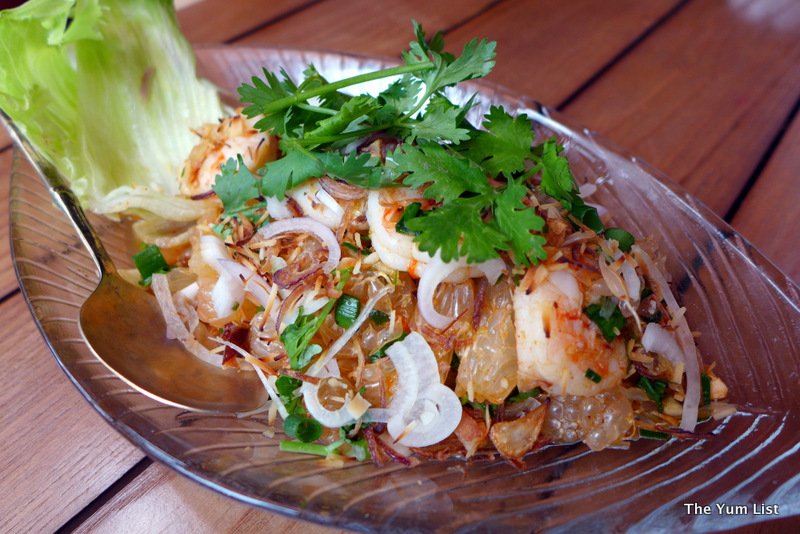 Ekkamai has some playful interpretations on Thai food, and loving a good adventure, we wanted to experiment with some of their more unique dishes. The Stuffed Squid (RM 22), consists of gyoza shaped grilled squid, stuffed with ground chicken and prawns. The green chili sauce gives this dish a sharp and slightly bitter kick, but once again, the rich flavors of squid, marinated in garlic and coriander, keep my mouth intrigued and craving more.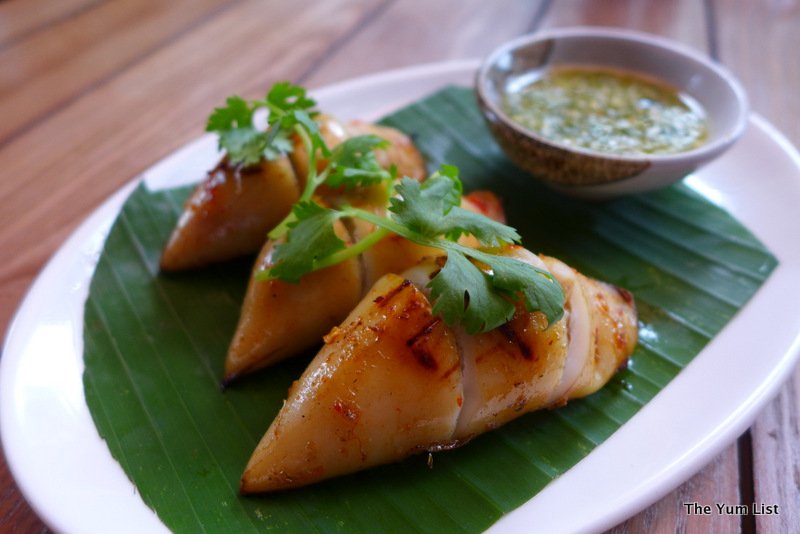 We see-sawed and returned to another old favorite, Beef Massaman Curry (RM 32). This dish is like the Thai version of beef stew. It is a rich and chocolatey well textured curry with tender brisket beef, new potatoes and caramelized shallots.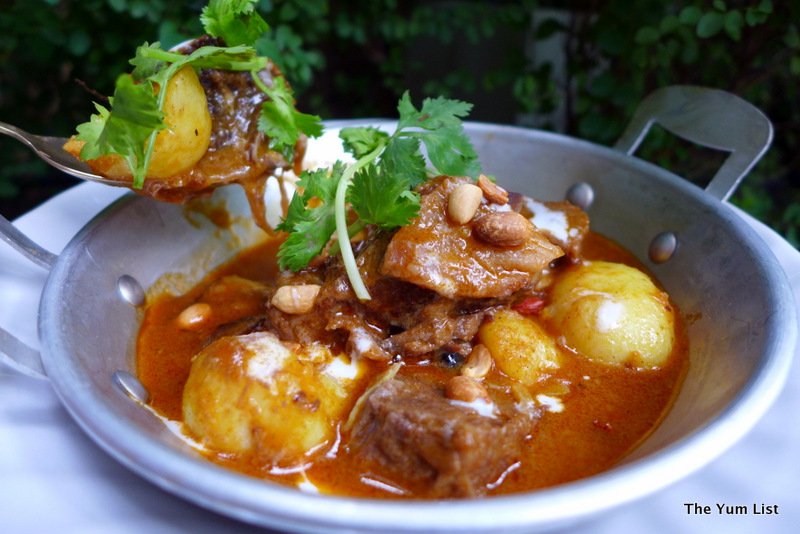 Although we had now sampled several dishes, our waiter insisted on spoiling us with a few more chef-recommended favorites. The Tom Kha with Salmon Belly (RM 28) is another one of the chef's creative adaptations of a favorite local soup. This coconut milk soup is bursting with citrus, a likeable lime overdose. Meanwhile, the salmon belly is buttery and the lemongrass, galangal accents all help it go down smoothly.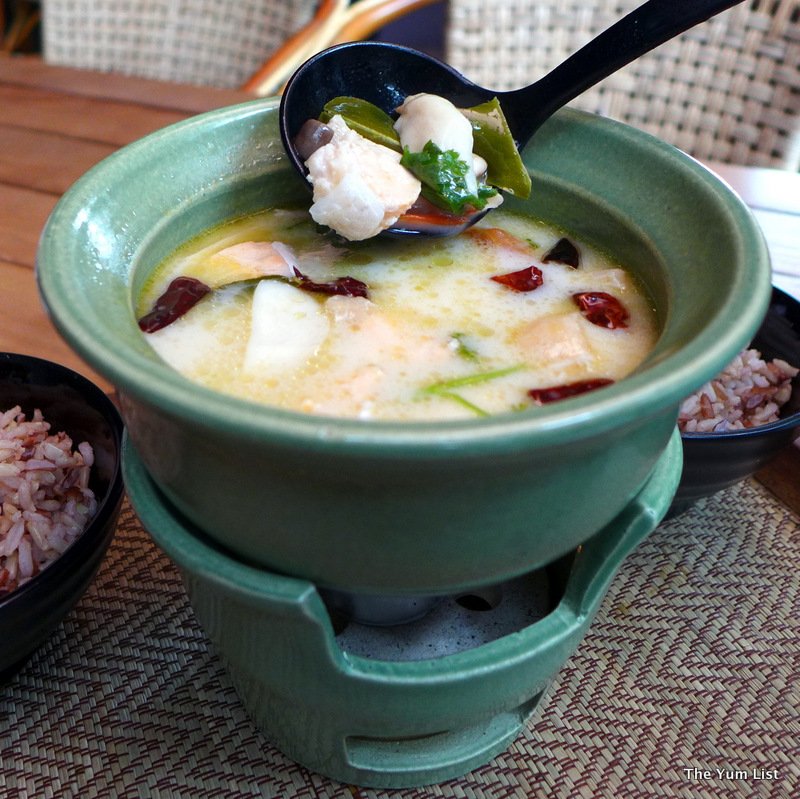 After all these dishes, we realized the need for some greens. To aid our digestion, KangKong Garlic Chili (RM 18) tossed in chilli, garlic, and taucheo sauce.  And finally, to make the meal complete, a fresh whole, Deep Sea Barramundi (RM 48), steamed with lime juice, garlic and coriander.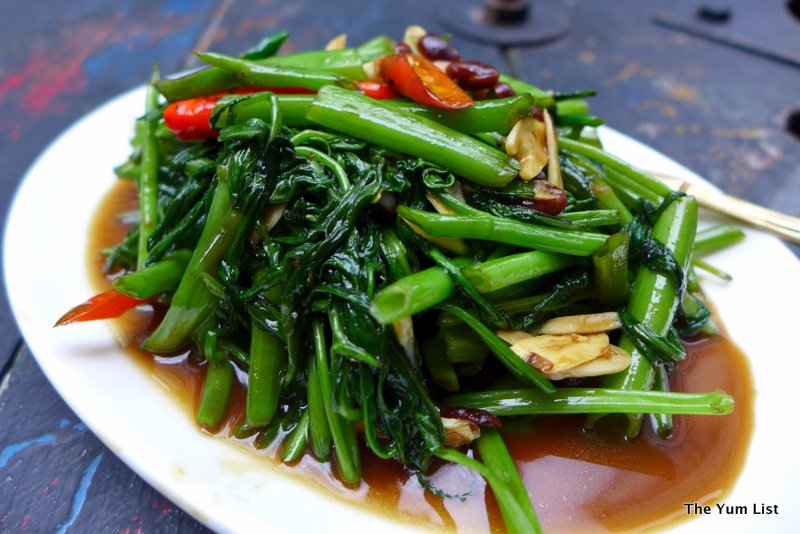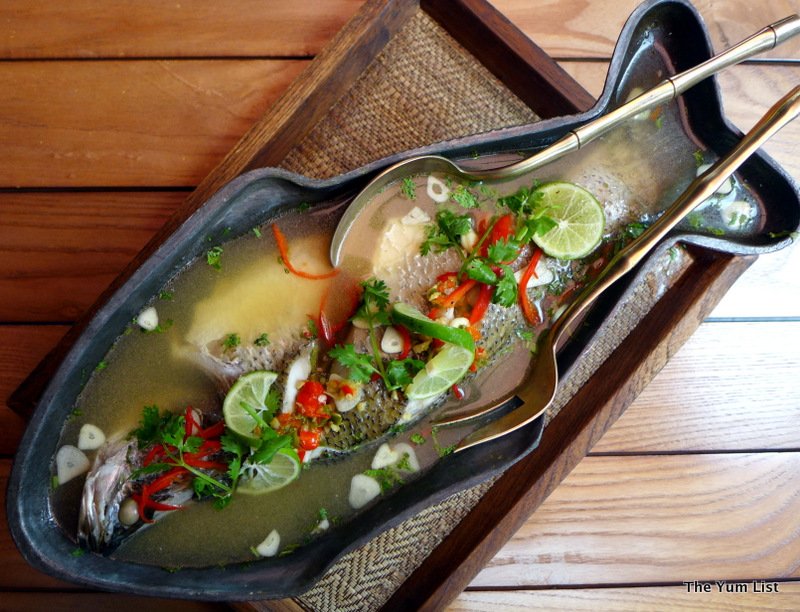 A sweet send off was in store for us with the ever popular Mango Sticky Rice (RM 18). One of my favorite desserts across international cuisine, the sliced sweet and sour mango was served with crunchy rice bits creating an explosion of coconut infused textures in one's mouth.  Lastly, to conclude our wonderful Thai food tour, we ended with Steamed Tapioca and Banana (RM 12), this luscious dessert set creamy fried bananas along warm cassava drenched in coconut milk.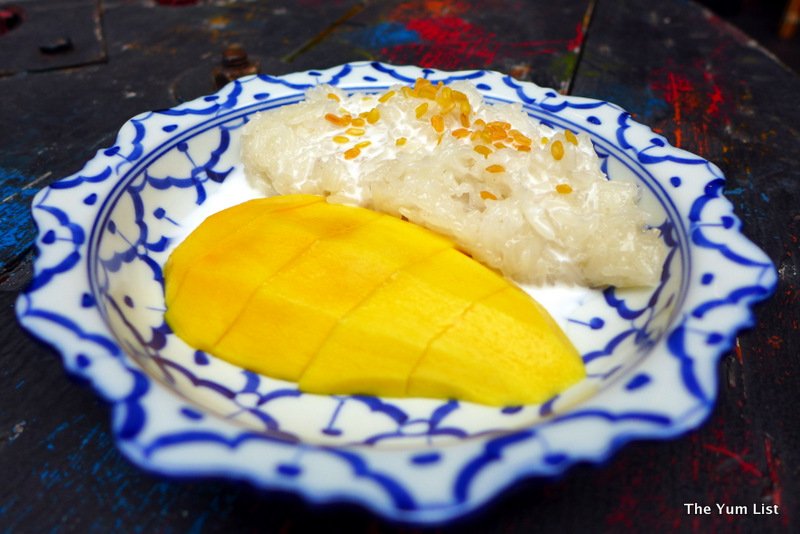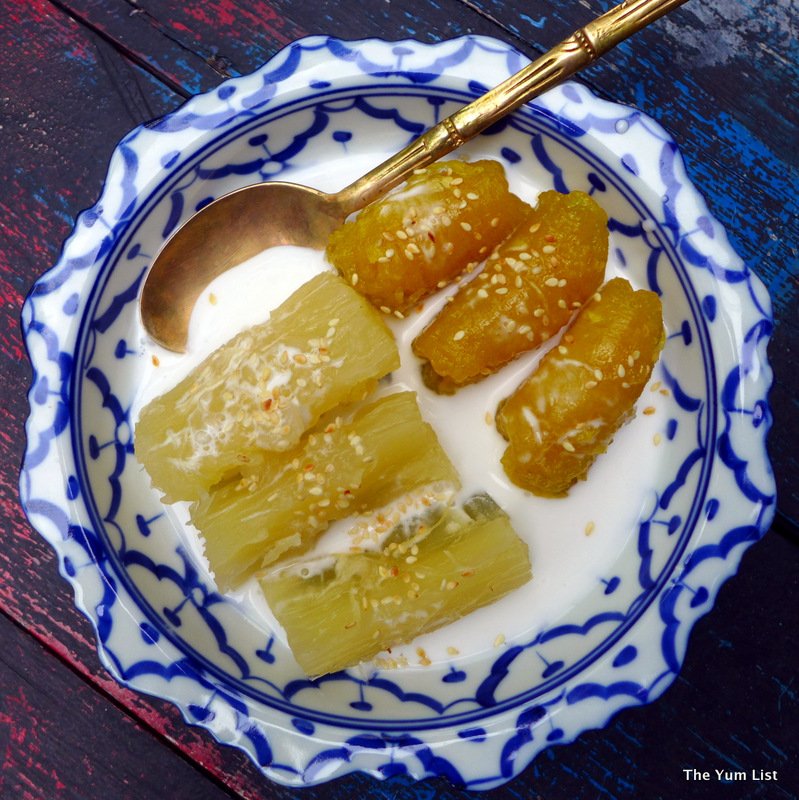 Reasons to visit: Ekkamai offers all your favorite Thai dishes and also new creative interpretations of dishes that are modern and fresh like the Salmon Belly Tataki Salad.  On top of this, the creative cocktails balance the flavors of Thai cuisine with confidence.
Ekkamai Publika
No 34, Lvl G2, Block C5, Publika,
Solaris Dutamas, Jalan Dutamas 1,
50480, KL
+603 6203 9883
Opening Hours: 11:30 am-12 am