Words: Nadia Khan    Photos: Monica Tindall
With the array of new cafes sprouting up around Kuala Lumpur, I find myself feeling overwhelmed and indecisive at times – what to eat, where to go, is this like every other café? It's great to know that café owners realise this dilemma we go through and design their menu with unique meal options that stand out from the crowd. Nara Kitchen & Co. is one such example. In short, Nara Kitchen & Co. offers freshly baked goodies made in-house, healthy meal options with fresh and organic ingredients, and refreshing hand-crafted mocktails (in addition to their selection of coffee, milkshakes, and wines).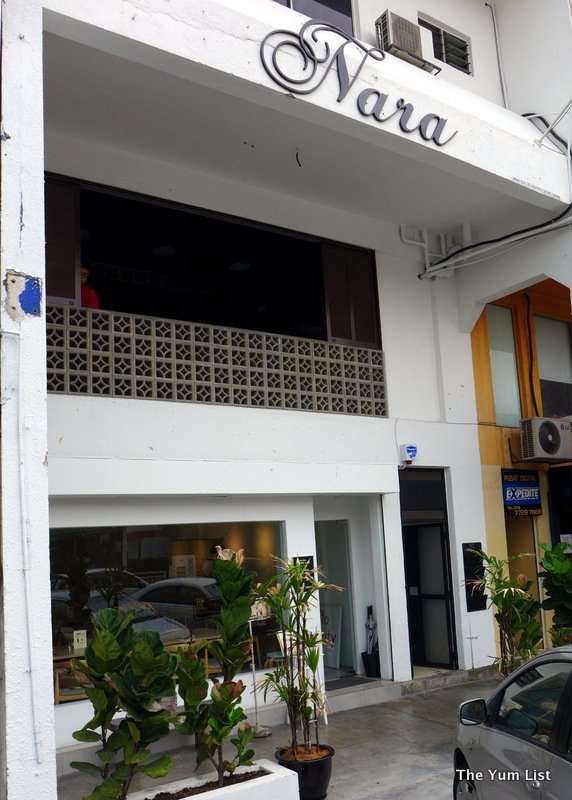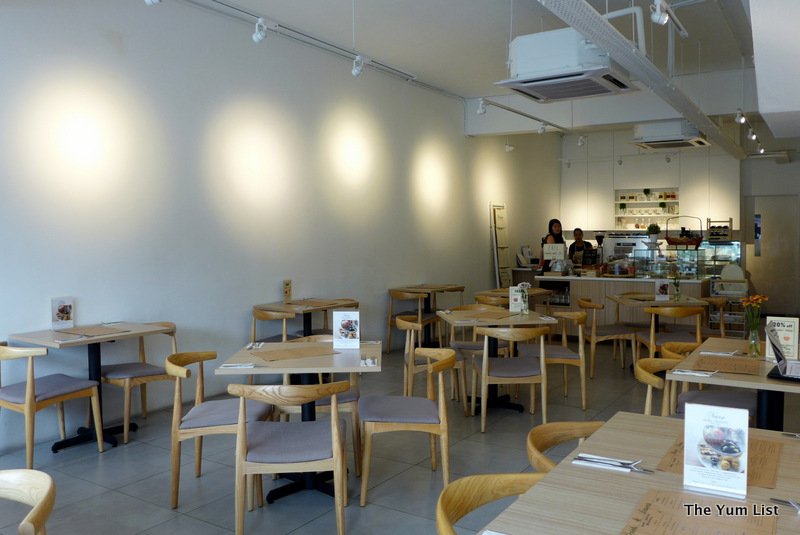 Nara is situated right next to their first venture – The Good Batch and Hyde 53M – in Damansara Uptown. Along the same row is Wondermilk and other cafes, but despite competition, they do very well for themselves.
As we enter the all-white façade, we're greeted by an all-white interior but rather than it feeling clinical or cold, it's surprisingly a very creative, warm, and inviting space. Simplicity at its best and the ever-friendly staff on-site make us feel very welcomed. Light hues of wood tables sprawl across in various sizes, good to note for those who may be coming in larger groups or with kids.
For starters, the beautifully hand-crafted mocktail Secret Garden (RM15) is a feast for the eyes (and taste buds!). With colourful edible flowers and kyuri floating across a refreshing concoction of white grape, green tea, apple, grapefruit, it lends a sweet but refreshing flavor in a very decently sized glass.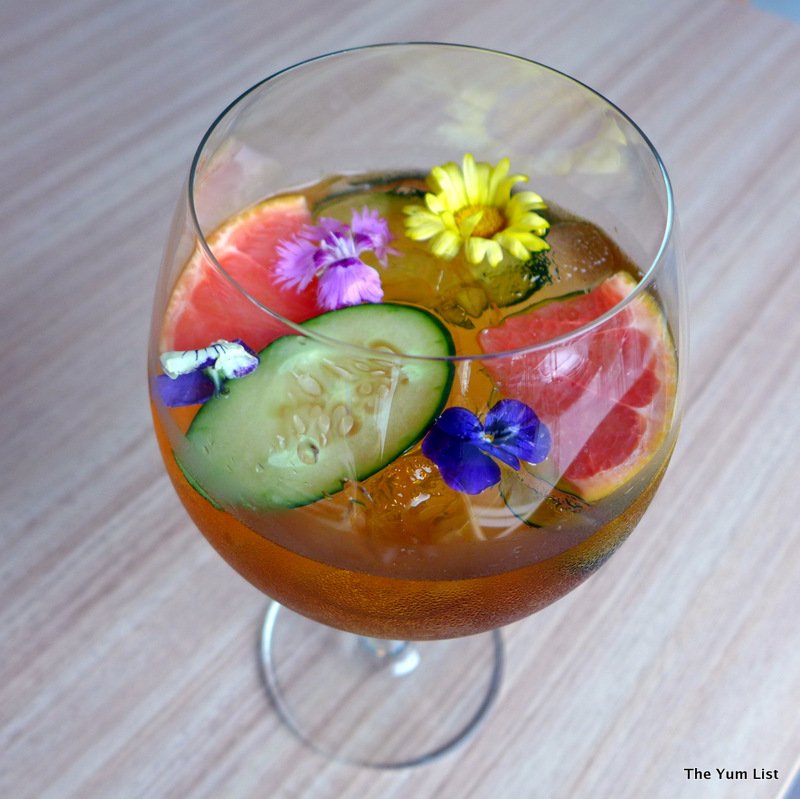 Their wine list isn't extensive with only two varieties each of white and red, but it's rare for a café to even serve wine so this was definitely a pleasant surprise. Their house pour is the Cote Mas range from France available in red or white at RM26 per glass/RM140 per bottle.
Helping us discover the essence of Nara's kitchen, founder Caroline gets Monica and myself to sample dishes she is proud of and which she believes makes Nara Kitchen & Co. stand out from the crowd – it does not disappoint.
I'm a fan of rice puddings and I usually have a high benchmark but Nara's Brilliant Breakfast Pudding (RM17) is on point. With fresh vanilla milk, poached apricots, toasted almonds, fresh mango, red orange zest and edible flowers, each spoonful is never enough. I am incredibly pleased by the portion and size of the bowl it is served in, it feels like a bottomless bowl and I would definitely head back again for this one. I'm accustomed to rice pudding being served warm, but this one is served chilled and is ever the healthy bowl of comfort food.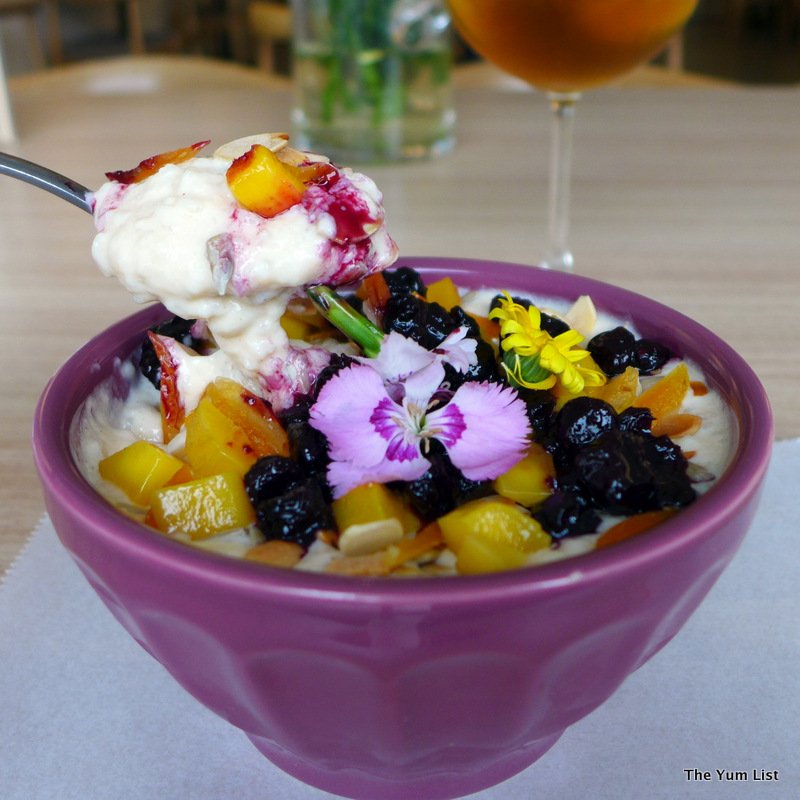 If you're a fan of clean and organic salads, you must try the Big Belly (RM26) served with white organic quinoa, fresh mint, roasted beets, orange wedges, kyuri, homemade hummus, and miso vinaigrette. With the slight Japanese inspiration to this dish with the inclusion of miso, the Big Belly is a light and fresh salad with natural flavours. The hummus is a nice touch and brings the salad together into one cohesive whole.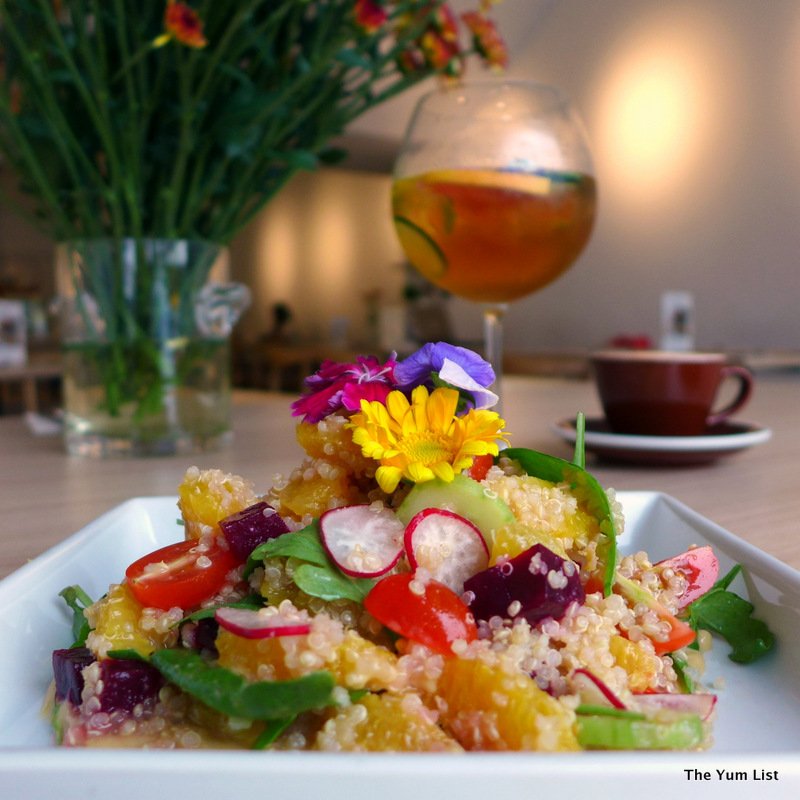 Nara's Lobster Roll (RM56) has also been the talk of the town and I couldn't wait to dig in. Sandwiched in between buttered buns are large healthy chunks of lobster meat tossed with tobiko and celery mayo. Accompanying the dish are shoestring fries, grated parmesan, grilled lemon and clarified butter. Each bite bursts with a strong seafood flavor.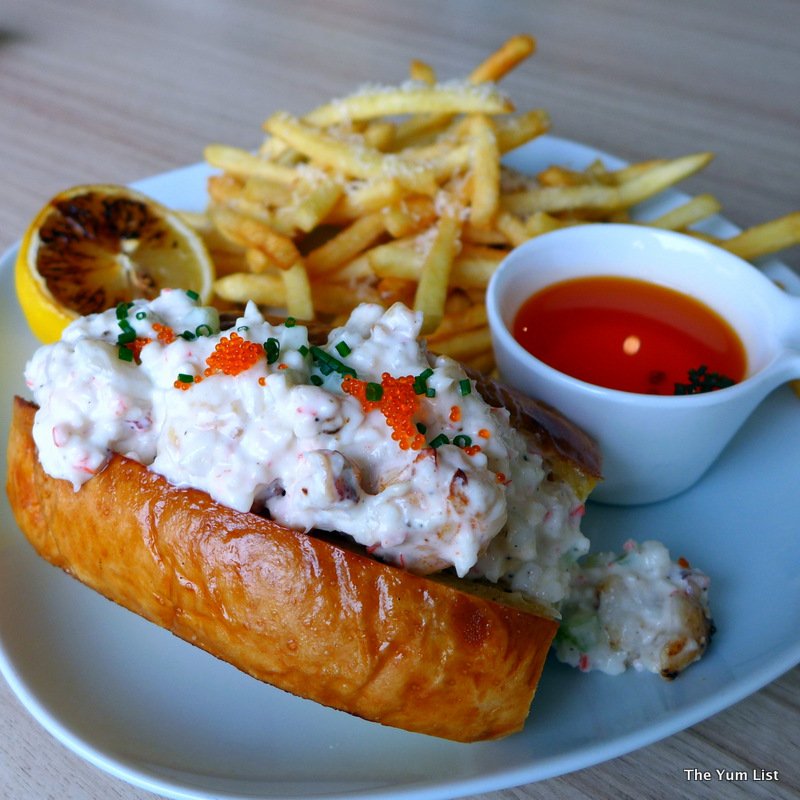 One of my favorite dishes has to be the Seared Duck with Squid Ink Pasta (RM49). I'm not usually a fan of duck meat, but this is seasoned just right and tender. Served with seared duck breast in five spices, shimeji mushroom, cherry tomato, creamy primavera sauce, and alfafa sprouts. Don't expect this dish to have flavors of seafood though, the squid ink provides colour more than anything.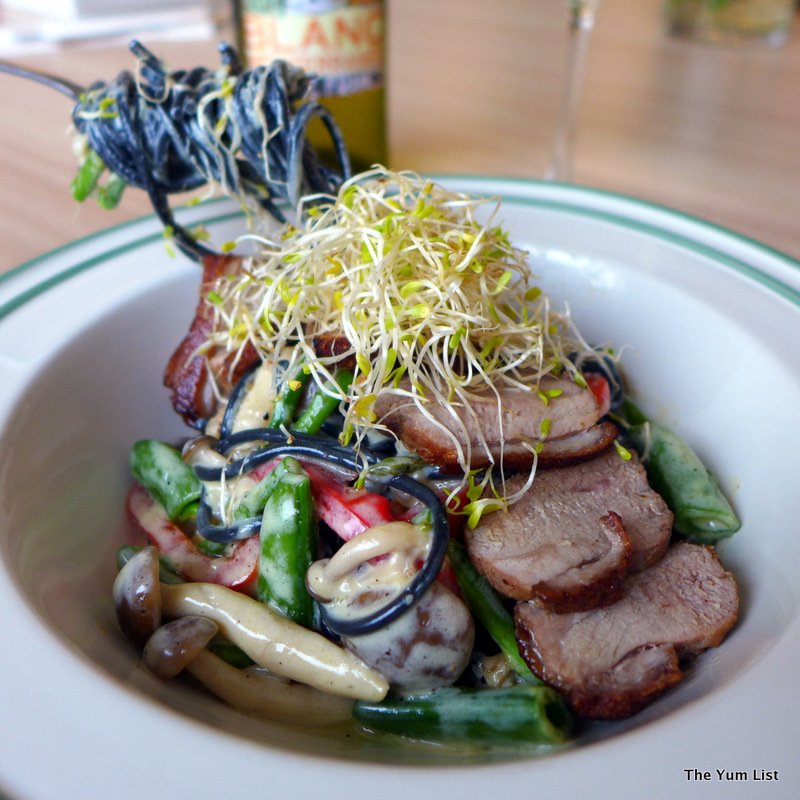 In addition to their menu, Nara dishes out regular promotions and we sampled the Hi-Tea Delights (RM66++) available between 3pm – 6pm and big enough for two or more. It's a two-tier tray filled with savory sandwiches, mini sliders, vegetable chips, in-house pastries, freshly baked scones, ice cream of the day, cake, and a choice of hot coffee or tea. An upgrade is offered for each beverage to a glass of their house pouring wine for an additional RM10.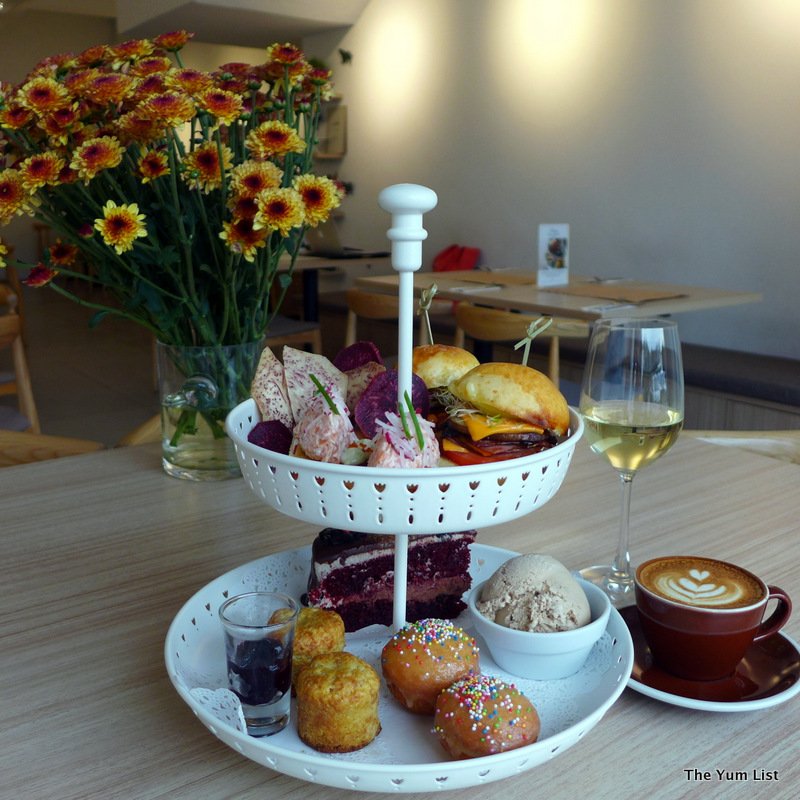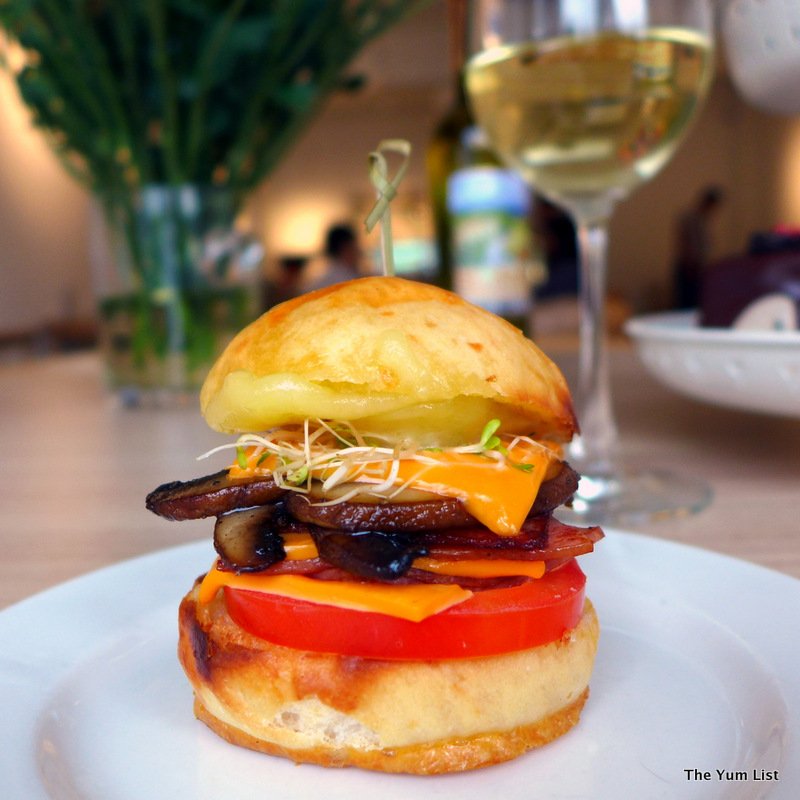 We love that all their in-house pastries are baked by their very own local bakers, supporting local talent and businesses. The ice creams are supplied by 40 Licks and the Sayanara Peppermint Red Velvet Cake is a must-try. It was designed specifically for Nara Kitchen & Co. and being fans of After Eight or Arnott's Mint Slices, this was definitely a treat for us!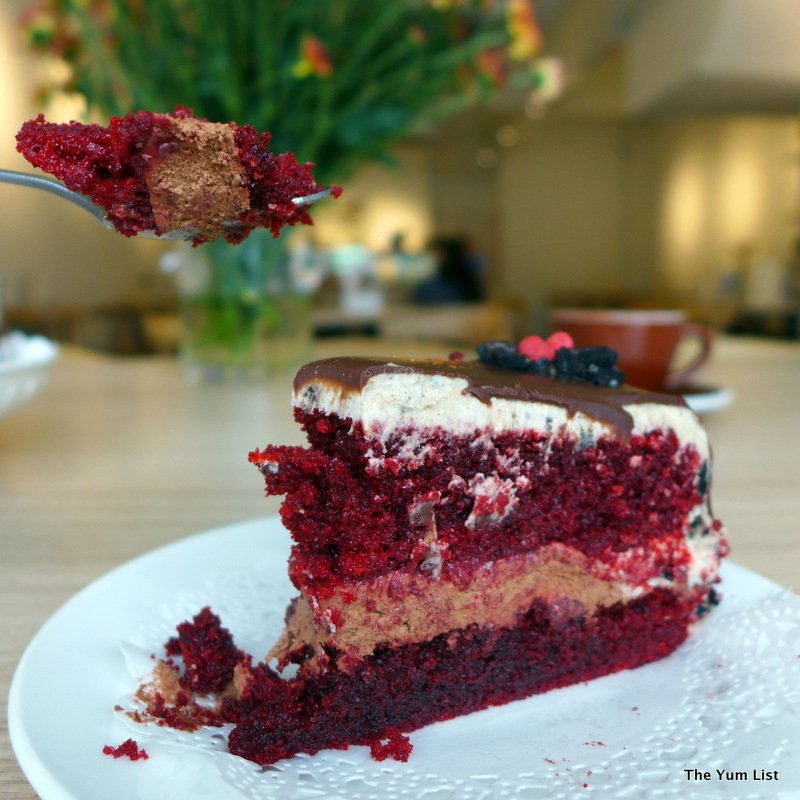 Reasons to visit: Head over to Nara for their uniquely designed and prettily plated mains; their Brilliant Breakfast Pudding can't get any more brilliant; and their selection of freshly baked pastries are a must-try. Oh, and coffee is good too!
Nara Kitchen & Co.
61, SS21/1A, Damansara Uptown
47400 Petaling Jaya
Malaysia
+6 03 7733 5897
[email protected]
www.facebook.com/NaraWithLove
Opening Hours:
Closed on Tuesdays.
Mon, Wed – Fri: 11am – 10pm
Sat & Sun: 10am – 11.00pm