Words: Katrina de Laszlo  Photos: Monica Tindall
The journey in to KLCC was far from relaxing.  My heart rate started rising as each minute passed, knowing I was going to be late.  After having three taxis cancel on me, then getting stuck in the notorious KL traffic just a stone's throw from the venue but too far to walk in my stupidly uncomfortable shoes, I arrived at the location in question a rather glowing (read sweaty) and unrelaxed (read severely panicked) mess.  The freshly showered and made up me a distant memory.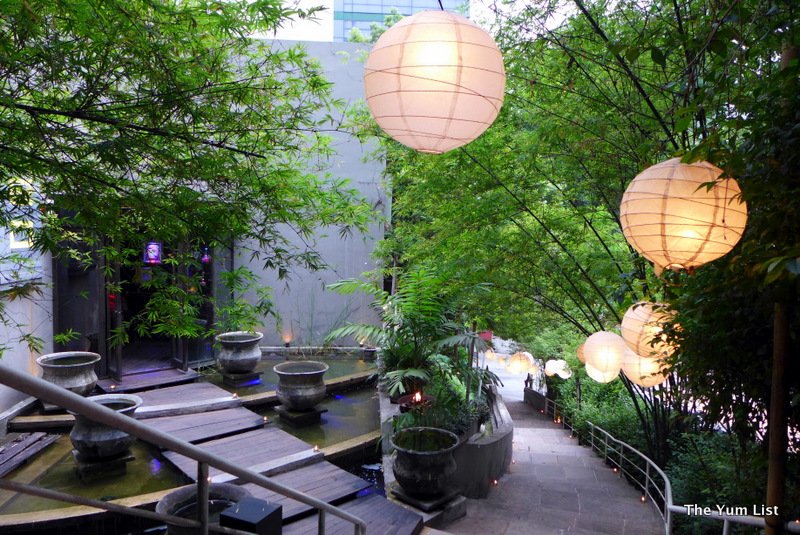 I needn't have worried. Monica was patiently waiting for me with a cool glass of wine ready to be handed over to her flustered dining companion.  It didn't take me long to calm down, given the relaxed and cool nature of the venue.  I could now focus on the purpose of my journey; to experience the vegetarian menu at Neo Tamarind.  Now, I am not a vegetarian, but I could be.  I don't need meat and as much as I like it, I get as much enjoyment from vegetarian food as I do from meaty or fishy dishes.  However, it is very rare that I will go out to a restaurant and order the vegetarian option.  It just isn't something I do.  I associate eating out with food that I don't often cook at home such as meat and fish.  This was going to be an interesting meal and I was excited to challenge my usual dining habits.
Neo Tamarind is a contemporary and somewhat concealed oasis in the heart of hectic KLCC.  Once inside it is easy to forget about the whirring traffic just metres away. You can easily spend a good few minutes absorbing your surroundings and exploring the versatile space of the venue. The design is impressive with a combination of interconnecting indoor and outdoor drinking and dining, a waterfall wall, and mood lighting.  You can even dine at a table in a glass box, which hangs out from the building over the vegetation below; this would be a great table to book for a date night by the way!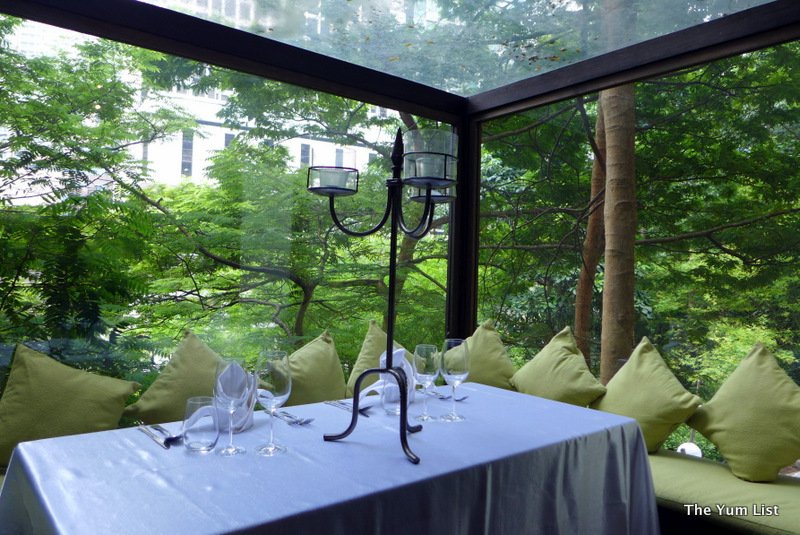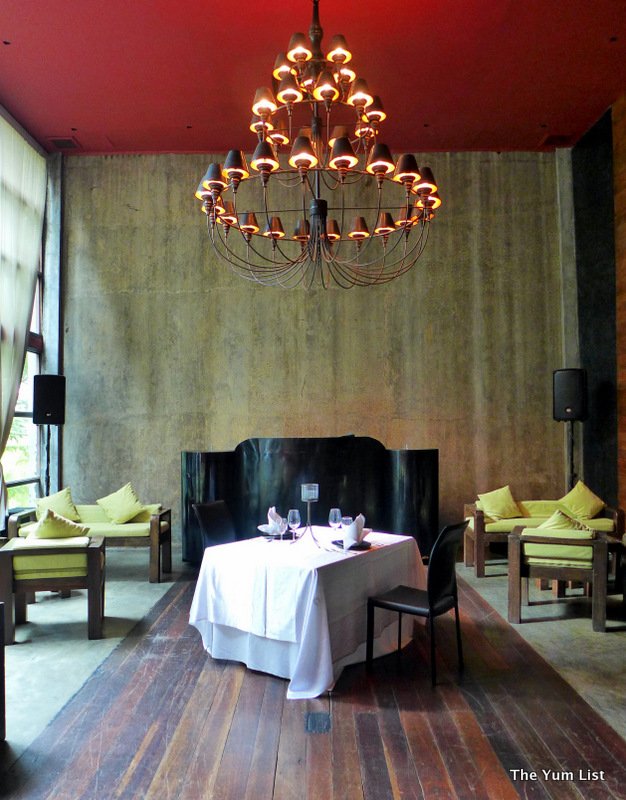 We were there to sample Thai Chef Sombat Kokasemkul's vegetarian set menu (RM 250).  After a few enjoyable moments observing the chefs at work through the glass screened open kitchen, we were directed to the Chandelier room, a high-ceilinged space with the most enormously impressive chandelier as its centrepiece. We were greeted by an amuse-bouche of miniature melon balls and shortly afterwards, Chef Sombat presented us with our starter: Charred and Smoked Sweet Bell Pepper with Soy and Wasabi Dipping Sauce on a bed of Finely Grated Fried Sweet Potato.  The colourful dish was well balanced with the bitter flavours of the charcoal batter and wasabi dressing versus the sweetness of the bell pepper and sweet potato.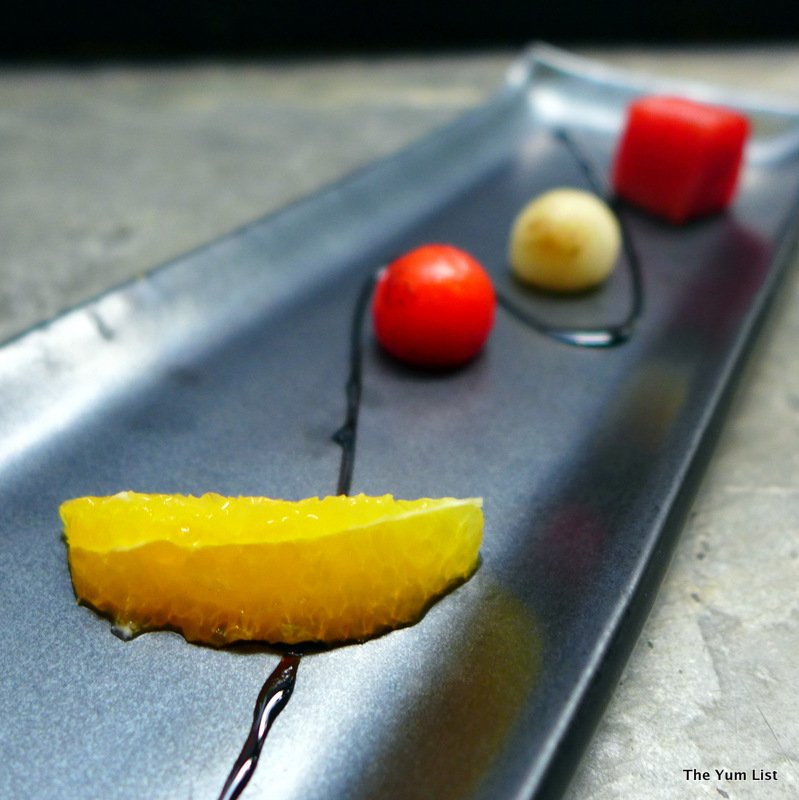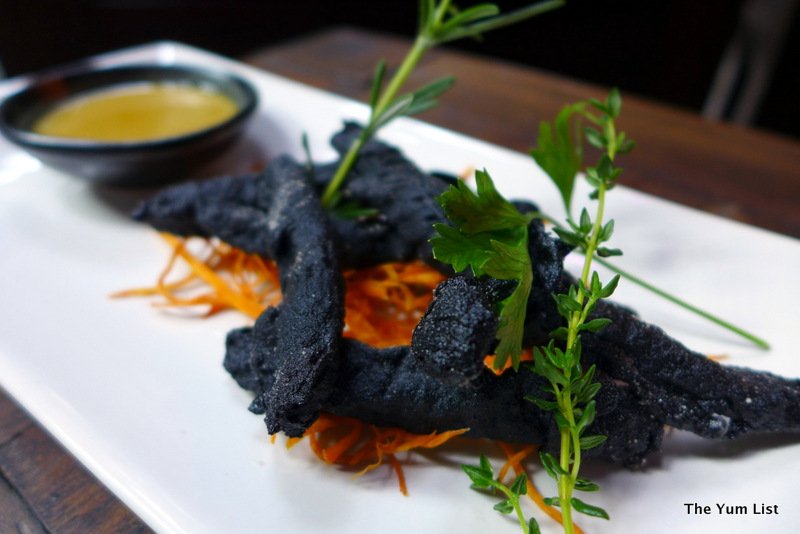 The chef had recommended a zesty aromatic white wine from the Alsace region, Wolfberger Gewurztraminer 2014, to accompany our menu.  Its full bodied crispness was very refreshing after the heat of the wasabi dressing.  The intensity of the wasabi was cushioned further by the salad course of Assorted Fresh Tomatoes with Pistachio Salsa and Ginger Torch Flower.  This was the dish, which, in my opinion, best showcased Chef Sombat's style. His aim is to take the simplest, freshest and most traditional of ingredients and add a modern twist to them; be that through presentation, or flavour.  The tomato salad oozed freshness with its bright and vivid colours and strong basil aromas.  The modern touch came in the form of the pistachio salsa.  At first you are met with the powerful pistachio flavour followed by a hot kick from the cumin and Tobasco.  The ginger torch flower (bunga kantan) features in this salad as decoration but it is traditionally an essential ingredient in Malay and Nyonya (Chinese-Malay) cuisine, where the buds are used to liven up curries and stews.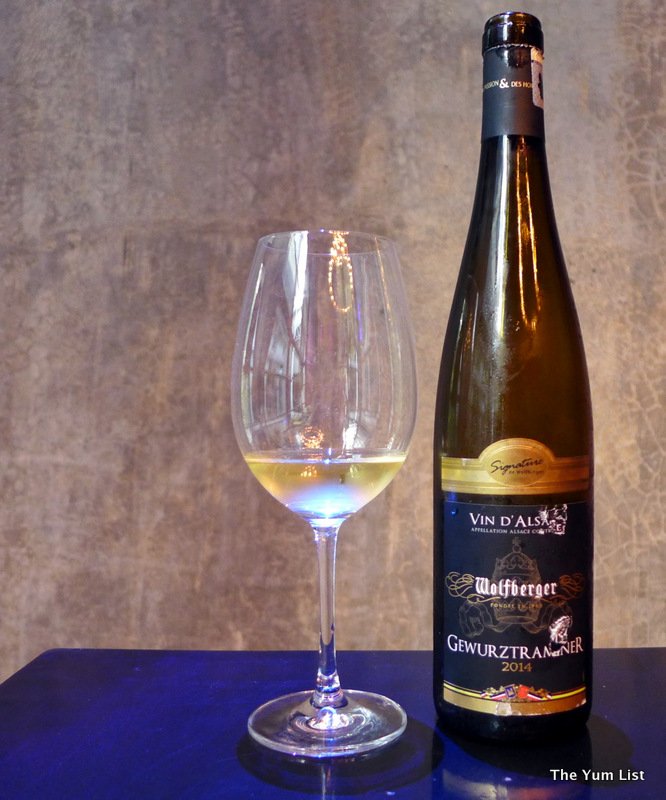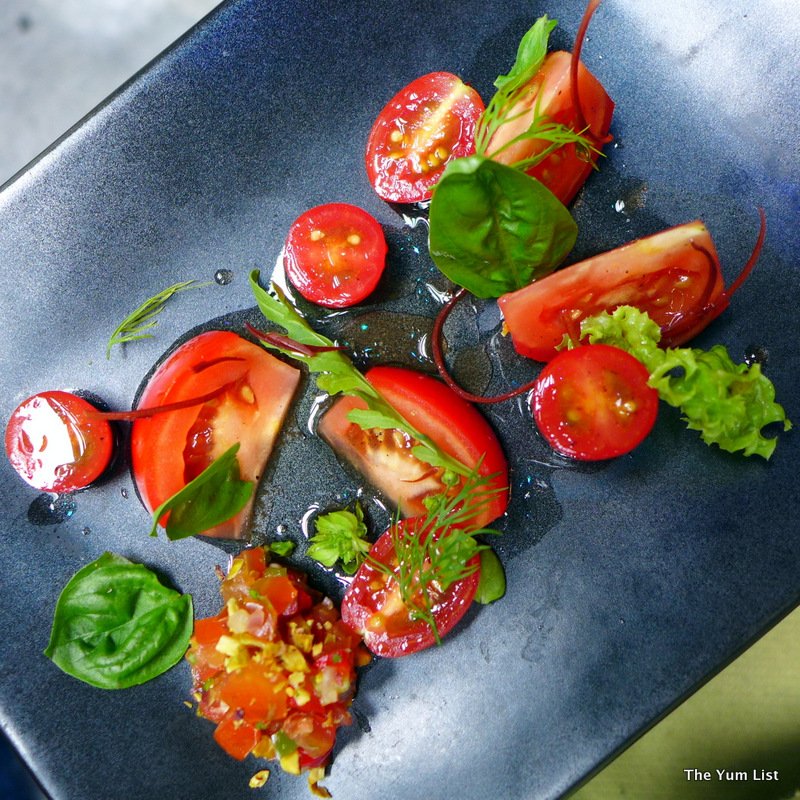 The next course was served: Soft Tofu with Spinach Cream Soup and Vegetable Pearls.  Another simple and down to earth dish, yet surprisingly delectable.  The look was modern cuisine but the tastes were more traditional. The vegetable pearls were so delicate in their compactness but still managed to capture the fresh savours of the pumpkin, zucchini, carrot and radish.  The soup would have been perfect served as it was, however, the tofu and vegetable pearls added depth and gave the diner a pleasing combination of textures.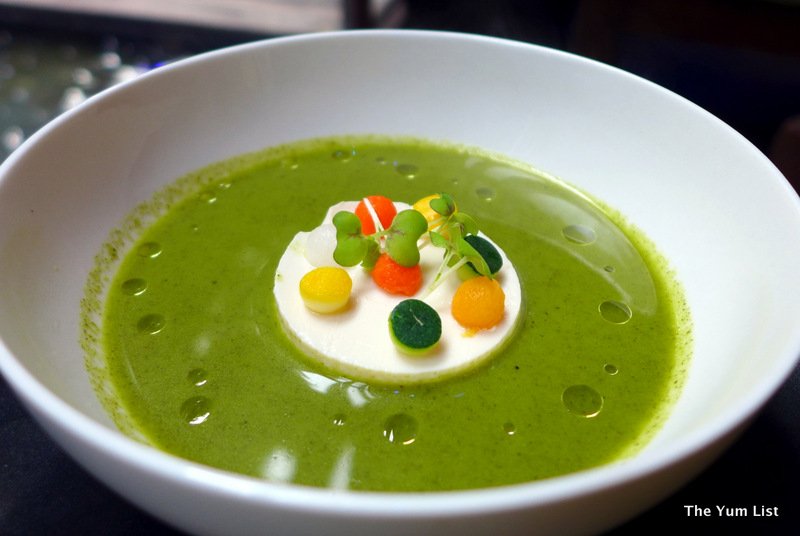 Accompanied by a lightly fruity and slightly spicy Pinot Noir from the Marlborough region (Babich Pinot Noir 2014), we were given two main course dishes to enjoy.  The first was Roasted Butternut Squash with Tomato Confit, Parmesan Crust and Balsamic Reduction, followed by a Potato Confit served with Sautéed Mushrooms, Black Truffle and a Fresh Basil and Kalamata Tapenade.  These root vegetable plates reminded me of warming winter meals back home but with the added delicacy that is apparent in all of Chef Sombat's creations.   I really don't know how he managed to infuse so much flavour into the potato confit but I can still taste it as I write several days later and I would go so far as to say that I would return back just to experience that aspect of the meal again.  I would suggest that they be a little more generous with the truffle shavings though!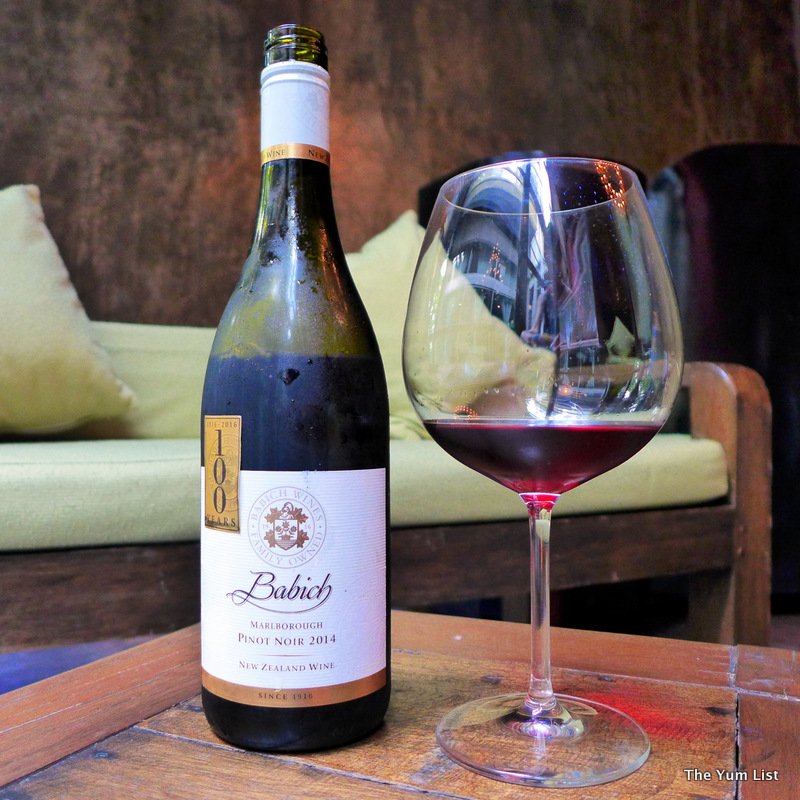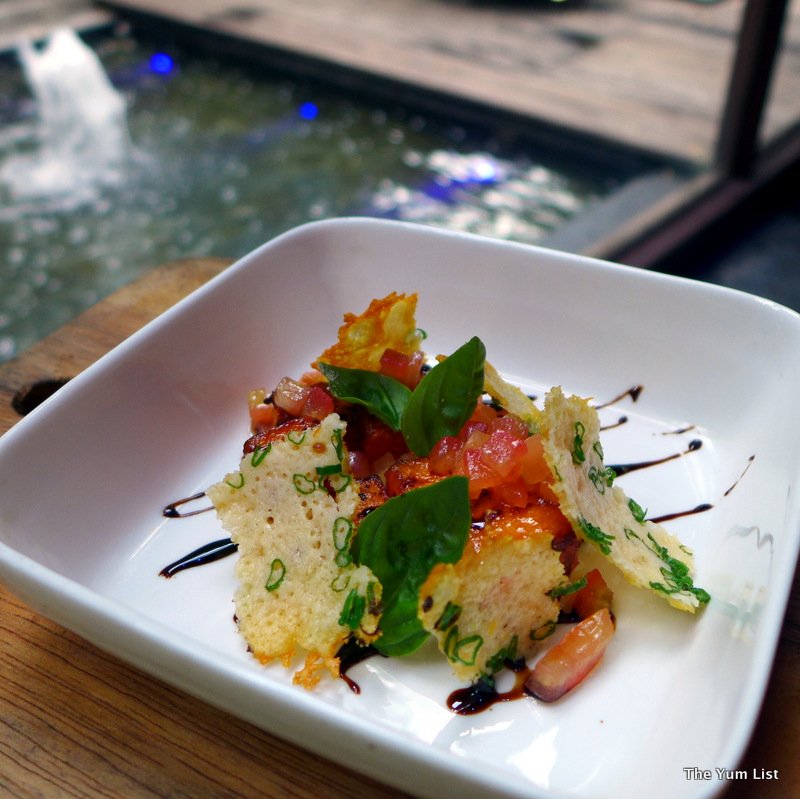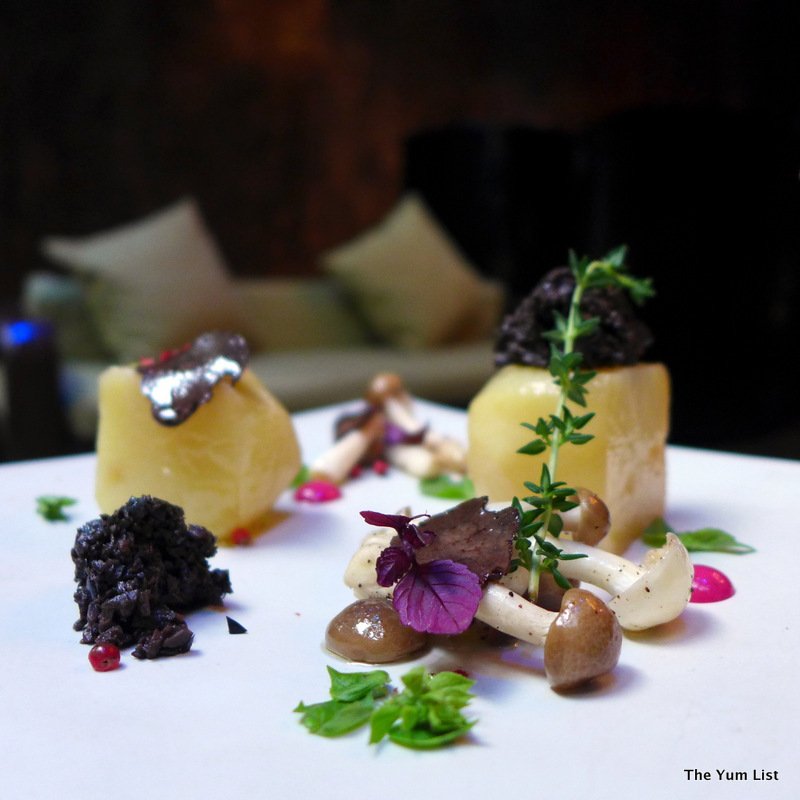 We were about to reach saturation point but managed to find room for the Tapioca and Fresh Fruit, a traditional Malay dessert with a hint of Thai in honour of Chef Sombat's heritage.  Far from looking boring as many tapioca dishes can do, the fresh fruit gave the dessert vitality and you could clearly see the crunch of the almost crème brulee like topping.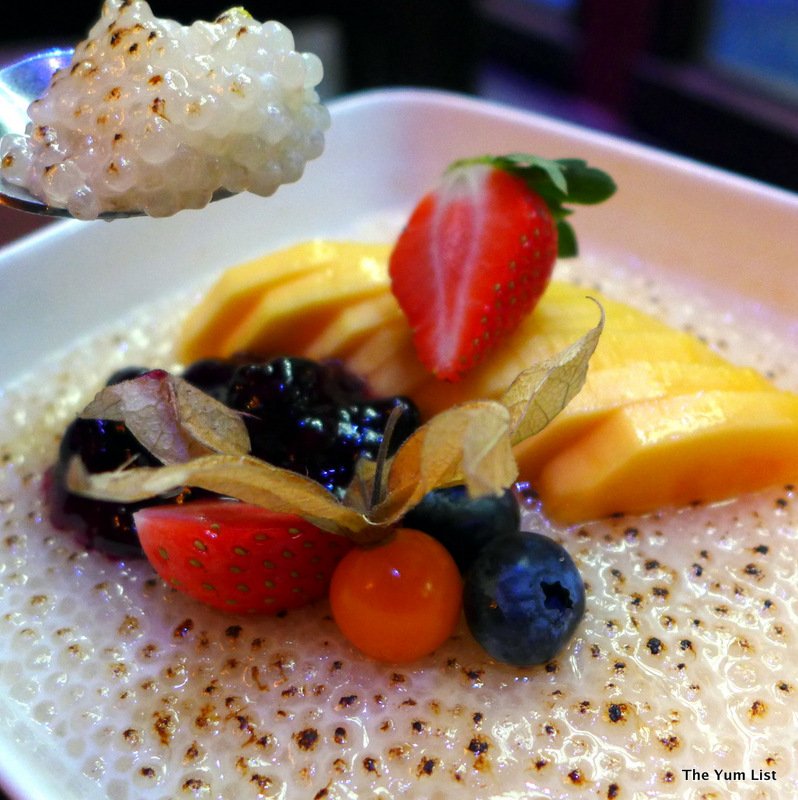 The fact that this menu did not feature any meat or fish did not even cross my mind as we made our way through it, such were the enjoyable and intense flavour created with only vegetarian food.  I would perhaps change one of the main root vegetable courses for a risotto or pasta based dish, purely to add to the variety of flavours and textures. I will definitely return to Neo Tamarind for a drink so I can experience the bar in full swing, and could be easily tempted to eat there again.
Reasons to visit: Take time out of hectic KL to chill out and enjoy the hip atmosphere emanating from this secret city retreat.  Drink, eat, drink, eat, drink; the venue is made for a free flowing dining and drinking experience.
Neo Tamarind
19, Jalan Sultan Ismail,
50250 Kuala Lumpur
Reservations: +603 2148 3700
Events/Enquiries: +603 2144 8370
[email protected]
www.tamarindrestaurants.com/neo-tamarind.html