Words: Han Sen Hau    Photos: Monica Tindall
Forget Water. Wine Flows In Mars.
It wasn't too long ago when NASA made the announcement of its breakthrough discovery of water on the red planet, thus prompting the space agency's quest for its Holy Grail. With the prospect of discovering alien life forms on the fourth rock from the Sun since, you know, water equates to life, interstellar travel seems imminent and eccentric billionaires may soon find themselves on the next Virgin Galactic flight to Port Olympus Mons. But with bone loss and muscle atrophy being legitimate concerns for the time being, may we recommend a much livelier and more practical option at Kota Damansara where wine flows instead, at Mars Wine Bar.
And this is the part where I candidly offer my apology for the bait-and-switch. Really, how could I pass a chance to reel in NASA for a food review? Incidentally, I swear I will not make any passing references to the chocolate confection.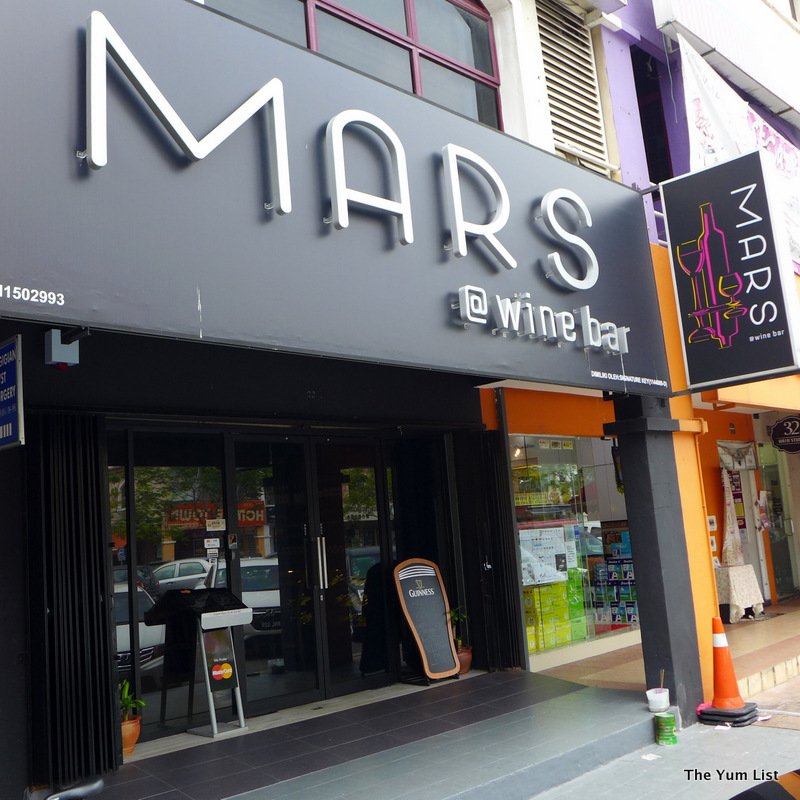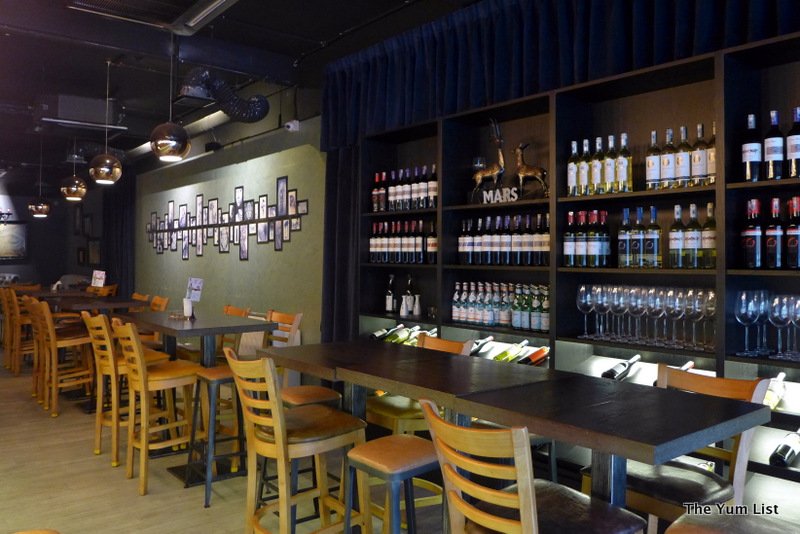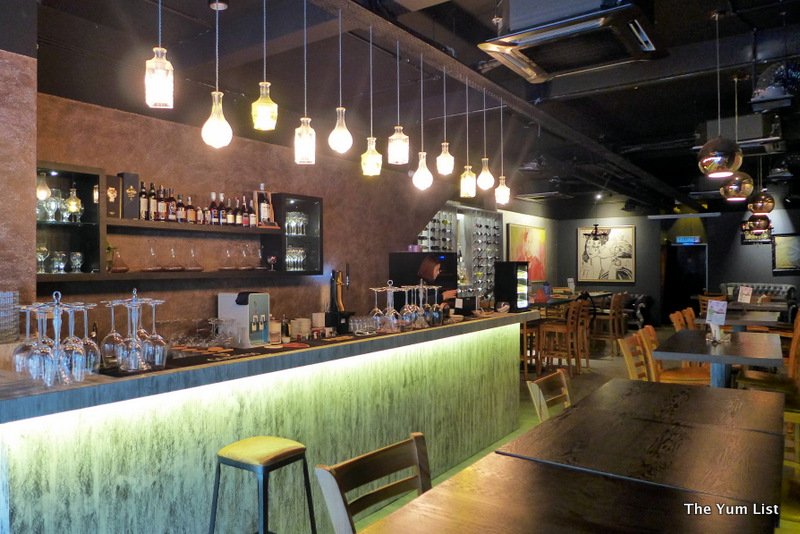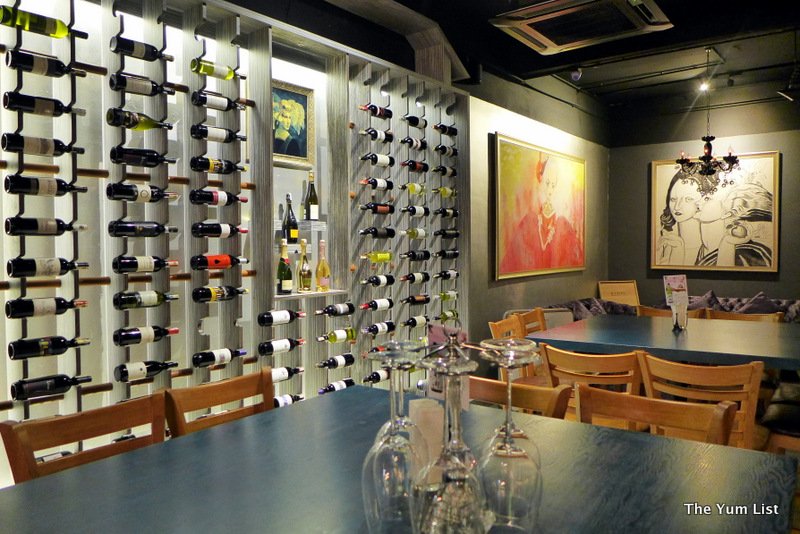 Barring its inconspicuous (though in no ways hidden) façade, Mars Wine Bar is a treasure trove of wines and bubblies collected from around the world. With its founder, Nicole, slotting in an overseas excursion every opportunity she gets when not managing the busy place, the bar has become home to a variety of exclusive labels that even connoisseurs would be hard-pressed to find in Malaysia. We had the luxury of trying a couple of her finds, including an exquisite Maria Casanovas Cava Glaç, and a really, really smooth Prima Toro.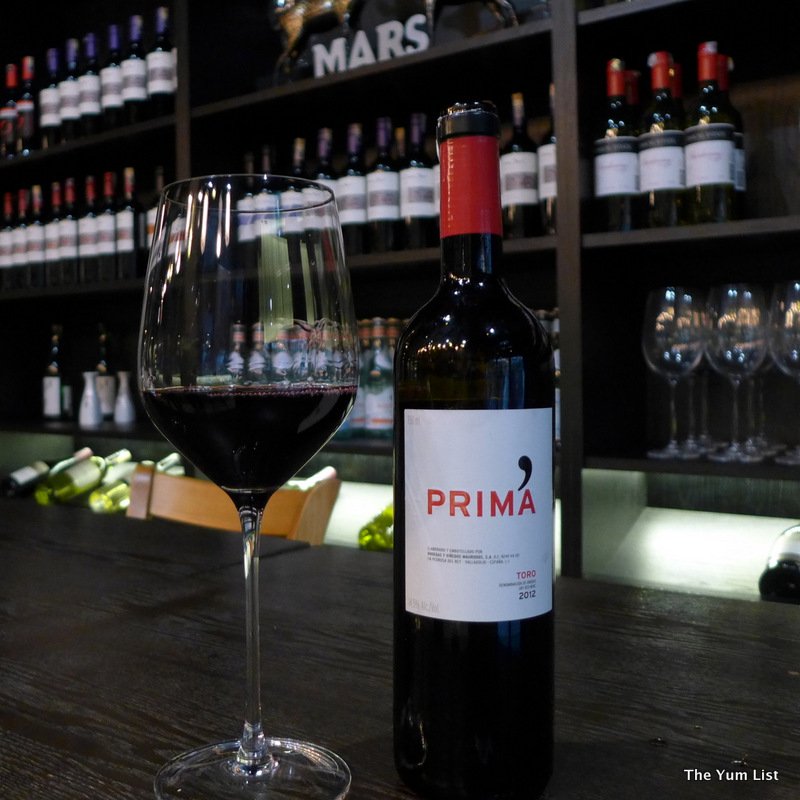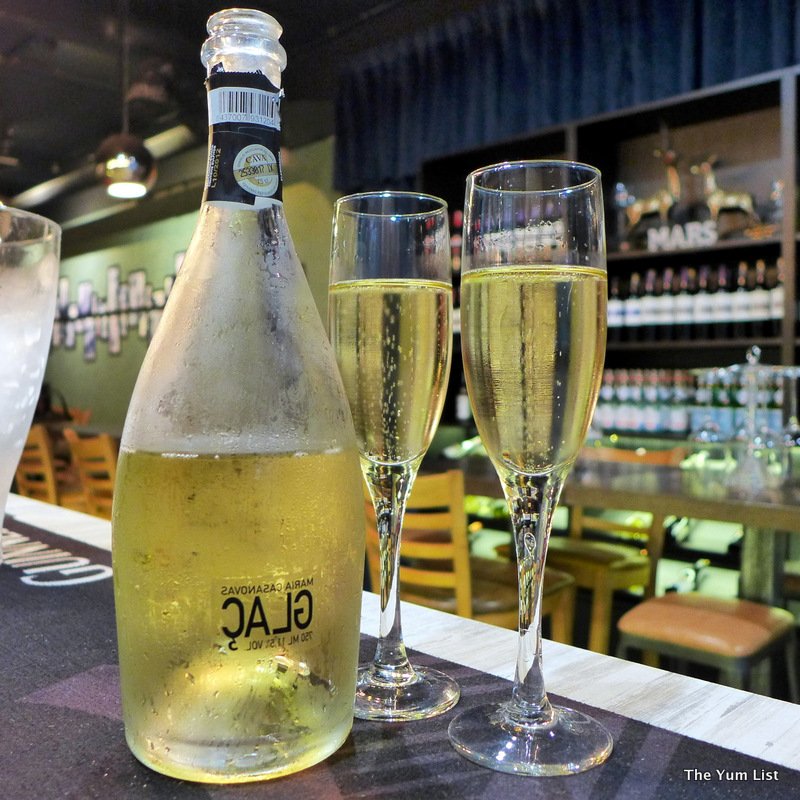 The cava was bright, bubbly, feels a little dry at the end, and was a welcoming change from all those sharp flavours I associate with champagne. Our taste buds were immediately stimulated from it, and we were ready to tackle the onslaught of food coming our way (we've been informed that we'll be having the entire food menu), though not before the Prima smacked our lips. And boy, did the Prima know how to kiss. It sounds like an oxymoron to say the dry red was so smooth, but that's how the Prima swished on our tongues with its faint coconut fragrance and addictive fruity aftertaste. While the cava sparkled, the Prima stirred with passion, and I was but a credulous victim to her ardour.
Allowing us to rise above our stifling intoxication was the arrival of food on our table, beginning with a series of light bites whipped up by the amazing Chef Pedro Diaz. We first enjoyed the Pate Bruschetta, which comes in a set of five, and customers can choose between tuna, salmon, Iberico, and duck, sprinkled in black pepper and fine herbs. A simple and appetising offering that paired well with the alcohol.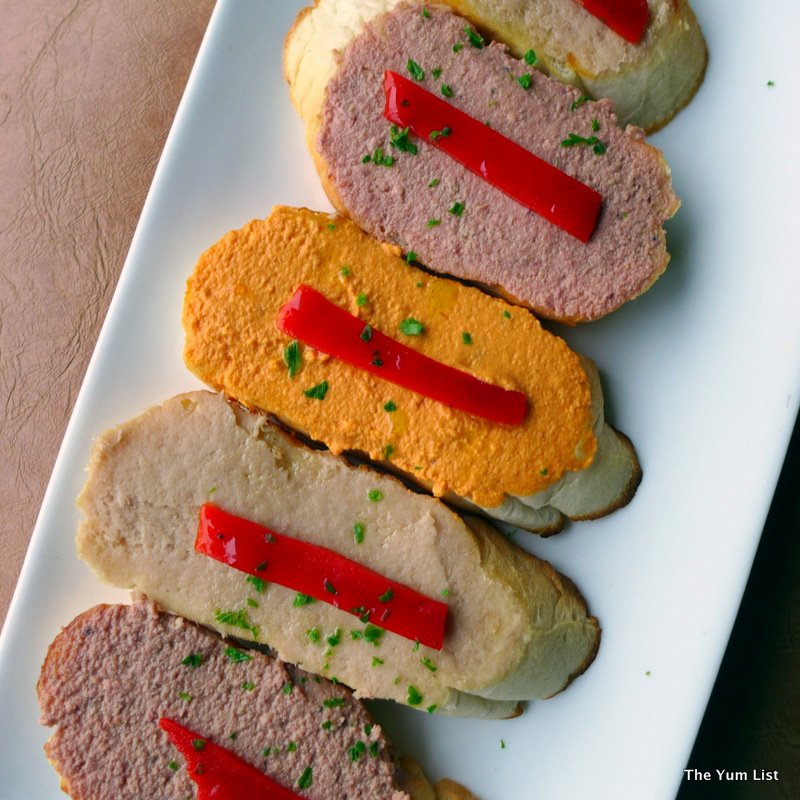 Next were the mixed olives that are great for resetting the palate, and also intensely gratifying to munch on if ever you need a perk-me-up to save you from that insipid conversation. Chef Pedro nailed the Chinese classic Prawn on Toast and makes it very obvious that the bar is frequented by a Chinese majority clientele. I thoroughly enjoyed the generous amount of sesame seeds used in this, and the accompanying sweet chilli dip completes this beautifully effective dish.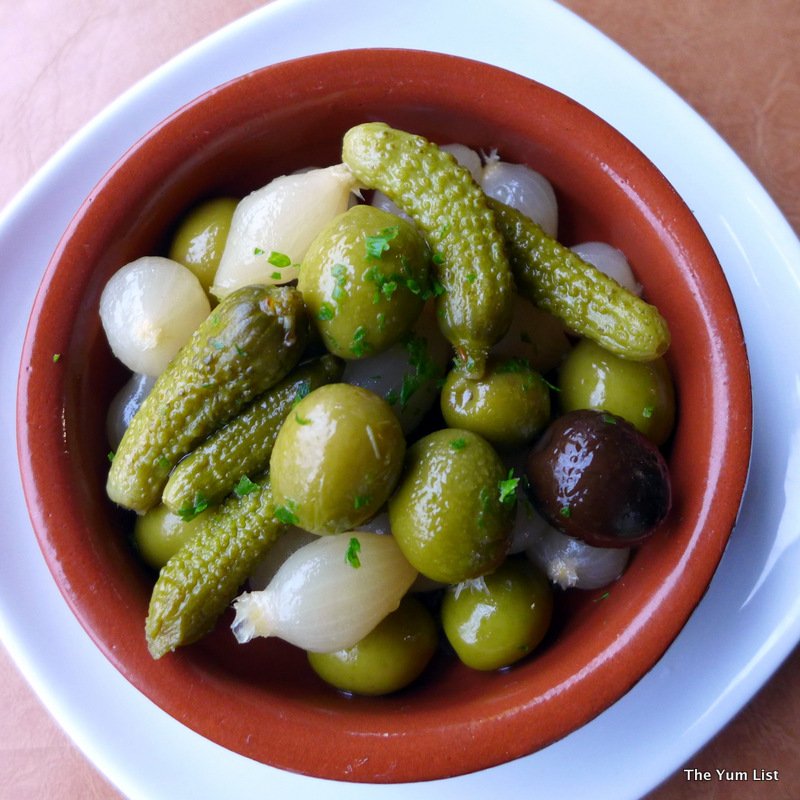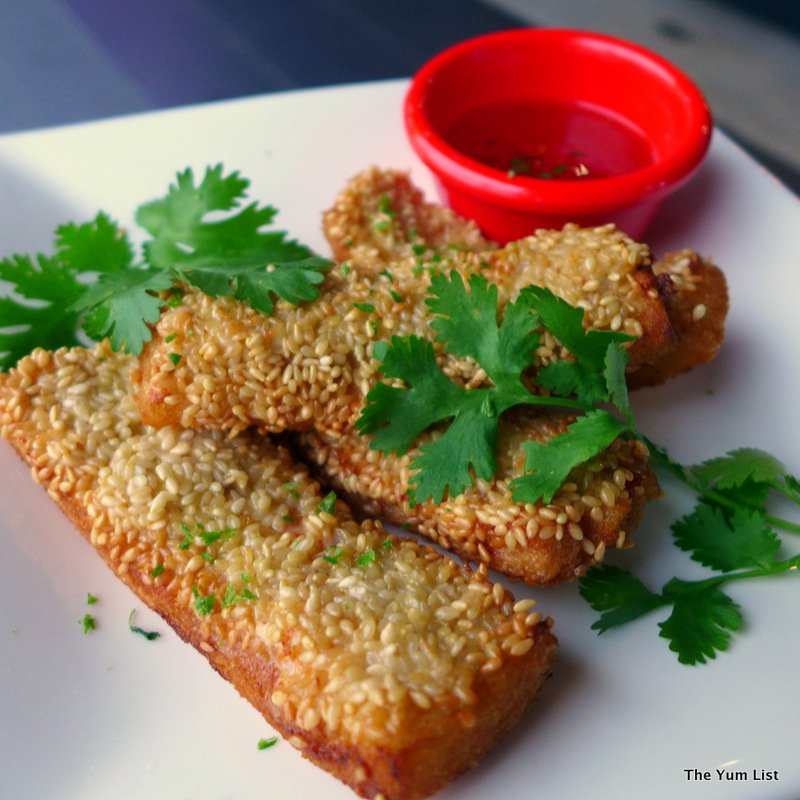 I usually overlook croquettes in a lot of places because, to me, they're just deep fried potatoes, but the Iberico Ham Croquettes I had here was totally worth slowing down for as they successfully pried my hands away from my phone (for I have been feverishly taking down notes on all the dishes that have been stacking on our table). Soft and fluffy on the inside with a great crunch from the enveloping breadcrumbs, these croquettes were great on their own, but made even more fabulous with the sweet and spicy mayonnaise drizzled on the plate.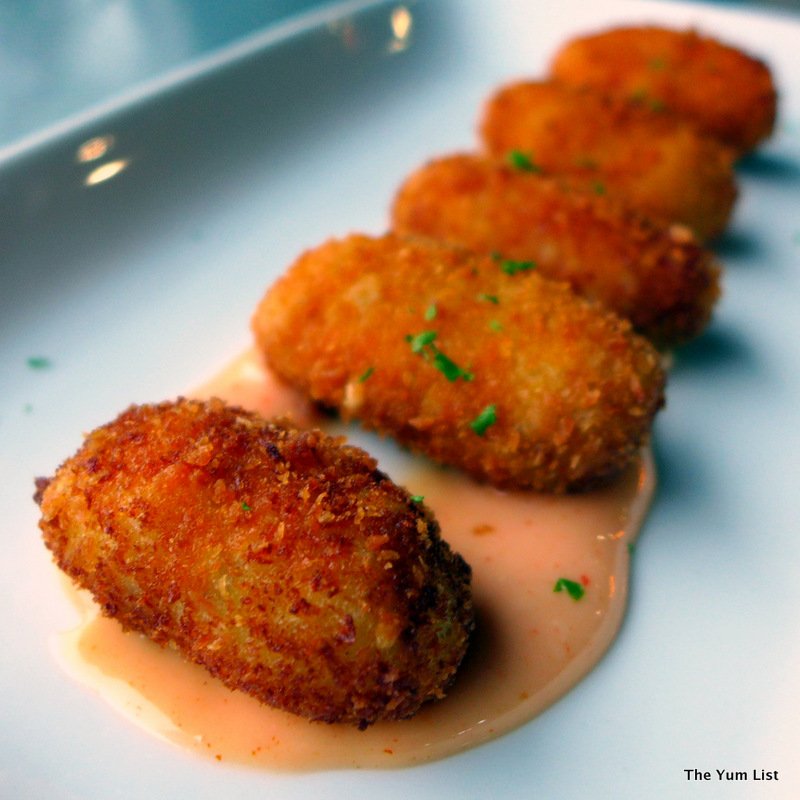 I sped through the Garlic Fried Chicken (crunchy, moist, and I prefer them without the chilli on the side that reminds me of really strong Sriracha) and Garlic Chilli Prawns (amazingly fresh and tender; the sauce these prawns were swimming in really amped up the flavours), before taking a moment to appreciate the Spicy Chicken Wings, which reminded me of Buffalo Wild Wings in the States. The sauce used for this was more sweet than it was spicy, so you needn't fear of setting your innards aflame should you choose to pair these with wine.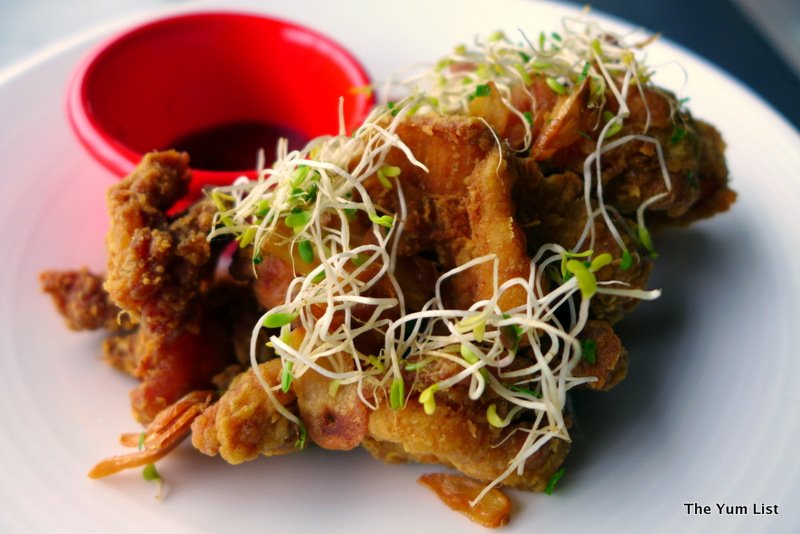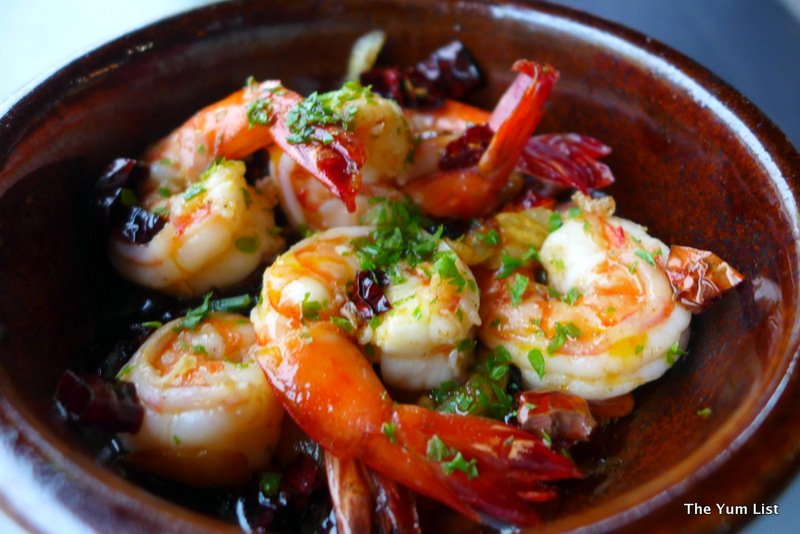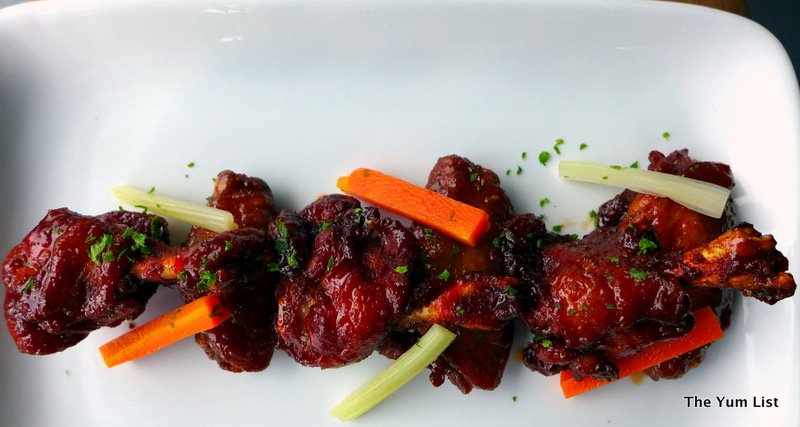 At this point of the review, I was a little bemused… What initially struck me as a wine review soon turned out to be a food-eating contest complemented with wine. While I'm certainly not complaining about the amount (and variety) of food I'm consuming per minute, I found myself at the end of the table, with camera on hand, huffing and puffing as I tried to keep up with the speed in which new dishes were brought out from the kitchen. The experience has left me very impressed with the kitchen's efficiency, and I can only hope and wonder if this consistency in quality is maintained when the bar becomes increasingly busy through a weekend night.
As we mowed past the not-so-small bites, we were presented with the monumental task of withstanding an assault from the à la carte menu. Just as we've loosened our metaphorical belts in preparation for battle, we found out that we would also be sampling items that are not displayed on the menu, so we disposed of them completely thereafter. We began with the solid Spaghetti Seafood, which was drenched in the same delightful sauce used for the Garlic Chilli Prawns earlier. This was one of the few times I've enjoyed shellfish this much as they were completely stripped of that fishy stench.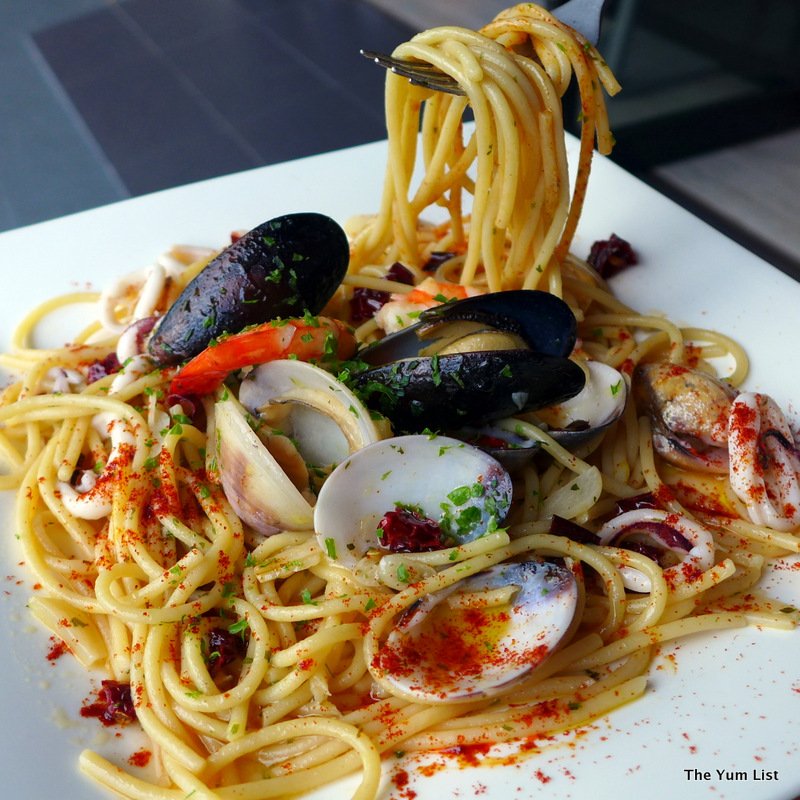 The Spanish Seafood Paella (allow 20 minutes for preparation) was equally lovely, and I enjoyed the large slices of red peppers in this, which did wonders to improve the dish's mouthfeel. Contrary to what most people would think about paellas, this one wasn't stymied by an excess of oil coating the ingredients. Each grain of rice in this was flavourful, and each ingredient smooth and silky. What's more, it came with a sauce that enhances it, not overwhelms it. We also tried its "twin", the off-the-menu Black Paella that was wondrous with a hit of lemon.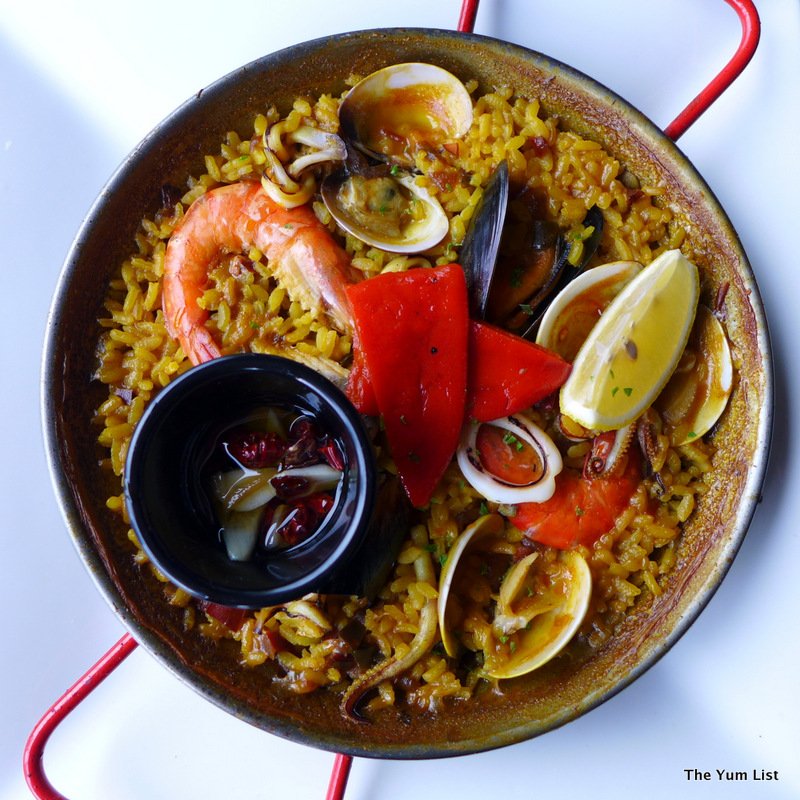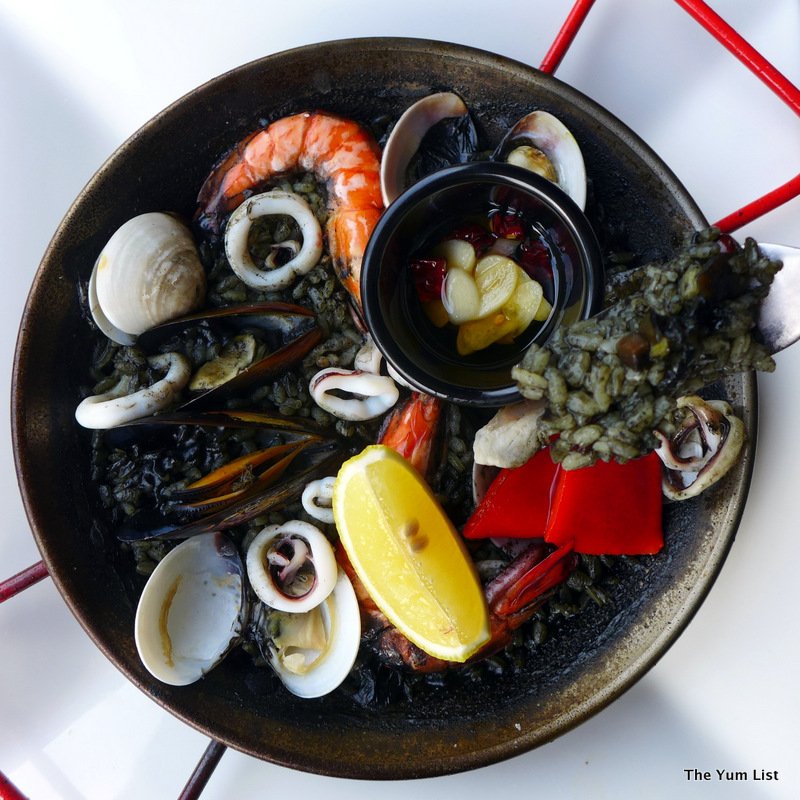 Next up was the Collar Iberico Pork Meat with White Wine that tasted like great steak, if only more tender. This comes served with deep fried onions that are a pleasant replacement for your usual fries; incidentally, informing you that a dining experience at Mars Wine Bar is anything but ordinary. The ultimate scene-stealer, though, was the Abanico that also used Iberico pork, only softer and chewier than the Collar Iberico. How you'd go about this is to carefully place a slice of the marinated pork on a lettuce leaf, dab a little bit of the special sambal on top of the meat, then drop a few thin slices of onions in it before devouring the entire wrap. It's a shame that this isn't on the menu, now that you've read about it on The Yum List, be sure to pressure the kitchen to include it as a staple when you visit as the Abanico was drop dead gorgeous.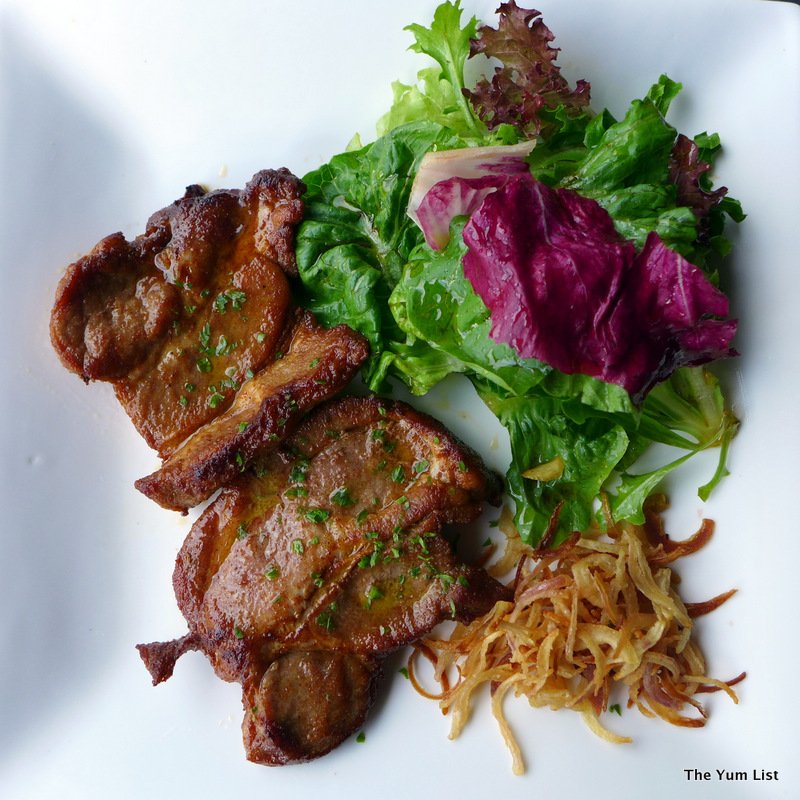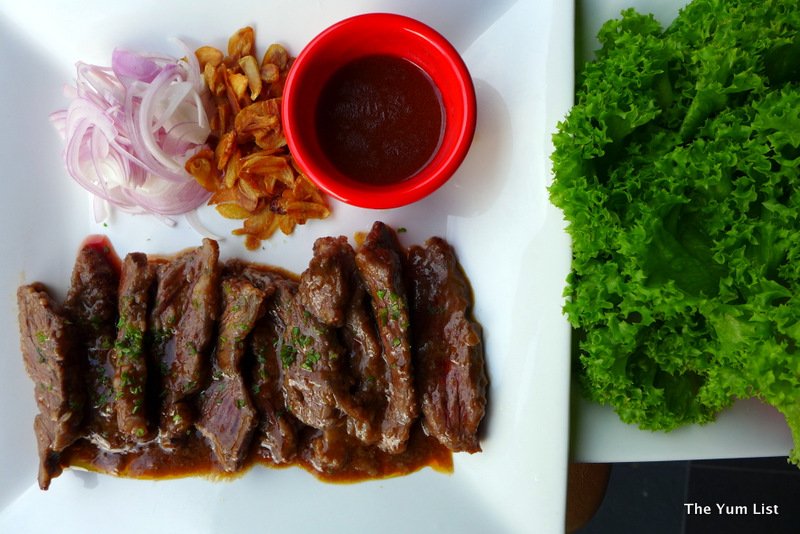 Phew… Dear Yum List readers, if at this point you're stupefied over how our stomachs have defied the laws of physics and biology, just know that we are too.
And we're not even done with the food yet! Up comes two platters: the Spanish Iberico Cold Cuts (Half-Portion) and the Spanish Cheese Platter (Half-Portion). Frankly, I would've been perfectly content with just the cold cuts, cheese, and wine, so I guess you could say I've gotten more than I've bargained for that day. The cold cuts were all Iberico pork, but the more interesting items were laid out on the other platter, where Manchego, Mahon, and Iberico were just hanging out with their strong smelling blue cousin. Of the four types of cheese displayed, my favourite was the Iberico that's essentially the same as the Manchego, but left to mature for an additional three months in olive oil, which made it smoother and richer than the others.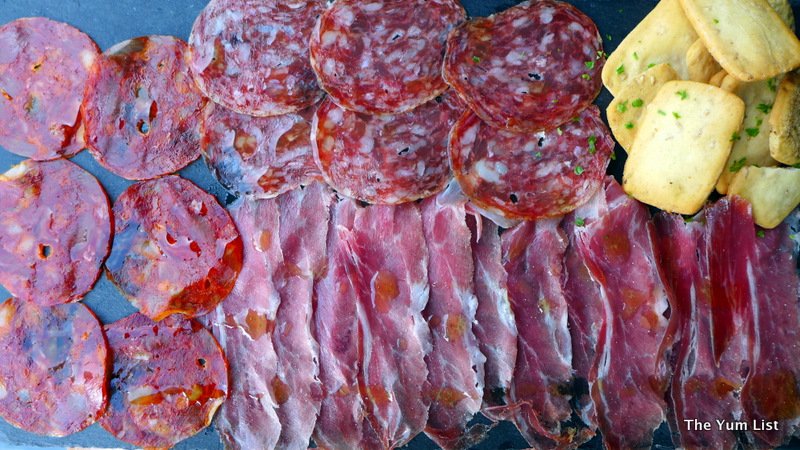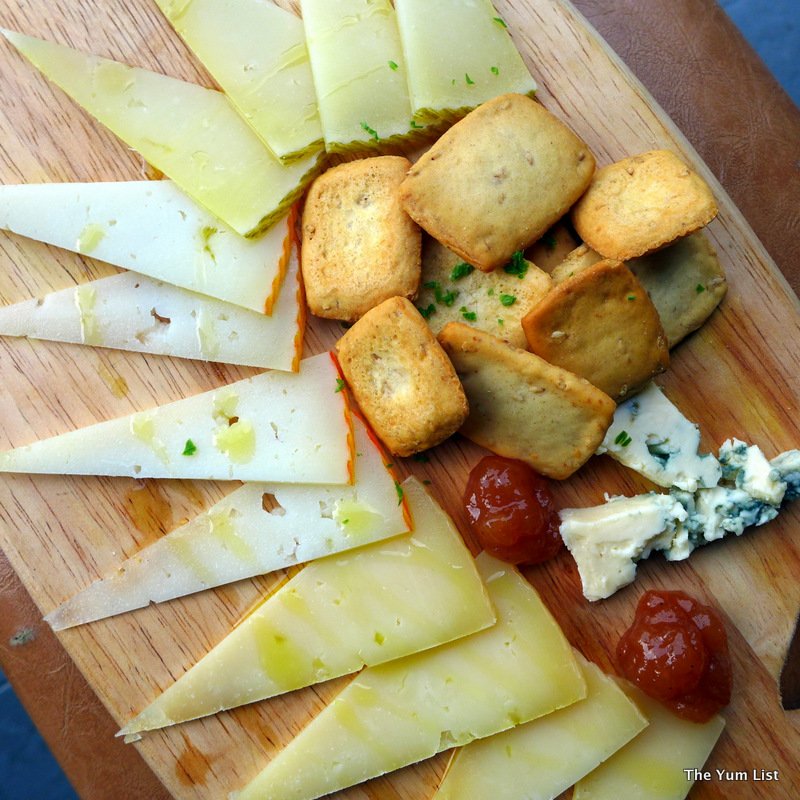 Finally, we had a special Iberico Fried Mihun. Full of Asian textures but erupting with Spanish flavours, this fried mihun is laced with green and red peppers, and goes amazingly well with the Iberico. Despite being absent from the menu, the Iberico Fried Mihun is a hit with the Chinese. No surprise there since the pork probably reminded them of char siew. One big difference here was the decision to serve the Iberico cuts above the mihun, instead of dicing them up and mixing them in it. This way, we get to enjoy more of the meat's signature flavours without having them overwhelmed by the mihun.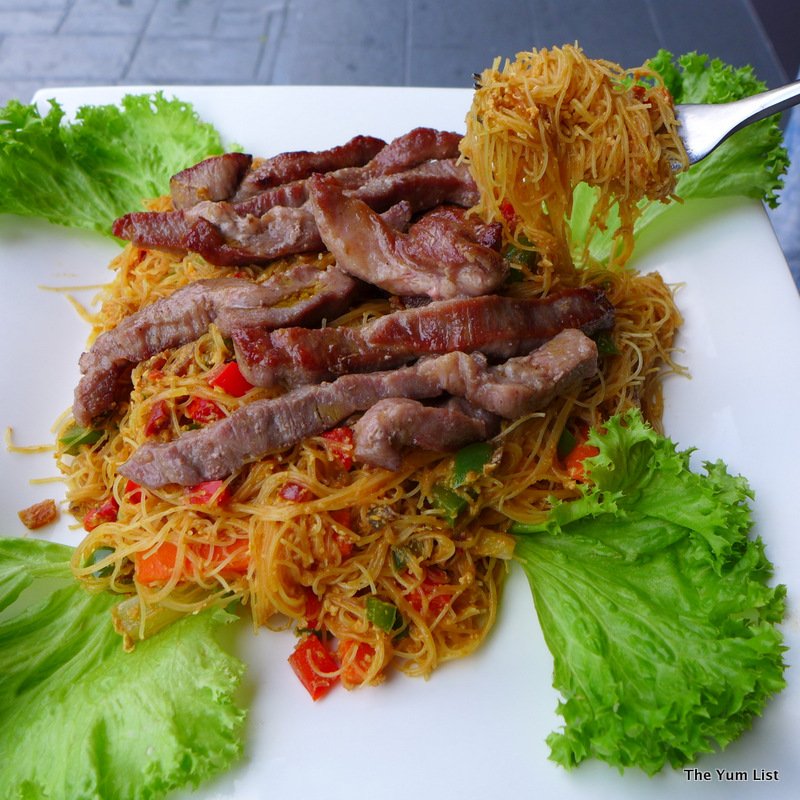 So we did find wine flowing in Mars, in addition to the abundance of tasty morsels our stomachs were blessed to contain. A great space for parties, events, and business meetings (think about all those deals you'll be able to seal by pumping in just enough wine into your guests' veins), Mars Wine Bar has all the makings of a successful business venture. With Nicole's extensive connections and Chef Pedro's flair for flavour, we see no reason why this wouldn't become a favourite haunt for many.
Reasons to visit: It would be a crime to single out any one dish, but if I had to choose, it'll be the Abanico, and the Iberico Ham Croquettes, and the Garlic Chilli Prawns, and the Spaghetti Seafood (okay I'll stop); impressive wine selection; comfortable space (in the sense it's not as crammed as many of the speakeasies that are trending right now, and that it provides a nice alternative to cocktails).
Mars Wine Bar
No. 20-1 Jalan PJU 5/9
Dataran Sunway, Kota Damansara
47810 Petaling Jaya
Selangor, Malaysia.
+603 6158 1855
www.facebook.com/marswinebar/