Words: Heather Onderick   Photos: Monica Tindall
There's something incredibly infectious about Chef Raymond Tham's demeanor. It could be his his warm smile. Or maybe, it's the radiant plates illustrating his awareness of texture, sustainable produce and distinctive tastes. Or perhaps, it's his wonderful discourse about what is up and coming in the Southeast Asian food scene that could serve as a spark to fire up new recipes in his own restaurant. Whatever you call it, a visit to [email protected] is an essential dining experience in 2016, and a chat with Chef Raymond Tham is a privilege for anyone interested in Malaysian innovators that want to make a difference.
Industrial but simultaneously cosy, [email protected] has the feeling of a Noble Rot in Portland or a gastrolounge like IL Ponticello in Manila. Its elephant grey suede seating and chestnut brown art deco chairs, are well suited to the natural light that plunges in the space, creating a warm balance of factory comfort. At the bar, the jacket hooks welcome you to pull up a chair and try one of bartender, Shaun Ong's, experimental and playful cocktails.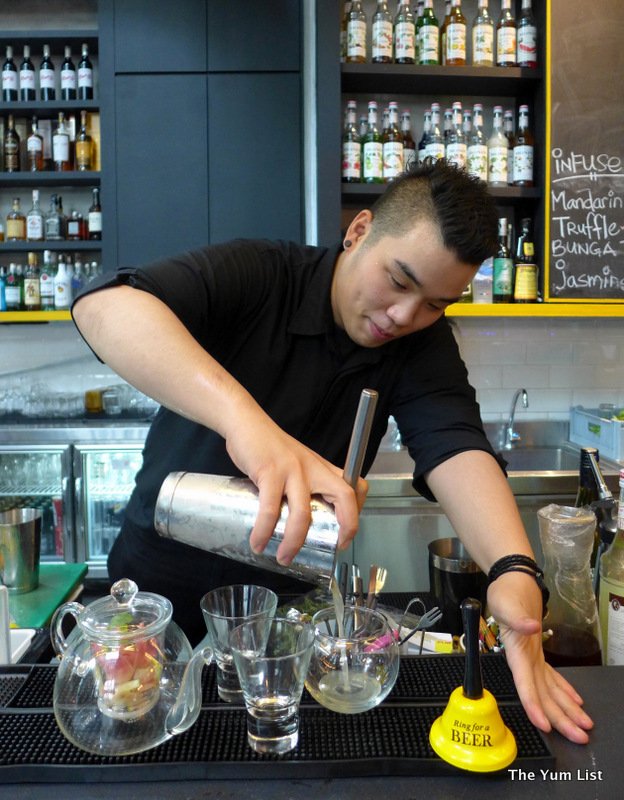 Fresh out of an afternoon run, The Yuzu Sonic, a mixture of tonic and soda water, gin and Yuzu, was placed on our tables and immediately revived our fatigued, middle of the week lagging bodies. Awakeningly fluorescent, this is a recommended alternative to gin and tonic, heightened with the Yuzu's mandarin orange and grapefruit tones.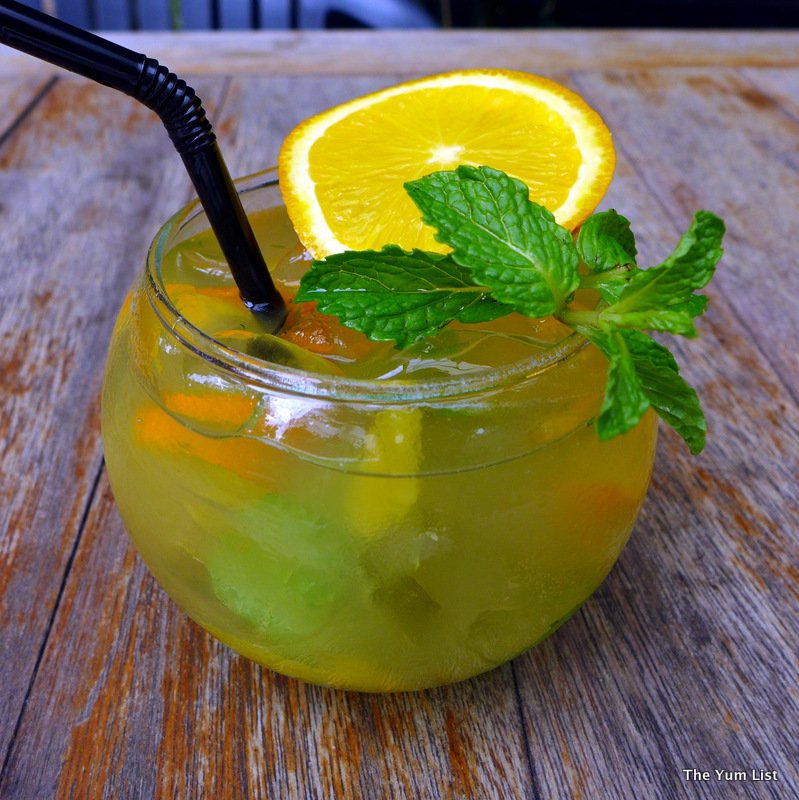 As many of you know, The Yum list has been to [email protected] before, so in honor of our Vegetarian Fine Dining challenge, Raymond presented us with a five course vegetarian menu. He recommends you call ahead if you would like this option so the kitchen can prepare the finest ingredients for your dining experience.
This vegetarian voyage began with an Avocado Yogurt Parfait, served with mango diplomat crème, fresh dill and pickled Japanese cucumber. What stood out in this dish was the smoothness of the plate without it tasting textureless. Raymond and his chefs were able to blend a myriad of flavors in a subtly layered and luscious, room temperature dish.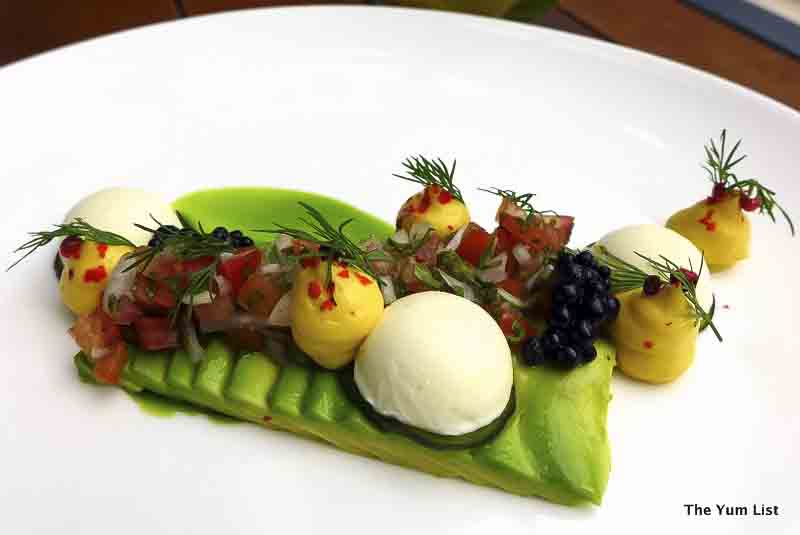 Ready to be wowed, our next drink was served. Continuing with the consistency of refreshing, well-balanced fruity, aromatic drinks, Chef Raymond presented us with a homemade wine cocktail, consisting of Grand Marnier, Sauvignon Blanc, thyme, lime and Pernod. Light, original and for lime lovers, this drink was inspired by his New Zealand travels.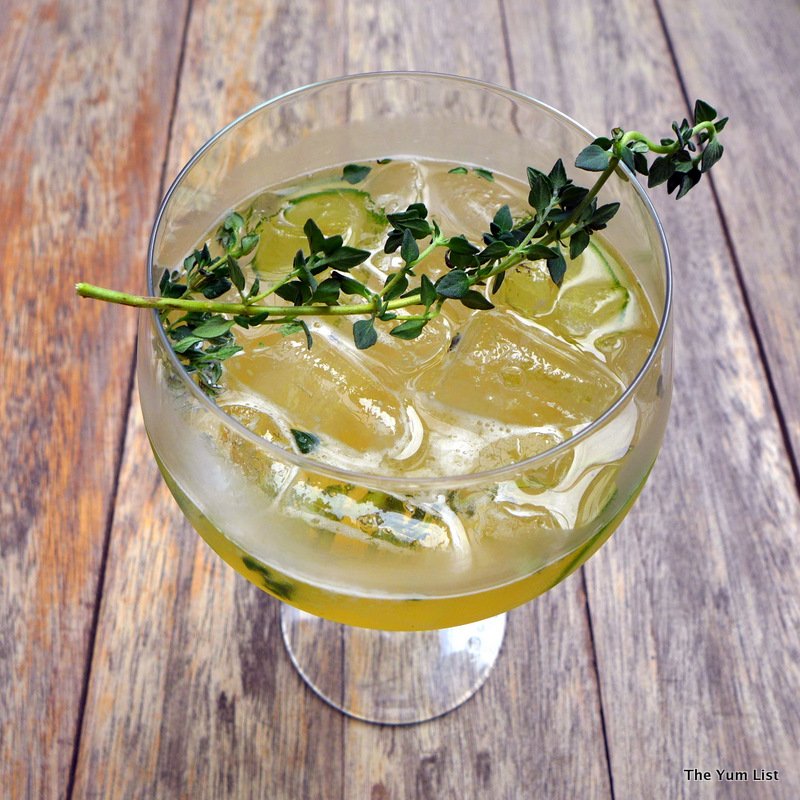 To neutralize our now citrus stained palates, the next dish served was a buttery Puff Pastry with Portobello Mushrooms. Drizzled in an aged cheese and decorated with caramelized Balsamic drops, the pungent mushrooms created a harmony between the citrus, licorice tastes of the wine cocktail.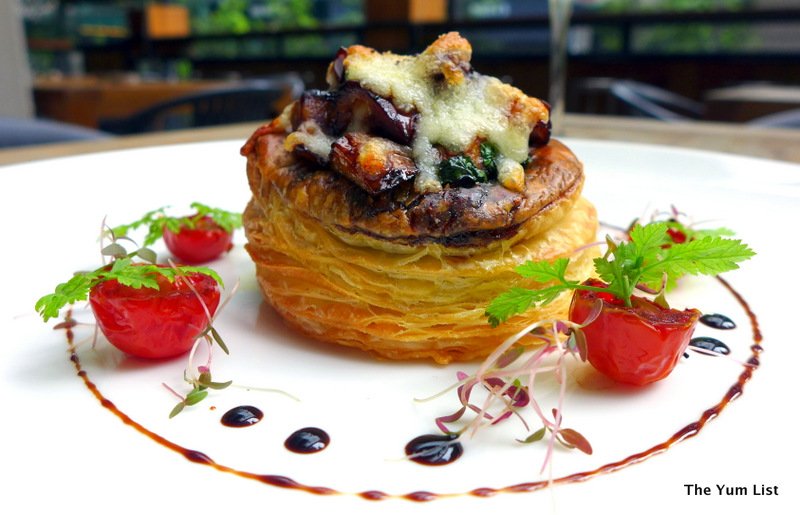 When chefs experiment with a wide variety of flavors, palate cleansers are often necessary mid-meal. Shaun and Raymond's serving of the third cocktail consisting of ginger torch flower, infused with lemongrass and gin, was timely and rejuvenating. Served beautifully in a tea kettle and said to be inspired by Raymond's affinity for the Japanese tea ceremony, hints of mint and lime round off the series of zests enjoyed in this drink.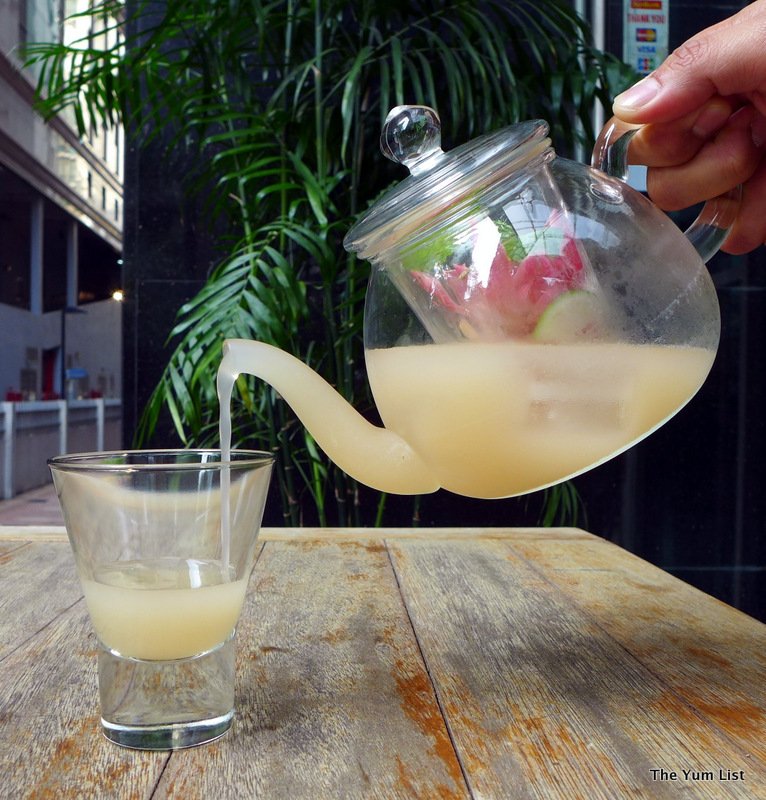 If you are lucky in life, you have memorable meal experiences that you can't stop talking about. I have not been able to get this dish out of my head and have mentioned it in conversation at least three times this week: the Saffron with Risotto, served with an egg cooked at 63 degrees that coats the rice, making each velvety bite a conglomeration of honey, flowers and smokiness.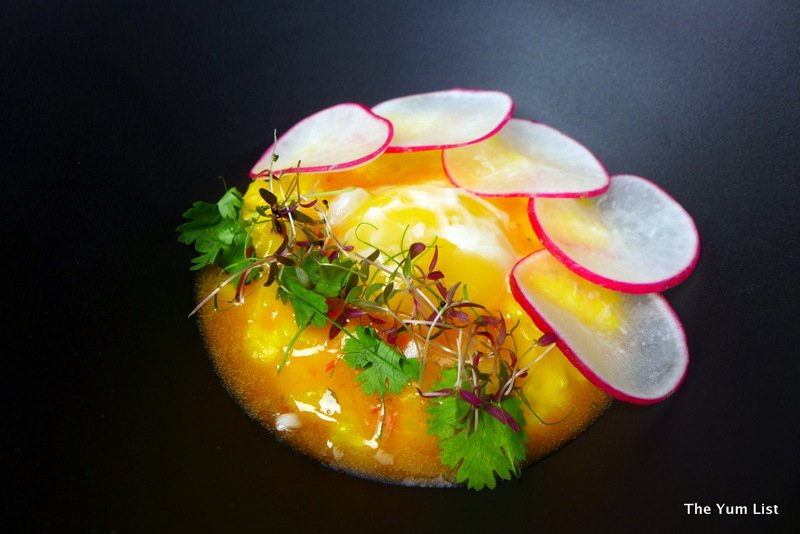 Already looking forward to the next round, a Cucumber Cocktail arrived on the table. This simple glass of freshness was made with juiced cucumber, Hendrix gin and mint. This beverage was nicely balanced by the main dish on its way, which would guarantee that no one would be left hungry. The Potato Dauphinoise, was served with crumbled cashew soy and adorned with a tempura ddamame. This dish was a testament to Raymond's desire to combine Malaysian flavors with European cooking techniques. The potatoes were served with a percik sauce, which consists of coconut, chili, lemongrass and galangal. It is perky and adds a friendly spice to this rich dish.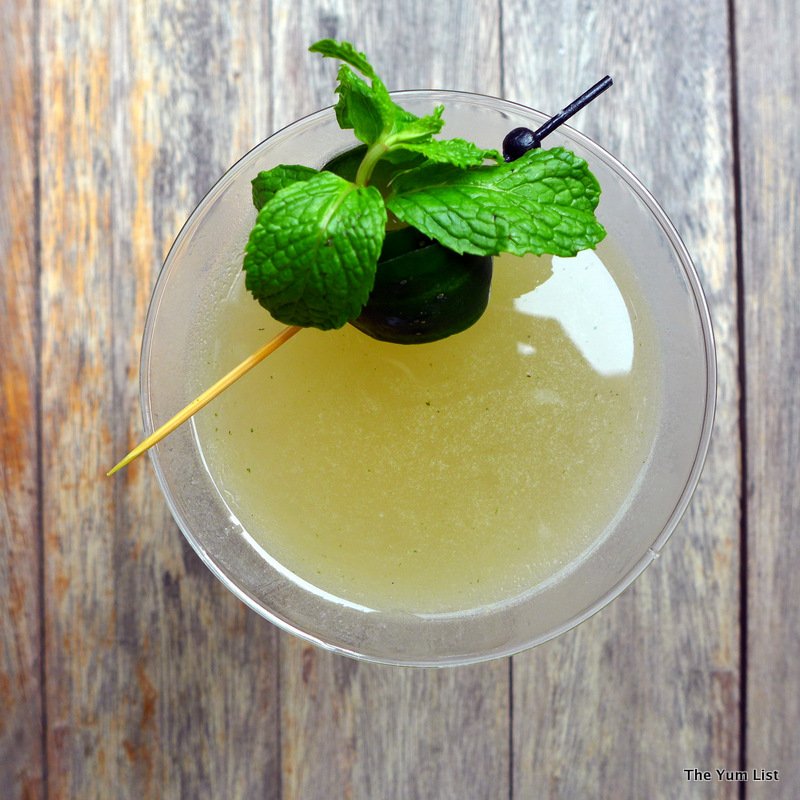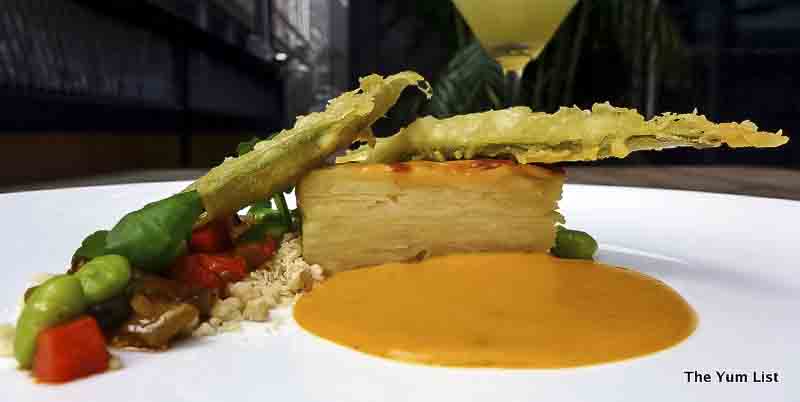 Feeling extremely satisfied, I was eager to see what Chef Raymond, renowned for his pastry skills, would present us for the final dessert course. The bowl flew by me, smoke rolling over the edges. This hooked me and as Monica took it away to photograph, I watched the dish pass by with the green, yellow and red colors peeking out of the steam, desperately seeking to know what lie beneath. The final result was a Cempendak (jackfruit) Crumble, served with spiced pineapple, coconut cream, lemongrass snow and a crumbly cookie base. A wonderful collision of flavors ran together similar to the sensation one gets when eating apple pie, but this was the unique Southeast Asian interpretation.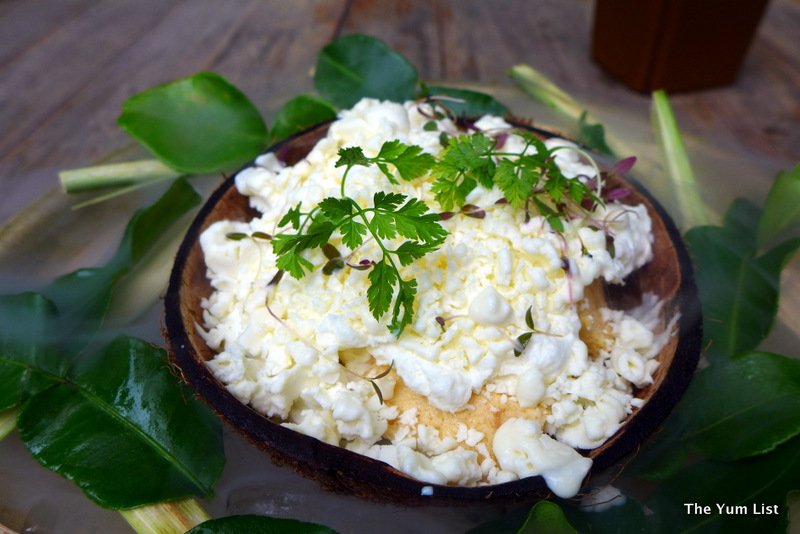 Served alongside this comfort food was our last matched cocktail, an exotic Spicy Tom Yum combination, made with Bacardi white rum, ginger ale and limes, as well as the other traditional Tom Yum ingredients such as lemongrass, galangal and chili. Spicy and sparkly, it aligned beautifully with the cempendak crumble, sending a parade of different flavors dancing around our mouths.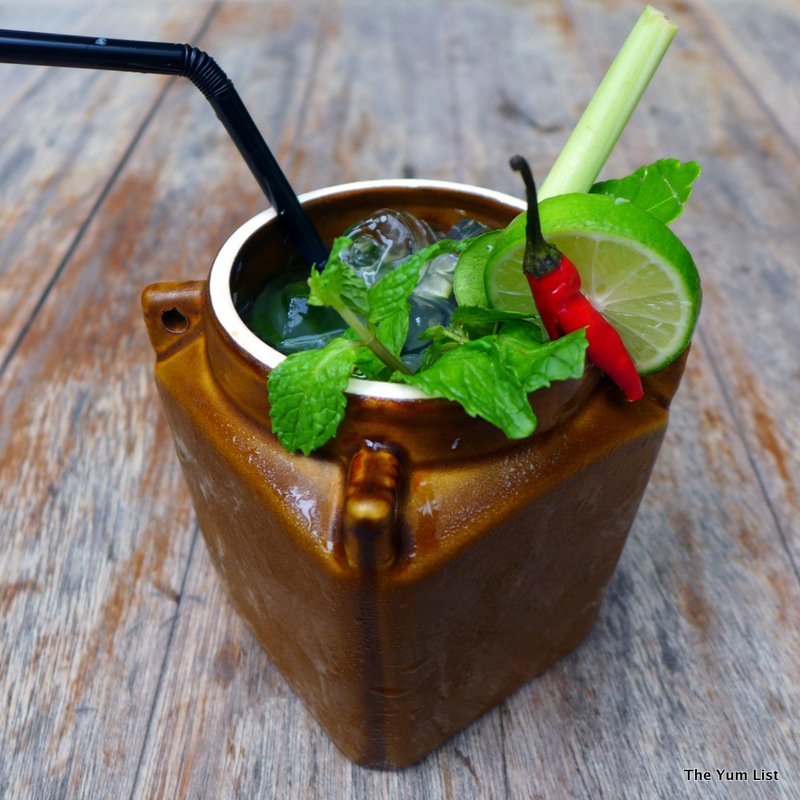 Raymond is pushing the boundaries of Asian fusion. It is clear he thinks about how he can redesign successful European dishes while using the highlights of Malaysian cuisine. This is one of The Yum List's most adored restaurants this year. We hope you think so too.
The vegetarian set menu is priced at RM198+ per person, and RM350+ for two. To include the drinks pairing add RM180+.
Reasons to visit: The humble but lush, Saffron Risotto with egg and Chef Raymond's own, Cempendak Crumble, a Southeast Asian version of apple pie.  On top of this, Bartender Shaun's made to order, food-paired cocktails are like Jackson Pollock paintings, splashed beautifully with many flavors.
[email protected]
Fraser Place
Jalan Perak
Kuala Lumpur, Malaysia
+60 3-2181 2426
www.facebook.com/skilletat163
Operating Hours: 11:30am -10:00pm