Words: Kirsten Durward    Photos: Monica Tindall
As the Michelin Guide has not reached Malaysia it's not often that we eat in starred restaurants, so we're already excited before even arriving at La Ribaudiere in Bourg Charentes. But fine dining or not, anyone would be tempted to pause in this charming spot on the river banks and enjoy a light lunch or a mellow evening dinner. As the day is so pleasant we elect to sit outside on the terrace to enjoy the fresh air and restful surrounds.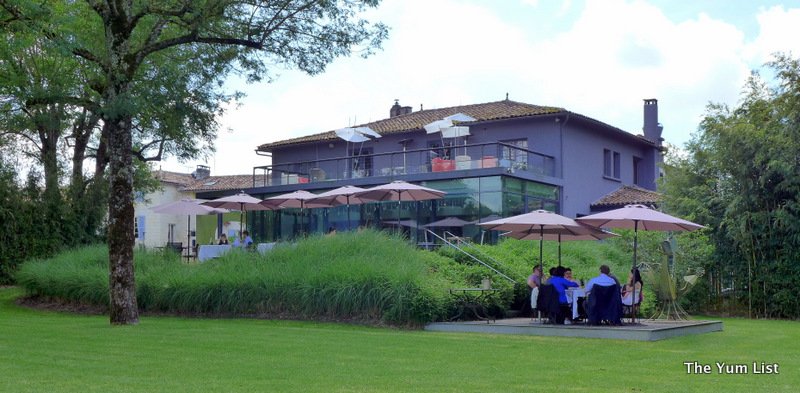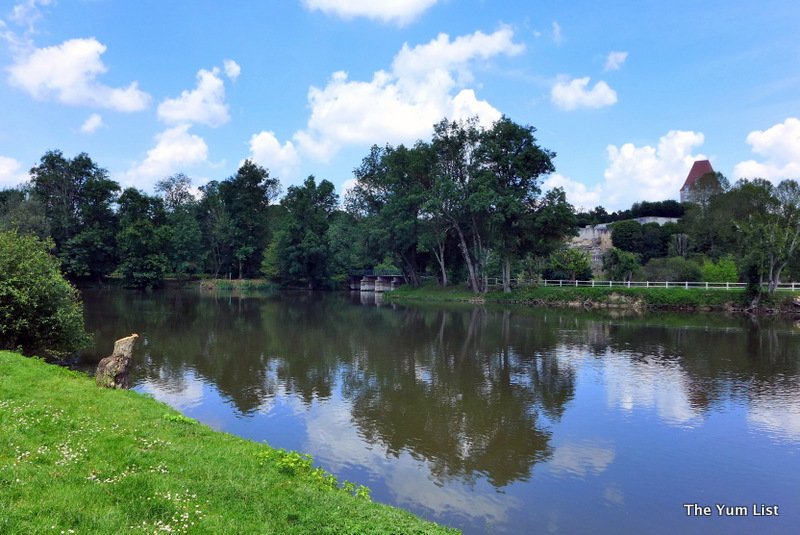 We are honoured to be hosted this summer afternoon by Jean Marc Girardeau President du Directorie of H. Mounier and Hardy Cognac. As we bit into the floury rustic bread that stretches in our mouths with yeasty aerated delectability, he continues our education on Cognac production and tradition. 'We need to keep the memory of our region and give this memory to the consumer. The wine is a live product, which changes over time, and we have to take our time to create the best; to tell the truth, not just make a story. It takes time to make the product but it then takes time to appreciate the product. Time is precious and so is the product. It is a question of respect.'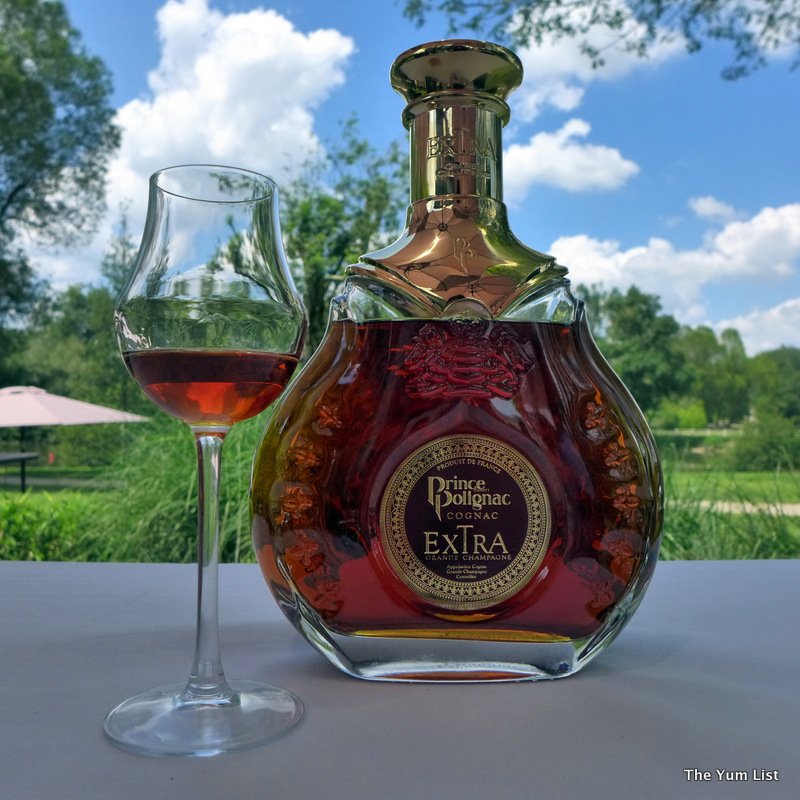 We are rapidly learning that production and enjoyment of Cognac is like being a time traveller, one is always both looking back and looking forward, while at the same time really enjoying the experience in the moment. H. Mounier group is vested in tradition but is also at the forefront of freshening the image of Cognac, moving away from the perception of it only as a digestif. Our Summit cocktail served alongside a pretty trio of amuse bouche this afternoon is a perfect example of the stylish approach to Cognac enjoyments. Prince Polignac VSOP has been adorned with cucumber, lime, a little ginger, and topped up with sparkling water to create a very refreshing summer aperitif. The fresh sour notes of the drink cut through the velvet of the truffle cream soup that begins our five-course meal. Black truffles are very beloved in this region, and the flavour resonates through every spoonful.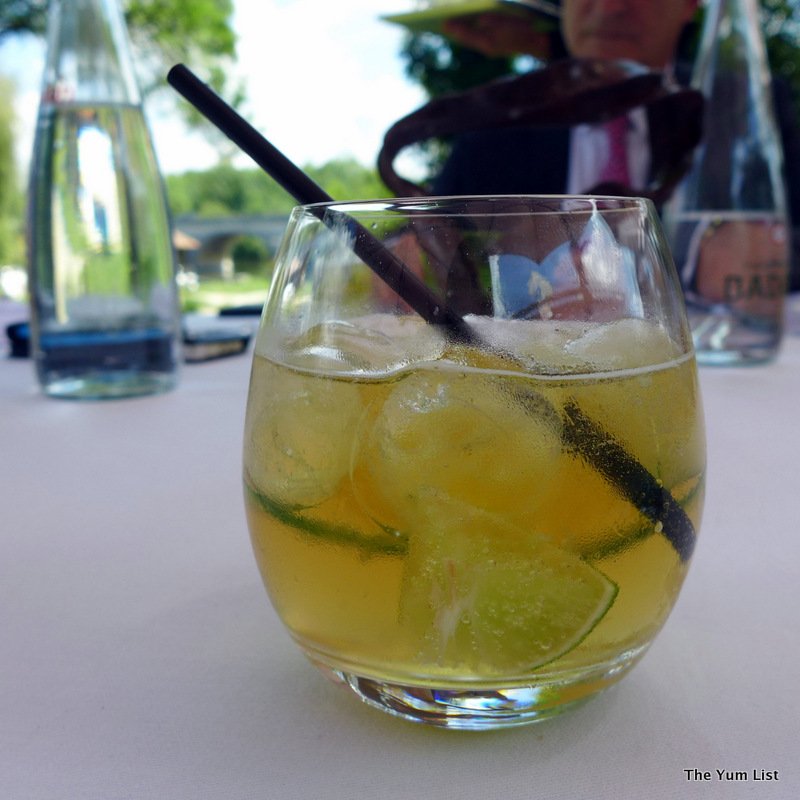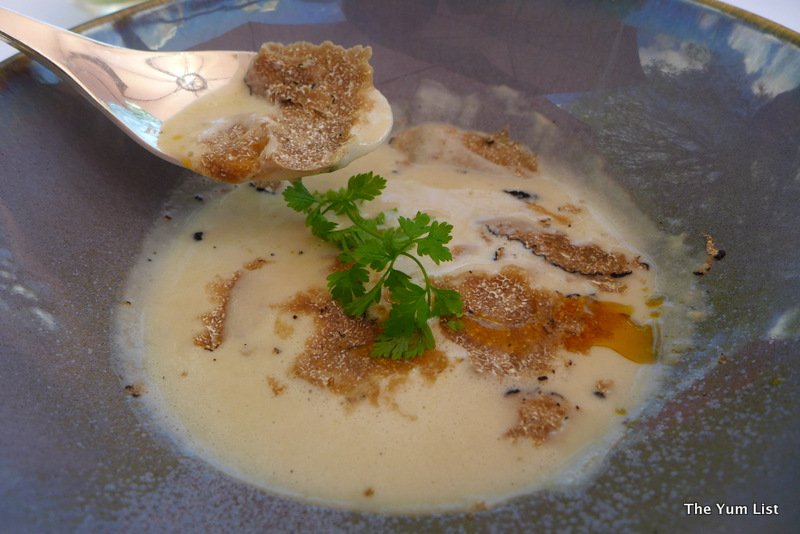 Pineau de Charentes is heralded as an excellent companion to foie gras, so it is something we have tasted regularly; but today's presentation is something special. In addition to a piece of freshly seared liver, and a slightly smoked terrine accompanied by a deep reduction of dried fruits, we try something completely new to us, a Cromesquis de Foie Gras. Biting into this hot crisp croquette reveals a quick sense of charcoal then a delightful squirt of buttery juices. It is a novel mouthful with very playful textures. However, our true appreciation is for the Reynac Extra Vieux, on which we sip like queens. I actually cannot believe I have lived so long without tasting this particular golden liqueur. The golden yellow glints with copper highlights and resonates with notes of fig, honey and soft walnut. This ambrosia is matured several years in oak barrels to amplify and develop the flavor. If you ever get the chance to taste it, I hope you do, it is a revelation.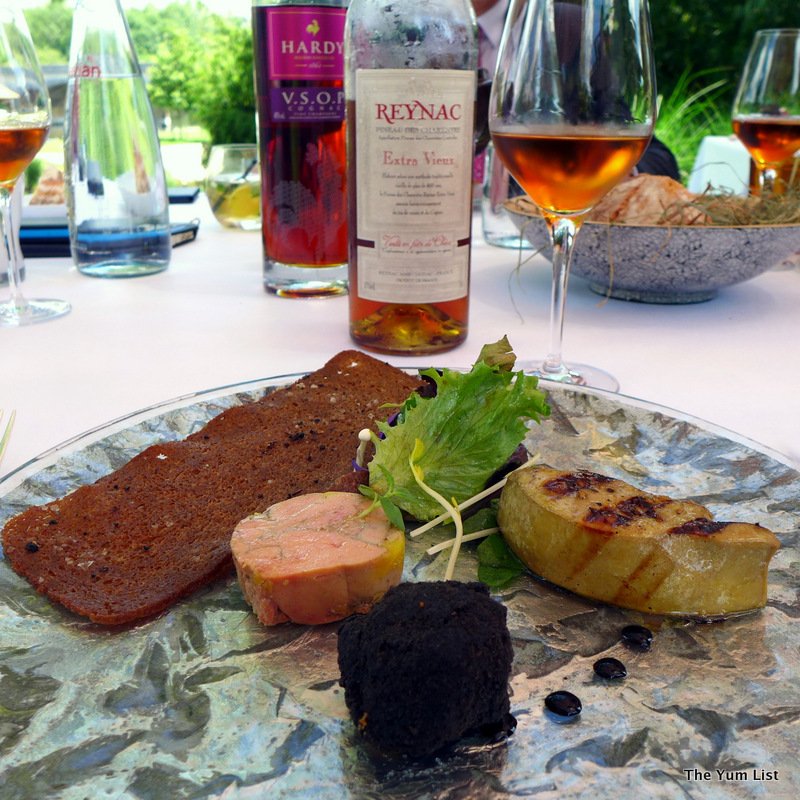 Although our conversation is dominated by musing on Cognac, and we're here to taste and learn about the product, our experts here tell us it's not de rigueur to drink Cognac with every dish but to only use it when it enhances the food. Being French apparently means that there should always be at least one wine served with a meal, and today we are trying the house produced Cite de Sircon Sacs 2009, of which only a tiny production of three barrels were made so we are very lucky to be tasting this bottle, not something you would find elsewhere. I enjoy the scent of blackberries on the nose and the full complex fruity body with light tannins lingering behind.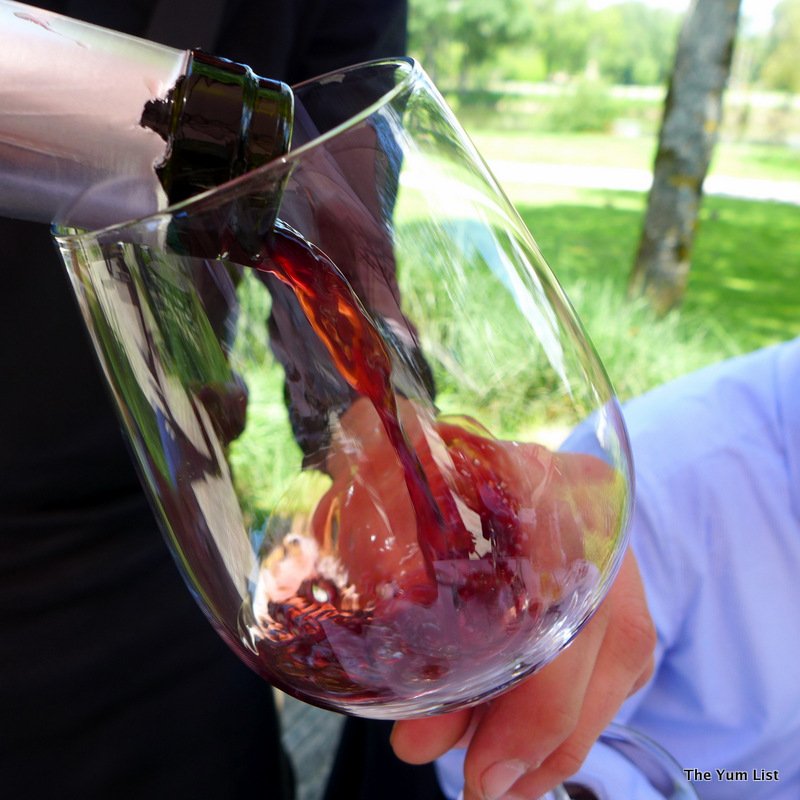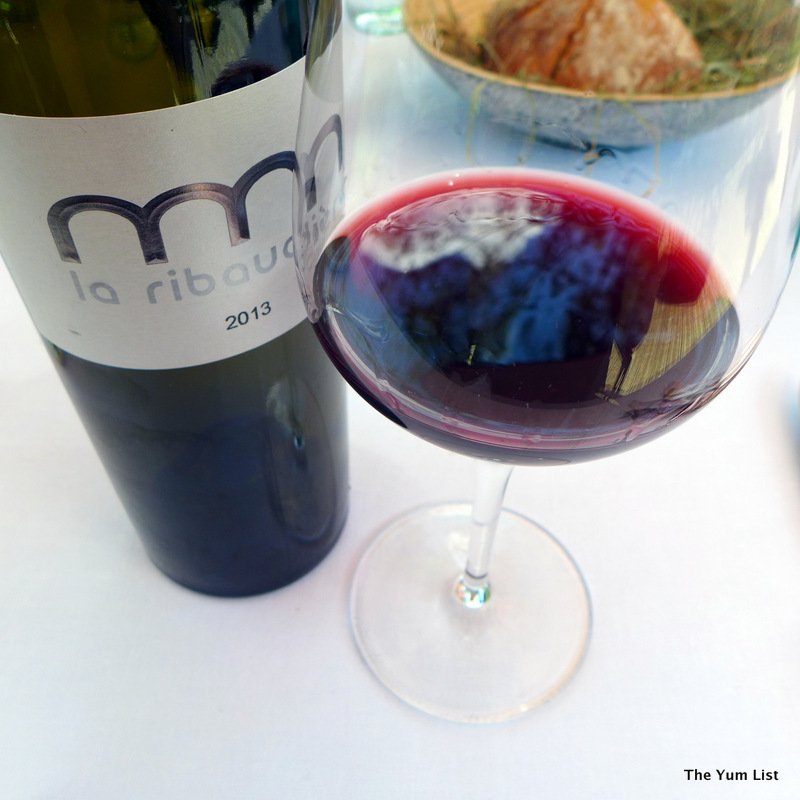 Veal seems to be another favourite of the region, and today's loin of veal is softly spiced, just bringing out a little pepper in the wine. Girolle mushrooms with their apricot yellow colour and nutty, peppery notes are the flirtatious flavor in the dish.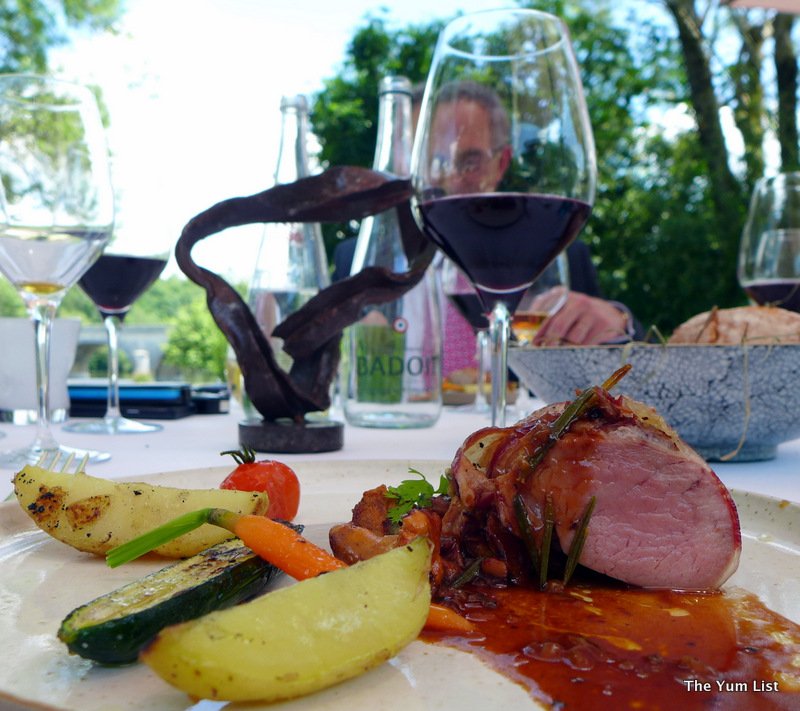 As we continue to discuss the enjoyment of Cognac, we pause a moment to appreciate a platter of delicious cheese Comté, Shropshire Blue and a locally produced goats cheese. I muse that our newly discovered Pineau de Charentes would also taste well with a blue cheese such as the one we are nibbling on.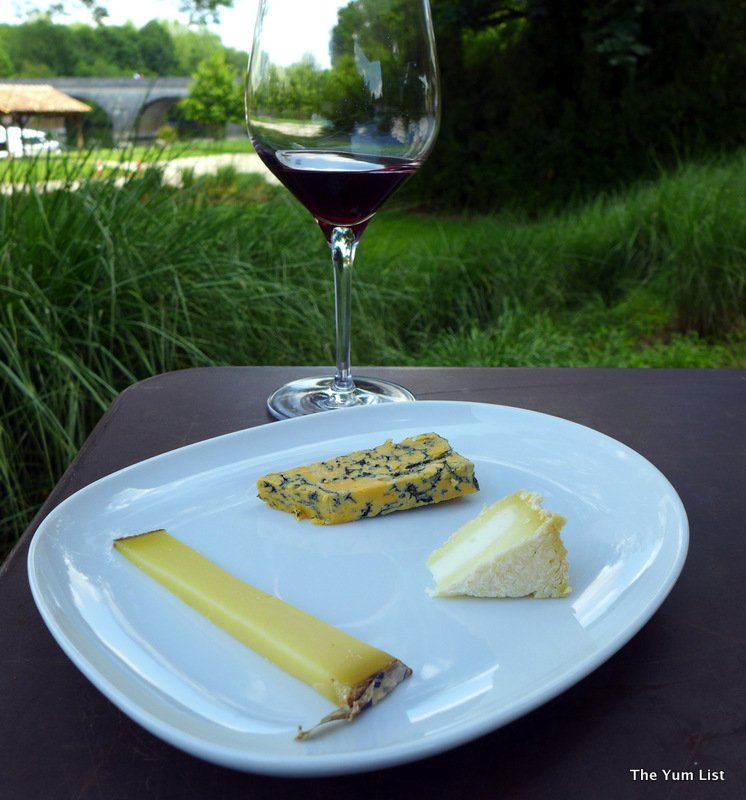 But chocolate requires Cognac to accompany it, and a special Cognac such as the Prince Hubert de Polignac Extra deserves a special chocolate creation indeed. And Chef Thierry Verrat at La Ribaudiere does not disappoint us with a decadent delectation of chocolate combinations. A crisp bar with sprinklings of silver paper forms the base, layered in a rich ganache coated in soft dark patisserie chocolate, topped by a light chocolate mousse and a house made ice cream just starting to melt in the warm air.  The Polignac Extra is a Grande Champagne Cognac that is blended from some of the older eaux-de-vie from the Polignac cellars. We are so interested to taste it after visiting the production earlier in the day. It typifies the brands strong resonant masculine style with a clear structure apparent as soon as we nose into its dark honey-copper tones. As we sip slowly, enjoying the way it cuts through the extravagance of the chocolate dessert, we can understand why this was a winner at the TFWA Cannes 2012 in the category of best new drink launched. It is a powerful note on which to end our lengthy meal with a long taste of aged aromas.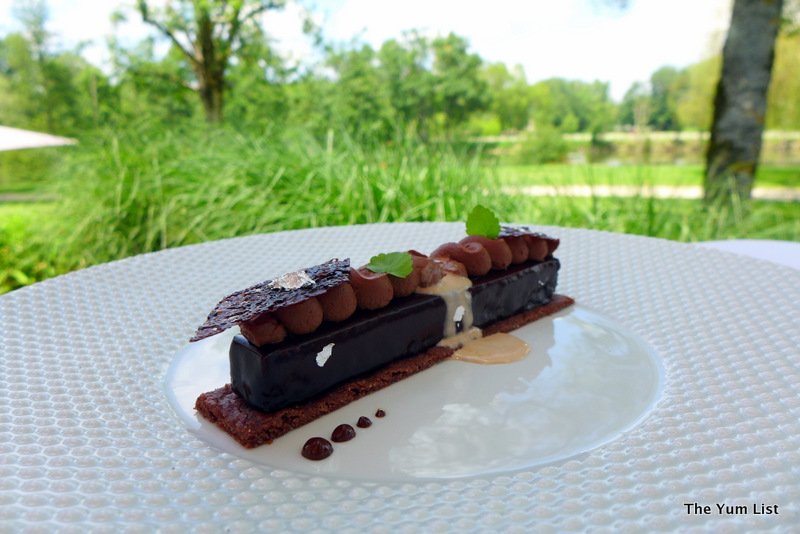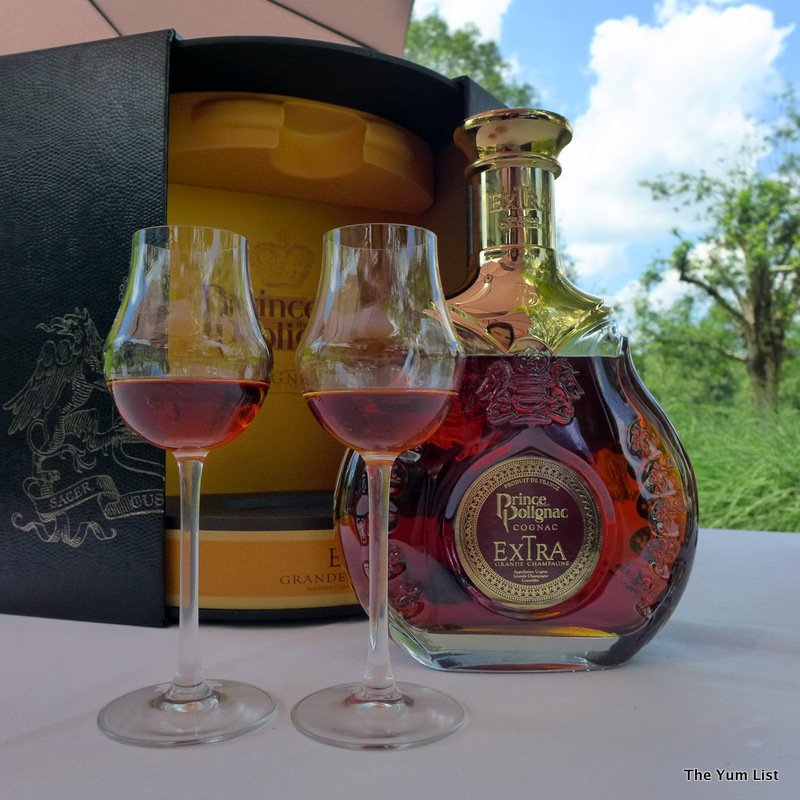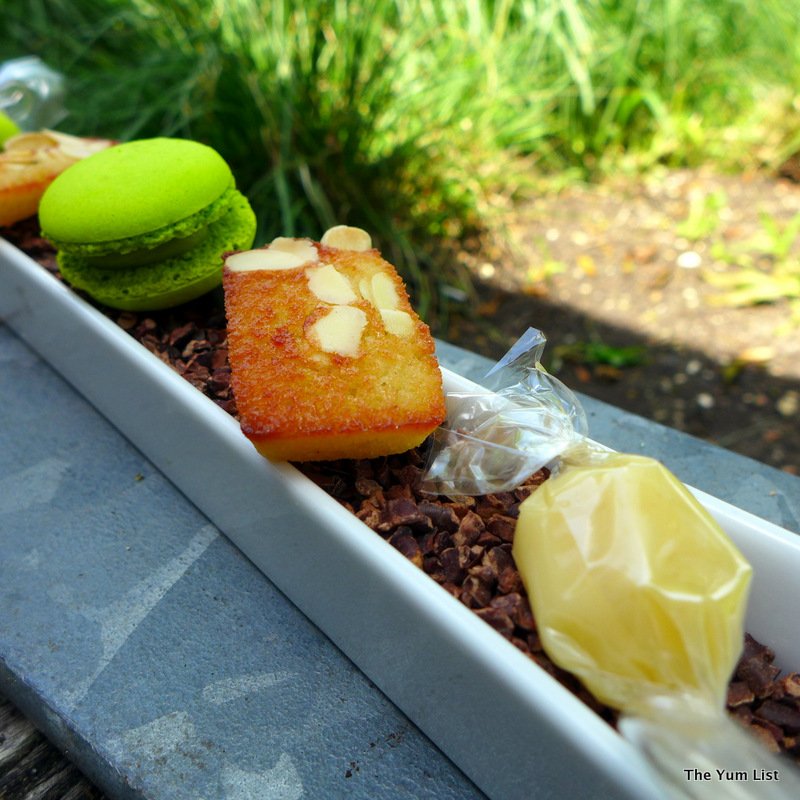 We are extremely grateful to H. Mounier group for their gracious and generous hosting, and in particular today for the opportunity to enjoy such a first class meal with wonderful drinks pairing and charming company.
Reasons to visit:  wonderful riverside location; fine dining – deemed as the best in the area; artistically presented food resonant with flavours and textures.
Restaurant La Ribaudiere
Bourg-Charente
Jarnac, France
+33 5 4581 3054
www.laribaudiere.com/restaurant
Reservations can only be made by telephone