Words: Kirsten Durward   Photos: Monica Tindall
Set on the banks above La Charente, with views cascading down through verdant green trees this charming residence captures our imaginations from the moment we catch sight of it. Originally a folly from the 19th Century, the hotel extension was built in 1996 providing 24 bijou rooms. We are accommodated looking out over the river and at first opening of the windows breathe in great lungfuls of fresh country air. Although the ambience is country manor old style, all modern amenities are discreetly concealed in the rooms: in a cabinet is a television console, and underneath a mini bar.
The most dramatic features of the hotel are the verdant gardens and spacious terrace overlooking the local countryside. Guests can take a walk down through the small forest to the sleepy Charente River. It is also possible to visit the herb garden, the produce from which is used in the signature dishes at Table D'Yeuse.
A small spa with sauna and steam room and Jacuzzi is in the basement of the hotel, charmingly adorned with painted walls in the style of the seaside for relaxing. An outdoor pool is beautiful, but not heated so it's a little chilly for our tropical warmed skin. A quick dip is all I can manage before retreating to the sauna.
As well as the small charming decorative bar, a special corner of this eclectic hotel is the 'Cognac-teque' where one can gather before or after dinner and try a famous brand or a more boutique style from the over 100 choices on offer. This is a wonderful environment in which to relax and enjoy conversation with friends old and new. We did take our drinks outside to make the most of the evening air, but enjoyed several cocktails featuring our new friends, Prince Polignac and Hardy Cognac.
Dinner at the Table D'Yeuse can be taken on the airy terrace or inside in the colourful and original dining room, with wine glass chandeliers and purple rimmed silver barrels. The terrace is glorious in the morning for breakfast with clear views across the river and surrounding countryside. What better way to wake up slowly and get ready for a day of exploring the town of Cognac and the beautiful Charente region.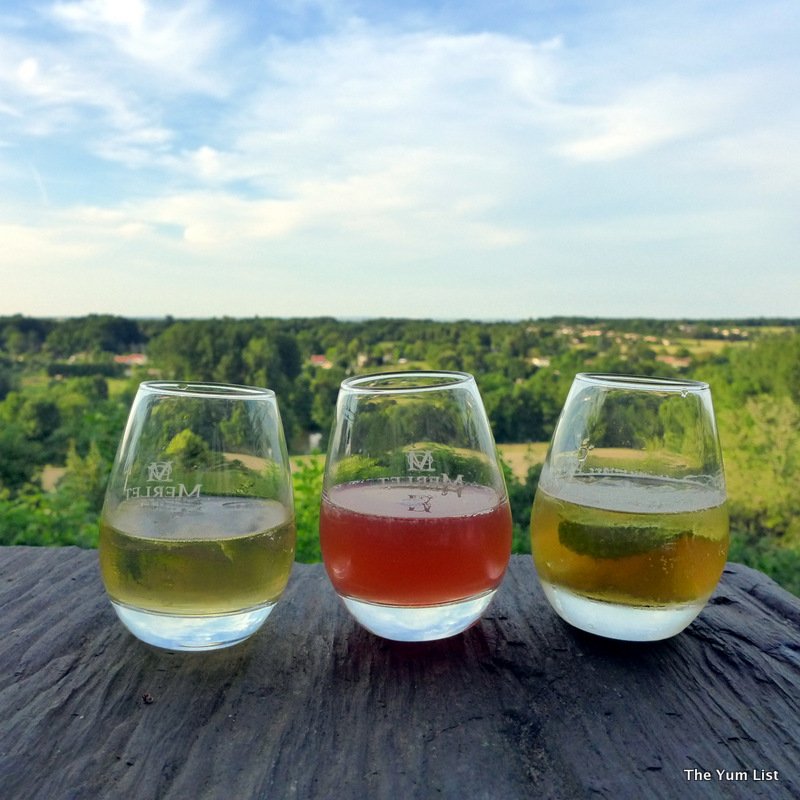 Breakfast is a simple affair with gorgeous fresh produce. Organic house made breads, house made jams, hotel harvested honey, local cheeses, farmer's butter, cold cuts, cereals, fruits and yoghurts. I probably don't need to mention how delighted Monica is with the enormous bowl sized morning cup of coffee, while I am in raptures over the simplicity of farmer's butter on fresh crusty bread.
Our stay at Hotel L'Yeuse was by invitation of Hardy and H Meunier Cognac Houses who were our gracious and generous hosts throughout our time in the 'Department' of Charente.
Reasons to visit:  charming ambience, fabulous views, fresh local and house made produce.
Hotel L'Yeuse
65 rue de Bellevue
16100 Chateaubernard
France
+05 45 36 82 60
[email protected]
www.yeuse.fr
With grateful thanks to the team at Hardy and Prince Polignac for all the arrangements.
www.hardycognac.fr/eng/home
www.polignac.fr/eng/home/index