Words: Naomi Martin    Photos: Monica Tindall
The outskirts (read PJ or the 'other' side of town) of Kuala Lumpur is acclaimed for its abundance of casual cafés and excellent coffee joints. Families residing in the city centre though often reserve their exploration of these venues for Sundays or public holidays for fear of sitting out most of the adventure in traffic. The discovery of 28 Fireplace in Persiaran Ampang however has changed all of this, and downtown and Ampang residents celebrate the find of their very own hip café on this' side of town.
28 Fireplace is located in a strip of shop houses just off Jalan Ampang, and although the busy main drag is only metres away, the quiet side-road offers a peaceful hangout. As we walk into the café, we are greeted by a naturally lit outdoor seating area popular with those who prefer more of an al fresco setting and the smokers amongst the café hoppers. We choose the smoke-free air-conditioned interior and find similarities to modern Australian cafés (with good reason we later discover as the owners took a 'research' trip to Melbourne, the country's coffee capital, for inspiration of the concept design). 28 Fireplace has numerous wall decorations that transport us into the coffee-filled country, offering a pleasant ambience that is impossible to dislike. The center of the quaint restaurant includes a decorative fireplace that enhances the mood of the restaurant. "We will turn it on once the weather starts to get colder," teases Ivan, one of the partners.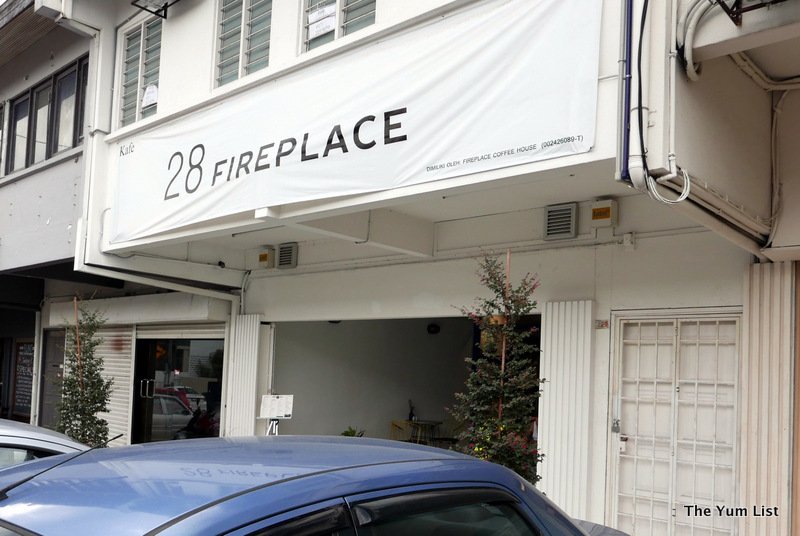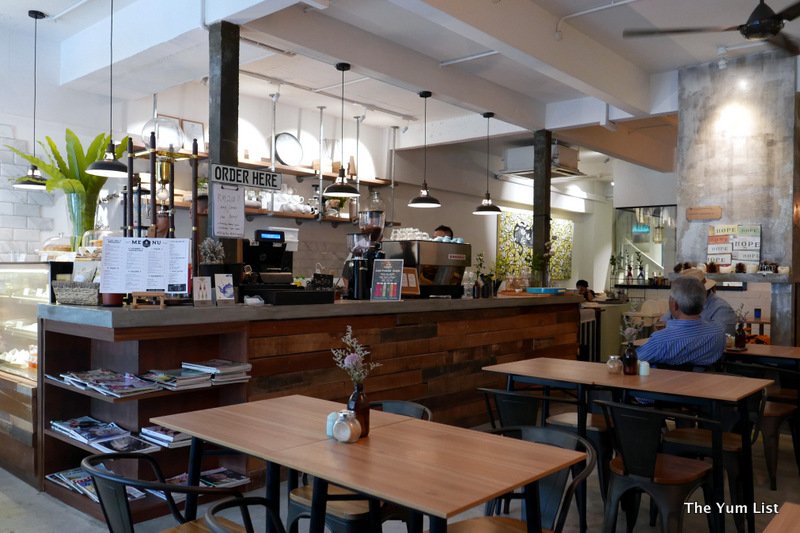 Marco, Ivan and Bruce (or MIB) are the trio living out the dream (and trials and tribulations) of opening their first restaurant. In operation for a little over a year, they've chosen the path of slow and steady: beginning with perfecting the basics of coffee and cake, they've gradually expanded their menu and now offer a good range of breakfast, lunch and dinner options, alongside mouthwatering sweets (from the best home-bakers around the city) and terrific coffee. Each section of the menu contains at least one vegetarian option, and despite not being halal certified, the restaurant doesn't serve pork or alcohol, welcoming a wide audience.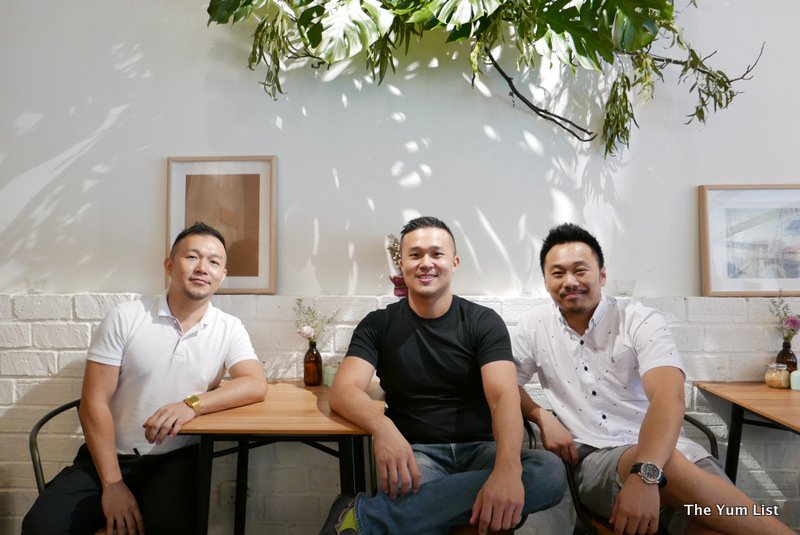 Starting with drinks, we can't resist the unorthodox coffee and cream soda blend, the Firebomb. Although this may sound intimidating, the fusion is strangely satisfying: just enough cream soda to produce a fizz, but not too much to overshadow the flavors of the coffee. Mon prefers her coffee minus the sugar and sings praises for her espresso-based cup. For non-coffee drinkers like myself, the Chai Latte is an excellent alternative. A layer of raw honey at the bottom of the glass not only beautifies the presentation, but also introduces a chance to customize – mix it in or not to produce the desired level of sweetness.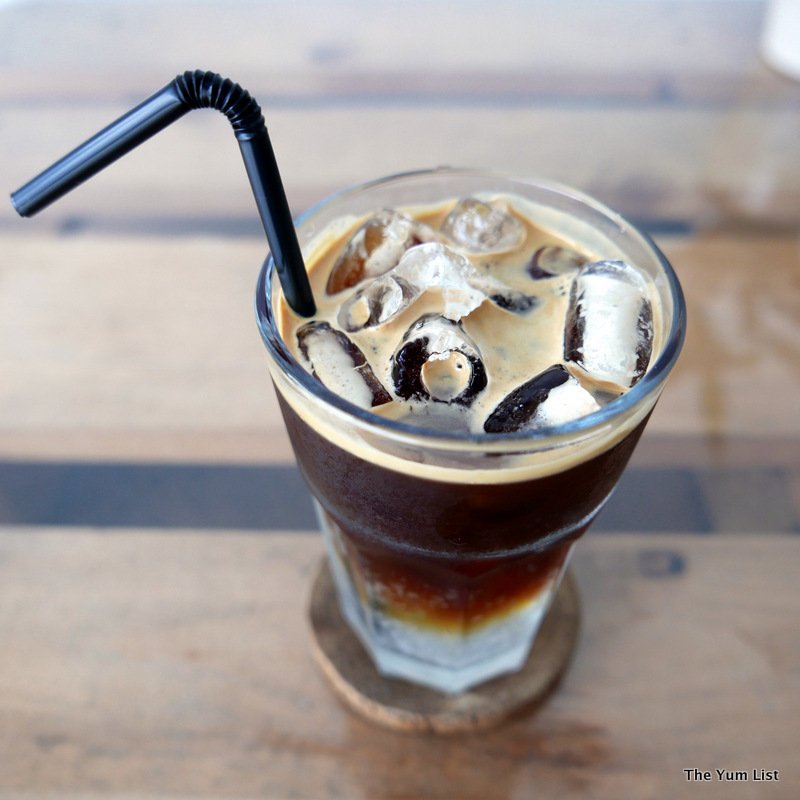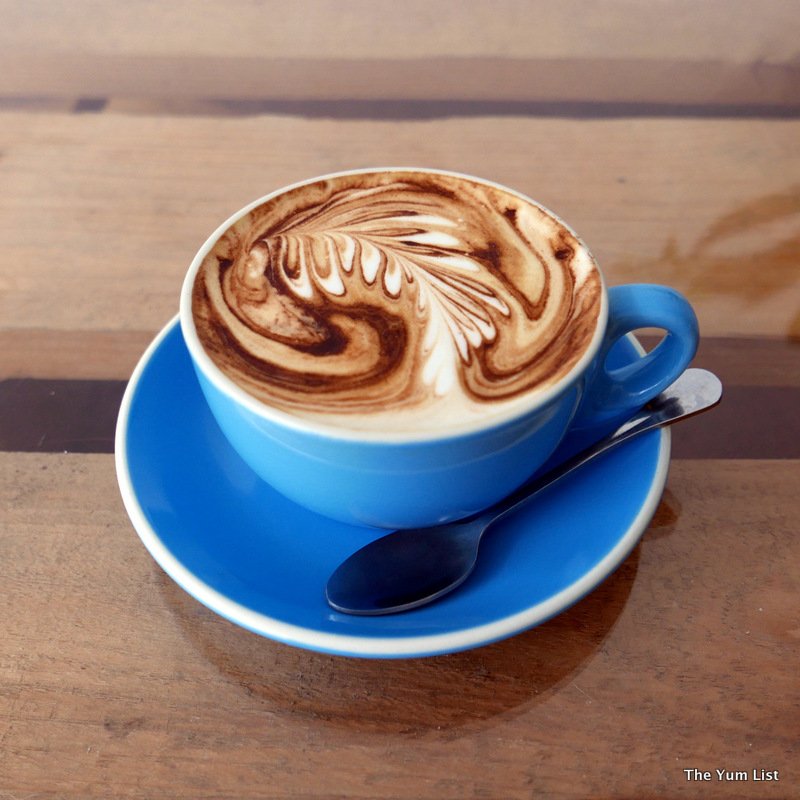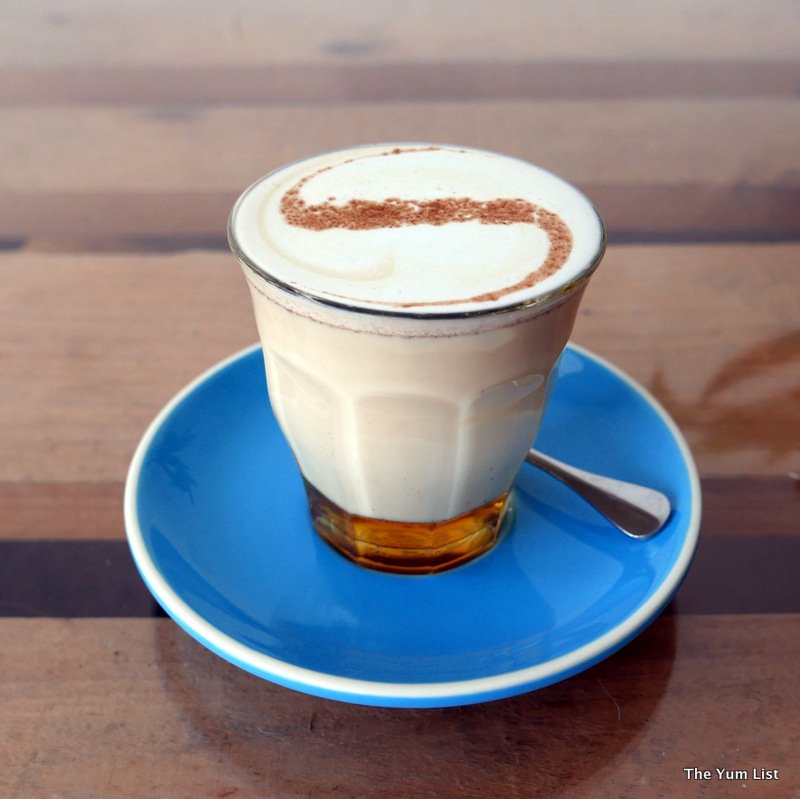 All day brekkie is a big hit at 28 Fireplace with The Biggie (RM 32), the Morning Bagel (RM28), and the Classic French Toast (RM 13) all coming as popular recommendations. The Biggie is essentially a full English breakfast with sausages, mushrooms and veal bacon accompanied by lashings of scrambled eggs atop sourdough toast and a separate tub of baked beans crowned with caramelized onions. Eggs and the delicious sourdough are a highlight, but the sausages really stand out – natural and locally made they have a rustic taste to them, a distant cry from the overly processed varieties that seem all too common on breakfast plates in the city.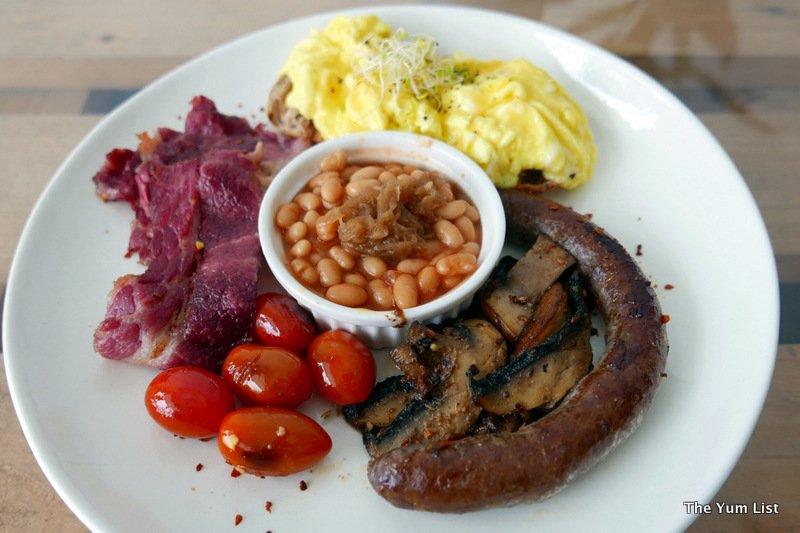 The Morning Bagel (RM 28) reminds us of Hawaiian pizza – in a good way! The poppyseed bagel has a 'just right' chewy texture, and the turkey ham mixed with the egg and thinly sliced fresh pan-fried pineapple produces a mouthful of sweet, salty and scrumptious. Mon likes this one so much that she places a take away order for her hubby.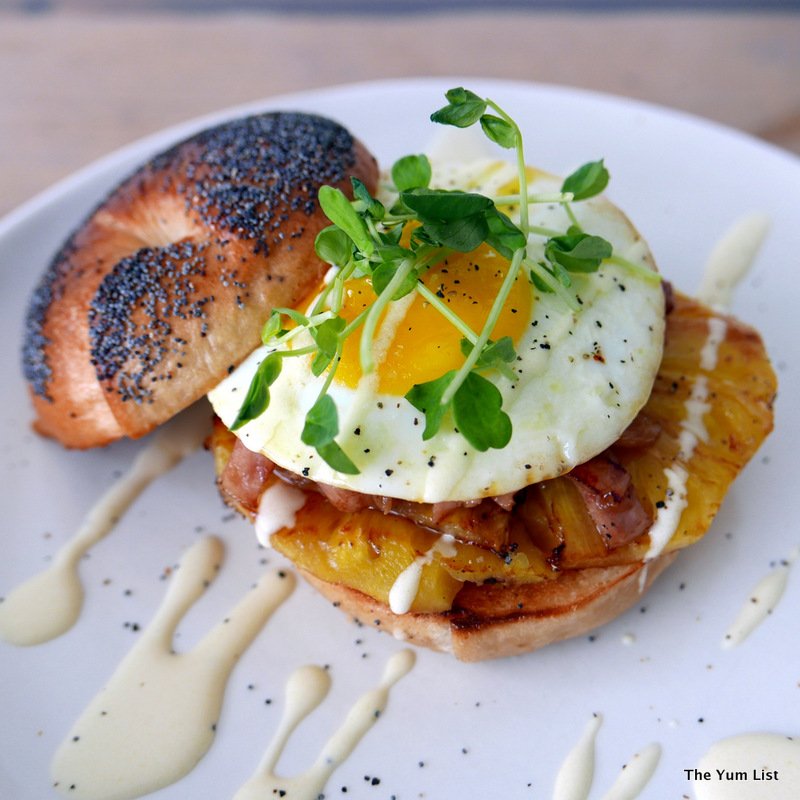 The Classic French Toast (RM 13) turns out to be a breakfast highlight for me. The bread is spongy and moist with crispy edges, primarily due to the large amount of butter used. The toast is showered with powdered sugar and crushed peanuts and drizzled with maple syrup, which makes the dish a sweet-tooth's paradise.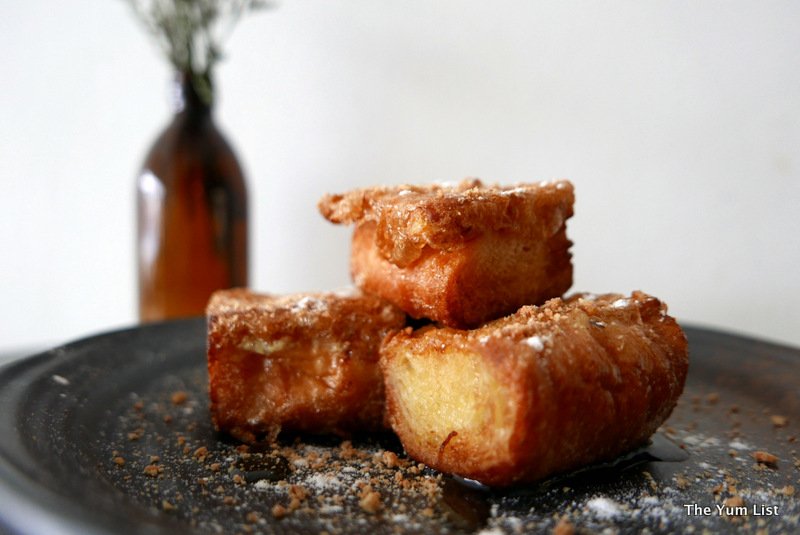 Breakfast over with, time for dinner! The BBQ Pulled Beef Sandwich (RM 24) oozes at the sides with moist saucy beef. The ciabatta is relatively light but with just enough strength to hold the juicy filling. Mildly sweet, succulent and very meaty, this is another dish I will return for.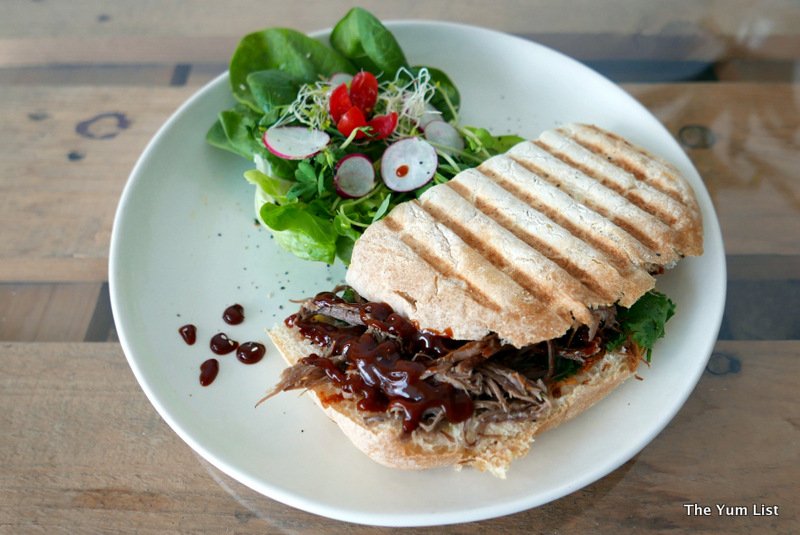 But next we try the Merguez & Mushroom Carbonara (RM 30), and I find myself in a dilemma over what I really would order upon a revisit. This too takes my fancy with the fun presentation of a soft-boiled egg, still in its shell, waiting to be cracked over the top of the al dente fettuccine with the goal of adding silkiness to the texture. Pieces of tasty lamb sausage are boosted with slices of portobello mushrooms making this a hearty wholesome dish.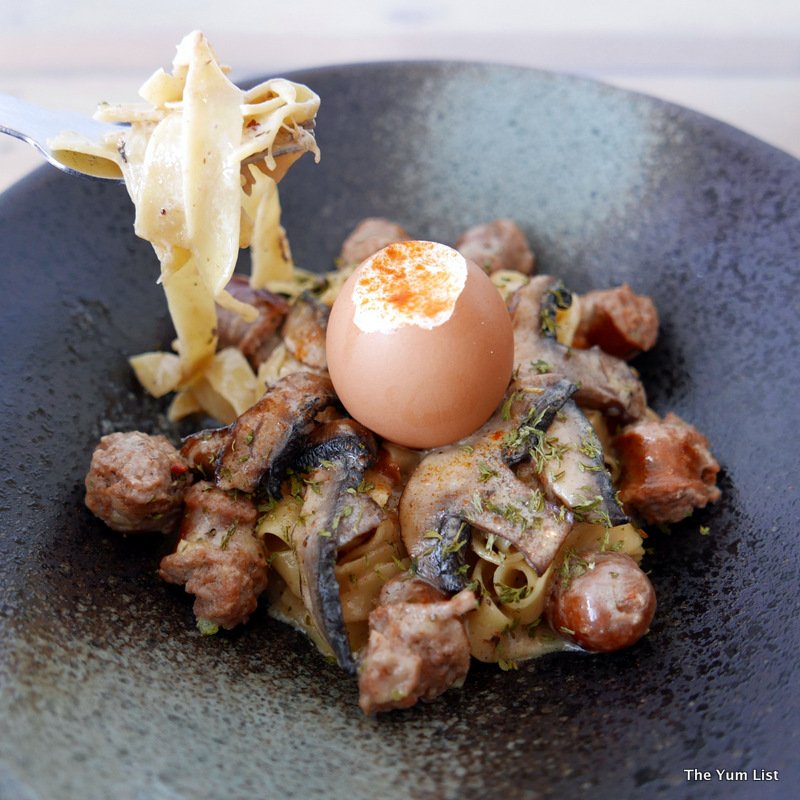 Mon predictably favors the healthier choice of the Super Q Salad (RM 28). Despite not being a salad lover myself, I absolutely adore this dish due to the prevalence of herbs and light tangy seasoning – maybe The Yum List is rubbing off on me – mom will be happy. The coriander, mint, and spring onions add delightful fresh flavors to the quinoa that is sprinkled throughout and enhanced by slices of sweet mango. A dollop of Greek yogurt on the peak adds another layer of complexity and when mixed through computes creaminess and additional relish.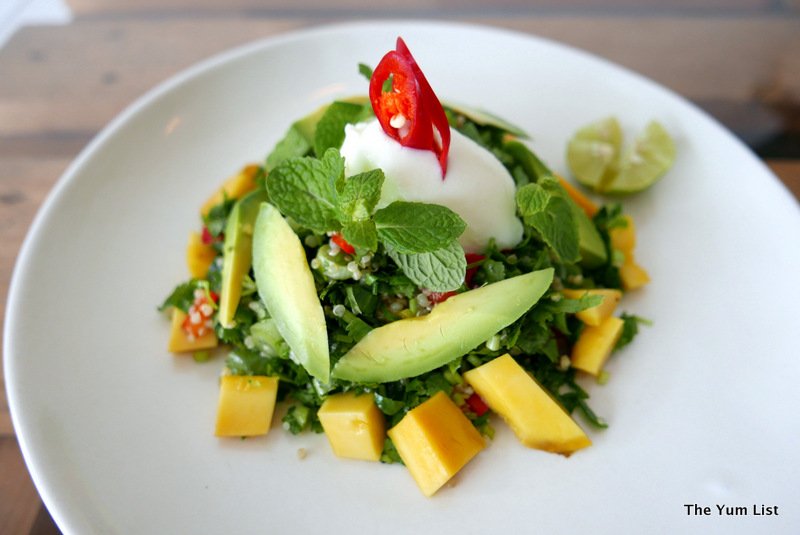 Despite bulging tummies, we're all too happy to attempt dessert (and do note a good afternoon deal that offers a slice of cake and hot beverage for RM 20 from 3 – 6pm – a great offer considering cakes are usually about RM 16 per slice).
Pandan Cheesecake is highly appealing with its rich and dense, yet creamy texture and mild infusion of screw pine leaf. The Peanut Butter and Chocolate Cake sees rich, dark chocolate sponge layered with peanut butter icing and nuts – the icing is so good we find it hard to resist scooping it up on its own. And, lastly, Tiramisu is not only my personal favorite, but is reported as the café's bestseller as well. Thick moist cake disguises small chocolate chips between the seams, and a crushed caramelized nut coating is a decadent casing.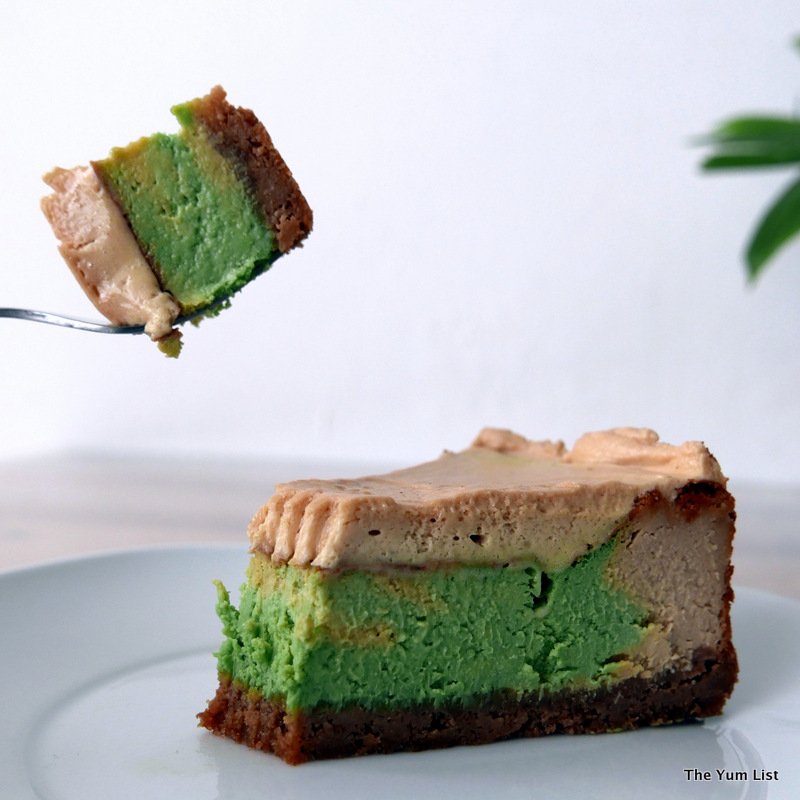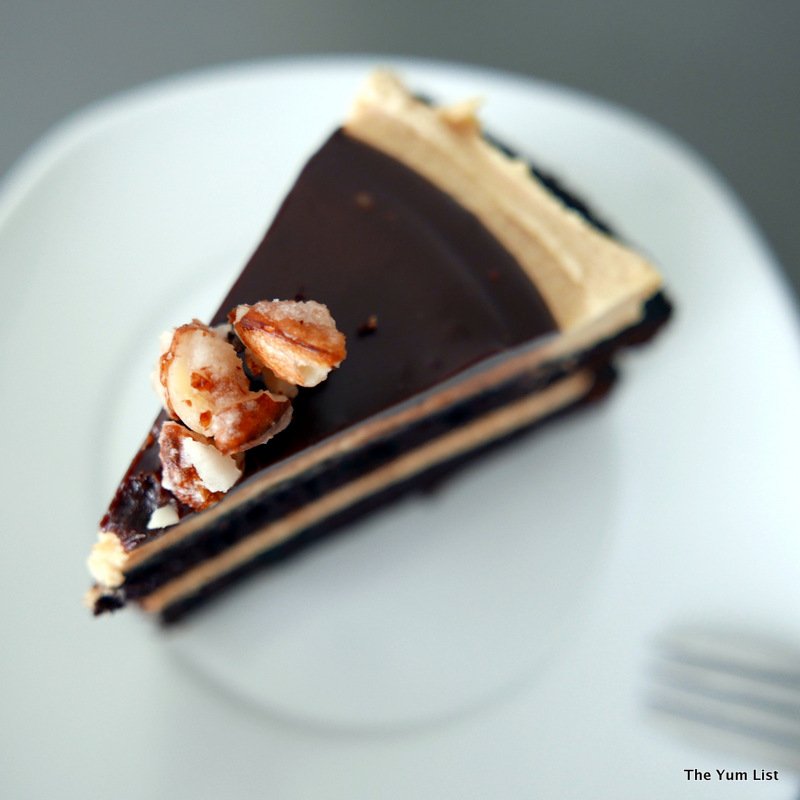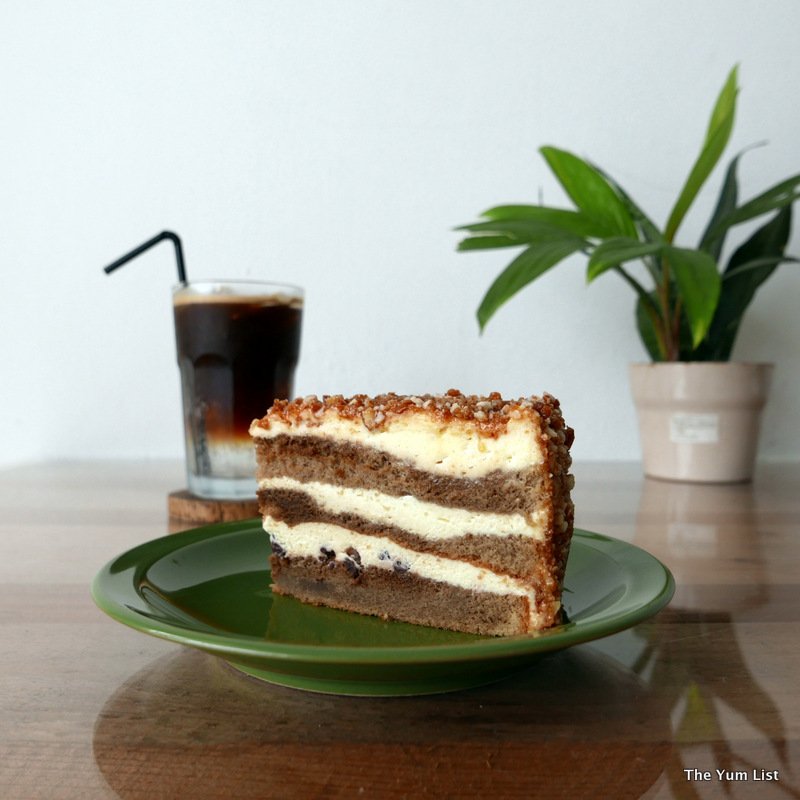 28 Fireplace's welcoming setting, coupled with fresh ingredients and a clever fusion of local and western flavors, as well as the location on 'this' side of town, means they're going to be seeing a lot more of me!
Reasons to visit: welcoming vibe; good coffee; must try the Morning Bagel, BBQ Pulled Beef Sandwich, Merguez & Mushroom Carbonara, Super Q Salad and the Tiramisu.

28 Fireplace
28 Persiaran Ampang
Desa Pahlawan
55000 Kuala Lumpur
Malaysia
+6 03 4265 5077
www.facebook.com/28fireplace/
* Complimentary Wi-Fi
* Credit cards accepted for purchases above RM50
* Parking is usually not too much of a problem with spots outside the restaurant and also a small carpark at the end of the street.
* Pet-friendly.