Words: Jordan Johnson     Photos: Monica Tindall
Walking along Jalan Pudu in the city center area of Kuala Lumpur, it would be relatively easy to walk right past Hoppers KL without even knowing that it's there.  But, to do so would really be a missed opportunity.  A smallish white building with blue lettering, in the midst of a banking area, Hoppers KL really does represent a truly one-of-a-kind café dining experience.  When it comes to cafés, the vast majority of them seem to be largely carbon copies of one another, serving the same types of food and drink with only slight variations to the menu or ambiance among them.  The word "unique" gets thrown around a lot, but here we have an example of something that seems to be truly special.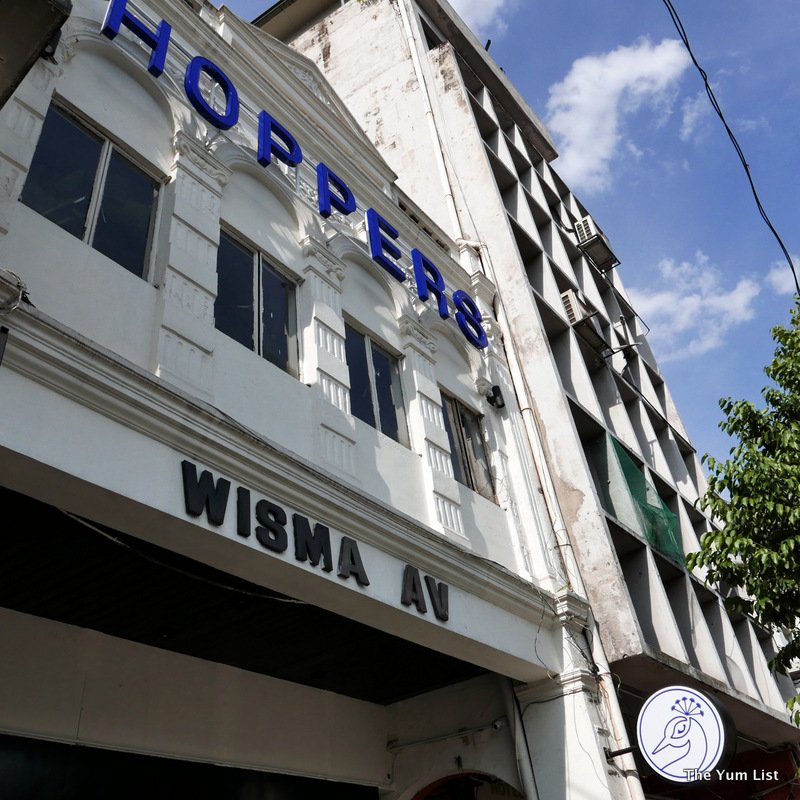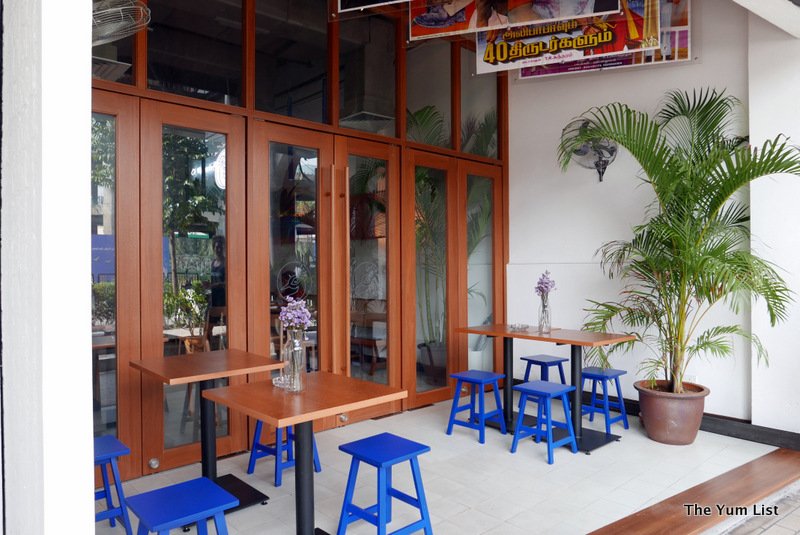 The term "hoppers" refers to the English translation of the popular Malaysian/Indian dish "appam" – a fermented rice pancake made with coconut milk.  In Malaysia, the hopper/appam is a rather popular, simple dish that is often eaten either plain or with an egg inside the curved contours of the pancake itself.  What makes the various incarnations of the dish available at Hoppers KL so unusual, however, is the fact that each dish offers a different version of the classic dish featuring some more nontraditional ingredients (both sweet and savory) inside.  A true "family restaurant" managed by a set of sisters, Hoppers KL takes an alternate approach to traditional café menus by offering a relatively small set of menu items, but – as the friendly restaurant staff is happy to point out – great care and attention to detail is given to everything on the menu and the results are indisputably delicious.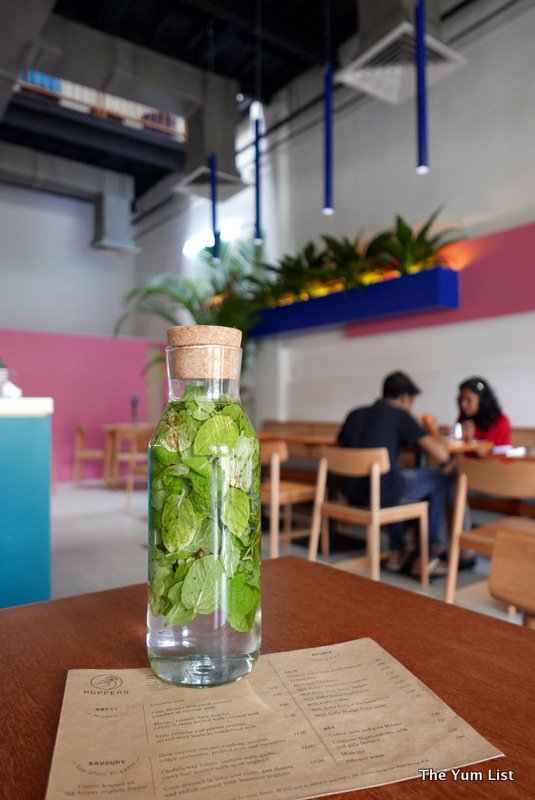 On a recent trip to Hoppers KL, we immediately took note of the pleasant ambiance and colorful interior design featuring a few small tables set up inside and the option for limited outdoor seating.  Although traditional café staples such as Coffee (RM7) are certainly on the menu, we were immediately offered a variety of colorful, intriguing-looking drinks with which I – at least – was not familiar.  The Lemon Jelly (RM9), which was a kind of lemonade made with lemon juice, sugar, and lemon jelly set with agar-agar, was really very good.  The lemon jelly itself gave it a pleasingly unusual texture, and it had a very refreshing mixture of sweet and tart flavors.  We were also presented with a dark green beverage called Mint and Calamansi (RM11), which had a nice blend of mint and sweet citrusy flavors.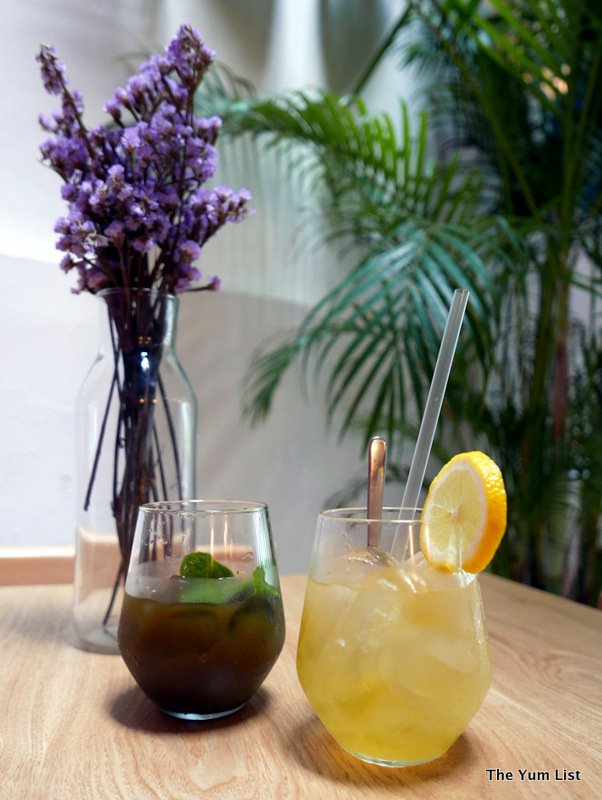 The hoppers themselves (the "star attraction" of the menu) were all very good. It was very clear to see that each one requires a fair amount of labor to produce, as the rice batter needs to be fermented overnight and coconut milk added in the morning. All of the food is prepared in-house, and many of the ingredients featured inside the hoppers are specifically chosen so as to pair nicely with the lingering flavor of the coconut milk. Eschewing the usual order of things, we decided to sample the sweet, dessert-type menu items first, before moving on the savory offerings. The first up was the Mango, Toasted Black Sesame, and Edible Flowers Served with Coconut Milk (RM9). The first thing that struck us about this dish was how simply beautiful it was, with bright, vibrantly orange-colored pieces of mango accented with black sesame seeds and white jasmine flowers. This turned out to be a light, pleasingly sweet dish with considerable textural complexity emanating from the seeds and flowers.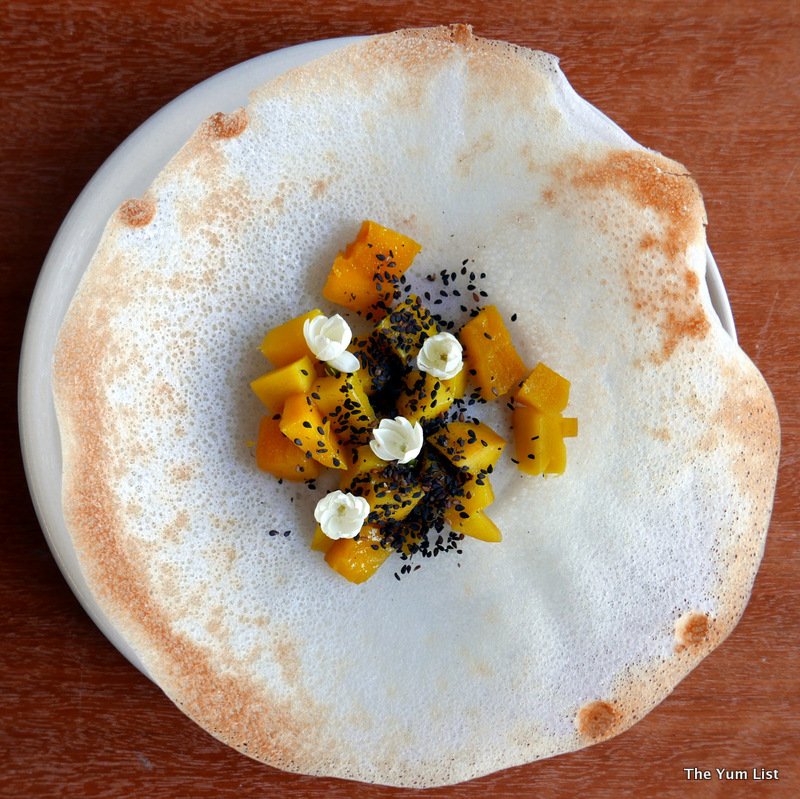 As our culinary adventure continued, we were presented with Milo Ganache and Peanut Crumbs served with Horlicks Condensed Milk (RM11). This was a slightly heavier dish than the previous one, and the condensed milk really added a full, sweet flavor. The peanut crumbs were also a very welcome addition, as they provided some balance in texture.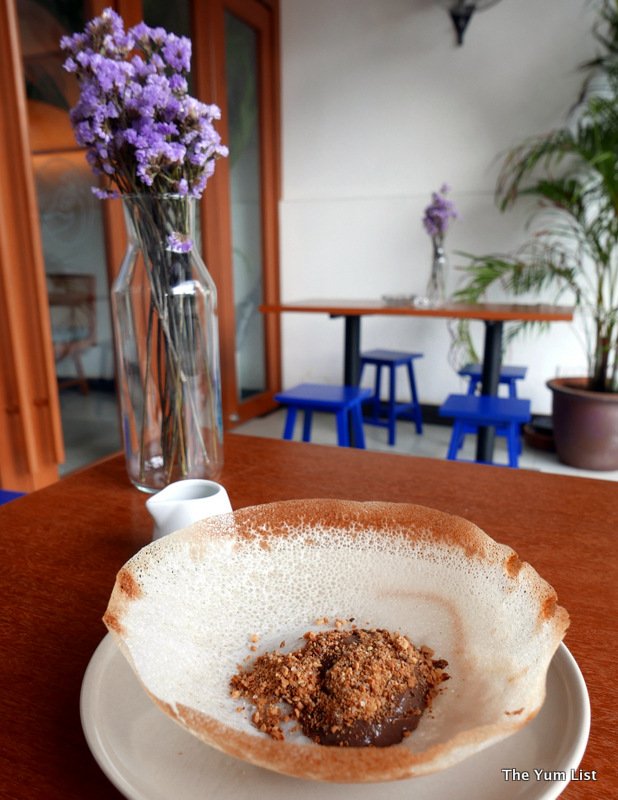 The final item on the "Sweet Hoppers" portion of the menu was Gula Melaka and Desiccated Coconut Poached in Coconut Milk (RM8). Simply put, this was truly delicious. Gula Melaka is a type of Malaysian palm sugar, and as it blended together with the rich coconut flavor of the dish and formed a gooey delight inside of the crisp hopper shell, it created something truly remarkable. Although this dish was perhaps not as visually stunning as some of the other items on the menu, this is absolutely not to be missed.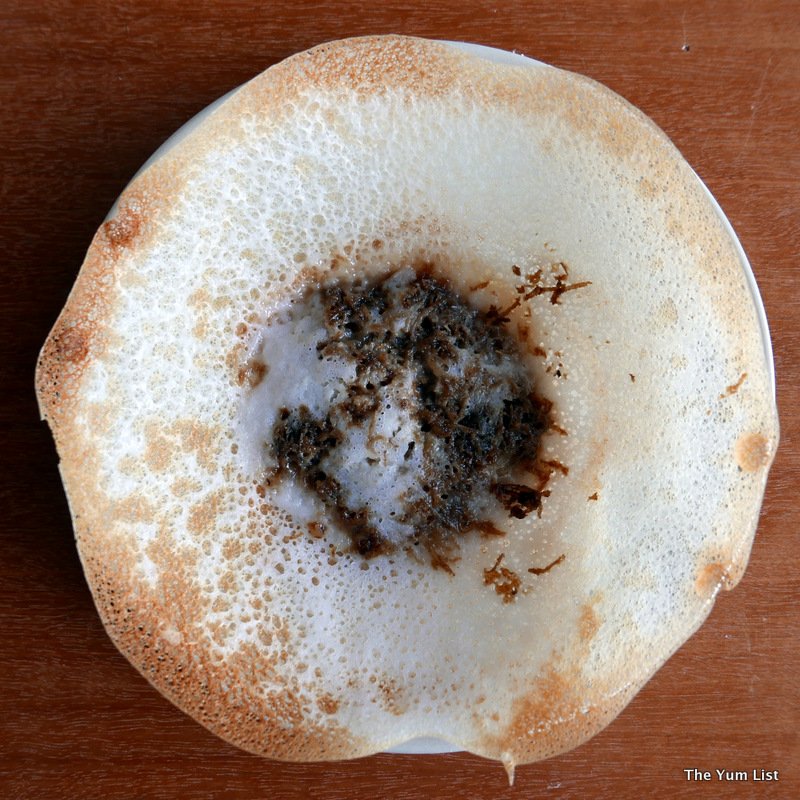 From the "Savory Hoppers" section of the menu, we were delighted by the Slow Roasted Chicken Rendang, Sambal, Crispy Anchovies, Ground Nuts, and Cucumber (RM13). Anyone familiar with Malaysian cuisine might immediately recognize these as the central ingredients in nasi lemak, the only difference here being that the traditional rice has been substituted for the hopper, and the rendang has been slow cooked over six hours rather than having been prepared quickly.  Having re-packaged nasi lemak in this manner seemed to me to be a brilliant idea, and the deeply spicy flavors of the dish were extraordinarily pleasing. It is easy to understand why this the Hoppers KL's most popular dish.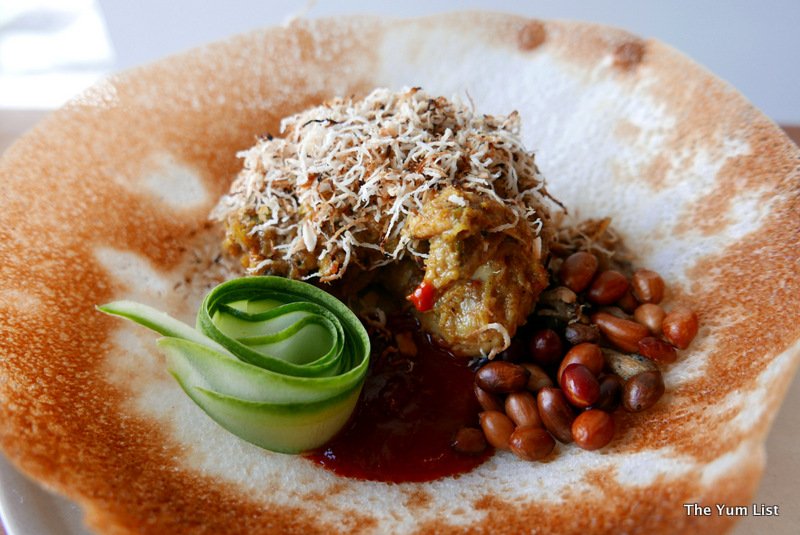 Our initial impression of this of the Crab Dressed in Lime and Chili, Pea Shoots, and Radish served with Beetroot Yoghurt (RM15) was how extraordinarily colorful it was.  The crab itself was laid on a bed of sprouts within the hopper, topped with chili peppers, cucumber, and a lemon slice, and then a lovely purple beetroot yoghurt was poured over top.  This all created an intriguing and luscious mixture of colors, textures, and flavors. This is the hopper to choose if you're looking for something light.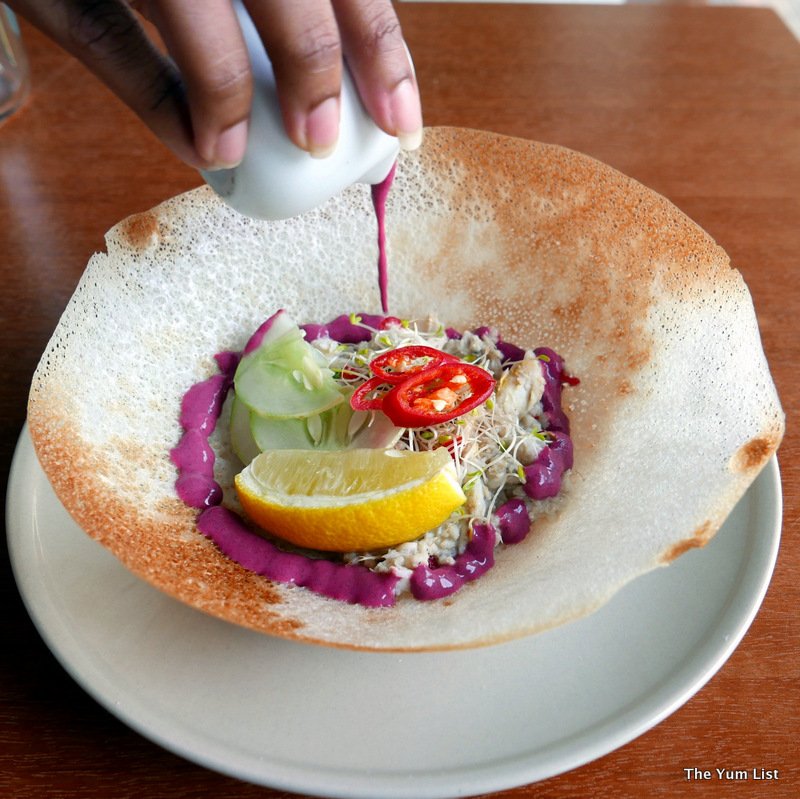 Finally, an item called Cauliflower Fritter, Cashew Nuts, Garlic, and Curry Leaf Served with Mint Yoghurt (RM13) was brought to the table, and we were told that this particular recipe originated with the owners' mother.  This completely vegetarian item featured crisp, green curry leaves, a lovely green mint yogurt that coated everything, and although the deep-fried garlic provided an undeniably pleasing garlic flavor, it didn't overwhelm the remainder of the dish.  All things considered, this dish offered a very interesting mixture of rather disparate flavors that amazingly all worked well together.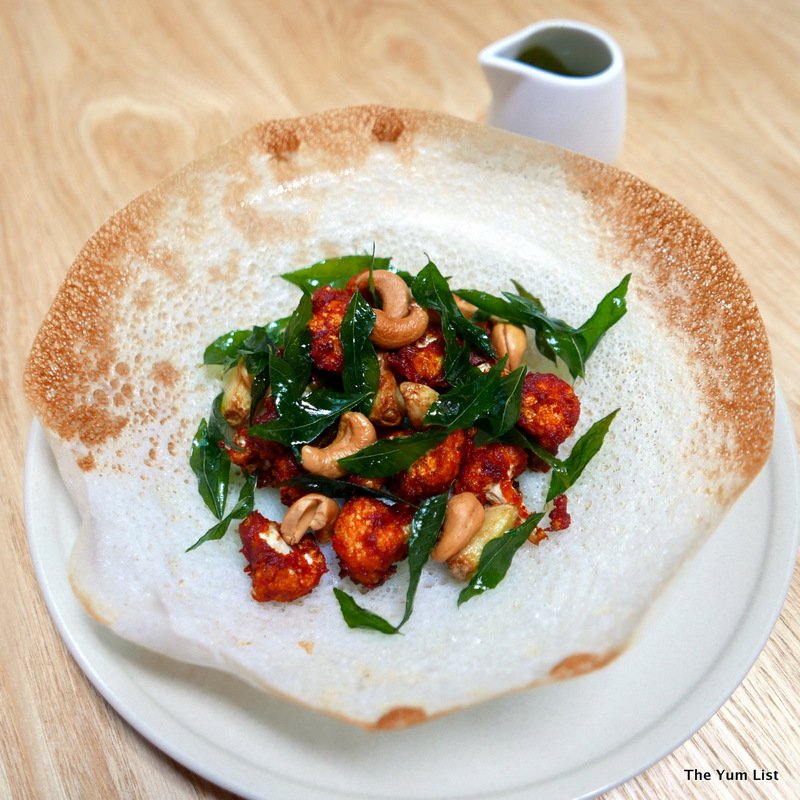 Hoppers KL is the kind of place that really deserves widespread patronage – not just because in an increasing corporate-dominated world it is a wonderful thing when burgeoning family restaurants truly get an opportunity to thrive, but also (perhaps more importantly) because the food is excellent too. Servings and prices are reasonable enough to enable you to try a sweet and a savoury hopper without breaking the bank or the belt buckle. Besides the inspired, unique quality and value for money food, Hoppers KL also offers excellent, thoughtful service and a relaxed place to hang out.
Hoppers KL is open on weekdays from noon to 9pm, and from 11am to 9pm on weekends.  It is closed on Mondays.
Reasons to visit: the Gula Melaka and Desiccated Coconut Poached in Coconut Milk and the Slow Roasted Chicken Rendang, Sambal, Crispy Anchovies, Ground Nuts, and Cucumber are particularly notable, but everything on the menu is generally excellent. Being made from rice, Hoppers are gluten free (except the cauliflower because of its coating), so those on a gluten-free diet will find the menu especially refreshing.
Hoppers KL
No. 76 Jalan Pudu
55100 Kuala Lumpur
+603 2022 0832
[email protected]
www.hopperskl.com