Words and photos: Monica Tindall
Headed by Cambodia's only Master Chef, Luu Meng, Malis Restaurant is on the top of many foodies' must-visit lists. Created out of the desire to restore a long history of culinary tradition, the Malis team aims to bring "Cambodian cuisine back from the past," "adapt it to the present," and "preserve it for the future." Characterized by the use of fresh seasonal produce with an elegant balance of herbs and reflecting a diverse range of influences, Cambodian cuisine is a treasure to be savoured, and we're grateful for the chance to experience it in such a beautiful setting.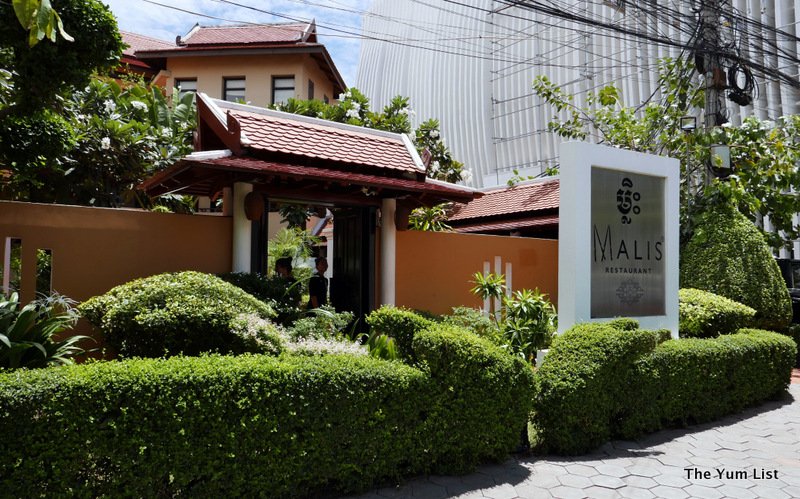 The home of Malis Restaurant, a refurbished bungalow, features a centre court with water feature surrounded by lush greenery. Ceiling fans provide a light breeze, allowing us to enjoy the patio seating even in the high temperatures. Alternatively there's an air-conditioned dining room, tastefully decorated, that is nearly, but not quite as pleasant.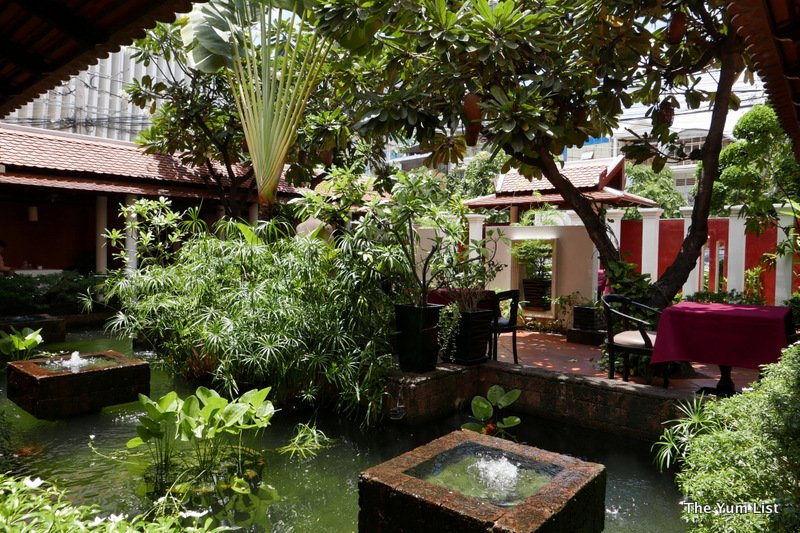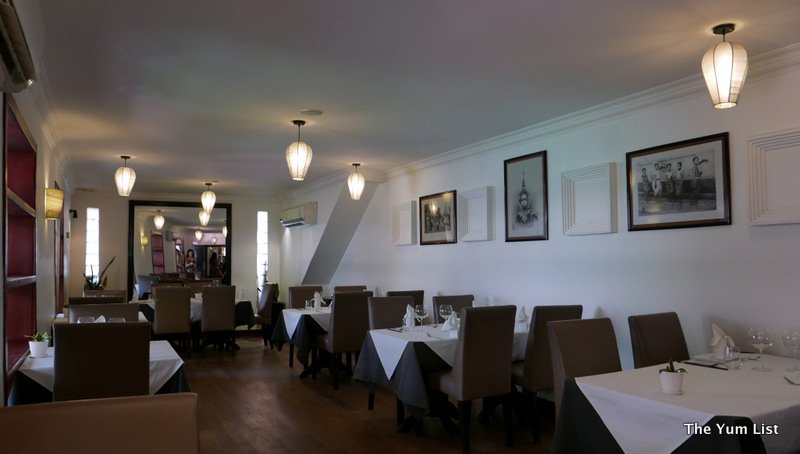 There seem to be more staff than guests, and all of them are sharing warm welcome smiles. After water is served to our table, a chilled moist towel refreshes our face and hands, while a shot of passionfruit and mango juice takes the edge off the heat, and pickles and chili paste awaken our palates. Yum!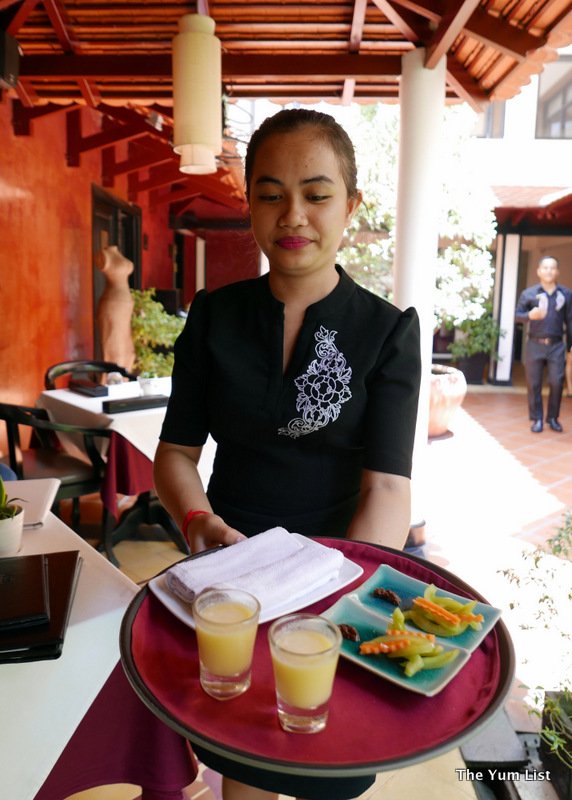 Choosing what to eat is an exciting task, and we're happy to have our friendly waiter help us with the selection. Decisions made, the bubbling fountains and fish in the pond hold our attention for the short time it takes the food to arrive.
Green Mango and Smoked Fish ($8 USD) is delivered on a bamboo platter, based with a star shaped green leaf and brightened with sliced chili in the corner. The mound of savoury green mango salad is tossed with local smoked and dried fish, and 'phkar snor' flowers (petite yellow buds that grow near the water and are said to be beneficial to the skin). Peanuts give crunch, and fresh herbs harmonize beautifully. It resembles its Thai cousin, but in my opinion has a tad more grace.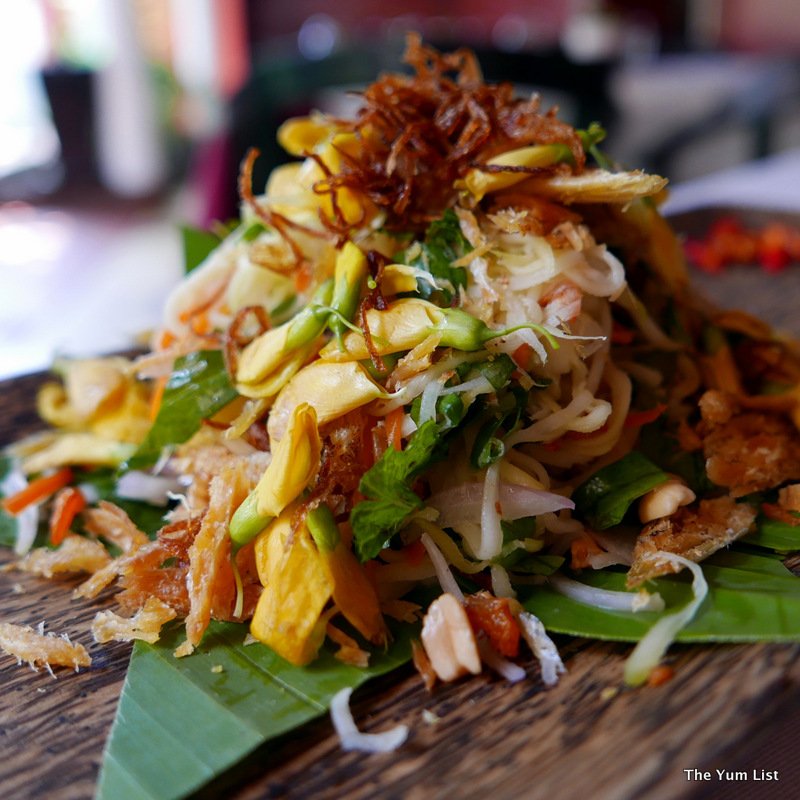 Bamboo Shoots and Smoked Fish ($8 USD) is a smoky and refreshing vegetable soup made from a recipe, which traces back generations. Finely sliced bamboo shoots are cooked with baby corn in vegetable broth with smoked river fish and sa-om – a local green vegetable. Presented in a bamboo bowl, the flavour profile of the soup seems to be influenced by the wood. Overall it's elegant, and very very more-ish. Hubby congratulates himself on his choice multiple times between slurps.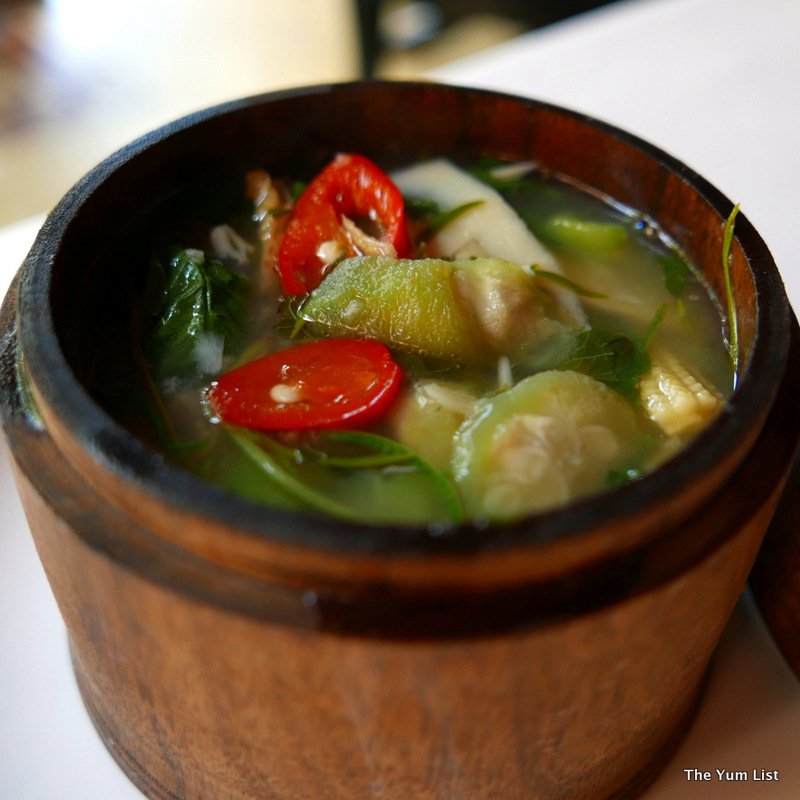 Wok Fried Baby Kailan ($5 USD), a dish well known across Asia, is quickly tossed in the wok, with oyster sauce and fresh garlic, leaving the greens with the fresh taste and texture of being harvested just minutes before cooking.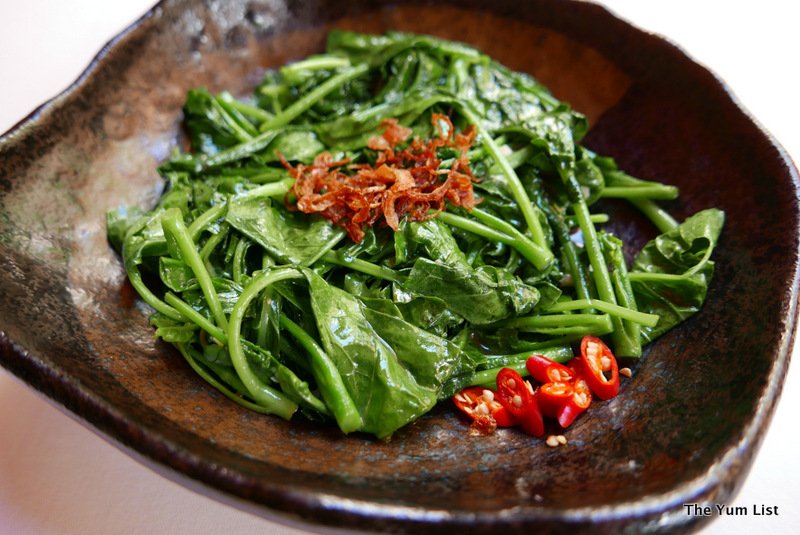 Possibly Cambodia's most popular dish, Fish Amok ($8 USD) is done the traditional way with goby fish fillets marinated in a lemongrass curry paste and steamed in a banana leaf wrapper. Fragrant and moist, the flesh is bedded with yet another delicious local green, the kontuot leaf – don't confuse it as part of the banana leaf casing, as it's tender and tasty and well worth forking to the bottom for. The boat the dish is plated upon (feature photo at the top of the post) stems from memories from chef Luu Meng's childhood and honours Cambodia's water festival.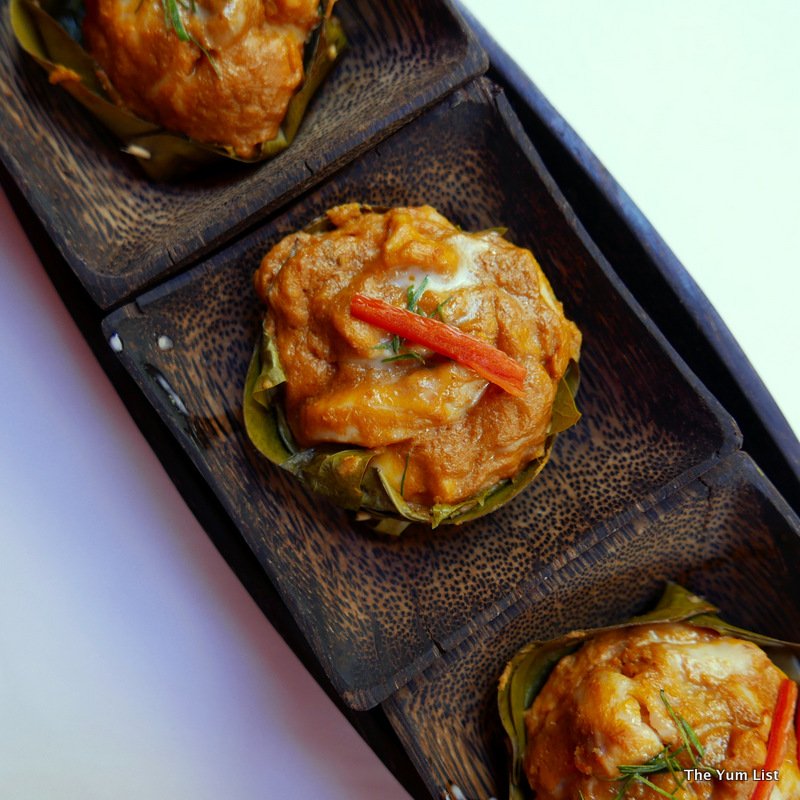 Despite hubby's aversion to spice, he's heard that Cambodian curry is milder in comparison to its neighbours' versions and so chooses Chicken Curry Steamed in Lotus Leaf ($10 USD). Lotus leaves, tied with pandan leaves, enclose the curry and rice in a giant bundle. Both leaves have their influence in the flavours, and unwrapping the meal gifts the nose with a host of wonderful aromas. Peanuts and a sprinkling of greens supply texture to the succulent chicken and rice. He's happy with his pickings (and so am I).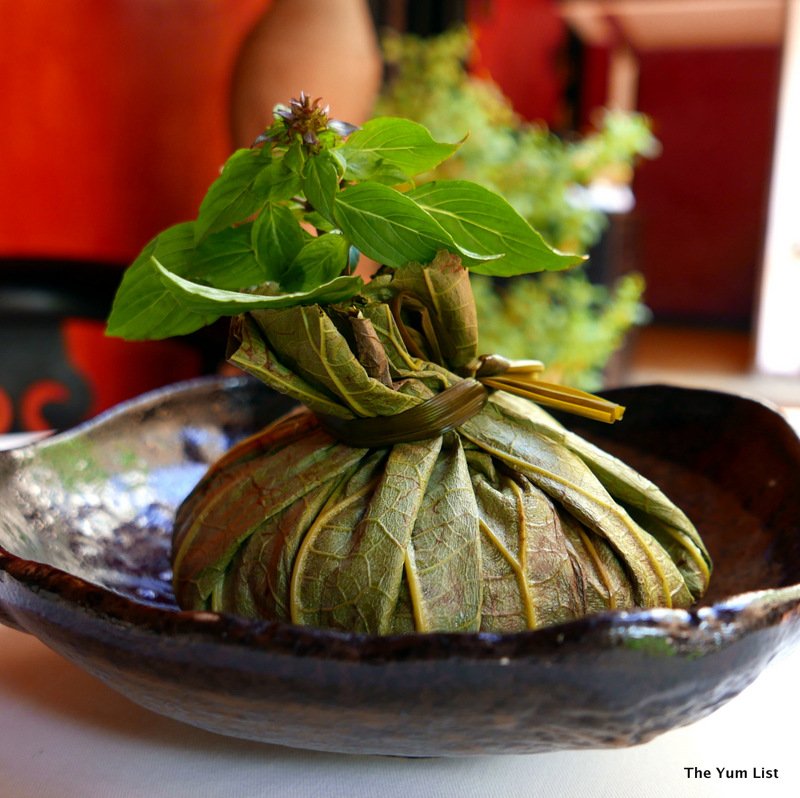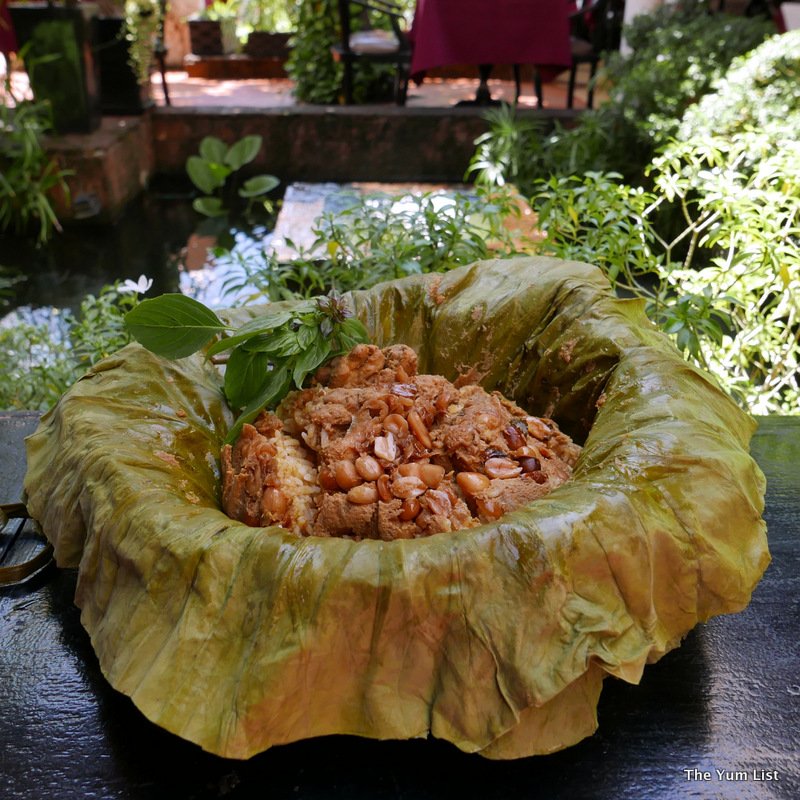 While Cambodia may not be known for its desserts, Malis provides a menu worthy of consideration. Both of our selections seem excellent value for money with a trio of small dishes presented on a rectangular platter.
My Malis Mousse ($3.50 USD) is gently infused with jasmine, Cambodian honey and ginger, which lift this dessert staple from the familiar to the exotic. Fresh fruits embrace the creamy cylinder, and "kamao thort" (crunchy rice coated deep fried banana) and coconut ice cream provide contrasts in both texture and temperature.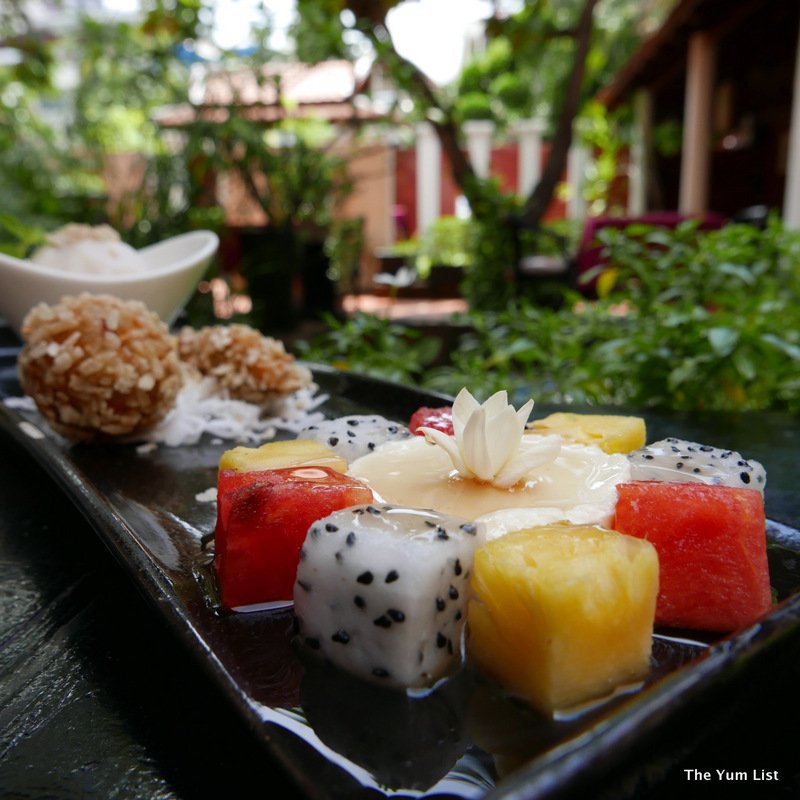 Hubby's dessert is a tricky one to photograph – three bowls of white. Palm in Coconut ($3.50 USD) sees young palm fruit cooked in coconut milk and served warm aside a bowl of coconut jelly and another of vanilla ice cream.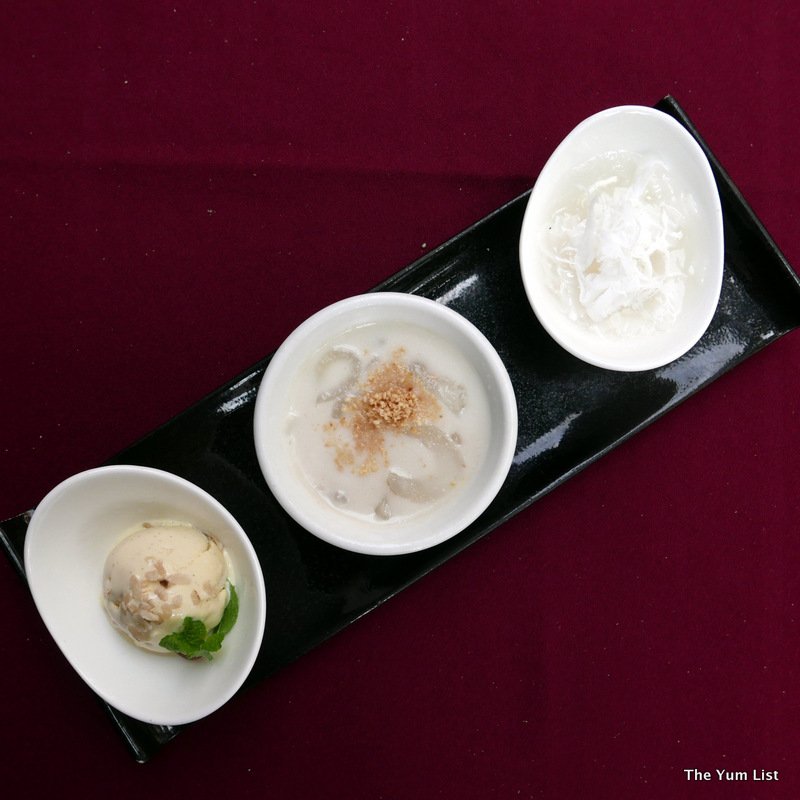 It's been a delicious, enlightening and relaxing experience. I highly recommend a visit.
Reasons to visit Malis Restaurant: pretty setting; a chance to try contemporary Cambodian cuisine from the country's only Master Chef; must try to the Bamboo Shoots and Smoked Fish, Green Mango and Smoked Fish, and the Fish Amok.
Malis Restaurant
136 Norodom Boulevard
Phnom Penh
Cambodia
+855 (0) 23 221 022
+885 (0) 1581 4888
[email protected]
facebook.com/malis