Words: Caroline Lee    Photos: Monica Tindall
The first thing that strikes me when I walk into this restaurant is how very pretty it is.
The well-positioned entrance to this delightful discovery is designed to give time to pause on the top step and take in the sweeping view of this floor-to-ceiling, glass-walled oasis of light and leaves with two towering Ficus trees taking centre stage in this conservatory-style restaurant bar. When a project is conceived through the eyes of a landscape artist, it is no wonder that every element in this gem of a restaurant bar embodies the essence of its name, Botanica + Co. The owners are particularly partial to design and detail and I couldn't help noticing how the all the surrounding colours and styles – from the pebble wash planters to the graphic placemats to the staff uniforms – seemed to weave effortlessly together to form a palette so cohesive and calming that you almost forget it's a restaurant.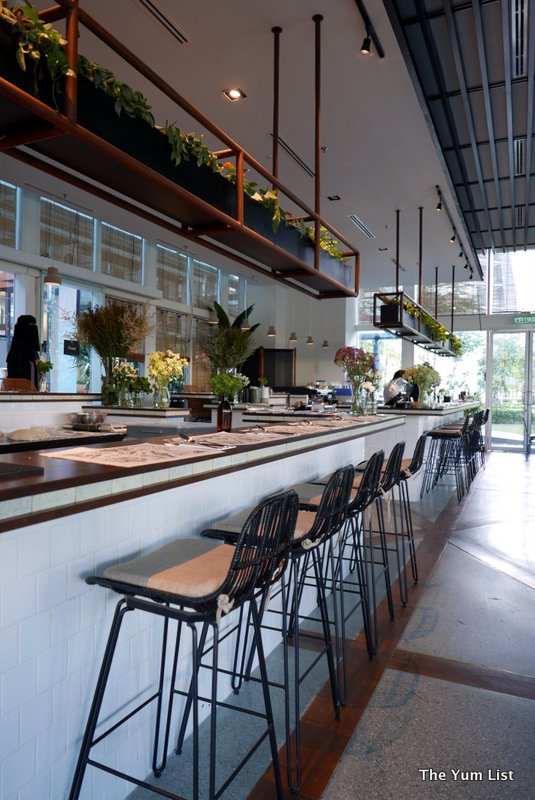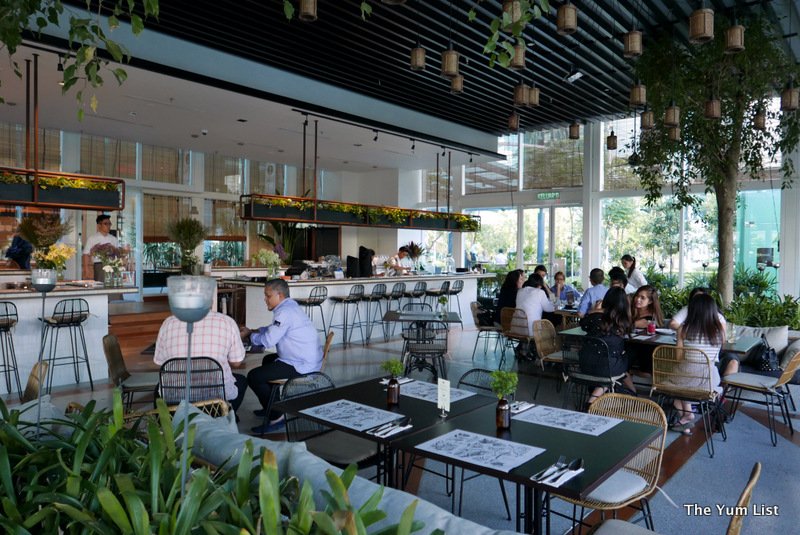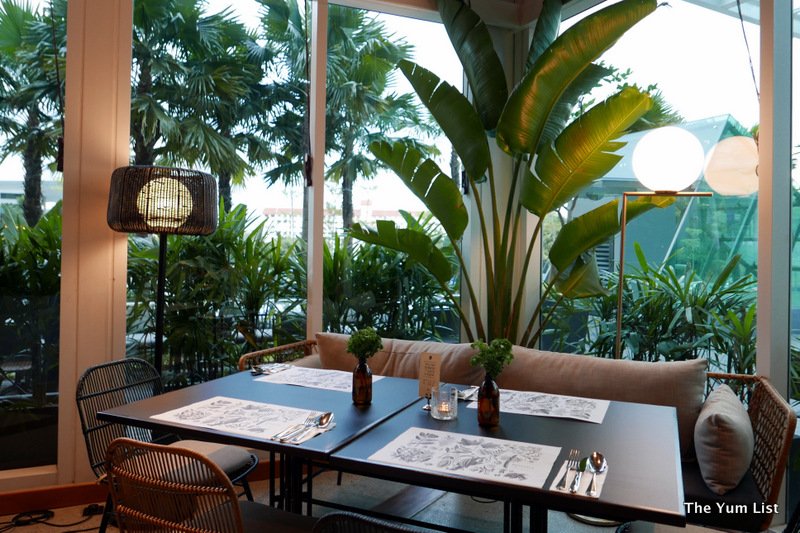 Well, only almost. Not one to waste good drinking time, the impeccably mannered waiter promptly brought us our first drink, The Bo+Co Cup (RM 70). It's really a carafe meant to be shared between 2-4 persons but I could have certainly made my own solo way through this invigorating blend of three types of Mancino vermouth cunningly disguised with fresh fruit and cucumber. Note of caution: she looks innocent until she ain't.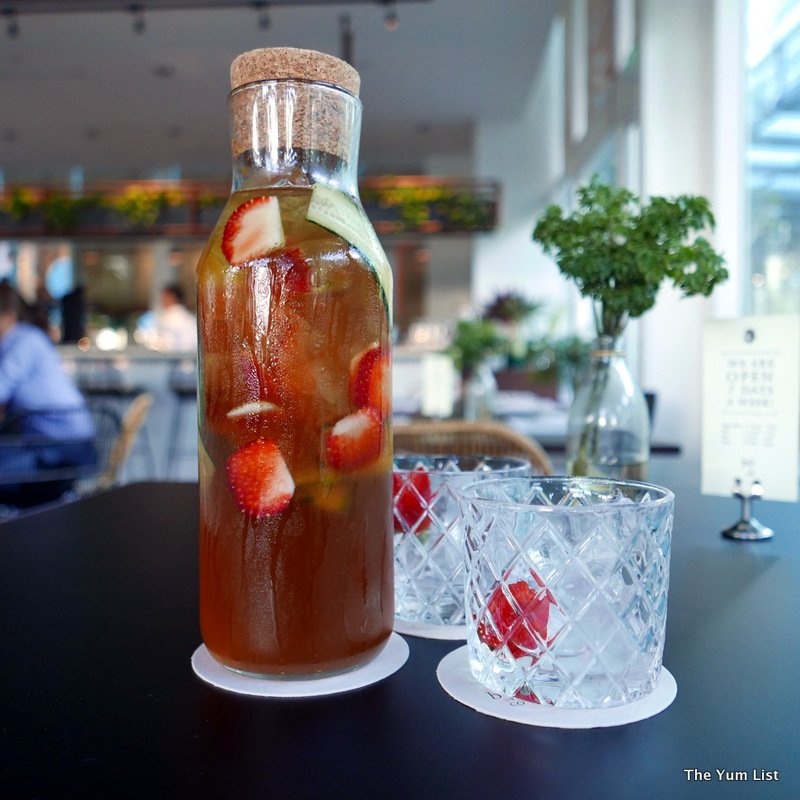 I snuck a peek at the menu and was thrilled to see that cocktails by the glass and carafe were not the usual offerings; a few of them being named after people eg. Carlos, Henrieta and Alphonso with equally intriguing mixes. I should have asked why! If cocktails are not your thing, Botanica + Co has a solid selection of white and red international wines, including a couple of house pours and a few beers to choose from as well.
We were recommended the Chocolate Peanut Butter Milkshake (RM 22) and while I kept telling myself that I don't have a sweet tooth, it was love at first swig with this baby. Rich yet perfectly balanced, this wicked blend of peanut butter, dark chocolate and chocolate ice cream was all things nutty and nice without being too sweet.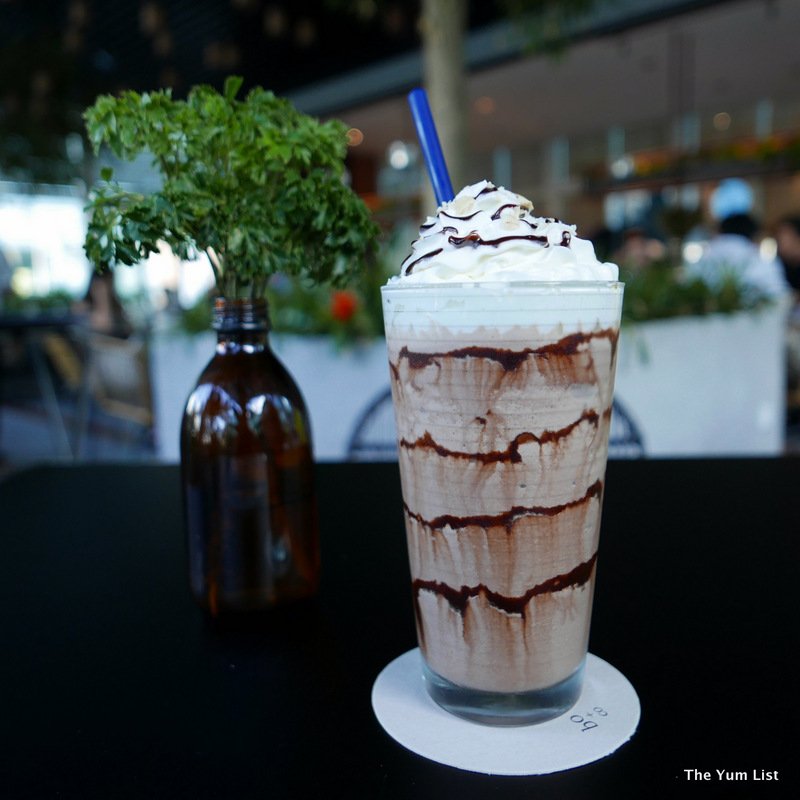 As I was about to take my umpteenth gulp of this divine brew, I was distracted by the arrival of an enormous pile of The Bo+Co Truffle Fries (RM 24). Although the dish is described in the menu as a sharing platter, I believe they forgot to mention that the portion of truffle infused shoe string fries topped with grated Parmesan cheese could well be shared by a small village.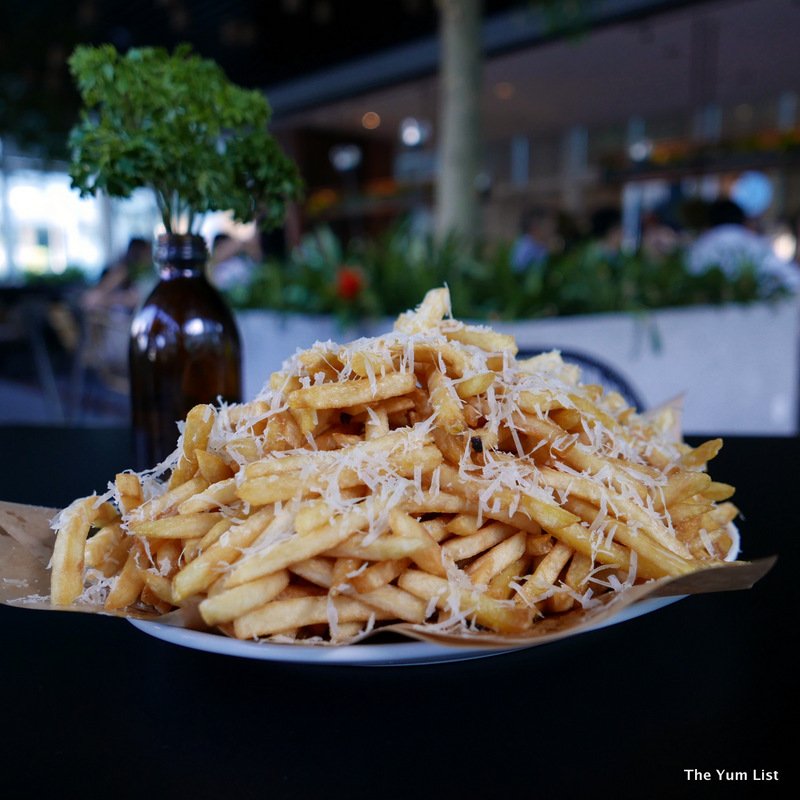 I had heard good things about their outstanding Halibut Fish and Chips (RM 36) from a friend so it was on my must-do list and when I dug into this classic, I understood why it is one of their best sellers. Botanica + Co's star performer is arguably the best fish and chips I've had in KL. Two large fillets of perfectly cooked fresh halibut (produce is sourced fresh from the market daily) swathed in the lightest, crispiest, tastiest batter ever, accompanied by the obligatory mountain of steak fries. I'm definitely coming back for this one.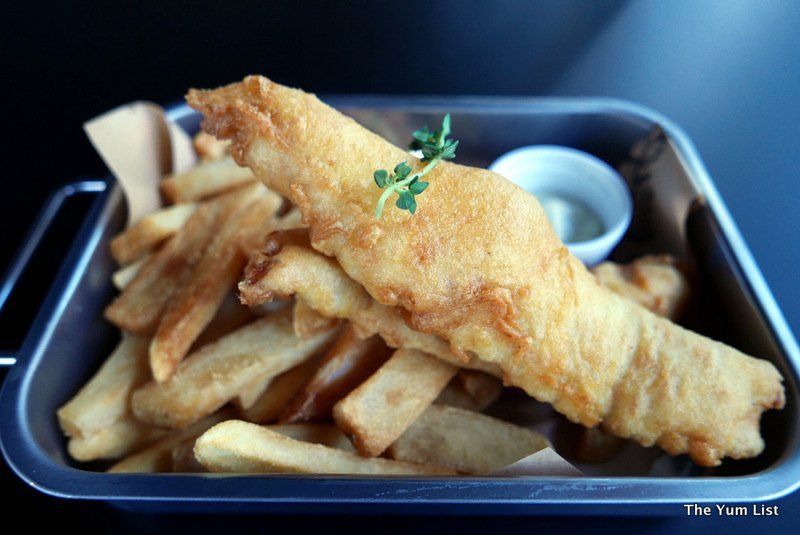 Pizza. While we were warned that the pizza only comes in one size i.e. not small, we went right ahead and ordered two. Monica and I both love our veggies so the medley of broccoli, peas, asparagus, kale and sugar snaps all tied together with three types of cheese (feta, parmesan and mozzarella) and smoky pesto laid out on a thin crust was right up our street.  This was the aptly named Green Goddess (RM32) and was so yum that I dare say it may well make a convert of all you meat eaters out there.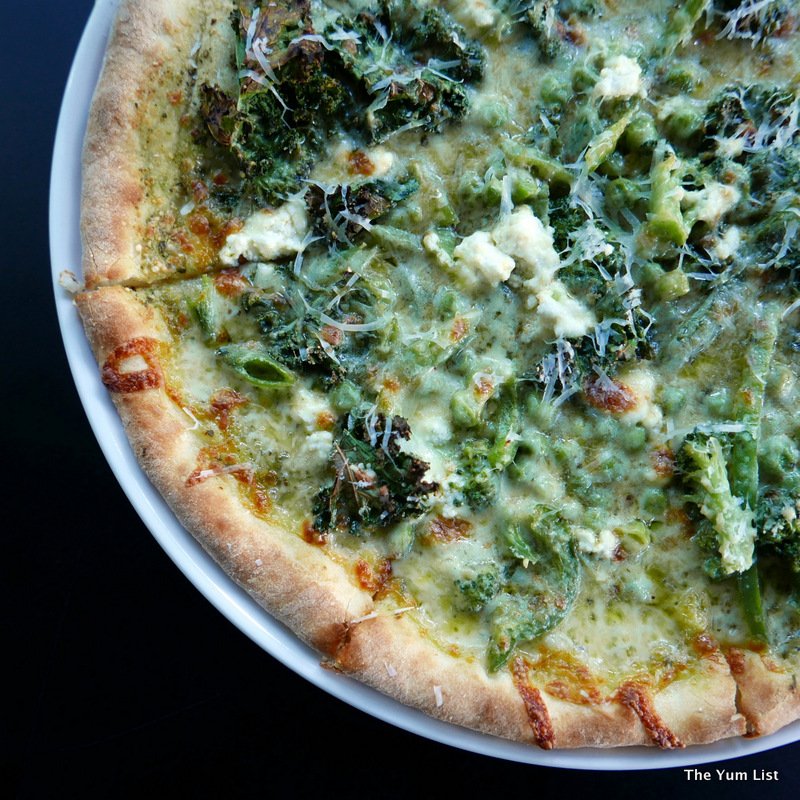 The other pizza I chose was also vegetarian, the Smoky Scarmoza Margherita (RM 28) – spot the slight obsession with the smoky there? This was really a combo of three cheeses but I felt that the mildness of the spun Italian cheese was a tad overpowered by the tomato sauce.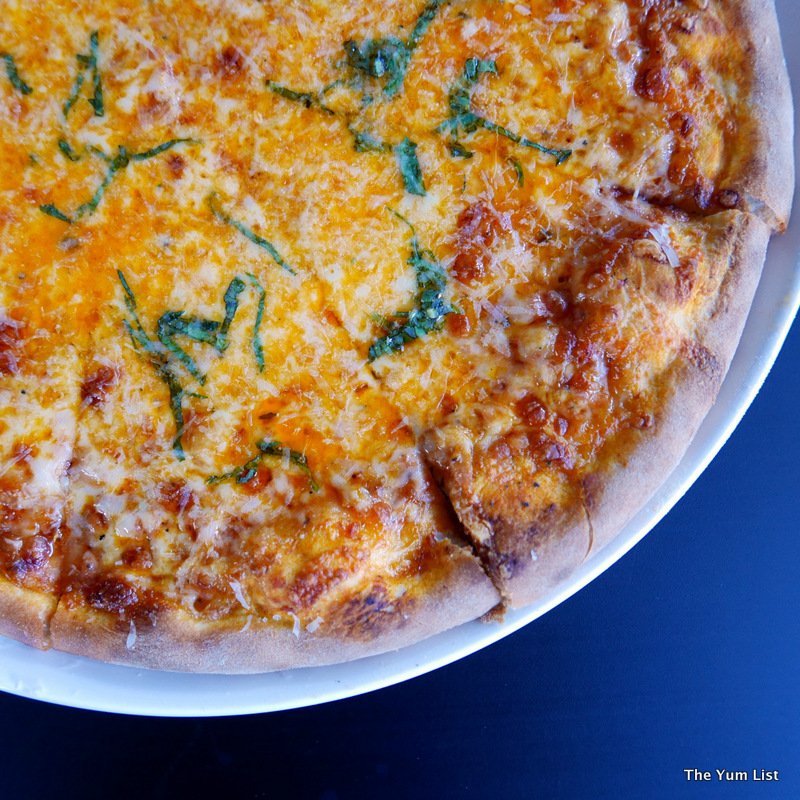 Just to balance the huge carb intake (not that we were feeling guilty or anything), Monica ordered the Superfood Salad (RM 25) which arrived in a deep, wide bowl, making it easy to eat with elegance. There were handfuls of healthy ingredients in this dish, as you would expect from the name, including quinoa, blueberries, wolfberries, sunflower seeds, pumpkin, spinach… I felt quite virtuous just looking at it!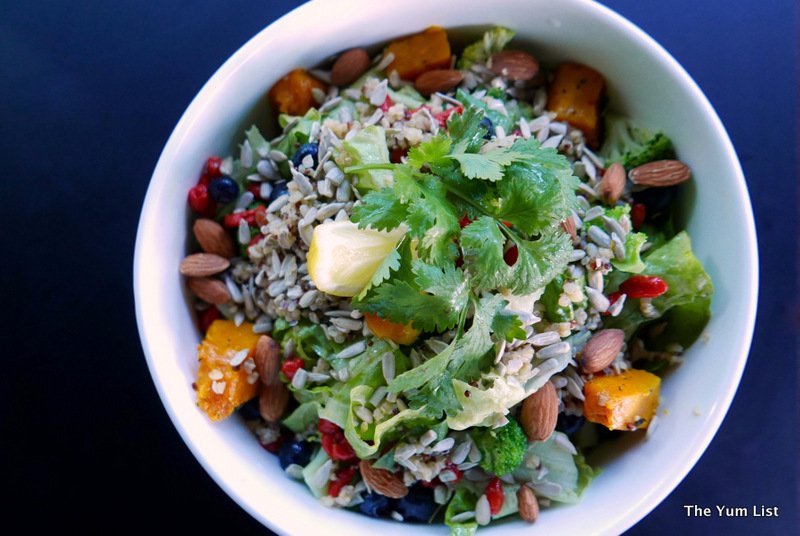 Like with most modern Australian cuisine, as this menu might be described, a little fusion never goes amiss. The owners' Singaporean influence is evident in some of the local dishes on the menu such as Lion City Hokkien Mee (RM32) and Sam's Crab & Crayfish Laksa (RM36). The lure of Chef Sam's secret laksa recipe was temptation too great to resist so I gave in without too much of a fight and also because which person with a beating heart can say no to a house-made laksa crab broth with crayfish (or was that a slipper lobster?), tiger prawns, huge chunks of chicken, quail eggs and fish cake. Although I personally prefer the Nonya style curry laksa aka drowning in coconut cream, this broth, true to its roots, was lighter, brighter, and packed with flavour without the cholesterol.
Just when you think that there cannot possibly be any room for dessert, the dessert arrives and suddenly there's room. We got to try three of the most popular sweets; Banana Butterscotch Cake (RM17), Mango Meringue Pie (RM16) and Churros Donut Stack (RM19).  My favourite by far was the Churros Donut Stack. Donut-shaped little wonders, crispy on the outside and cloud fluffy on the inside; so good on their own that I was tempted to ask for a serving without the vanilla ice cream, caramel and chocolate. The Banana Butterscotch Cake was a pleasant surprise as it had the consistency of a steamed pudding rather than a cake and it was served warm with a dollop of vanilla ice cream in one of their many specially sourced plates. As for the Mango Meringue, I prefer the tartness of the traditional lemon filling to counter the sweetness of the meringue but the Mango Meringue was an interesting departure from the usual.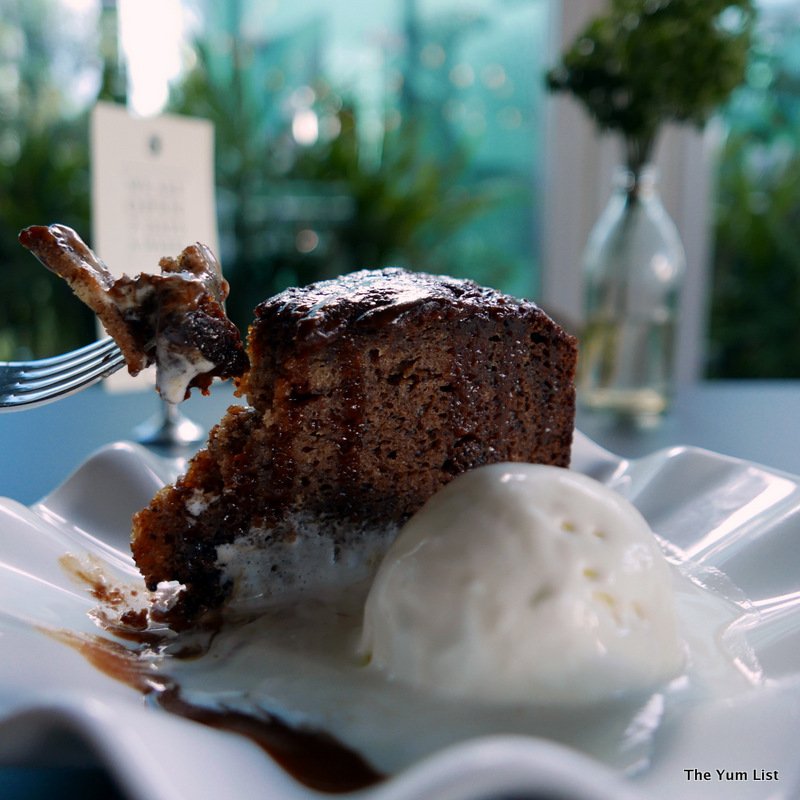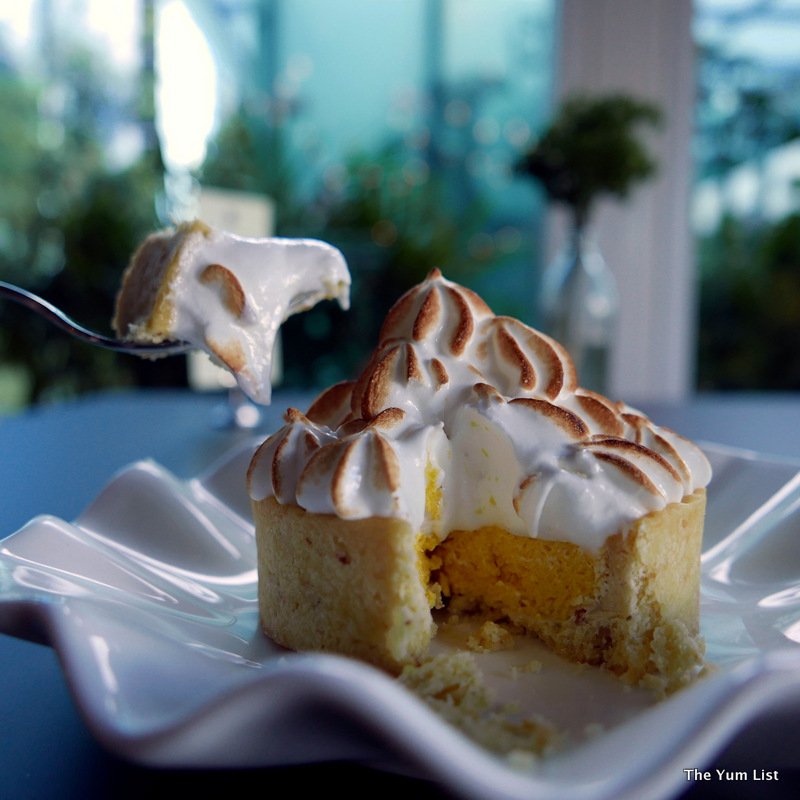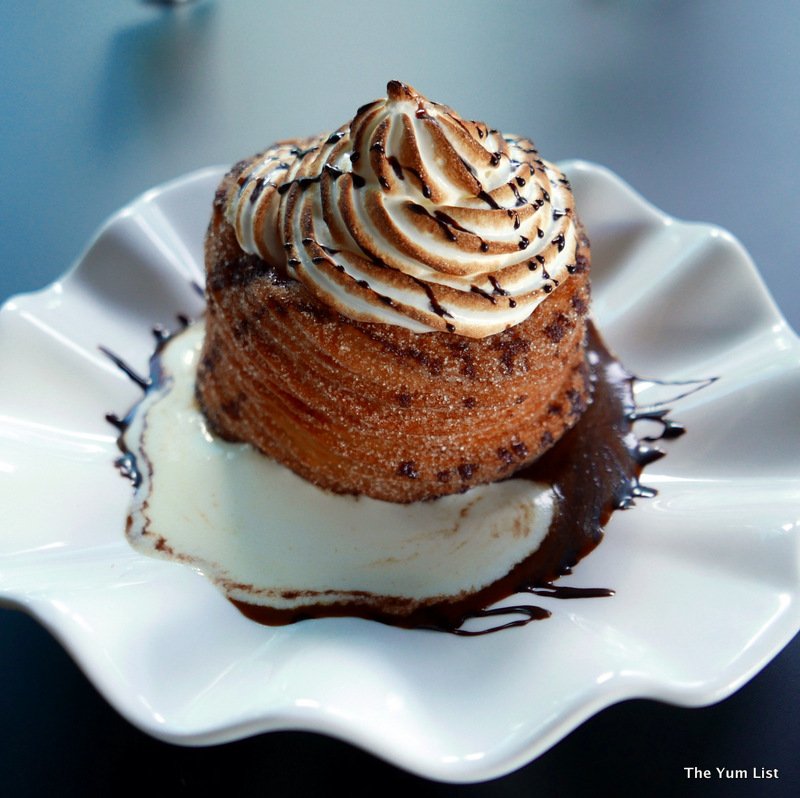 Reasons to visit: If you want to escape, even for just a moment, to a place of beauty, peace and light, to raise a glass or lift a fork, Botanica + Co is the place to be. It is rare to find a place in the city that has been curated with such attention to detail, not just in the food but also in every inch of the house and its caretakers; the result is a dining experience that leaves you with a big smile and a spring in your step. Oh and do try the Halibut Fish and Chips, of course.
Botanica + Co
G5 Podium, The Vertical,
Jalan Kerinchi, Bangsar South City,
59200 Kuala Lumpur
Malaysia
+ 016 965 6422
[email protected]
www.botanica.com.my