Visitors to Sunway Pyramid can expect a certain amount of Las Vegas-style opulence: giant statues of maned lions, papyrus-topped pillars, domed atria capping exclusive boutiques, and even an ice-skating rink at the center of it all! Nestled into a quiet corner in the Sunway Pyramid Hotel West, however, lies the unassuming Sanoook Thai and Japanese Restaurant. The odd spelling of the name takes the word "Sanook", meaning 'fun' in Thai and adds an extra O, for the circle of friends they hope you'll bring with you when you come.
Friends can enjoy colorful racks of shooters and food platters for sharing, including the Four Season Platter (RM 37.90). Crispy spring rolls, batter-dipped calamari, and fried fish balls line the plate with pub food favorites. The Salmon Cream Croquettes blend creamy cheese and tapioca with tender salmon inside a crispy case. The Chicken Balls deliver the enhanced Thai flavors of chili and lemongrass. Spilling over with tasty nibbles, this item is a great option for a group of friends over cold beers, including the Thai staple, Singha.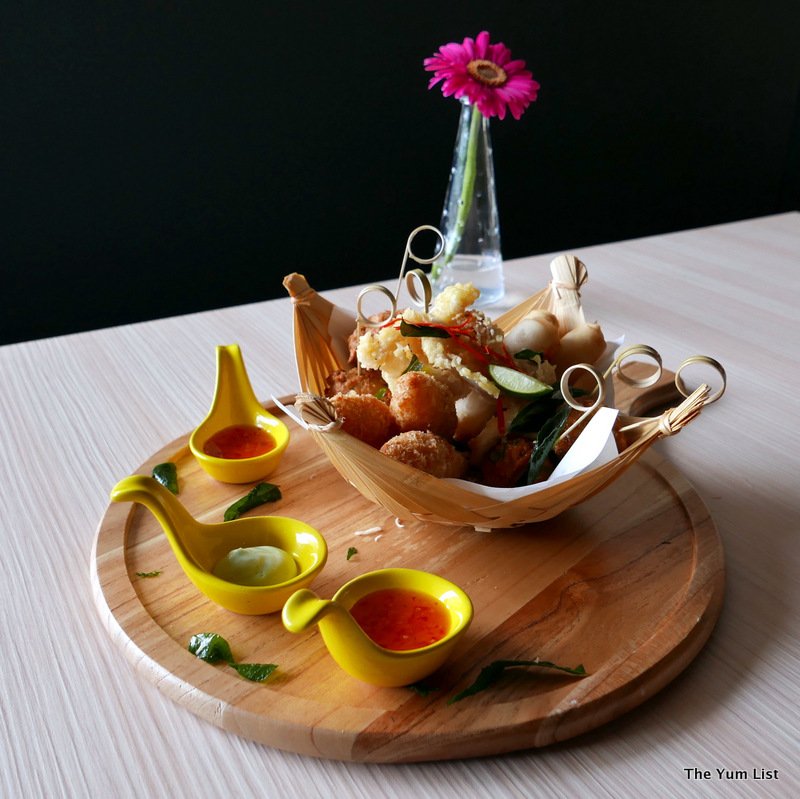 Another sharing option invites guests to sample a variety of skewers, beginning at RM 15.90 for two sticks. Combinations of chicken, beef, prawns or salmon kebabs arrive on a hot plate bathed in sauces like green curry, lime chili, and the Thai favorite, massaman. Well-seasoned protein and vegetables make this a healthier option than the fried platter above, but no less suited to a meal with friends who like to sample many flavors in one.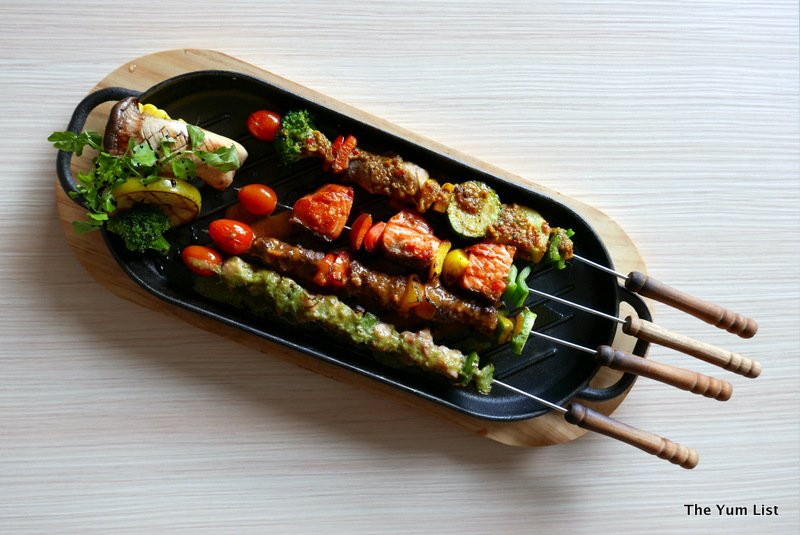 No outing with friends is complete without a few cocktails. Sanook features several signature drinks, including the Mamuang Mojito (RM27.90), a sweet indulgence that blends mango, lime, and rum with a mojito's standard herb. Similarly sweet but with a chili kick is the Tom-Yummy (RM26.90), a vodka-lime drink with lemongrass undertones.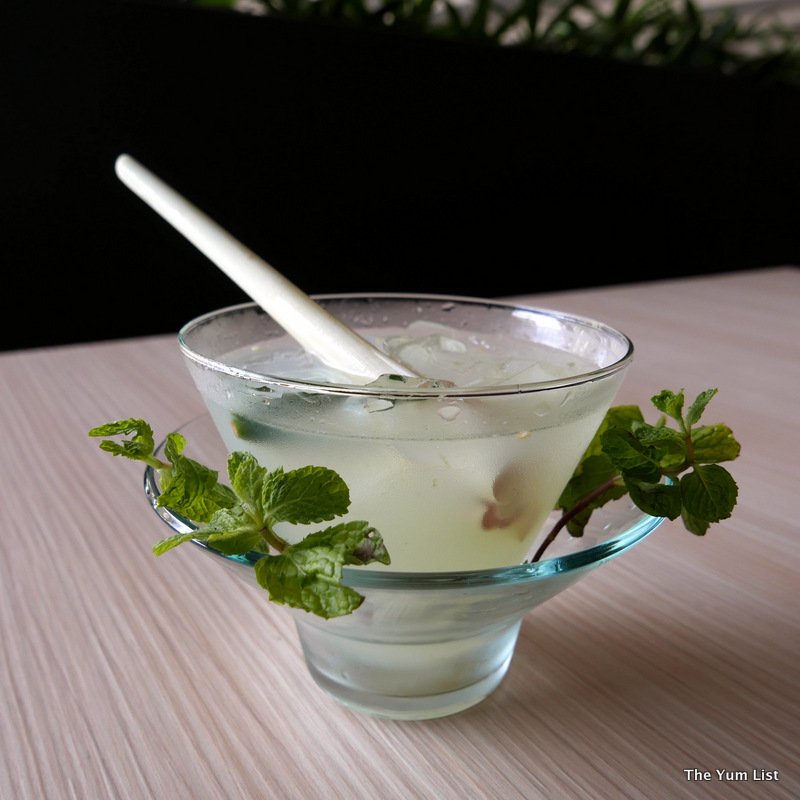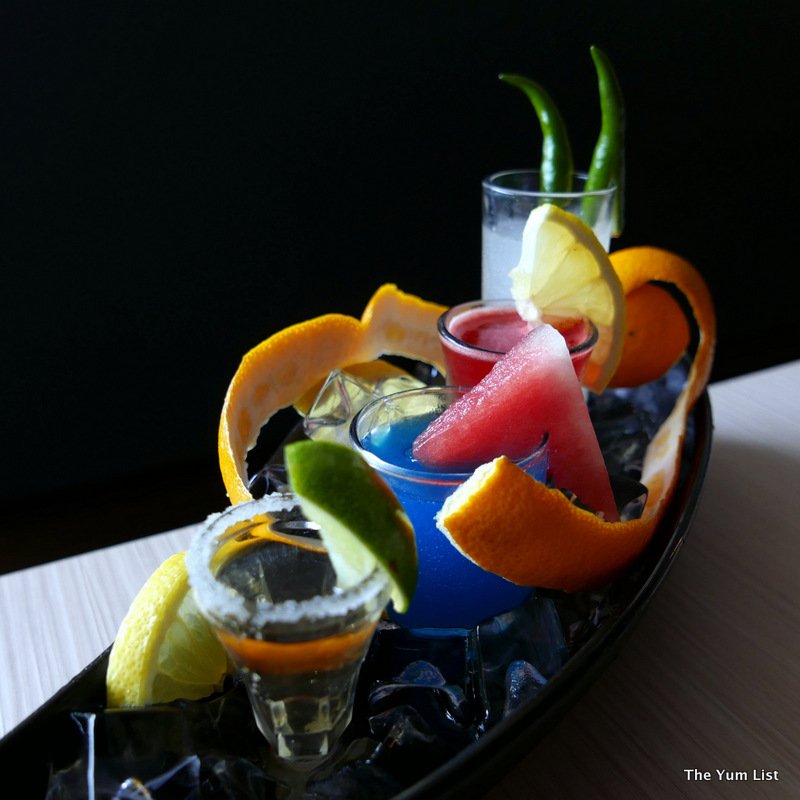 For those with a bigger appetite, we enjoyed the Pan-Fried Tuna Steak (28.90), a medium-rare grilled tuna steak sliced thin and served atop sautéed mushrooms and vegetables. Teriyaki sauce is always a nice complement for tuna.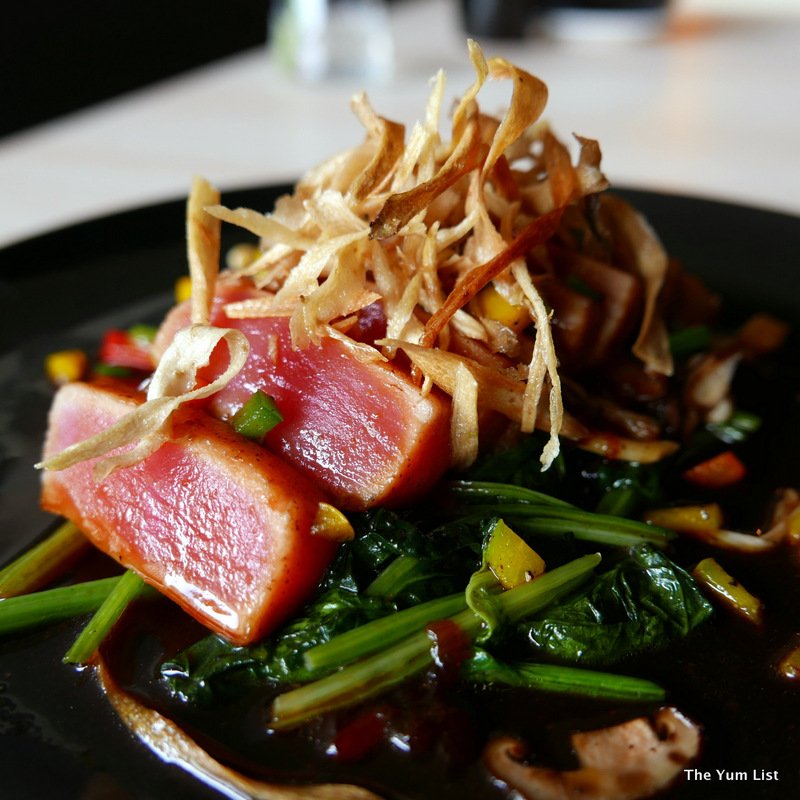 Sushi-lovers will enjoy Sanoook's assortment of maki. We sampled the Tuna with Tom Yum Sauce (RM27.90) where thin strips of tuna embrace cucumber-filled seaweed and rice. Tom Yum-seasoned mayo and tiny roe decorate the finished roll. Like all of Sanoook's food, the sushi is served on heart-shaped plates, another reminder of their emphasis on a love of food and a love of friends.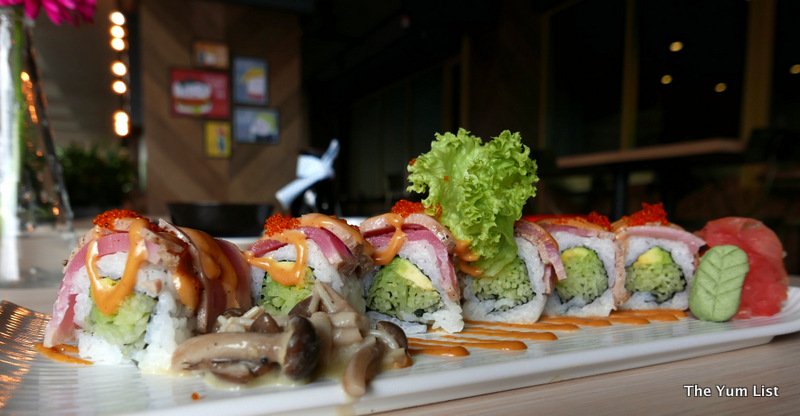 Coconut cream being a favorite of ours, we enjoyed the Thai Coconut Soup (RM16.90). Served in a sake bottle for added warmth, the creamy broth contains wontons filled with chicken mince and plenty of tiny string mushrooms.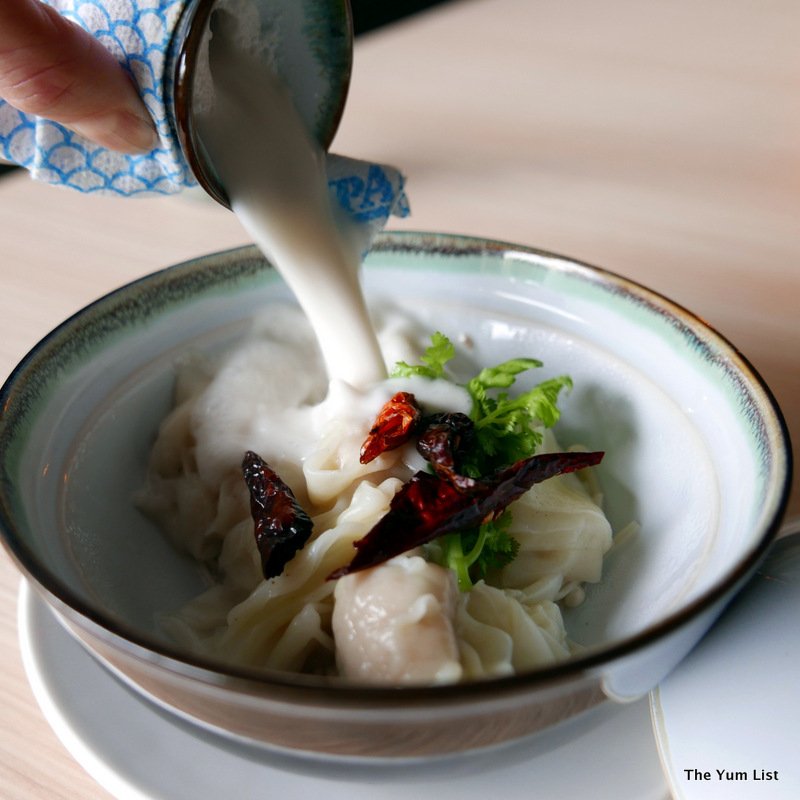 Fusion aficionados will want to try one of Sanoook's signature sushi burgers. Sushi burger, you say? That's right. Instead of the traditional bread bun, Sanoook uses sticky sushi rice cakes to wrap up the meat and fillings. We tried the Chicken with Teriyaki Sauce (RM17.90), grilled marinated chicken served with grilled pineapple and pear and the usual lettuce, tomato and sauce. This unusual but tasty combination offers a great option for gluten-free diets.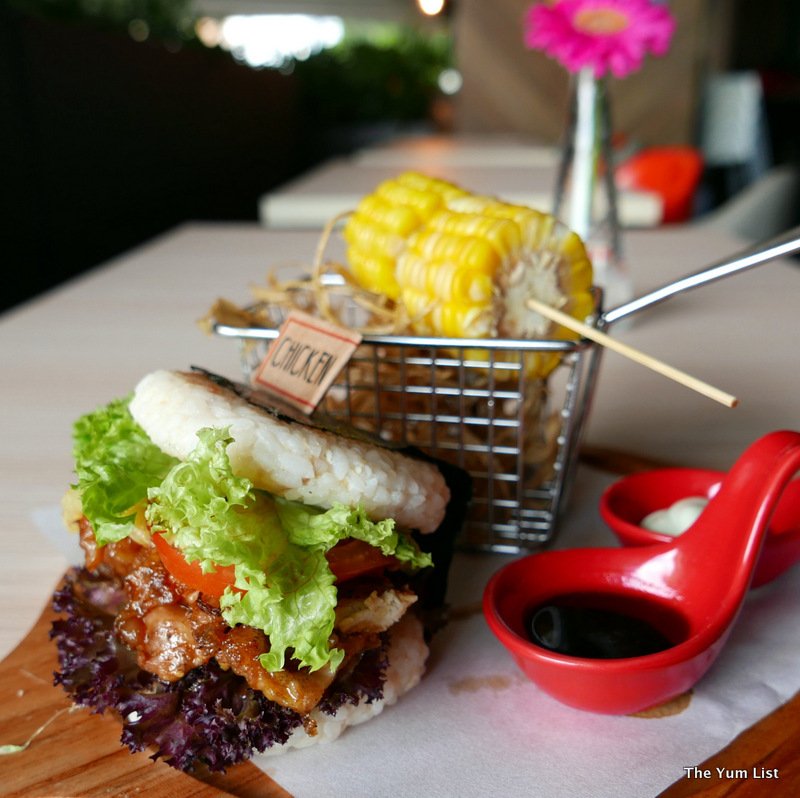 As we were leaving, Wei-Wei, our host, gifted us with one of Sanoook's Salad Jaars, bright greens layered with other healthy foods in a convenient takeaway jar. We tried the Omega Goodness, loaded with salmon, corn, tomatoes and mushrooms. At RM14.90, this is a healthy lunchtime option that is hard to beat for value!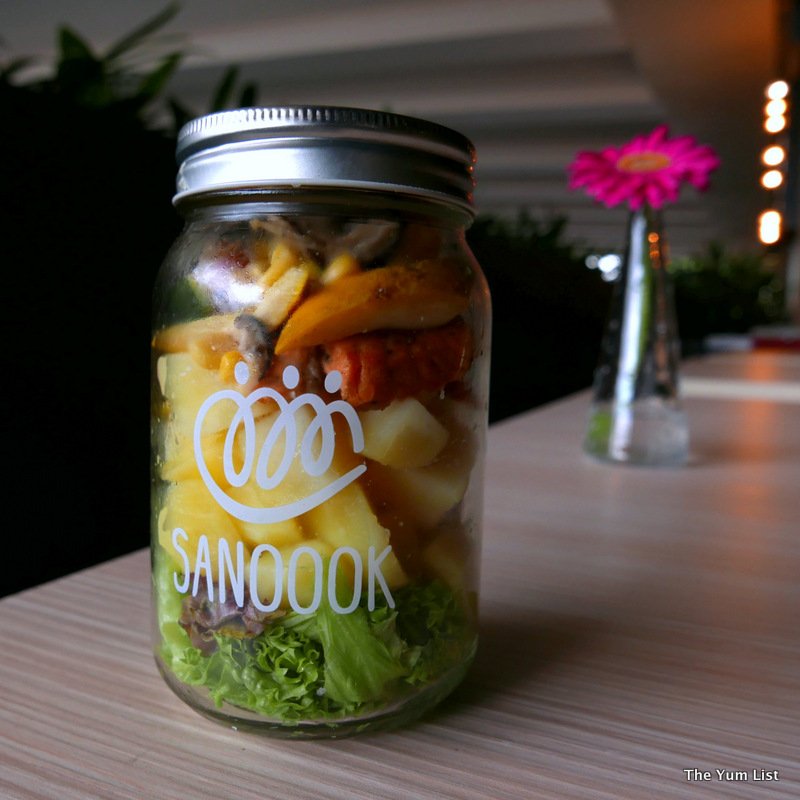 When you're ready for a break from the "shopping kingdom" of Sunway Pyramid, Sanoook Restaurant might be the refuge you and your friends seek. Open daily from 11:00 am to 11:00 pm.
Reasons to visit: An endearing escape from the bustle of Sunway extravagances, a place for fun with friends.
Sanoook Thai and Japanese Restaurant
4, Ground Floor, Sunway Pyramid Hotel West
Bandar Sunway, Petaling Jaya 47500
Malaysia
+6 03 5650 5196
www.facebook.com/sanoookmy