Words: Craig J Selby    Photos: Monica Tindall
I'm a kiwi, so naturally the title sits a bit uneasy with me. But, it is well deserved. Let me explain.
A little different from the food reviews you have become accustomed to us here at The Yum List sharing, tonight was somewhat outside of the box – the launch of a new TV cooking series – Surfing the Menu – to show on TLC from October 10, 2016 onwards. Throw in two charming, hilarious, and clearly accomplished hosts – both former MasterChef Australia contestants – an interactive cooking demonstration (fortunately I didn't get dragged on stage) – and a beautifully curated cookbook covering both their travels and the recipes from their show – this was "An Aussie Night of Awesomeness".
Hosted at the Glasshouse in Seputeh, the night started off innocently enough. We knew there would be food, we knew there would be a video or two, and we knew there would be a demonstration too.
But, as the night progressed, what grew was our awareness of the amazing synergy Hayden and Dan (the show's hosts) had, not only working together, but pulling the crowd in with them too, and the really tasty, down-to-earth dishes that they prepare. "The difference between home cooking and TV cooking is throwing some micro-flowers on the plate" was a quip from one of the hosts, as someone asked them a question about how to 'up the level of presentation'.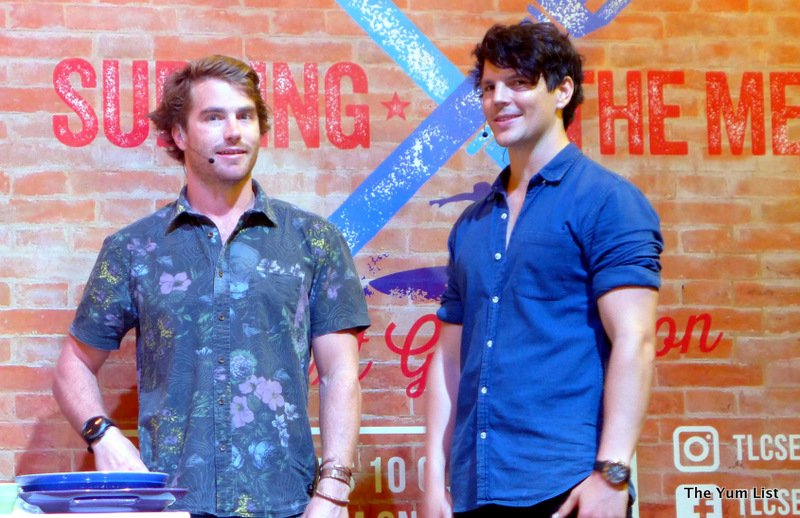 These guys are a definite 'to watch' once the series hits our screens (channel 707 on the Astro network for those in Malaysia). As they travel around Aussie in their slightly worse-for-wear VW Beetle called GG (no hint as to why), cooking up a storm with local fresh ingredients at their various stops, and having a blast of fun along the way. That same enthusiasm, and down-to-earth personality shone through tonight, both in chatting with them, and in enjoying their dishes.
Entrée was two-fold (that's pretty generous). Smoked Fish Healthy Hash was the core dish – locally smoked snapper (I have got to find out where they bought this from) with sweet potato hash and quinoa, perfectly poached eggs, smothered with an overly healthy dose of light garden greens. Even a few edible flowers – although I will stick by my motto that even though it can be eaten, perhaps it shouldn't always. Yep, wasn't a fan of the flowers – but the smoked fish was spectacular, and I actually went back for thirds! You read that right, thirds.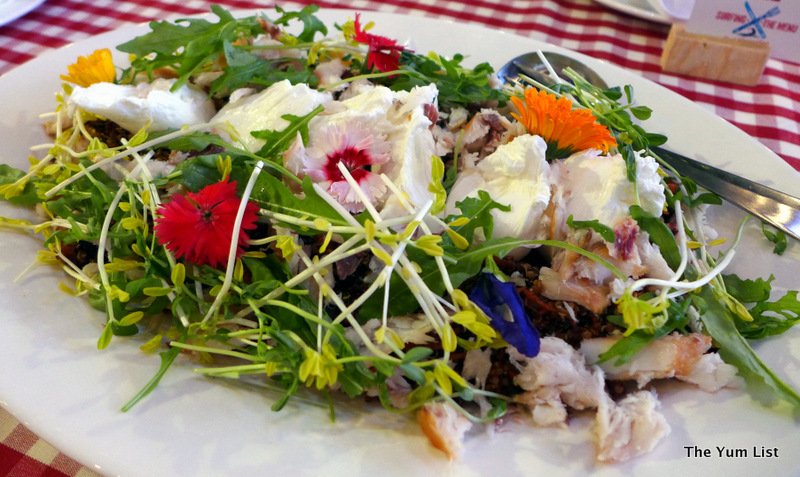 With barramundi flown in from Australia, us 'non-Australians' got to experience barra for probably a first time. Grilled Moroccan style, and served on skewers, this firm fish really tastes great. A lightly lemony couscous accompanied the skewers. I loved how they manage to get the couscous nice and fluffy.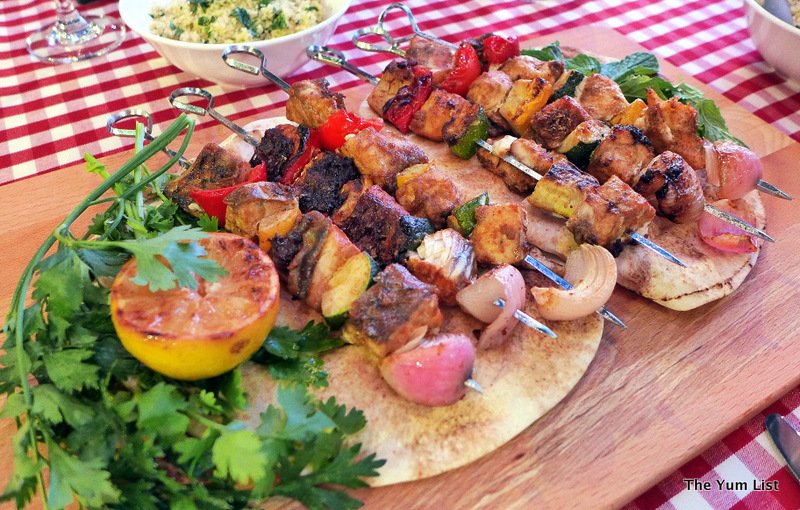 The entrees were great, but often with restaurants and TV shows, the recipes seem unapproachable to the everyday home cook. Not so. H and Dan (oh yeah, Dan calls him H because it's shorter than saying his whole name) gave a hands-on demonstration – showing us aspiring cooks just how easy the dishes are to prepare at home. The banter between them was lively, but also interlaced with some good tips on how to perform better in your kitchen. The great thing, everything was prepared over portable induction stoves – so it did remind me of my dated 1970's kitchen in the KL burbs and drummed home that I should be able to, with a bit of practice, create these dishes too.
The main course lived up to its name too – Caramalised One Pan Chicken of Awesomeness. OK, a bit of a mouthful to order, but definitely a winner. Served over herbed long grain rice, these tender chicken pieces were brimming with flavour, and the yoghurt dressing which accompanied went down so well with the rice. Sadly, they didn't demonstrate this dish, but flipping through their cookbook, Surfing the Menu, I know it's something I can handle at home, most likely without the need for the fire brigade to be in attendance.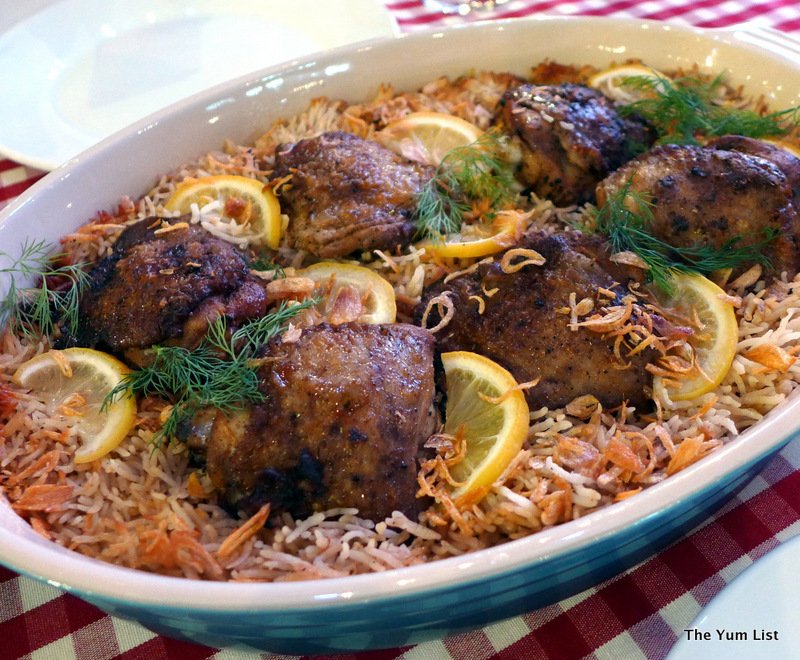 Chili Chocolate Tart was on the platter for dessert. Individual chocolate tarts, smothered in strawberries and blueberries, with a healthy dollop of vanilla clotted cream on the side, provided the perfect ending to the meal. The chili was noticeable, but I think, for my taste buds, a little more would have been ideal.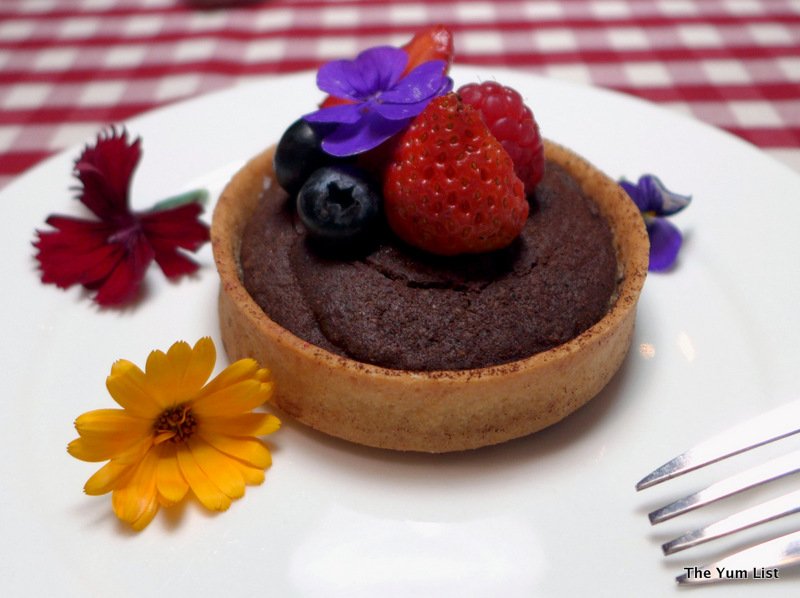 Photo opportunities, autographs, and the chance to chat with the guys after dinner were also aplenty. What I can say is we are in for a treat with their show; it is certainly going to be lively entertainment, and great that the recipes are so accessible and easy-to-follow for us kitchen novices. Looking forward to the 10th of October (@ 9pm)!