Words and photos: Monica Tindall
"A little bubbly darling?" With the pop of a Champagne cork or even the mention of something a little effervescent my speech seems to switch channels, or Chanel should I say, as I relay quotes by the queen of sparkle herself Coco, "I only drink Champagne on two occasions, when I am in love and when I am not," and embark on an ungracious overuse of the word "darling." What can I say, I like some fizz in my flute!
Champagnes by Drappier are being featured tonight at Graze at the Hilton Kuala Lumpur Hotel, and you can bet I was one of the first to sign up for a seat. The cellars of Drappier House date back to the 12th century, and the winery today is held in high regard as one of the most esteemed boutique producers in the region.
Our introduction to the Drappier House is with the aromatic Brut Carte D'Or NV with soft hints of white peach and a whisper of spice on the nose, opening up to a full and complex palate. This one is lovely on its own, but also pairs well with our Fine De Claire Oyster dish that launches the menu. The oyster is lightly dressed with raspberry vinaigrette and served aside a poached quail egg and melt-in-the-mouth cubes of scallop tartar. Sevrugar caviar completes the plate topping up the luxuriousness of the dish, in line with the grandeur of our Champagne paired dinner.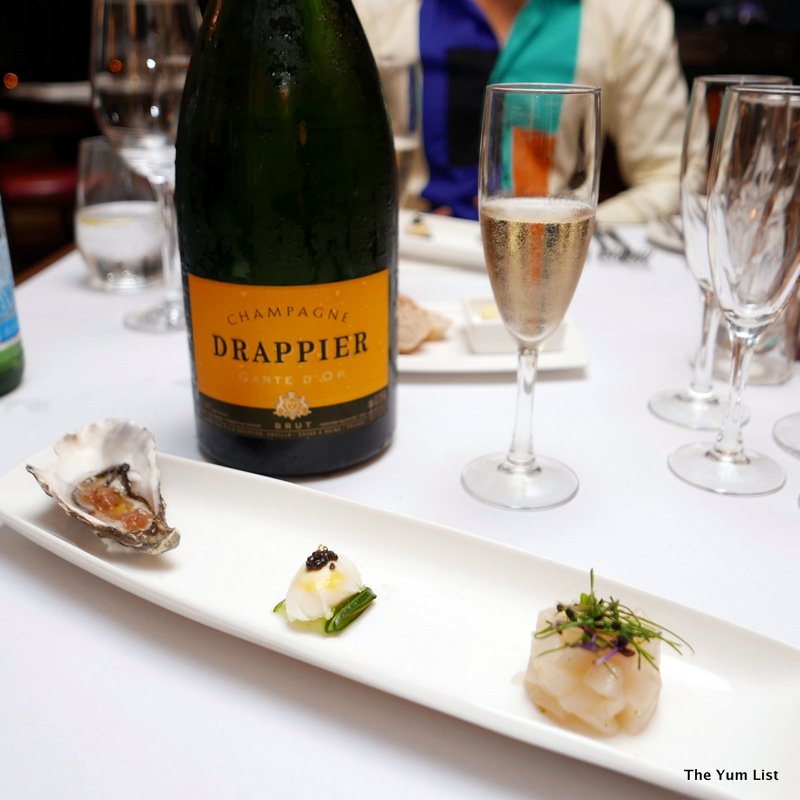 While sipping the next flute of Drappier Brut Nature NV we learn that the winemakers keep the vinification process as natural as possible with exceptionally low dosage and limited usage of sulphites. The Drappier Brut Nature NV has been made with zero dosage (put simply – no addition of sugar) and no sulphites. This allows the terroir to surface, offering noticeable minerality and more complexity. Aromas of crisp sweet pear tease the nose, and the palate is dry and vibrant. Lobster ravioli proves the perfect partner with the bubbly slicing through the lobster butter while complementing the green pea and mint mousseline and Champagne foam.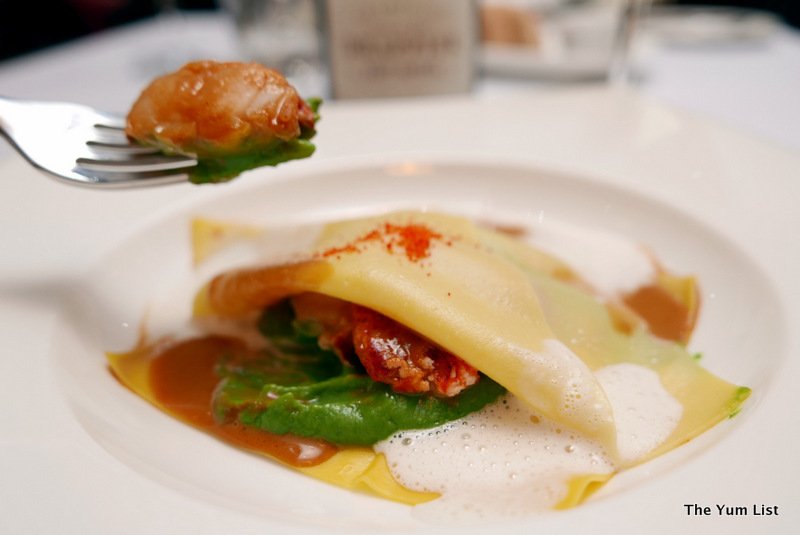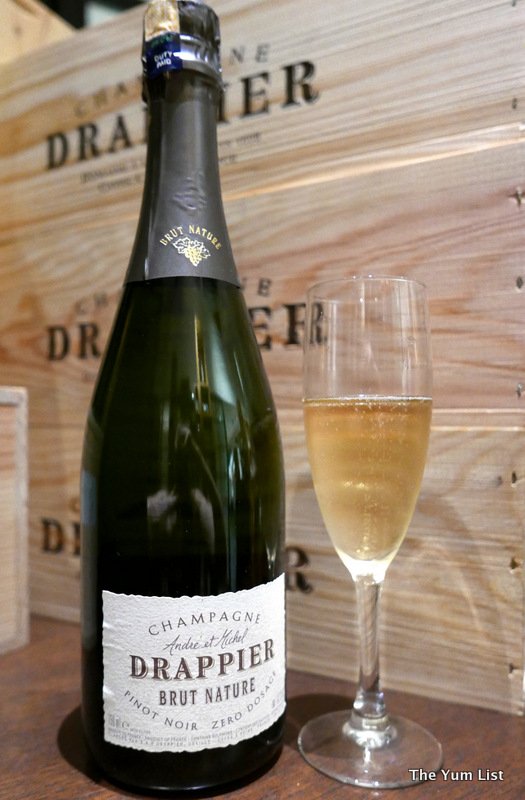 Drappier Brut Charles de Gaulle NV presents elegant citrus aromas followed by an intricate palate with a light finish. Served crisply chilled it makes a fine mate to the rabbit vol au vent in the third course. Cepes mushroom and morels ragout does well with the terroir surfacing in the Champagne. Micro cress and crème fraiche dress the surrounds of the meaty middle and lighten the rich lusciousness of the rabbit. It turns out that this, our favourite dish of the evening, is close to chef Marc Fery's heart also. As he spills stories of his grandmother's version and anecdotes from his childhood, it's clear that besides succulent seasoning there's an additional injection of passion in this recipe.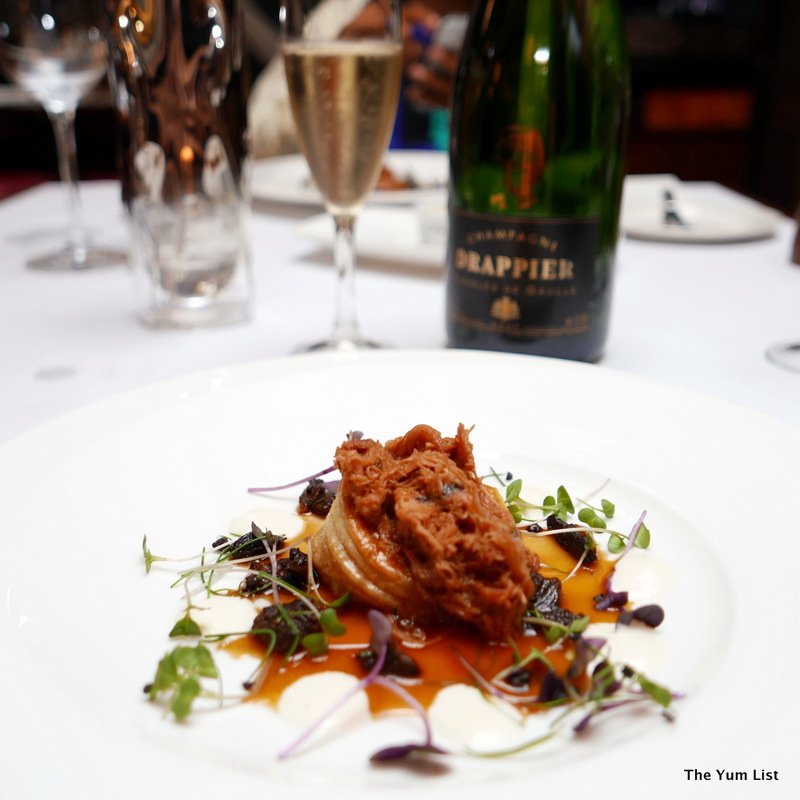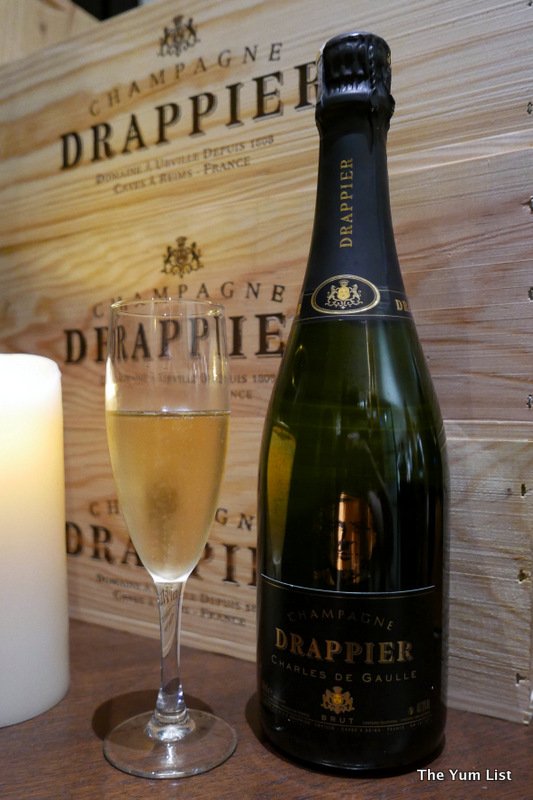 And what would be the most suitable palate cleanser for a Champagne dinner? Champagne sorbet of course!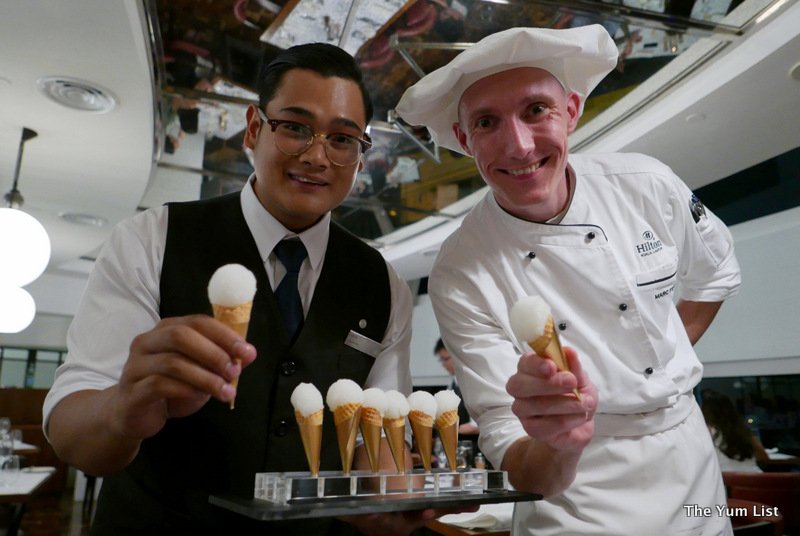 Our main of sous vide cooked pigeon breast deserves a noble associate and Drappier Brut Grande Sendree 2006 plays the part royally. The winemaker's description of its hue as "a ravishing pale yellow robe with topaz nuances," couldn't be more appropriate. The initial nosing grants scents of rose, honey and almond. As it's exposed to air and warmth however the nose develops to display to a buttery warm toast topped with berry jam. There's just as much going on in the mouth too, stimulating flavours of more sweet berries and candied citrus. Subtle minerals and orange peel persist in a lingering goodbye. The confit pigeon leg, sweet potato soufflé, sautéed kale cabbage and truffle cream sauce are expertly executed, but it's the bubbly that holds our attention in this course.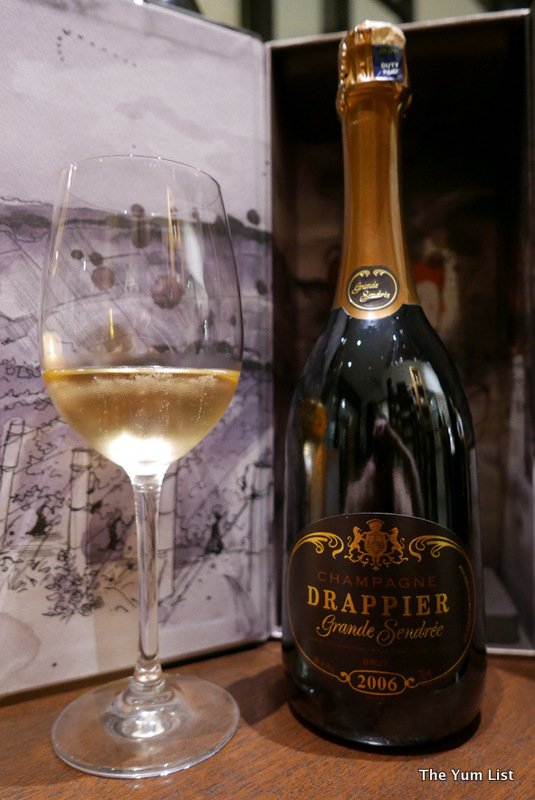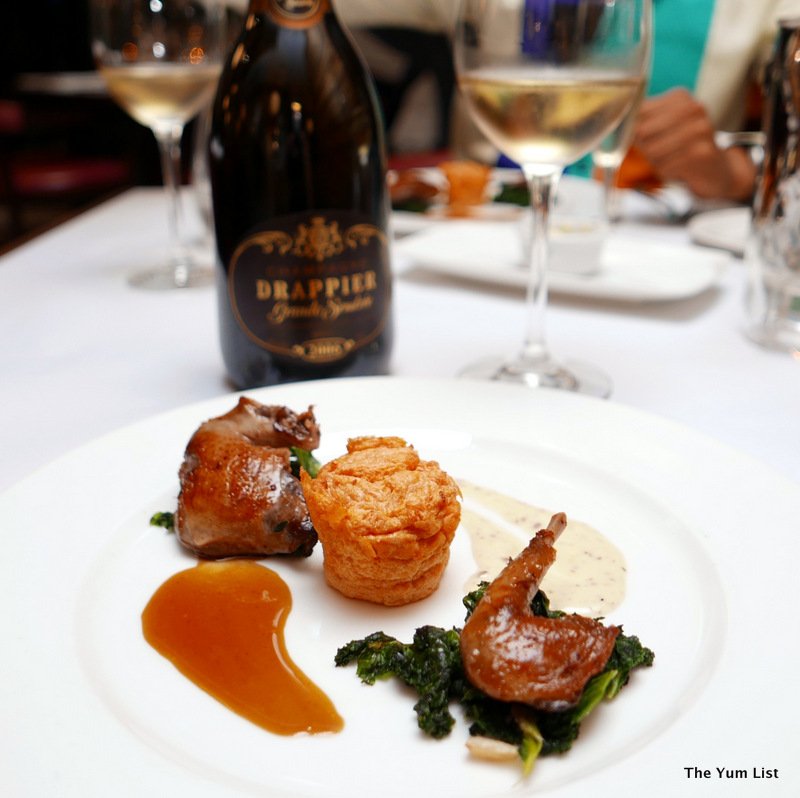 A pretty rosé ends our tasting with the Drappier Brut Rosé NV. Toasty and smooth, with hints of both spice and fruit follow through to a bright fresh finish. Strawberry daquoise with meringue chips, strawberry sorbet and sous vide cooked strawberry basil compote complement the wine with elegance and artistry.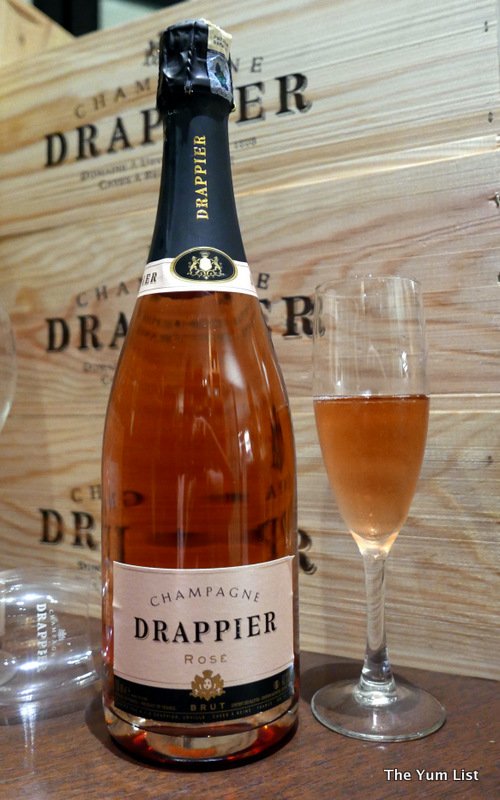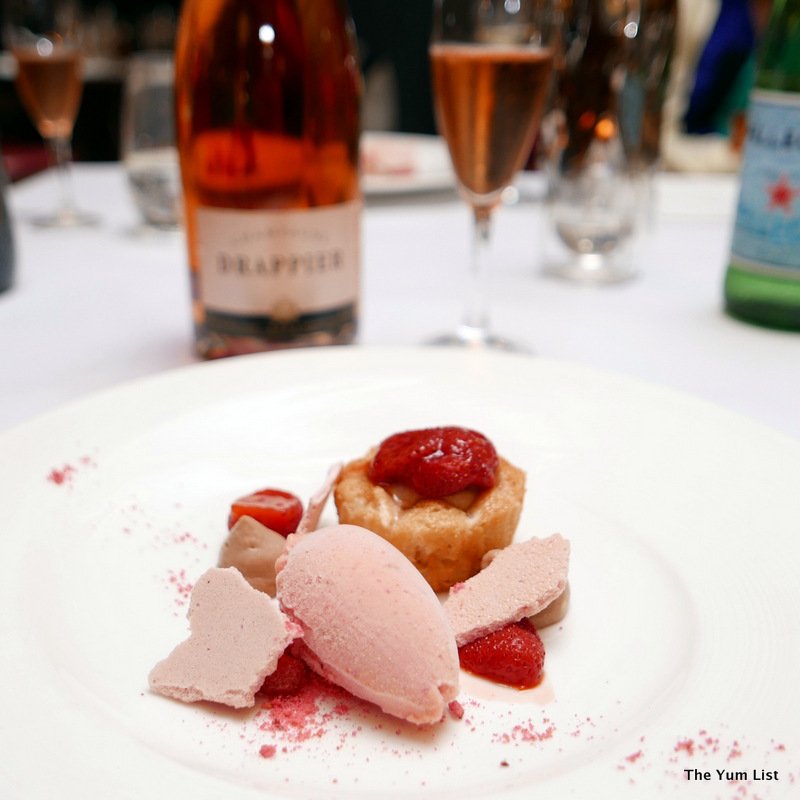 Reasons to visit: a good collection of Champagne and other sparkling beverages; classic European dishes at independent restaurant prices as opposed to hotel rates; must-orders are the Rabbit Vol Au Vent and Open Lobster Ravioli; our preferred drops – Drappier Brut Grande Sendree and Drappier Brut Charles de Gaulle NV.
Graze
Hilton Kuala Lumpur Hotel
Level 5 (Mezzanine)
50470 Wilayah Persekutuan
Kuala Lumpur, Malaysia
+6 03 2264 2264
Website
Open Daily: Lunch 12:00 – 2:30pm, Dinner 6:30 – 10:30pm