Words: Heather Onderick    Photos: Monica Tindall
Are you looking for a place where you can sip locally inspired drinks surrounded by the green of Kuala Lumpur's own Bukit Nanas? Or maybe a place where you can taste the melange of Malaysian flavors: Chinese, Indian, Malay and some foreign touches, all in one location? If so, Manja at Old Malaya might be your next dining destination.
Manja at Old Melaya has something for everyone. If you are about embracing the jungle air in a colonial like terrace bar, then you can start with a cocktail outside. If you have brought your family, you might decide to eat in the welcoming downstairs dining room, decorated with uncovered brick and burgundy walls, and paired with the overly pleasant demeanor of the staff, it is most inviting. Perhaps, you have brought a bunch of colleagues and prefer a space with more character and energy. Walk upstairs and turn left for the covered terrace with a view of the KL tower where smokers are welcome. You may also turn right to enter the formal bar with high stools and more of an artsy pub feel curated with angular mirrors and hanging metallic art.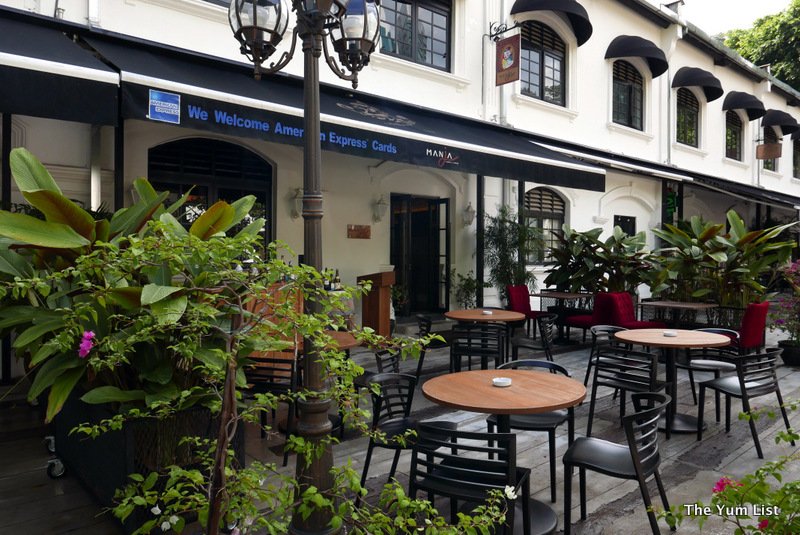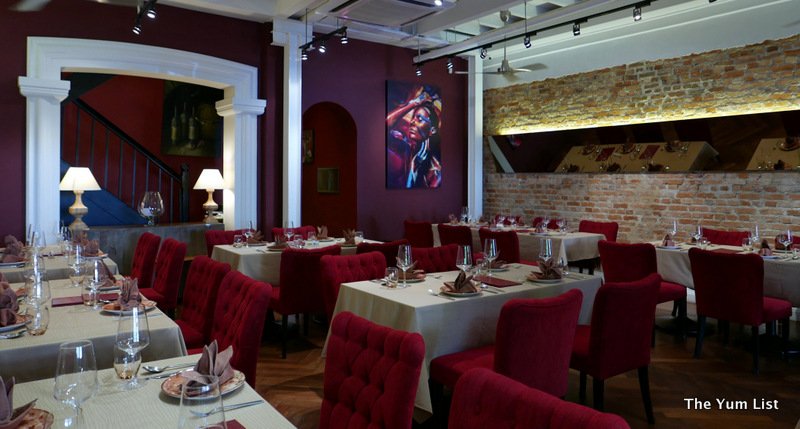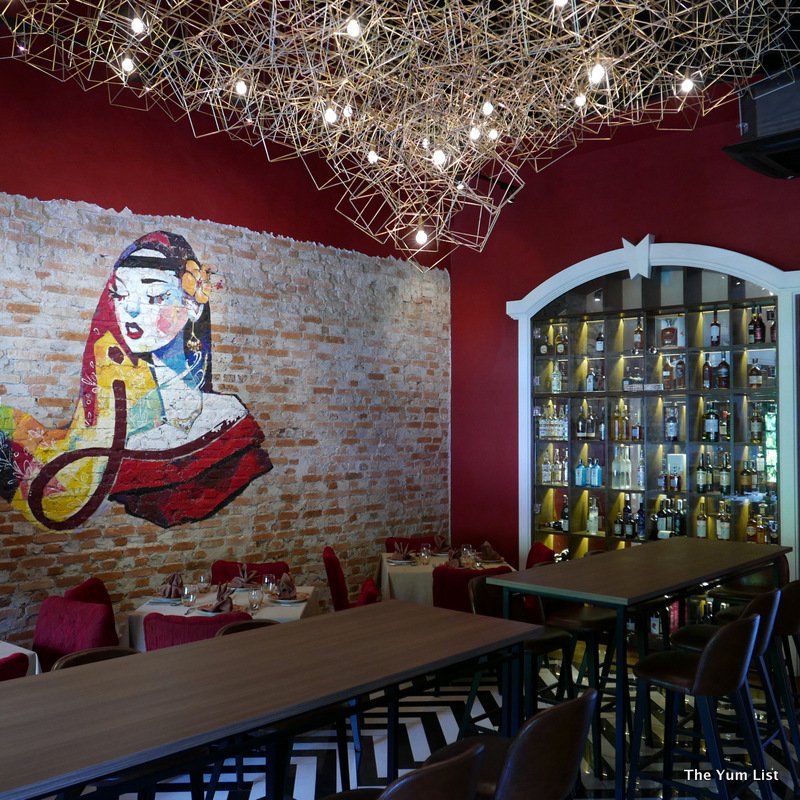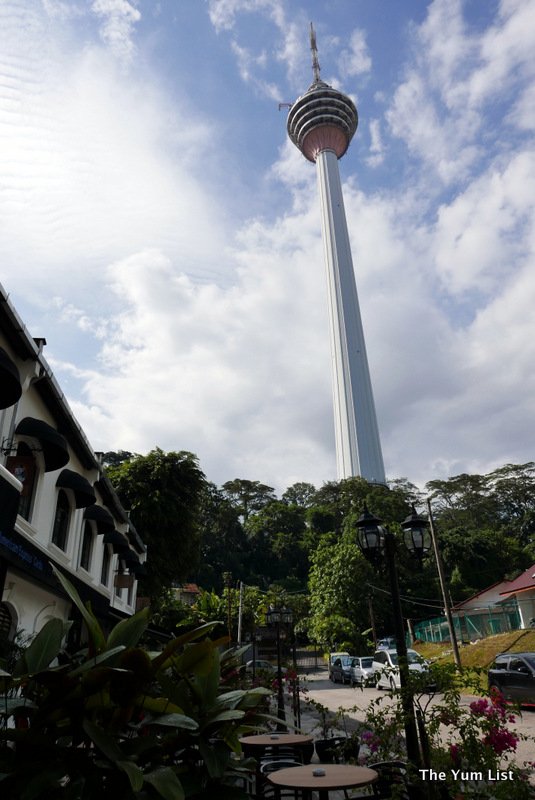 Once we got settled in, we were offered a complimentary Mint Teaser. This drink transported me back to the Middle east, served in a glass with a sugar coated rim and flavored with fresh lemons, lively mint and a splash of sprite, it was a refreshing start on one of KL's normally humid days. (It can also be served with vodka for those so inclined).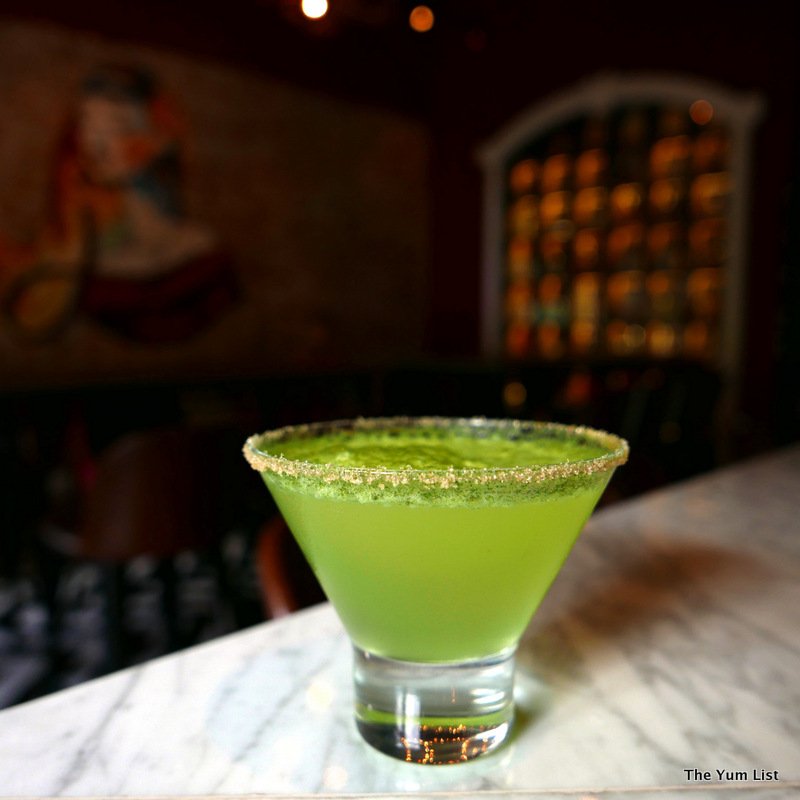 And, turning to a little imbibement, Manja is dedicated to using local flavors to brew its exclusive cocktails. Our first sampling, the Spirit of Borneo (RM 29), is a perfumey beverage including chili-infused tuak, a traditional Malaysian rice wine, lime, elderflower syrup and is topped off with fluffy egg white. The Taman Mezcal (RM 42), on the other hand  is a bit more potent, made with vodka, mezcal, lychee syrup, blueberry, mint, lime wedges, sugar and ginger ale. Due to the floating fruit and warming effect of the mezcal, I dubbed it a magical potion fit for cocktail risk takers.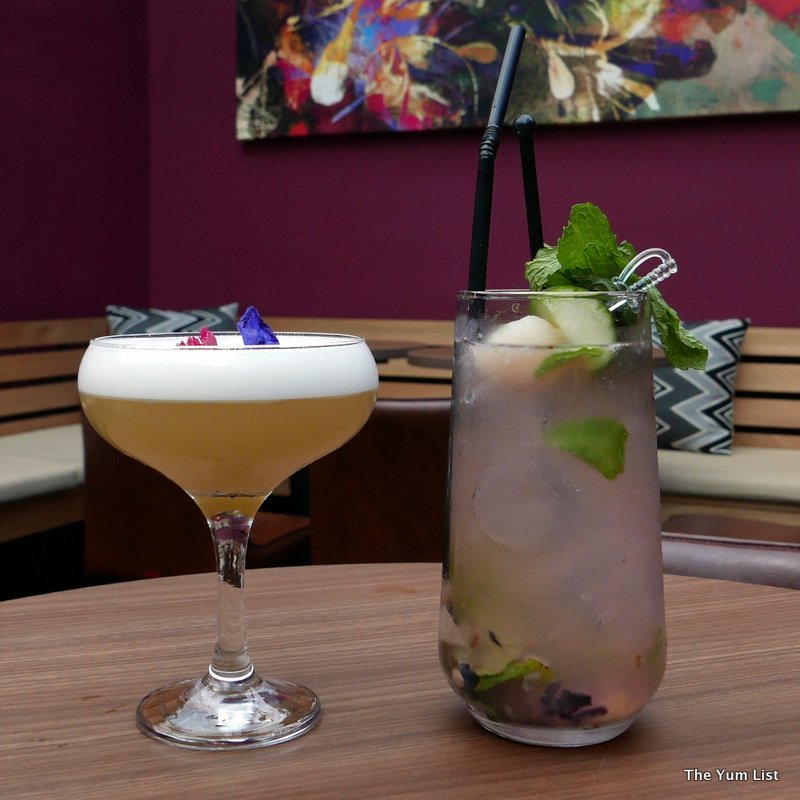 Just as guests are welcomed with the Mint Teaser as complimentary refreshment, so too do they receive an amuse bouche: in this case bruschetta to get us started and ready for a parade of unique platters to follow. To start off, presented in a lightly toasted coconut, were the Caribbean Style Prawns (RM 48). This plate served with prawns locally caught in Kuala Selangor was a pleasant blend of Mexican flavors in the creamy guacamole with cumin and coriander, layers with barbecue flavor undertones. The warm mantou bread was an agreeable swap from similar plates usually paired nacho chips.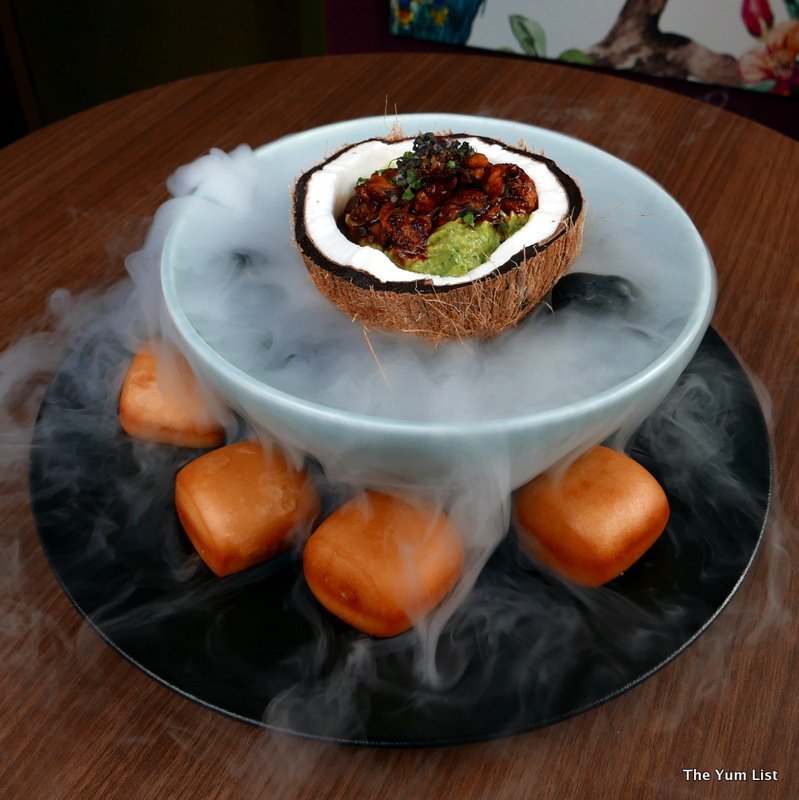 Having recently vacationed in Korea and eating good beef and a lot of kim (dried seaweed), I was excited when the next plate of Angus Sliders (RM 42) arrived. Served on homemade toasted brioche buns with a savory onion compote, a thin sheet of Japanese seaweed, a small piece of sharp cheddar and a touch of truffle oil, this dish was juicy to say the least and very well balanced in flavors.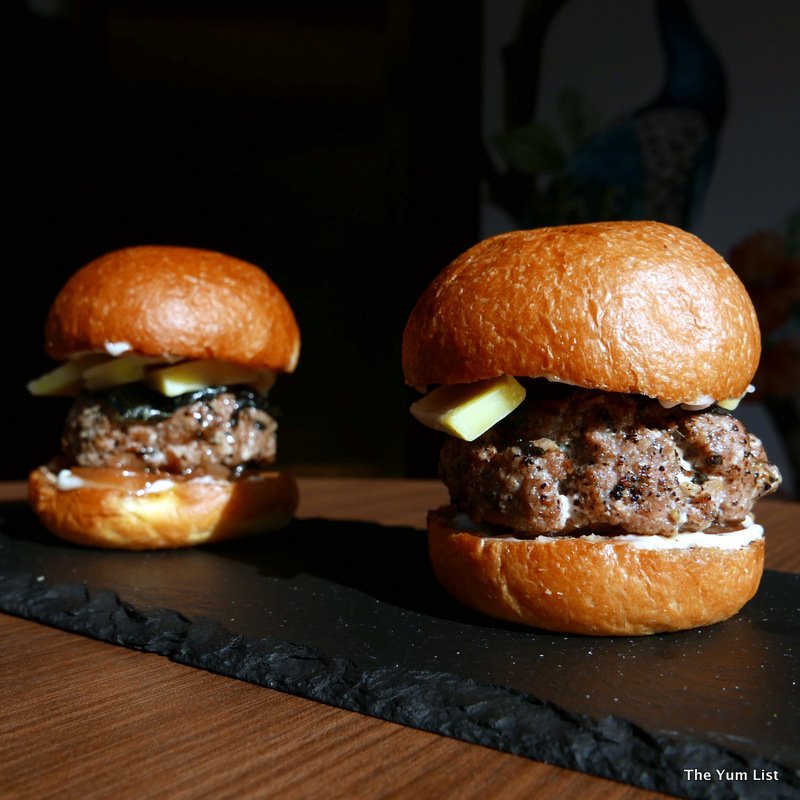 Manja serves a number of different sized plates for sharing. Small plates aim to serve one person, medium plates aim to serve two and finally, their large plates will serve three.
The final small plate was a brave one: Bayam and Escargot (RM 38). Never before would I have dreamed of a dish as such, created with creamed spinach and Indonesian snails, a sprinkle of seafood curry powder and Indian spices. I had no idea what to expect but the plump snails with earthy undertones and diversity of flavors the ingredients produced made for a must-order plate for those willing to let their taste buds explore with ambitious culinary experiments.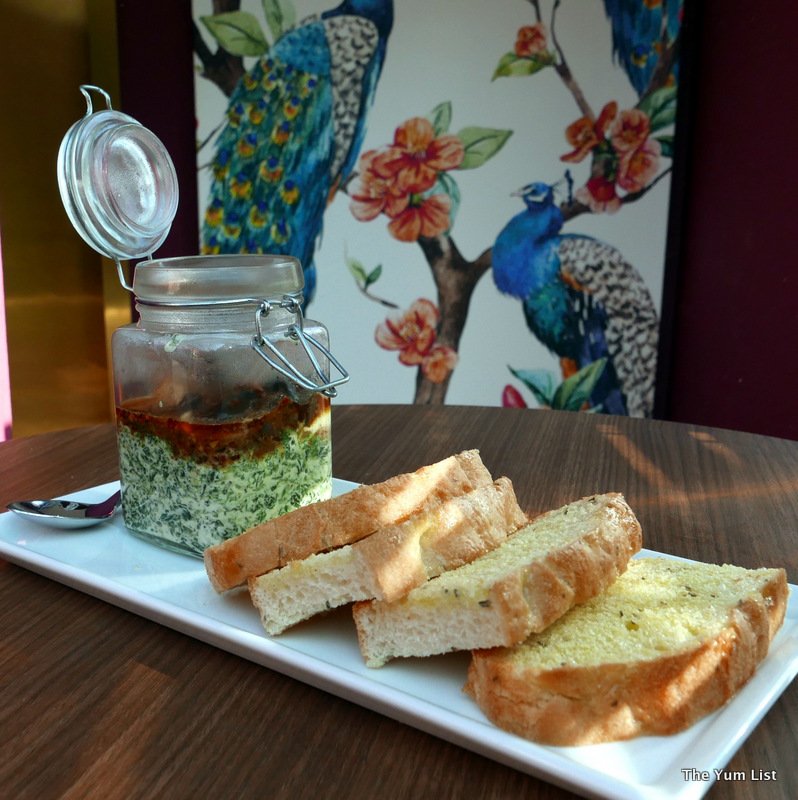 Head Chef Vic brings a big umbrella of experience to Manja's kitchen, having cooked in Mexican, Korean, Japanese, American and other kitchens in the past. Vic's international culinary exposure paired with his passion and love for the kitchen that started long ago aside his mother in the kitchen, has fueled him to carry out a number of experiments and research with the plates he makes. He told us that everyday the kitchen gets new produce or different products than they ordered, they don't get angry. Instead, they get creative and play around until they find something that works and will suit Manja's dining community.
The next plate, Saffron Snapper and Scallop Ravioli (RM 52) demonstrated Chef Vic's willingness to play. This dish served with local red snapper and US scallops in a homemade pasta dough, was lightly basted in aromatic saffron cream sauce and lighted dusted with crushed dried garlic. At this stage of the meal, with the rich profile of this dish, regrettably all we could manage was one ravioli each.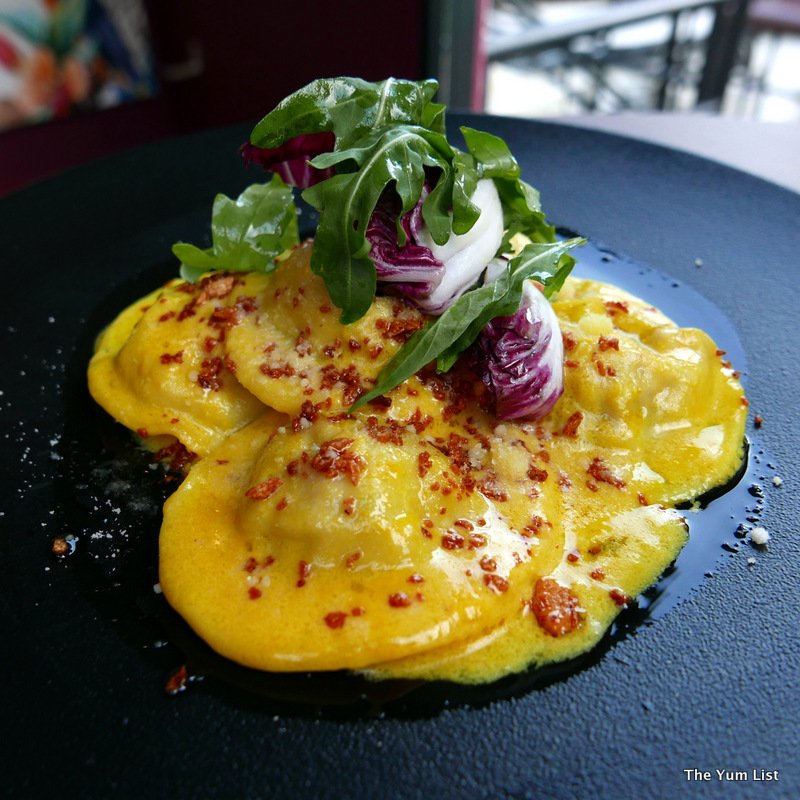 Chef Vic likes to converse with his clients in order to see their responses to the food. He appreciates feedback and aims to adapt ingredients to meet the needs of his clients. He read us well by presenting the Pommery Lamb and Hummus (RM 88).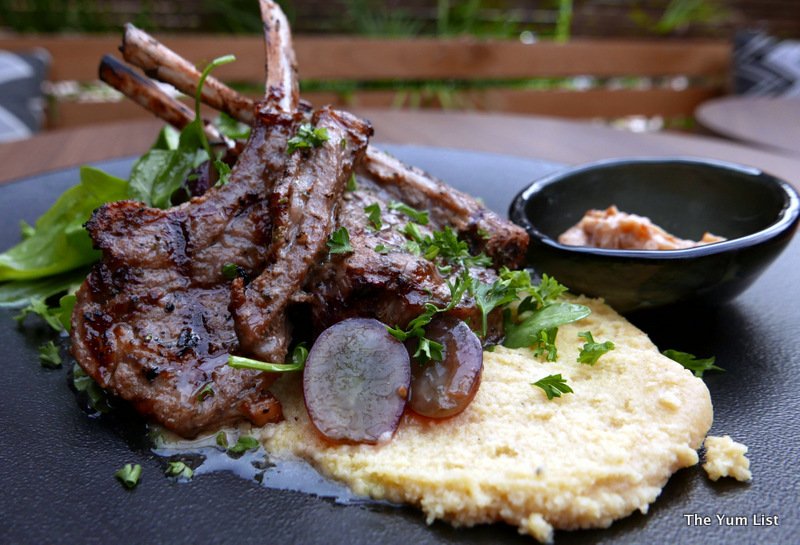 This more westernized dish was served with a side of four different varieties of mustard: hot mustard, Dijon mustard, Chinese vinegar marinated mustard and chili aioli which added sharp tangy flavors to the already well spiced lamb. The best thing about this dish was the decision to substitute blended hummus for often over used potato accompaniment. The creamy, nutty hummus substitution was a healthy alternative and perpetuates the juicy flavors of the paprika rubbed lamb.
Everyone likes a sweet and the Old Malaya Tea Time Rastali Fritters with Teh Tarik Cream (RM 33) were a delicious choice to end this eclectic meal. The chewy aerated banana dough covered in salted caramel, pistachios and chestnut honey served with a side of homemade churned teh tarik ice cream were true testaments to the wonderful combinations Malaysian flavors can produce.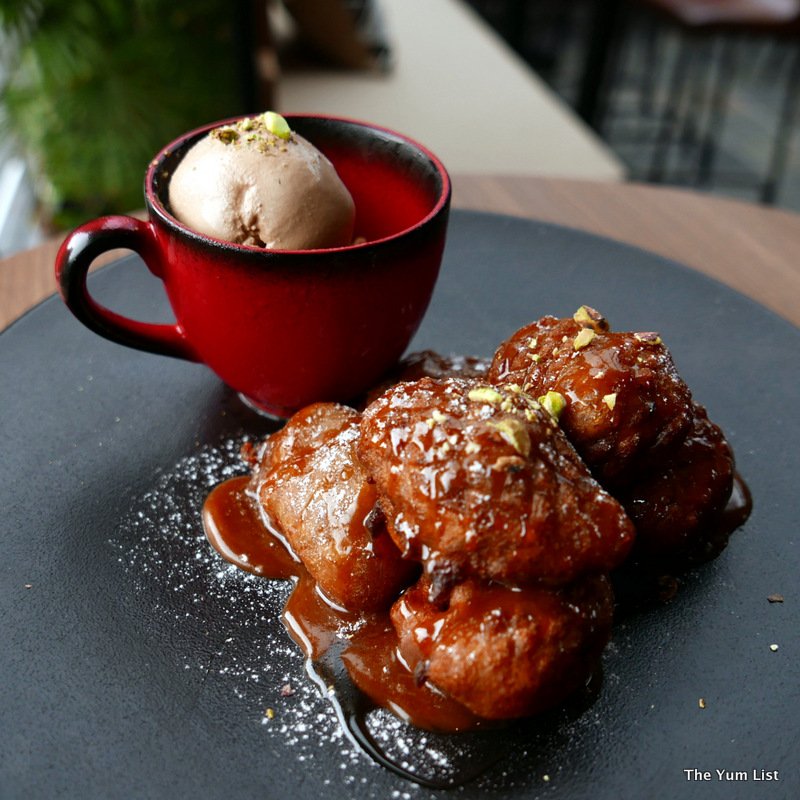 Whether you want to stop by for a quick locally inspired cocktail after work with your colleagues or sit down to a meal packed with a variety of flavors from Malaysia and around the world, Manja won't fail a wide array of interests.
Reasons to visit: Try the unique and innovative Bayam and Escargot to challenge even the most adventurous of palates with a new experience.  On top of that, if you are craving a highly inventive take on Malaysian desserts, the Old Malaya Team Time Rastali fritters will leave you more than satisfied.
Manja at Old Malaya
6 Lorong Raja Chulan
Kuala Lumpur, 50250, Malaysia
+60123737063
www.manja.com.my