Monica Tindall
You might consider Sitka Studio a weekend passion. The bread and butter of the business is downstairs, in Sitka, the café, which caters to a variety of discerning palates for brunch, lunch and dinner throughout the week. Upstairs in Sitka Studio, however the menu is driven by the kitchen team's passion. Yes, they do everything with elegance and precision downstairs too, but there's some compromise in following the crowd's demands and proclivities. The contemporary weekend affair of Sitka Studio is where the chefs let loose.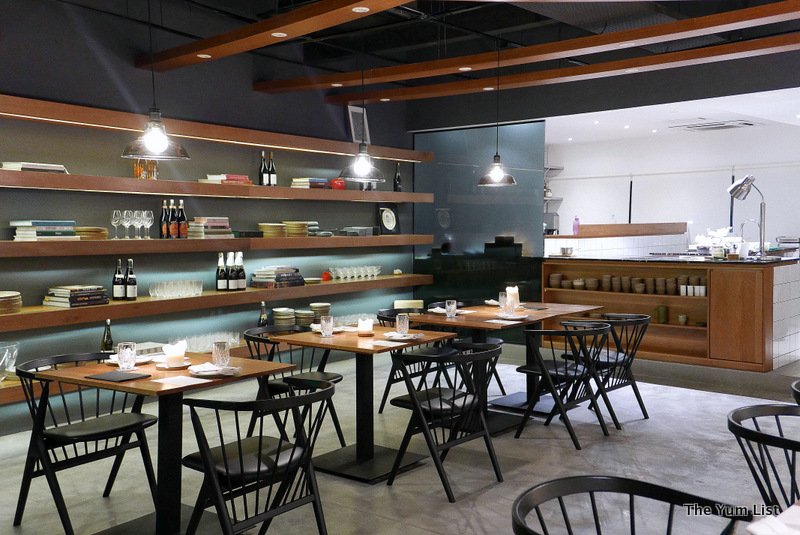 Finding inspiration in Malaysia's local produce, the Sitka team led by chef Christian Recomio has developed relationships with farmers, fishermen and milk producers to ensure nothing but the best fresh and chemical-free ingredients make it into the kitchen. Valuing making everything from scratch, traditional techniques such as fermenting, brining, pickling, smoking, salting and marinating are all proudly performed in house. "Relaxed fine dining with a focus on traditional techniques and presentation using local produce with a few luxury products thrown in to make the dishes interesting," affirms Jenifer, co-owner and head of front of house. Friday and Saturday evenings (dates revealed by newsletter at the end of every month & weeknights by appointment for private events) see a dynamic tasting menu rolled out.
Tonight in the kitchen, there's a team of three, including Christian, serving 20 diners. The open kitchen, and table service by the chefs themselves imparts a casual atmosphere similar to that of dining in someone's home – a very chic, contemporary someone, who also cooks extraordinarily well, that is. An eclectic soundtrack keeps the feeling lively, and as we partake in some approving foot tapping we learn that there's no rhyme or reason to the playlist, other than that the tunes are the chef's favourites.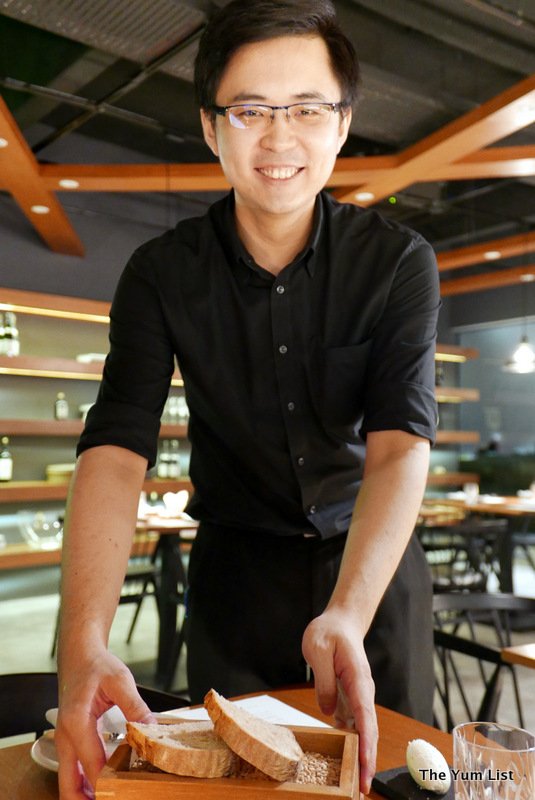 To begin, homemade sourdough and cultured butter are both painstakingly made in house. The butter, made with local dairy, is churned, a little is culture added, it's then whipped, rolled and sprinkled with rock salt. The bread arrives in a box of grains, and the roll of butter atop a square of black slate. It's appealing to the eye and to the palate. Hubby is smitten with the cultured butter. So much so that I request a second serving of bread, so as not to face the possibility of him forking up the remains of the butter and devouring it on its own.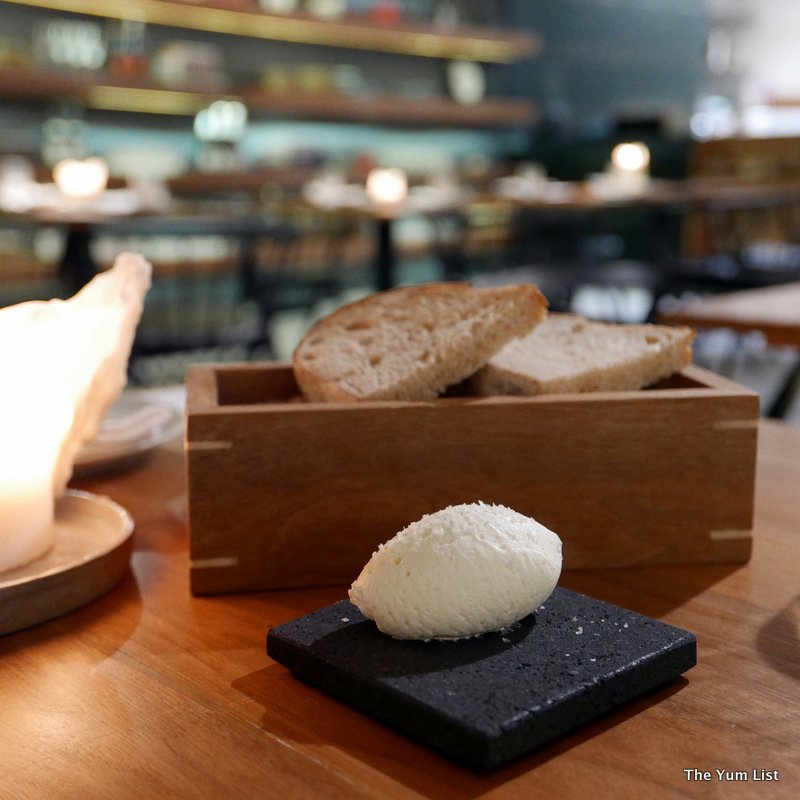 Roast Potato, Yeasted Cauliflower, Egg Yolk and Truffle is the pretty first plate. Potato has been roasted on Japanese coals, then grated, and at first glance resembles a base of risotto on the plate. Shavings of cauliflower, golden on one side, furnish attractive adornment but also a surprisingly cheesy taste. Chef Christian explains the reason is a very "smelly procedure, involving painting the cauliflower with their house fermented yeast," resulting in the whispers of cheese. It's unlike anything I've had before. The flavours are familiar, but the combinations and presentation are pleasantly unique.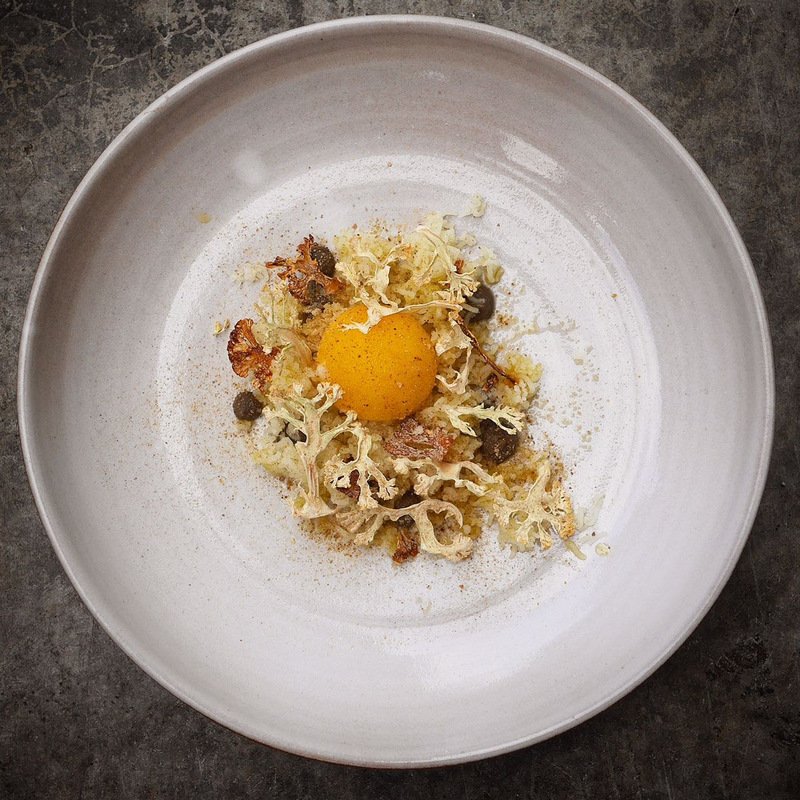 A one page wine menu is a welcome sight. The aim is to keep the dining experience uncomplicated by only picking the best and not overwhelming diners with too much to choice. All wines are natural wines, "so I promise no headache," says Jen as she smiles broadly and describes the selection (not long after informing us that she could drink an entire bottle of her favourite label from this menu). We sample a glass of the Poulsard, Vieilles Vignes, 2015 by Benedicte and Stephane Tissot (RM270++ bottle). This French grape sports the structure and complexity associated with a fine French wine, but finishes with a light fruitiness celebrating its natural production.
The fish course, Steamed Seabass, Pomelo and Kaffir Burnt Butter, smells wonderfully herbaceous and fresh, flaunting crispness in presentation with white moist fish topped with micro greens and coriander flowers. As we fork into the fish, Brian Ferry croons in the background, "Slave to Love." Seems his words couldn't be more adeptly timed, as hubby declares his admiration for this course with full Latin gusto. The flavours are well balanced, elegant. A fresh Asian tang resonates in the palate, but it's subtle. Another thumbs up.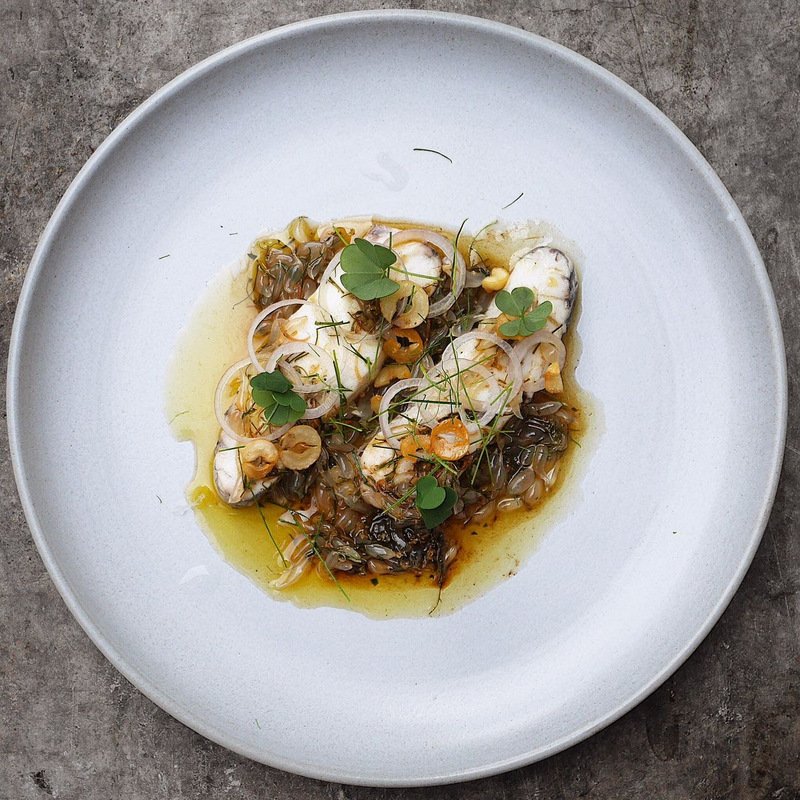 My nose alerts me of the arrival of the next dish; as delicious scents of caramelised something tickle my nostrils. Pink wagyu meat is complemented by the earthy flavours of beetroot, and a muted tang and hint of sweetness in the sauce, in the main course of Wagyu, Slow Cooked Beetroot and Mushroom Nage. I'm glad I've saved a mouthful of the red wine, as its structured body and lingering fruitiness serves the plate well.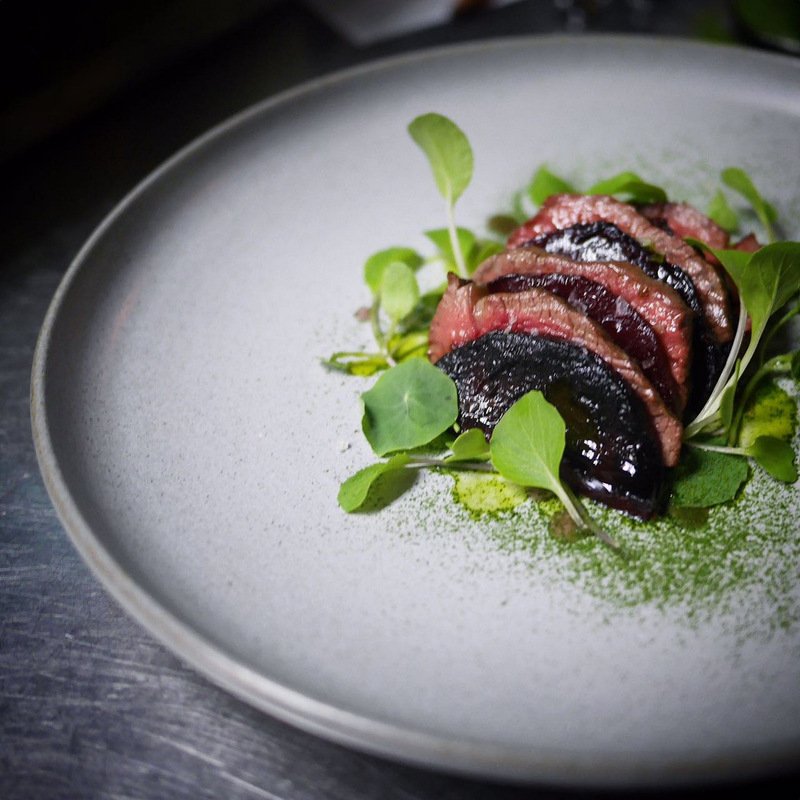 Resembling a mini-volcano spewing a sticky puffy cloud, the Canelé with Organic Berries not only overflows with adornment, but inundates the mouth with excitement too. Tang from the local mulberry jam centre is balanced with a mild sweetness in the pastry. Caramelised edges hold a perfectly moist and spongy casing, and we soon recognise the puff top as shaved macadamias. A blanket of rose petals surrounds the base, reiterating the seasonal theme and reminding us that fall is at its peak in many countries in the north.
I didn't think it possible to incorporate so many distinctive flavours into one dessert and pull it off successfully. I was wrong. The Peanut Miso Caramel with Milk and Malt has proved it. A trio of crepes – honeycomb textured malt, milk foam crepes and egg white meringue – lean against a velvety mound of miso ice cream. It's striped with apple cider gel and hides petite globs of dulce de leche underneath. In another shining example of meticulous balance, delicate sweet and savoury play a sensual dance, enticing us to spoon back in for more until… it's all gone.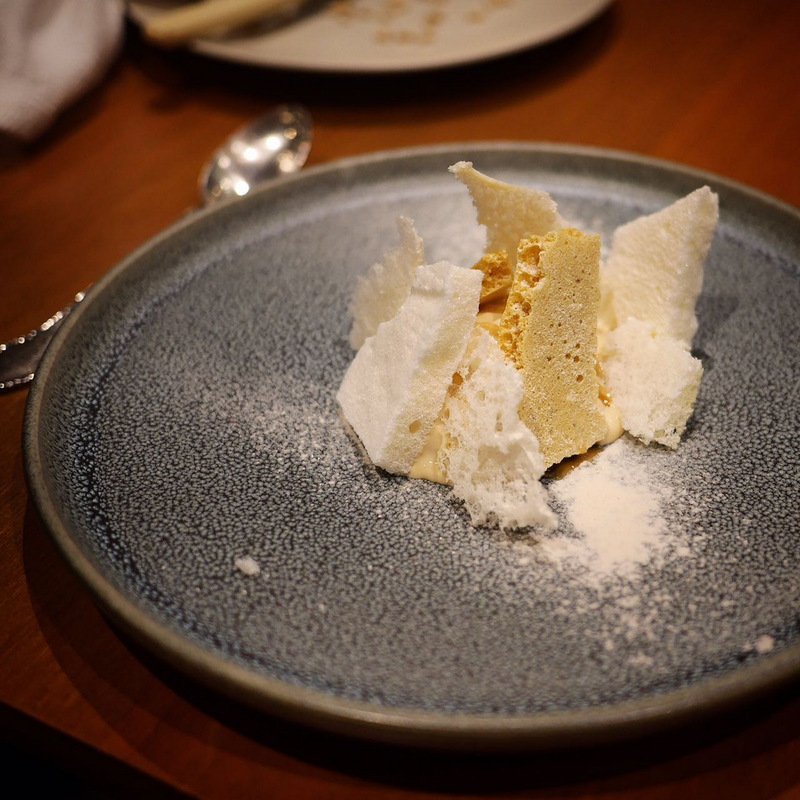 This Sitka Studio Tasting menu is priced at RM190++, and RM278++ if choosing lobster as the main. The next Studio dinner with this menu will be November 11. Reservations are a must. Sign up via their website to receive notifications of the next dinners scheduled.
Reasons to visit: exquisitely prepared dishes; a surprise every visit depending on availability of ingredients and swaying passions of the chefs; excellent location for private events.
Sitka Studio
8-5A Jalan Batai
Damansara Heights
50490 Kuala Lumpur
Malaysia
[email protected]
+6 017 277 7848
+6 016 382 6336
www.sitkarestaurant.com/studio
Dates released via newsletter at the end of the month for the following month's sessions
Available for private parties seven days a week by appointment