Words: Margaret Elizabeth   Photos: Monica Tindall
Imagine that you enter a marble tiled palace ushered into the restful sounds of violin and piano. Chandeliers sparkle above you as you slip gracefully into an oversized armchair and sink delightfully into its cushioned arms to be bestowed with your heart's desire. If afternoon tea, elegance and indulgence are what you desire then the refurbished Ritz-Carlton Lobby Lounge is where you should be.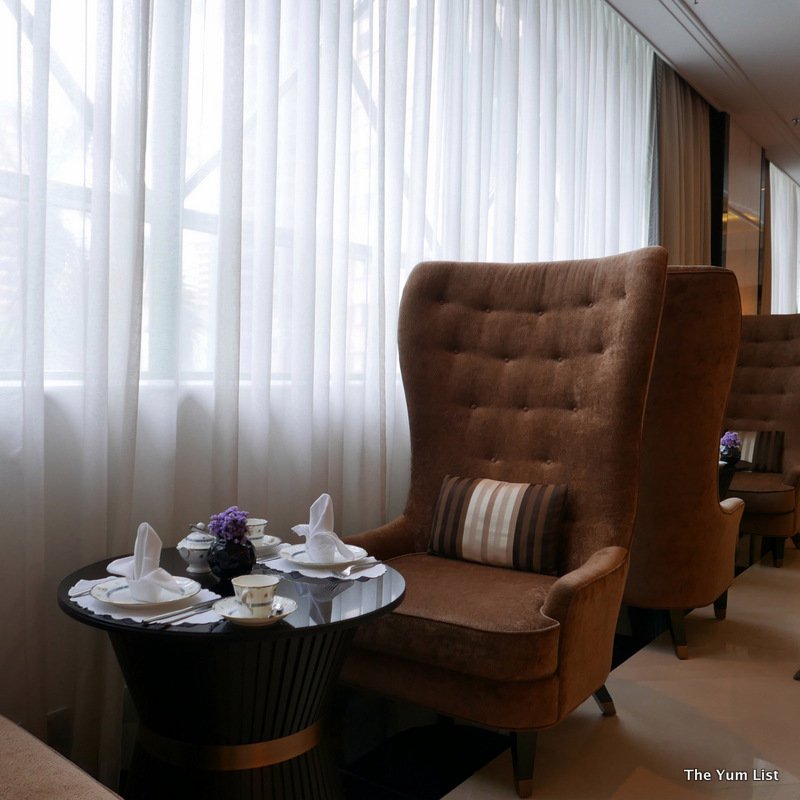 In search of pampering and dainty morsels my friend Monica and I revelled in the understated beauty of the setting and perused the extensive menu of black teas, green teas, herbal and fruit and infusions. We tried the deliciousness of the White Dreams of Darjeeling a clear, sophisticated herbal infusion that inspires images of tea pickers in brightly coloured saris reaching up to pluck fresh, green leaf tips.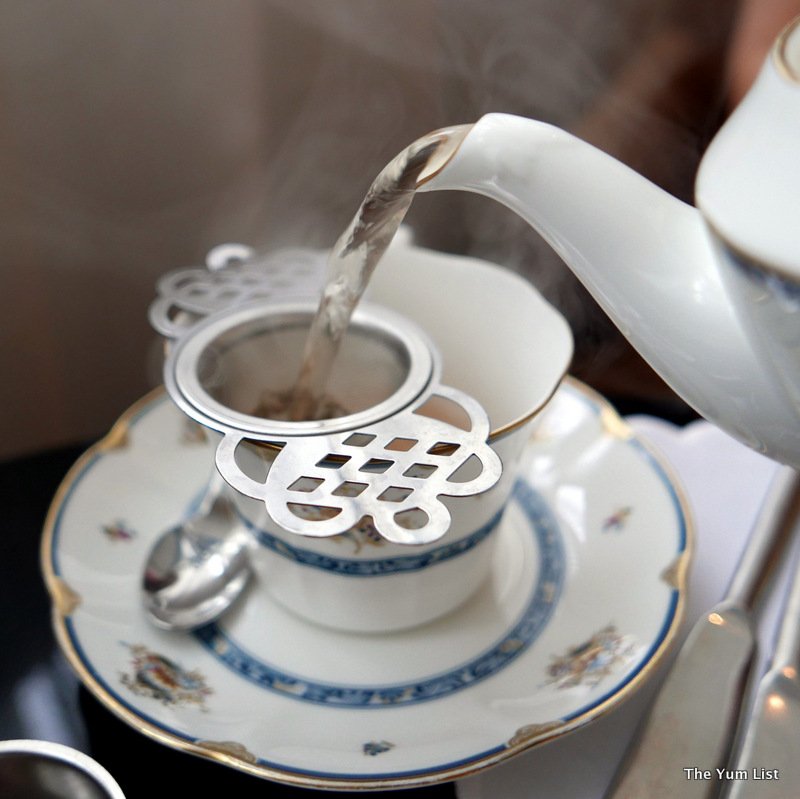 Next we sampled the exclusive house blend, Chinese Tie Kuan Ying, a green oolong with a delicate and creamy flavour. Somehow there really is nothing quite so luxurious as sipping from a bone China cup and saucer tea set. As we wound our way through conversation our teapots sat on pot warmers enhancing flavours as we shared stories of our most recent adventures.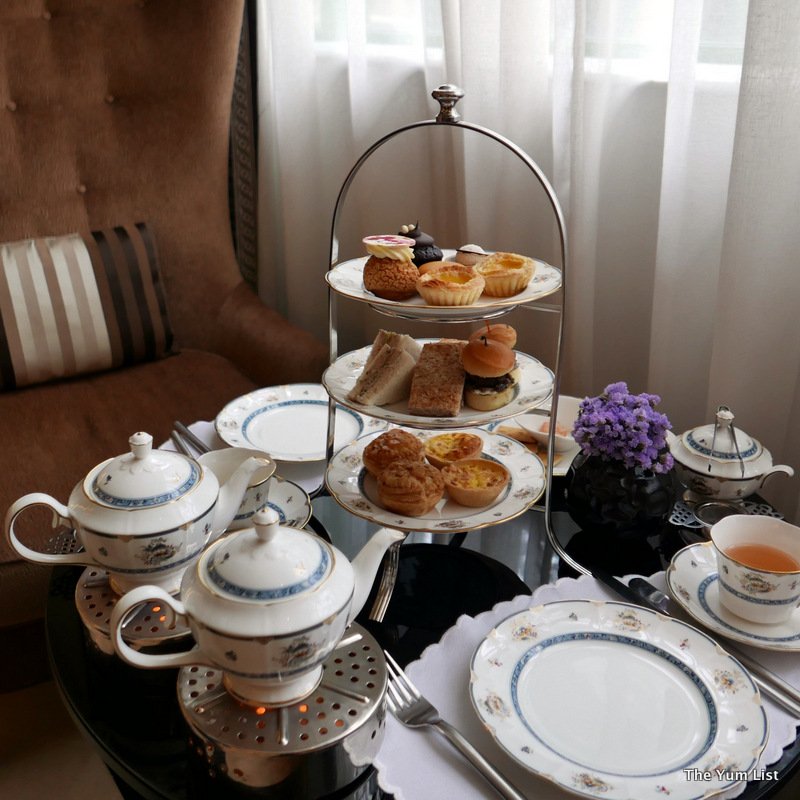 The opening event was chef's salmon paste with crackers, deceptively simple in conception and absolutely scrumptious. This homage to the great British tradition of afternoon teas stimulated the palate and created anticipation for what was to come.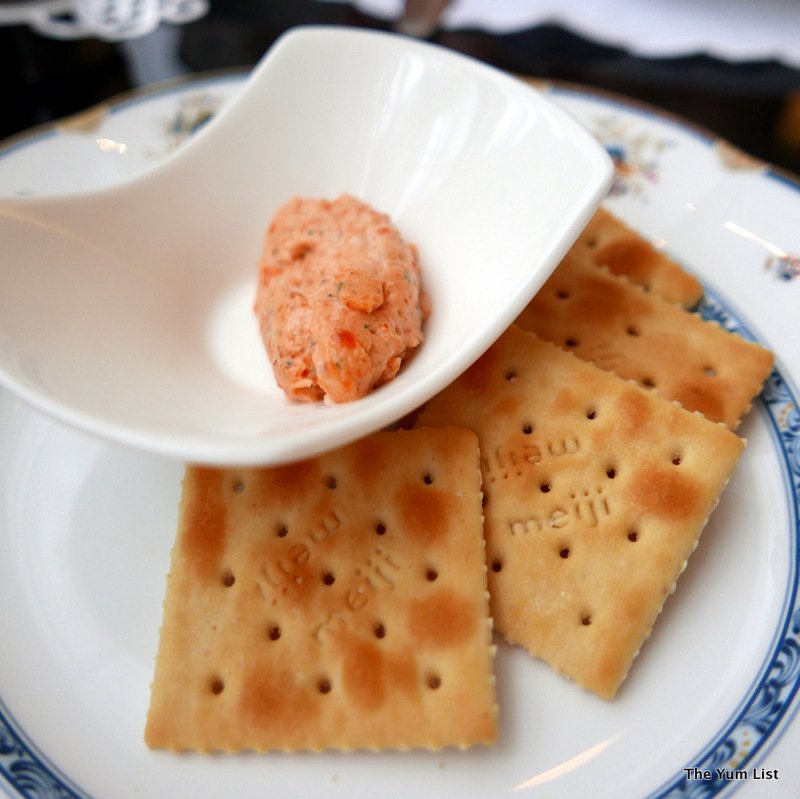 Our three-tier cake plate held an intriguing combination of staple and novel offerings. We leaped into the new and gleefully bit into a mini hamburger of wagyu beef in a golden baked bun with wonderful hints of toffee accompanied with caramelised onions, mushroom and mayonnaise, it was such fun to eat and the wagyu melted in our mouths.
We moved onto a toasted beef pastrami sandwich with sauerkraut, tomato and a fine spread of mustard. We debated which was the best, mini hamburger or beef pastrami sandwich? In the end we concluded that when it tastes that good you just go for it all and proceeded to nibble our way through gourmet tuna sandwiches.
Being fairly well brought up girls, we stuck to the savoury first rule and embarked on the bottom tier of mini quiches and pies. Fillings for these vary each day so there really is no reason not to visit often. The petite pies were filled with chicken in delicate white sauce reminiscent of a vol au vent. The pastry was crisp on the outside and moist on the inside as every good pie should be.
Our quiche was packed with a delectable mushroom melange, suspended in a perfectly set egg custard. We truly appreciated these delicate portions of melt-in-the-mouth pastry that left room for more.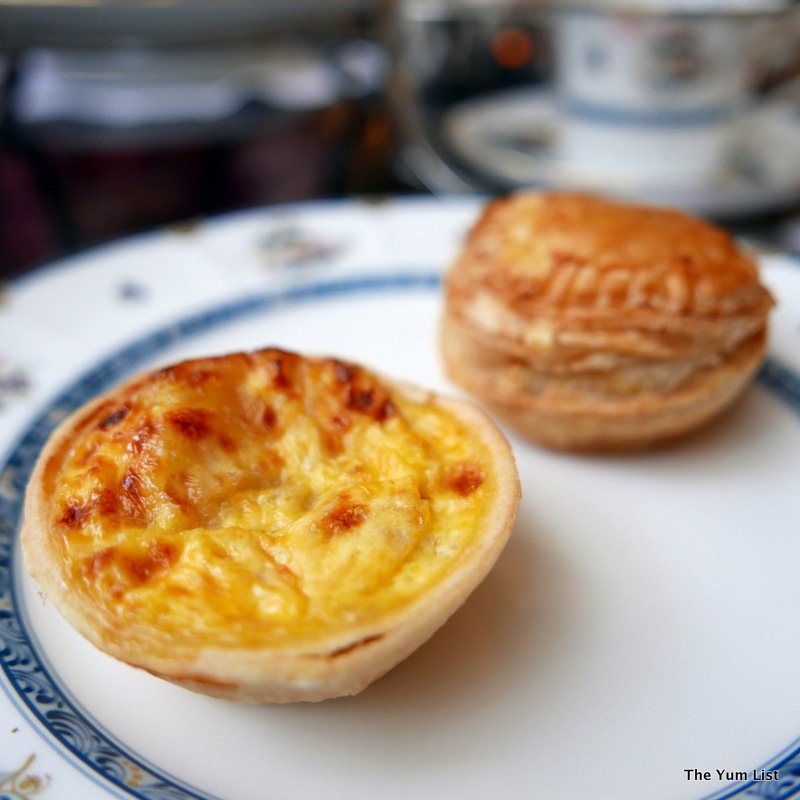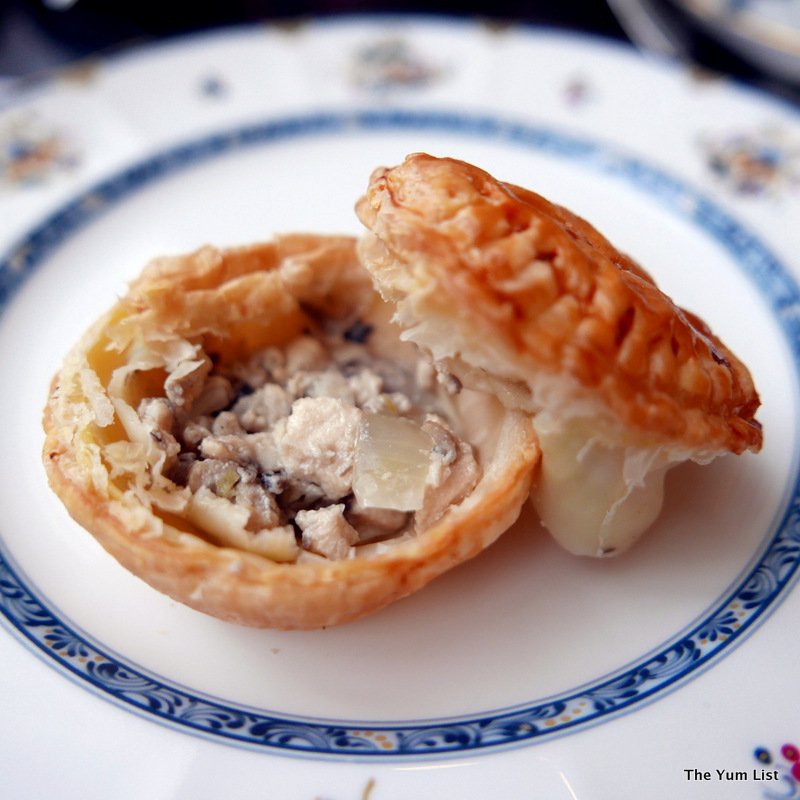 So, onward the intrepid friends forged to the tantalising top tier of Chef's choice of cakes, pasty and macaron. The cakes were detailed works of art, crafted in miniature form. The variance in colour added to the visual promise of feast and once savoured, created a playfulness of texture on the tongue.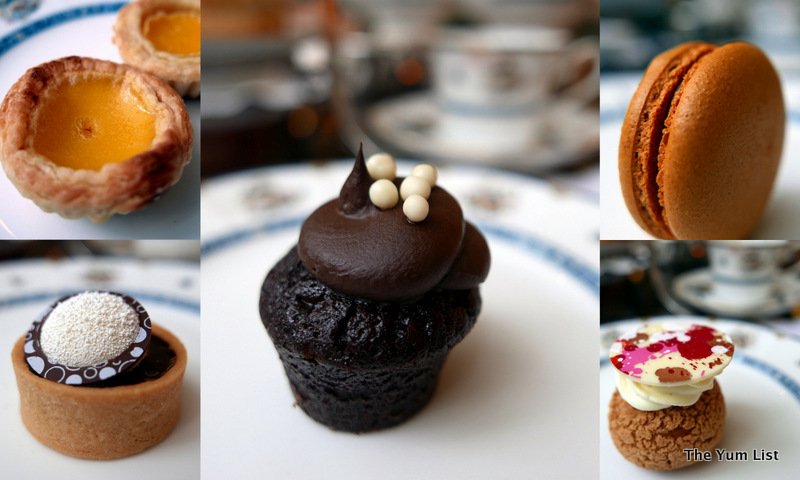 My favourite cake was a sponge sphere with a crispy exterior topped with a swirl of cream and a white chocolate disc, prettily marbled with shades of raspberry, white and gold. Cracked open, a frangipani tinted crème patisserie oozed languidly on to my plate.
Included in the selection was a signature egg custard tart; aficionados of yum cha will appreciate this Asian addition and the light, flaky pastry.
The humble chocolate mud cake was transformed with circular topping of chocolate mousse, layered with chocolate icing and decorated with white crunchy, chocolate beads. Y- U-M.
We were delighted by a teeny tartlet containing chocolate ganache, layered with chocolate fondant, adorned with a light lemon cream, accented with an icing sugar crust and sliver of rolled chocolate. The tiered effect was so pretty when we sliced through the centre with our cake forks.
A perfect macaron is smooth with, ruffled feet, eggshell crisp on the outside and fluffy on the inside. Our macarons ticked those boxes with just the right proportion of filling resulting in a delicious chewiness.
The less garrulous can end their afternoon tea on that high note or leisurely continue on as Monica and I did to the heart of cream tea, scones. Our scones were a freshly baked and happily warm selection, of plain and raisin, served with strawberry preserve and lightly whipped dairy cream. The attentive service ensured that our teapots were suitably replenished with hot water and the quality of the Ronnefeldt tea ensured that the tea leaves and infusion remained flavourful throughout our gastronomic ramble through conversation.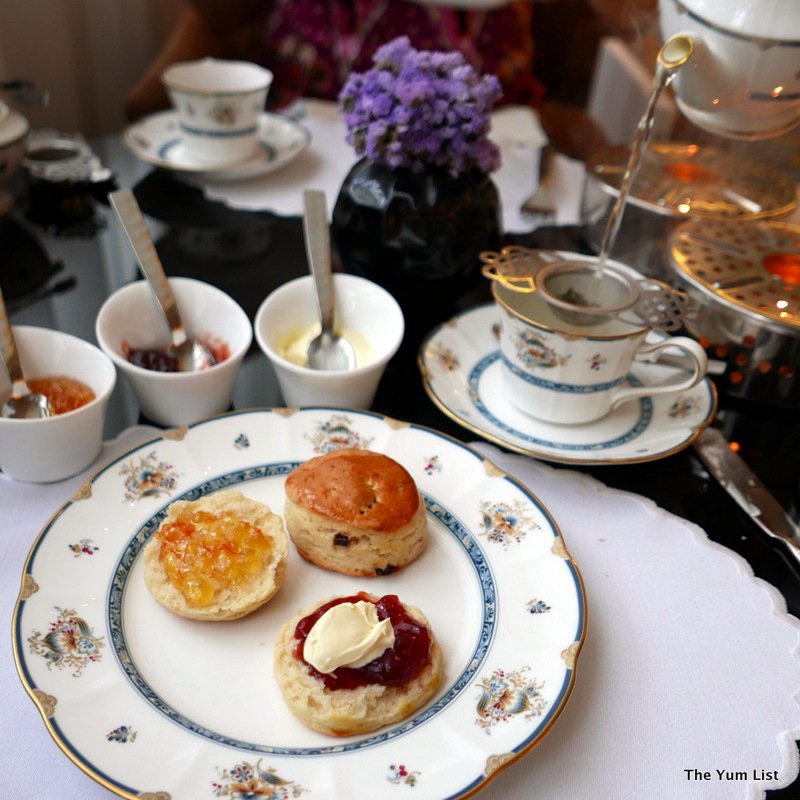 Reluctantly, we had to wind down our afternoon tea experience and leave the cool and refined ambience of The Lobby Lounge for the hurly burly and humidity of Jalan Imbi.
Afternoon Tea is priced at RM80 nett per person and served daily between 3pm and 6pm. There is a special offer running at the moment whereby on weekdays, afternoon tea is priced at RM80 nett for TWO people. What a steal!
Reasons to visit: A clever juxtaposition between traditional and contemporary afternoon tea experiences in a tranquil and luxurious setting with beautiful music. Indulge yourself you probably deserve it.
The Lobby Lounge
The Ritz-Carlton Kuala Lumpur
168 Jalan Imbi
55100
Malaysia
+ 60 3 2142 8000
www.facebook.com/RitzCarltonKL