Words: Claire Matheson  Photos: Monica Tindall
Iconically dominating the Kuala Lumpur skyline, the Petronas Twin Towers are a must see for visitors to this vibrant city and a source of immense pride for locals. Instantly recognisable and standing 452 metres tall, they are KL's answer to Paris's Eiffel Tower, New York's Empire State Building and India's Taj Mahal.
However, they do not provide the best view of KL.
Nobu KL, perfectly positioned on the 56th floor of Petronas Tower Three with 360-degree views of not only the city but also of the towers themselves, is instead, a more illustrious contender. In the words of Madonna, "You can tell how much fun a city is going to be if Nobu has a restaurant in it," and Nobu KL really does shine a spotlight on all this colourful city has to offer. With an internationally notable prestigious fine dining menu it is one of the better options for seeing KL, particularly when you can enjoy the Peruvian inspired Japanese cuisine whilst looking down on the Twin Towers concourse bridge far below.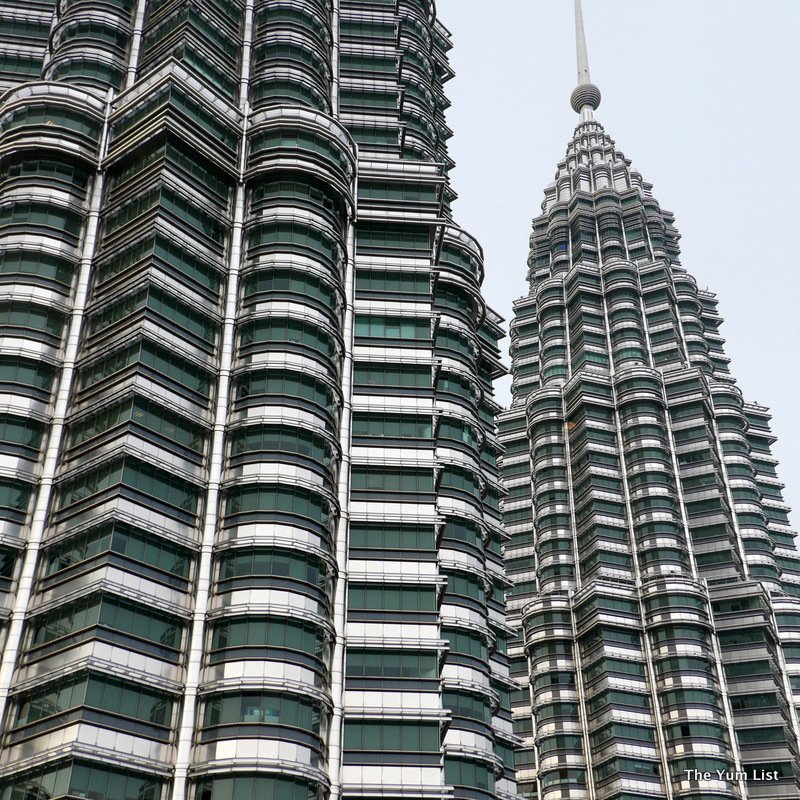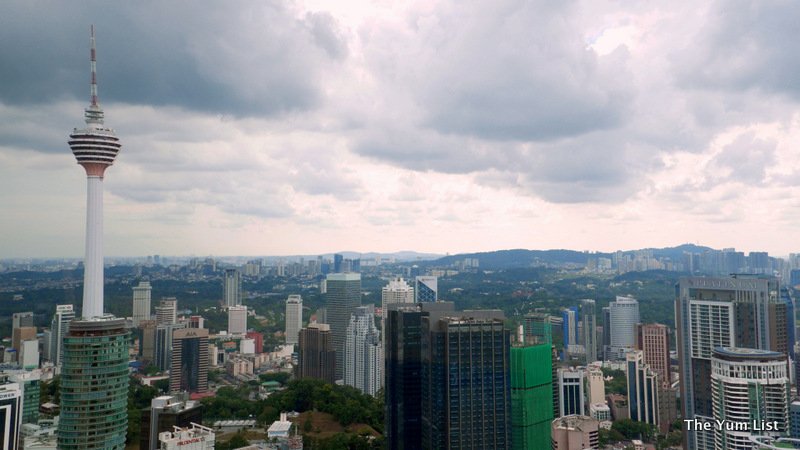 But while the view at Nobu truly is spectacular, once you taste the food, the dramatically soaring skyscrapers become merely a backdrop.
With over thirty restaurants worldwide, the brand is well known for its three underpinning key features: freshness, quality and simplicity. Ipoh-born Chef Philip Leong is the Executive Chef for Nobu KL and he delivers on these three ideals with every dish that exits his kitchen.
Sky High Tea is a great excuse to come and visit. Reasonably priced at RM93, it is no ordinary high tea, but a gastronomic experience comprising both savoury and sweet platters. Accompanied by complimentary green tea, guests can choose to elevate the experience with coffee or a pot of tea (RM18), a glass of Italian Torresella Prosecco (RM65), or choose from a menu of specialty matcha and coffee selections, mocktails, cocktails, and wine by the glass.
Before delving into the culinary masterpieces of the day, we decide to sample some of the specialty coffees and matcha. As an accompaniment, a bowl of lightly salted, still-on-the-vine edamame arrives on the table, perfectly warmed with an al dente crunch.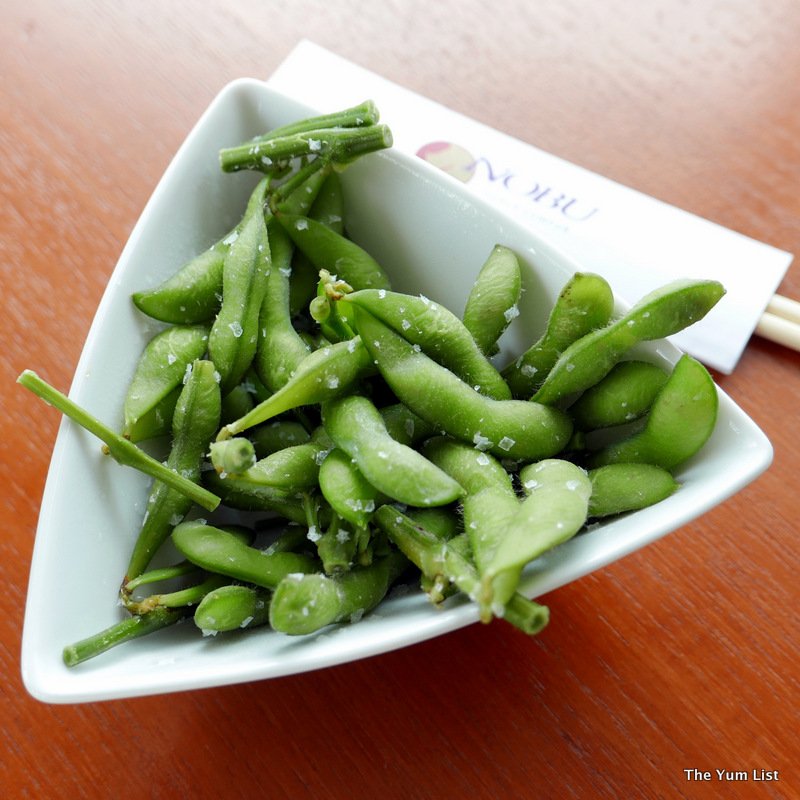 Our first drinks selection is the Black Forest Coffee (RM28). Expecting something sweet and fruity, we are charmingly surprised. With a strong, rich espresso shot, rounded out by the rich decadence of fresh cream and dark cocoa, it is deceptively dark and smooth. Definitely a good choice.
Our second choice is a little more adventurous and comes highly recommended – the Avocado Smoothie (RM30). For those hipsters who love their smashed avocado and flat whites for brunch, this one is for you. Made from avocado, milk, vanilla syrup, espresso and chocolate the drink is a thick concoction that requires stirring before each sip. The two competing flavours of avocado and coffee paradoxically meld together while also maintaining distinctly separate flavours. It is an odd yet surprisingly good combination.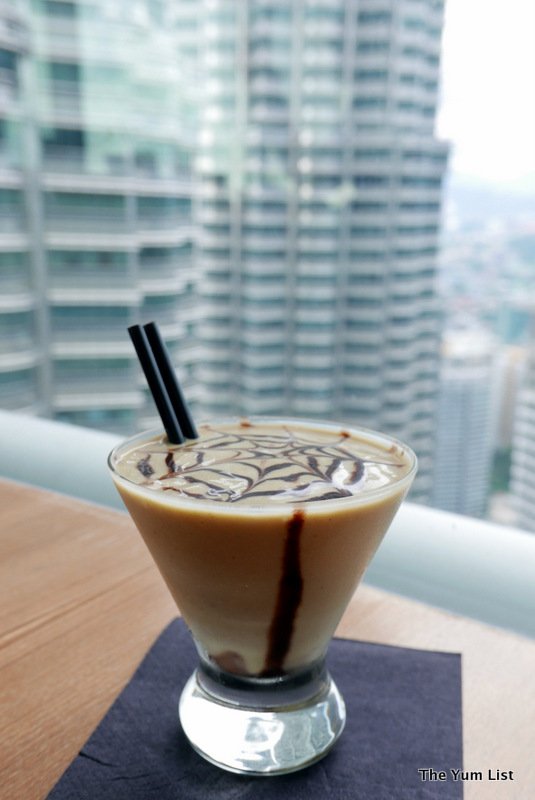 Our third drink choice is the Strawberry Matcha (RM26) which is just delightful. With only three ingredients: matcha, strawberry and soy milk, it is light, refreshing and easy to drink. We drain this glass very quickly!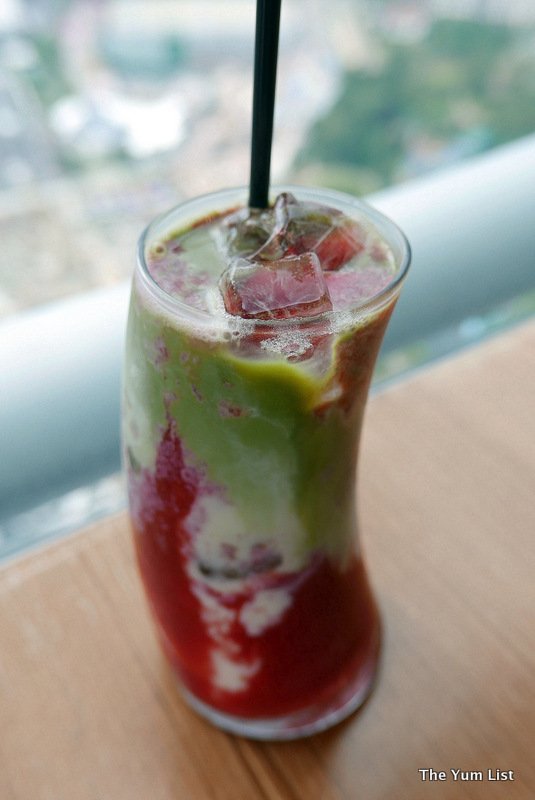 In anticipation of our hunger, our first high tea platter arrives from the attentive wait staff, who instruct us on the best order in which to partake of the delicacies. Six different savoury bite sized offerings artfully plated on a bamboo tray are presented along with dried apricots to cleanse the palate. Intricately put together with fresh, high-quality ingredients, each of the canapès burst with flavour.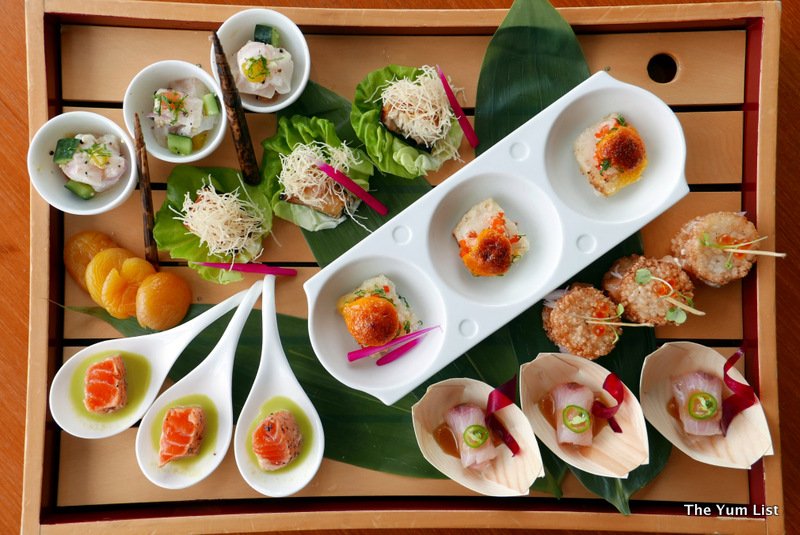 We begin with the yellowtail sashimi, perfectly light and fresh with a sweet and tangy yuzu soy sauce, garnished with a hint of spicy jalapeño slices and garlic puree. Second is a slightly seared healthy serve of peppery salmon sashimi with a zingy jalapeño dressing, finished with the tang of citrus. Next up is a tiny cup of white fish sashimi juxtaposed with layered textures of fresh tomato, slivers of red onion, crisp cucumber and crunchy quinoa in a delicate ceviche dressing.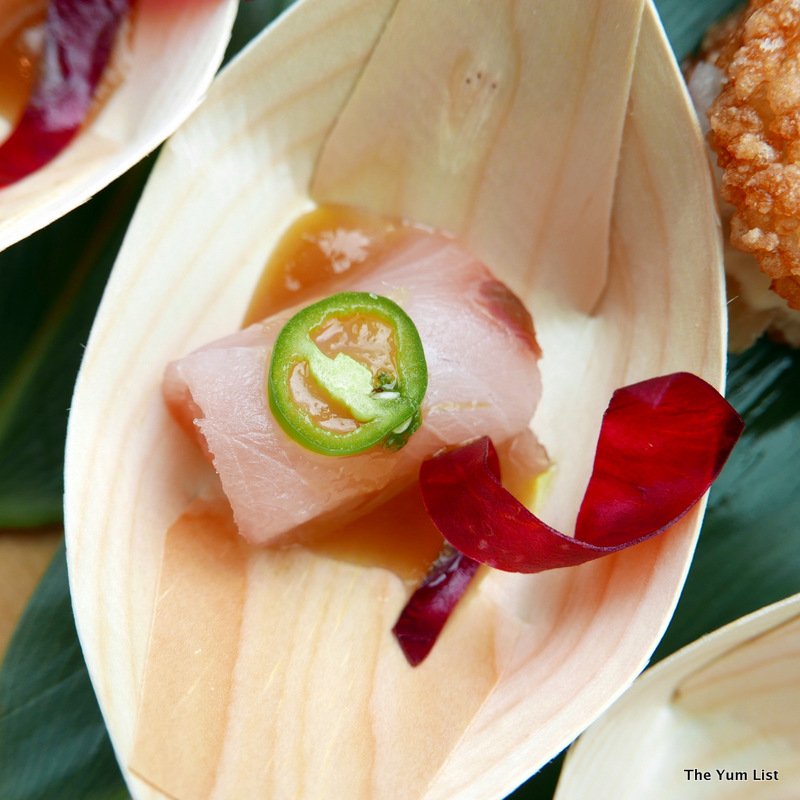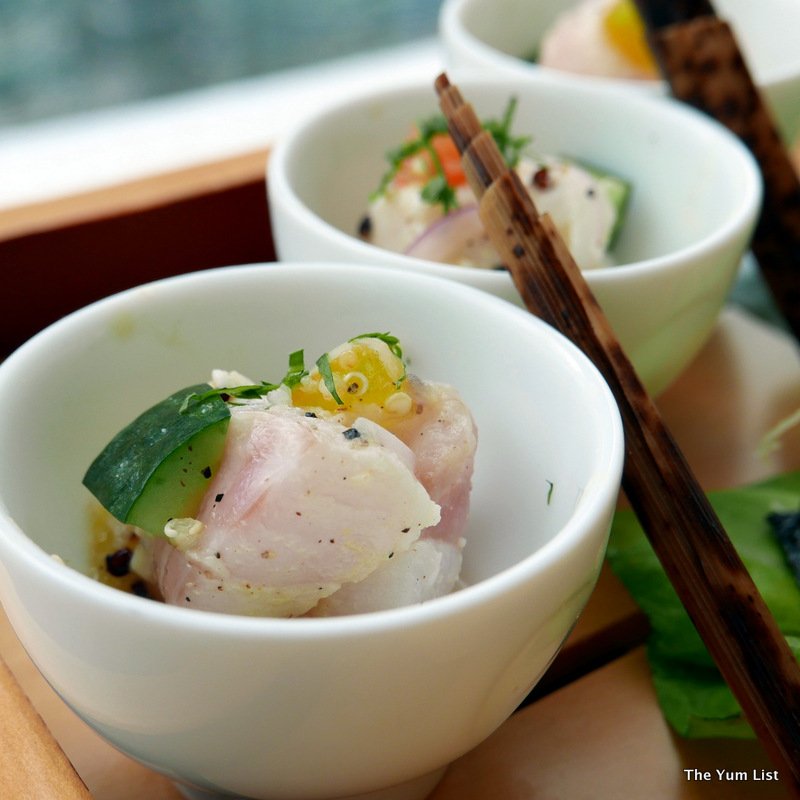 The third morsel is a fresh piece of smoked salmon with mild and tangy wasabi aioli, red onion and micro greens sandwiched between two crispy rice cakes, lightly fried – a thin crust protecting their fluffy innards. The exquisite pop of salmon roe between the teeth and the salty edge of capers provide finishing touches. We move onto the lobster and tofu with smelt egg, served in a slightly bigger bowl than the rest of the canapès. Providing a couple of mouthfuls, the soft and fluffy tofu sits in balance with the creaminess of the egg and is offset by a spicy sauce with a hint of lemon. Finally, we move onto the Alaskan cod fish marinated and broiled with sweet den miso sauce, atop a bowl of fresh butter lettuce, garnished with a nest of thinly sliced, crispy filo.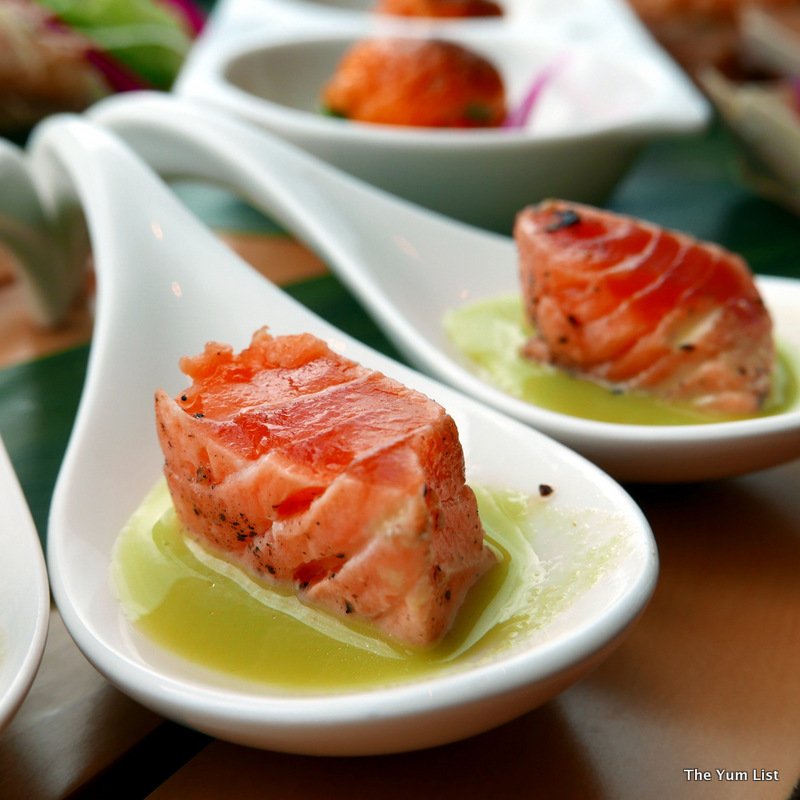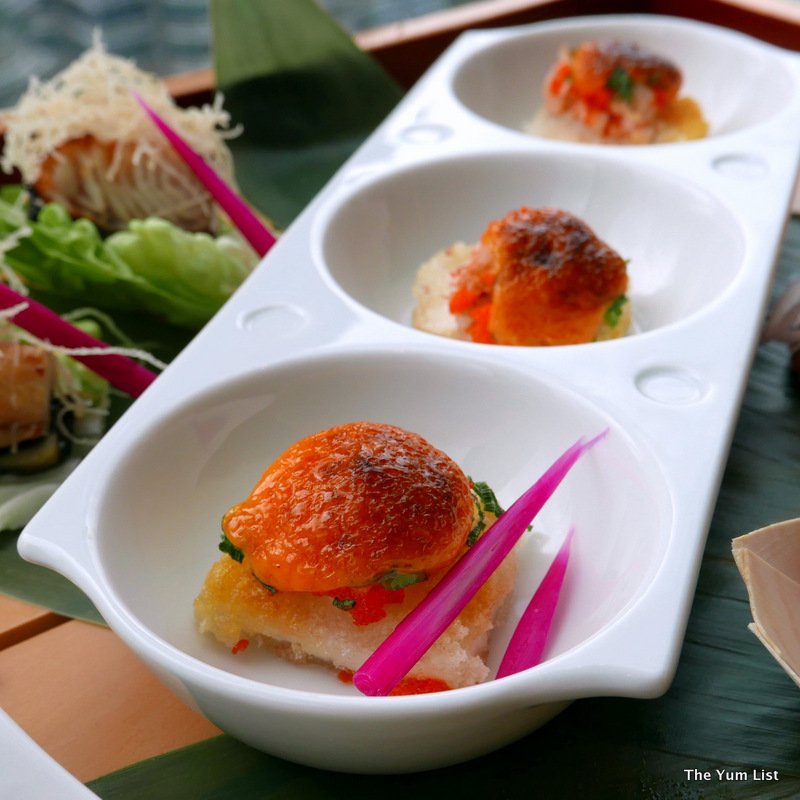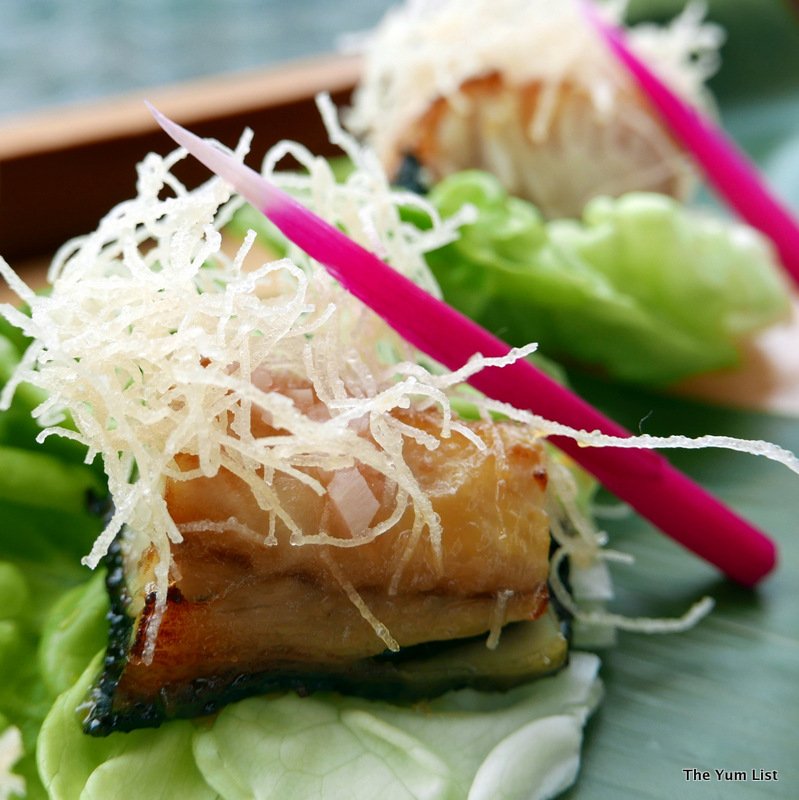 Working our way through the delicacies, the ingredients are so fresh and full of flavour, strong yet subtle. Chef Leong uses simple yet astonishing combinations of textures and sauces, all with a Japanese flair. Each mouthful is pure yet theatrical, the quality unmistakable.
The joy of Japanese food is that it always satisfies without the heavy weightiness that accompanies some other worldly cuisines. The lightness and freshness of such high-quality ingredients mean you rarely feel the guilt of overeating. We decide this justifies further indulgence, and order some glasses of the Italian Torresella Prosecco as we sit back to admire the nearby stainless steel and glass pinnacles.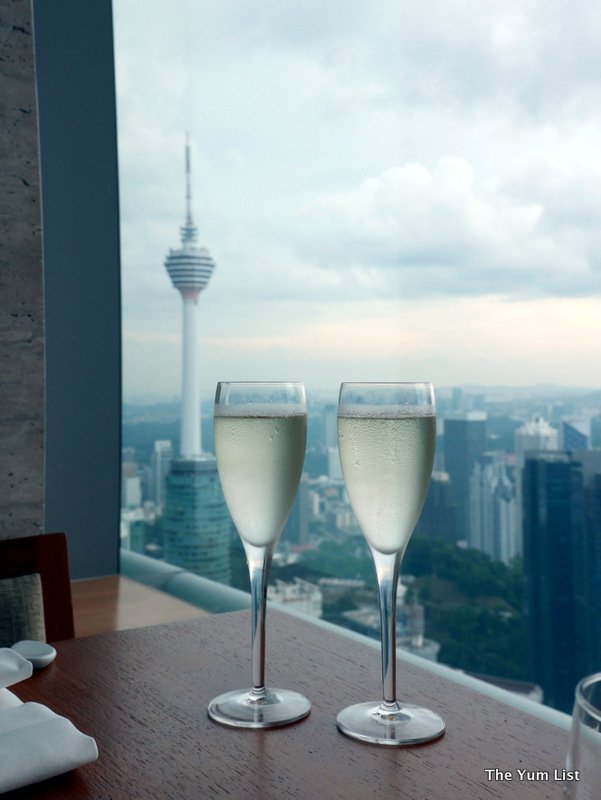 With perfect timing, our bamboo tray of sweet treats and fancies arrives. We begin with the miniature bowls of just-set panna cotta, sweetened with palm sugar and topped with soft and bursting sago pearls. Difficult to get right, this panna cotta is smooth and silky, dissolving into creamy liquid once it hits the tongue. Next are the little bamboo boats of kuzu mochi topped with biscuity soya bean powder, providing a wonderful surge of competing textures. Third on the tray are spoons of guava pearls the size of marbles that burst suddenly when eaten, filling our mouths with a wave of sweet refreshing fruit juice. Shaved mango ice and cubes of pear provide additional cold and crunchy sensations and textures.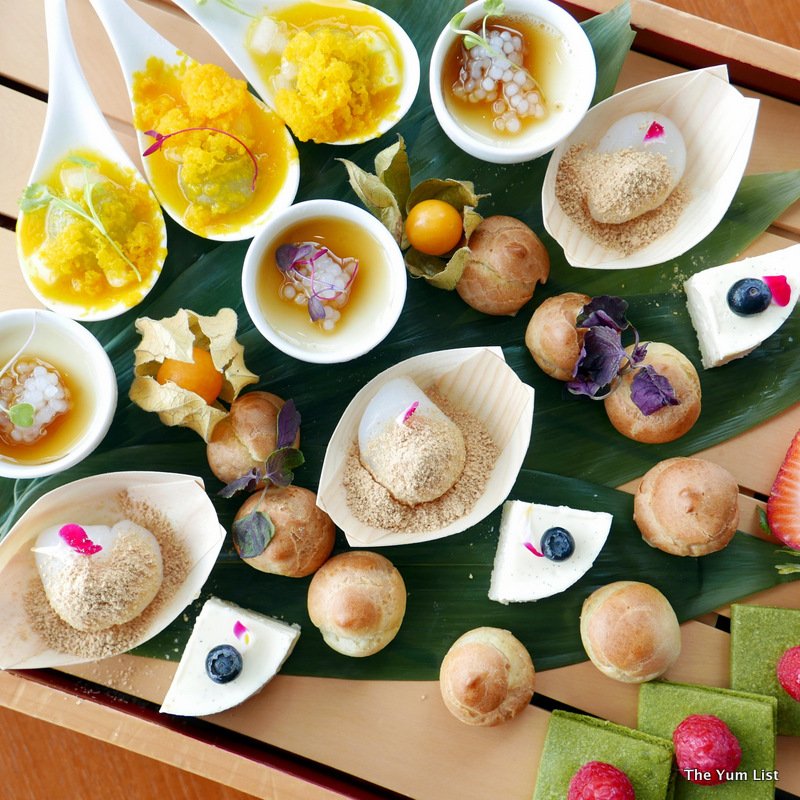 Next up are diminutive profiteroles filled with miso pastry cream that explode satisfyingly once bitten into. To follow is a not-so-humble cheesecake that has us all uttering exclamations of awe. Topped with a single blueberry, this is no ordinary cheesecake. Gently set, with a biscuit base that is soft and buttery, it disintegrates and envelopes every corner of the palate. All of us are in agreement, this is a stand out favourite. To finish, we bite into the little square matcha shortbread biscuits. The matcha is subtle, not overwhelming, and the buttery shortbread reminds me a little of traditional Western Christmas cookies. A vanilla cream separates the two thin biscuits and a single tart raspberry sits on top.
As we ready ourselves to leave, the cocktail list catches our eye, and we share a glance, a shrug of the shoulders and a "Why not?". The decision proves difficult so we ask for a recommendation from Head Bartender Kazu Nori (always the best idea!) who presents us with two cocktails. The first is Kazu's newest concoction, the Sasa No Ha, which translates to Bamboo Leaf. A combination of Suntory Japanese whisky, homemade honey and matcha powder topped off with soda it has a fantastic zing, the whisky going down almost too well. Expect to see this on menus in a month or two.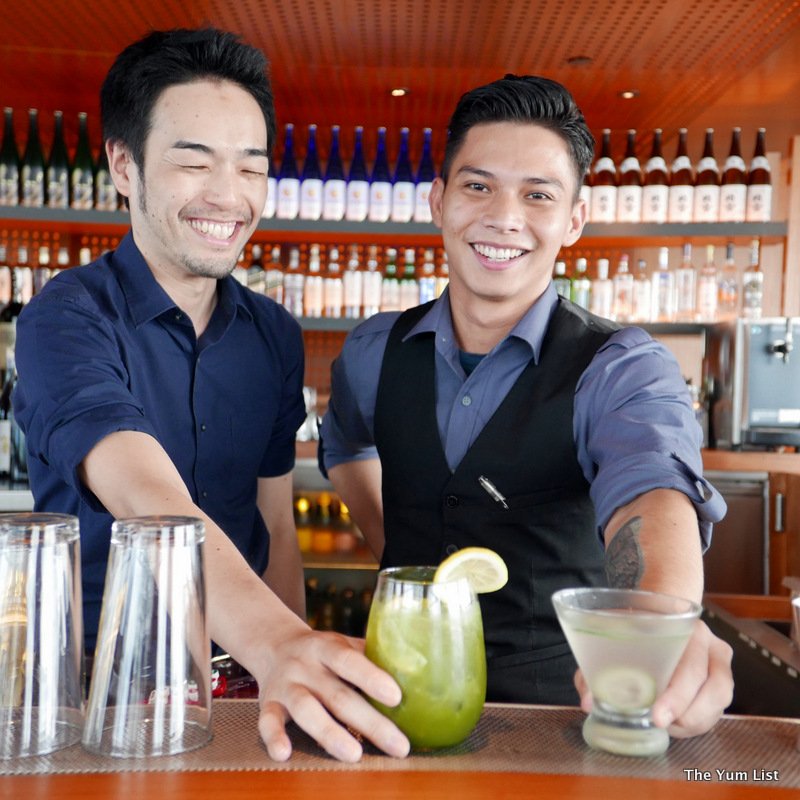 The second is a different matter altogether, the namesake drink for Nobuyuki Matsuhisa himself, the Matsuhisa Martini is made from potent Hokusetsu Sake combined with Ketel One Vodka and ginger, and topped with fine rings of cucumber. A very serious drink, this is a cocktail for those who want to know they're drinking something of substance! The smallest sip has us gasping for breath. But we can't help going back for more.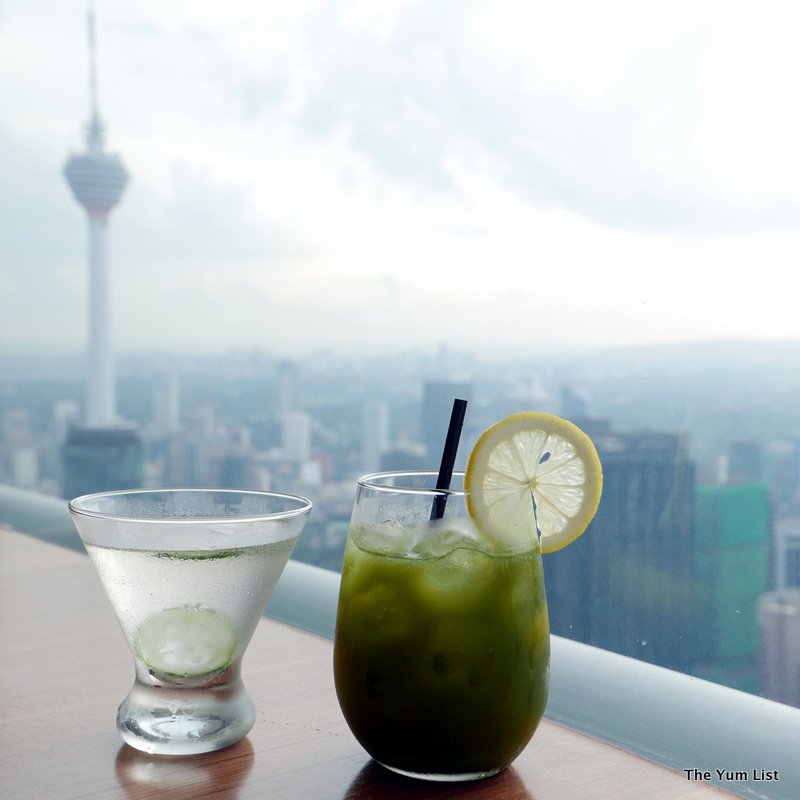 Each of the canapès and pastries we tried at Nobu KL's Sky High Tea surprised us. Combinations of ingredients that had us initially doubting, left us converted to the culinary genius. And the adventurous experimentations with flavour and texture Nobu is renowned for always hold true to their cornerstones of freshness, simplicity and quality. Three words you will find yourself repeating throughout your dining experience, in between expressions of appreciation, and occasional glances at the view.
Reasons to visit: The view, the view, the view! Pretty platters perfect for sharing with a loved one or larger group. Some creative drinks: especially the avocado espresso smoothie and some impressive cocktails with a good kick.
Nobu Kuala Lumpur
Level 56 Menara 3 Petronas
Persiaran KLCC
50088 Kuala Lumpur, Malaysia
+60 3 2164 5084
www.noburestaurants.com/
Nobu's High Tea is available weekends between 2:30 pm and 4:30 pm, and is priced at RM93++ inclusive of green tea.