Words: Claire Matheson   Photos: Monica Tindall
Crime Makes You an Offer You Can't Refuse
A seemingly innocuous white glossy wall to the side of Crave Oysters & Seafood House in TREC KL is betrayed to those with sharp eyes by the tiny electronic keypad. The passcode may be obtained from the Crave bar staff through certain imaginative measures. Once past this outer door, adventurous souls should ascend the blood red carpeted staircase, past the exposed brick and distressed concrete walls, under the caged archway to the station platform above. Hand beaten metal handrails provide a modicum of assistance in the dim street lamp lighting. A quick look around the unattended ticket booth and the wall of mailboxes reveals nothing.
You've reached a dead end. Or have you?
If your Sherlockian powers of deduction fail you at this point, the antique phone next to you will stir into life, its harsh trilling breaking the silence. Further clues may be forthcoming to those lacking in the employment of the little grey cells.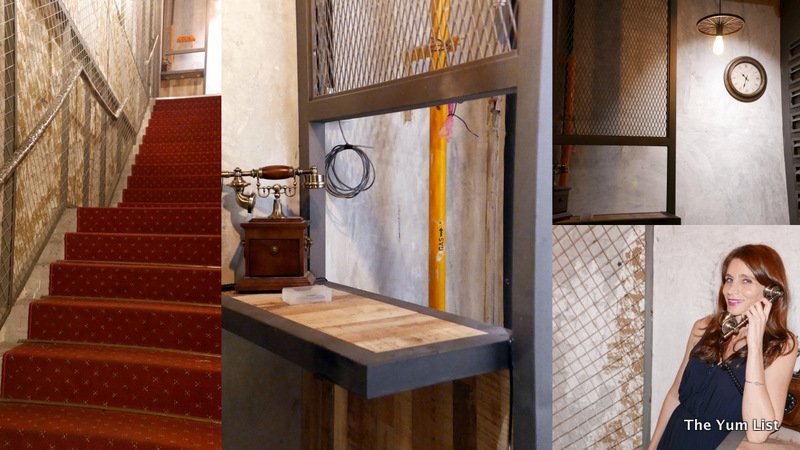 Once inside it takes a moment for your eyes to adjust to the low light. Dark leather chesterfield sofas, velvet curtains, wooden trunks and floorboards, and little study lamps perfect for interrogations are all part of the intoxicating atmosphere. The bar is adorned with the steel cage archways of train station ticket booths from a forgotten era. Jazz, soul and a lone saxophone hang heavy in the air, and you look around to see black and white portraits of gangster heavyweights lining the walls.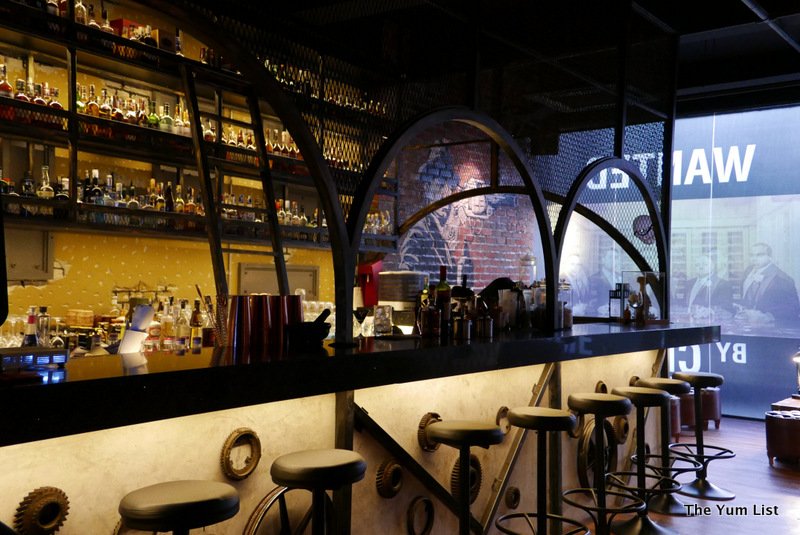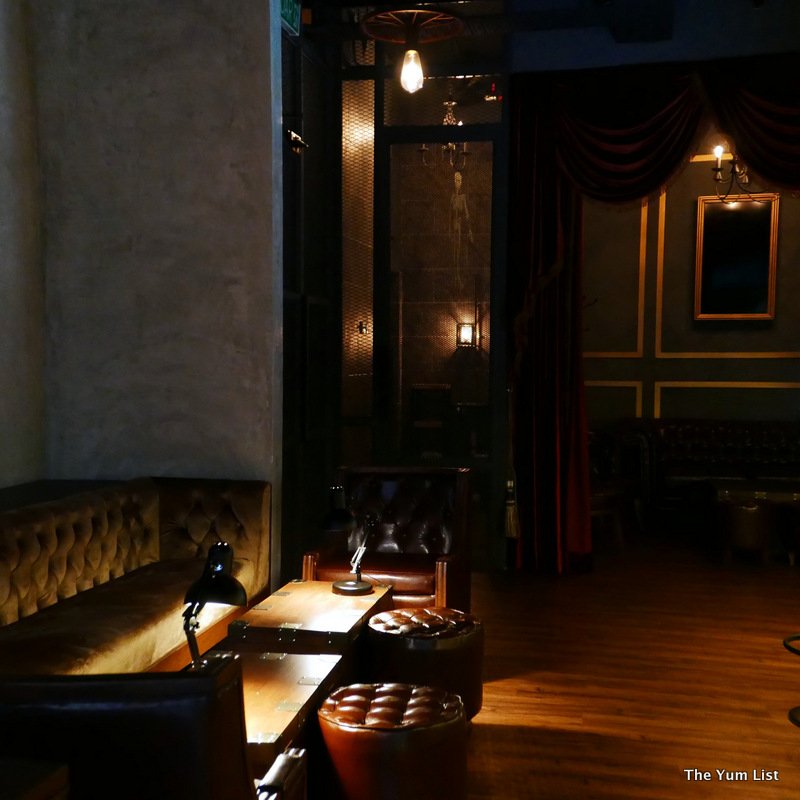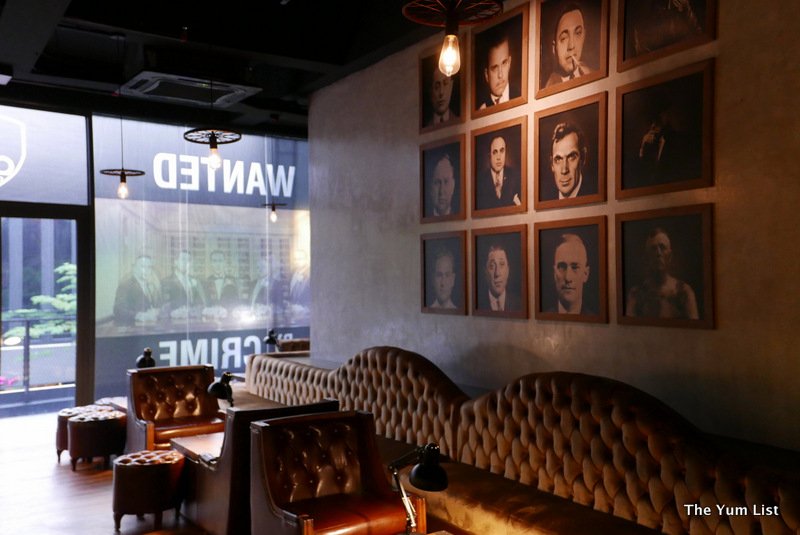 It is at this point I become overwhelmed with the urge to start speaking in 1920s gangster slang and Godfather movie quotes.
I head over to the gin mill to see what hooch is on offer, giving a nod to Kelvin Lee, the 'Soul Maker'.
"Say, what's the beef?" (referring not to the word on the street, as I should be by this phrase, but to the wonderfully rich smell in the air). Kelvin leans over the bar and grins knowingly.
"Bacon."
"Bacon?"
"Yeah." He follows up with three magic words: "Bacon infused whisky!"
If that doesn't get you off the couch this Saturday night, nothing will!
But while we wait for the bacon, 'Kelvin Crime' offers us a 'Manhattan Market'. In a glass painted with squid ink, topped with a wafer square of seaweed and served alongside rings of bitter gourd and a pair of fresh oysters, we learn the first lesson of Crime – expect the unexpected! Made with Chivas Regal Extra Whisky, homemade Ocean Bitter, Sweet Vermouth and sea salt, Kelvin recommends tasting the drink both before and immediately after swilling an oyster. Superb before, the cocktail takes on an entirely new flavour with an intense brininess akin to fresh ocean spray in the face.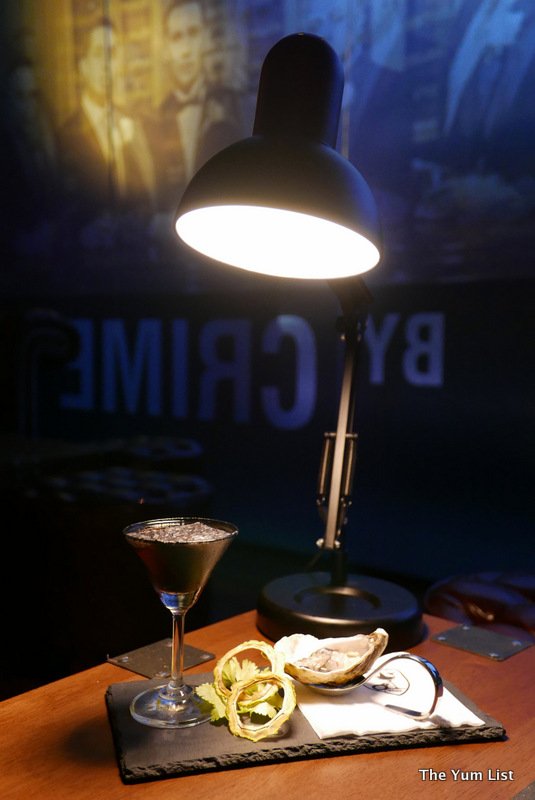 As a sweet interlude, the 'Grand Bloom' arrives in spectacular fashion – served in a stainless steel tumbler with a sculpted ice shaving nest perched on top inside of which nestles an exotic dried hibiscus flower preserved in syrup. Not yet on the menu, this is a mixture of Bols Genever Amsterdam Gin, Crème de Cassis, fresh lemon juice and hibiscus jam. Fruity yet tart and not overpoweringly sweet, it is refreshing and moreish.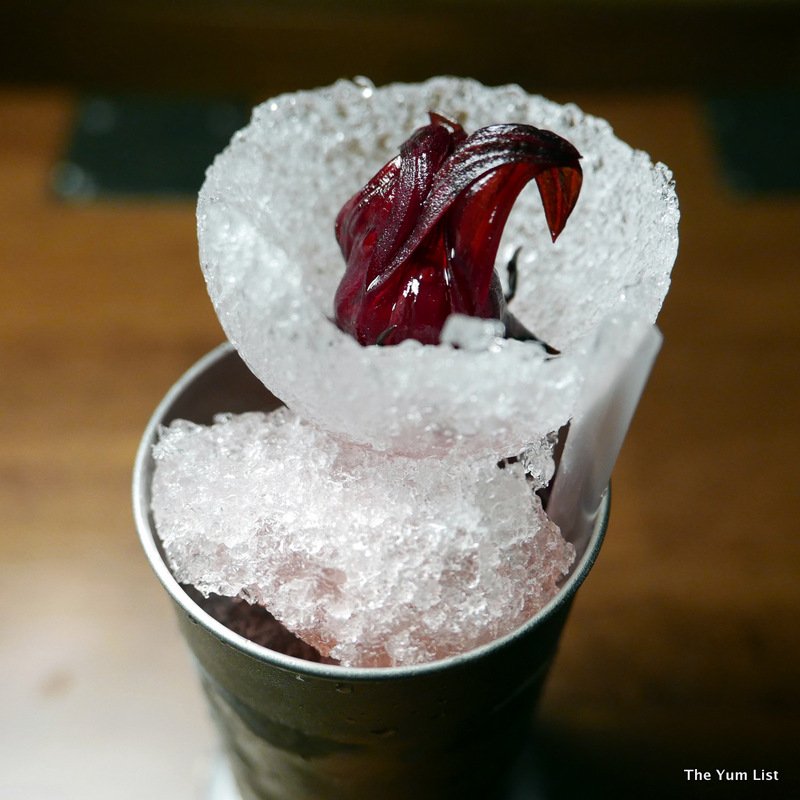 The 'Silk Road Mafia' arrives next, and the heady smell of bacon surrounds us. Kelvin infuses the Singleton Whisky himself, in a secret process he calls 'Fat-Washing'. While the term may not be entirely appealing, we can assure you the result definitely is. The smoky pork is present in every sip, alongside strawberry, basil, lemon juice, honey and balsamic vinegar. Most drinks in Crime come with their own bar snacks. The Silk Road Mafia is paired with a bacon wrapped strawberry which again elevates the intensity of flavours. Nibble, sip, repeat!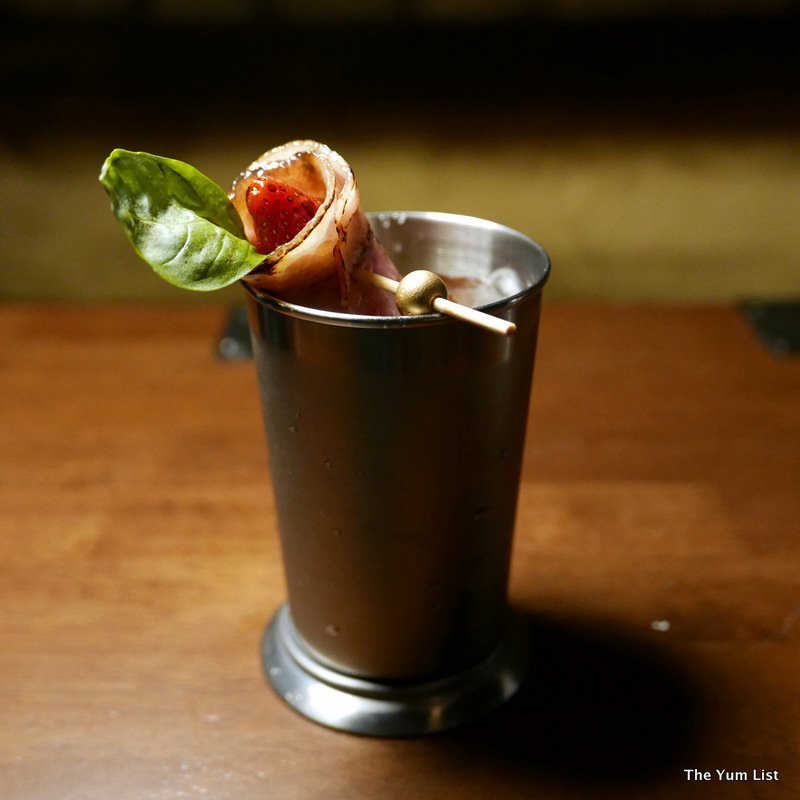 While the promise of bacon alcohol will have people knocking down the door, Kelvin assures us there is a strict ceiling on guest numbers at any one time. Intended as a haven or getaway from the multitudes in TREC below, only a limited number of people are allowed in the bar at any one time, guaranteeing the authenticity of the atmosphere is not overcome by crowding.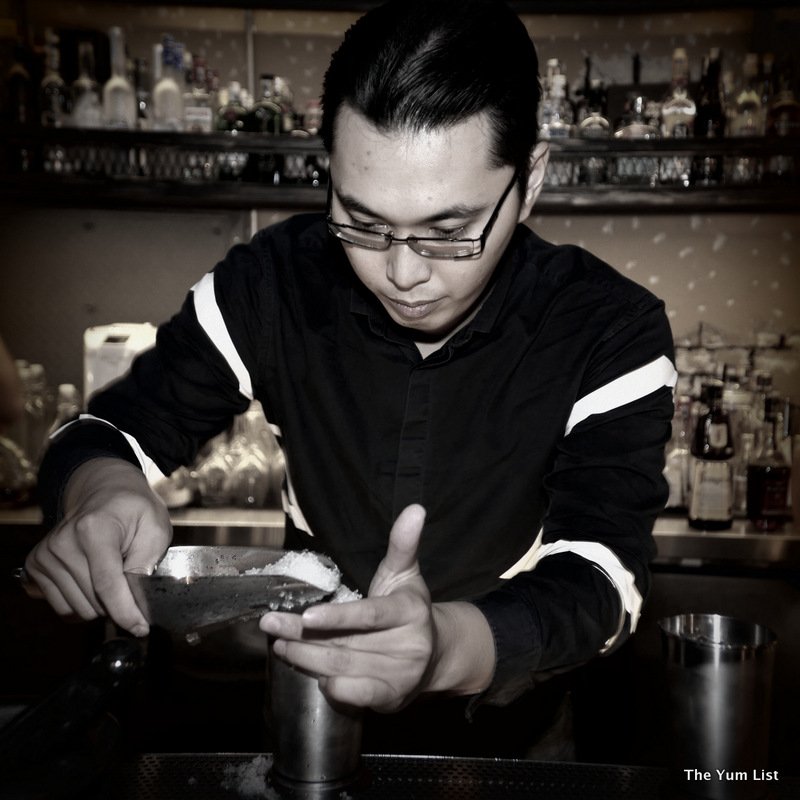 Kelvin likes to experiment with using the five senses in his drinks, and a perfect example of this is his 'Bubbly Hotter'. Arriving on a slate slab, small wide mouth glasses hold a grouping of orange salmon roe marinated in soyu, set alongside two ladle-like soup spoons and a candle warmed bath holding a ceramic flask of Gekkeikan Sake Josen Karakuchi and Kwai Feh Lychee Liqueur. We pour the liquid over the roe, and scoop up the mixture with the spoons. Carrying the sweet aroma of lychee, the salty roe pops and crunches between the teeth while the soyu strengthens the kick of the sake, burning heat in the back of your throat.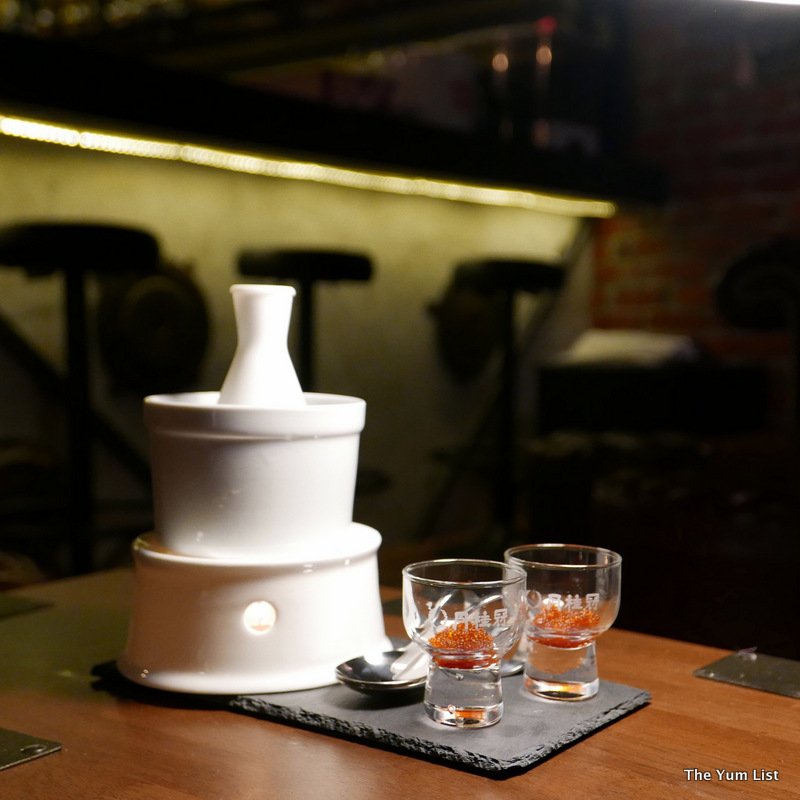 Already four cocktails down, we decide to pace ourselves with some water, served in lidded tin mugs, and bar snacks. Unlike the typical bowls of peanuts found at some other establishments, Crime takes inspiration from Crave Oyster & Seafood House below, offering a range of fabulously fresh seafood bites. Steel baskets of light and fluffy whitebait, and soft, thick cut calamari, each lightly fried in a pillowing wrapping of batter are impossible to stop eating, doing their best to absorb some of the alcohol in our stomachs. A third basket of mini crabs, also lightly battered and fried deliver an irresistible crunch. We pop them into our mouths legs and all. Delicious!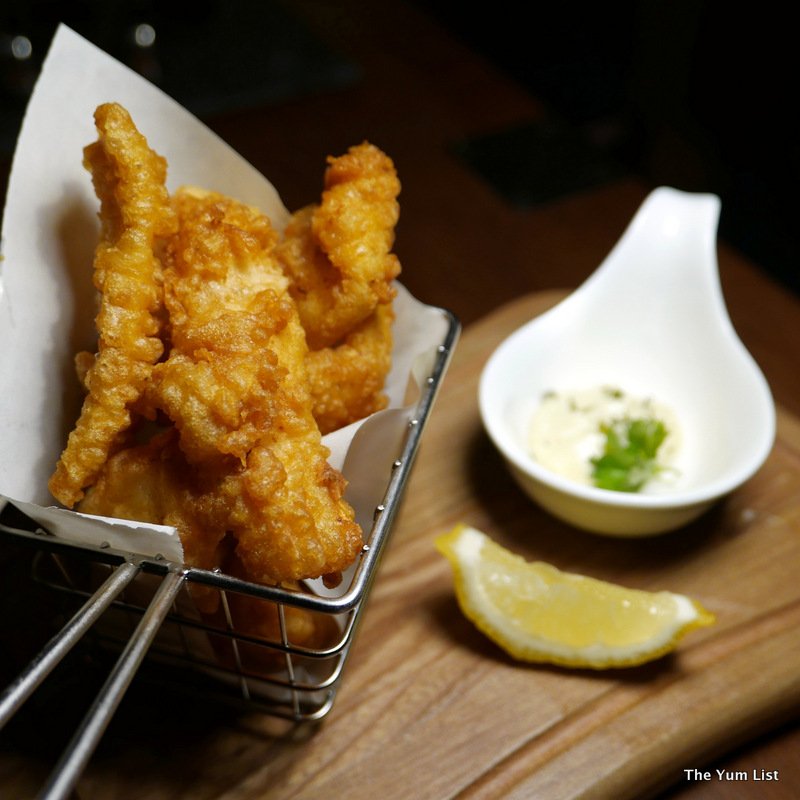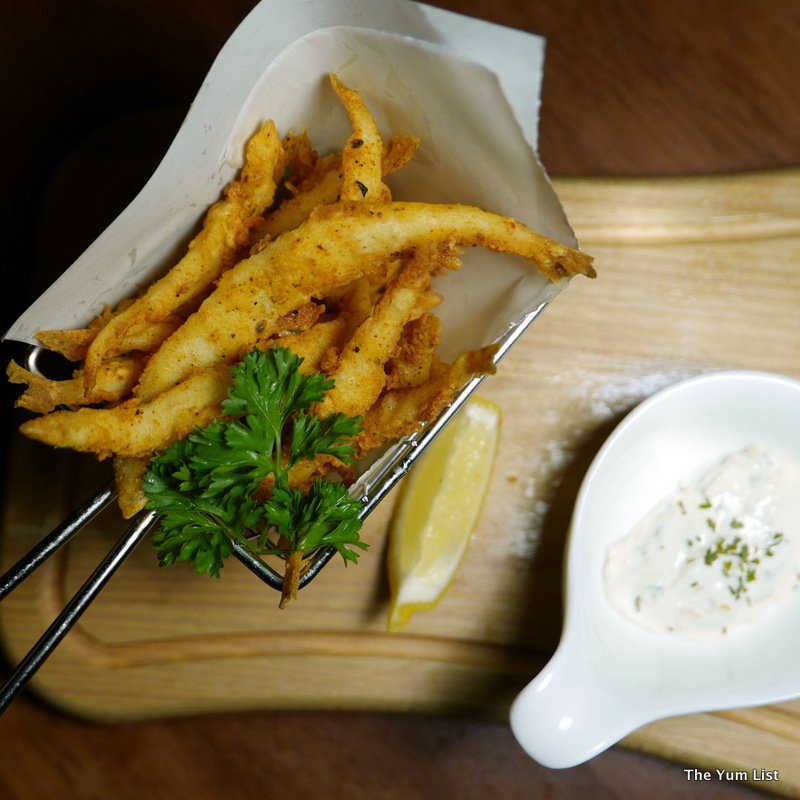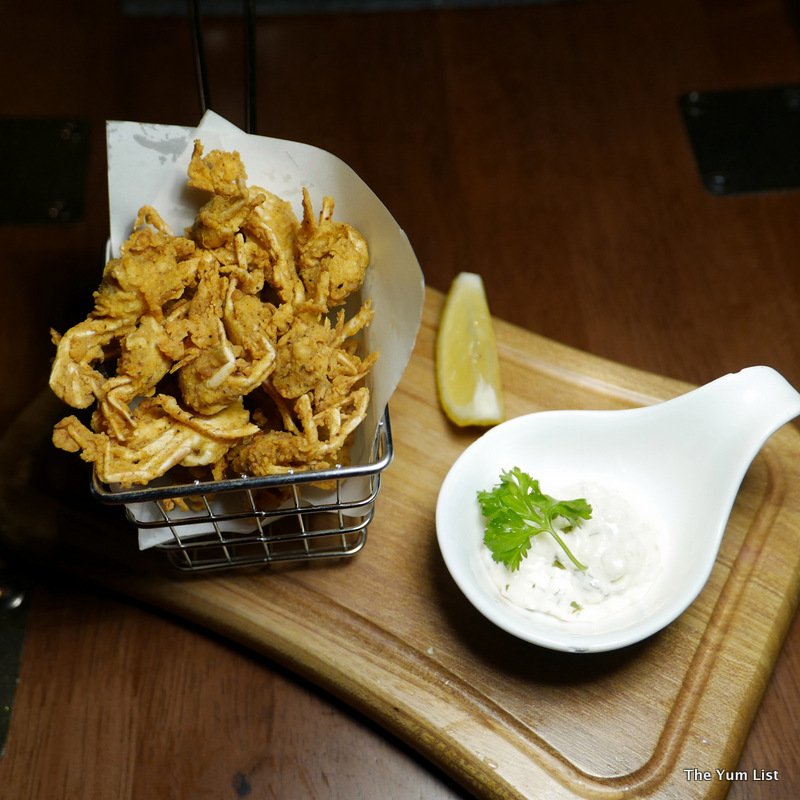 As a cooling answer to the previous heat of the 'Bubbly Hotter', we receive a 'Twisted Asian Bird', replete in its own kitsch Fu Manchu style Tiki cup. Powerful, fruity and cool, it is made from Campari, fresh lime juice, Gekkeikan Traditional Sake, Lor Hon Kor infused rum, smoked pineapple and winter melon syrup and topped with mint leaves and dried pineapple. Kelvin explains that the rum is worth drinking just by itself and after a small sip, we agree. The Lor Hun Kor fruit is known by many names: Arhat, Monk or Buddha fruit and is used in Chinese medicine to balance inner heat. Taken either by itself, or in the cocktail, it tempers the heat from the sake.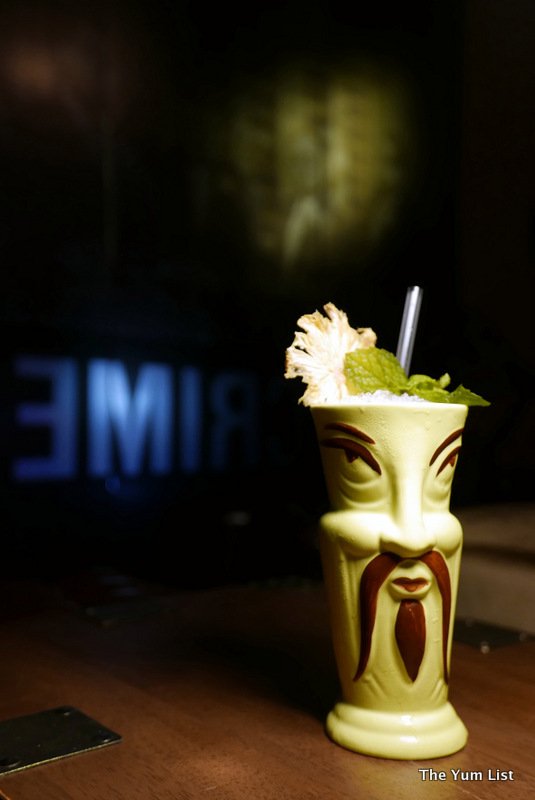 Monica and I take a moment to peruse the themed menu with its collection of clever drink name puns. Coming across something entitled the 'Naughty Butter', our eyes nearly pop out of our heads. Espresso, Macadamia Nut, Milk, Peanut Butter and Whisky. Just when we thought the idea of a bacon cocktail was genius, we discover the advent of a coffee and peanut butter concoction! Excited stuttering and gesticulating follows, but once again, Kelvin well and truly exceeds our wildest expectations. When the drink arrives, we are gobsmacked. Crunchy Peanut Butter encircles the rim, and inside, a thick peanut buttery mixture is topped by smoothly whipped meringue, browned with a blowtorch, hiding an espresso ice cube centre. Trying to get all the flavours and textures into the mouth at once is no easy feat, but if you manage it, the crunch of the nuts, the silky softness of the meringue, the darkness of the espresso and the grittiness of the caramelised sugar will have you enamoured.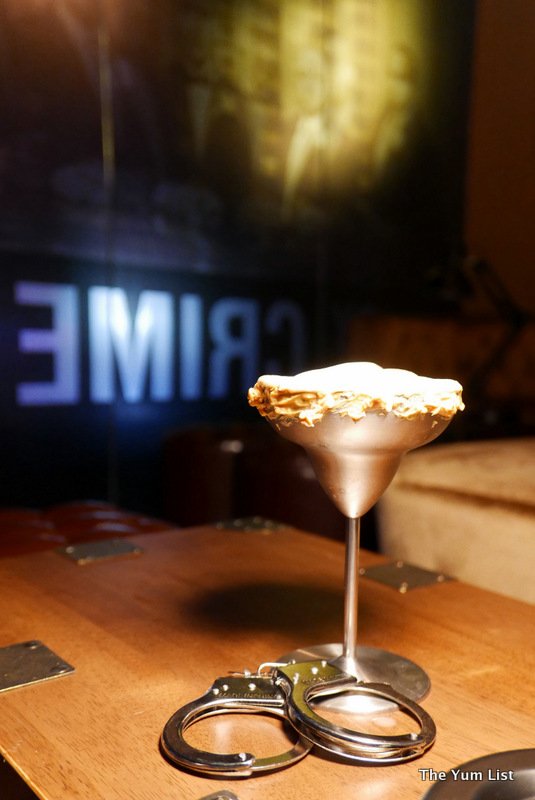 "You have to lip, sip and suck it all at once. But some girls slap me when I tell them that!" Kelvin giggles.
A dessert in a glass, Monica and I are floored. This is the single best cocktail either of us have drunk this year in Malaysia. A big call, but there you have it.
"You need to finish with some Cocaine!" Kelvin exclaims audaciously. Brazenly named, he of course is referring to his final cocktail of the evening. And this one's a kicker! After trying it, I suggest "Concrete Boots" or "Swimming With the Fishes" might be more apt names.
Served in an impossibly tall shot glass on a square plate, the maniacal gleam in Kelvin's eye heralds the theatrics to come. He pours 73% overproof Rum on top of the long shot of Kahlua, Vodka and 53% proof La Feè Absinthe, setting it alight. He shakes the glass to make the blue flame cascade down the sides before throwing cinnamon over the top, which explodes in a small fireball. Deftly placing an upended glass over the top, the flames extinguish as he captures the cinnamon flavoured smoke, sealing the glass with a napkin. The victim (in this case, me!) is handed a straw and encouraged to suck back the shot. Not used to such potent spirits, it takes me four tries to empty the glass. Kelvin then urges me to use the straw to pierce the smoke filled glass he's holding, and inhale three times.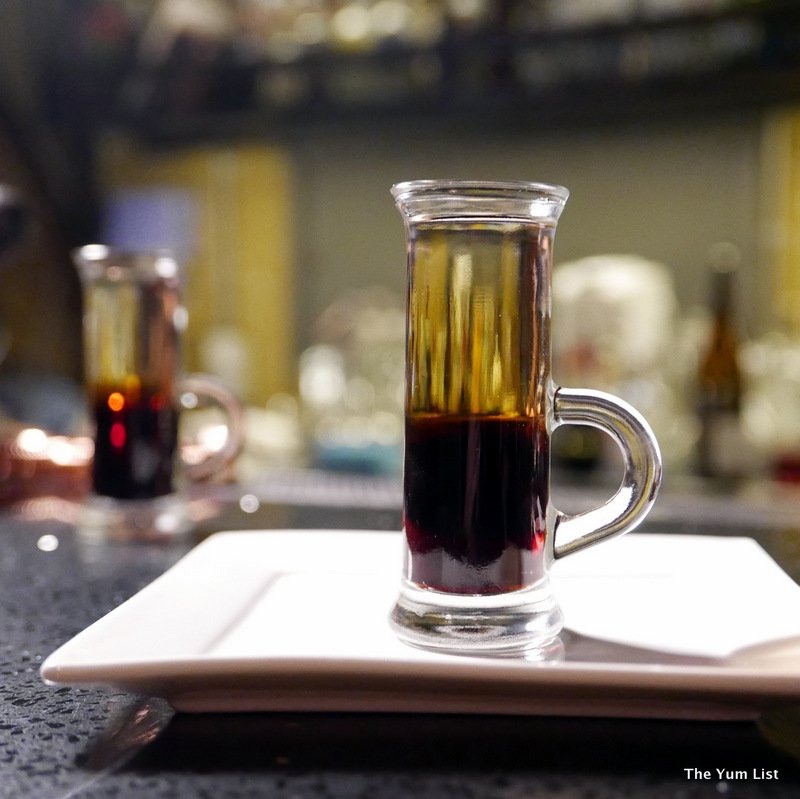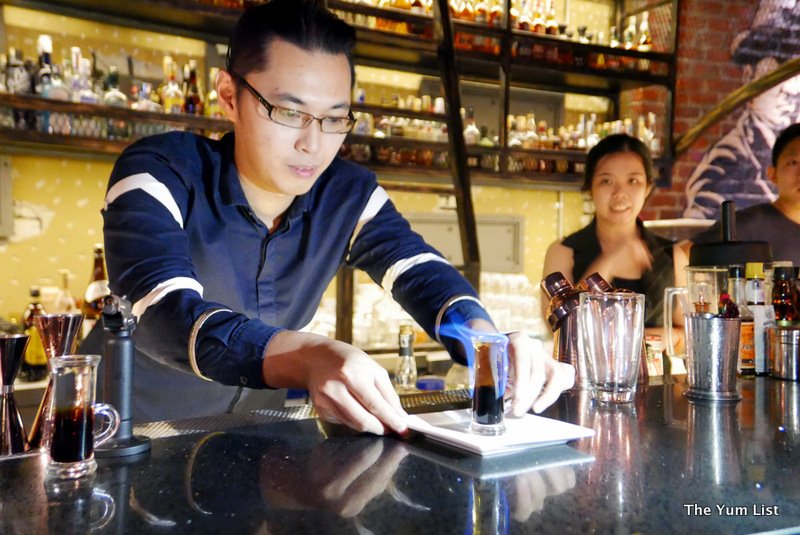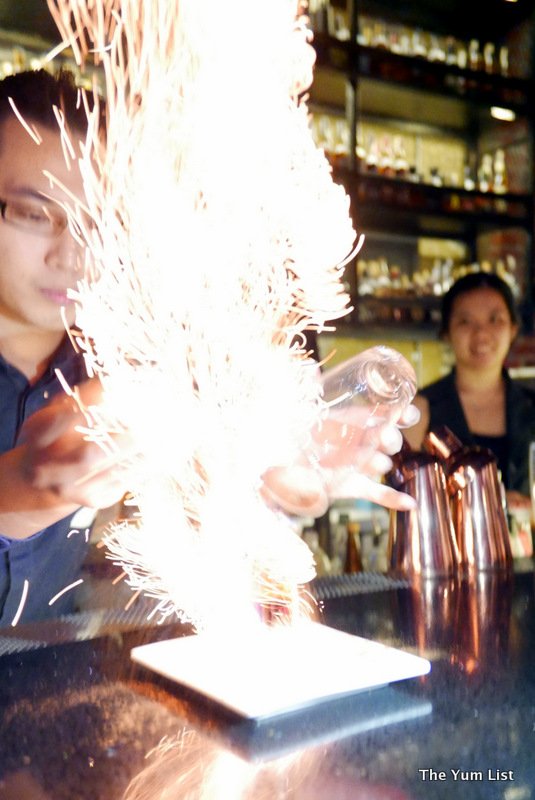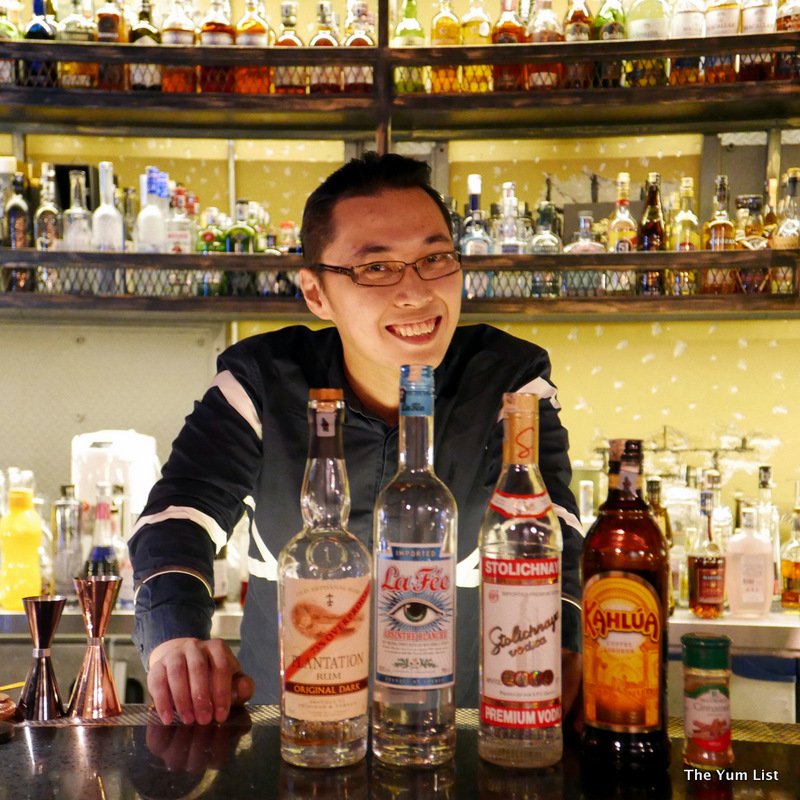 This is not just a drink but an experience. I feel that it should come with those same warnings you see on rollercoasters: Don't attempt if you have heart problems.
Apart from the arsonist tendencies of the 'Cocaine', we notice that there is a clear lack of smoke in the bar. Kelvin confirms this suspicion, smoking is not allowed inside the bar – mightily helpful for keeping tomorrow's inevitable hangover at bay as cigarette smoke increases dehydration levels and enhances the symptoms of a hangover, not to mention the unattractive lingering stench that stays in your hair no matter how much shampoo you use. But if you do wish to partake of the vapours, there is a handy outdoor balcony sealed off from the bar itself where you can relax and watch the passing crowds on the walkway below.
Tonight Kelvin Crime has taken us on a world tour of extraordinary cocktails. Combining tastes from the Americas, Europe, Asia and the Pacific, the man has a talent for coming up with mind bending concoctions that are unlike anything you've tried. With a fun and sultry atmosphere, there's even a small stage hidden behind a velvet couch for the dames to shake their gams. Cocktails from the menu are priced at RM45+, spirits start from RM18, and made to order mixtures start at RM38+, depending on the ingredients.
Proving that Crime really does pay, this soulful little speakeasy definitely makes our Most Wanted list.
Reasons to visit: To keep your friends close, the 'Silk Road Mafia' and the 'Naughty Butter' will guarantee loyalty, to keep your enemies closer a shot of 'Cocaine' will do the trick! Don't forget to try the sensational seafood snacks.
Crime – Wanted
Cocktail Bar
E-1-09 Electric Boulevard
Lot 436 TREC,Jalan Tun Razak
50400 Kuala Lumpur, Malaysia
+6 0 3-2110 5664
www.facebook.com/crimecocktailbar