We feel like explorers stumbling across a clandestine treasure in the jungle when we step inside the The St. Regis Bar at The St. Regis Langkawi. Etchings of a banyan tree stretch across the length of the backdrop wall and giant 200kg fossil wood tables furnish the setting. Excellent happy hour deals draw guests pre and post dinner daily from 6-7pm and 9-11pm offering two for one cocktails, house wines and spirits, and a band provides live music from 9pm.
Lang Mary (RM85) is The St. Regis Langkawi's twist on the original Bloody Mary first invented in the The St. Regis Bar in New York in 1934. This tropical island blend sees pandan, tamarind and lemongrass as key ingredients. The screwpine gives texture and smoothness. The lemongrass furnishes a hint of spice, and the tamarind provides a touch of sour and fruity sweetness. Combined with the original components of tomato juice and vodka, it makes a delicious exotic interpretation of the hotel's signature. Cashew nuts and Kalamata olives accompany our orders, proving satisfying nibbles with our beverages.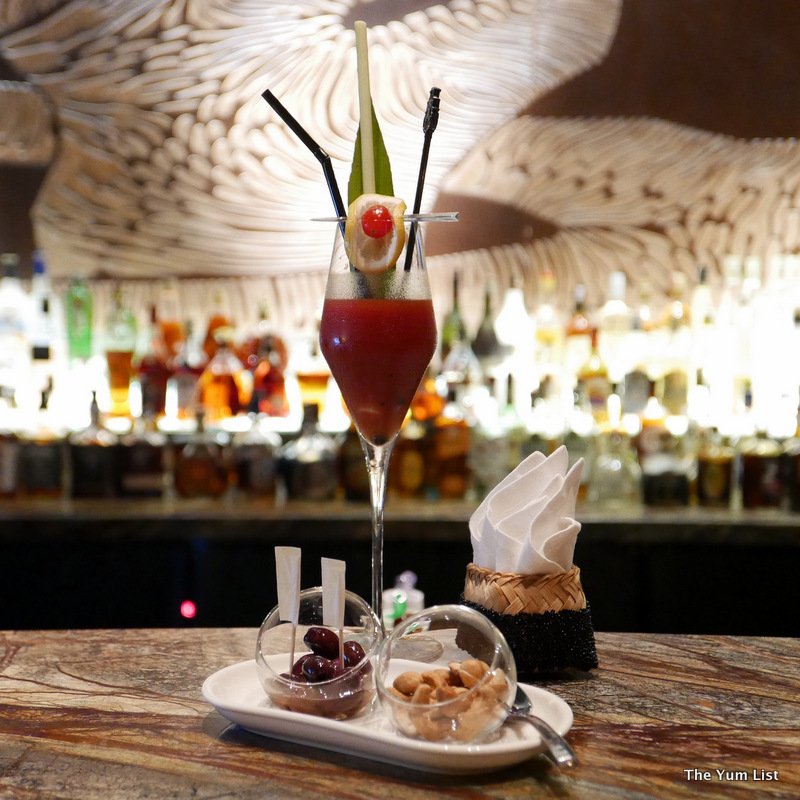 As we sip and ponder, we take in the grandness of the space. The double story ceilings certainly enhance the atmosphere of magnificence and we can't help but take up the bartender's challenge to find the squirrel in the mural behind the shelves of liquor bottles. There's an unconfirmed rumour, that if you can spy the squirrel in the wood etching backing the bar within a few seconds of being asked, that the bartender will furnish you with a Lang Mary on the house (we didn't find it in time by the way). As I said, it's not confirmed, but worth a crack.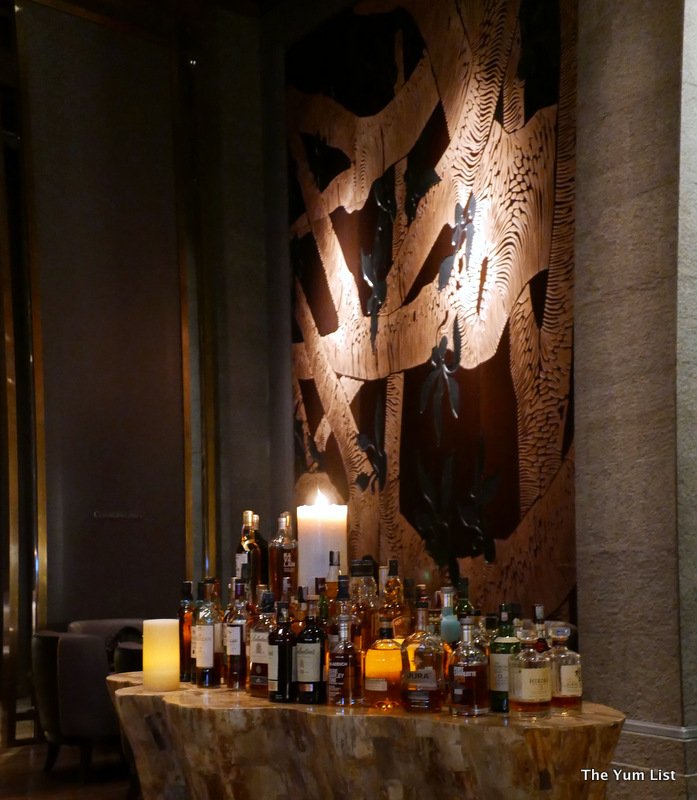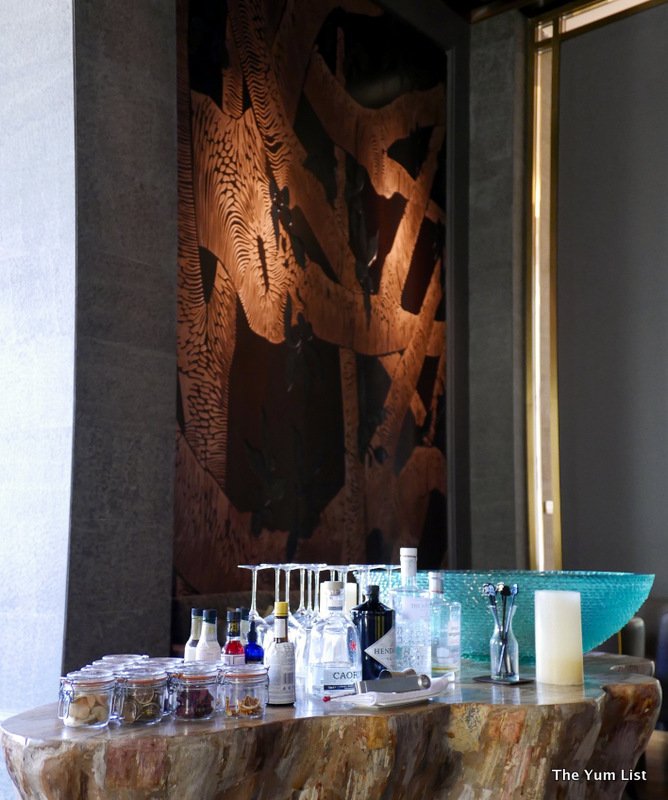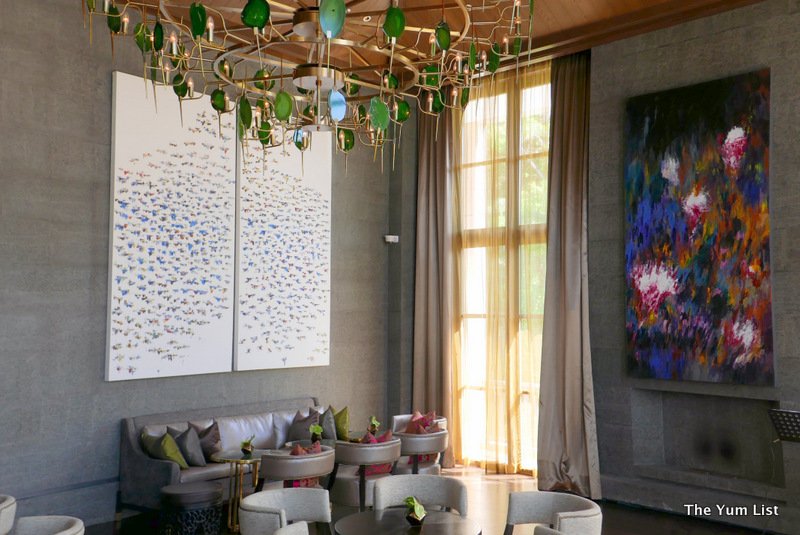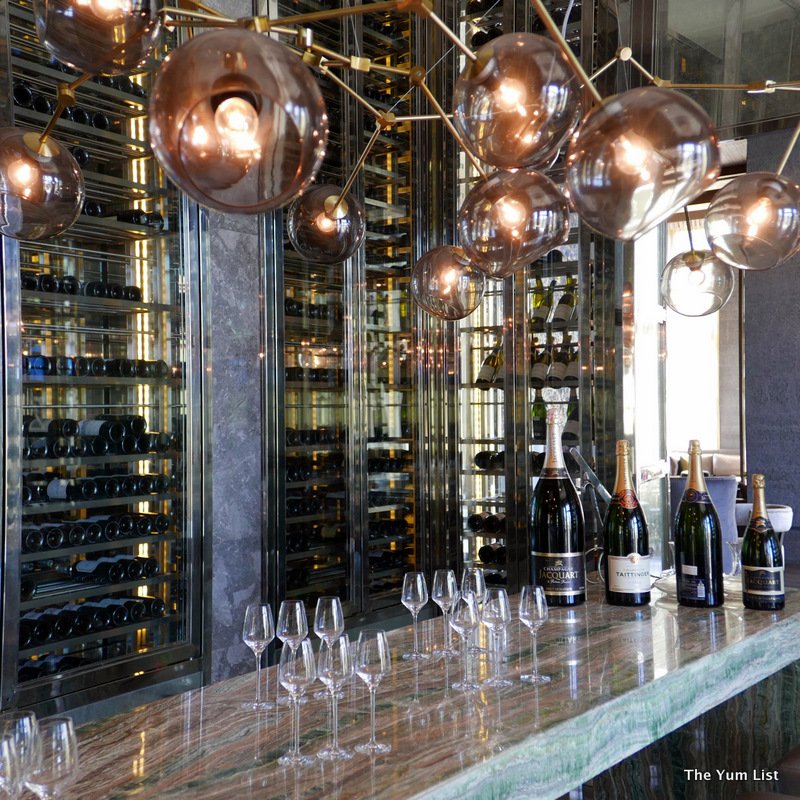 From the St. Regis Bar "Modern Mixology" menu, The 400 (RM 95) with its rum base calls our rum loving dispositions loud and clear. Made with house infused spiced rum, dark rum, lime juice, orgeat syrup, Angostura bitters and a ginger beer top up, The 400 seems a super cool version of a Dark and Stormy, only better. Dehydrated lime and cinnamon act as garnish, and although my friendly bartender, Krimie, warns that, "It's a strong one maam," and looks on with concern as I take my first sip, this is really "my type of drink" – robust yet refined.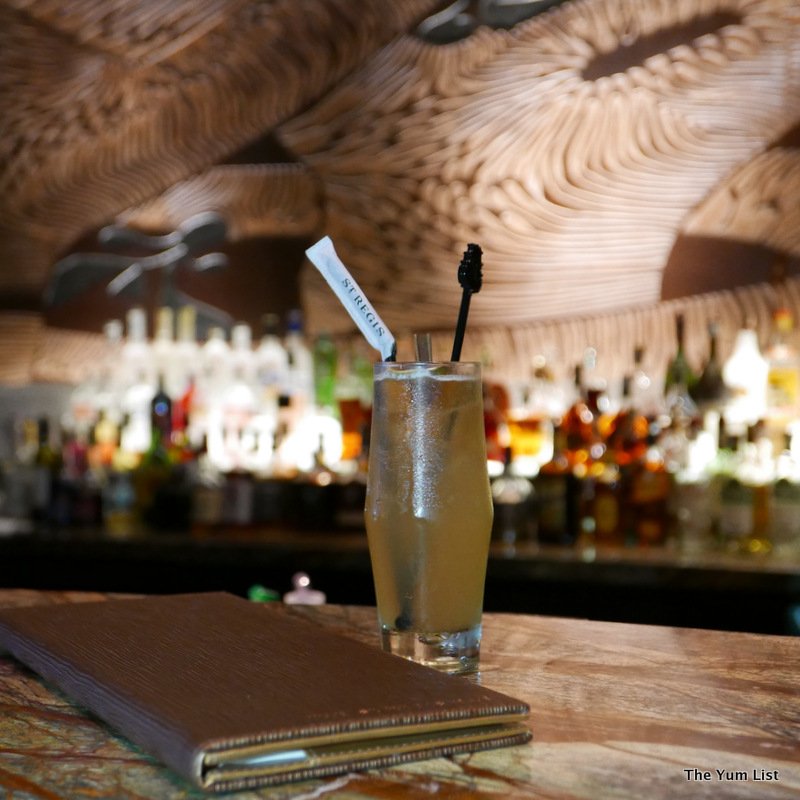 The St. Regis Bar "Modern Mixology" menu has a number of items worth savouring. Attempting some self-restraint, we don't order them all in one evening, but do test out two more on another day at the beach bar. Old King Cole (RM95) is served as a pretty contrast of green and orange. Gin, lime juice, sugar syrup and basil leaves are crowned with a mandarin orange foam – to be stirred before sipping, but after adequate Instagram shots are snapped. Hubby adores this one, and if it weren't for spotting a Champagne cocktail also on the menu, he would have ordered another.
55th & 5th (RM95) I'm told is an elegant glass for the ladies. Vodka, strawberry puree, crème de cassis and lime juice are finished off with a foam of Champagne in a bubbly flute. It too is delicious, and despite my desire not to like it because of the stereotype, I fall right in and fit the cliché.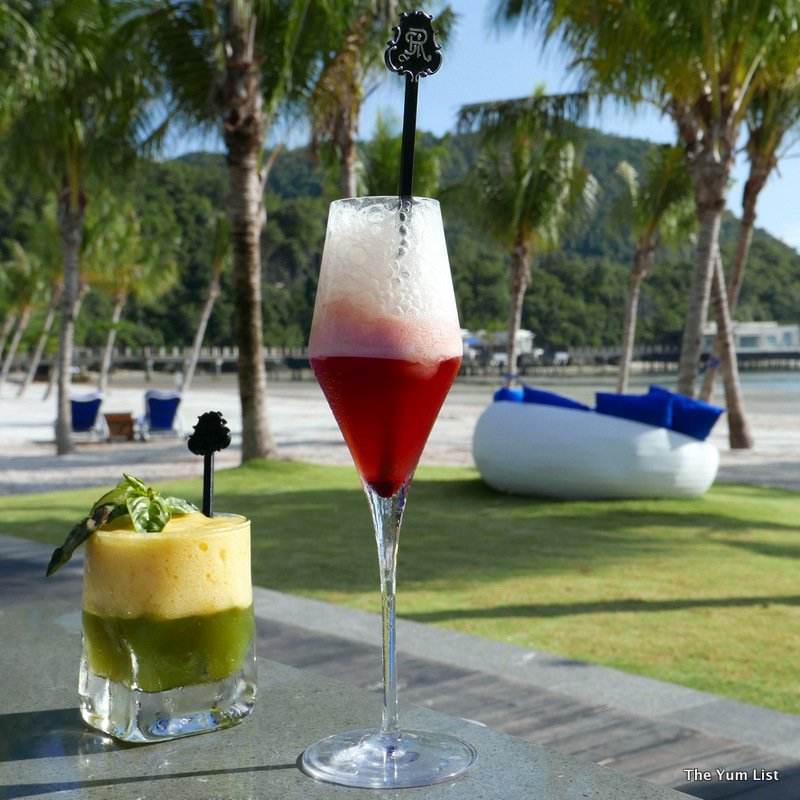 Back to our evening at The St. Regis Bar… One of those giant fossilized bar tables I noted as we entered holds a selection of gins, dehydrated fruits, spices, bitters and tonic water. Guests are encouraged to decide on their own mix, with guidance from the experts (if desired), to create their own personalized G&T. A Burgundy glass is the receptacle for the nominated ingredients, and I must say that my chosen dried citrus and ginger performed nicely together. Gin and Tonics range between RM30 and RM85 depending on the brand chosen as the base.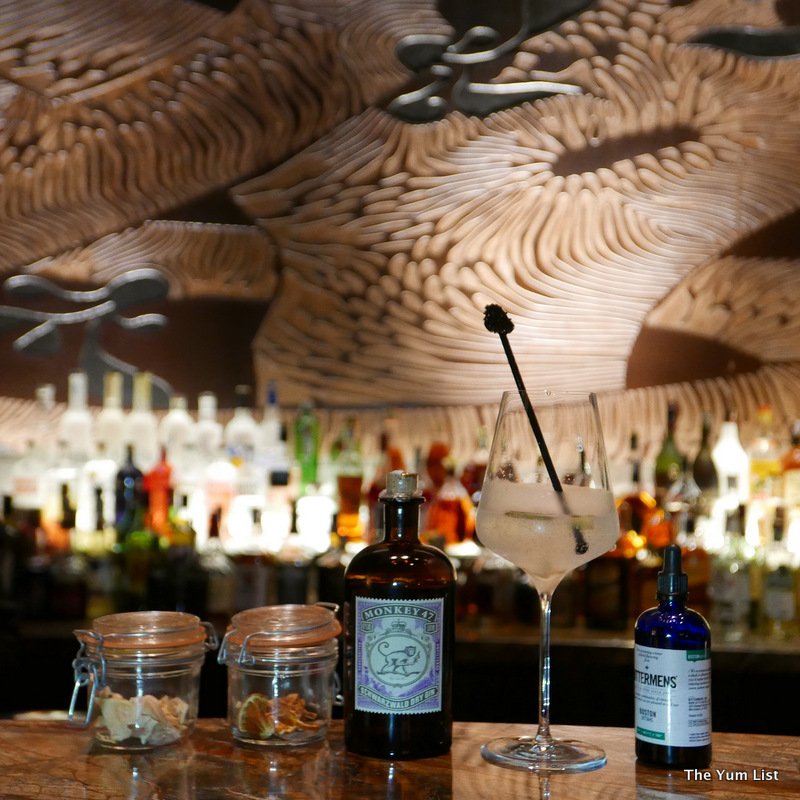 As hubby has now decided to hot foot it on the dance floor, competing with the band for attention, I quietly make my departure, leaving hubby to the musicians and unfound squirrels, and myself with delicious memories of our trek across The St. Regis Bar menu.
Reasons to visit: fabulous setting; good happy hour deals; a chance to try your hand at creating your own signature G&T; some delicious signature cocktails – my personal favourite being The 400.
The St. Regis Bar
The St. Regis Langkawi
Jalan Pantai Beringin
Langkawi
07000 Malaysia
www.stregislangkawi.com
+6 04 960 6666