Words: Louise Miller Photos: Monica Tindall
The light and leafy interior of Em café was in stark contrast to the gloomy rain clouds that lay low over Jalan Pudu as we stepped inside Hotel Transit. Chef Pierre (previously of one of the The Yum List's fave restaurants, La Croisette) greeted us and showed us around the café's different zones. A cosy indoor area festooned with cheery Christmas bunting and tinsel was flanked by an outside space in which the urban characteristics were lifted by a central water feature and an array of mini potted plants, framed prints and splashes of fuschia pink. An ascent of a metal staircase led us to the garden area, so called for its astroturf carpet and abundance of greenery.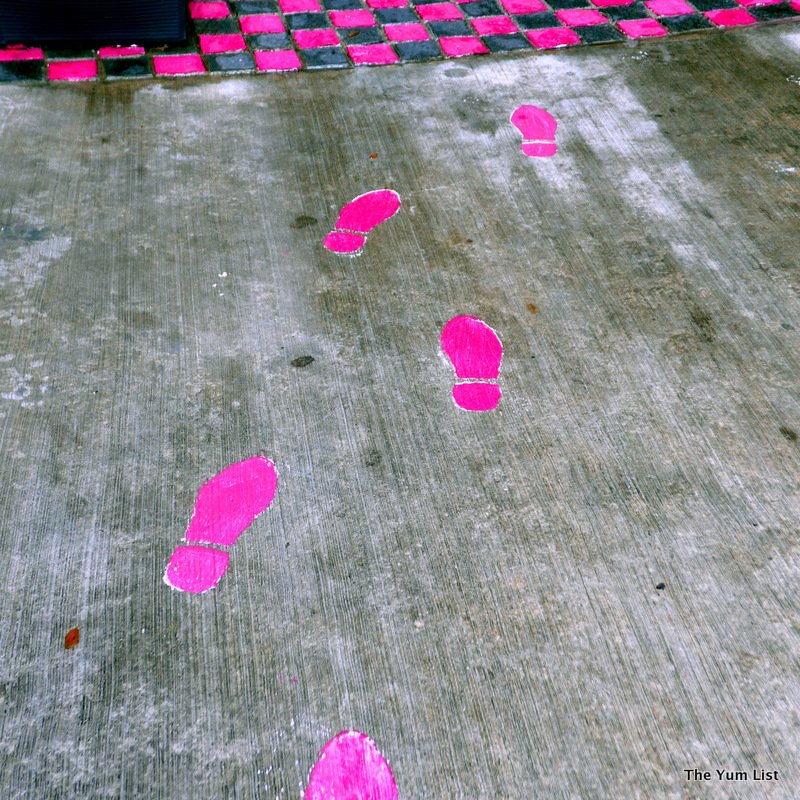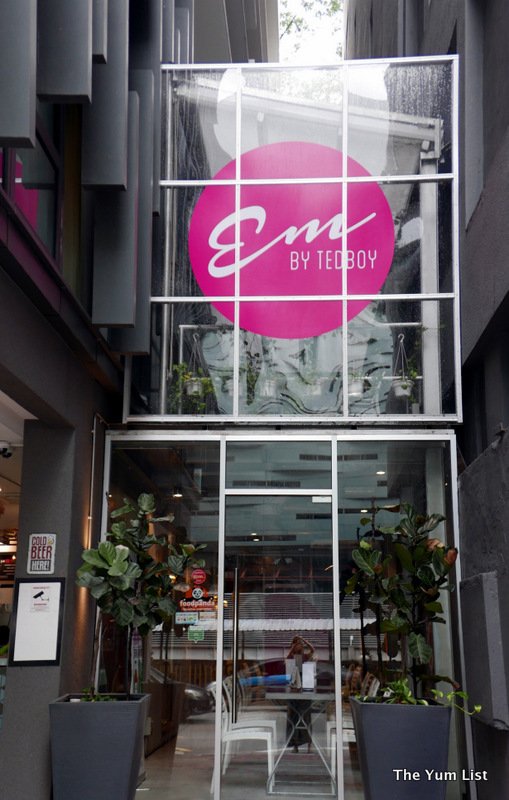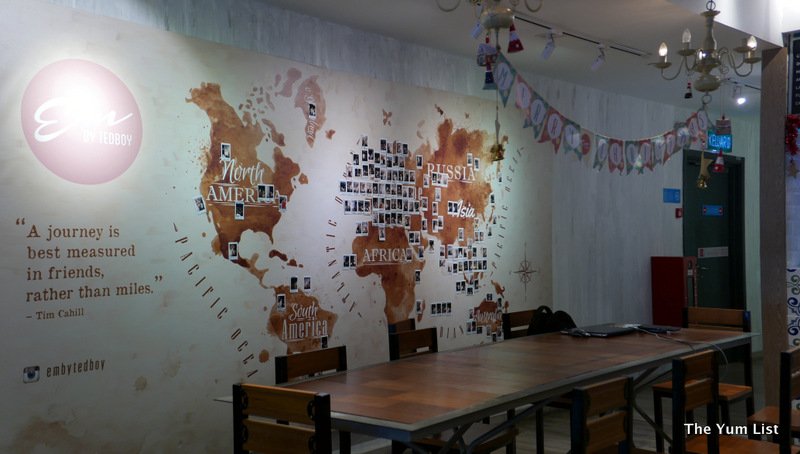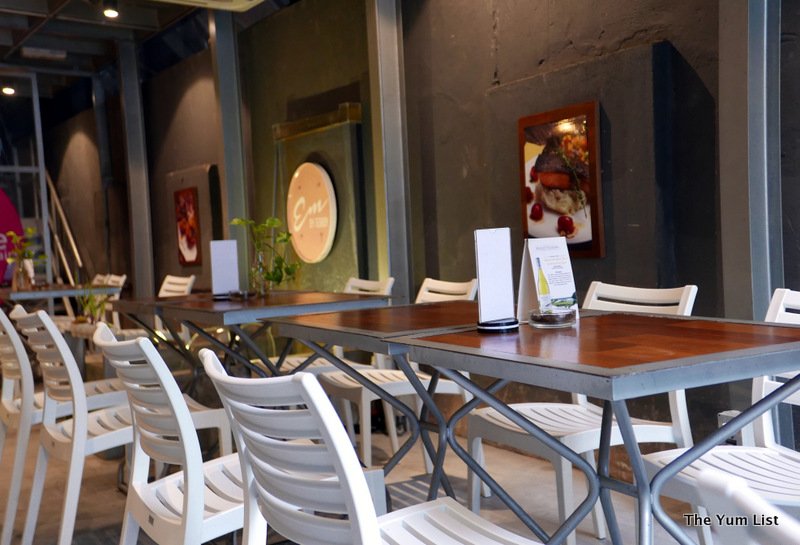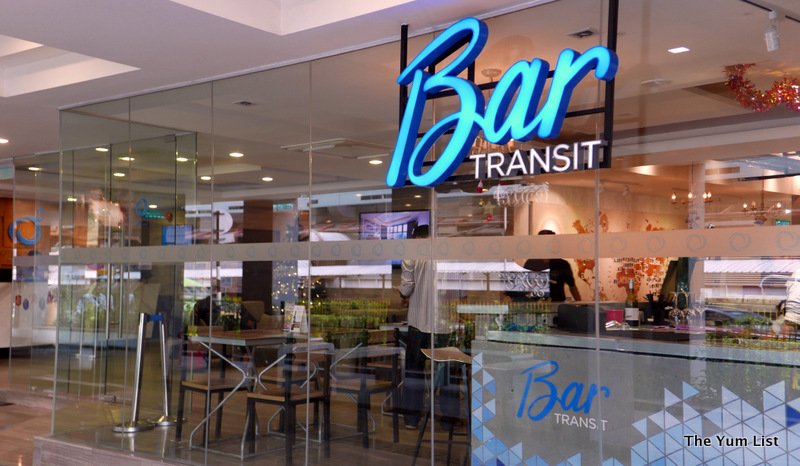 After settling in downstairs, we were presented with a special menu that had been designed especially for us to showcase some of the restaurant's signature dishes combined with a preview of what will be on offer in the Christmas and new dinner menu. As is customary when Yum Listing, we began with a couple of cocktails: Transit Bar's Margarita and Cosmopolitan (both at RM20) were both fine renditions of the classics and excellent value to boot.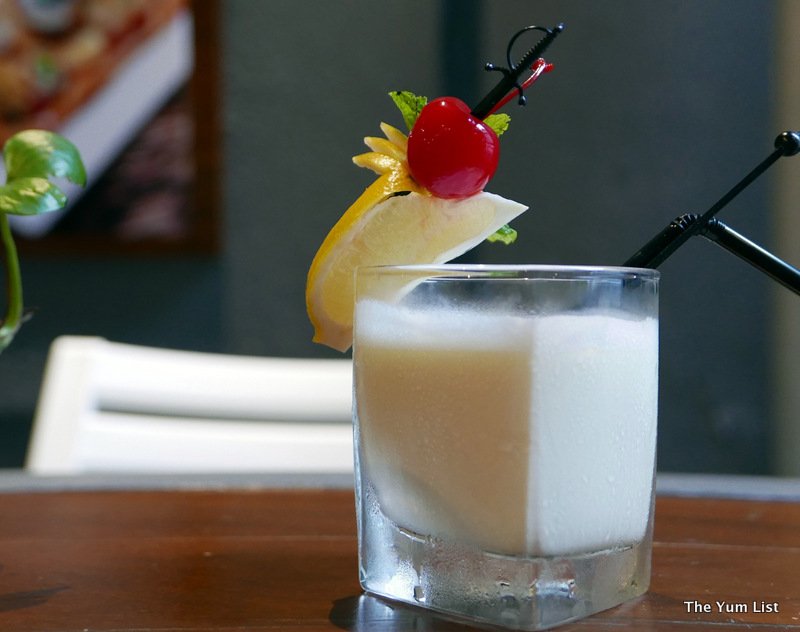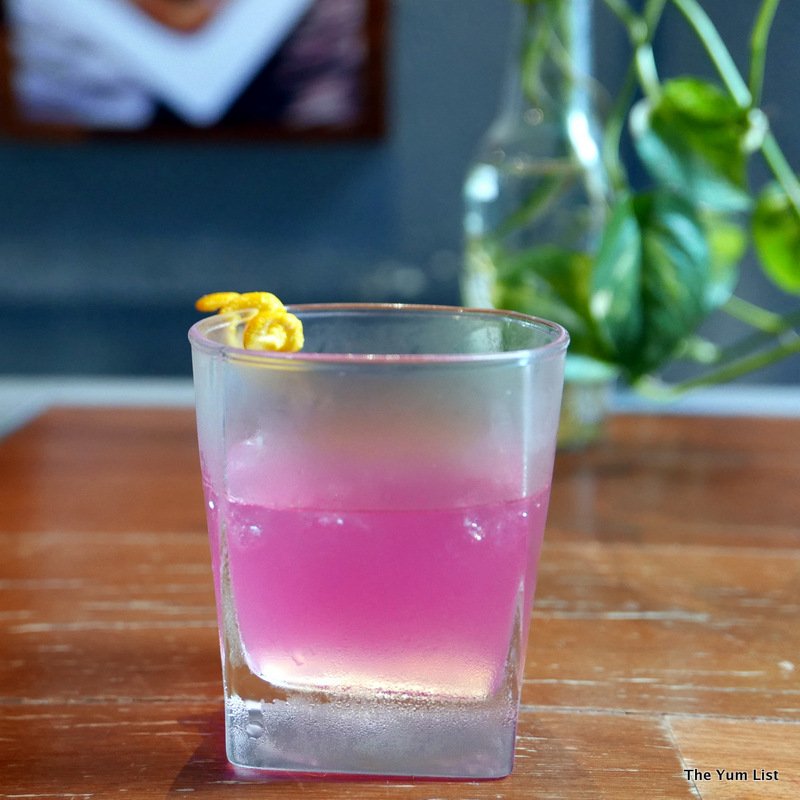 Accompanying the cocktails was an amuse-bouche of Pan-seared Prawn with Crème de Champignons. The succulent prawn was prettily placed atop a delicious cauliflower purée and garnished with flavoursome enoki mushrooms all perfectly paired with the rich and earthy mushroom cream presented in a shot glass (I'd have happily devoured a bowlful!).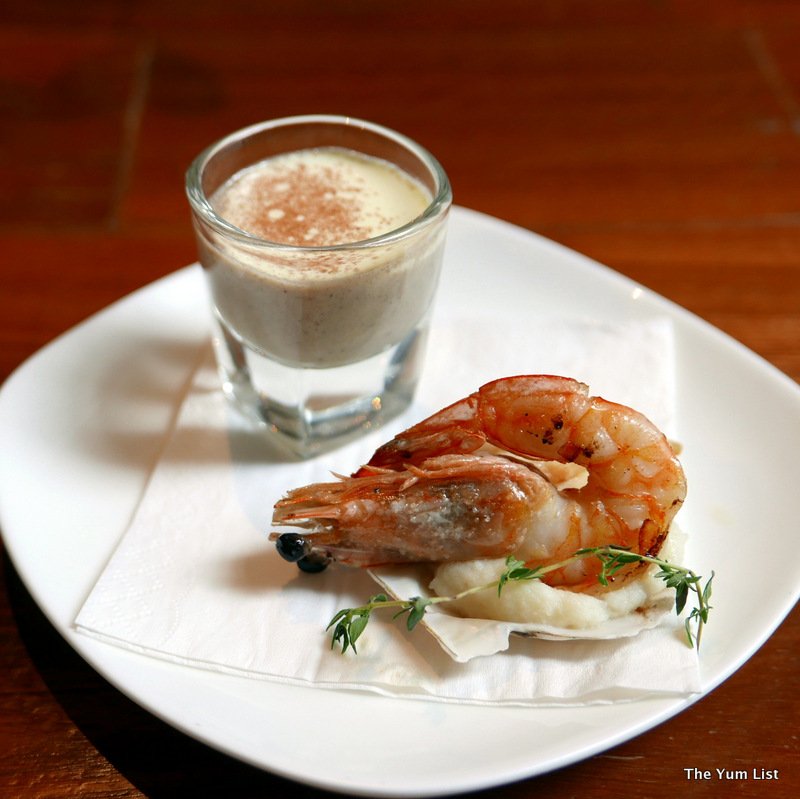 The starters that followed are two of the Em's signature dishes and represent the café's mission to create a fusion of predominantly Mediterranean favours with Asian twists. Asian Tabbouleh does just that, combining couscous with fresh herbs and egg wedges with dried shrimps, diced salted fish and ikan bilis. A squeeze of lemon gave the dish a zesty lift and brought out the freshness of the herbs.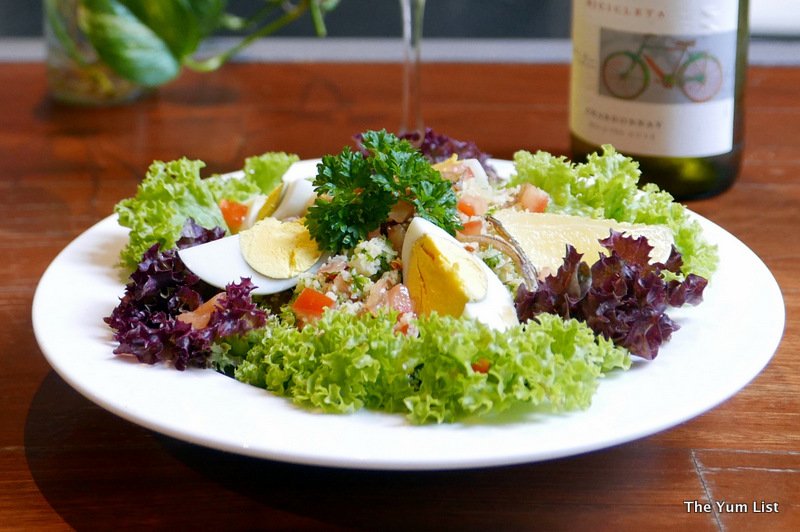 The Beetroot and Tomato Tartare Mimosa was an instant hit with all of us. Beautifully presented topped with a beetroot disc and decorated with edible flowers, this mini tartare tower was also absolutely delicious with complex Asian flavours of coriander, holy basil and a hint of Tom Yum paste – a great vegetarian option and a 'must try' for beetroot lovers.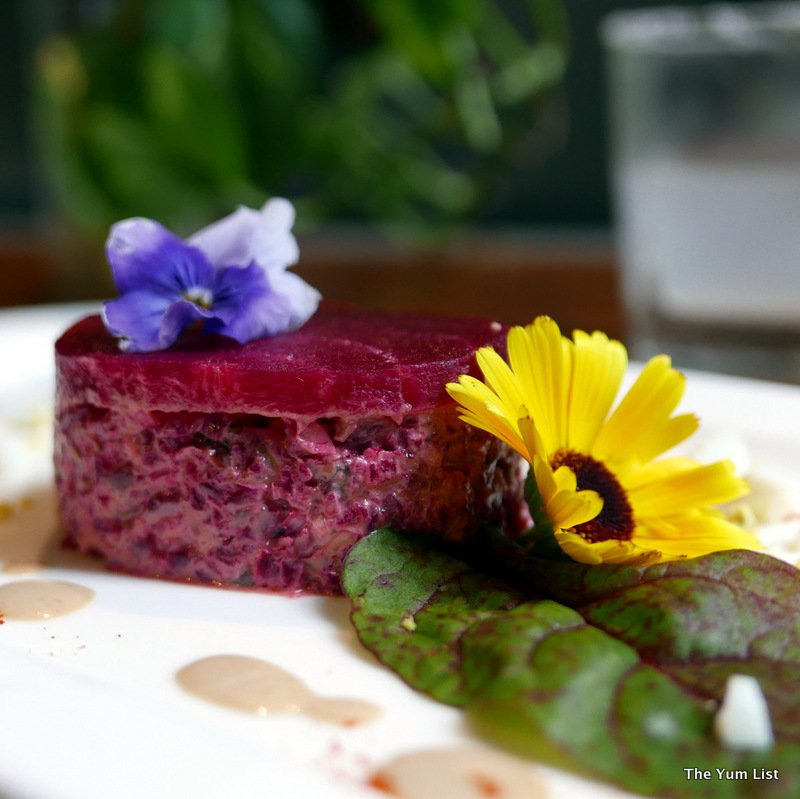 The trio of main course dishes featured Butterfish Fillet with Leeks Fondue. Definitely one of my favourite fish due to its succulent texture and rich flavour, the Butterfish surpassed my high expectations. It was served with rice pilaf and yummy golden saffron sauce and diced tomato.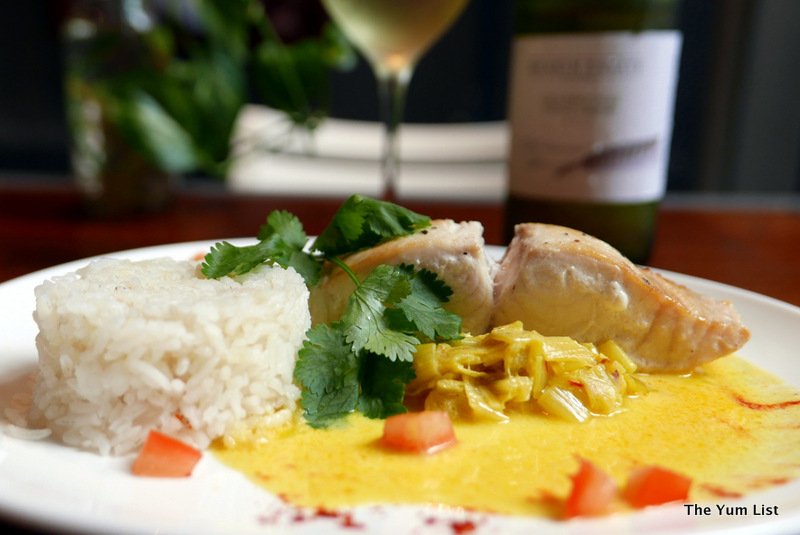 Lamb Noisettes with Roast Garlic & Garlic Cream was another delight. The tender, pink meat was accompanied by whole bulbs of roasted garlic and rectangular stacks of pumpkin gratin flavoured with cumin and coriander.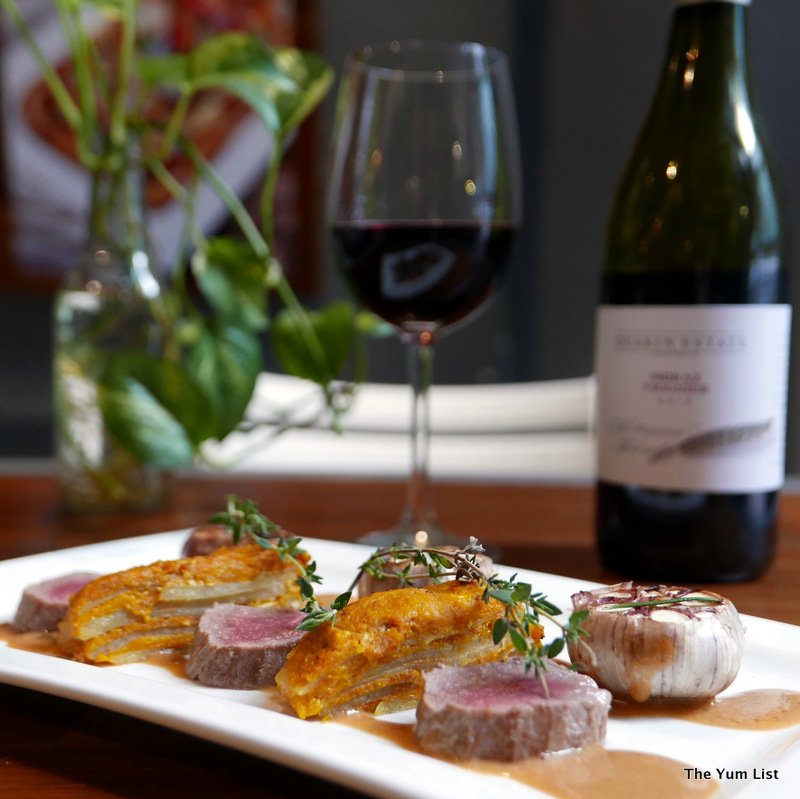 We completed the main course with a succulent and flavoursome Roasted Spring Chicken (yes – the whole bird!) served with young potatoes, a circular stack of grilled vegetables and Asian pesto.
Struggling after this feast to find space for desserts, the sight of the quartet of beauties placed before us provided a second wind and reinforced our commitment to battle on. Monica and Caning had informed me that Chef Pierre is renowned for his stunning desserts and these certainly lived up to this acclaim.
Em's signature Crème Brûlée was subtly infused with vanilla and basil and topped with the essential crunchy sugary crust.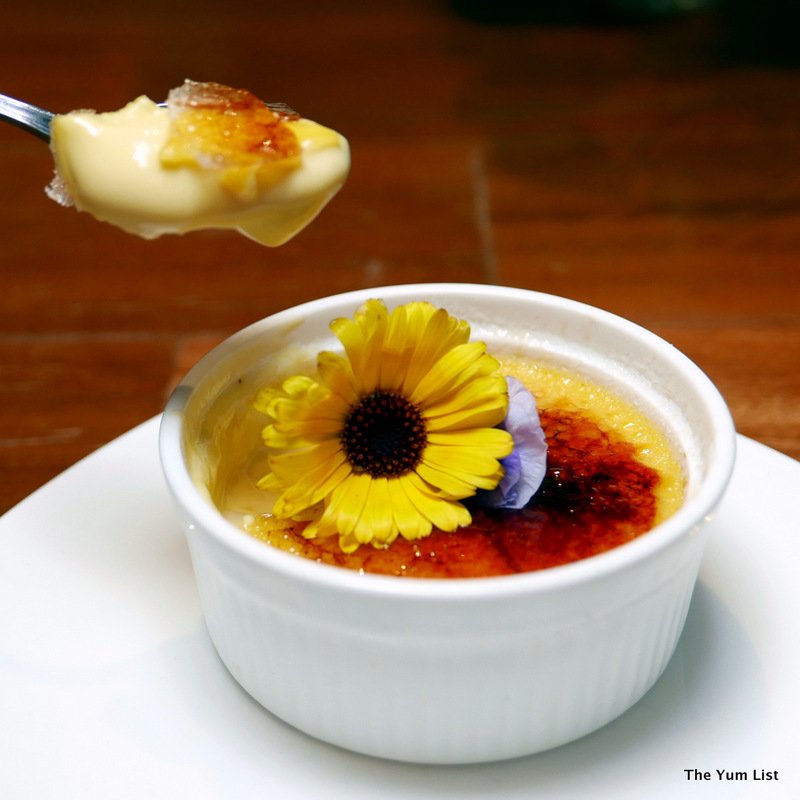 The Chocolate Lava Cake yielded its rich glossy chocolatey molten centre which was even more delicious when combined with an Earl Grey Cream sauce.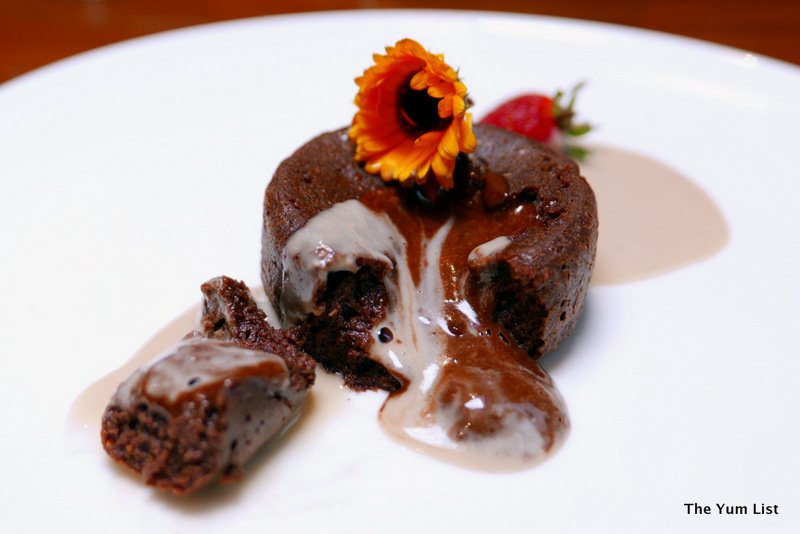 The Mille Feuille Façon Fraisier comprised two layers of flaky, buttery pastry sandwiching fresh strawberries, strawberry and raspberry creams and was accompanied by a tangy raspberry coulis.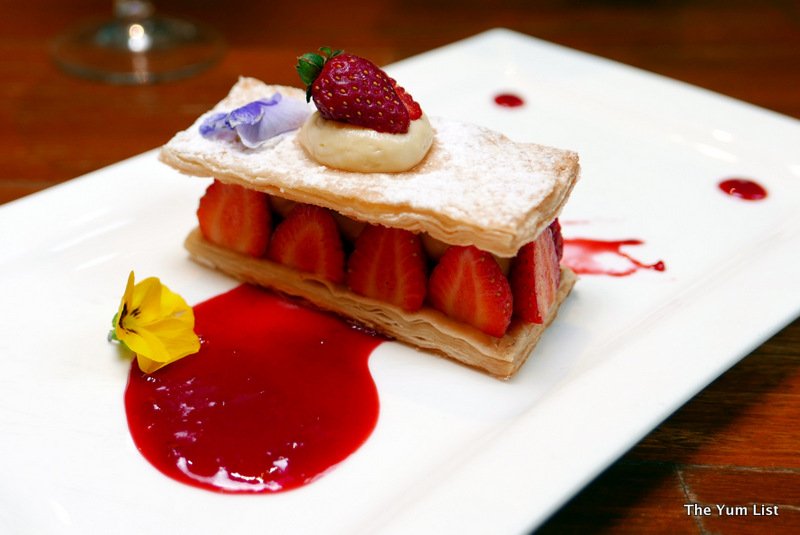 Last but certainly not least was the Christmas Chocolate and Passionfruit Yule Log, a lighter interpretation of the seasonal classic, this was a fine finale to conclude our feasting.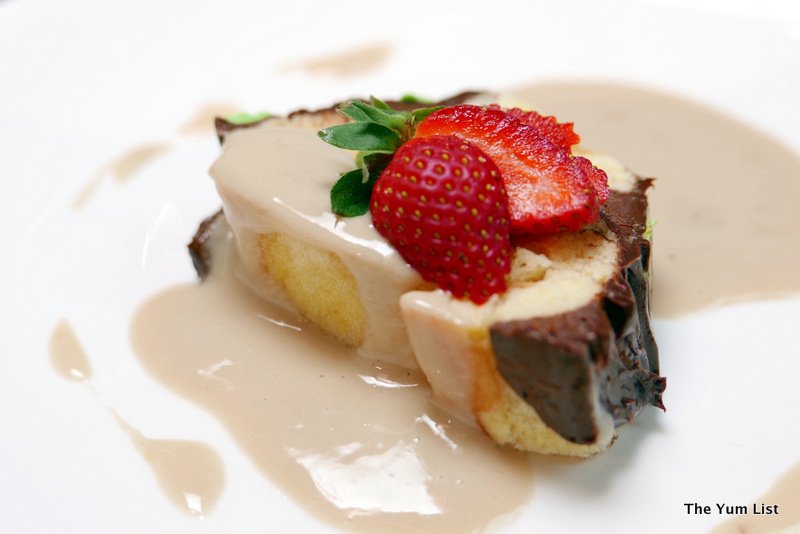 All of our courses were paired with glasses of the establishment's house wines: a Chilean Cono Sur Bicicleta Chardonnay, the Australian Deakin Estate Artisan's Blend Chardonnay Pinot Grigio and Shiraz Viognier, all available at RM25 (glass) and RM100 (bottle). A further nine wines feature on the Bar Transit's wine list and are priced between RM100 and RM150 a bottle.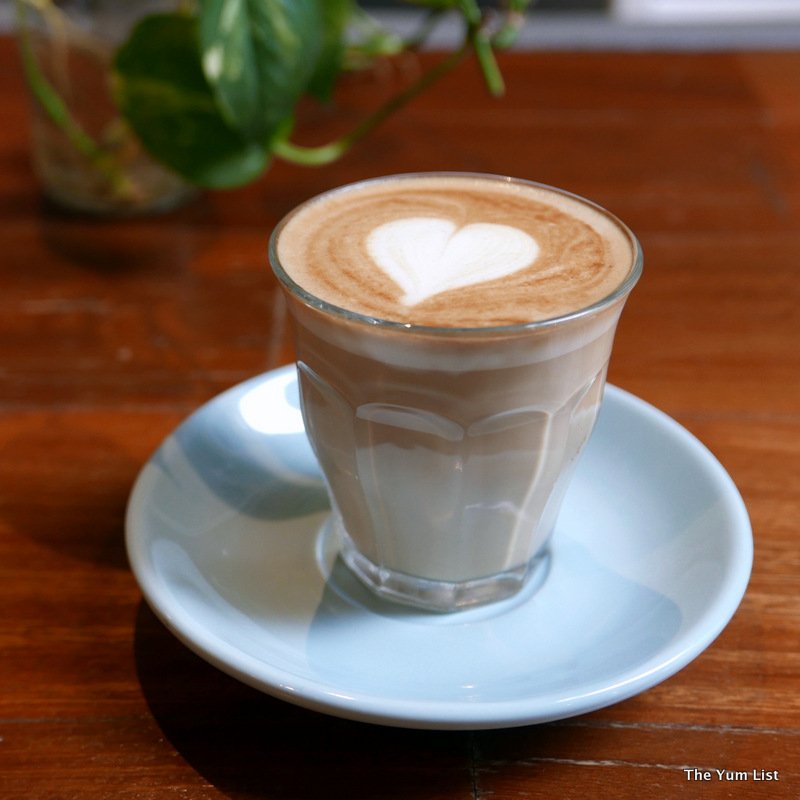 We were so impressed by our experience at Em by Tedboy and are confident that you will be too, whether you decide to visit for lunch, dinner or a special Christmas meal. The café is offering incredible value lunch menus at RM24+ for two courses or RM26+ for three. The Christmas menu is set to be at least equal if not even better value for money: available between 14th and 31st December, this will see you feasting through a four course seasonal menu for only RM120 per couple (yep that's only RM60 per person for a four course feast!). In fact, we had to double check these prices a few times as we just couldn't believe how low they were given the fine quality of fare on offer. This really is fine dining on a shoestring!
Reasons to visit: Great service, exceptional food and value for money, stand out dishes for us were the Beetroot and Tomato Tartare Mimosa, Roasted Spring Chicken and all the desserts!
Em by Tedboy & Bar Transit
Ground floor, Hotel Transit,
42 Jalan Pudu, Bukit Bintang
55100 Kuala Lumpur
Malaysia
+6 03 2022 2056
www.tedboy.com/em
Em by Tedboy is open Monday to Saturday from 10:00am to 10:00pm