Words: Heather Onderick     Photos: Monica Tindall
Buried deep down in the basement of the futuristic Starhill gallery lies a secret hidden treasure.  This hidden annex, called Fisherman's Cove, is a conveniently located restaurant for those looking for fresh seafood easily accessible in the city centre. Once you have found the exact spot, you enter into a space that is reminiscent of a fisherman's village in Asia, lined with a bamboo fence, and miniature mountains of fish and shellfish over ice. For those seeking a more romantic experience, climb the rickety wooden staircase up to the second floor and enjoy the coziness of a booth which can transport those with big imaginations to a Southeast Asian island dining destination.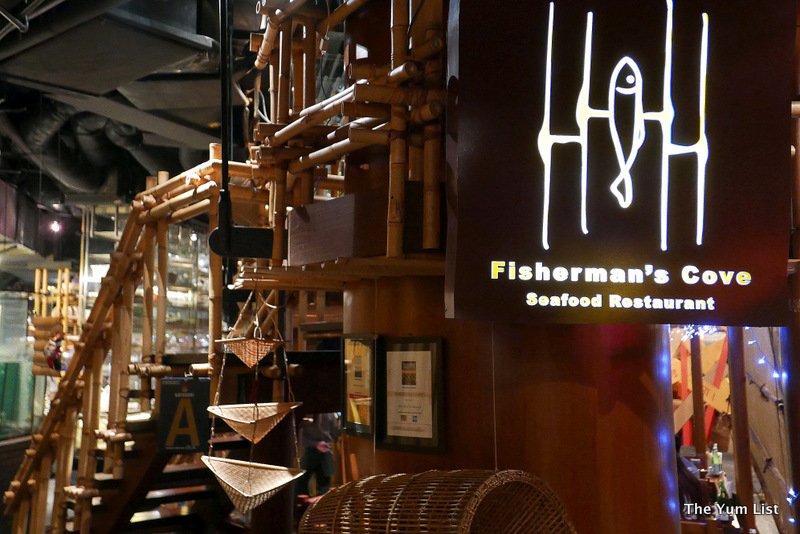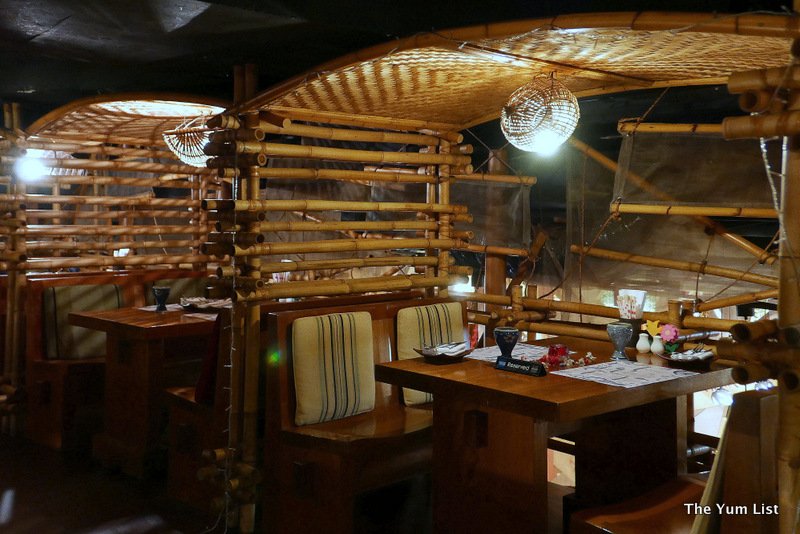 Shortly after we sat down to the table, the smorgasbord of seafood started to flow out smoothly with the arrival of the Crunchy Fried Calamari with Mint Mayo (RM 28).  This scrumptiously well- battered calamari was crumbly and buttery and the light savory dressing added an herbal kick to set the tone for the next few plates. Fisherman's Cove was a pleasant surprise in the sense that the team have explored unique ways to make plates interesting using a variety of spices, sauces, and flavors from other cultures but at the same time also preserving the natural flavors of the seafood.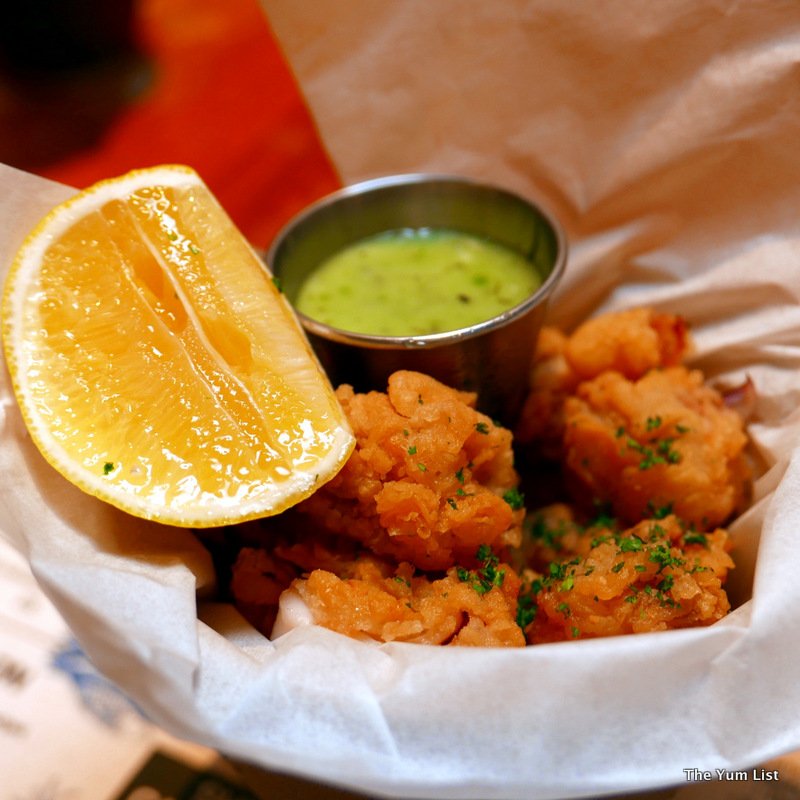 One of the dishes that did this well was the Gratinated Venus Clams (RM 28). This dish not only stimulated the tongue but dazzled the eyes as it looked like a bunch of pearly shells. Creamy Parmesan with golden crispy edges covered the clams but the dish still maintained a balance between the rich cheese and the subtle clams.
Fisherman's Cove has a playful ambiance as I mentioned before. Feeling like you are in a fisherman's village allows some flexibility with presentation. The Hirata Buns (RM 36) with different fillings were reminiscent of a local afternoon snack – street food at its best. Luckily, we had the opportunity to try all three varieties including the Korean inspired, Gochujang Chili Salmon. The garlic chili notes were carefully aligned with the salty, natural qualities of the salmon. For something less spicy, the Sweet Shrimps Mango Salad, consists of baby shrimp tossed in a mango dressing. This was like an Asian version of the sloppy joe in the sense that the texture of the shrimp matched the rice bun well. My personal favorite though was the Cajun Spiced Lump Crab Cake, textured like a fish cake and with spices it took me back to my Aunt Jan's crawfish boils in Louisiana – it is clear that the chef created these dishes with love and the hope that the innovative versions would awaken nostalgic culinary tales.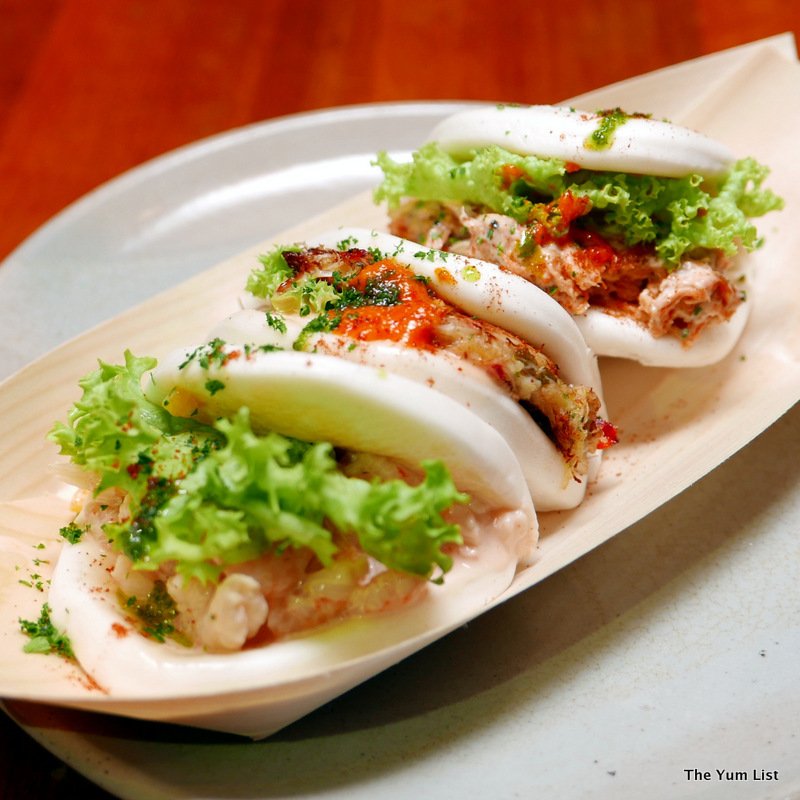 Moments later accents of curry were dancing through the air and the Tiger Prawns with Green Curry and Pilaf Rice (RM 78) landed on our table. This curry was Thai inspired but a little more buttery and rich than usual, containing the aromatic flavors of green curry and well-cooked eggplant that melted in our mouths. The prawns were mouthwatering with juicy sea salt hints in each bite.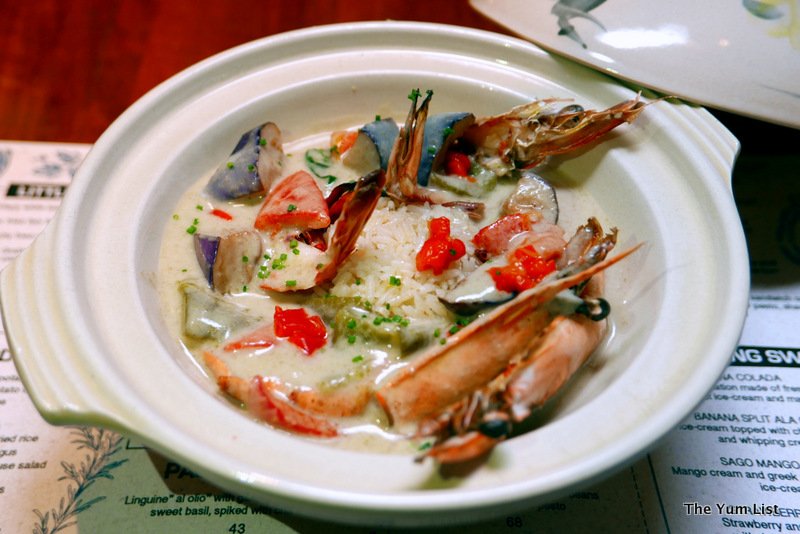 At Fisherman's Cove, it is evident that Chef Wai is having fun experimenting with a variety of Asian ingredients with quality seafood as the base. Having said that, the next plate that arrived was a take on a local favorite: Singapore Chili Lobster (RM 218), drenched in a firecracker red sauce, the lobster was beautifully prepared oozing succulent flavors. If you don't like spicy foods, don't worry, this dish is carefully thought out with sweet accents to balance the zip of the chili. It was definitely a highlight of the dining experience.
From Singapore chili lobster, Chef Wai see-sawed us back to a simpler dish, Linguine Al Olio (RM 43) served with sauteed seafood, sweet basil and spiked with some chili flakes, this dish was fragrant and the herbs brought the al dente pasta to life. The fresh and softly sweet mussels on the side added a nice accent to this creative pasta dish.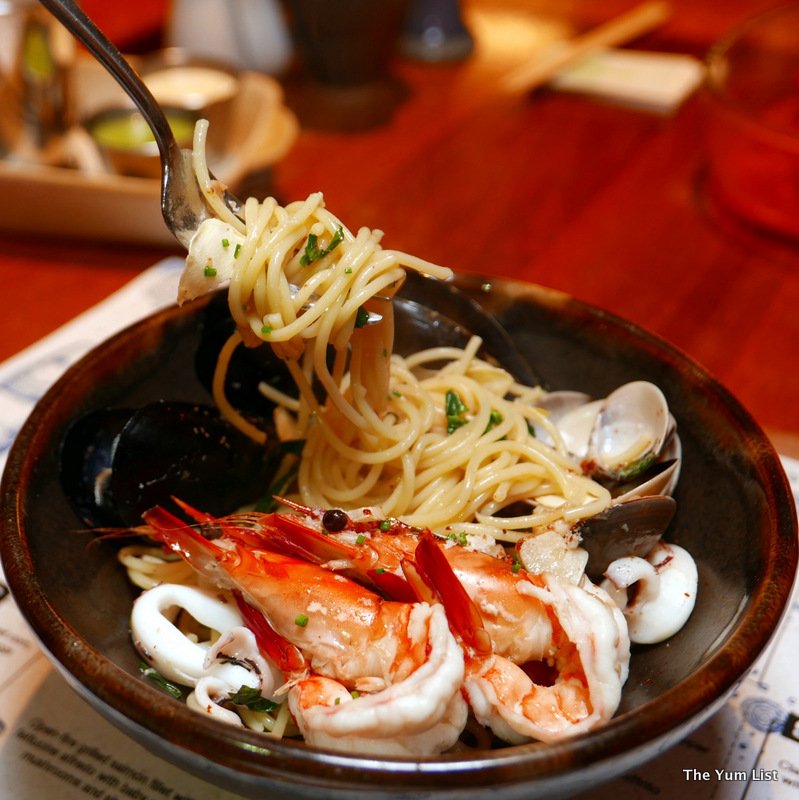 You may be wondering where the actual fish plates were in this seafood spectacle. Chef Wai ended with a bang, serving us Salt Crusted Seabass (RM 138) baked with fresh herbs and served with a mesclun salad alongside. This beautiful dish was misleading as when set down in front of us it looked like a cake stuffed with something mysterious on the inside. After the initial presentation, the fish was whisked away to break open the casing revealing moist white flesh. The salt crusted cooking method helped trap the moisture, creating luscious tender fish.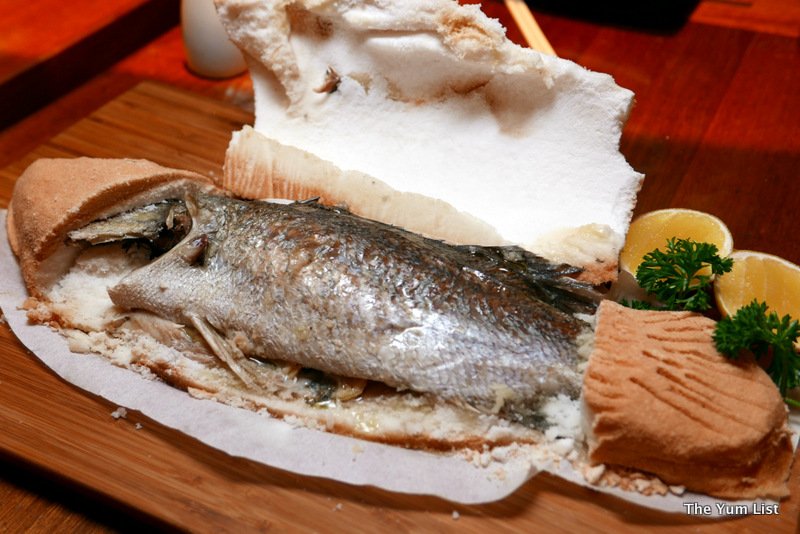 Following the savoury line up, we were looking for a simple ending to the meal, and a trio of desserts gave us exactly that. An attractive Pina Colada (RM 20) sundae dished up homemade coconut ice cream atop a fresh halved pineapple, with a tropical sauce and a touch of fun in the form of fluffy marshmallows (also made in house). Fisherman Cove's Signature Creme Caramel (RM 20) was adorned with sugared blueberries and strawberries, and each spoonful had lingering hints of creamy toffee and roasted almonds. And, lastly a traditional Banana Split (RM 20) was enhanced with a caramelized banana and crunchy chocolate cookie bits.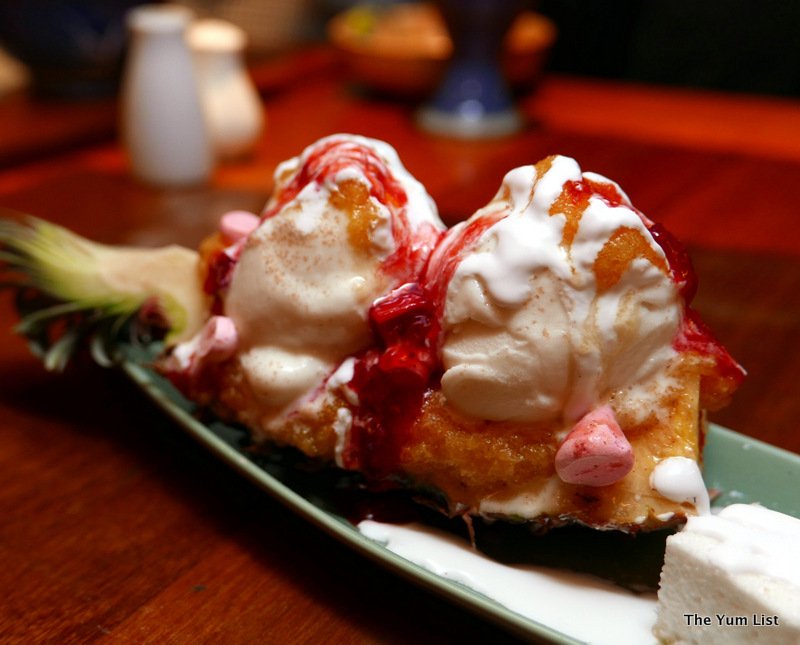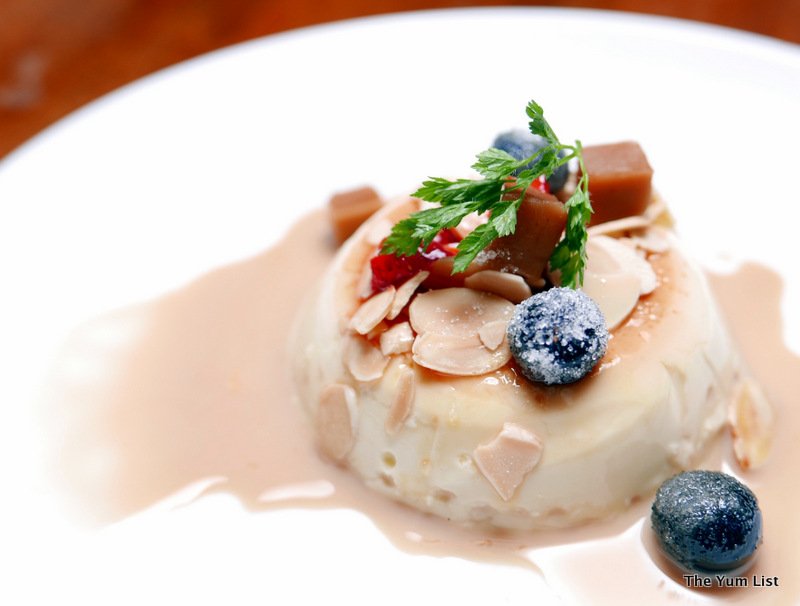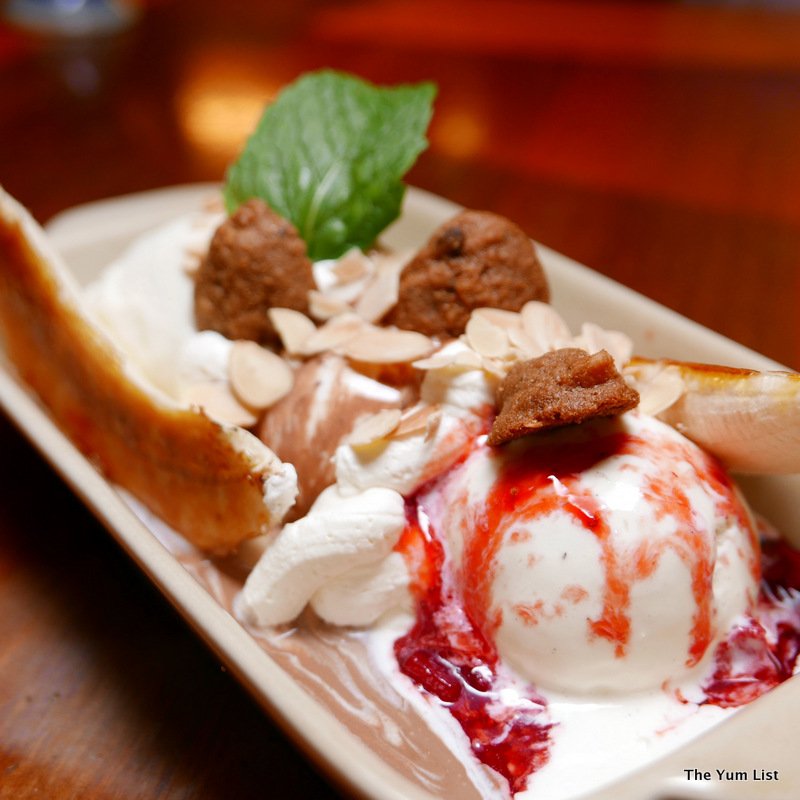 What once held a reputation as a high-priced out-of-most-people's-league dining destination, pleasantly turned out to be good value for money with quality dishes and friendly service. Seafood fans should take note and mark their agendas for a return to Fisherman's Cove.
Reasons to visit: Cosy and themed setting; Hirata Buns; Salt Crusted Seabass; Singaporean Chili Lobster; Pina Colada dessert.
Fisherman's Cove
Starhill Gallery, 181, Jalan Bukit Bintang,
Wilayah Persekutuan
Kuala Lumpur, Malaysia 55100
+6 03 2782 3848