Words: Claire Matheson    Photos: Monica Tindall
Oozing with charm and charisma often found lacking in their big, mainstream counterparts, suburban Speakeasy bars are popping up all over KL. And it's no wonder. They provide a cool and funky alternative, and a welcome escape from the frenetic city. Originality abounds, not only in the drinks and food but also in the décor; and the chilled-out vibes make you want to stay and hang out for just one more drink.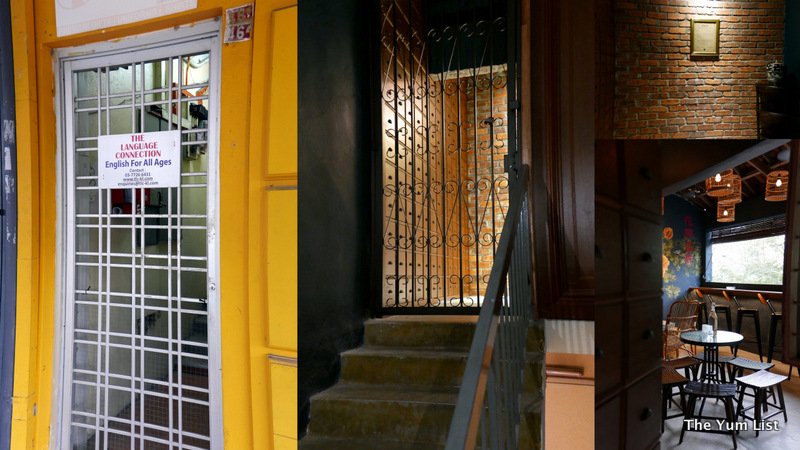 The inspired team behind the Private Room have done it again. Their newest venture, a few doors down, is coined Pawn Room and is a celebration of all things valuable from yesteryear. A vintage antique store collection of Chinese and Malaysian heritage, you can even hock your retro treasures, or trade your services in exchange for cocktails. Old record players, vintage jewellery, or a few hours on washing up duty – if it's of value to them, it's worth a cocktail or two for you!
Hidden up a few flights of stairs, the camouflaged door of apothecary drawers opens to reveal a startling room of deep indigo walls and splashes of colour in gold and magenta painted peonies. The garden theme is echoed in ceramic Chinese drums and cushions adorned with birds and flowers. Traditional rattan armchairs surround glass tables laid out with kitschy flower motif tumblers, just like the ones your grandmother would get out of the cupboard for the 'good visitors'. A wooden bar ledge by the balcony window offers prime position to watch the hustle and bustle of the street below. Bamboo bird cage lamps complete the scheme with exposed rafters giving a feeling of space and secrecy.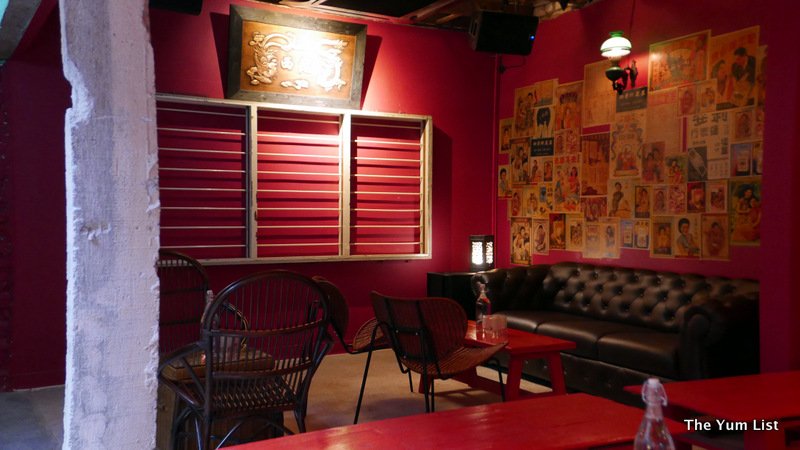 In the next room, an eerie, opium den red glow illuminates row upon row of lion head door knockers adorning more apothecary drawers. Lit from below, their leering, toothy grins smile knowingly, baring silent witness. Between the red sliding barn doors with their frosted glass louvres, bench seats and more Chinese ceramic drum stools provide ample seating with smaller bar tables sectioned off by beaded curtains. Most startling of all, a large claw foot bathtub sits, throne-like, in the middle of the floor. A jarring conversation piece, it serves as Instagram shot of choice at the start of the evening, progressing perhaps to drunkard's bed chamber at the close of business.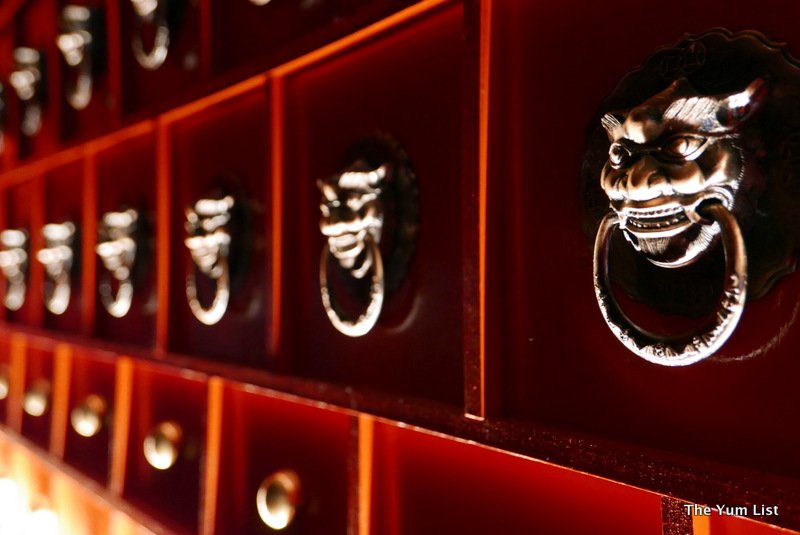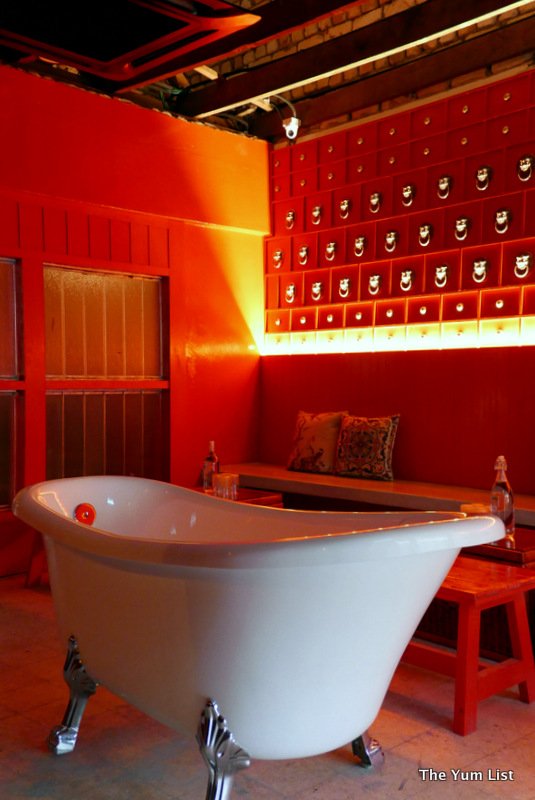 The final room is bright and airy, containing the bar. An elevated DJ platform sits under a sizable skylight next to a wooden bar. Teal green and magenta painted walls are both soothing and vibrant, highlighting the ornately carved red Chinese lanterns, antique paper parasols and vintage green rattan bar stools. The opposite walls are covered with vintage oriental 'Mad Men'-esque advertising posters from the 1950s and 1960s, with beautiful girls in Cheongsams, beckoning you to buy their cigarettes, washing powders and face creams. Exposed rafters and floral ceramic drum stools mirror the themes throughout. A further private room hides out the back, with more vintage décor and accents of gold for a touch of retro glamour.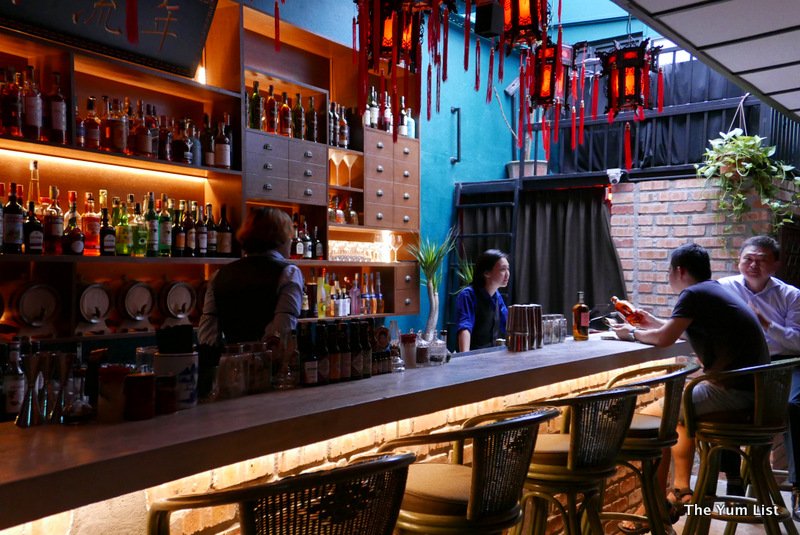 If interior design that wows is not your cup of tea, then the drinks certainly will, particularly the Chinese Cinderella (RM36) served in an actual tea cup. Brewing quietly behind the bar, the smell is spicy and comforting. It is served warm, the smokiness of black dates mixing with the citrus-like tang of liquorice layered over Tio Pepe Fino En Rama Sherry, Carpano Bianco Vermouth and a touch of elderflower liqueur. Aromatic and heady yet soothing, it reminds me a little of a hot toddy.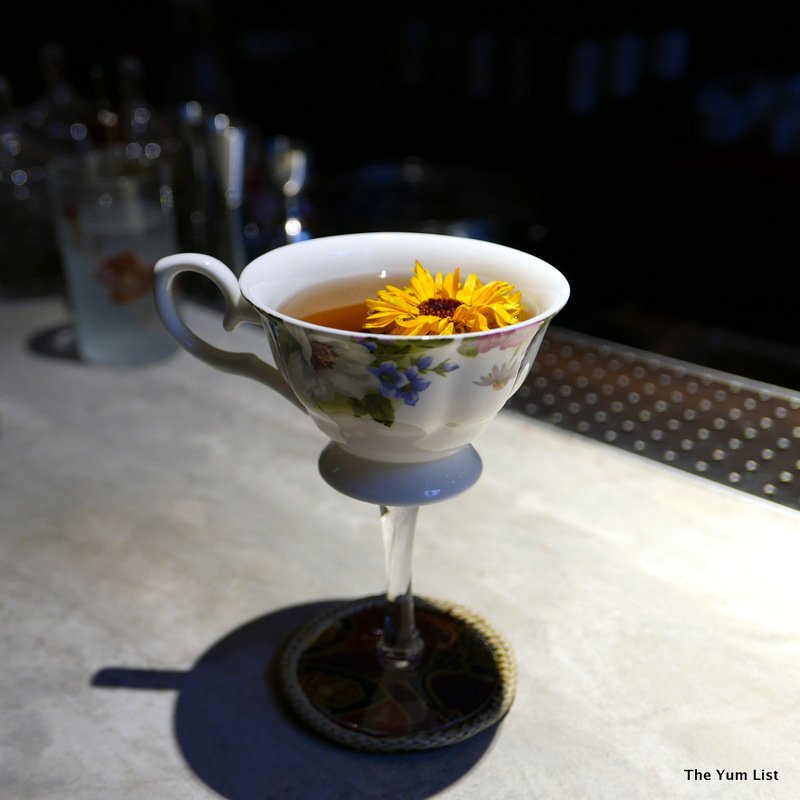 For something completely different, we opt for the floral Bunga Kaseh (RM36). Fragrant pandan syrup, chrysanthemum juice and elderflower liqueur are teamed with Tanqueray gin and topped with dried chrysanthemum petals. Sweet at first, the flavours develop into a woody hardiness with a subtle toasted smoky backdrop.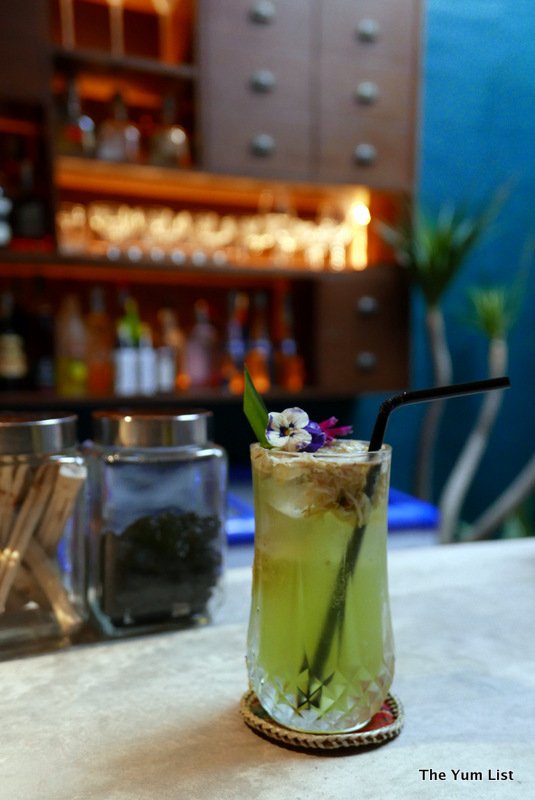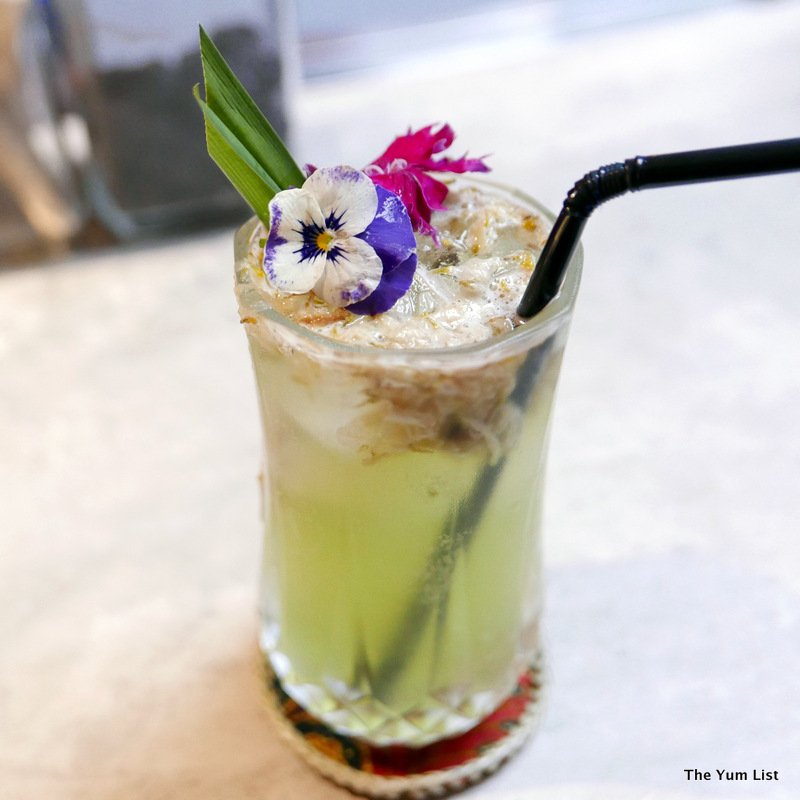 For an in-between drinks snack, The Pawn Room's homemade Spring Rolls are great to nosh on. A soft and fluffy inner of bean sprouts, carrots and turnips is encased in crisp pastry with a tomato chilli sauce for dipping. Simple, humble and delicious!
Like all good hidden cocktail bars, the best drinks are always off-menu, made to order through the experimentations of talented bartenders. We try the 'off-menu' Smokey Old Fashioned (RM45). Some would say the Old Fashioned is the perfect cocktail and alteration is desecration, however, considering the original was usually taken with a cigar or cigarette, adding woodchip smoke to the concoction of rum (or scotch or rye whisky to suit your preference) sugar and bitters, is a marriage of true minds. Served over a single large ice cube, this is a refined drink, for suave people who like their smoke smooth, with a touch of flair.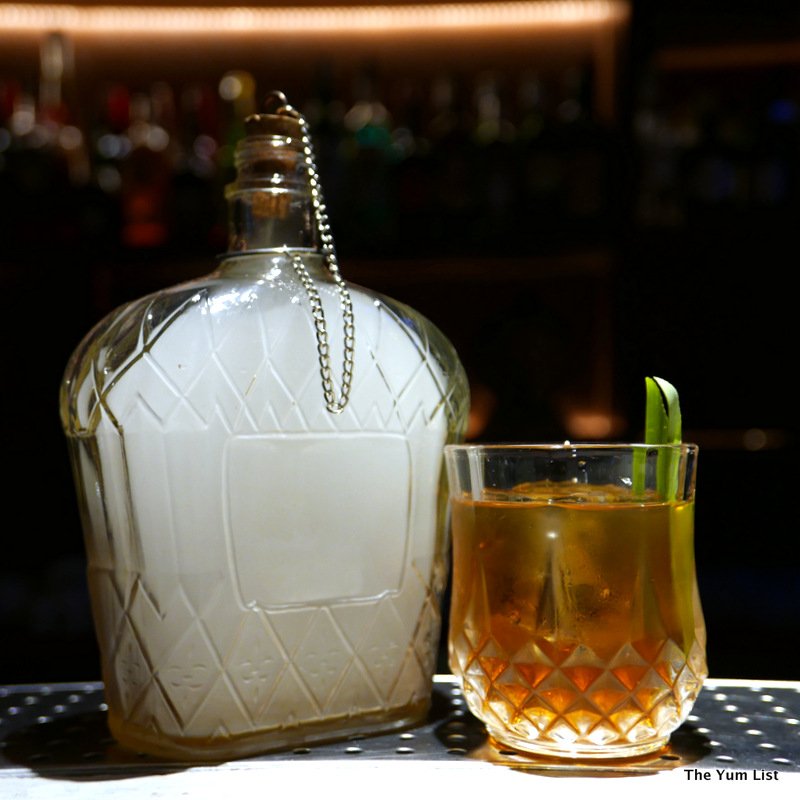 Mr Darkside (RM45) is the 'off-menu' version of the fruity, gin-based Mr Brightside, with an addition of chilli to convert this angel to darkness. Strength of chilli heat is made to order. Tanqueray Chartreuse Green, spicy gingerbread syrup, floral and light elderflower syrup, sour and sharp yuzu juice, citrusy fresh Lime juice, distinctive kaffir lime leaf, and creamy and foamy egg white make this a light, refreshing and slightly sweet cocktail, perfect for hot, lazy days. The heat of the chilli gives lovely balance and stops you from drinking it too quickly.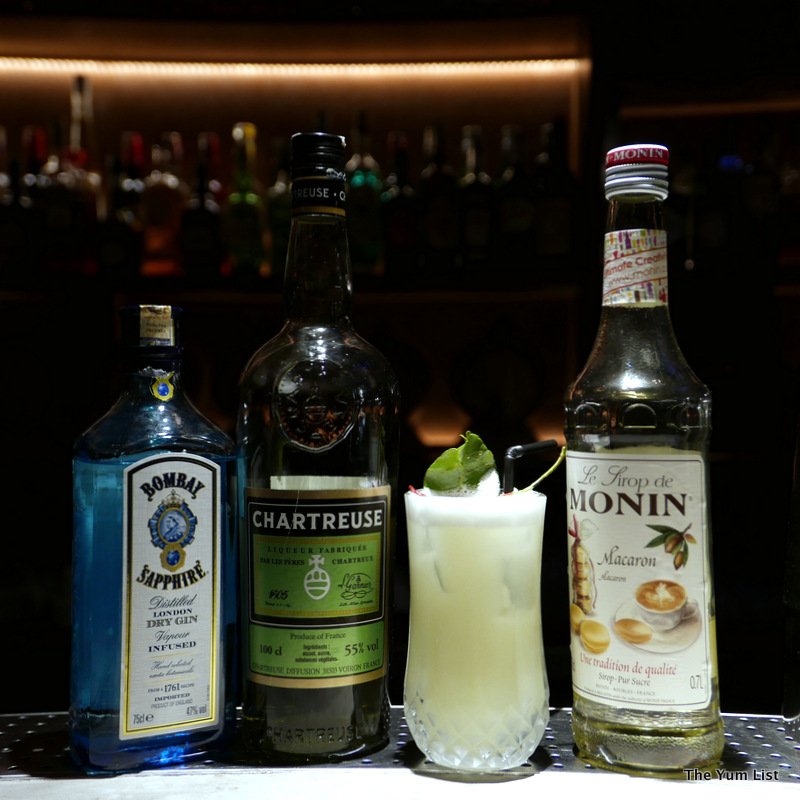 For dessert we try the sweet and milky Bean of Life (RM36). Served in a pre-chilled bowl, Hennessy VSOP Cognac is combined with red bean juice, cream, vanilla syrup, big heapings of red bean paste, and one of my favourite after-dinner liqueurs: orange and bittersweet Amaro Montenegro. For those after a creamier, sweet concoction and for fans of red bean, this will delight.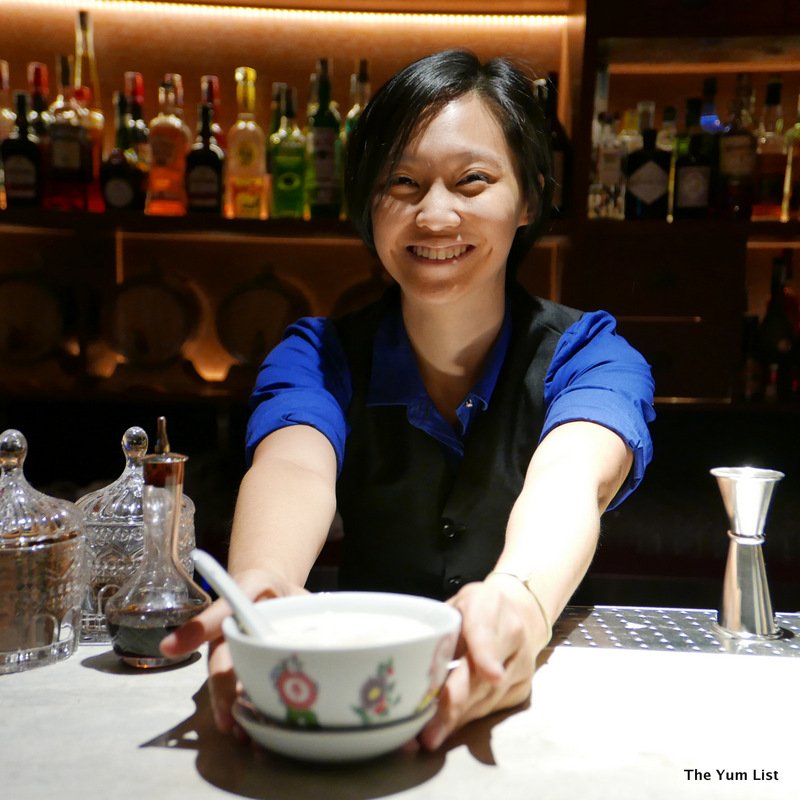 The Pawn Room's drinks menu is designed with oriental flavours and ingredients and a sense of daring originality. They also have a range of barrel aged cocktails from signature house bartenders and collaborating guest mixologists. Each barrel has a surprise cocktail inside, revealed through tasting alone, with only the bartenders name on the outside. For the fanatics who follow their favourite bartenders around KL, and KL has quite a few talents on the scene, this is a big drawcard.
Retro chic, vintage flair, and an effortlessly cool homage to KL's heritage, The Pawn Room is a unique treasure that stands out from the crowd. Keep your eyes peeled for the next TPR Team venture – a new restaurant in the same location, set to open in 2017.
Reasons to visit: From the menu, the Chinese Cinderella was unlike anything we've tasted before. From off-menu, Mr Darkside was everything you want in a drink, but the real winner was the Smokey Old Fashioned. Like everything at The Pawn Room, they do old fashioned (with a twist) so very well!
The Pawn Room
46 Persiaran Zaaba
Taman Tun Dr Ismail
60000 Kuala Lumpur
Malaysia
+6 013 483 8863
www.facebook.com/tprttdi/