Words: Patricia Podorsek    Photos: Monica Tindall
With so many sad headlines in the news these days about Syria, it's nice to hear a story about Syrians that doesn't break your heart. So here's one for you today. Three young Malaysian women – Suzanne, Swee Lin, and Kim – have created The Picha Project, a social enterprise that benefits refugee families in Malaysia by providing lunchbox and catering services to local universities and businesses.
Begun just last January, The Picha Project got its start after these three friends had been volunteering with refugee youth in KL, holding tutoring classes at the university where they were enrolled. At a certain point, they recognized that a number of their students had stopped coming to classes. An inquiry led them to see the economic challenges that many refugee families face, needing their teenage children to take jobs to contribute to family needs. After visiting some former students in their homes, they developed the idea of using the cooking skills of the families to provide income that would allow their children to stay in school longer. And that is how the Picha Project was born.
Our introduction to the work of the Picha Project began with a trip to the flat of one family, currently living in Sri Kembagan. Like many Syrians who have suffered the heartaches of civil war, Rania and Saad arrived to Malaysia three years ago with their now four-year-old son.They miss their home and family, but their adoption by The Picha Project has given them an opportunity to reshape their lives and become a stable part of the Malaysian economy.
With cooking experience brought from Syria, Saad began our taste journey with a whole roasted chicken served over a bed of rice and vegetable pilaf, garnished with roasted peanuts and cashews. In addition to being beautifully presented, the bird was moist and tender, seasoned with a hint of lemon and cumin, and home-y in both flavor and presentation.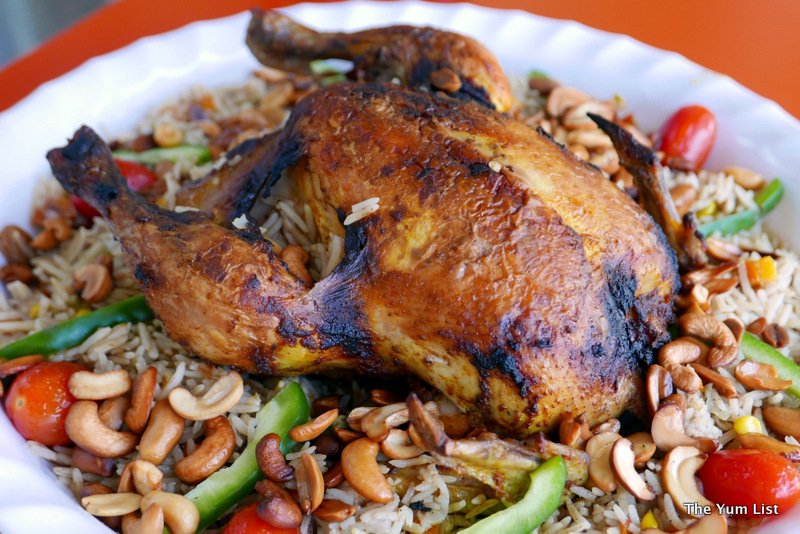 With similar homestyle flair, the biryani arrived next with two chicken legs and the deeply-entrenched whole spices this rice dish is known for, including cardamom, cloves and black peppercorns. All the kitchens used by the Picha Project kitchens are guaranteed to be pork-free and all the meats are prepared by halal butchers.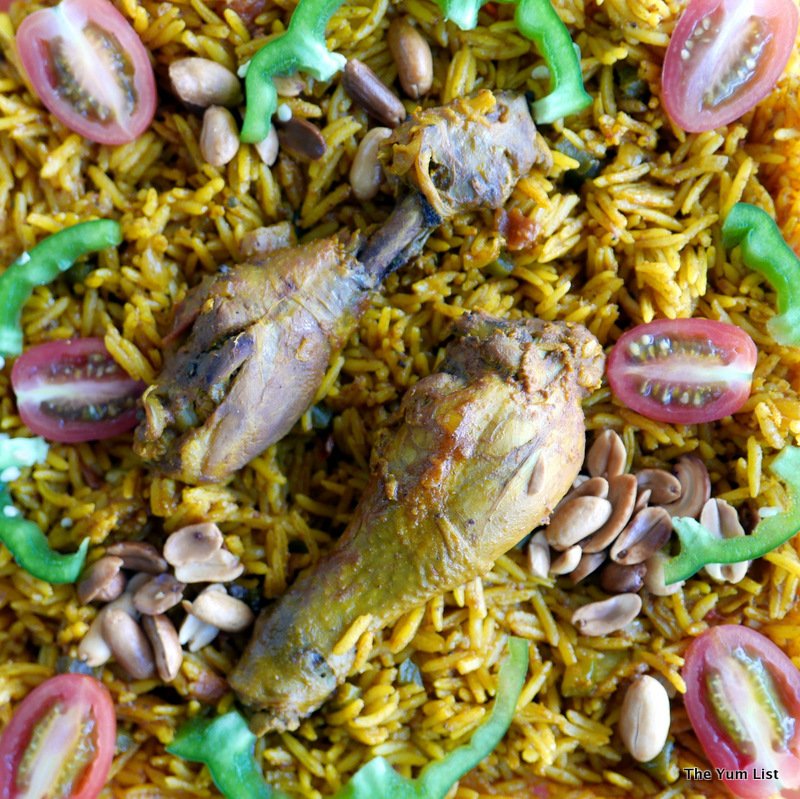 How did our three friends select the name of their business? 'Picha' is the name of the youngest child of the first family they signed on to their project, an ongoing touchstone of their mission and the human side of their work. According to their website, the name is "a constant reminder for us to continuously strive and work towards creating a better Malaysia, where marginalised groups will be included in the society and economy of the country." A noble ambition, indeed.
Rania and Saad next presented us with lamb-stuffed baby aubergine. Bathed in a rich tomato sauce, these tender packages were served atop a bed of fried seasoned pita chips. The hint of cinnamon in the chips and the tang of the tahini sauce on the side reminded me of the Mediterranean cuisine in my neighborhood growing up. This is homestyle cooking at its finest.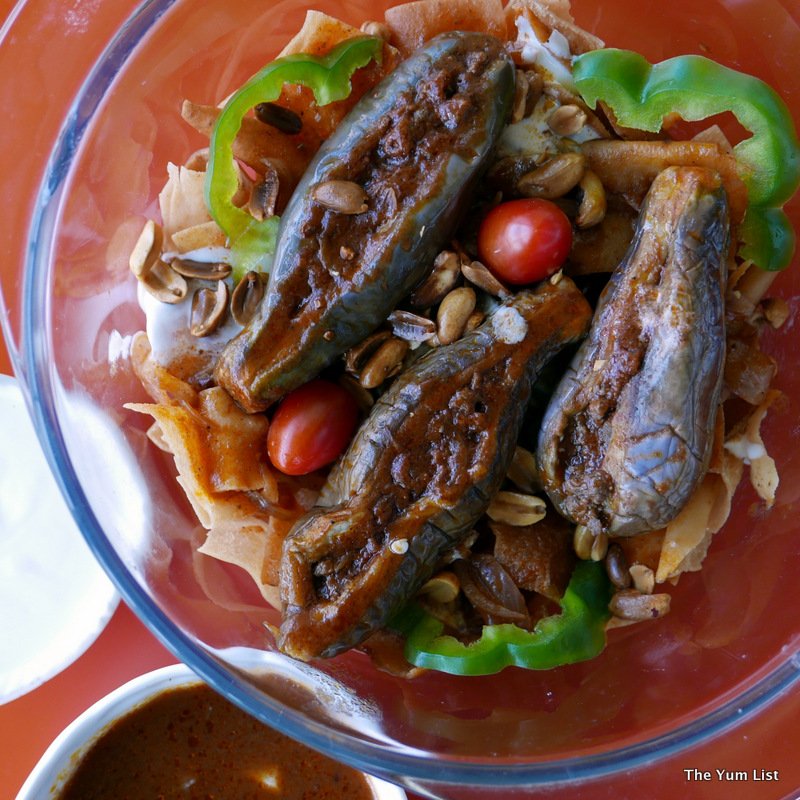 To satisfy our vegetarian taste buds, a colorfully stuffed pumpkin arrived. This edible bowl held seasoned pilaf topped with roasted peanuts. The firm texture of the scooped-up pumpkin provided a nice contrast to the rice and a flavorful taste companion as well.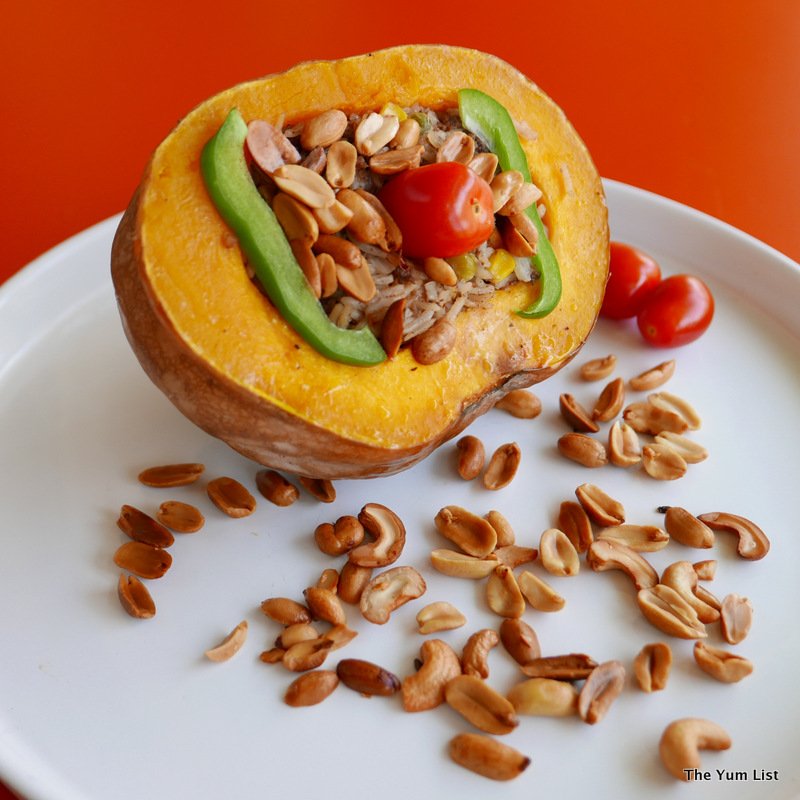 Finally, no Middle Eastern meal is complete without a side of creamy hummus. Topped with cumin and a generous pour of olive oil, this staple provided excellent balance to the mains.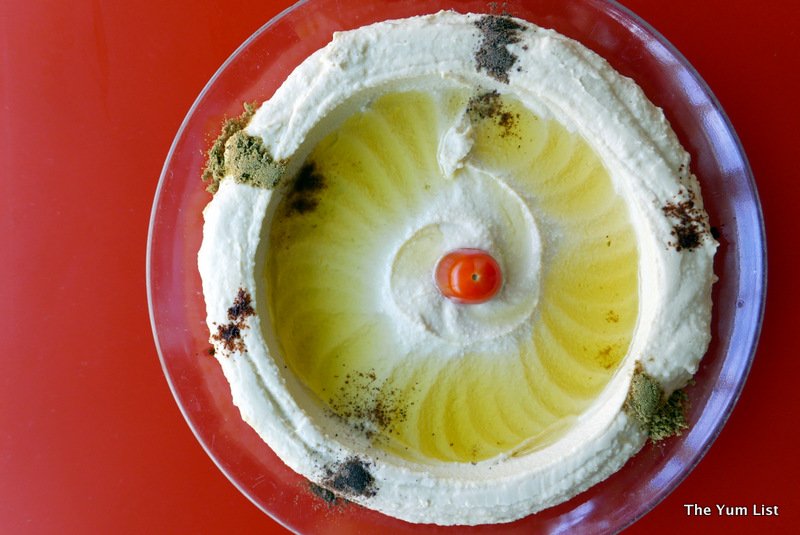 While all the cooking is done in the kitchens of refugee families in KL, the ladies of The Picha Project work to market, package, and distribute their delicious menu items. What began as a lunchbox delivery service has grown to include catering events of up to a thousand people. To order, simply call or email ahead of time, two to three days for lunchbox delivery, one week for catering events. Prices run between RM10 and RM20 per person, depending on the order.
As for drinks options, currently only mineral water and packaged drinks are available, but they are looking to expand. To this end, we sampled a delicious fresh-made tamarind juice, tangy and cool over ice. Other beverage experiments involve coconut, cinnamon, lemon, and mint. Look for these on upcoming menus.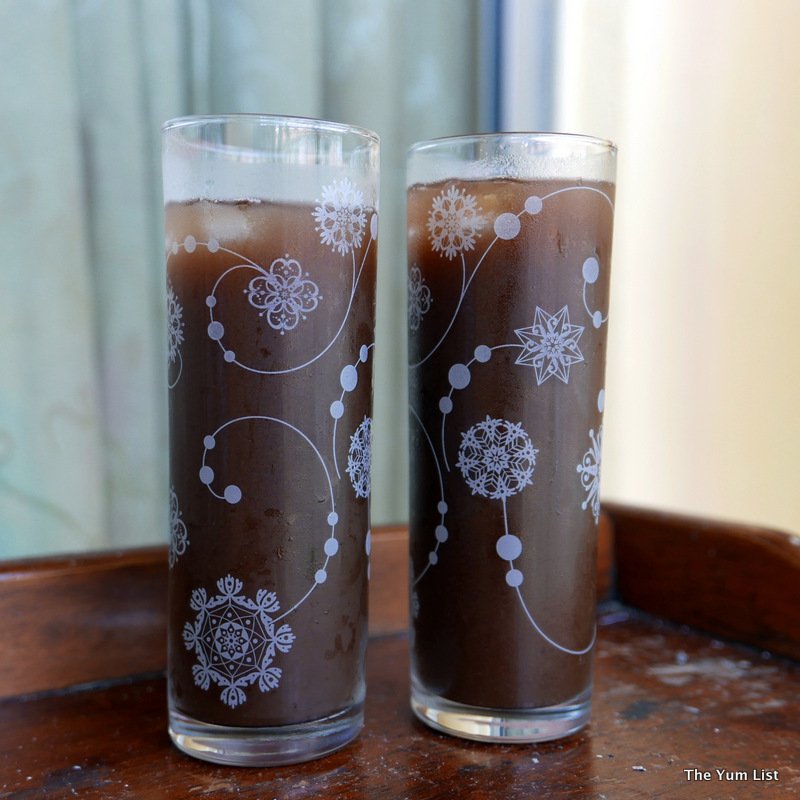 Middle Eastern menus like the one we sampled are merely one path among the food journeys made possible by The Picha Project. Our three friends have harnessed the cooking potential of a Rohingya family, an Afghan family, an Iraqi family, and a Burmese family. Taken together, no lunch palate could possibly grow stale, no event menu grow tired!
To close our time with Rania and Saad, dessert arrived with a set of creamy eggs tarts, their smooth texture encased in a crisp, flaky pastry. These delicacies were followed by a plate of almond biscotti, double-baked into festive shapes, ready for a dip into tea or coffee. Like honored guests, we delighted in the conversation about our children, our traditions, our lives.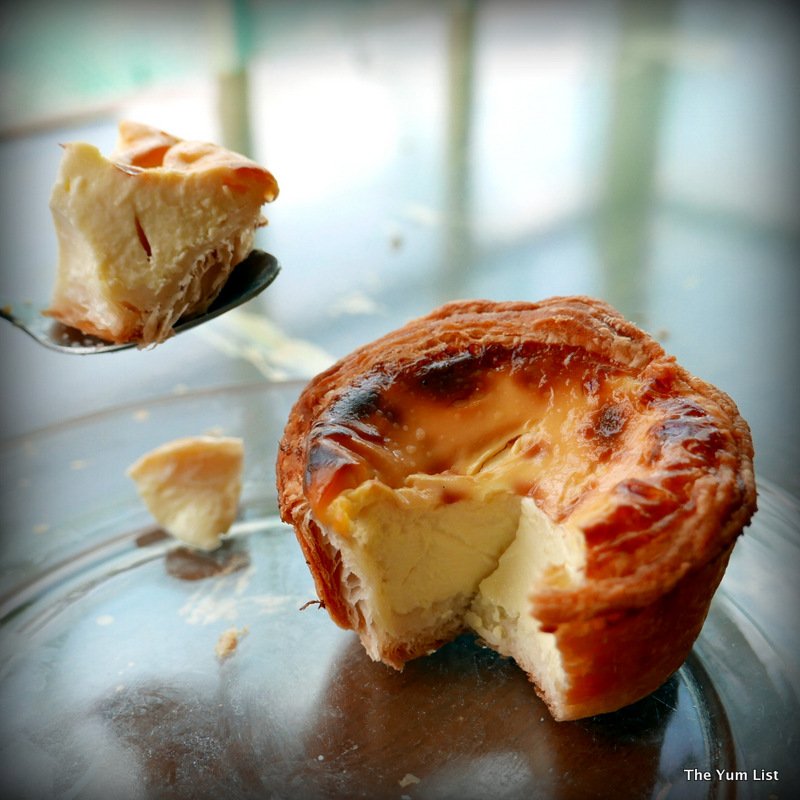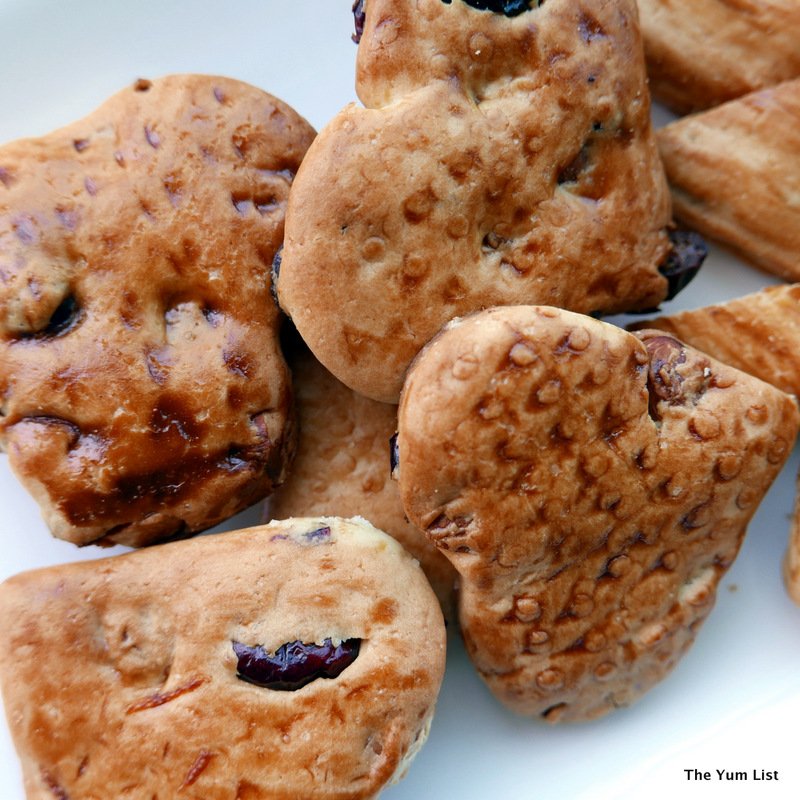 The heart-breaking news stories of Aleppo and other war-torn places can be demoralizing, and it can be easy to marginalize our emotions as well as the victims of such tragedy. But three young women in Malaysia are doing their part to mitigate the effects of these horrible histories. You can, too, by choosing The Picha Project for your next lunch meeting or social event.
The Picha Project
Persiaran Apec
63000 Cyberyaya
+6 012 679 4353
www.pichaproject.com