Words: Nadia Khan      Photos: Monica Tindall
Don't be fooled by its name. This establishment has nothing to do with greasy tracks or cars, but has everything to do with value-for-money meals and is what I like to call, a mini Nutella heaven!
Situated along a row of shops within the same vicinity of the Sunway College campus, the first thing I noticed was the outdoor graffiti art along its dark grey exterior which just oozed the cool factor.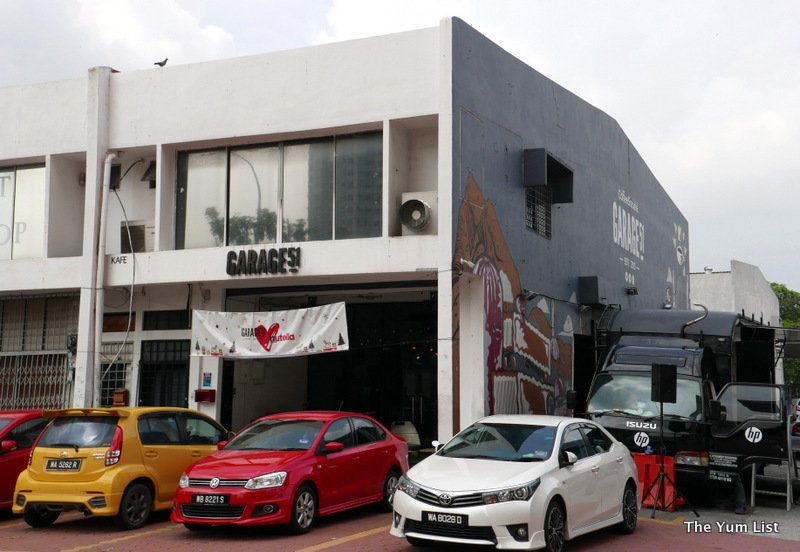 Garage 51 first opened its doors in 2013. Upon walking in, I am immediately drawn to its open space, the amount of natural light that flows in through the large windows and the high ceilings with minimalistic steel bars running across with light bulb fixtures strung off them. I was pleasantly surprised to see they had a second level for additional seating; a clever use of space if you ask me.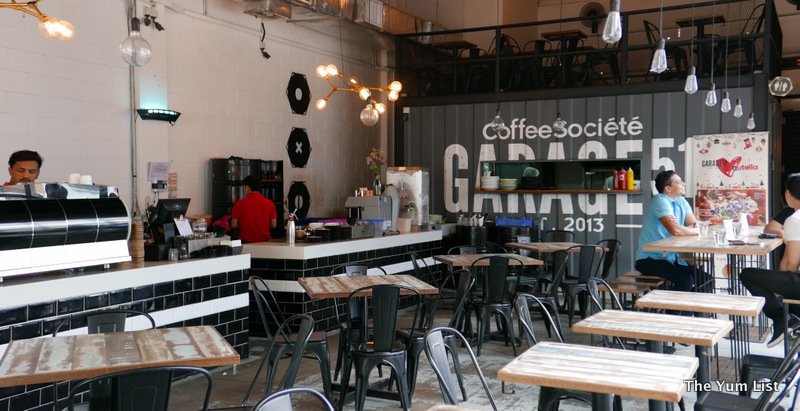 We meet Kar Wai and Kar Heng, owners of Garage 51, but also the Malaysian brothers behind Coffee Société. Now as Monica would say, "Malaysia owes these two a very big thank you for redefining the KL coffee scene!" It was no easy feat. With a vision, ahead of the market, many Malaysians were hesitant to pay anything more than RM2 for a cup of coffee. After all, these guys were competing with the mamaks and larger chain franchises. However, equipped with determination and a passion for the laidback coffee culture, the duo stuck to their guns (even when times were tough) and now they own a few outlets around town – Coffee Société, Garage 51, and Underground Société. Not forgetting that they have their very own blend of expertly composed coffee beans!
Their popular house brand known as the Société blend lays the foundation for their coffee menu. The blend is medium roasted with medium body, has a nutty flavor, is clean and has mild acidity. You can buy 250g of their beans for RM48 or RM90 for 500g. Black coffees go for RM8 and their white coffee range for RM10.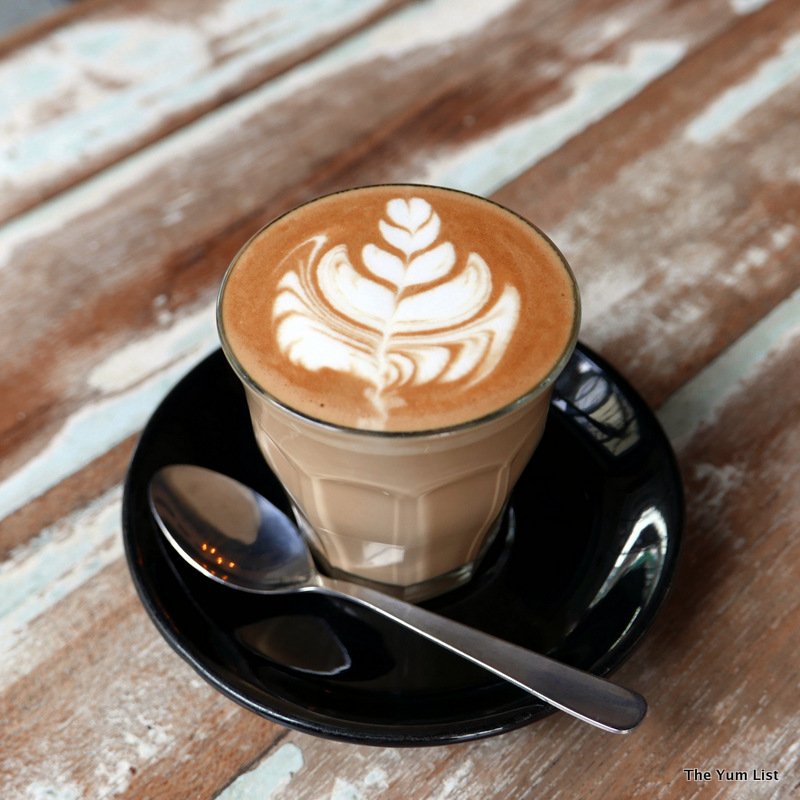 But I was there to try the Garage 51 x Nutella menu, available only until January 2017. One of my favourites on the list is the Mochatella (RM16). The ice cubes are made from their own mocha blend coffee and these cubes are placed into a cup that has a layer of Nutella at its base. Pour in your full cream milk, stir and consume. The fact that it's cold makes this a refreshing drink on a hot day but it's also creamy and rich in flavour. Must try!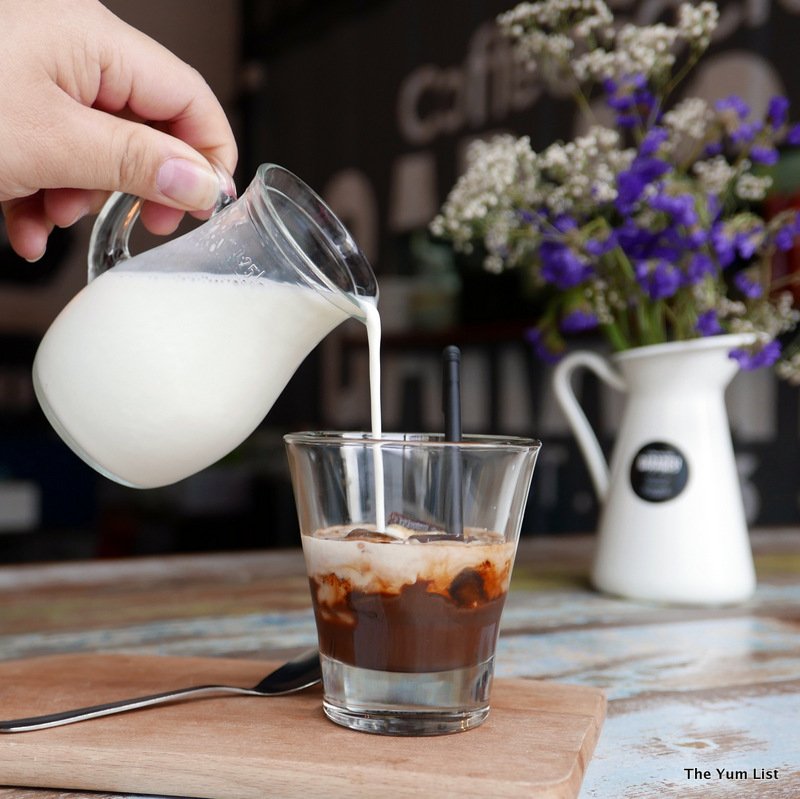 But let's get to the real treat on their drinks menu – their freak shakes! Top of my list is the Nutella Peppermint (RM19.90). With nothing other than mint, milk, Nutella, cream and a cupcake on top, it's refreshing and tastes like Christmas in a drink!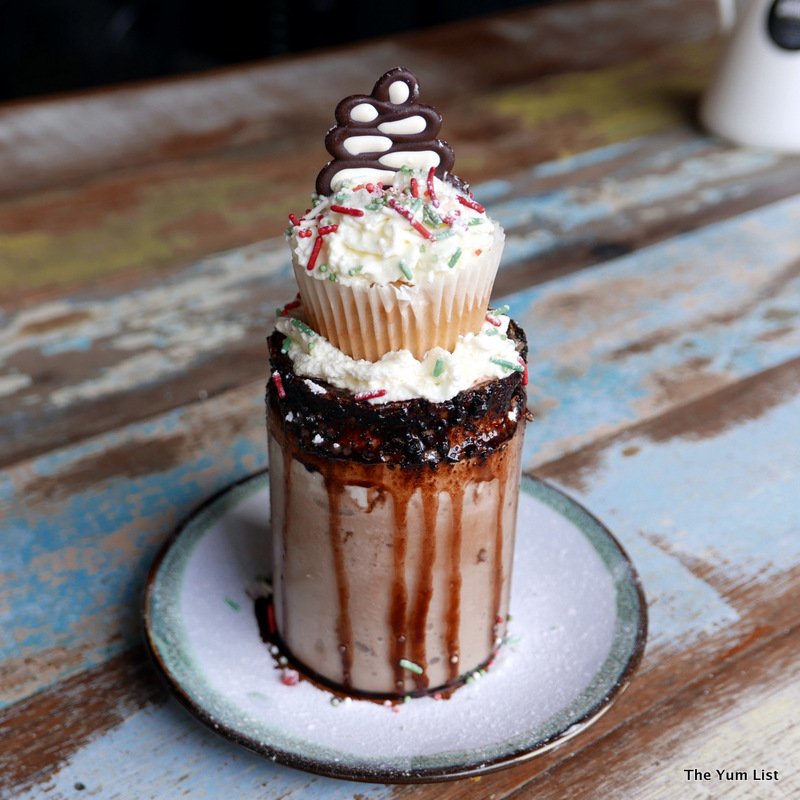 The Nutella Hazelnut (RM18.90) comes with a syringe filled with milk to help dilute the nutty chocolate flavour (if you want). It also comes topped with caramel popcorn, pretzels and marshmallows! Feast your eyes on it and then indulge.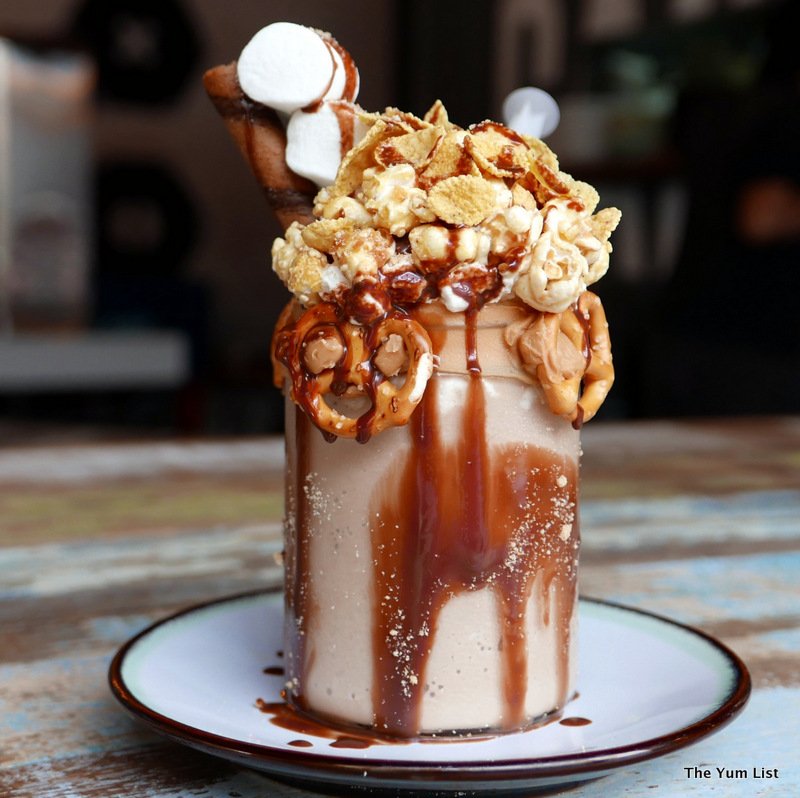 If you're hoping for some meals to be a part of this menu, I have good news for you. You can pick from the Messy Garage Pancake with Nutella (RM18) or the Nutella Burger (RM16).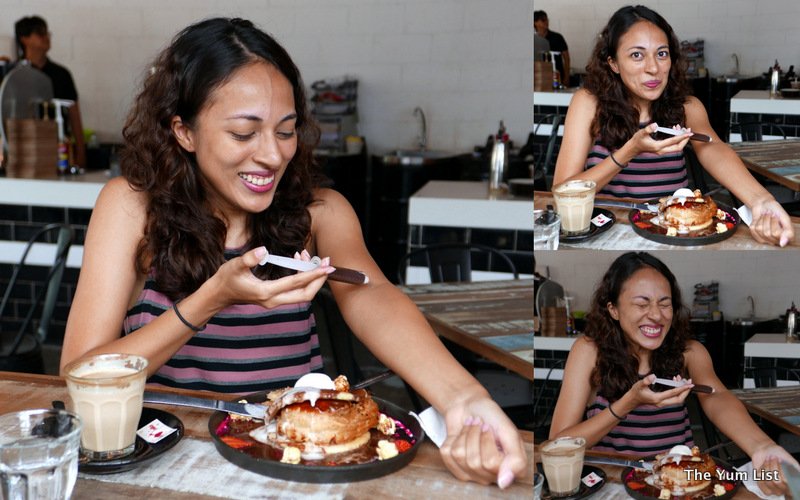 The Messy Garage Pancake boasts cream cheese, fresh strawberries, ice cream, caramel popcorn, cinnamon soil and Nutella. As I get right into it, I'm surprised to see a puff pastry layer between the pancakes. This adds a bit of texture and crunch to the meal, combine it with the strawberries, the ice cream, and the Nutella and it's the perfect bite.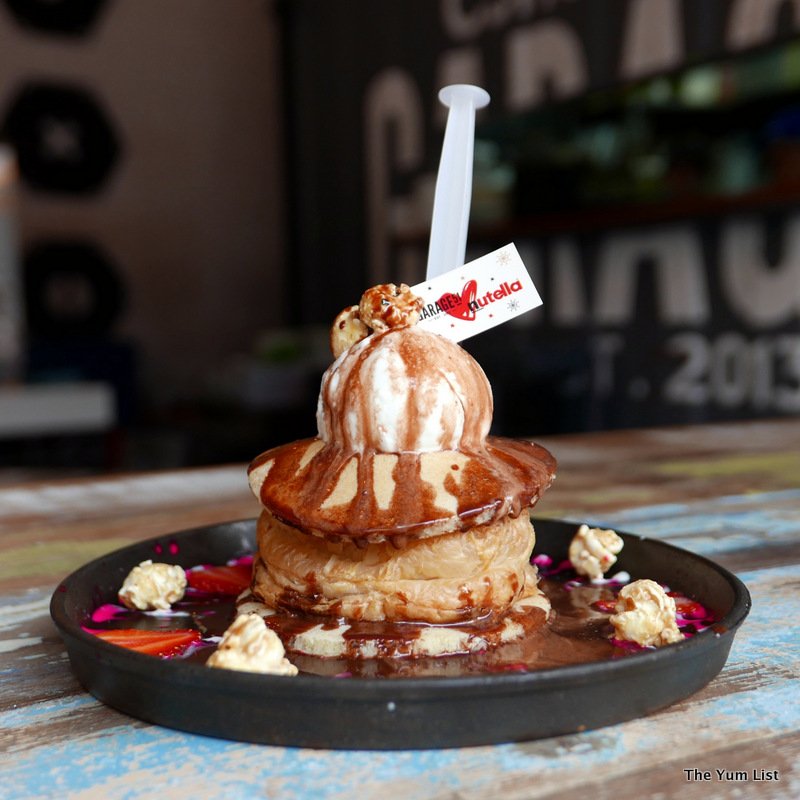 The Nutella Burger doesn't disappoint. Lathered very generously in between two burger buns is Nutella with strawberries and that's it. I sink my teeth into it and the thick layer of Nutella is a mouthful but oh-so-good. It also comes with fries, so there's a mix of sweet and savoury in this dish. Be warned though: only for serious Nutella fans.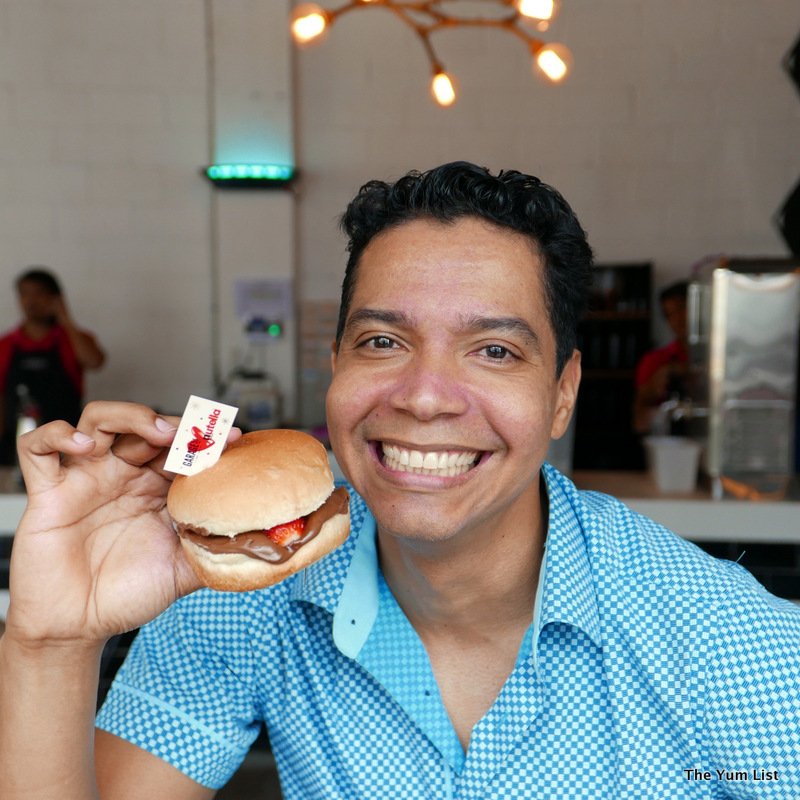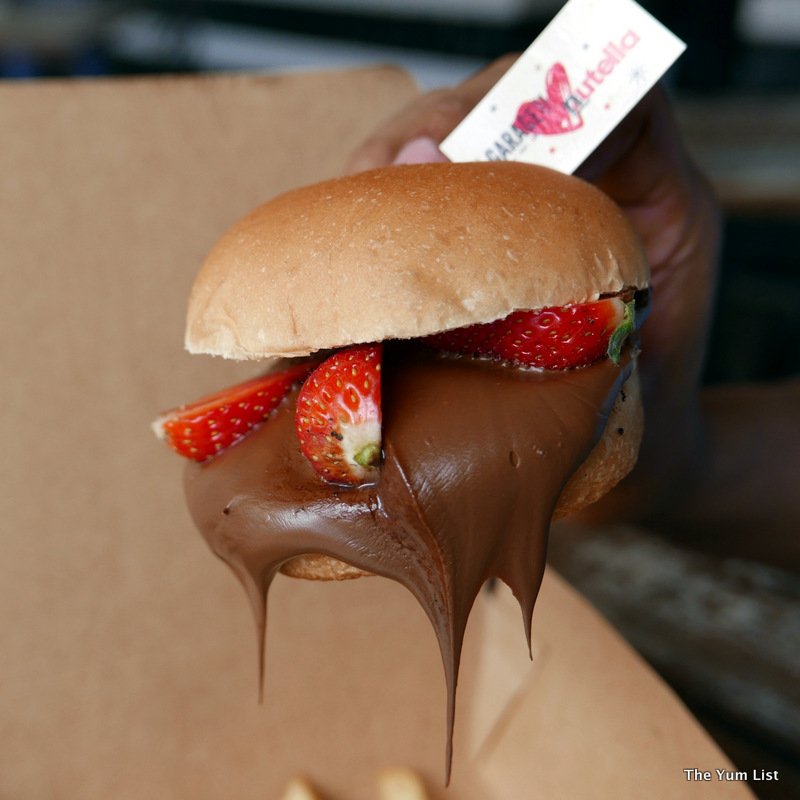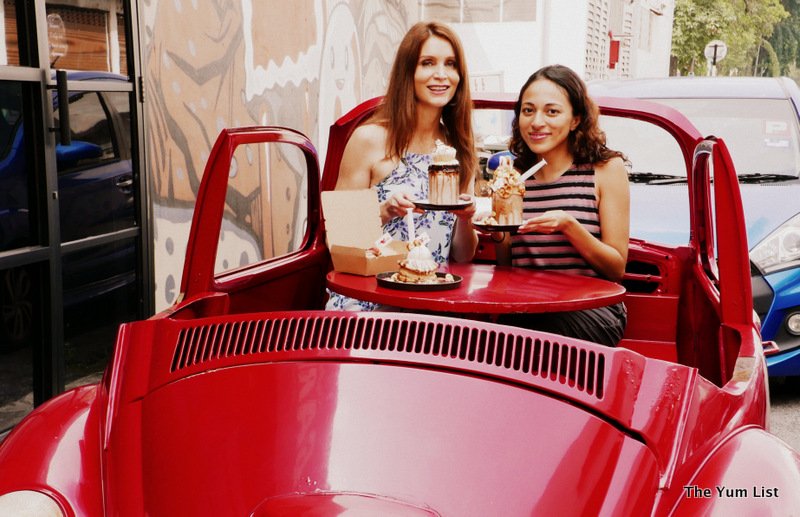 I also had the opportunity to try their Chicken Breast Burger (RM23) that comes with Rosemary fries and oh my god, the chicken was absolutely tender. When it first came out of the kitchen, the first thought I had was "wow that's huge". Definitely coming back for this one.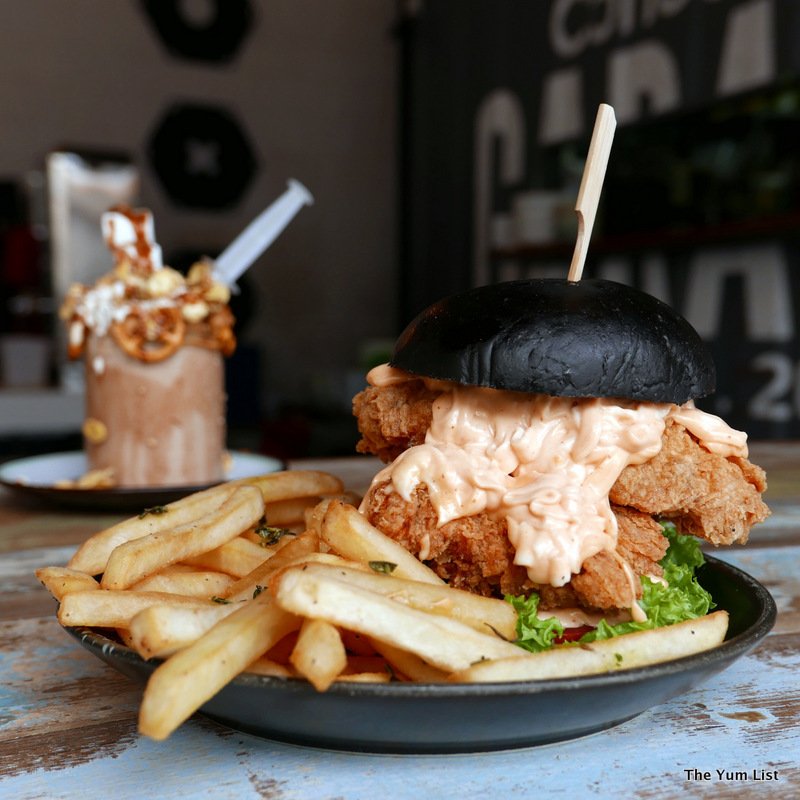 The Chicken Mango Salad with Wholegrain Mustard Dressing (RM12) is a joy! I love the combination of grilled chicken with fresh mangoes, but also, the portion of this dish is huge. Suffice to say, Monica cleaned the plate on her own and I think that says a lot about its freshness.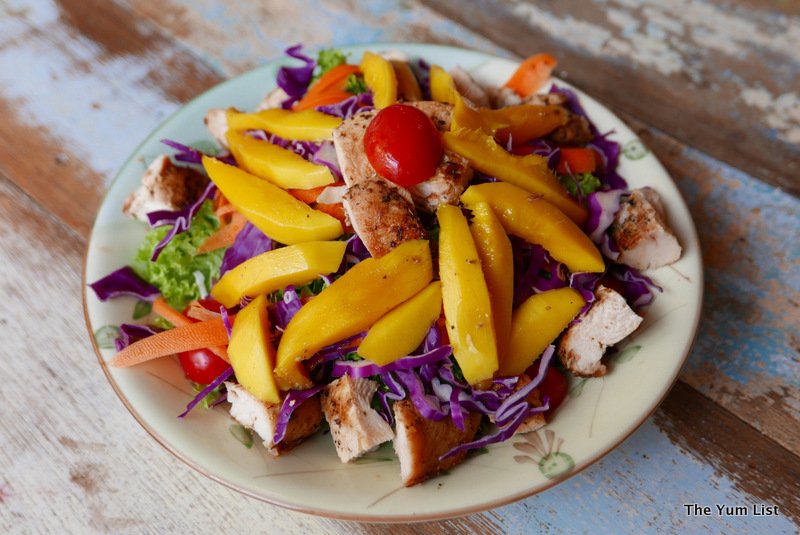 But, why the collaboration with Nutella? Well Kar Wai and Kar Heng explain that they use so much Nutella in their menu anyway, it made sense to reach out to the company. My favourite quote of the day has to be when one of the brothers exclaimed that "Nutella has shaken the world to its core!" Well said (and definitely concurred).
If you order any three items from the Nutella menu, you will receive a limited-edition notebook. Are you up for the challenge?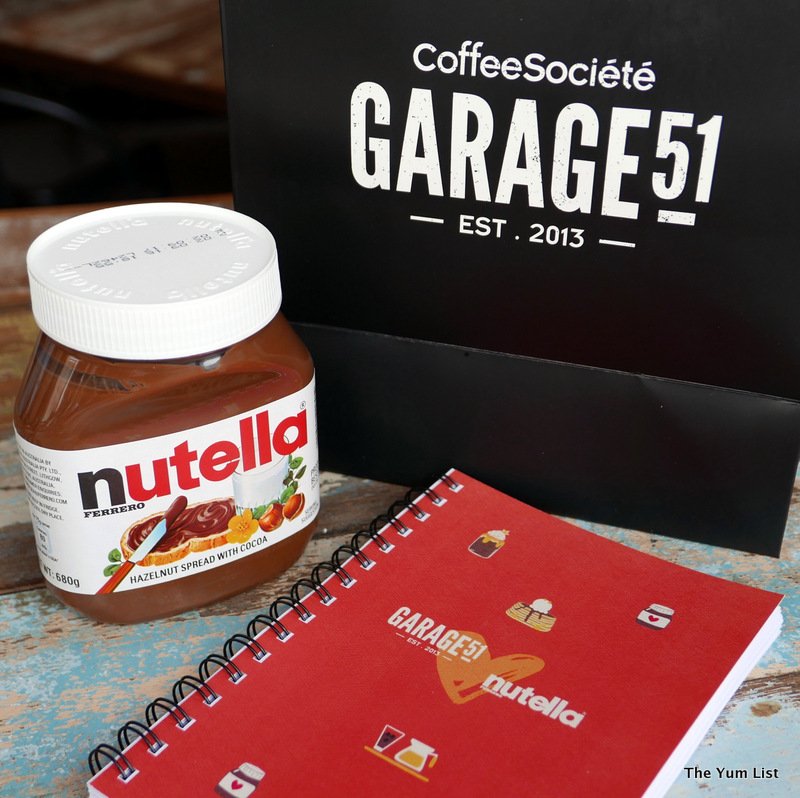 Reasons to visit:  value for money meals and beverages; a crazy Nutella themed menu bound to linger in aficionados dreams for months to come.
Garage 51
51 Jalan PJS 11/9
Bandar Sunway
47500 Petaling Jaya
Malaysia
+6 03 5612 5618
Instagram: @garage51my
[email protected]
www.facebook.com/Garage51MY
Opening Hours:
Mon – Sun, 11am – 11pm