While Gaya Island Resort is home to four restaurants, the gastronome experiences available on the property extend beyond the walls of these outlets. Popular Malaysian resident packages include full board entitling guests to order from menus around the resort. Many guests however choose the island for special occasions such as honeymoons, and others (especially those from Europe) have been known to stay up to 30 days at a time! With these guests in mind, and for gourmet lovers in general, the culinary team have composed a number of distinct epicurean experiences of which I was recently privy to sample a handful.
Sinagang Steamboat
The word steamboat really does not give even an inkling of a hint as to the grandness of this experience.
Imagine the golden light of dusk as you're perched in your own private pavilion, surrounded by thriving tropical gardens with views out over the water. The gentle sea breeze caresses your skin and you're seated at a round table with your very own personal chef and a bounty of vibrant local ingredients. The chef fires up a hot metal grill moated by a hotpot and cooks up the produce in front of you. As the night progresses, the juices from the meats drip down into the broth, and the broth becomes intensely flavoured with seafood and vegetables. You're telling the chef you're feeling satisfied, but can't resist the final addition of noodles tumbled into the brew, soaking up the labours of the evening, and find soon you've managed to polish off every last thread. A glass of wine, a sweet mango sago ending and the evening is complete. Beautiful!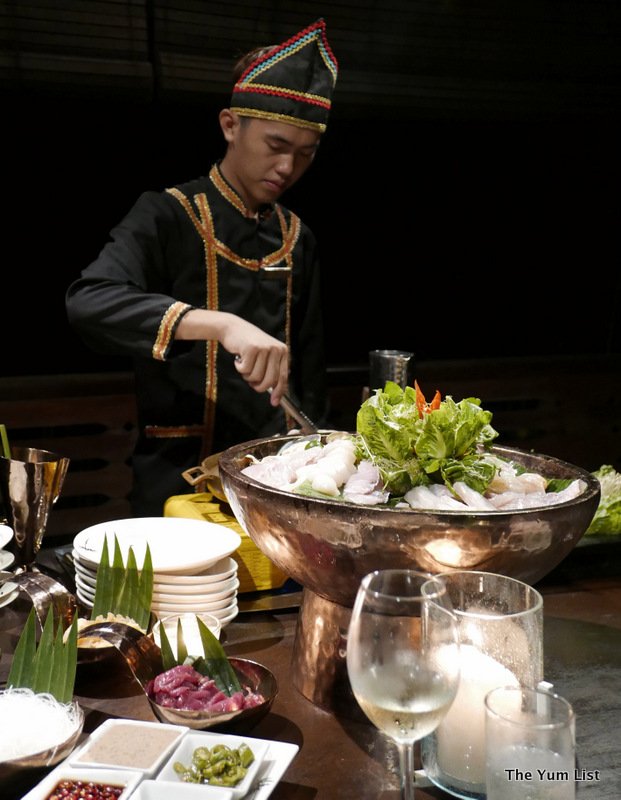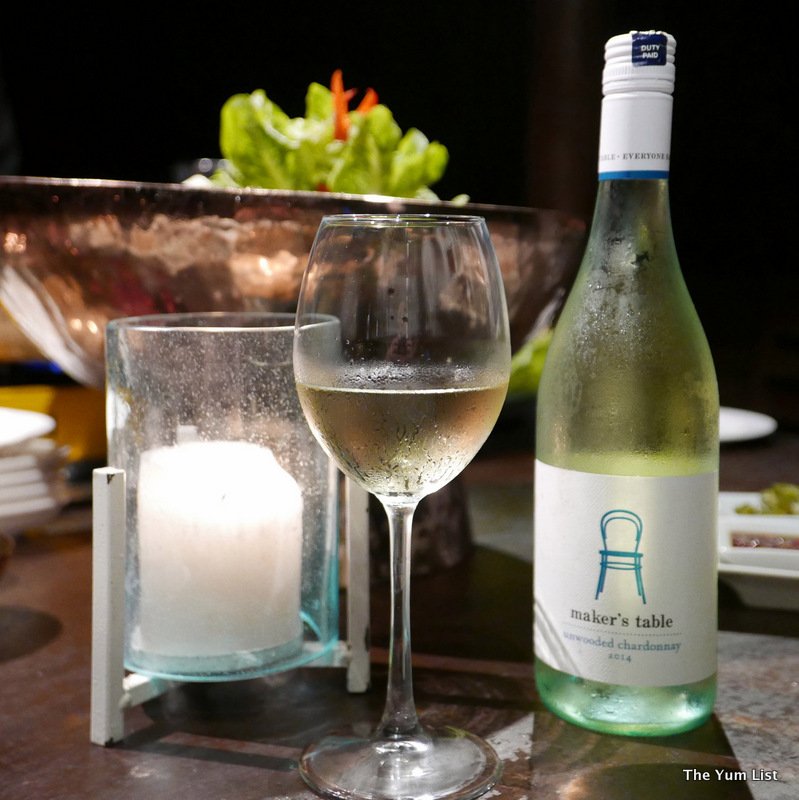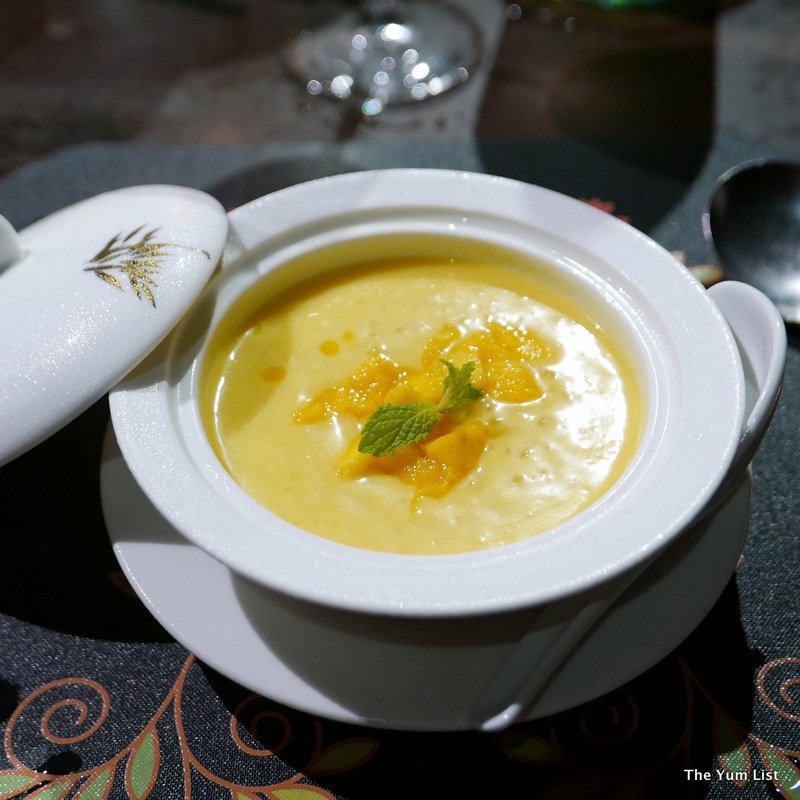 The Borneo Culinary Journey
Abundant in unique flora and fauna, the kitchens of Borneo have long held traditions and a history of delicious recipes dating back generations. The Borneo Culinary Journey gives guests an insight into some local dishes and a chance to try their hand at preparing a three-course meal themselves with the guidance of a local chef. In my cooking class, I learned to make a trio of regional plates: Kadazandusun Hinava, a raw fish salad similar to ceviche; from the Iranum tribe, Piaren Ah Manuk, chicken in grated coconut; and Pinasakan Fish, braised in a lemongrass ginger and turmeric broth. No prep or post washing up required, just the fun of assembling the goods and devouring them upon completion. It's lots of tasty fun, and a good insight into the cuisine of Sabah.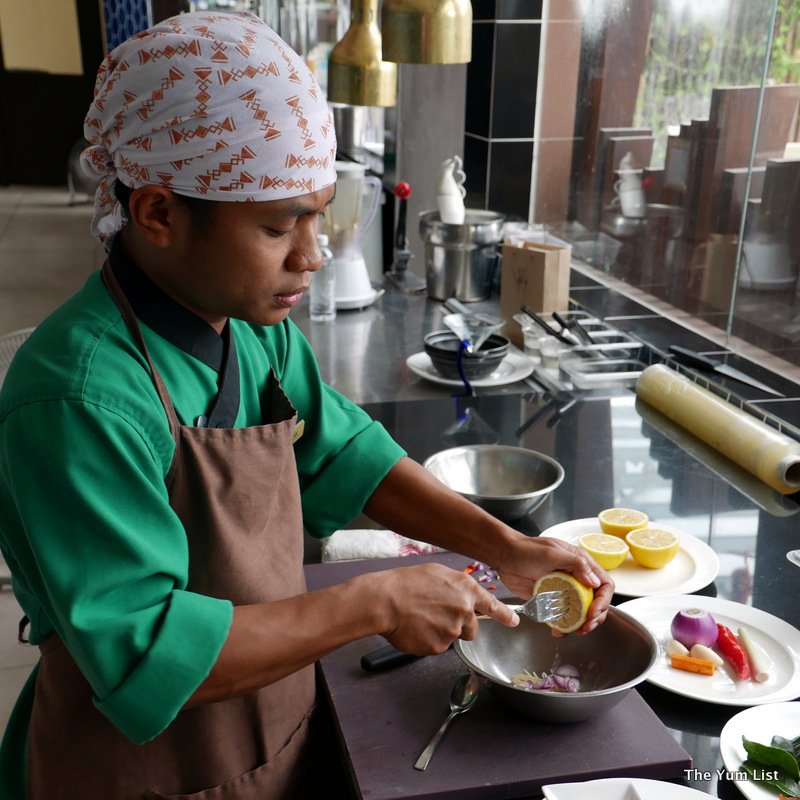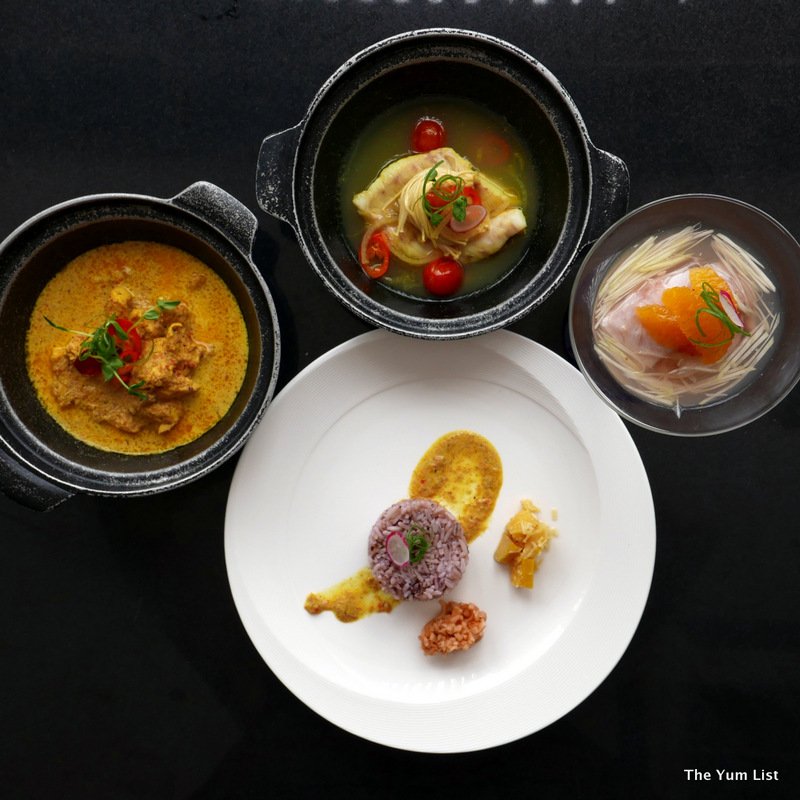 The Singgah Singgarung Night
Capitalizing on local talents, Gaya Island Resort plays host to a pre-dinner mini-carnival where native arts, activities and delicacies are showcased as a wonderful appetizer to the main event: a tribal-style beach barbecue dinner. As the night takes hold, smoke wafts off the mangrove grill and Kadazan dancers are lit by the flames of a campfire. Grilled fish is served aside an array of fresh salads and condiments, and to cap it all off, a tasting of the infamous Bornean rice wine, lihing, closes the experience. Cheers!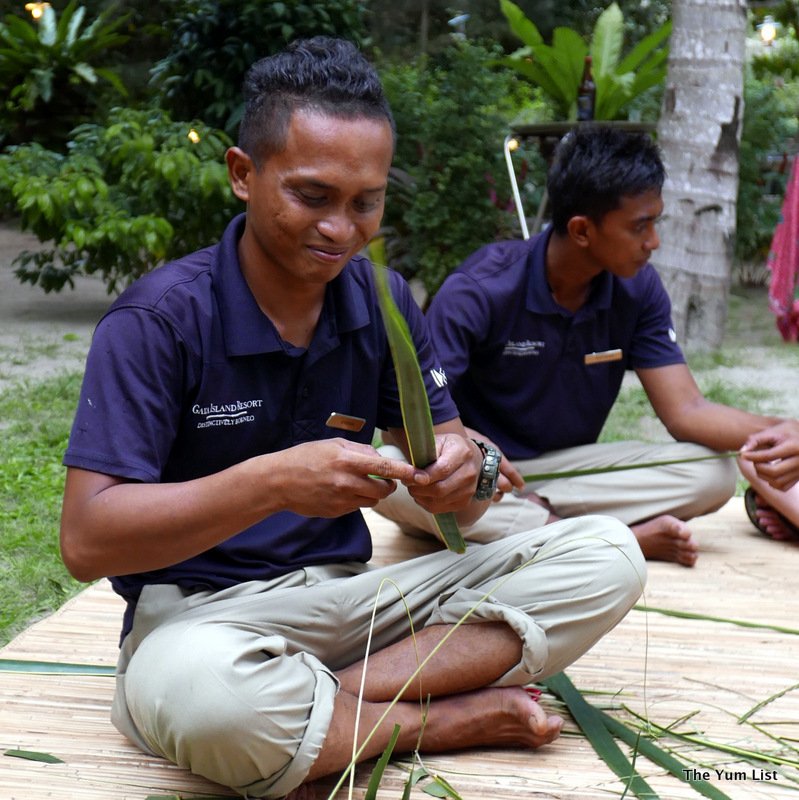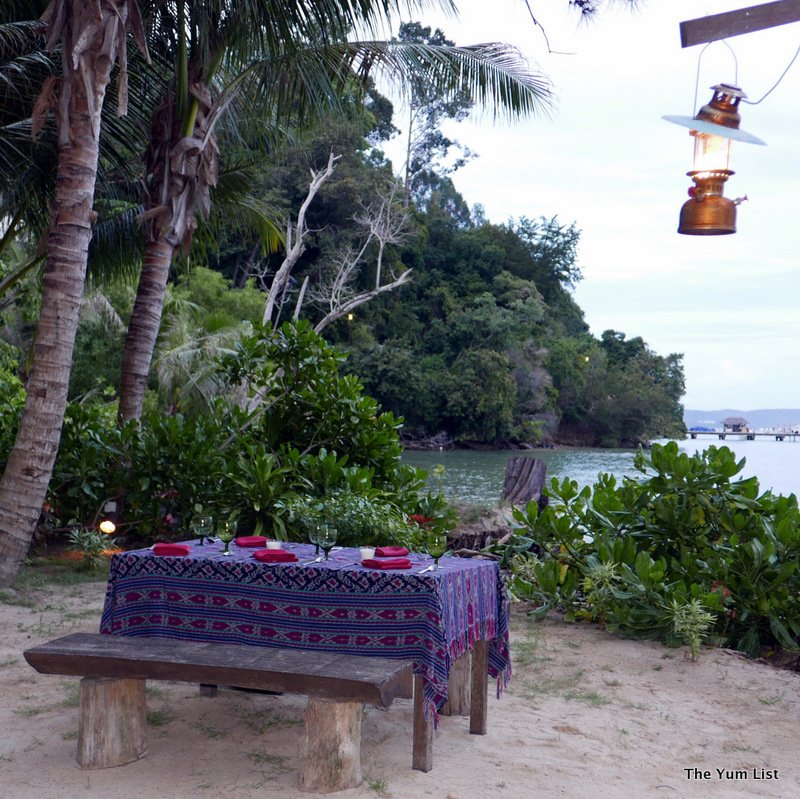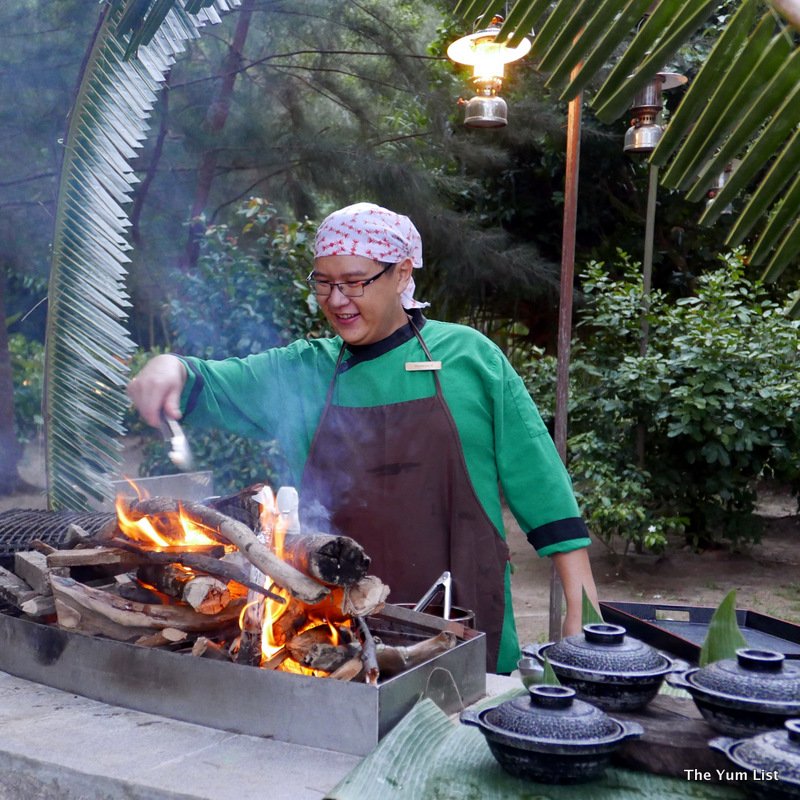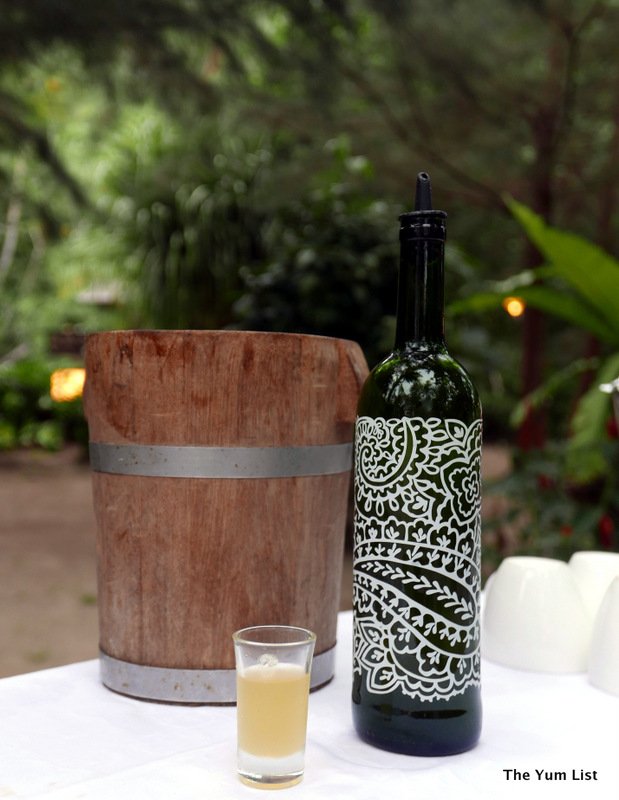 Sunrise Breakfast
Early risers are rewarded not only with a view of daybreak as the sun casts its first rays over Mount Kinabalu (Malaysia's tallest peak), but too with a private beach picnic, in Gaya Island Resort's Sunrise Breakfast. Summoned to action with a courtesy wake-up call, guests meet their butler on the shores of Malohom Bay, where a continental breakfast accompanies the onset of dawn. Set up with a rug and more food than one could possibly imagine finishing, the sounds of the waves lapping the shore might just lull you (or me;-) back into slumber.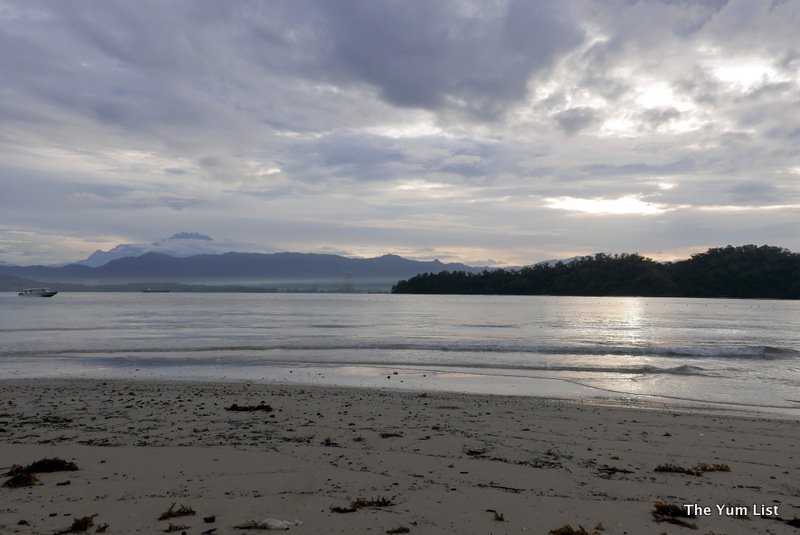 Lunch at Tavajun Bay
Now with a definite taste for being treated as a queen, a midday jaunt to a private beach just a five-minute speedboat ride away with lunch prepared by a Thai chef, sounds irresistible. Tavajun Bay is a pretty stretch of tranquil beach shaded by lush vegetation overlooking the aquamarine waters of the bay. Even though it's only a few minutes away by water transfer, it has a real feeling of seclusion. The emerald waters glisten in the sun and the open-air kitchen dispenses mouth-watering aromas. A Thai set lunch is what's available, and I enjoyed young mango salad, spring rolls, sour soup, fried fish, spicy chicken and a tropical fruit platter to finish. Come for lunch, or spend the day, Tavajun Bay is a beautiful place to play.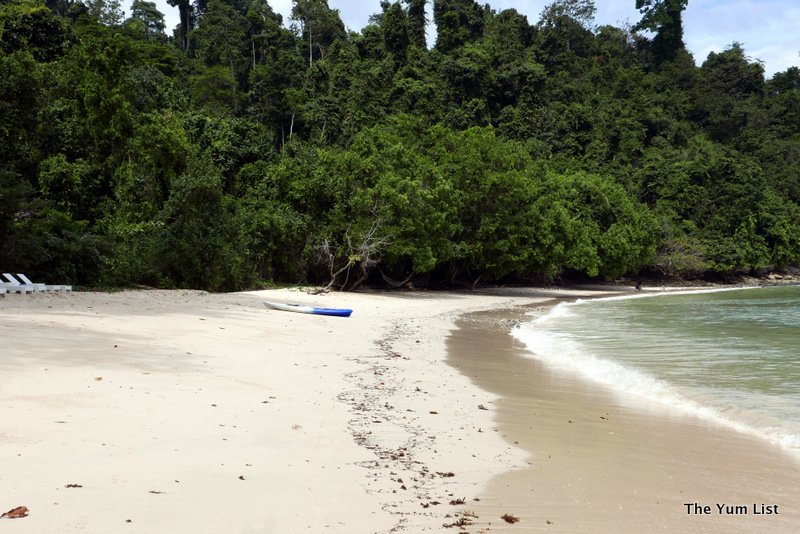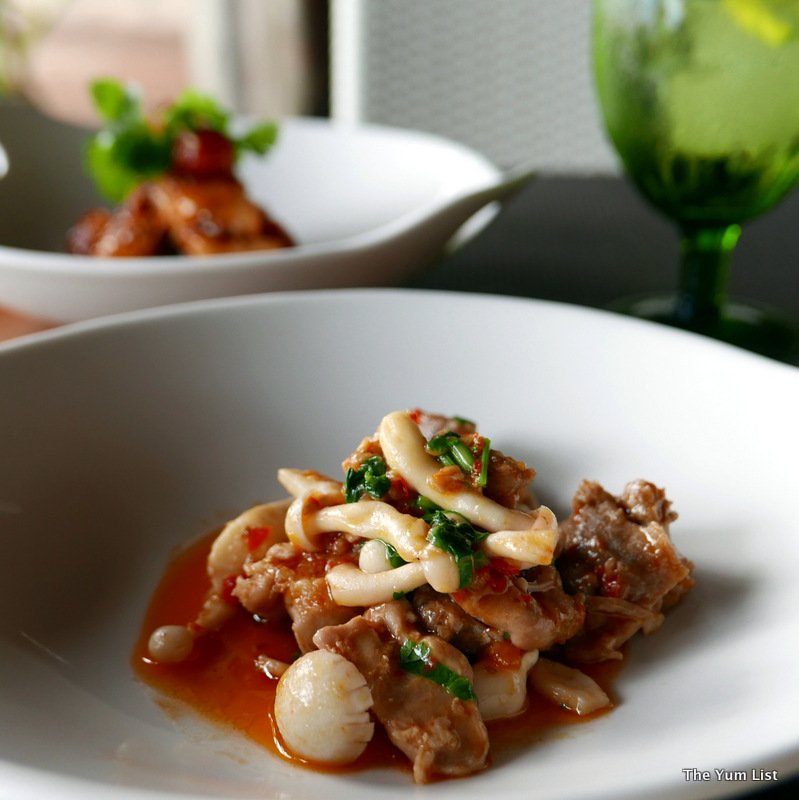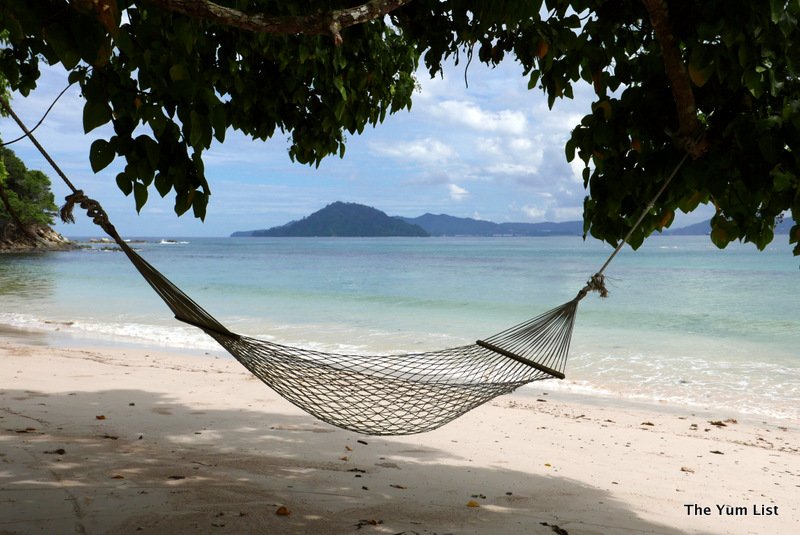 Omakase Dinner
The grand finale to my gastronomic tour culminated in a degustation menu at Omakase. Nestled in the hillside, the two-story restaurant is walled with glass panels, affording yet again, lovely views of Malohom Bay, and with clear skies, Mount Kinabalu. Japanese barbecue or shabu shabu (hotpot) are the principal experiences offered here. I was entertained by the teppanyaki alternative as my chef chopped, diced and grilled; with ingredients at time being airborne and a flare with the condiment dispensers that Tom Cruise in his role of bartender in the movie Cocktail would have been proud of.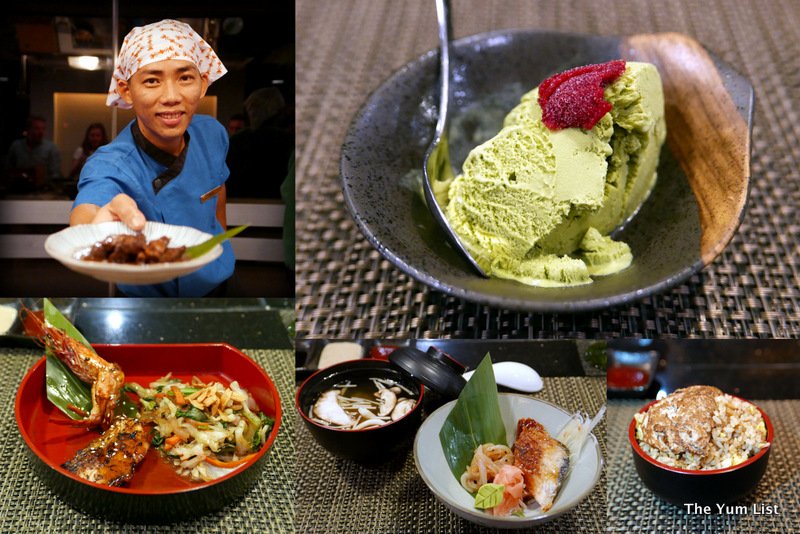 These culinary journeys kept me amused during four days of travel: so much so that I think I need to stay another four days, just to explore the regular menus in the hotel's restaurants. For guests staying longer periods, those celebrating special occasions and gourmands in general, Gaya Island Resort has much to keep palates excited and tummies well fed.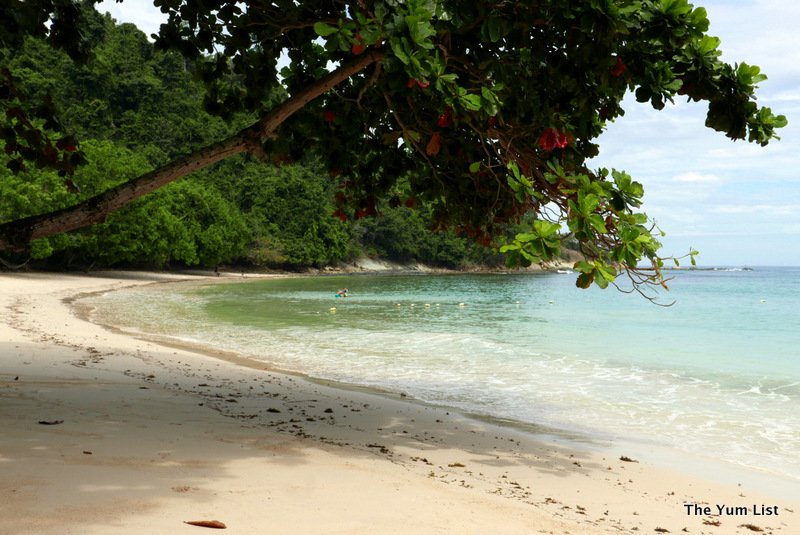 Reasons to visit: being a morning person and more of an introvert, my favourite experience was the Sunrise Picnic; if traveling with family or a group of friends, the Sinagang Steamboat is a must.
Gaya Island Resort
Malohom Bay
Pulau Gaya
Tunku Abdul Rahman Marine Park
8800 Kota Kinabalu
Sabah, East Malaysia
www.gayaislandresort.com
+6 018 939 1100
[email protected]
www.facebook.com/gayaislandresort
Instagram: @gayaislandresort
Twitter: @ytlhotels