A gem off the coast of East Malaysia, Gaya Island Resort lies in the heart of Tunku Abdul Rahman Marine Park. Set amongst flourishing tropical rainforest and surrounded by a protected aquatic paradise, this YTL property integrates chic accommodation and facilities into a superb natural environment, creating a 'great outdoors' getaway with all the luxury comforts of a 5-star experience. Celebrating the wonders of Malaysia, it's here that The Yum List kicks off the first travels for 2017.
Day 1
Pick up from Kota Kinabalu Airport is swift and my cordial driver has me at Jesselton Point within 15 minutes of landing. Check-in on the mainland means the formalities are over and the minute I'm on the speedboat transfer to Gaya Island Resort, I feel officially on holiday. The whip of air in my hair as we speed across the straits gifts an incredible sense of freedom. Let the vacation begin!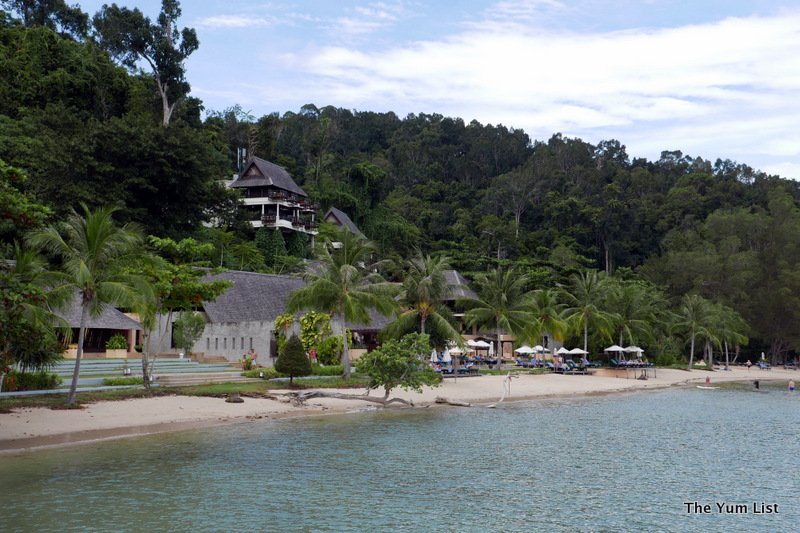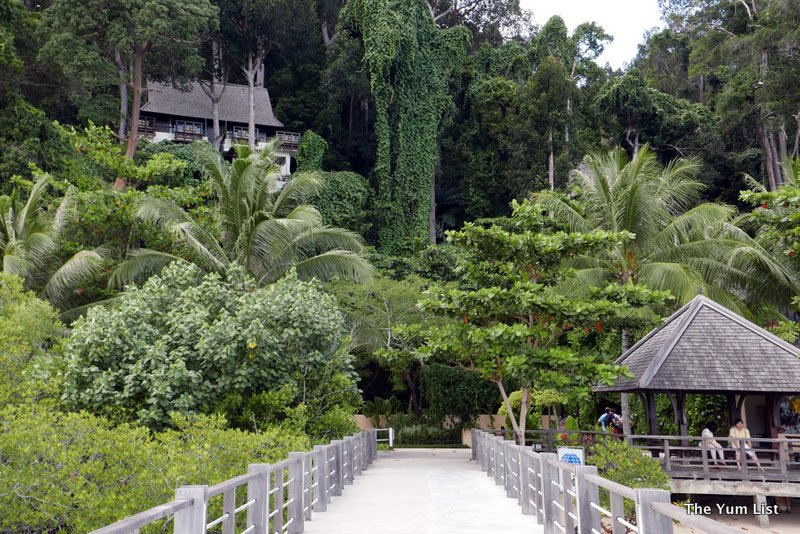 Luggage taken care of, I hit the island with full enthusiasm, ready to take advantage of every second I have in this tropical sanctuary. Overlooking the resort's luxurious infinity pool, the Pool Bar and Lounge is a flawless spot to soak up the sunshine and assuage those hunger pangs after a morning of travel. Fresh coconut and a light mezze platter are pleasant pickings and keep me energised for my afternoon explorations.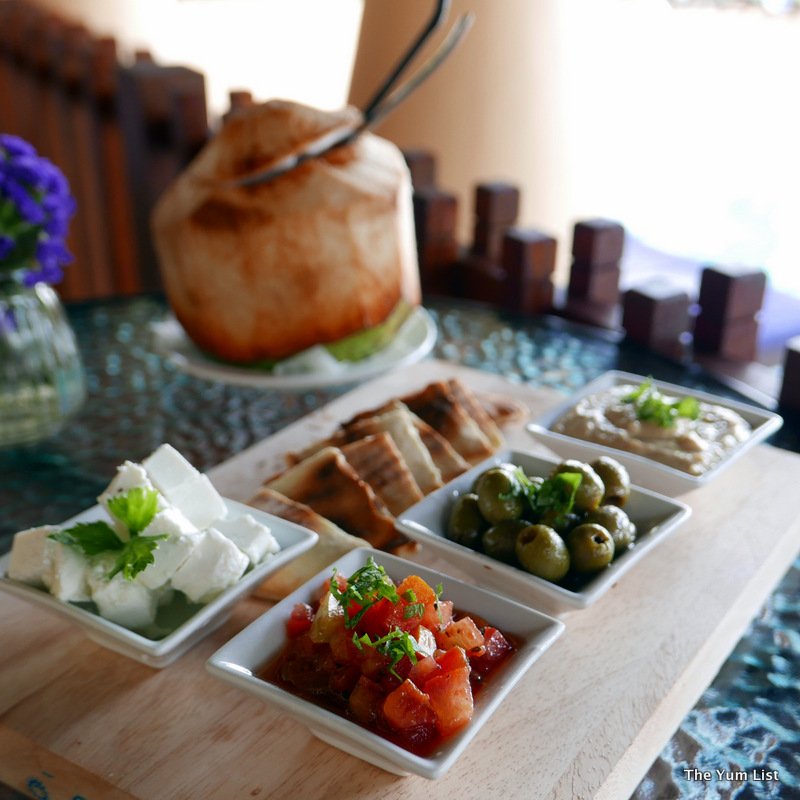 Nestled into the hillside, villas offer views of the mangroves, tropical rainforest or South China Sea. My accommodation supplies spectacular vistas of Mount Kinabalu in the distance and an aquamarine bay below. I want to sleep with my blinds open so as to awake with the onset of dawn and witness the first light across the mountains and the sea. Lucky for me that I'm on a solo trip this round and can do as I please, as hubby is not so enthused by early rises.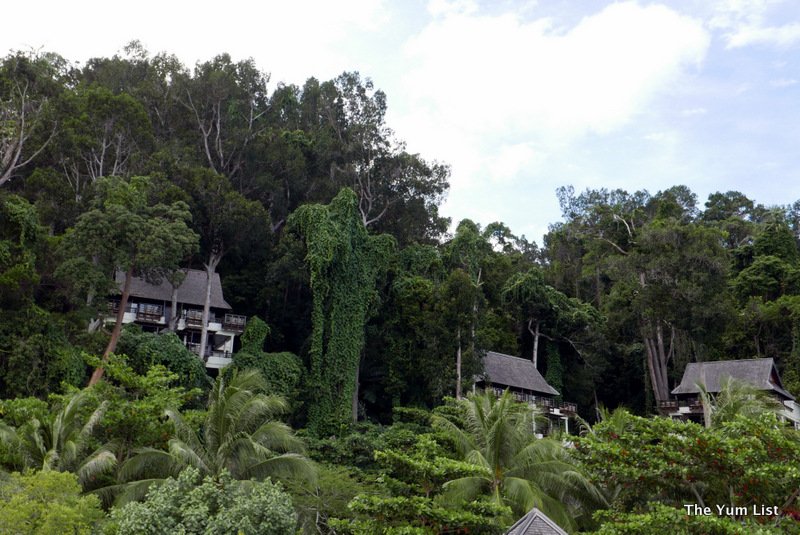 The majority of villas are one-bedroom, with separate balcony, walk-in wardrobe, desk and mini-bar area, and large bathroom, covering 47 square metres. Double vanity units, an enormous bathtub, and daybeds on the patio are much-appreciated features. So too is the ceiling fan, and individual air-conditioning control.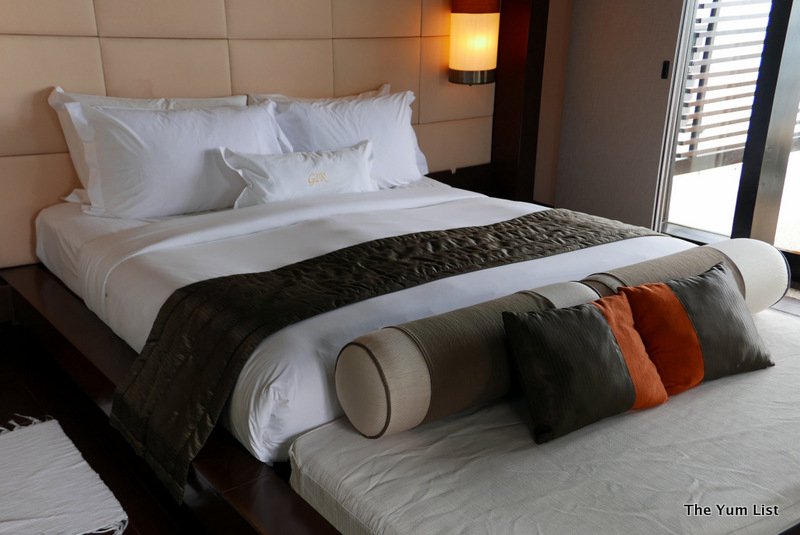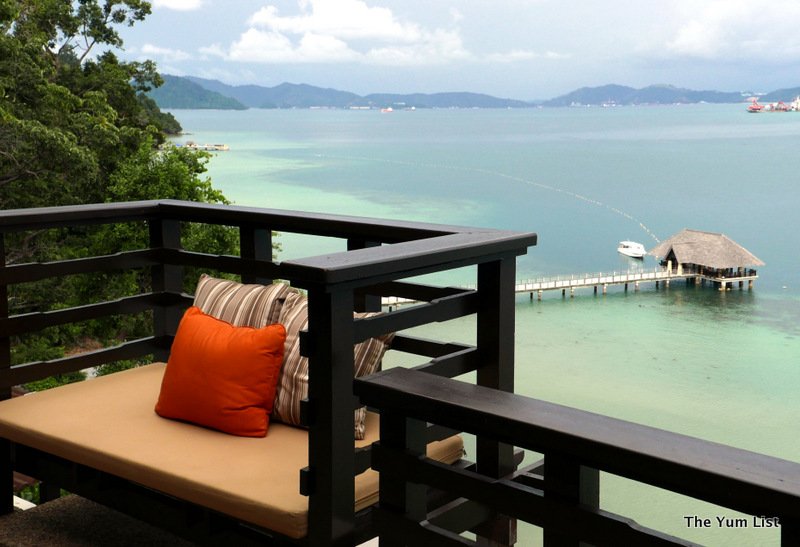 A few snaps of the view and I'm truly in the vacay groove. Doesn't an appointment at the spa sound an exquisite way to continue? YTL's Spa Villages are some of the best I've come across around the world. Utilising local wisdom and ingredients, facilities and treatments organically blend with the host environment, creating unique experiences in each location. While a range of packages and a la carte options are on the menu, the spa team is able to design sessions to best serve guests' needs. For me, it's a good deep tissue massage and a facial using plants from the region. Pure bliss! Follow this link to find some of our other favourite treatments.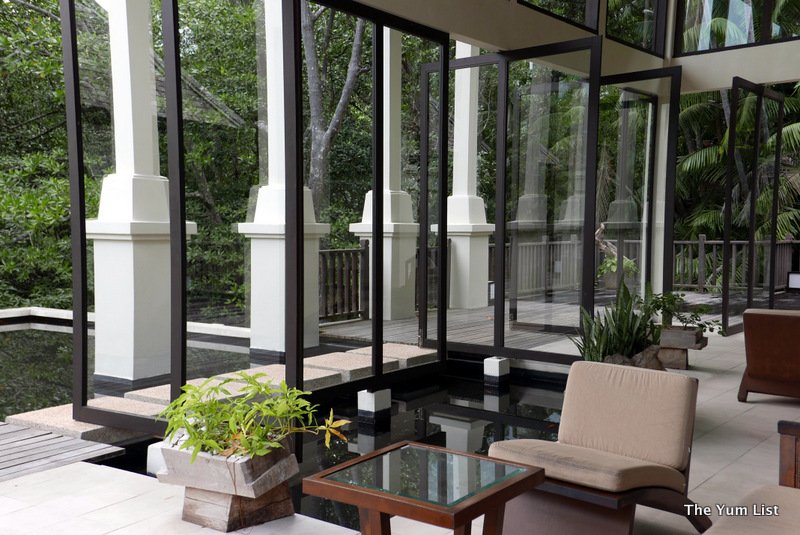 A special Sinagang Steamboat served at Fisherman's Cove tops off the day. Overlooking the bay, the restaurant is best visited at sunset to appreciate the magical change from day to night. My hotpot meal is a special fish broth seasoned with lemongrass, chilli, tamarind and ginger flavours. A favourite with Sabah natives, its sour-hot tang promises to zap even the most relaxed into full awareness. A full array of fresh vegetables, seafood and meat are added to the pot at leisure and a delicious spread of condiments makes tasty dipping. Sea breeze caressing my skin, wonderful aromas from the broth, and taste buds more than pleased, I'm ready to call it a day and head off to bed beaming with gratefulness.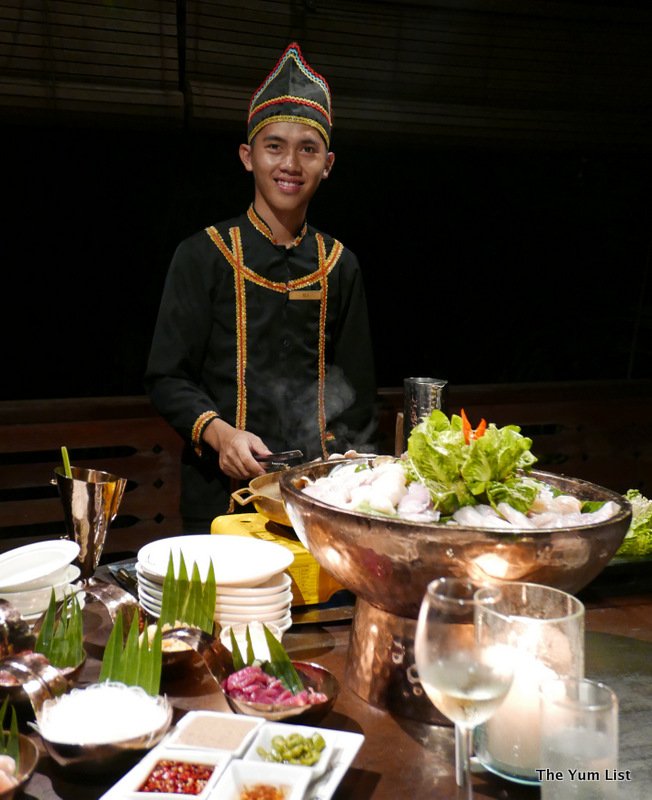 Day 2
Sounds of nature greet me at breakfast at Feast Village. Early morning clear skies allow stunning views of Mount Kinabalu and a diverse range of birds appear to be singing in harmony, mirroring my admiration for the scenery. With sandy beach in the foreground, and Malaysia's tallest peak in the background, I sip on coffee and nibble on fresh local fruit, thinking what a lucky girl I am to be enjoying a healthful brekkie in the great outdoors.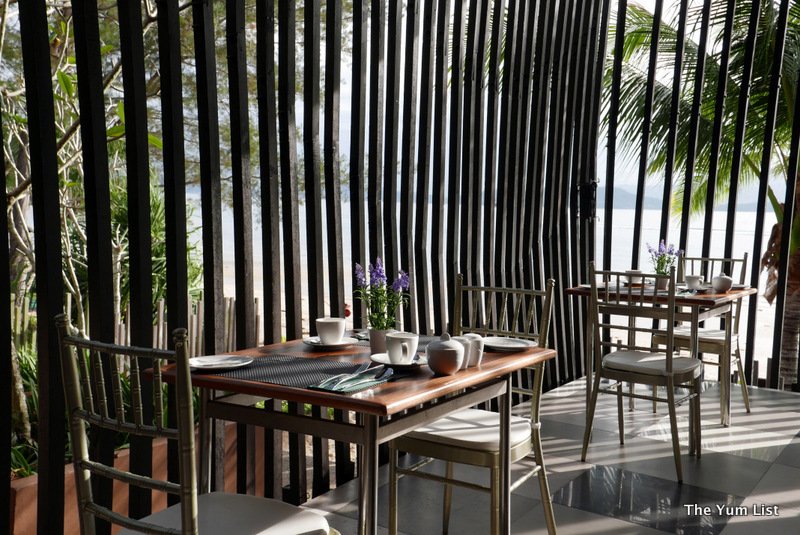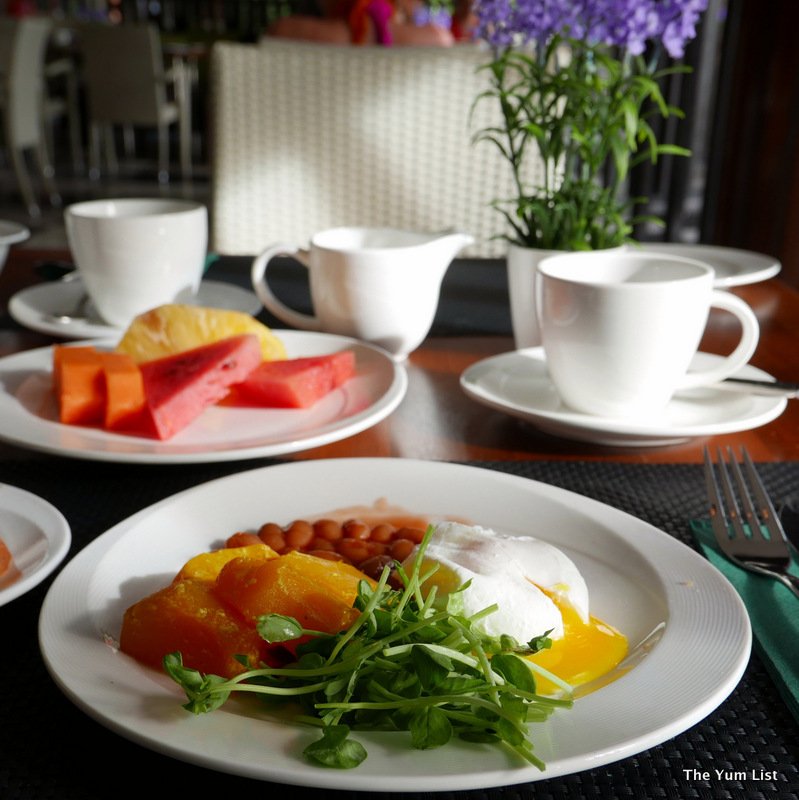 Marine life of course is vibrant in this national park, but so too is the terrestrial flora and fauna. A guided nature walk with a resident naturalist uncovers the huge diversity of wildlife found solely in the mixed dipterocarp forest within the Tunku Abdul Rahman Marine Park. Complementing the guided trail, the team has created an extensive compendium of information about the species found here: ninety percent of photos were taken by staff themselves! It's a commendable resource and nature lovers should find it a delightful link to what they experience on the walk and around the resort.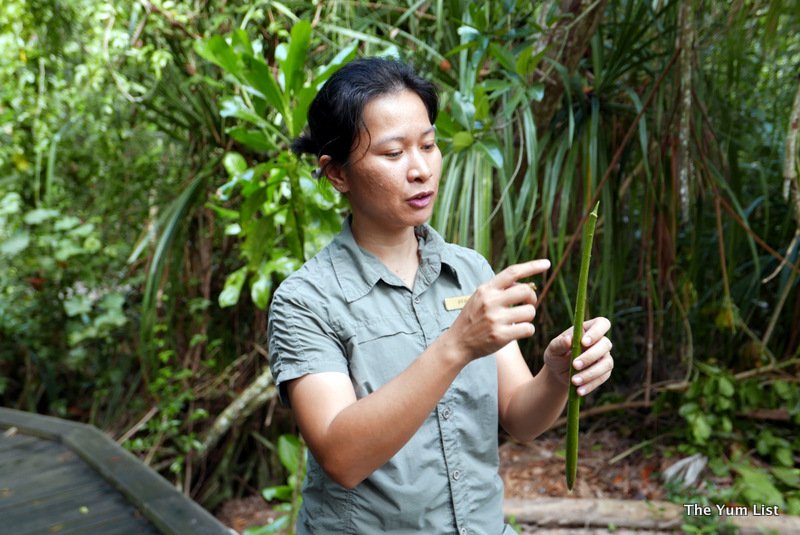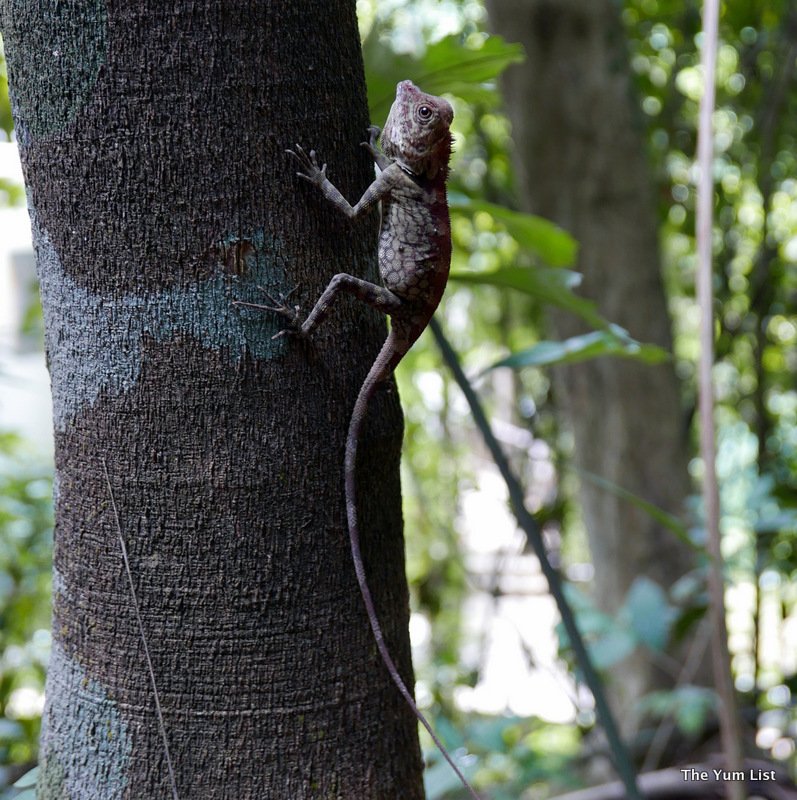 Appetite awakened by the morning stroll, it's time for lunch – but not before a little bit of work first… Prizing the locavore concept, The Borneo Culinary Journey introduces me to a number of ingredients used locally in authentic recipes passed down over generations from various ethnic groups from the region. The experience culminates with a communal style tasting of the dishes we learn to make. Find photos and read more about the cooking class here.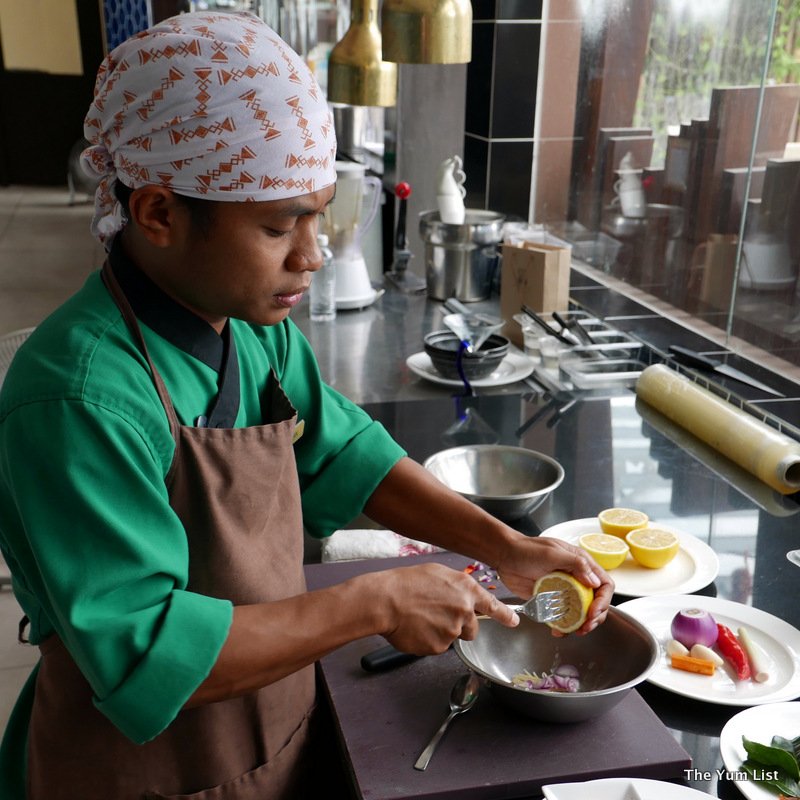 While the morning was on land, the afternoon is spent on the water. Rejoining my morning guide, we head out on a private mangrove kayak tour. Paddling up a narrow stream at high tide, I marvel at the unique ecosystem and learn about several species of trees that are perfectly adapted to live in the brackish water.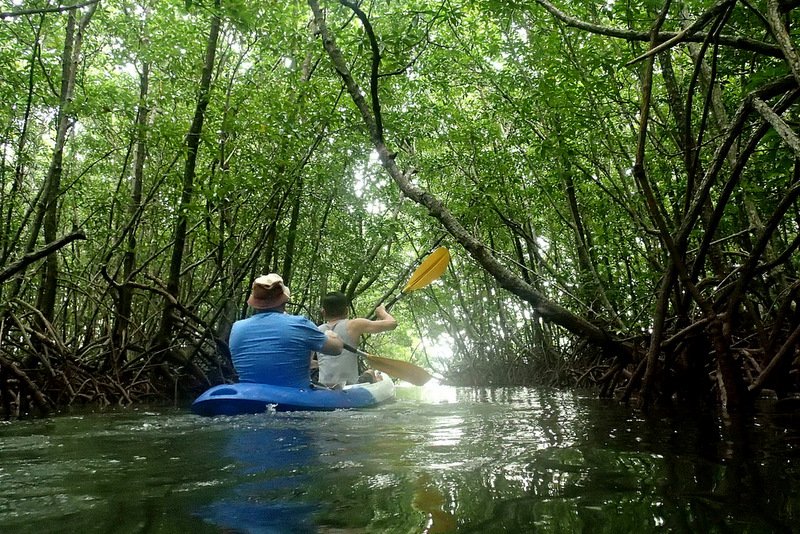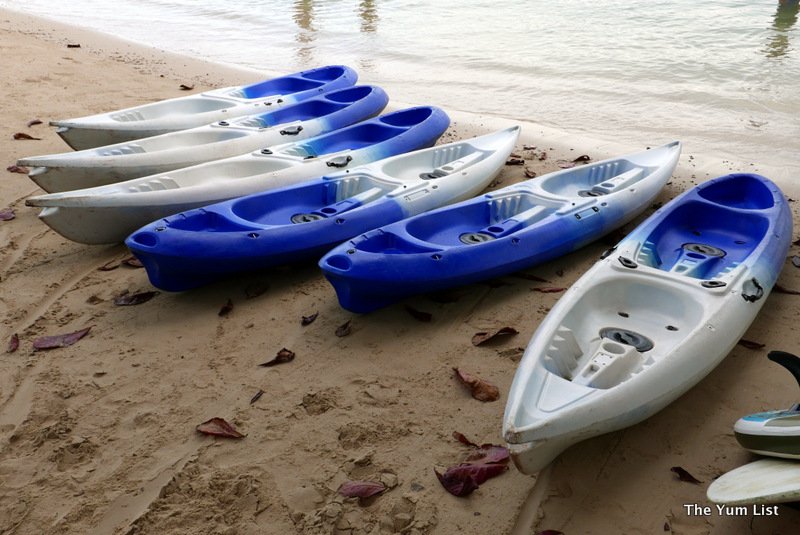 Now fully immersed in the local environment and appreciative of the insight into culinary traditions, it only seems fit that the day crescendos with the Singgah Singgarung Night. Showcasing arts, activities and delicacies, there's a community festive spirit as craftsmen demonstrate how to weave, we sample some local treats (today fried banana and sweet potato), and watch teh tarik become frothy with the traditional long pour.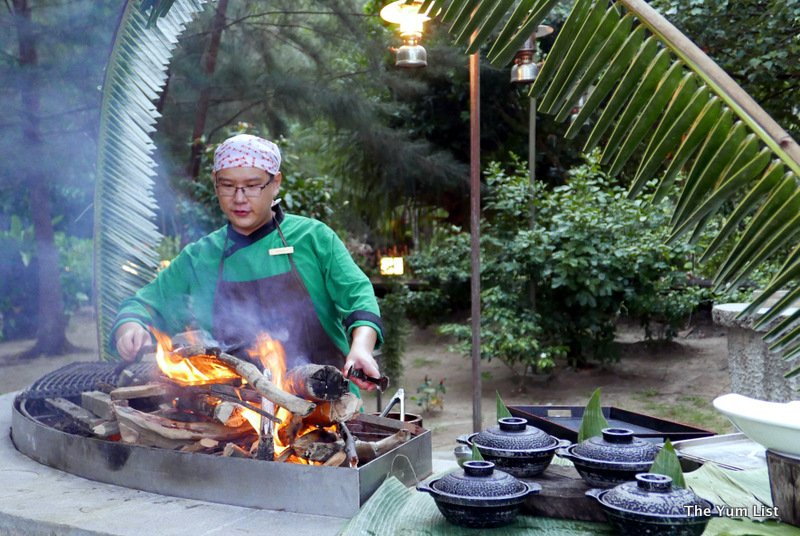 A tribal-style beach mangrove barbecue follows where the fishermen's catch is seasoned with mouth-watering herbs and spices and served hot off the fire. Kadazan tunes hum as quintessential background music, and dancers perform a number of pieces throughout the evening. A serving of the local rice wine, lihing, caps off the night. Cheers!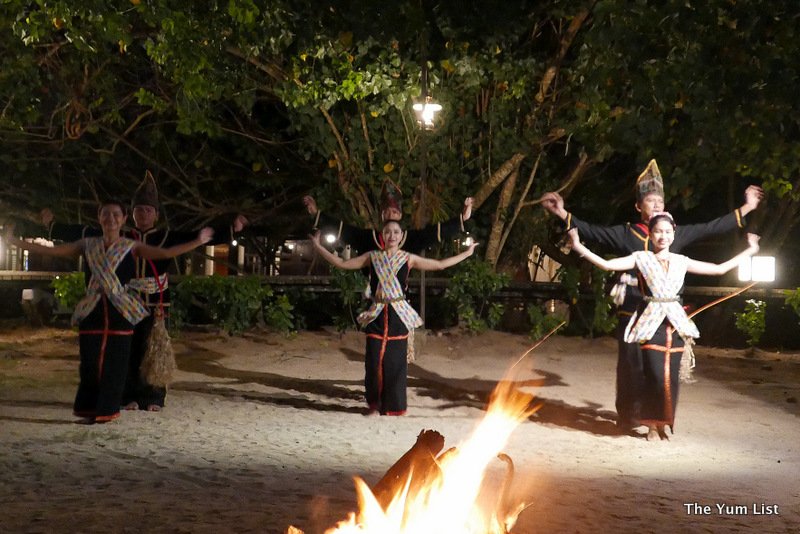 Day 3
If it weren't for the promise of a good photo, I could have lay in a few hours more in the cloud like snuggle of Gaya Island Resort's lush beds. Sunrise however is said to be spectacular and this morning I catch its leisurely ascent over Mount Kinabalu. As the sun's rays light up the sea I'm pampered with a continental breakfast in my private beach setting. Lulled by the gentle lap of waves onto the shore, I just might take a nap in the sand…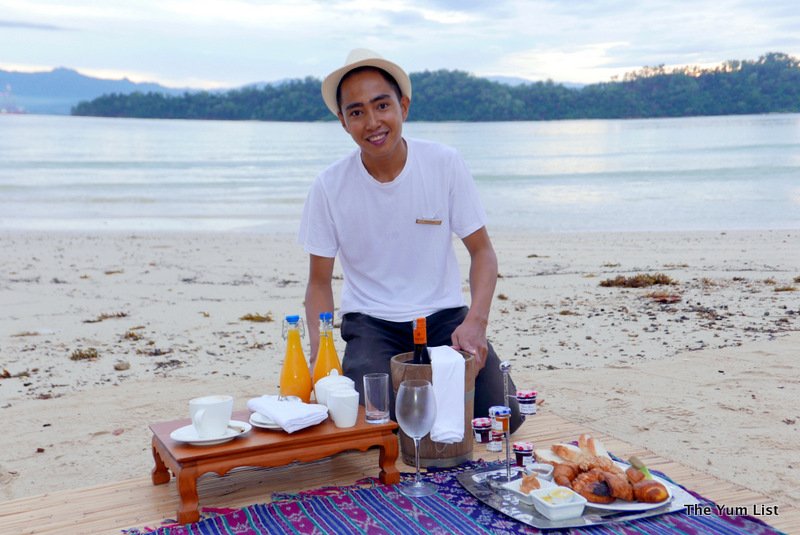 Rejuvenated from the snooze I join Gaya Island Resort's resident marine biologist for a guided snorkelling exploration. Accompanied by an expert, my splash in the water becomes much more fruitful and I learn of the beauty of life beneath the surface. It's not just show for the tourists, there seems to be a genuine sense of respect here. Fins are not used for in efforts to avoid damage to the reefs.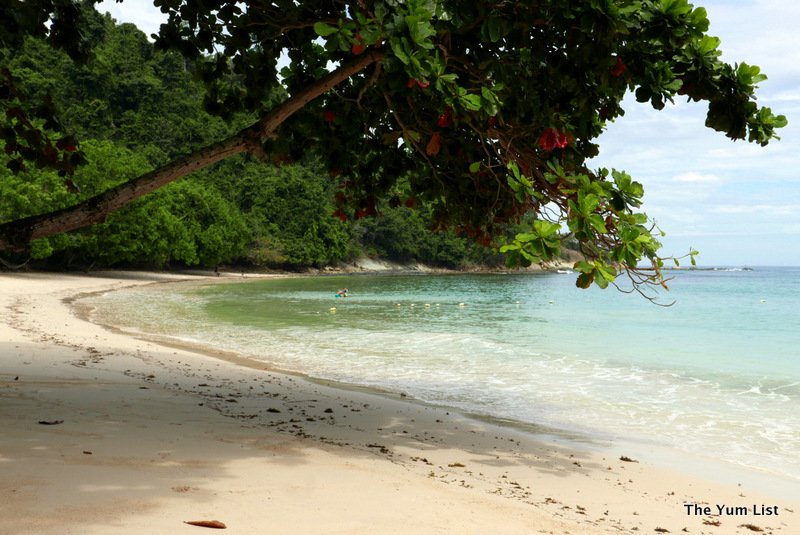 A short speedboat ride away, Gaya Island Resort Marine Centre further reinforces this belief with its three key conservation themes: turtle rescue; coral reef restoration and conservation through education. The work carried out here is reflected in initiatives carried out by the resort in efforts to make sustainable seafood choices and the goal of pollution-free waters.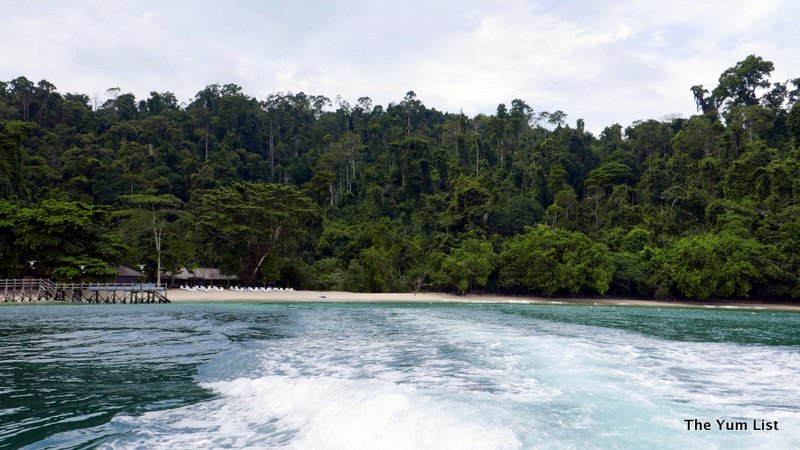 Also located in the tranquil private beach of Tavajun Bay, a Thai kitchen provides my midday meal. A set lunch of popular recipes such as green mango salad, spring rolls and fried fish are a faultless accompaniment to the setting. Sun chairs, kayaks and plenty of shade make it a lovely spot to linger a little longer and perhaps take another siesta?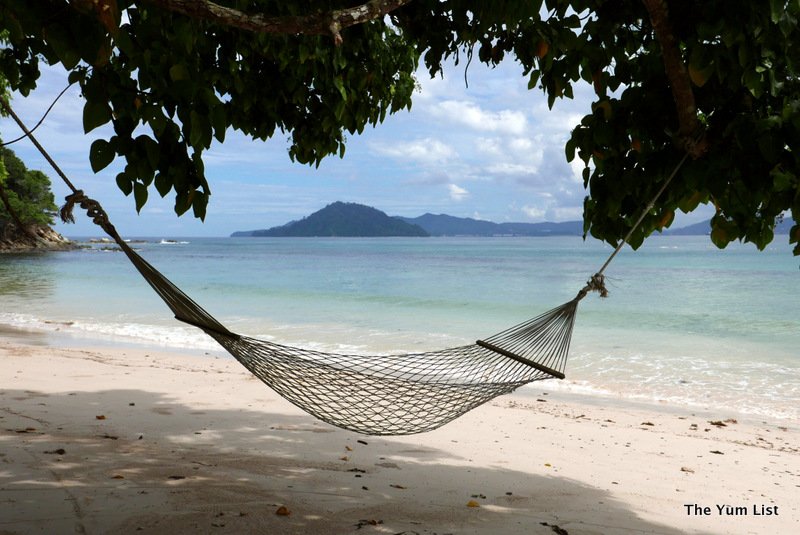 Surely after all of that sun and sea it's time for another visit to the spa! Spa Villages are renowned across the country for their superb locally inspired treatments so it would seem silly not to take advantage of my visit. Utilising the most precious indigenous oils of Borneo, I'm instructed in the basics of essential oils and the role they play in health. Guided by Gaya's very own scent artist, I get to custom make my own oil blend.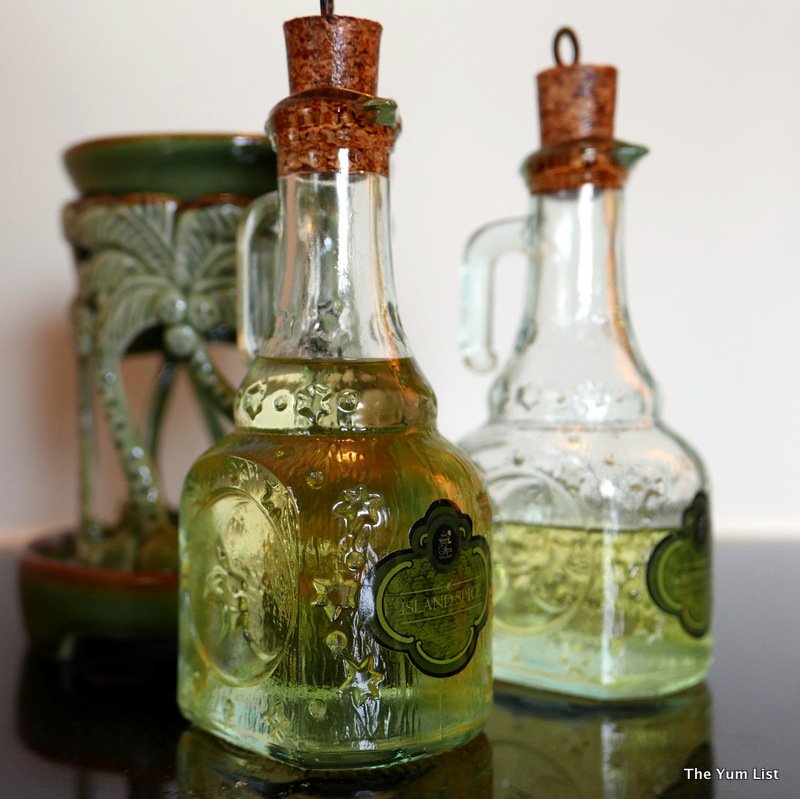 Positioned to capture stunning water panoramas, Omakase Japanese restaurant is this evening's dinner location. Nestled in the hillside, this two-story building benefits from the freshest of air supplied courtesy of the ancient rainforest on one side, and open views thanks to Maloham Bay on the other. Two Japanese specialties, shabu shabu and teppanyaki are found here, and I've chosen the barbecue. The chef chops, dices, grills and tosses ingredients as part of the eatertainment experience. The five-course menu is a delicious line-up and it's with a contented tummy that I retire to my villa.
Day 4
Following an activity packed few days, my final morning at Gaya Island Resort is spent lounging by the pools and sea. Deck chairs, beach beds, covered day bed nooks with ceiling fans, or simply a towel on the sand provide more than enough variety for leisurely places to stretch out.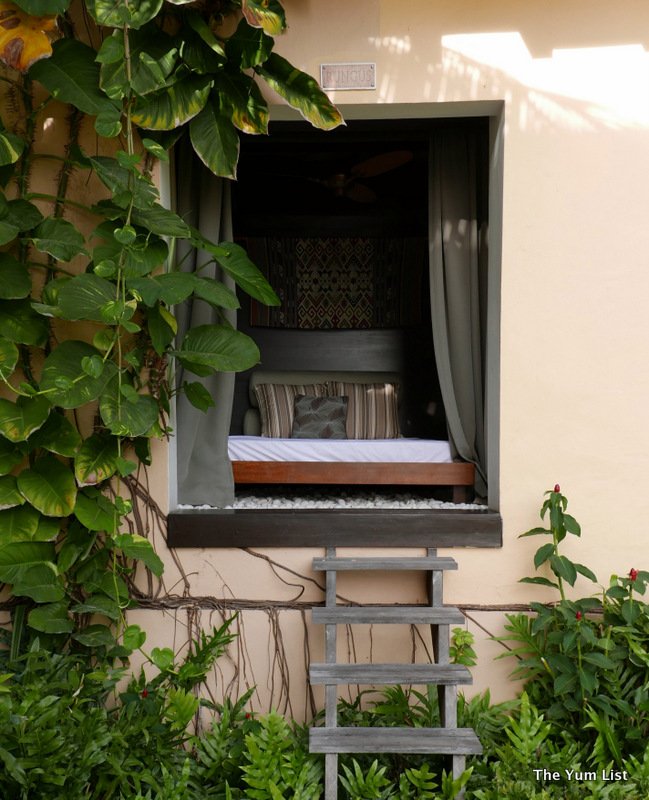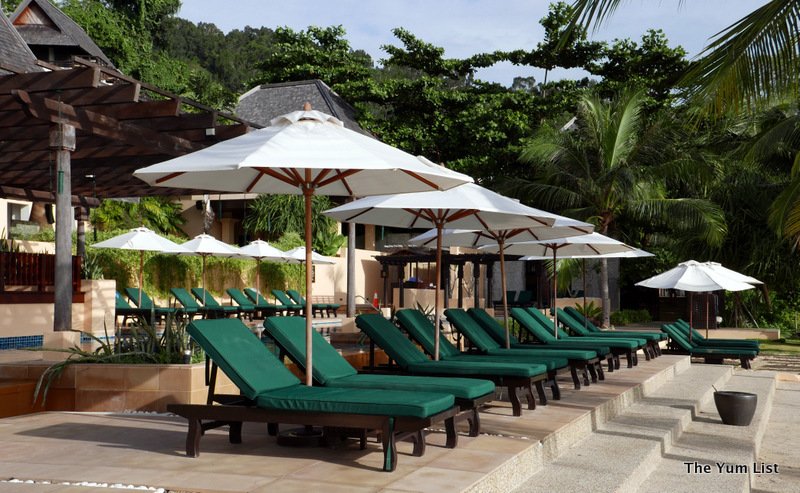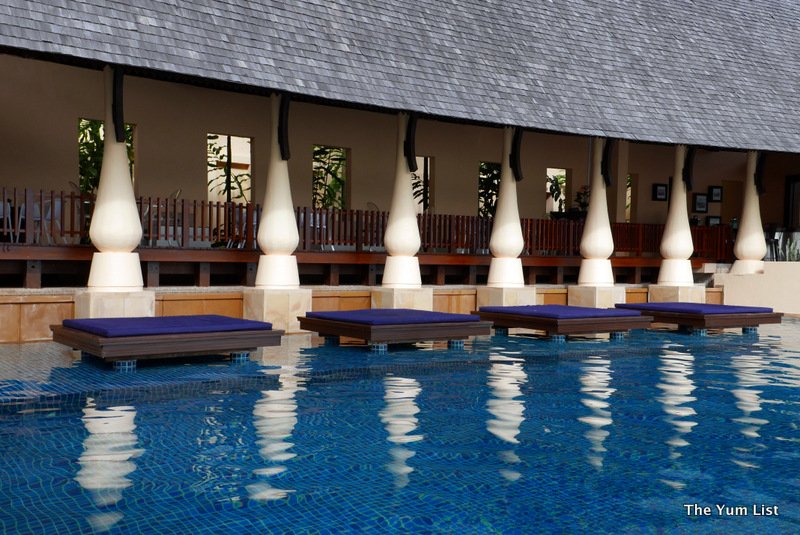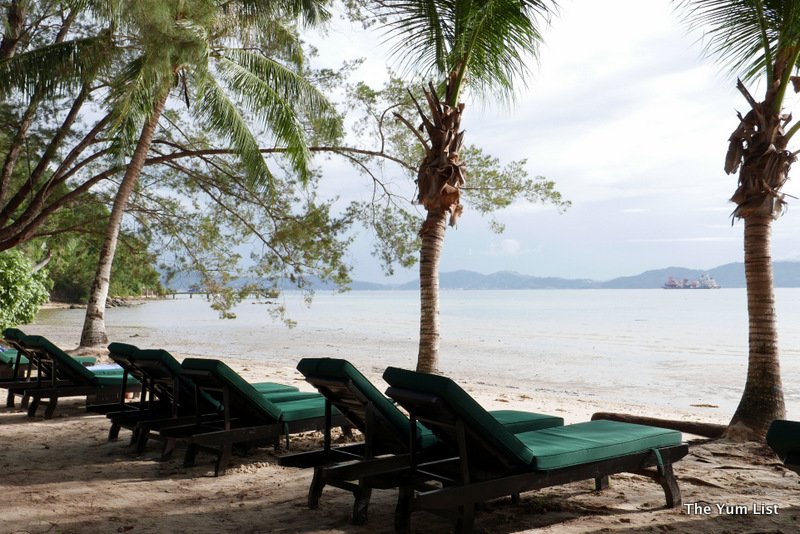 It's been a magnificent getaway, one filled with culinary journeys, nature education, spa delights and bountiful relaxation. And, it's all right here, in Malaysia.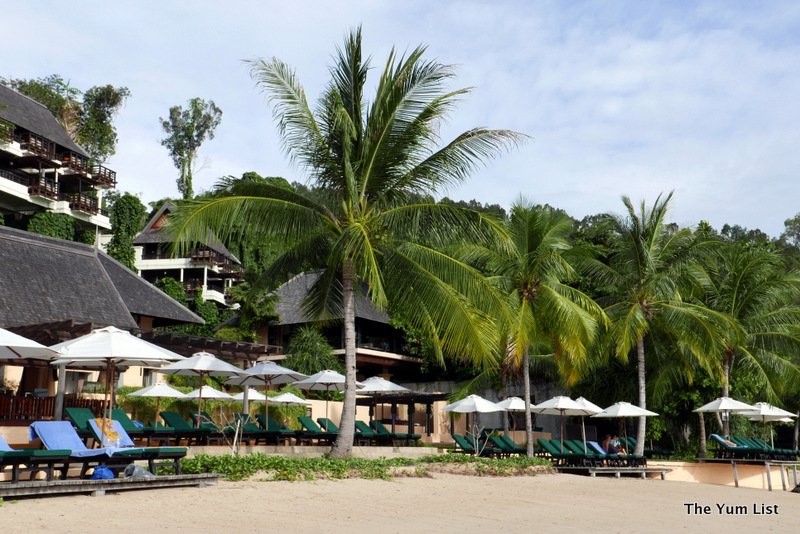 Reasons to visit: pretty resort in Tunku Abdul Rahman Marine Park; good range of nature activities; great culinary journeys; a holiday that is clearly influenced by the local environment (it's not one of those hotels where you could be anywhere in the world, but a true local experience); and of course, the splendid Spa Village!
Gaya Island Resort
Malohom Bay
Pulau Gaya
Tunku Abdul Rahman Marine Park
8800 Kota Kinabalu
Sabah, East Malaysia
www.gayaislandresort.com
+6 018 939 1100
[email protected]
www.facebook.com/gayaislandresort
Instagram: @gayaislandresort
Twitter: @ytlhotels