There's no doubt we're fortunate in KL to have access to a number of food delivery services promising to bring lunches to our desks, leaving one less thing to do on our task lists each day. Weaving your way through the options is another thing though. Seems you can get just about anything brought to your doorstep (or office lobby): from raw vegan gluten-free organic to highly processed fast foods and everything in between. Last week we tried out a newbie for us, TR Food Delivery, and found it hit the mark in between the extremes: good wholesome, home cooked meals, full of nutrition and brimming with taste.
Founder, Chef Taufik Razak returned home to Malaysia after culinary training and extensive work in professional kitchens in London. He was enthused by the rise of delivery services in Kuala Lumpur, and when investigating further found the perfect niche to be filled: "delicious home cooked meals emphasizing clean flavours, and local produce."
Knowing the value in local produce in providing both freshness and reduction of cost that can be passed onto customers, chef sees the local market as his primary inspiration for recipes. "If it is in season and being sold at the market, it should be on the menu," says TR.
Currently delivering to homes and offices in the Klang Valley, we thought them a model concept to kick off the year. Here's a look at a week of meals with TR Food Delivery.
Monday
A familiar start is had to the week with a Caesar Salad (RM16). It's not however, your classic romaine drowned in mayonnaise with a few bits of chicken thrown in. This one is a grilled moist breast, thickly sliced and fanned atop crisp leaves with a sprinkling of anchovies and aged Parmesan. Crunchy croutons and skin are in a separate container, as is a creamy dressing to be added at my own discretion. It's topped off with a soft-boiled egg. It's filling and fresh.
Tuesday
Day two draws inspiration from local tastes with a large Otak Otak Fishcake (RM18). A tropical salad of pomelo, mint and grated coconut is accompanied with a fruity tart citrus dressing. Being a fan of fruit in my mains, I find this recipe one that I want to try to replicate at a later time (or maybe I'll just order it again next time it's on the menu.)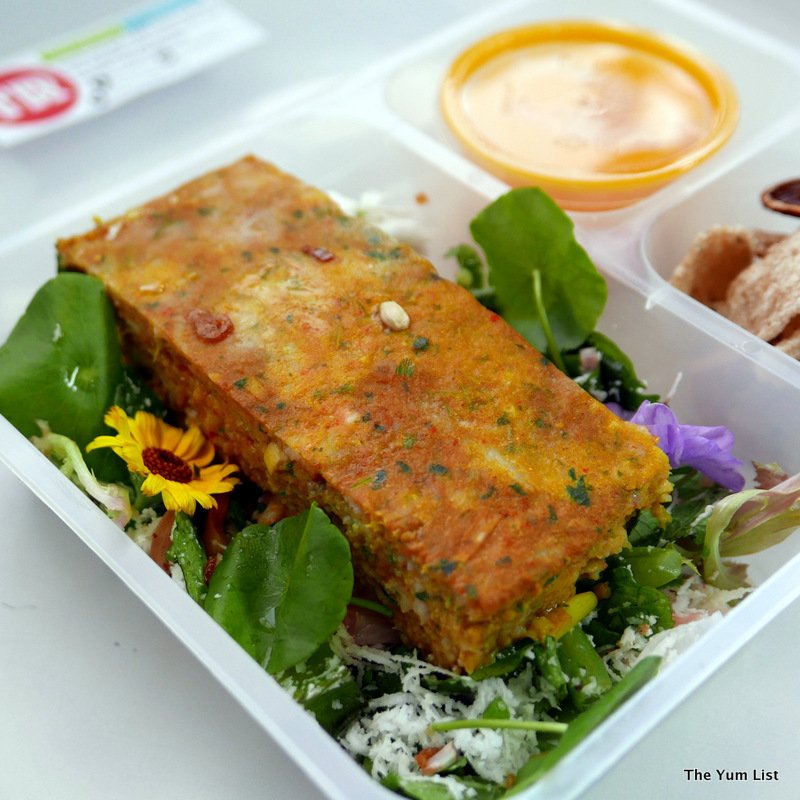 Wednesday
Highlighting the locavore concept, Baked Mackerel Fillet (RM18) is Wednesday's catch. A bed of mixed brown rice bases the fish, and an edamame and seaweed salad sides it. It's a filling meal, and the soy and ginger dressing is so more-ish that I eat every last grain, just to avoid spooning the sauce on its own.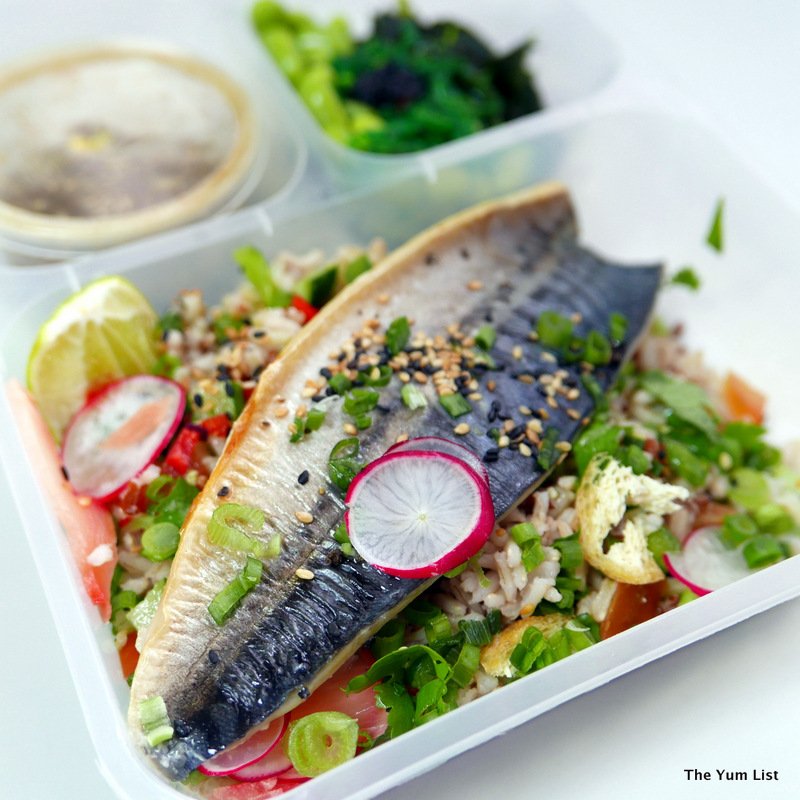 Thursday
Tea Smoked Chicken Breast (RM16) is another tender moist and generous specimen. Waldorf salad with apples, grapes, celery and toasted walnuts provides a fresh lift, and again, the dressing on the side is much appreciated, giving control as to how much or little is added.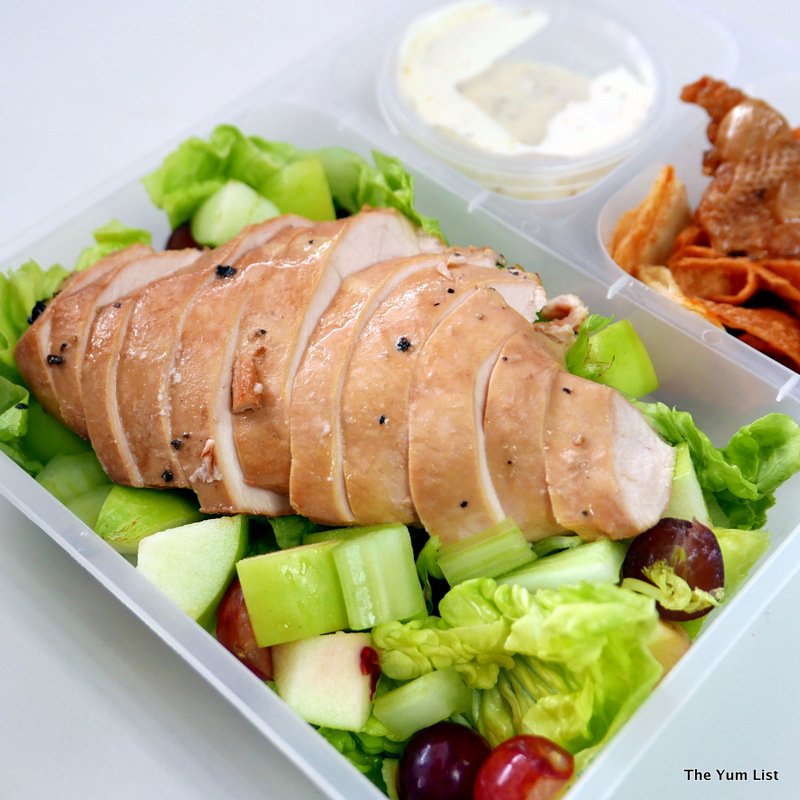 Friday
Friday brings a little bit of decadence to end the week with Duck Spring Rolls (RM18). A full flavoured waddng of shredded poultry is wrapped and quickly deep fried in a thin pastry, retaining the moisture within. Asian rice noodle salad with nam jim dressing completes the plate.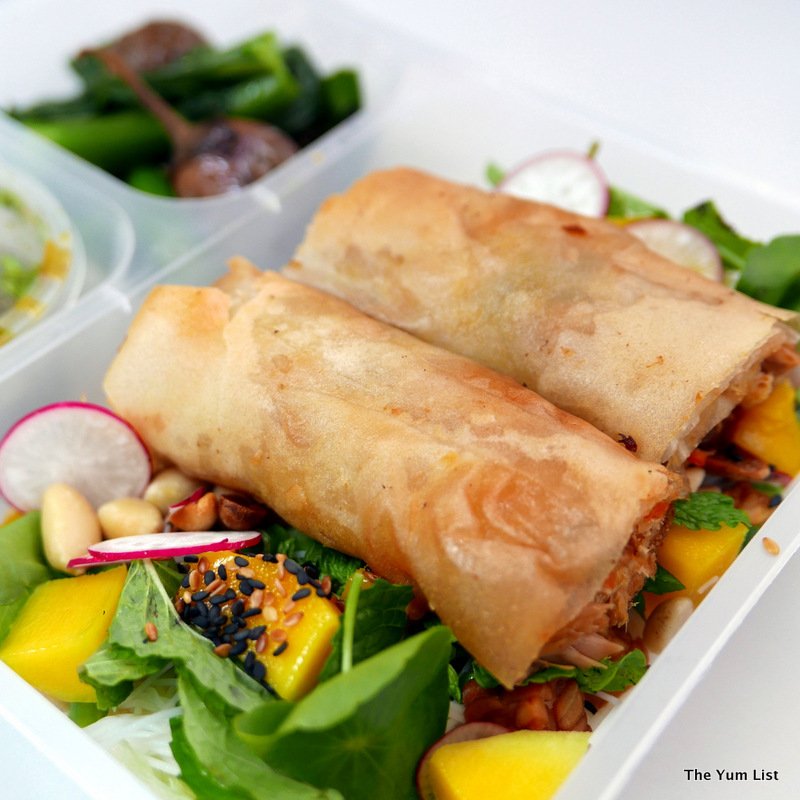 All meals were obviously made from the freshest of produce. I appreciated that the dressings and extras were kept separate to add at my own will – although, the dressings were so tasty that I'd be interested in knowing if chef TR would be willing to bottle them and sell them also to go. In all, TR Food Delivery is a good service, giving value for money for generous portions and high quality ingredients. Would I order it again? Absolutely!
TR Food Delivery