Words: Heather Onderick      Photos: Monica Tindall
It's the new year in both the Chinese and Occidental worlds, which means a time to reinvent oneself, get out of your comfort zone and try something new.  My first recommendation for foodies in Kuala Lumpur would be to hit the recently opened restaurant, Meat the Porkers, located in Publika, Solaris Dutamas. Herukh, the owner of the restaurant, blends Indian flavors with pork and he does so in ways that most foodies wouldn't have dreamed of. His energy is infectious because he is passionate about flavors and textures but he is also constantly thinking of ways to revamp and renew his menu. By the end of our meal with him, I too was thinking about food in a revitalized way, imagining impossible but seemingly mouthwatering potential.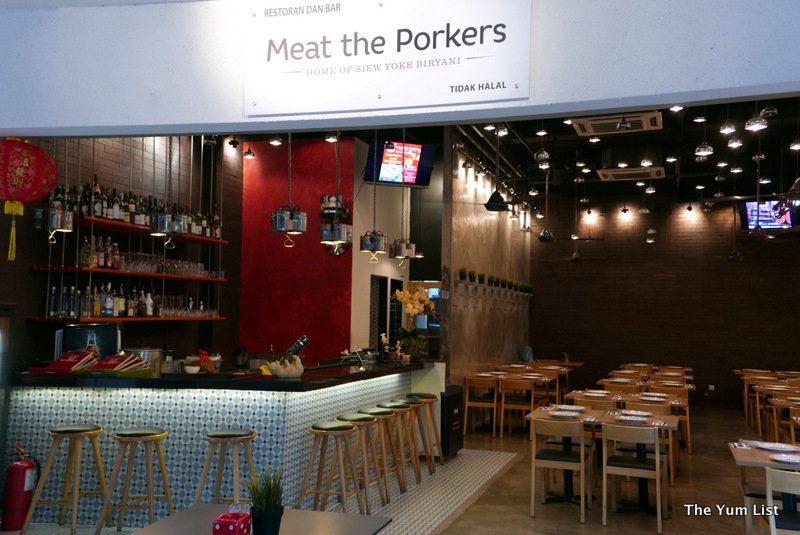 Meat the Porkers is located on the backside of Publika. It is a recently renovated space with free flowing air, and a simple and modern cement and tile design.  In order to add a little color and some nostalgia to the place, one wall is covered with a collection of pigs gathered from the worldly travels of owner Herukh and his partner, Aahana. If you are a curious diner and want to know the story behind each pig, Herukh or Aahana will gracefully share.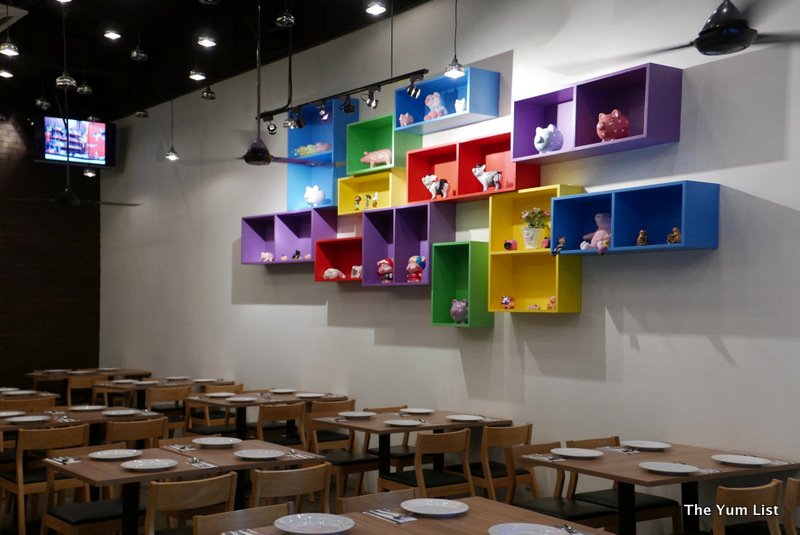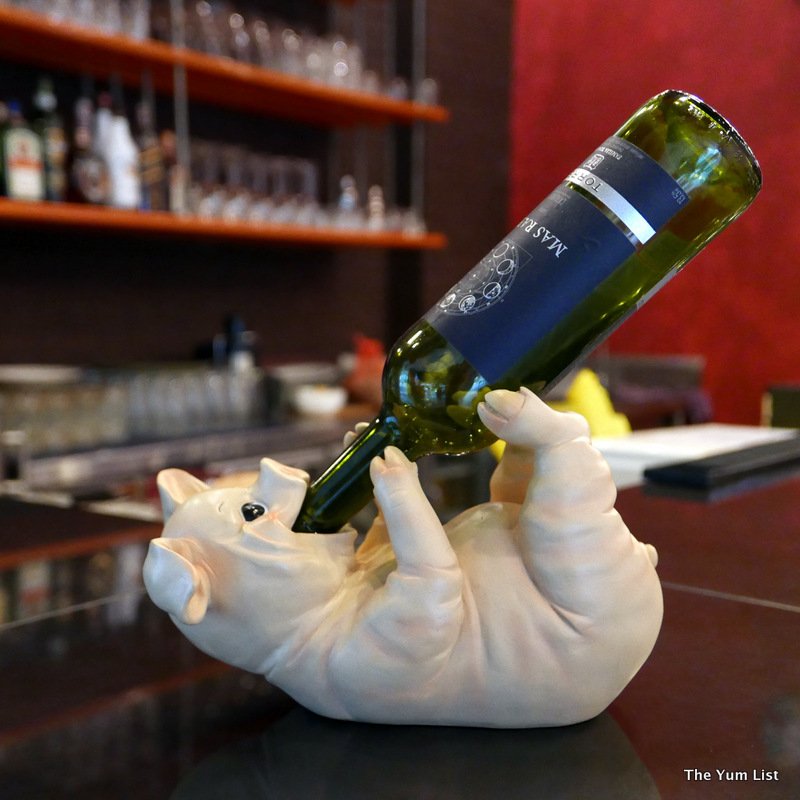 Meat the Porkers offers a wide variety of beverages, including every kind of soft drink you can imagine, fresh juices and some creative cocktails. For those who would like a glass of wine to balance the intense Indian flavors, there is also about 10 wines on offer with thoughtful descriptions to help you determine what suits you.
After Herukh's warm welcome introducing the restaurant's concept and vision, the plates begin to flow out starting with one of Meat the Porker's signature dishes, Tandoori Pork Ribs, (RM 48).  Like many of Herukh's plates, this recipe has a story. The fiery chef tried a number of times to get the consistency of the pork just right so that it was succulent and tender but stayed on the bone. Additionally, Herukh wanted to keep the distinct flavors of the dryness of Tandoori which is counterintuitive to many rib dishes, so he had to find a way to make it extra appealing to his visitors accustomed to saucy ribs. To do so, Herukh serves the ribs alongside the Indian traditional mint sauce and also includes a homemade tamarind barbecue sauce recommended to be dipped in the accompanying shredded sambal coconut. His attention to detail is spot on and he achieves balance, with variety left up to the diner with the choice of sauces.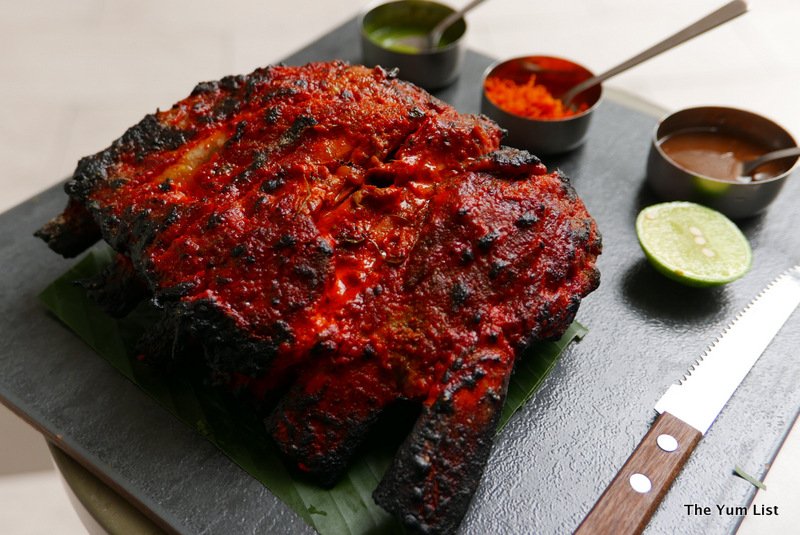 We continued to be wowed by the next sequence of plates. First, the Pork Seekh Kebab (RM 28), a deceiving ground pork kebab that could seemingly be chicken or fish, graced by the powerful flavors of coriander, ginger and and garlic. The following, Pork Pakora (RM 20), a beer drinker's beloved, came out fresh and crisp, like addictive popcorn. Served with a light mint yogurt sauce, these crunchy bits were hard to stop popping and would be a great pairing with an afternoon lager.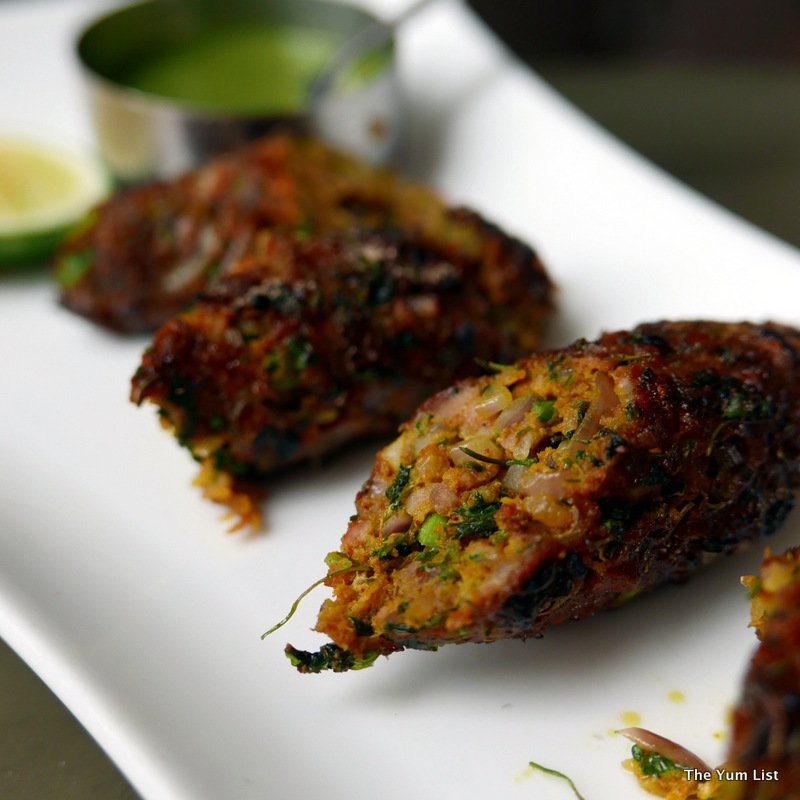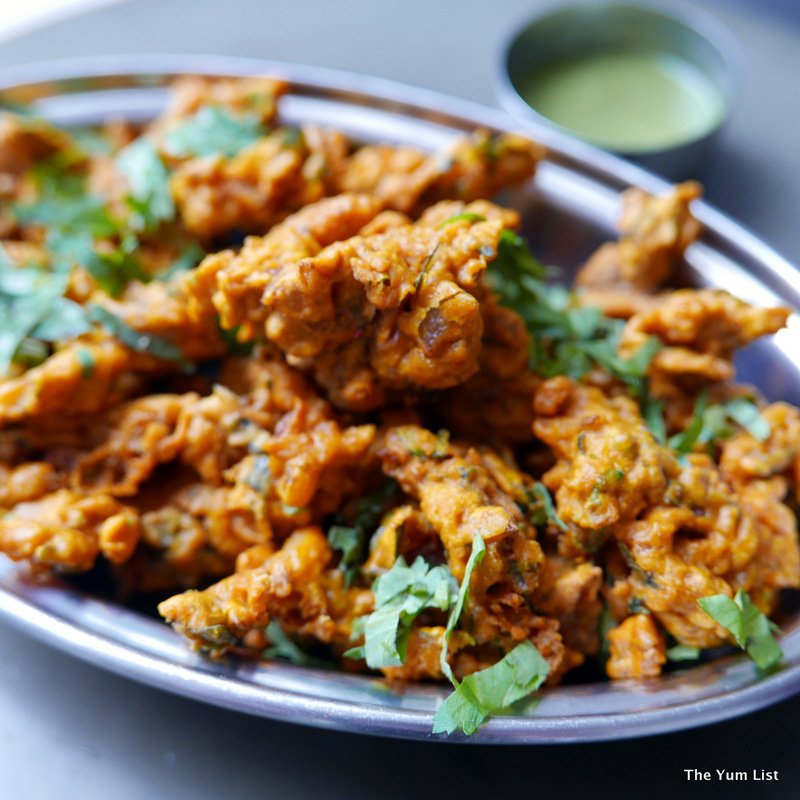 The wafts of the fragrant Siew Yoke Biryani (RM 28) arrived signaling a time to shift from the Indian starters to a current of mains. The Siew Yoke Biryani is served with crispy pork rind, reminiscent of Spanish chicharron. This added texture makes the Biryani unique and memorable. For those who prefer to eat bread alongside their curry, the indulgent and house favorite, Bacon Cheese Naan (RM 15), was brought out. In my opinion, Indian bread is delightful and often genuinely made with love but this naan was special. The bacon bits tossed into the dough are fried up with garlic before and each flavor penetrates the soft, and crispy Indian bread.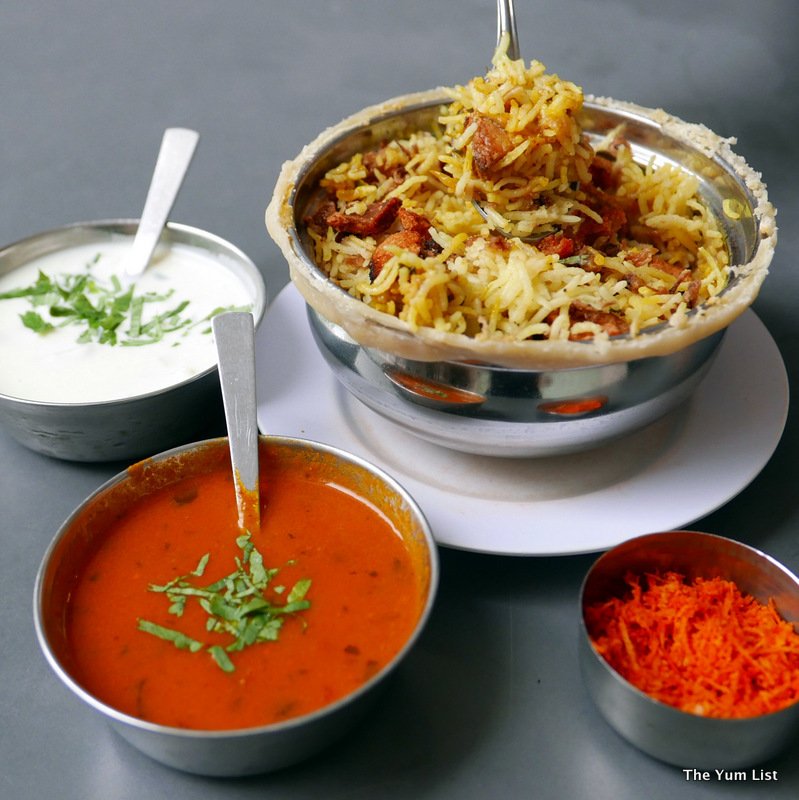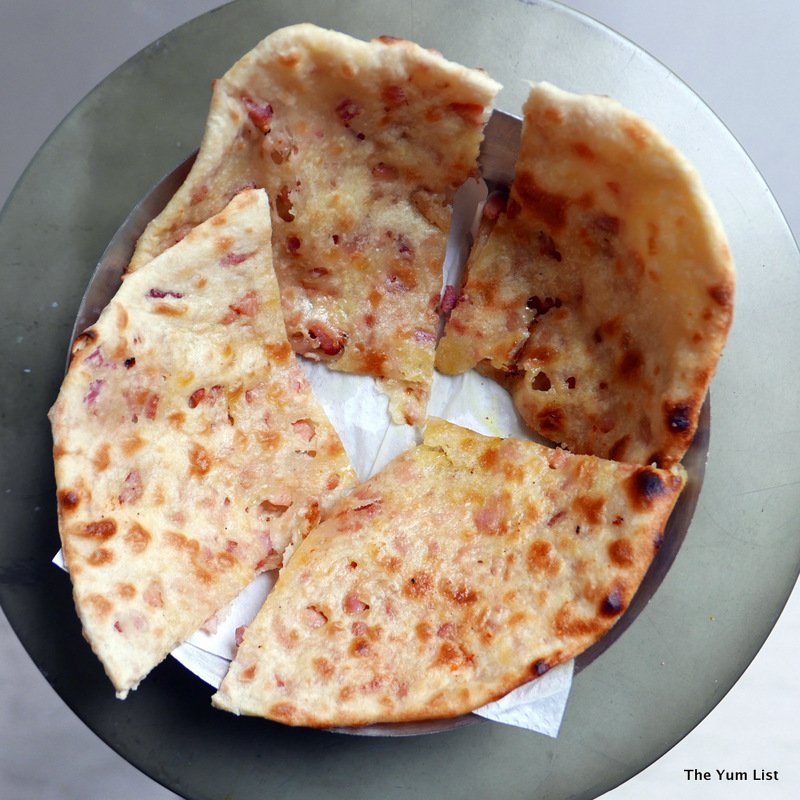 With the rice and the bread ready, it was time to sauce it up with some colorful curries. We started off with Butter Pork (RM 28), which ended up being my favorite curry of the house. This is a dish for anyone and everyone that is filled with simple, homegrown Indian flavors, such as onions, garlic, turmeric, coriander, cumin, and more simmered down to a smooth, soft pork curry. To counter the smoothness of the Butter Pork, those craving the sharper, more profound Indian flavors, can go for the Pork Masala 65 (RM 28). This includes tender fried pork with a volcano of flavors waiting to penetrate your tongue as you savor each bite.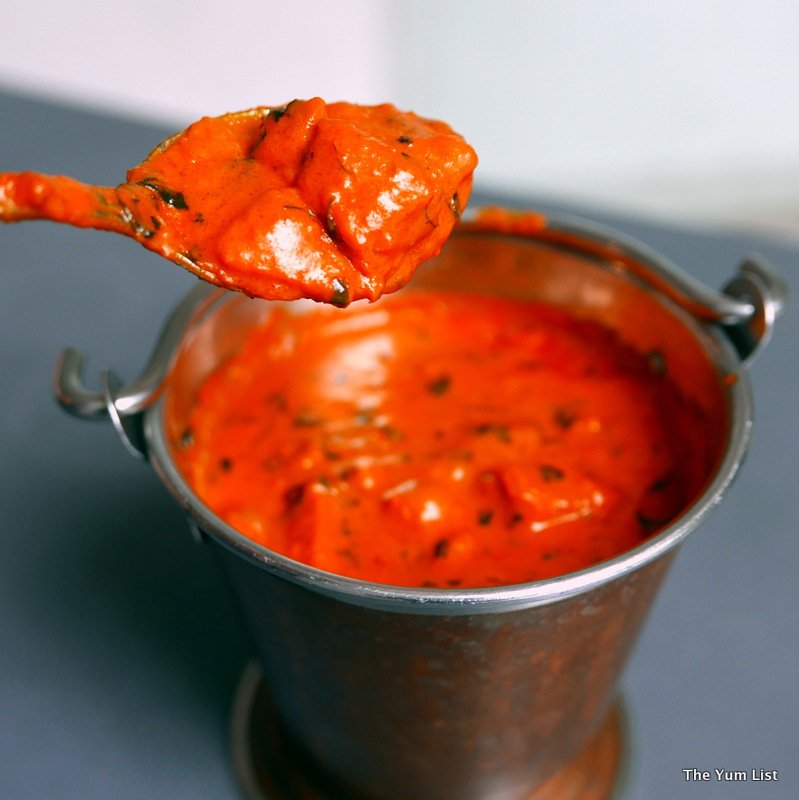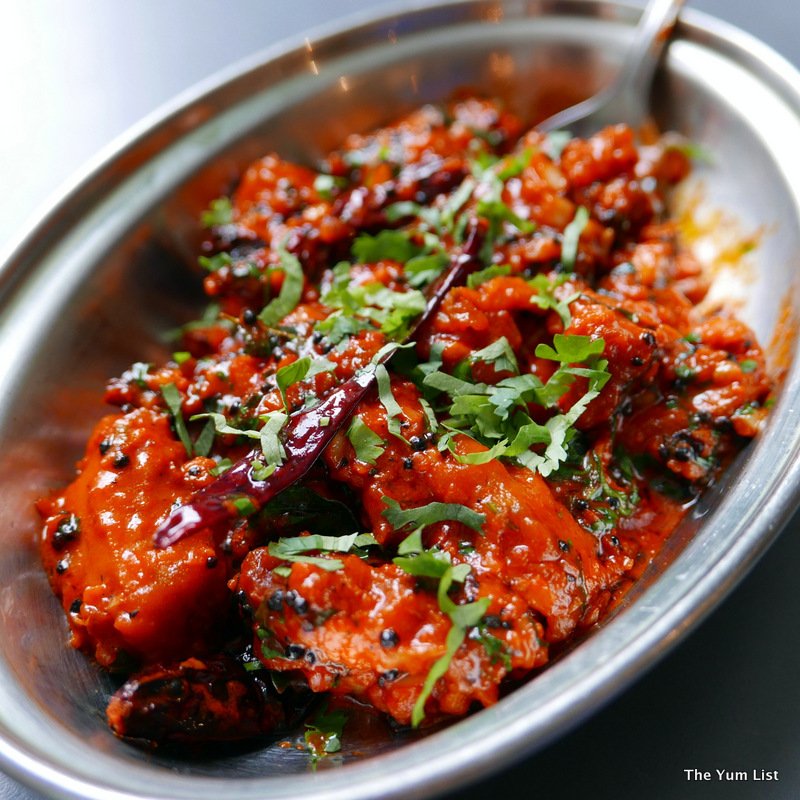 Herukh and Aahana recognize the diverse makeup of Malaysian cultures and families. They understand the importance of catering to multiple culinary needs and therefore the menu offers chicken, seafood and vegetarian options also.
We sampled the vibrantly green Palak Paneer (RM 22), a creamy vegetable Spinach curry with Indian cheese curd similar to the texture of tofu, that relaxed our stinging palates. In addition, we tried Aahana's original recipe, Orange Chicken, made with fresh orange juice and cream, good for those who love creamsicle combinations.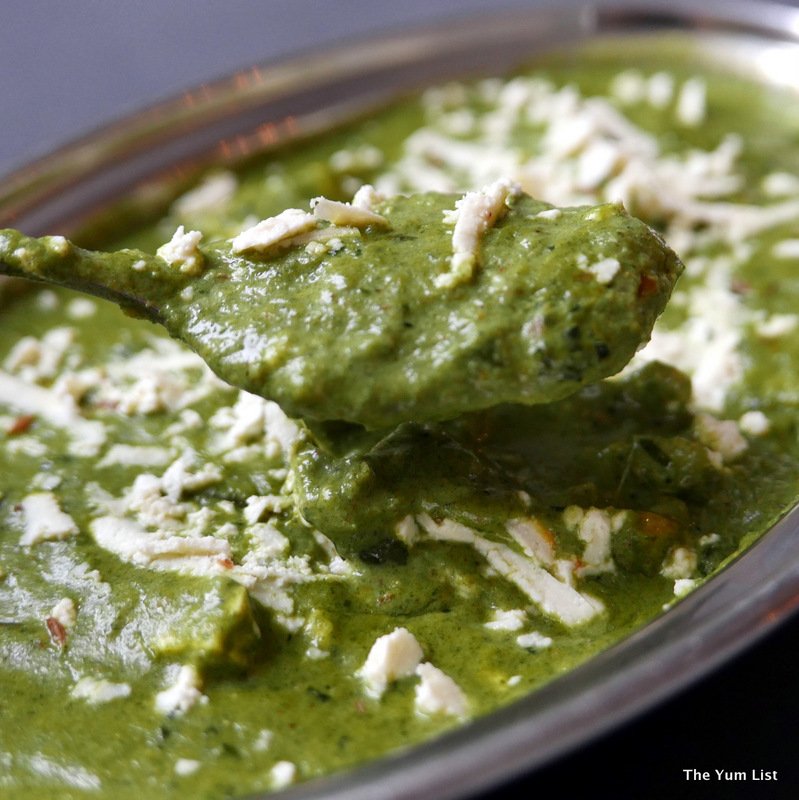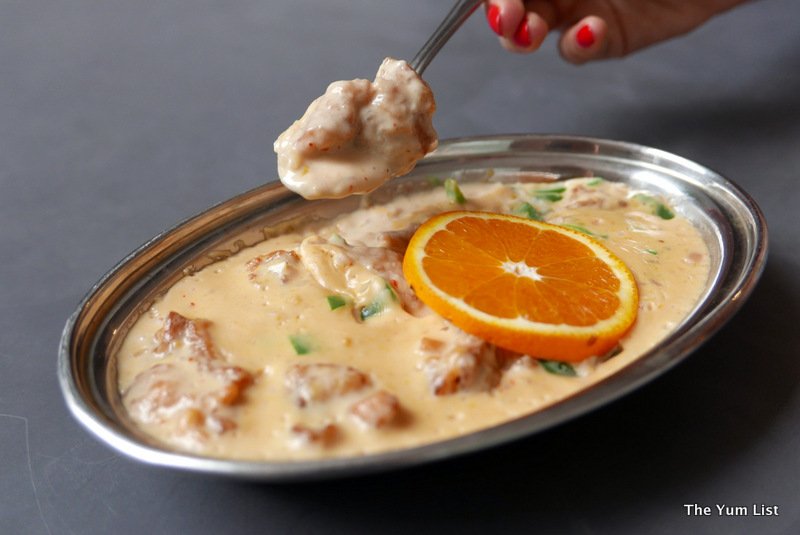 To top off the incredible feast and end this robust meal, Monica and I shared a Mango Pannacotta, topped with brilliant sunset colored juicy mango puree. It was an enjoyable ending to a meal packed with a world of flavors.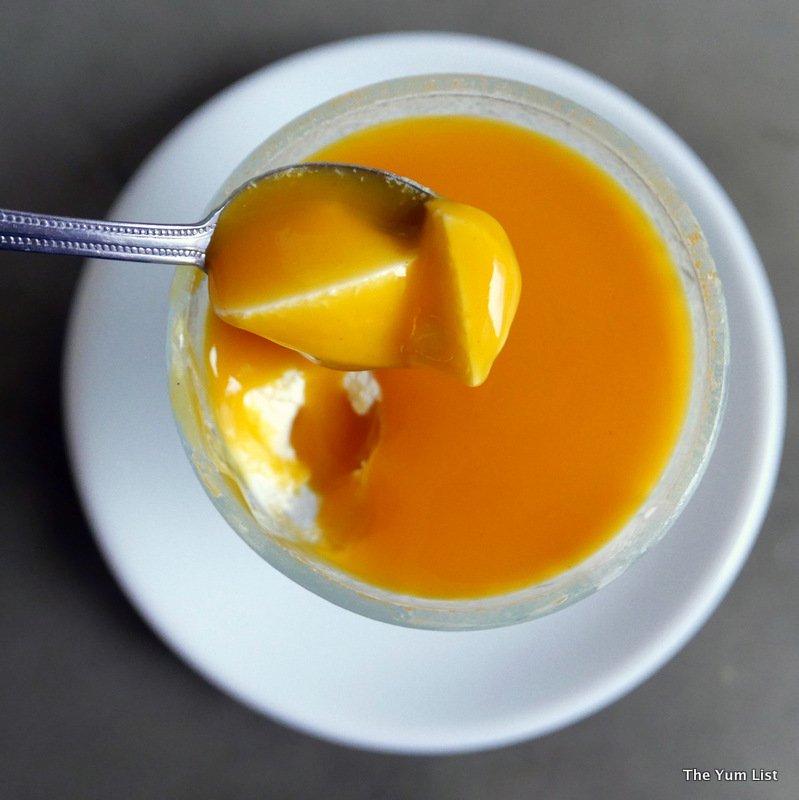 These days many of the world's best chefs are experimenting with food on different levels.  For some, it is simply fusing two different cultural flavors together and for others, it may look like changing the shape and texture of food to challenge our preconceptions and taste buds.   Herukh has kept it simple in many ways by bringing a type of meat packed with different flavors depending on how it's cooked, and blending it with the colorful myriad of spices that Indian food offers. His dreams of some sort of Indian infused pulled pork recipes and the potential of pork chops are both charming and inspiring to pork loving foodies – something we hope to return for in the future.
Reasons to visit: The tantalizing Tandoori ribs, which can be savored in three different ways: on their own, with mint sauce or with the Tamarind barbecue sauce and shredded Sambal Coconut.  Meanwhile, the Butter Pork's comforting rich tastes can warm anyone's palate.
Meat the Porkers
D1-G3-5 Jalan Solaris Dutamas 1
Kuala Lumpur, Malaysia 50480
+6 019 987 1945
www.facebook.com/MeatThePorkers