Words: Louise Miller     Photos: Monica Tindall
As we stepped into Nobu's serene dining space, the early evening sunlight was fighting its way through the clouds outside the expansive windows and filtering through to cast a warm honeyed hue on the traditional Japanese wooden furnishings. Monica and I were greeted with friendly smiles and and an equally welcoming cocktail as the overture to the Chinese New Year Omakase menu.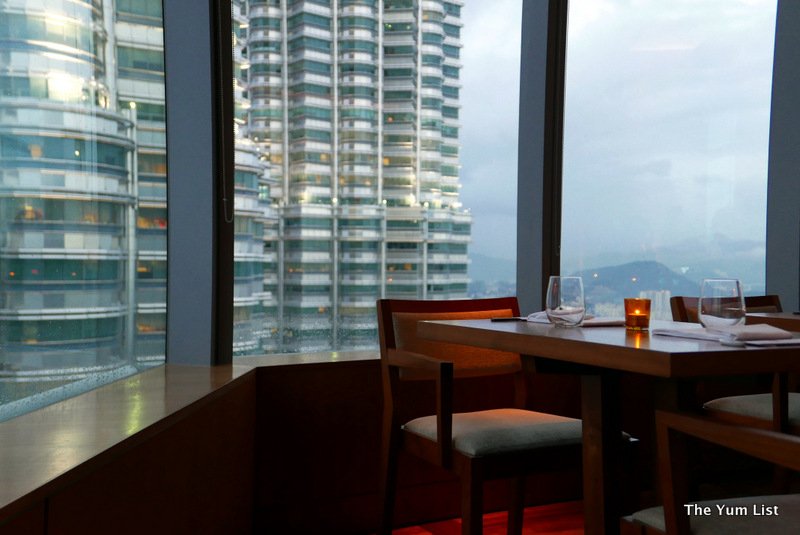 The Satsuma Mandarin immediately set a high standard for all that was to follow: made with Absolut Mandarin vodka, Martini Rosso, Cointreau and mandarin orange purée, the beverage was refreshing, rounded and so very quaffable, beautifully presented with its mandarin peel and mint garnish and served with a huge ice sphere. The evening was off to a great start.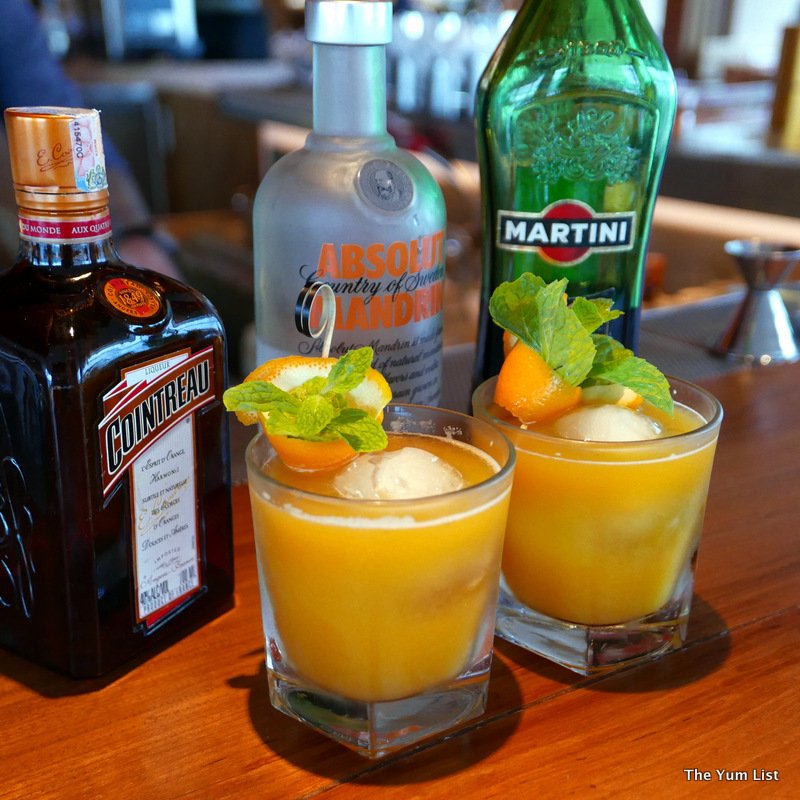 Our six course gastronomic journey was preceded by amuse bouche of scallop tortillas topped with tomato salsa and edamame sprinkled with sea salt, both providing satisfying bites to whet our appetites for course one.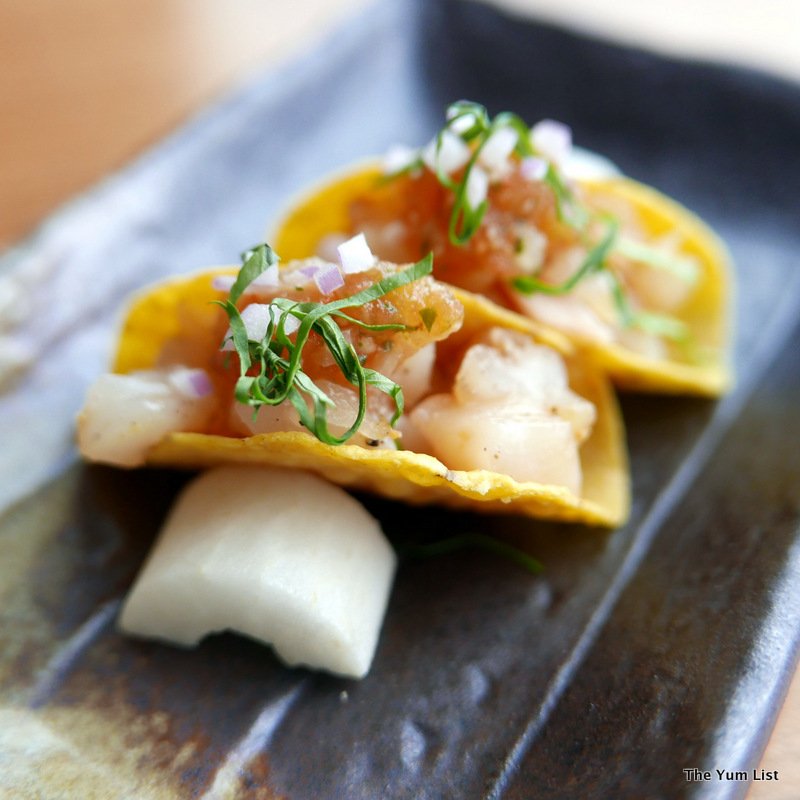 The Zensai Moriawase platter began the menu proper. A smorgasbord of fusion flavoured appetisers, presented in eight mini compartments on an elegant rectangular plate. We were advised to eat from left to right  beginning with dragon fruit ceviche with quinoa, red onion and coriander, and ending with octopus carpaccio with jalapeño dressing and topped with dried miso. The six appetisers in between were all fine examples of the innovation and finesse that one associates with Nobu: we devoured botan ebi; cubes of spicy tuna flavoured with miso on an arrowroot chip; white fish with yuzu and lemon juice topped with the Peruvian chili, rocoto; and oyster oshitashi marinated in sake, mirin and sugar. My favourite was the salmon new style sashimi, seared with hot olive and sesame oil and flavoured with sesame seeds, chives, ginger and garlic – these bite sized portions were palate pleasers that were deeply satisfying yet light enough to be followed by a further five courses.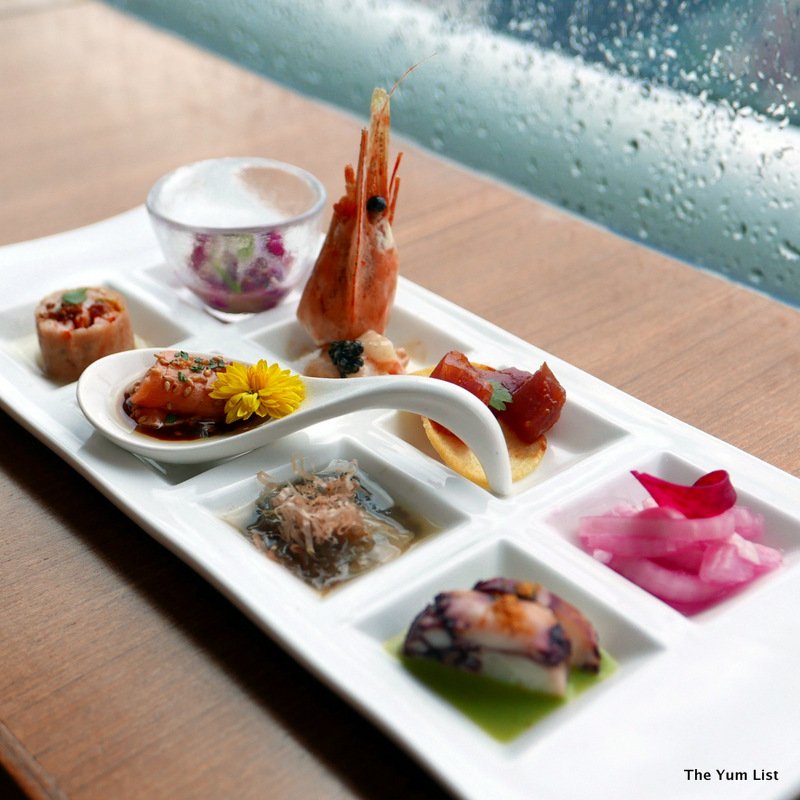 No CNY would be complete without Yee Sang and Nobu's Omakase menu was no exception. The restaurant's interpretation of this festive salad saw ao tosaka (green seaweed), aka tosaka (red seaweed), carrot, cucumber, myoga (pickled ginger flower), pomelo, beetroot, crispy tofu skin and tempura flakes with sashimi showstoppers of tuna, salmon and whitefish. A delicious tangy flavour was provided by a bed of ponzu jelly and sweetness lent to the dish by a drizzling of yuzu honey served on the side. Delicious enough in its own right, our second course was further enhanced by the accompaniment of two of the chef's tasty sushi rolls which, along with the sashimi, wove a Japanese thread into the otherwise Chinese course.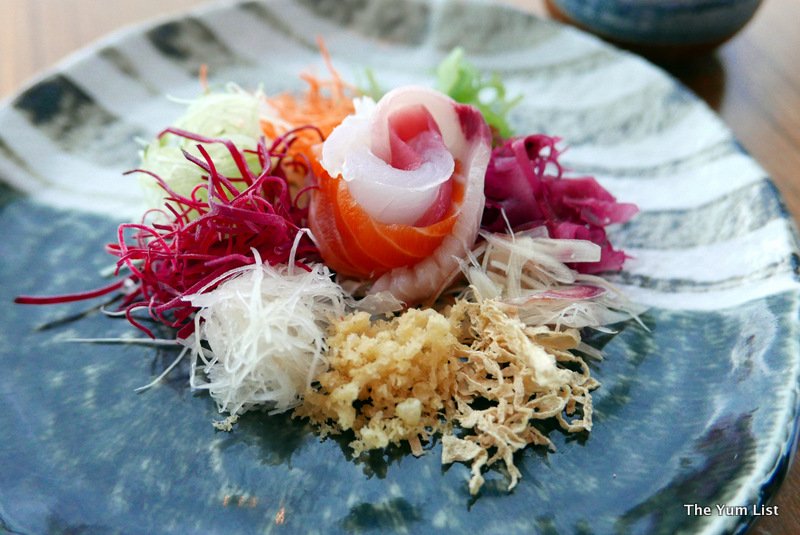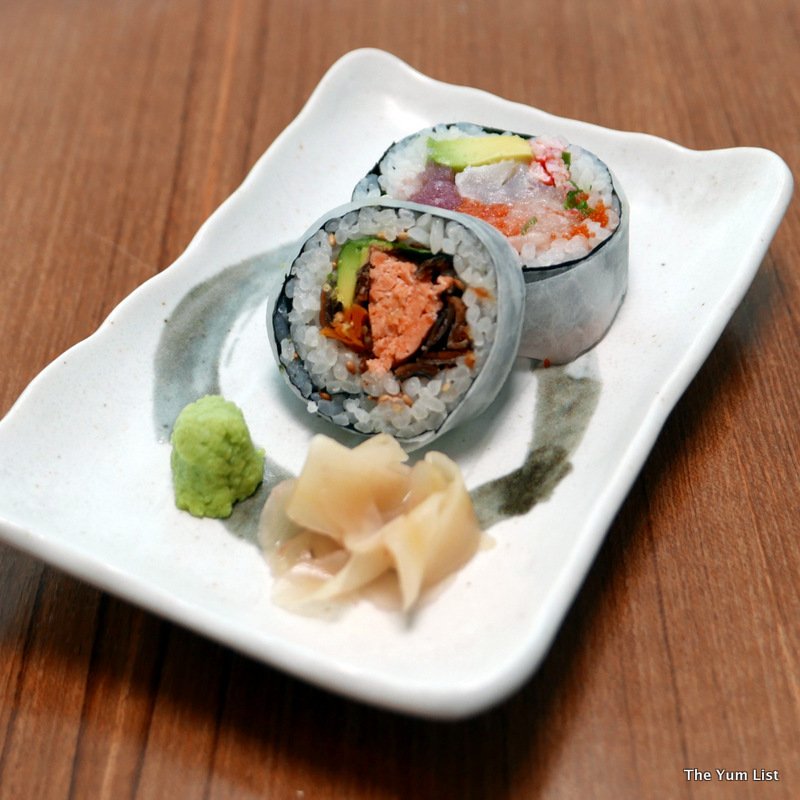 Having polished off the Yee Sang, we had now arrived at the first of two main courses. The Steamed Seabass with truffle sancho pepper soy was seared with hot olive and sesame oils which, along with the steaming, had kept the texture of the fish perfectly moist and tender. Topped with ginger and chives and garnished with togarashi (a Japanese spice mix), the flavours were divine.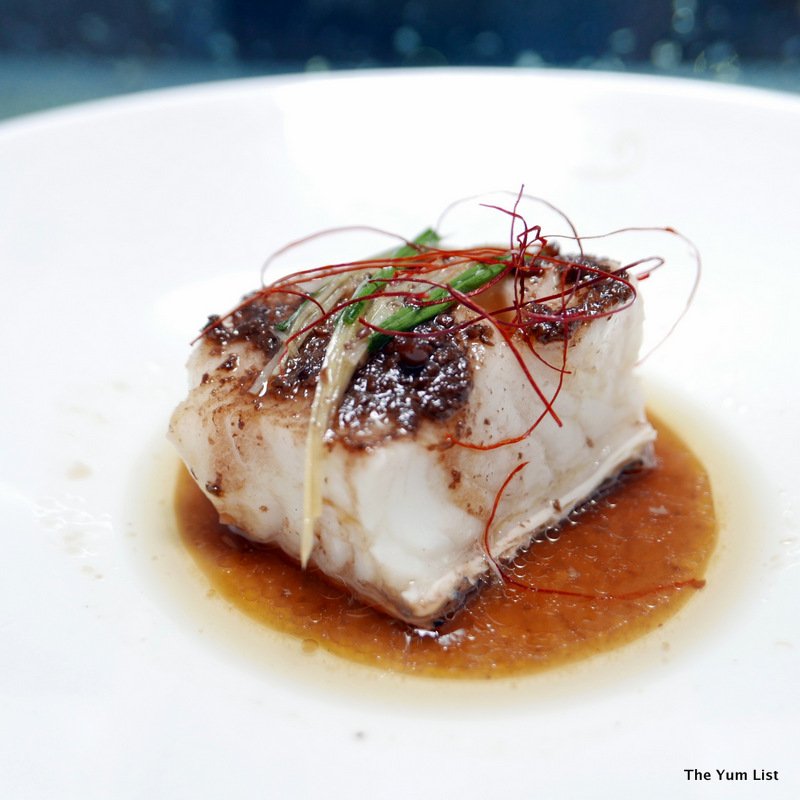 The second of the mains, Pan Seared Duck Breast was served with passionfruit teriyaki sauce and beetroot purée with sautéed carrot, shimeji mushrooms, cauliflower and beetroot on the side. The meat was pink, tender and the richness of flavour was perfectly paired with the light fruity umami combination of the sauce. A hush descended on our table as we were rendered momentarily speechless by this course – an absolute must for duck fans.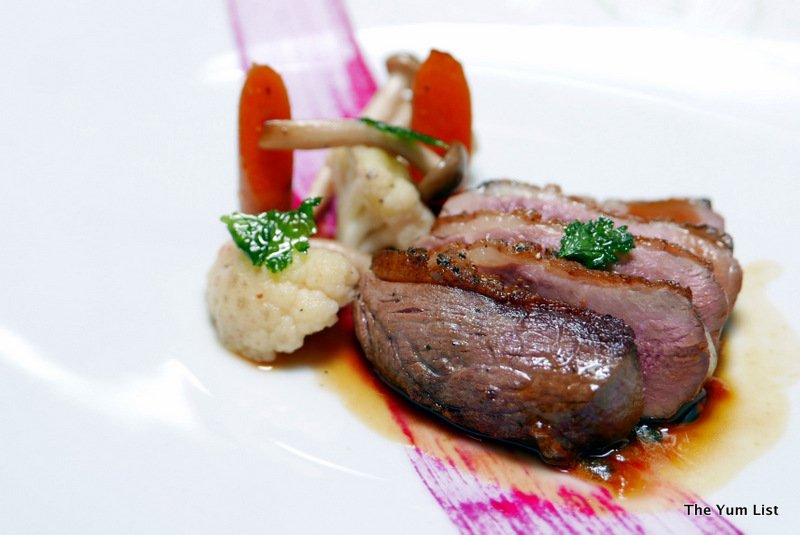 Nearing the end now, we were served course five, Clear Soup with whitefish dumpling and garnished with scallion, shitake and enoki mushrooms. There was a soothing smokiness in the subtle yet complex flavours of the broth – comforting and very tasty!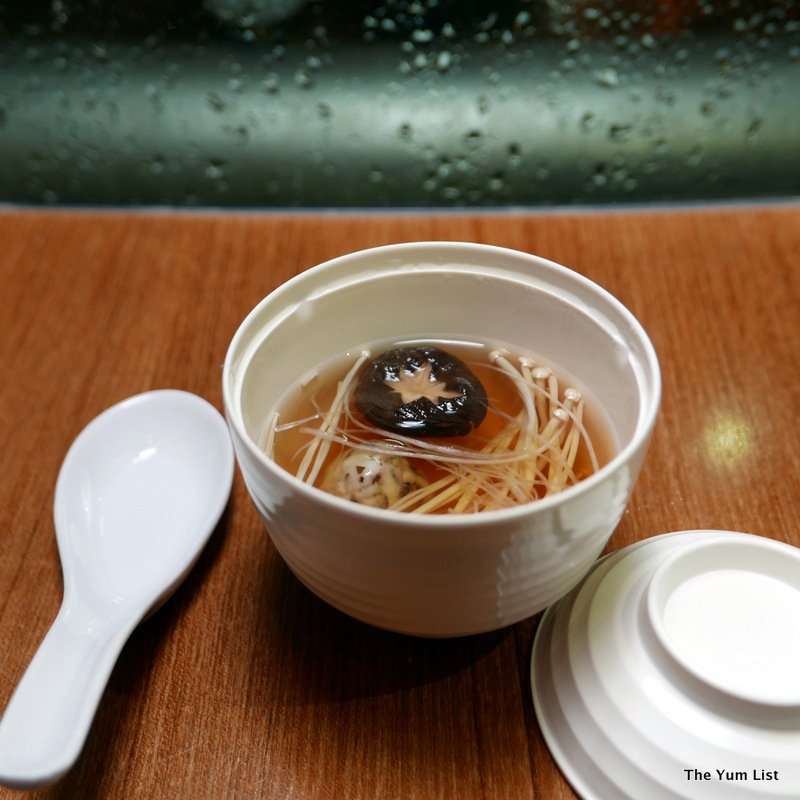 And for the finale, the stunning Goma Bavarian and Almond Sponge was set before us like a miniature culinary work of art. Plated as two pristine hemispheres, the almond sponge was mirrored by mandarin orange sorbet and the citrusy tartness of both was lifted beautifully by a white peach sauce, yuzu curd and miso crumble. What a heavenly final destination on our gastronomic journey!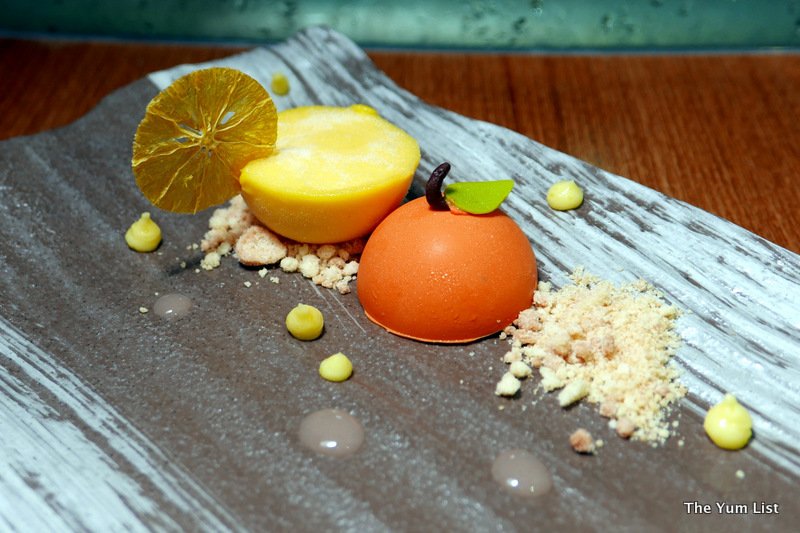 We left Nobu having delighted in a truly memorable menu, full of great flavours and artful plating. So light and well balanced was the meal that we'd hit that rare point of satiety, free of the need to lie down for an hour or six!
Reasons to visit: Incredible flavours, in particular the Pan Seared Duck Breast and Goma Bavarian and Almond Sponge. Fantastic welcoming and attentive service and unrivalled panoramic views of the KL cityscape in Nobu's elegant surroundings.
The Chinese New Year menu is available until February 13th and is priced at RM488++ per person including a welcome cocktail or mocktail.
Nobu Kuala Lumpur
Level 56
Menara 3 Petronas,
Persiaran KLCC
50088 Malaysia
www.noburestaurants.com/kuala-lumpur
+603 2164 5084