There's something about water views that feel so peaceful. Gazing at the horizon, with nothing but the blue sea between myself and the skyline, somehow induces an instant state of calm. aVi Spa at Avillion Port Dickson does just that – and that's before we've even seen the treatment menu.
Built over the sea in a double story pavilion, aVi Spa is a contemporary Peranakan inspired place of relaxation with three distinct venues: aVi spa suites, aVi spa space, and aVi lounge. Top quality spa treatments, a light spa cuisine menu and stunning sunset views make this beautiful property in Port Dickson a luxurious day trip from Kuala Lumpur.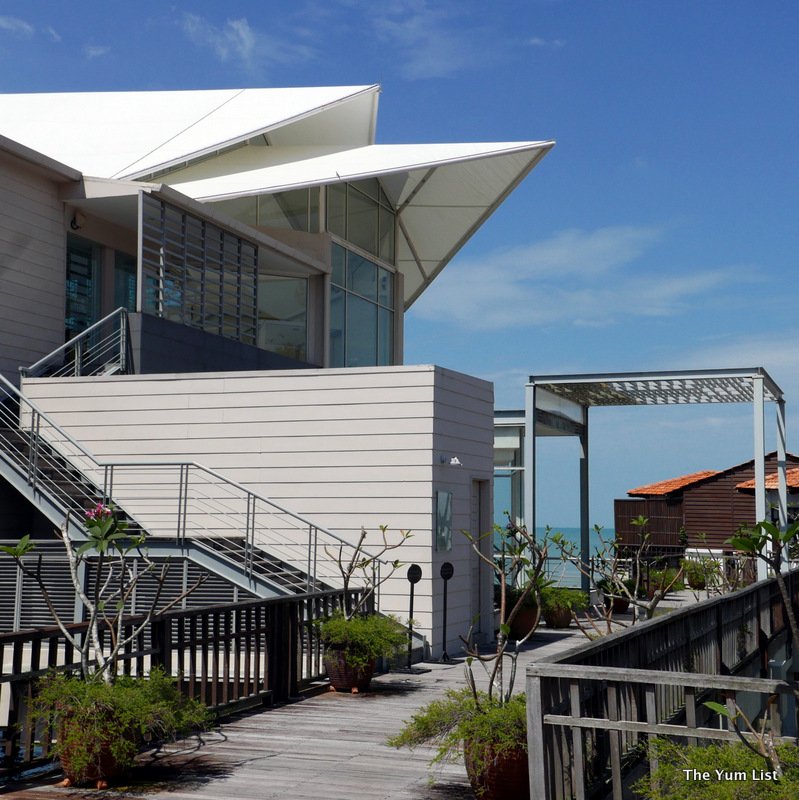 About an 80-minute drive from KL is just the right amount of time to separate us from the stress of the city and deliver us to the serenity of the sea. It's also plenty of time to work up an appetite, so we suggest beginning the experience with a light lunch in aVi Lounge.
Executive chef Chan has devised a spa cuisine menu keeping in line with the spa's healthy and light concept, and to start we refresh with the vibrant Hydration Juice blend of watermelon and lime.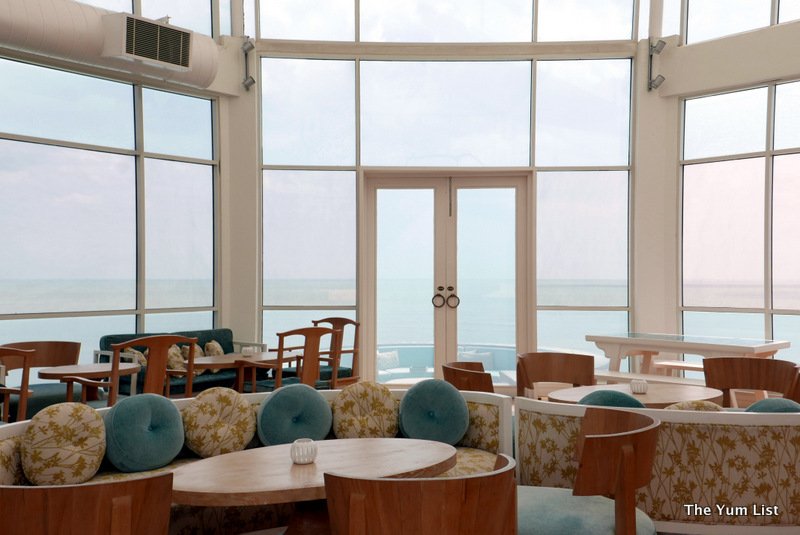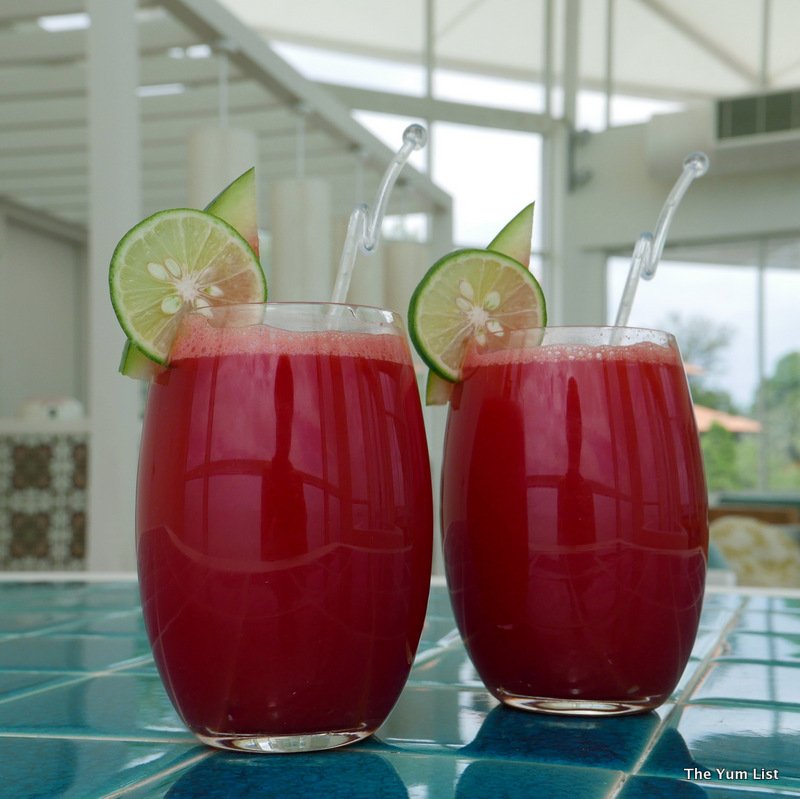 Young Spinach Salad with tahini and yoghurt dressing makes a flawless starter. Served with pumpkin, beetroot, asparagus and walnuts, and sprinkled with roasted sesame seeds, it's fresh and a little different from the usual salads on menus in KL.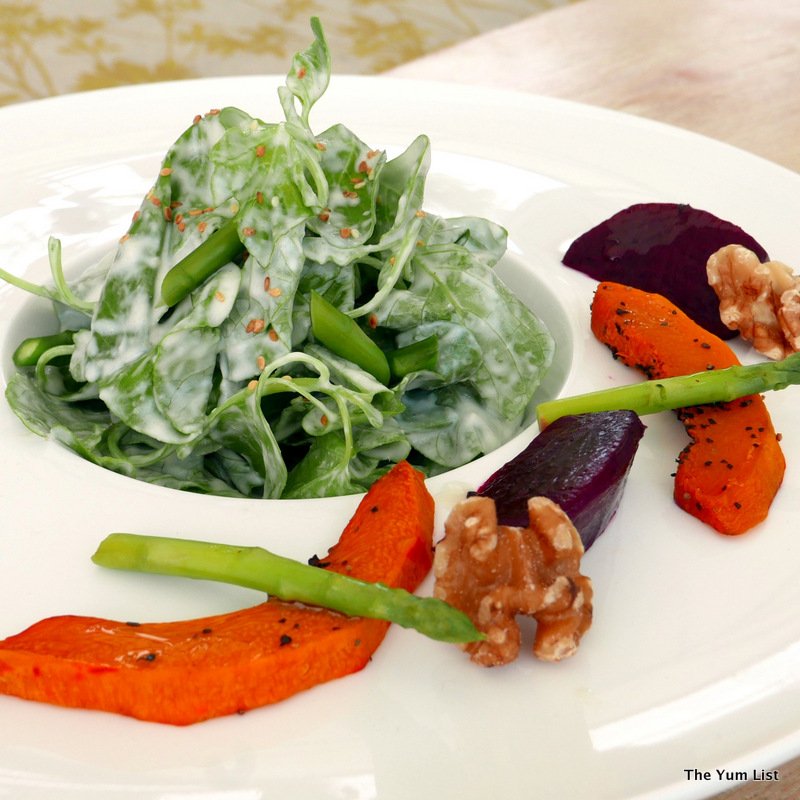 Poached Salmon comes with three spoons of pesto cream on the side – perfect for fusspots like me who like to add seasoning to their own liking. A base of mashed seasonal vegetables – today it's pumpkin – supports the moist pink flesh. Fresh garden leaves and a wedge of lime refresh the side, and this one has us both planning the next time we can reorder it.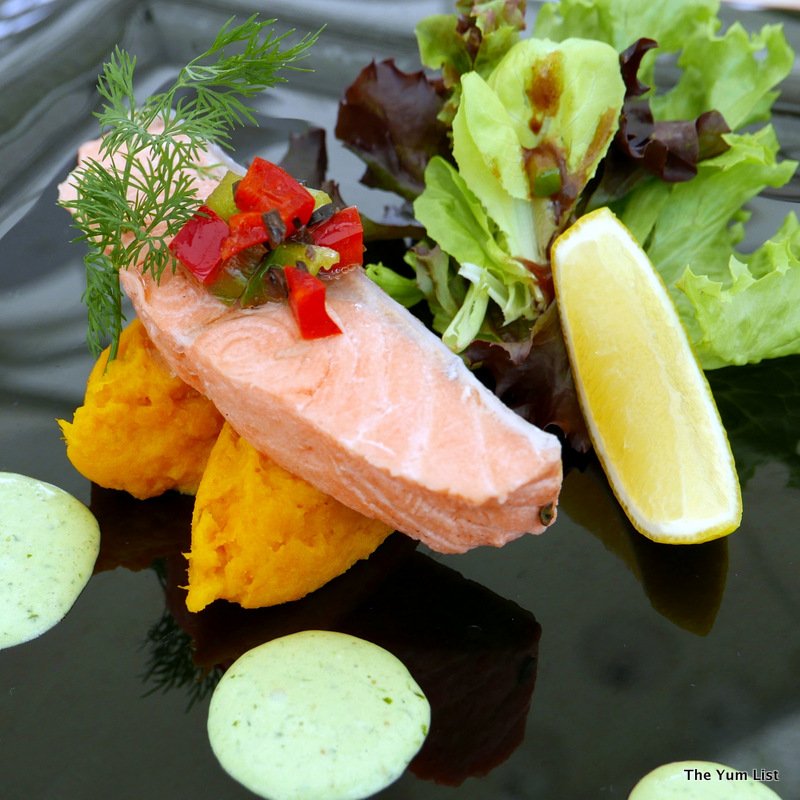 Pumpkin Cutlets prove that vegetarian recipes can easily compete with their meaty counterparts in taste and flavour. These beautiful rounds of mashed pumpkin are coated in breadcrumbs and quickly deep-fried. The result is a slim crisp coating – not a drop of oil can be detected. A touch of black pepper, thick brush stroke of capsicum puree, and salad leaves colour the plate. Delicious!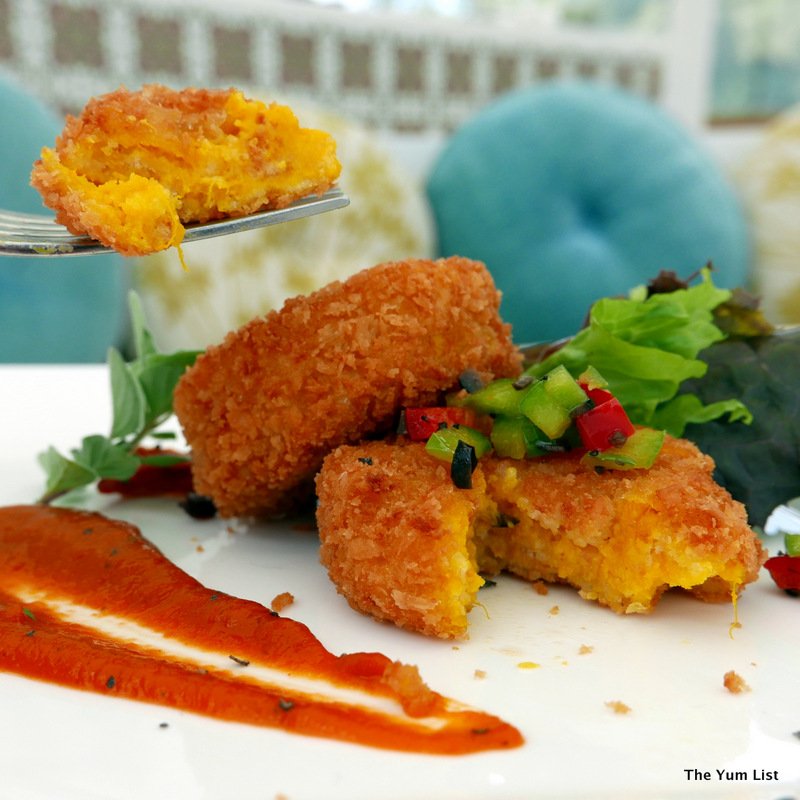 We smell dessert as it's being laid on our table as the sabayon sauce and fruits that side it have been freshly caramelised. Blueberry Crepes are such a simple dish with cream cheese mixed with berries as the filling, but they are oh-so-satisfying. This one does get a reorder, as hubby has gobbled two and half of the three crepes before I've even picked up my fork!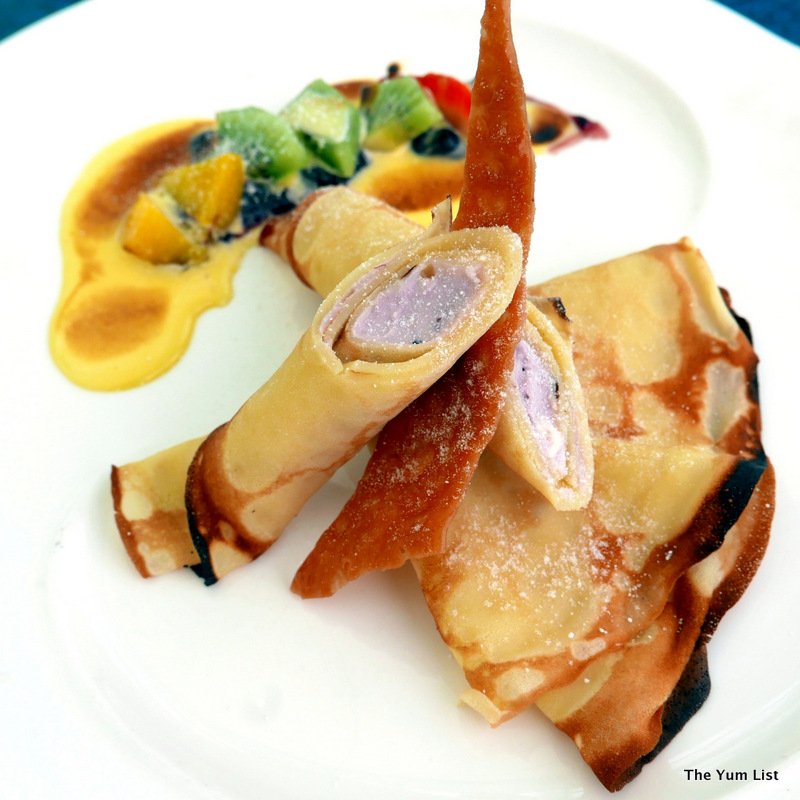 Hunger satiated, but tummies not overly full, we head downstairs for our scheduled spa treatment.
Aquamarine shades accent the light contemporary rooms and, as mentioned above, those impressive sea views prompt a dreamy state all on their own. The treatment menu is extensive, and easily competes with anything you find in the city. While there are a number of body treatments such as scrubs and wraps on the list, we're both fans of massages and facials and find multiple variations of each.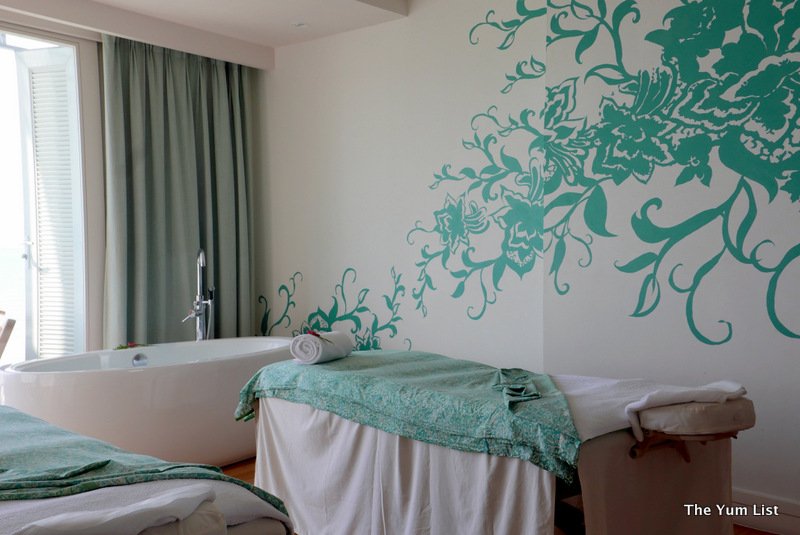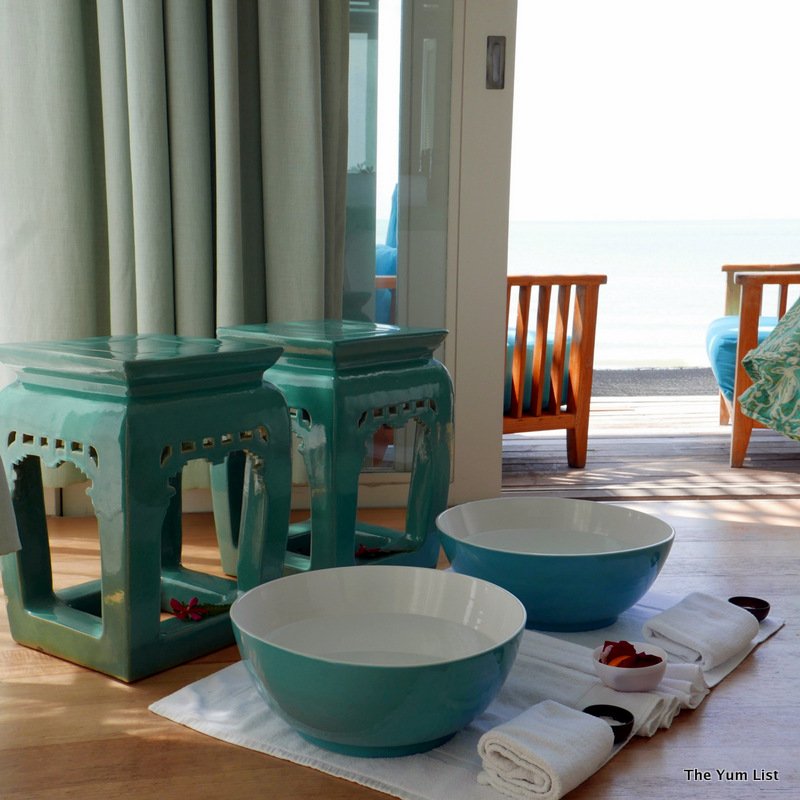 Our 90-minute session includes a 60-minute body massage and 30-minute facial; each adapted to suit our desired goals and preferences. Our therapists are highly skilled not leaving a single detail without thought. Before and after tea, foot bath ritual, high quality massage beds, disposable underwear, cushions under ankles (when prone) and knees (when supine) to relieve pressure on the lower back, adjustments to temperature and music – every element has been considered.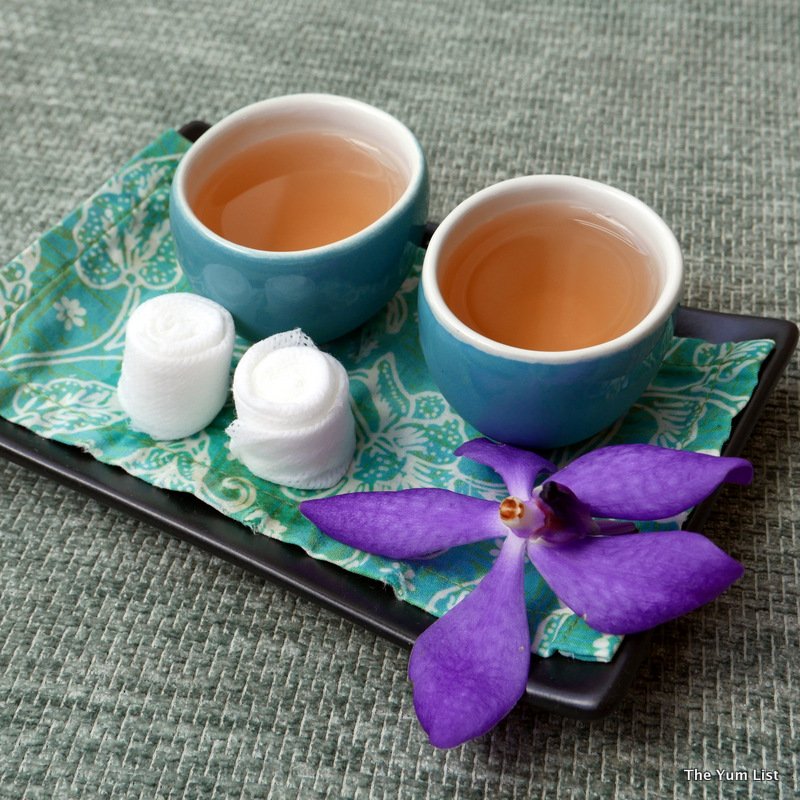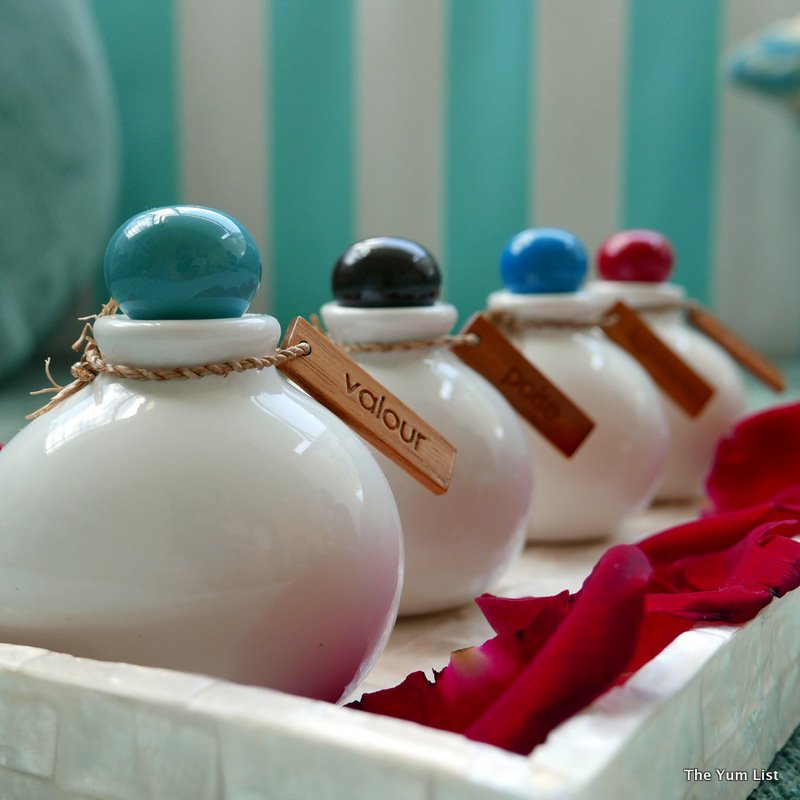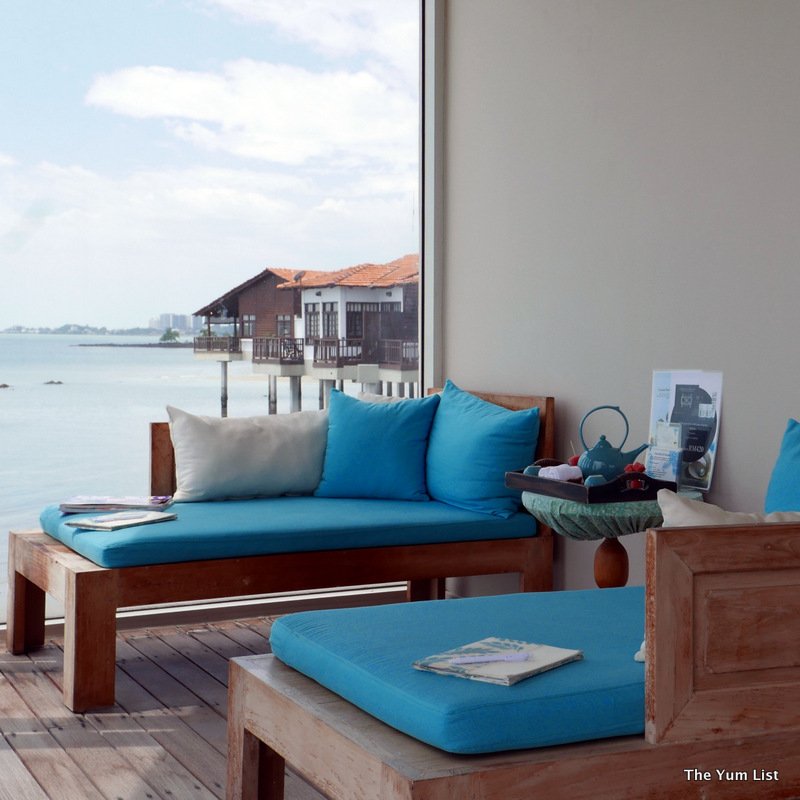 If choosing from the comprehensive a la carte menu sounds daunting, you might like to select a package, such as that designed in honour of the month of love, February. Formulated as a couple's treatment it begins with a foot bath, is followed by a chocolate body scrub, and finishes with a milk bath. This enchanting series of therapies leaves the skin feeling smooth and supple, and relaxes minds and bodies setting up the conditions for romance to continue.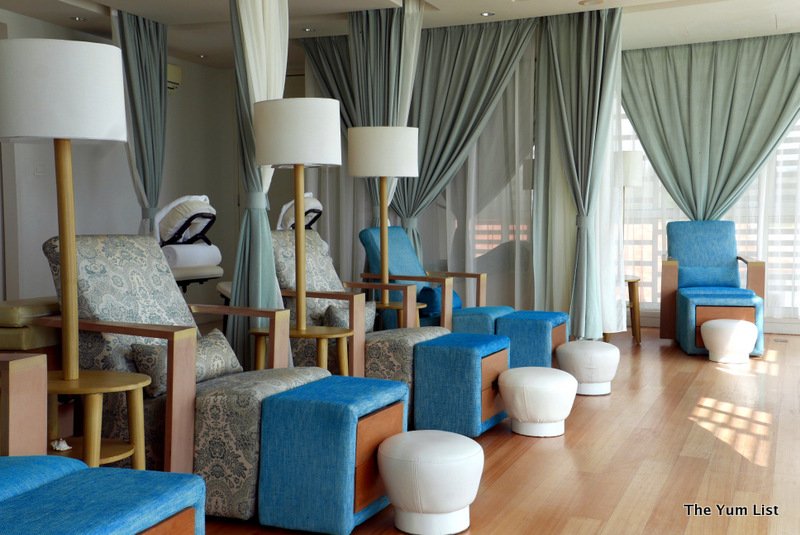 And, for a smashing beginning to a pleasurable night or ending to an unforgettable day, we head upstairs to aVi Lounge. The space is surely one of the most spectacular locations on Port Dickson. The glass walled cathedral-like building lets in the blue from the sea and the green from the jungle. A fabulous circular seating area juts out over the water, and as the sun lowers so does the temperature.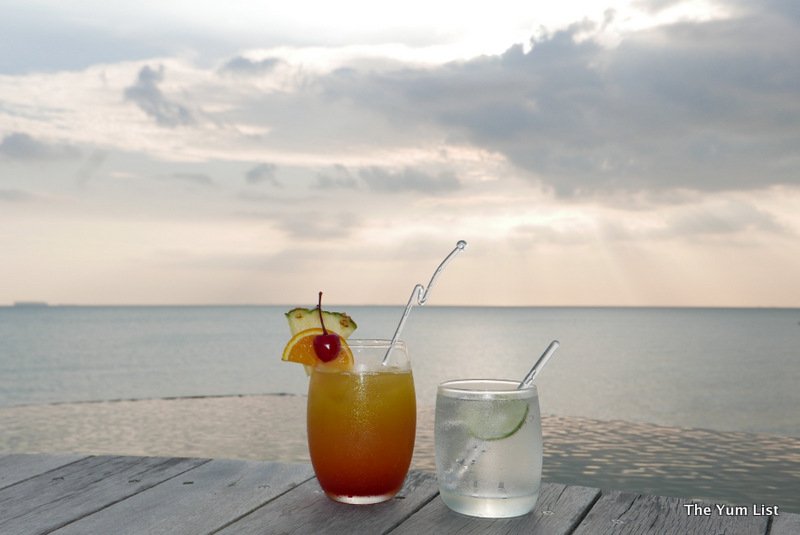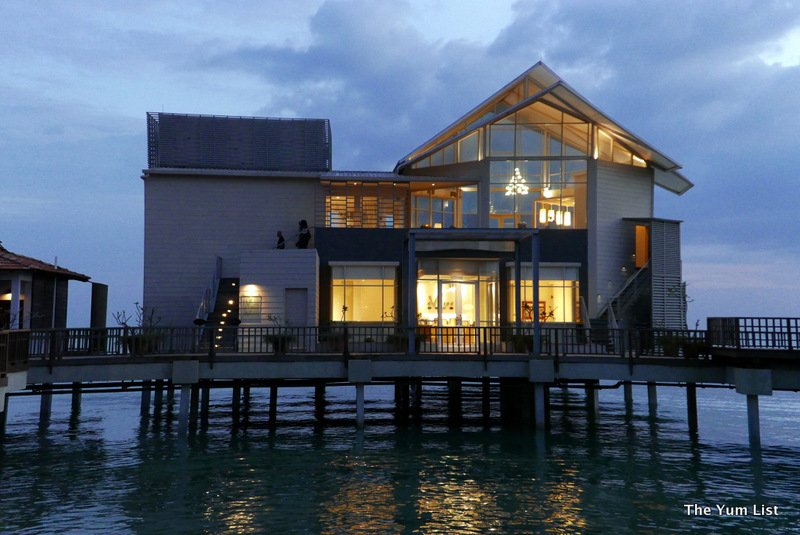 Cocktail in hand while watching the sky change from a palette of blue to one of golden-orange and finally deep purple and star-speckled black, is a fairytale ending to a dreamy day.
Reasons to visit: stunning setting; highly skilled therapists; an excellent range of treatments.
aVi Spa
Avillion Port Dickson
3rd Mile, Jalan Pantai
71000 Port Dickson
Negeri Sembilan
Malaysia
+ 6 06.647.5740
[email protected]
www.avispa.com.my