Words: Matt Jones       Photos: Monica Tindall     Constant Entertainment: Caning
Gastro pubs are always good for a relaxing, fun time, and the chilled vibe set of The Eighth Avenue certainly doesn't disappoint. I wasn't quite sure what to expect at first, the place being the collaboration of an Indian/Australian former shoe designer and his interior-designer wife; a Western-local-Asian confusion, and it turned out to be exactly that, in the best possible ways.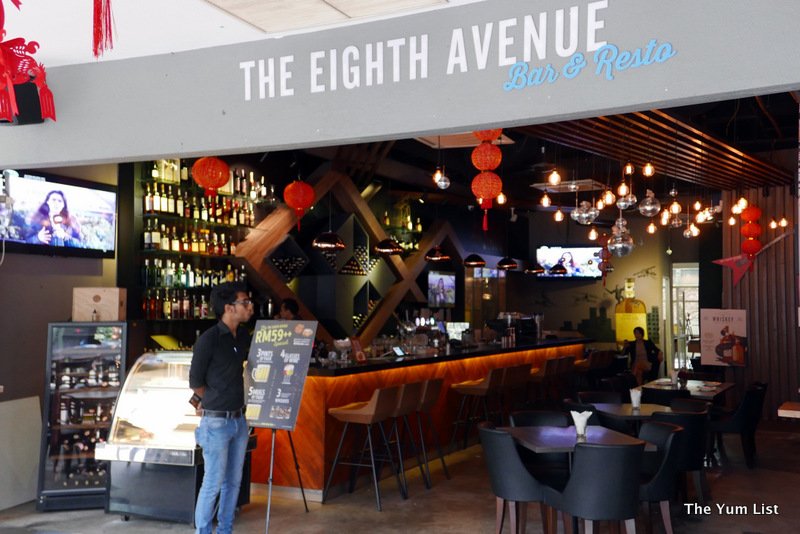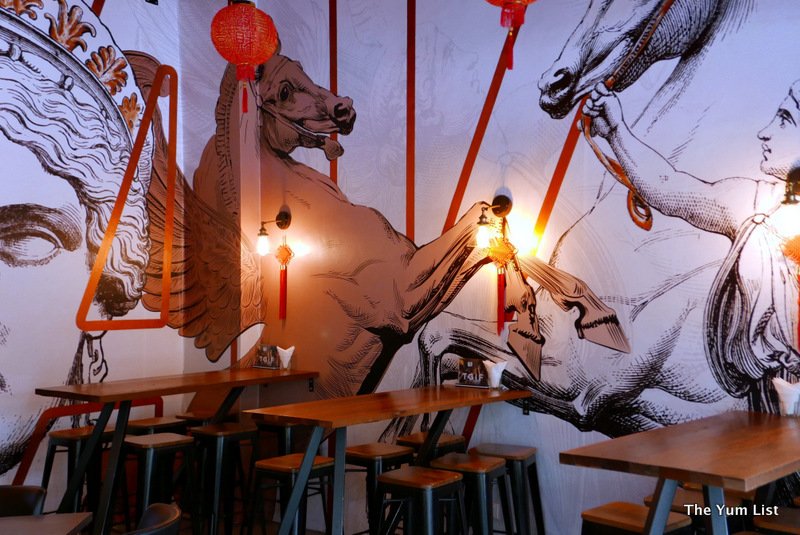 Take for example their signature dish, Lychee Pork Poppers (RM28.90); bite-size deep-fried delights of battered whole lychees stuffed with minced pork, presented with a fully-dressed side salad masquerading as a garnish. Or the Taco Bout It (which we did at great length between the "oh wows" and "sooo goods"); three corn taco shells stuffed with minced pork, capsicum, red onions, cheese and guacamole and a generous salad 'garnish' (RM 22.90).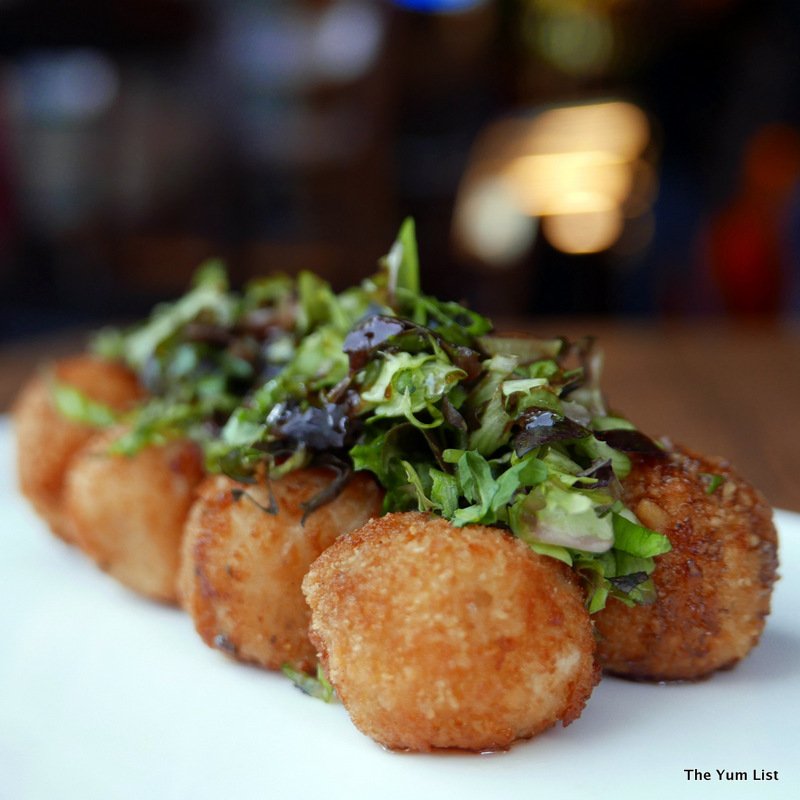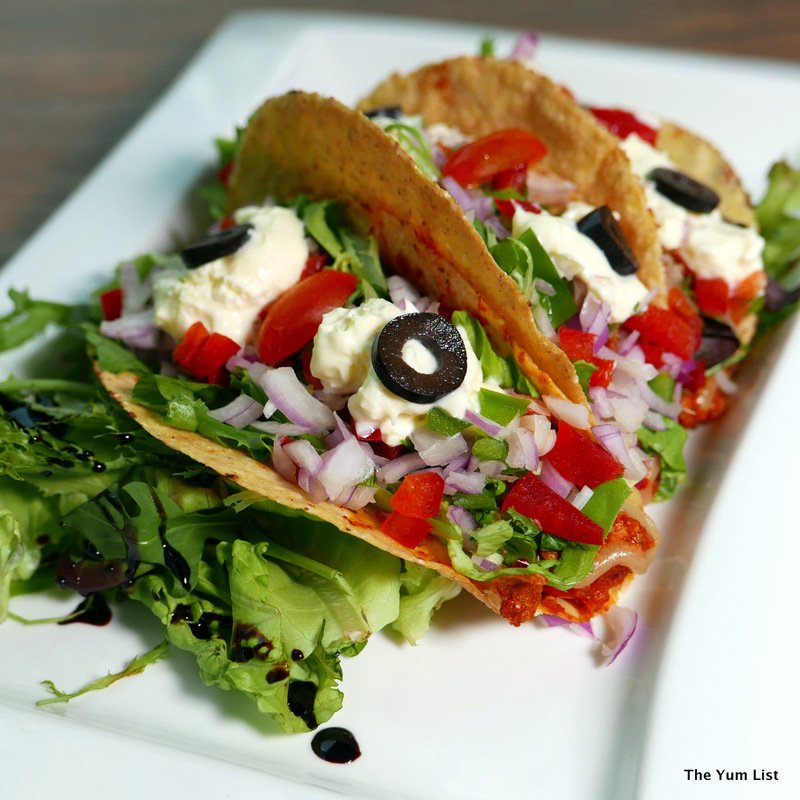 Both of these can be found in the 'Bar Nibbles' section of the food menu which Queenie, our hostess for the afternoon and The Eighth Avenue manager, immediately recommended, and I would have happily stayed at the bar and kept choosing the entire meal from the same page given the drinks event that was happening in front of us at the same time.
Thanks to the beverage brilliance of their brand new mixologist, Imran, who's CV reads like a guide to the 5 star hotels of Kuala Lumpur, something is really stirring behind the bar here. Well, technically he doesn't officially start until next month, so being granted an audience was certainly a glass (after glass) full of treats! Clearly a career-mixologist who loves his craft, Imran himself overflows with passion and excitement as he creates, describes and serves his concoctions.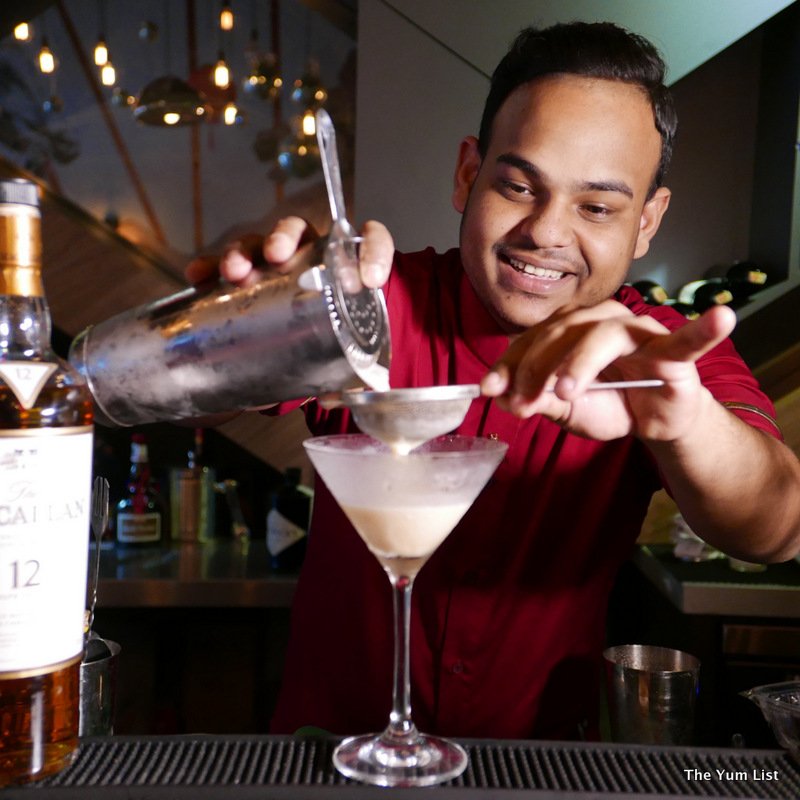 Speaking of passion and fruit, the first was a Macallum's Whiskey-based, fresh passionfruit and passionfruit syrup specialty garnished with (get this) the emptied-out half passionfruit shell refilled with a shot of OP rum, and an aromatic branch of rosemary. "Always doubles", he winked passing the martini glass to us across the bar.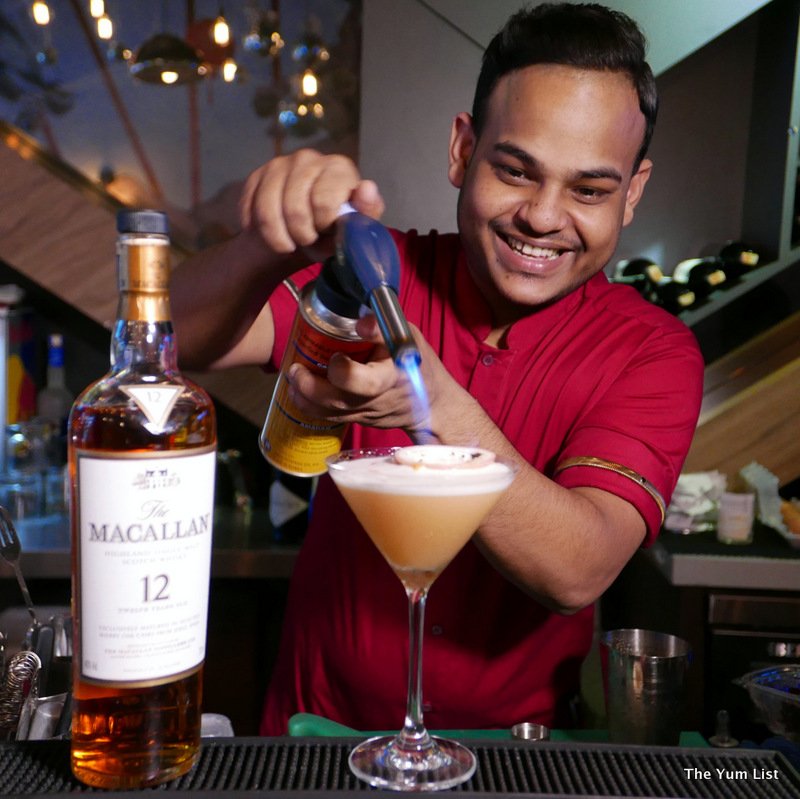 Next up was a 'G and T' of crushed calamansi, crushed blueberries, Midori and Monkey 47, again furnished with a bouquet of dill sprig, an edible flower and a nasturtium leaf.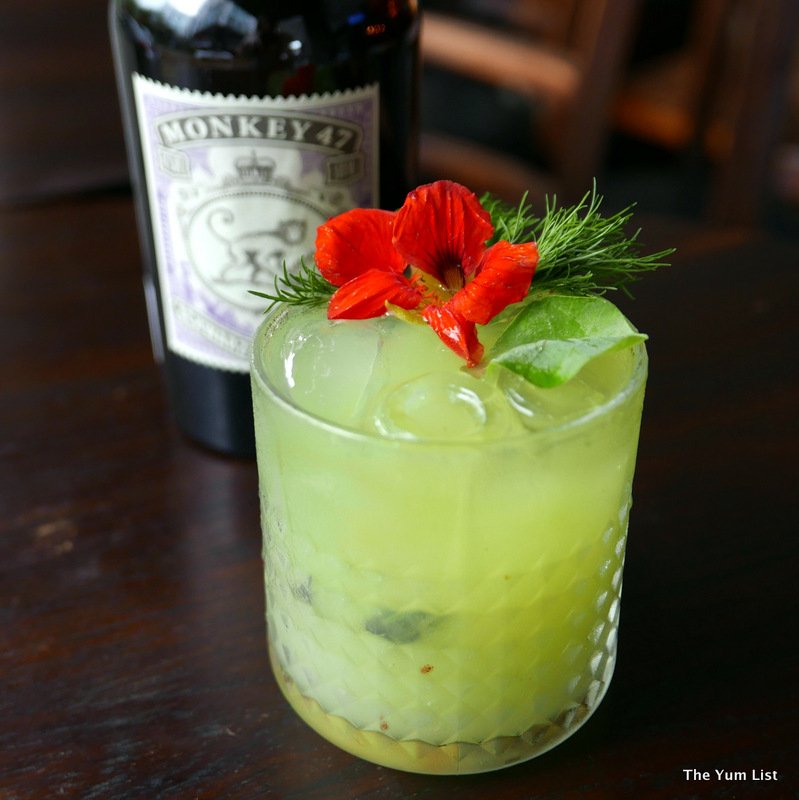 Continuing the gin theme; Hendricks with Benedictine, pomegranate, crushed cucumber and lemon, a beautiful pale pink delicacy of a drink set off with mint leaves, pomegranate seeds and a rose petal garnish.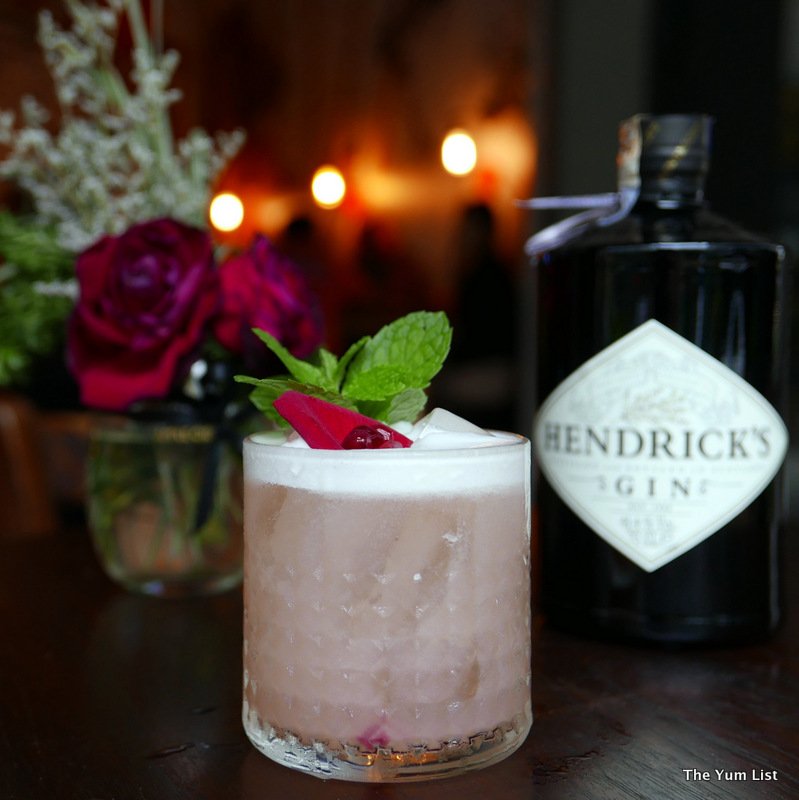 Continuing again with what we realised is a signature theme throughout both The Eighth Avenue's food and drinks menus; carefully matched fruits in almost every dish and an abundance of it through the drinks as garnishes, the last of the four cocktails we tried arrived with its own fruit salad on top. This Tropical Vodka Sour (I renamed it the 'TVS' much to Imran's delight) is a fresh lime juice, dash of bitters and "another double shot" with cheeky grin attached of Belvedere vodka.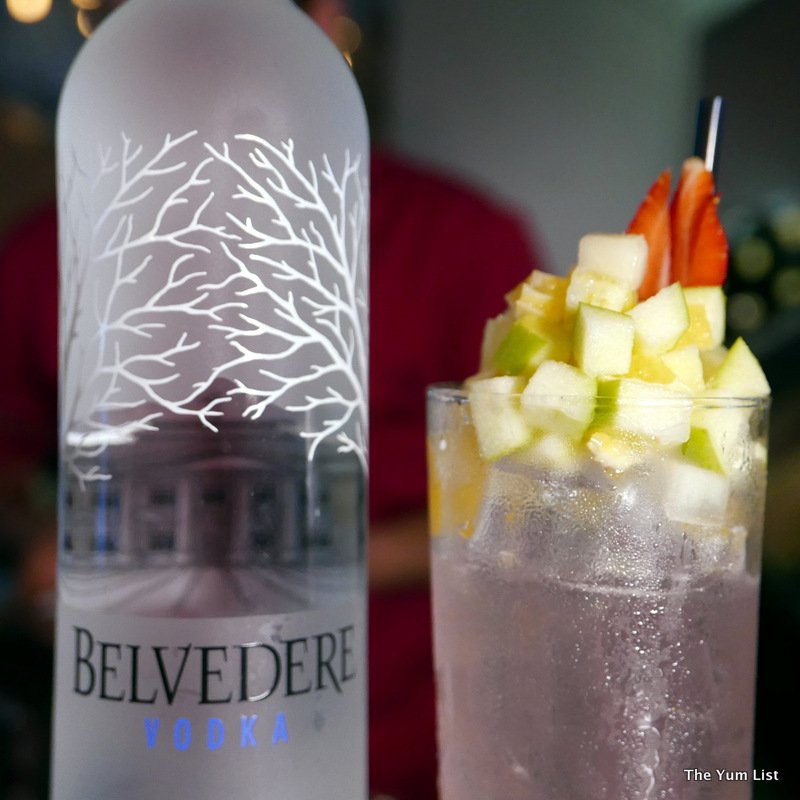 These top shelf tipples (RM40-60) are as yet unnamed, so why not pop in and have a go at naming one?
On the main course side of the menu, that fusion-confusion thing manifests perfectly in the Thai Me Up Curry, an inventive play on a Thai yellow chicken curry with capsicum, mushrooms and coconut milk served as a spaghetti pasta (RM29.90), or the Sofishticated Salmon, a generous slab of herb-crusted oven-baked salmon set on a sweet potato puree alongside an elegantly spicy vegetable ratatouille (RM39.90).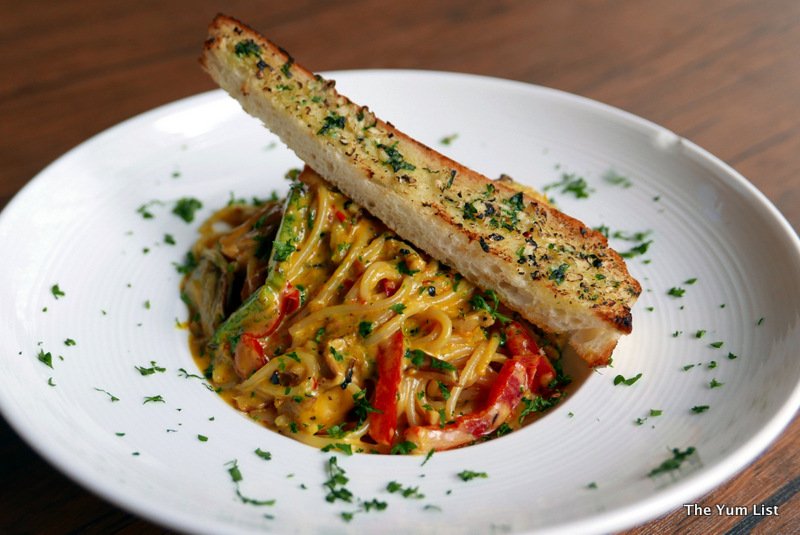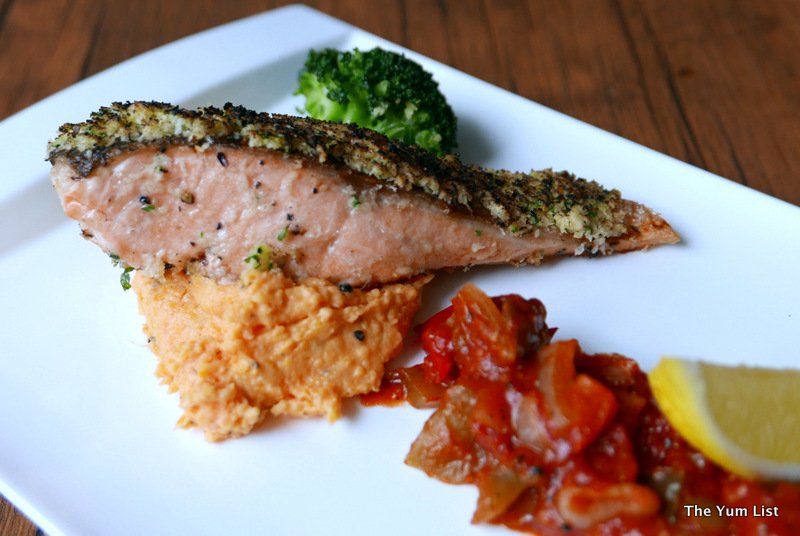 The table favourite (and apparently one of Queenie's as well) had to be the melt-in-the-mouth Braised Pork Cheeks with the subtlest hint of strawberries, in a red wine jus on truffle potato mash (RM35.90). Queenie's other personal favourite (went down well with us too), the mountainous Honey-glazed BBQ Pork Ribs, arrived complete with onion rings, jacket potato and another generous garden salad (RM49.90).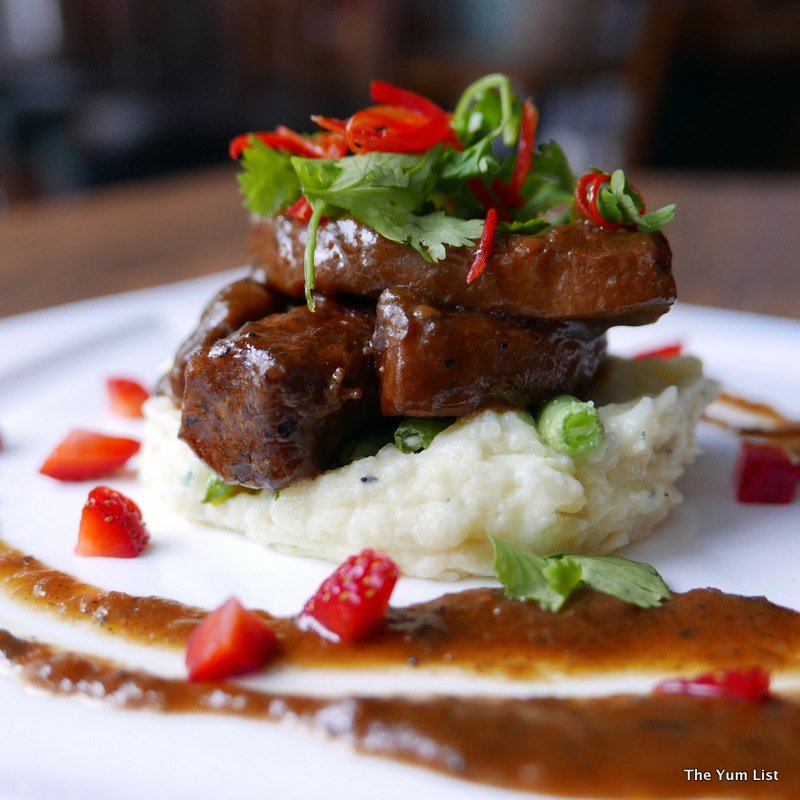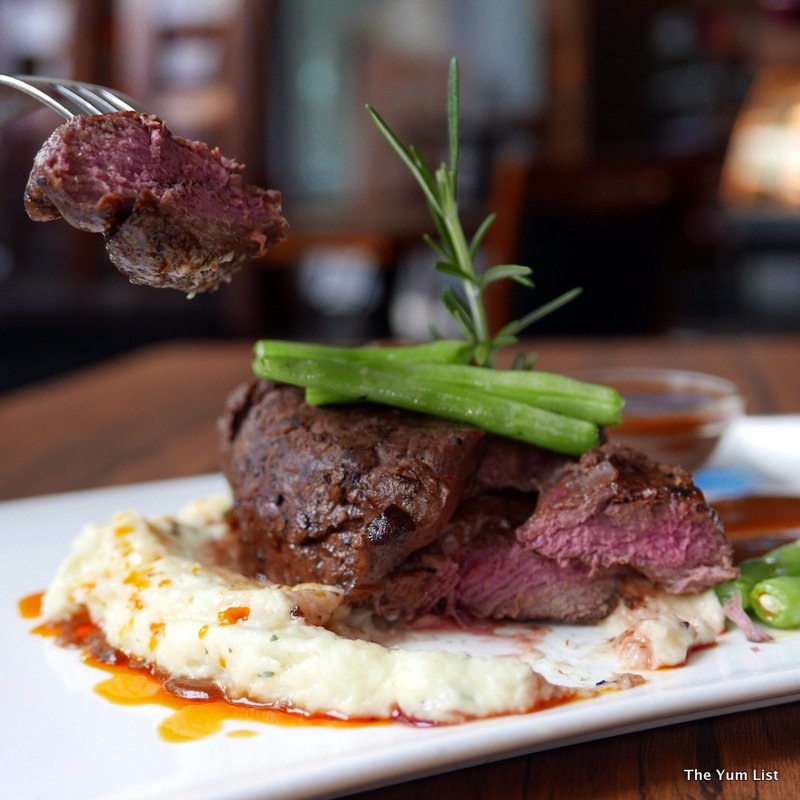 With a clear identity and a vision to serve a set of carefully-curated menus (there's a strong sense that the chef and mixologist are in synchronicity here) across bar bites, main meals and the three separate drinks menus (they specialise in a four-page Hendricks dedication as well as a complete whiskey/bourbon/spirits menu), The Eighth Avenue is Publika's drinks and dining destination.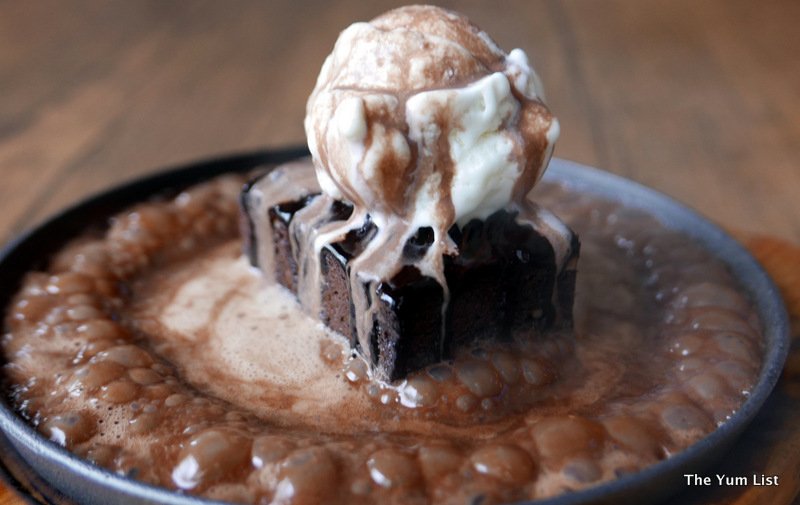 Head down on Fridays and Saturdays from 6pm for the live DJ spinning some cool tunes, and for the girls, don't miss out on Ladies' Night every Wednesday where you can grab a glass of red, white or the cocktail of the night for only RM10.
Reasons to visit: a talented new mixologist arriving at the end of the month bringing with some fab new cocktails with him; don't miss the Lychee Pork Poppers, Braised Pork Cheeks or the Honey-glazed BBQ Pork Ribs.
The Eighth Avenue
D2-G3-3, Publika
Solaris Dutamas
Jalan Dutamas 1
50480 Kuala Lumpur, Malaysia
+6 012 407 7045
http://theeighthavenue.my/