Words: Matt Jones   Photos: Monica Tindall
After being dropped off by my Uber driver out the front of what looks like a derelict industrial wasteland, I wandered inside (past Pulp cafe) to discover a rather fantastic conservation-minded factory conversion. From the old Art Printing Works site in Bangsar has blossomed a hyper-trendy and highly chic set of boutique-style restaurants, coffee shops and, set right at the far end, my new favourite cocktail bar, Case Study.
If you're looking for a quirky, eccentric, theatrical and very different imbibing concept then this place has it in spades. On arrival I didn't know where to look first; up through the double storey glass ceiling, the shelving system above the bar stocked with herbs, plants and the cute stuffed toys gifted there by its regular patrons, to the artistically paint-splattered marine-ply back wall (matching the aprons worn by the staff), or the bar itself; an original conveyor belt leftover from the space's printing workshop days, left intact and modified into one of the funkiest bars I've seen.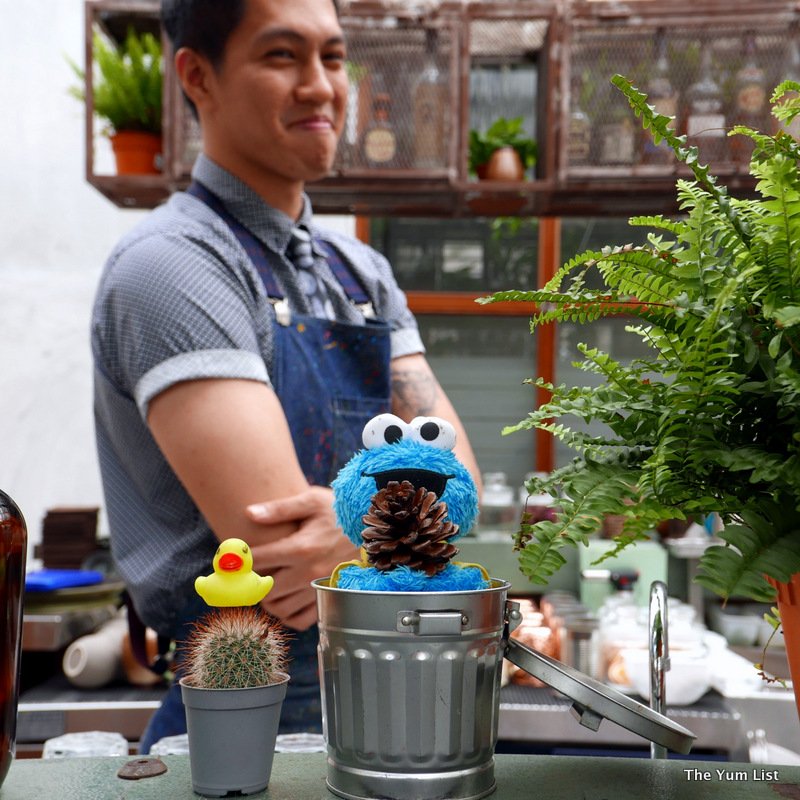 Perusing the bar top itself is like a trip to a turn of the century pharmacy; a magical black laboratory-bottled line-up of home-made tinctures, potions and reductions, all handmade onsite by the Tattooed Twins grinning adorably from behind the bar. With labels of infusions like citronella, longan, lavender, and hibiscus and gingerbread, and eye-dropper bottles of tinctures of basil, balsamic grape and genever, it's a grown-up candy store of fantasy flavours.
Speaking of the Tattooed Twins; our hosts Alvin and Joel made me feel like I'd just stepped out of Chitty-chitty Bang Bang and into Mr Magorium's Wonder Emporium. With their suspenders and Ben Hogan caps, paint-splattered aprons and rolled-up sleeves, you can't help but smile.
"We wanted Case Study to be a combination of serious and playful, a bit eccentric, quirky, and with a bit of theatre thrown in. You get the serious from the quality of the cocktails and the playful from the atmosphere", the boys explain to us over a few of their signature concoctions.
The menu is an artist's sketchbook of dreamed up deliciousness, and each drink is accompanied by a sketch and its ingredients. Set into four sections, all drinks are exceptionally priced at RM36, with each drink being named after the unique vessel it arrives in. Our first, from the 'Refreshing' chapter, was The Watering Can. Despite the drawing, the ingredients description, and the barometer of Toasty vs Floral (it was more toasty) from the menu, I have to say it's difficult to imagine a drink made from popcorn Pisco tea, longan infusion, citronella, pomegranate, grenadine and sprayed with lavender oil. Divine!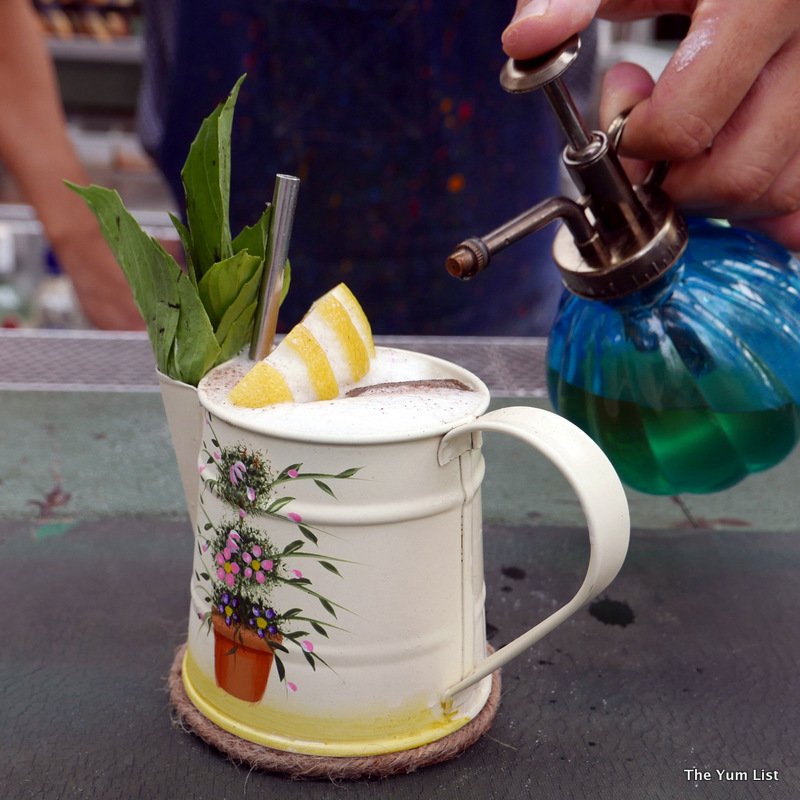 From the 'Tropical' section came The Fancy Highball; a multi-layered taste experience that starts with the sweetness of hibiscus and gingerbread infusion (can you believe they think this stuff up? Let alone hand make it themselves on site. Truly gifted artisans, these boys) and ends with the kapow of banana Irish whiskey. Sweet corn soda, basil tincture and lemon round out the flavour layering, and the menu barometer puts it towards the 'Christmas Spice vs Tropical' flavour end of the spectrum. Very fancy!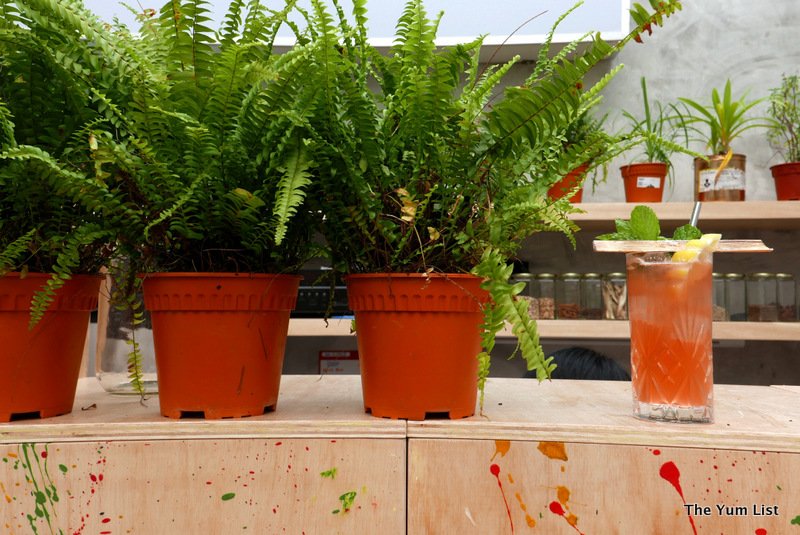 Chapter three is 'Boozy' (so named because of the spirit-based flavour notes being the hero of the drink), and Stemware arrived. If you like licorice and a deliciously syrupy texture, this black fantasy will seduce you. Smoked wood chips rum, Olorosso Sherry, mango honey blackstrap molasses and activated charcoal (yep, you read that right). Heavenly!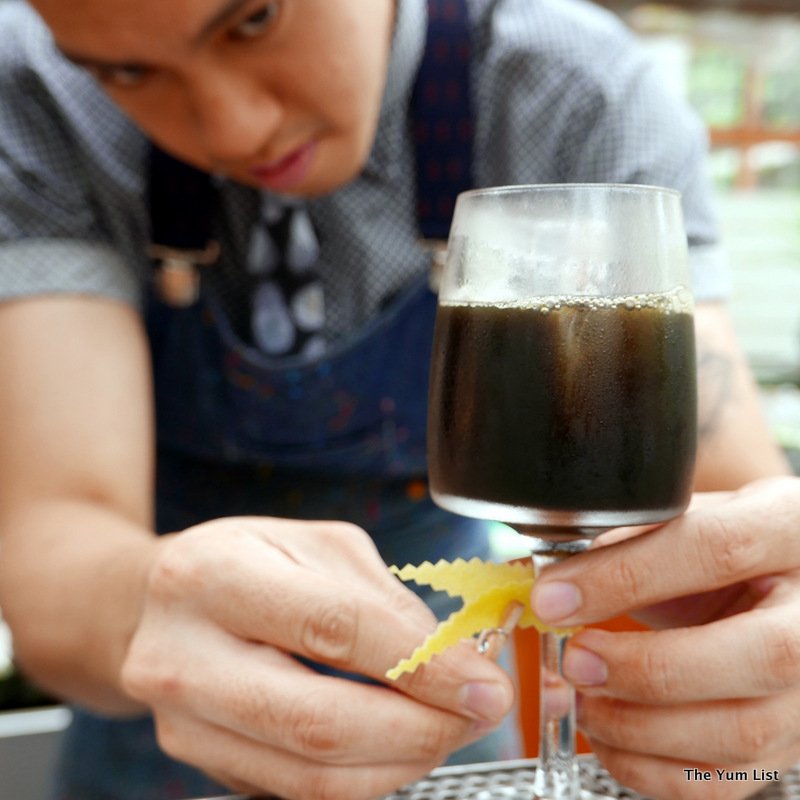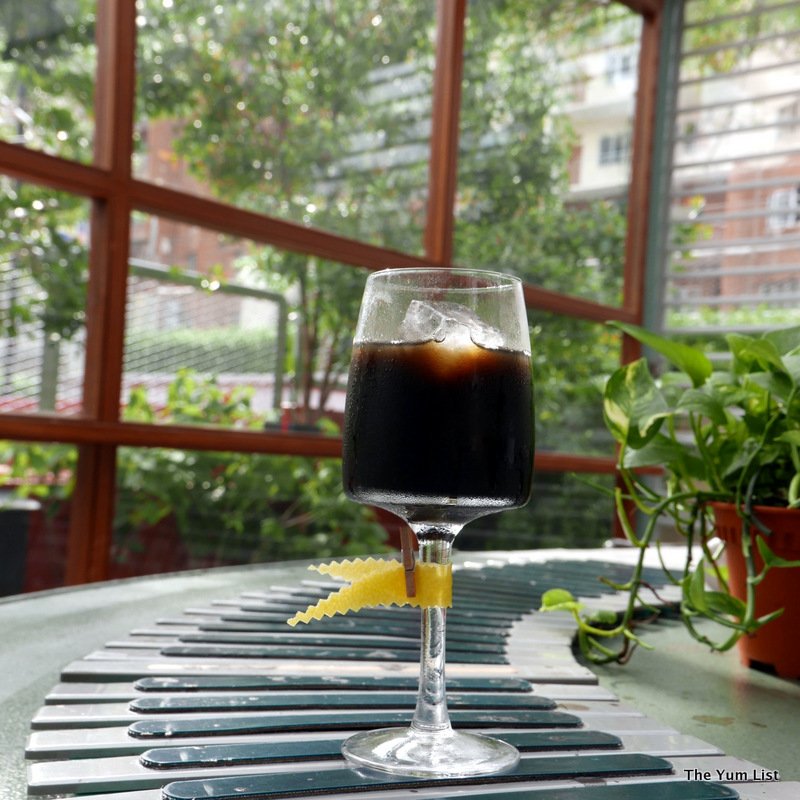 Lastly is the 'Experimental' section, where the boys have really gone to town with the flavours and textures. We went for 'The Penguin Jar', literally served in a black and white ceramic penguin-shaped jug. Imagine (if you can) cauliflower milk, balsamic grape juice, pink peppercorn saline solution, genever and scotch whiskey. Garnished with a blow-torched rosemary stem to enhance the aroma and tasting experience, Monica loved that "it smells like ANZAC Day!" and I loved that it almost tasted like a soup. Innovative!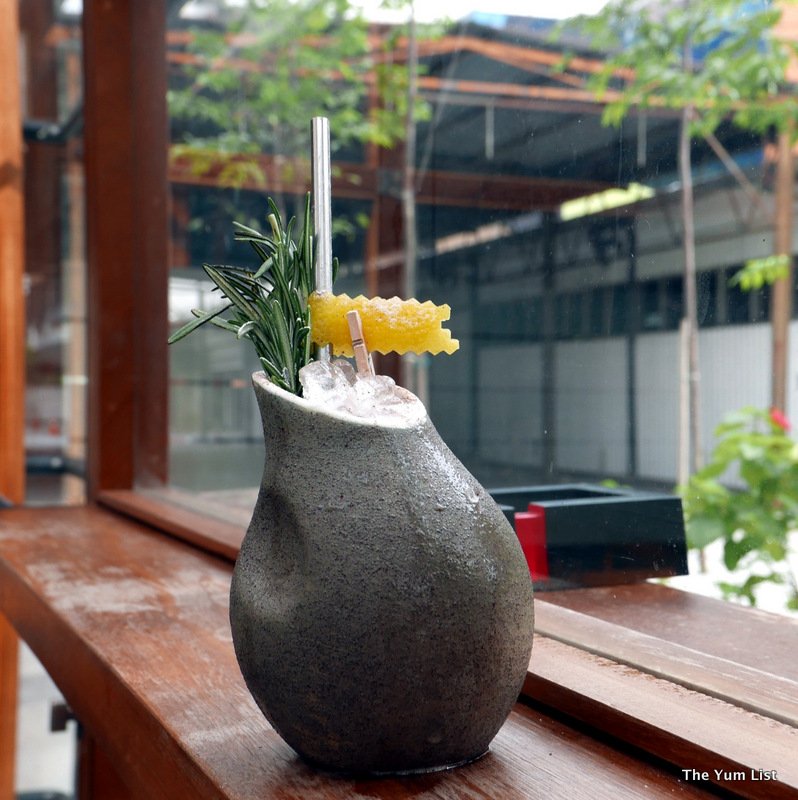 We put them through their paces and had them make a fifth option for us, a Yum List Specialty cocktail. If it had appeared in the menu I reckon it would have been called a 'Fancy Lowball' in the Boozy section. Monica's brief: dark rum, not too many mixers, and on the less sweet side. Joel's response: about 30 seconds of highly considered hand to chin deep thought and then four bottles appearing in front of us. Mezcal, sherry, water chestnut rum and tincture of Indian barage. Yummy!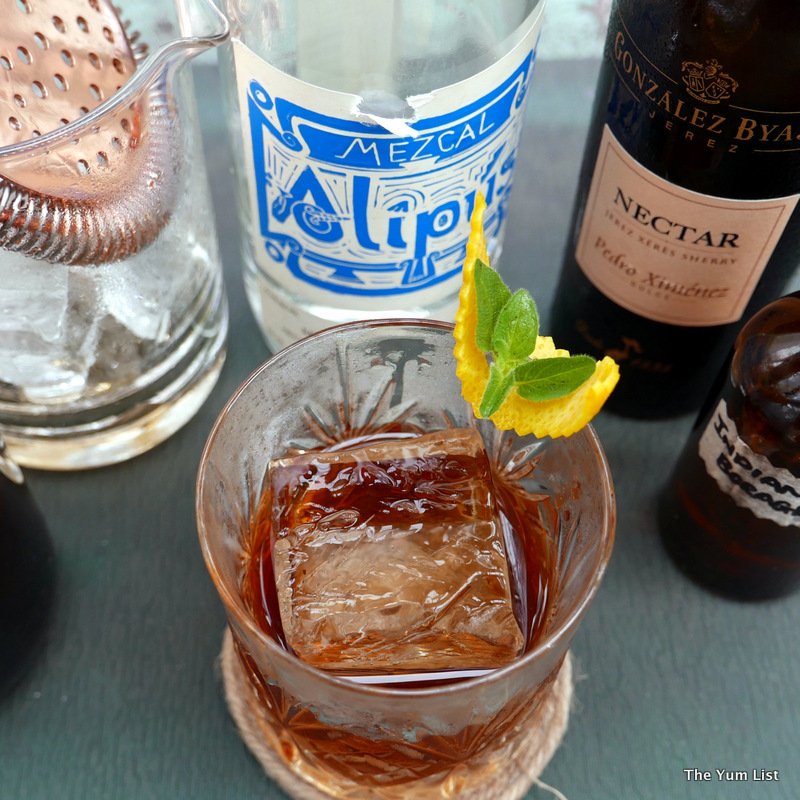 Inspire them with what you like to drink and have the boys concoct you a bespoke cocktail, they'll tailor you something original on the spot. Case Study also serves beer, wine and any of the standard cocktails and drinks for the less adventurous but equally thirsty.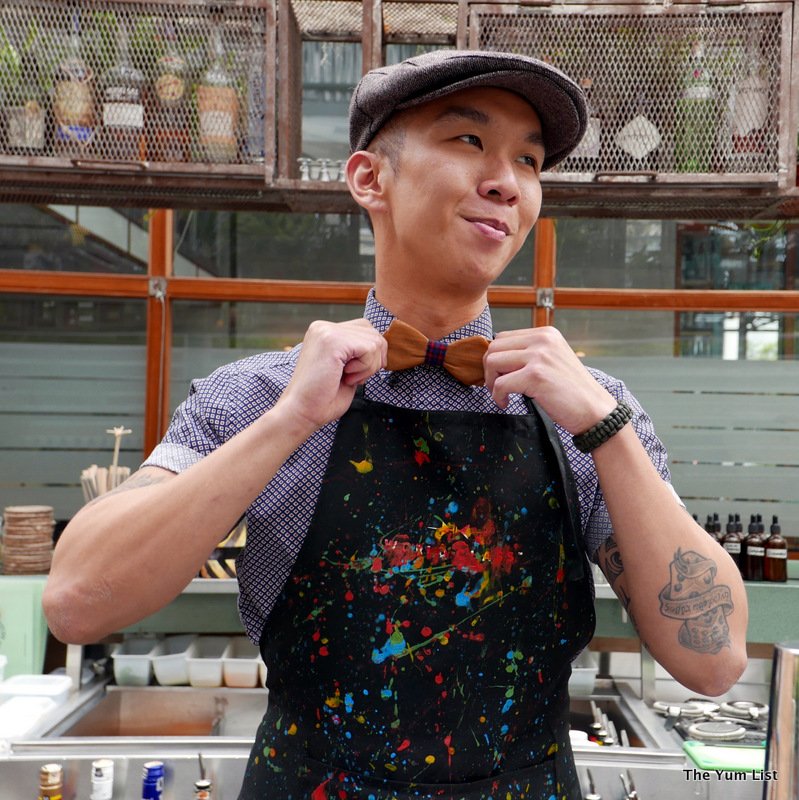 Reasons to visit: Sit inside at the semi-circular bar or outside on the webbed trampoline in the garden area and enjoy the theatrical uniqueness of Case Study.
Case Study is open from Wednesday to Sunday, 6pm – 1am.
Case Study – A Cocktail Bar
29 Jalan Riong
Bangsar, 59100
Kuala Lumpur, Malaysia
+6 011 3639 0695
www.facebook.com/casestudybar