Words: Craig J Selby    Photos: Monica Tindall
So, you like spice? Great. I think we have found something special for you.
Nestled in the leafy hillside of Bukit Damansara is a great new addition to the greater Kuala Lumpur culinary (and drinking) scene – Gin Rik Sha. Offering a substantial array of tapas-sized dishes, and those with a bit more substance and size too, Gin Rik Sha melds together the best elements of traditional Indian cuisine, including an awesome appreciation of spice culture, with modern international flair. Sitting between unpretentious swanky chic, and good ol' homely fare, we think Gin Rik Sha is a must-visit venue. We certainly loved it.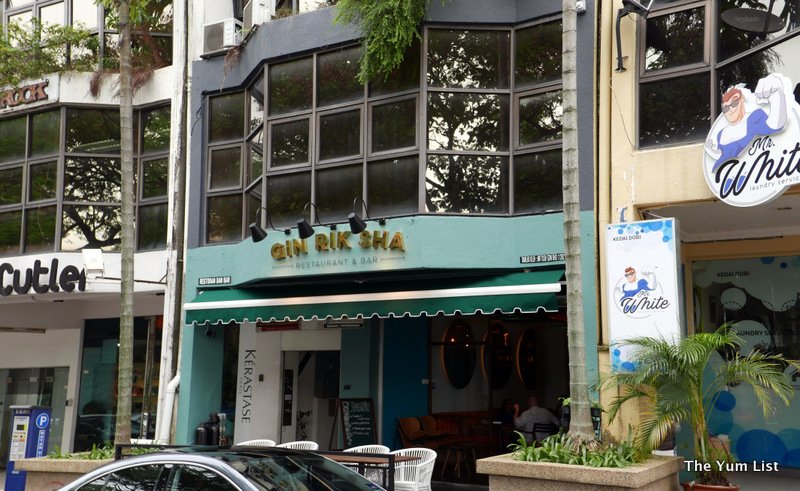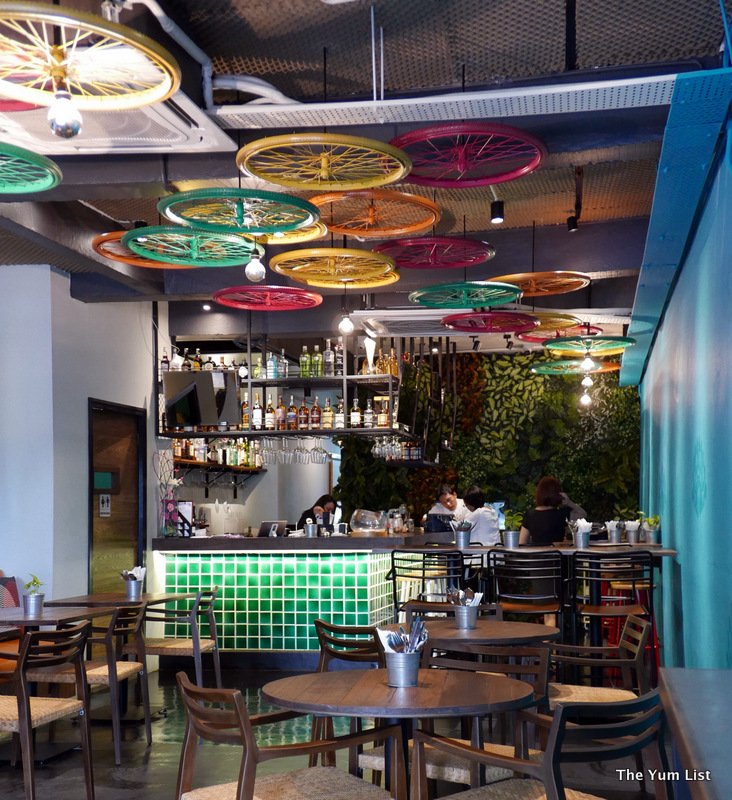 Fast developing a reputation for their cocktails, and rightly so too, the restaurant has on its menu some great classics all served with a modern, regional interpretation. The use of unexpected combinations in the cocktails makes for not only a great talking point, but for some amazing flavour bursts too.
I started with Cath's Gin Ginger while Monica sipped away at the Midnight Kiss. Cath's Gin Ginger was 'good and strong', with the grapefruit flavour really popping. I love a cocktail with a kick, and this one ensured that I had the right pick-me-up at the end of the work day – and I needed it too. Think gin and tonic with a twist of lemon, then add the tart-sweetness of grapefruit to elevate. The Midnight Kiss looks as stunning as it tastes. Sweet to taste, its more a ladies cocktail (although Mon would argue that lady's cocktails need not be sweet or subtle for that matter)– but with nonetheless kick. The cocktail menu is in itself quite extensive, but allows for a great range of flavour, and alcohol, preferences. My advice: choose your poison, and then get Gin Rik Sha's mixologist to recommend something along those lines. I mentioned gin and whiskey – and I wasn't disappointed.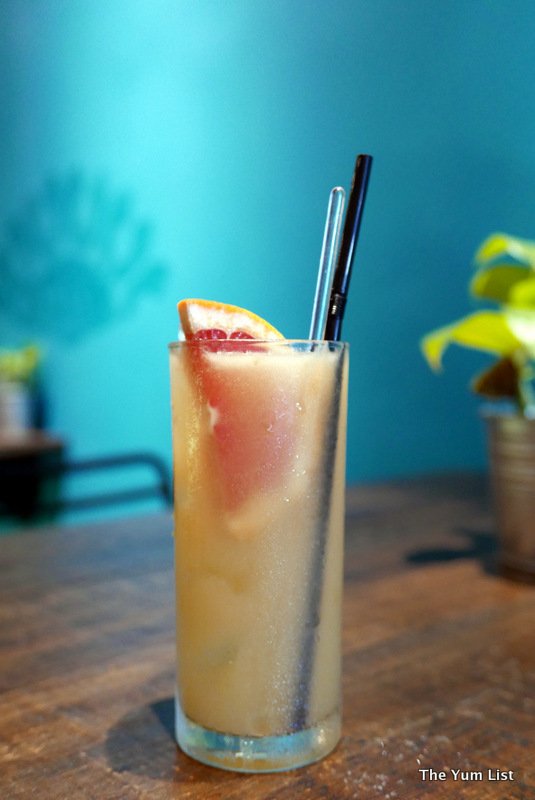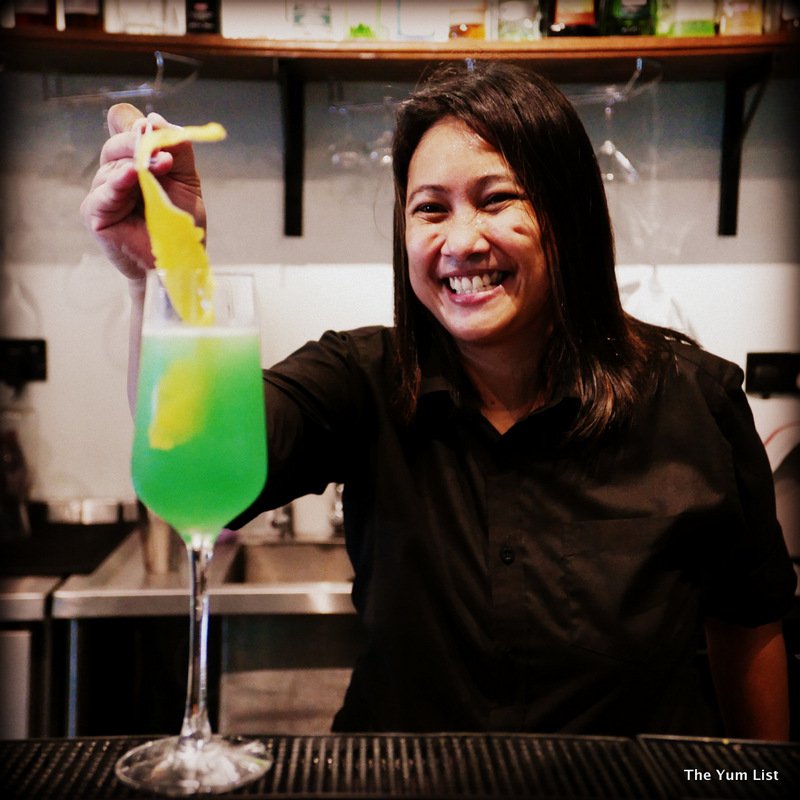 With the menu conveniently split into three 'portion' sizes – Bar Bites, To Share (or Not), and A Bigger Share – the convenience and playfulness of the servings are certainly encouraging. I love the fact that you can come here for a drink and something light, without feeling the need to go for a full meal. Ideal for late afternoons as well as those more substantial meals – it's flexible to suit your desired lifestyle. I for one shall be back for mid afternoon drinks and sharing.
Our Bar Bites arrived. Masala Fries – long, thin, properly cooked French fries with masala powder were a great start. Accompanied by a green chilli and ginger chutney in case you needed that extra lift. I didn't, but the chutney was great on its own too. You know, comfort food, with something new. Deep fried Sweetcorn Tempura fritters were refreshing – nice tempura batter that was crispy and crunchy, juxtaposed against moist bursts of fresh sweetcorn.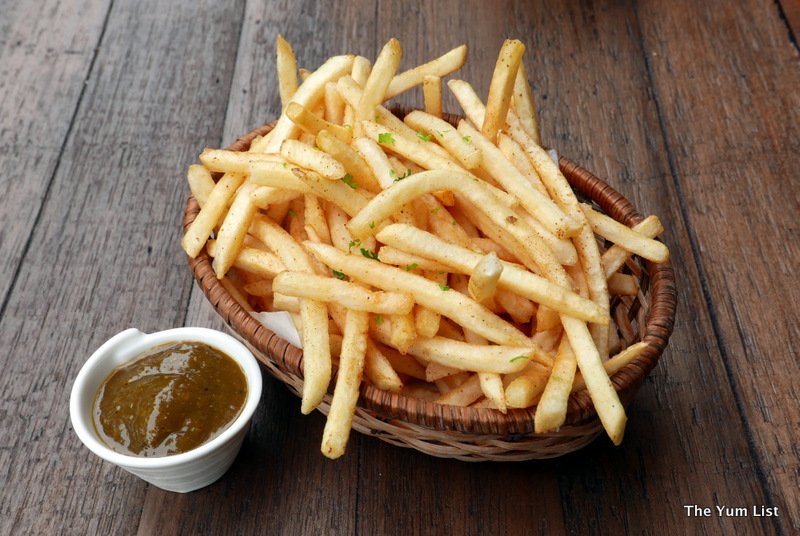 And then came the Mutton Varuval, from the 'to share … or not' menu. Yes, share, or better yet, order two! Our host was hinting about the Varuval earlier, but Monica and I had already made up our minds that this was a must try dish. Served with crisp French bread, one could eat the tender mutton on its own, or in an almost bruschetta style – we opted for smothering the meat over the bread and were richly rewarded for our good decision. The recipe originates from the owners Mum, and has had a few imaginative twists along its journey to modernise this classic favourite. Damn good job I say – absolutely delicious, and packed full of flavour. I love how the restaurant owner is extremely hands-on in the kitchen – taking her favourite dishes and experimenting with her chefs to create memorable and distinctive creations.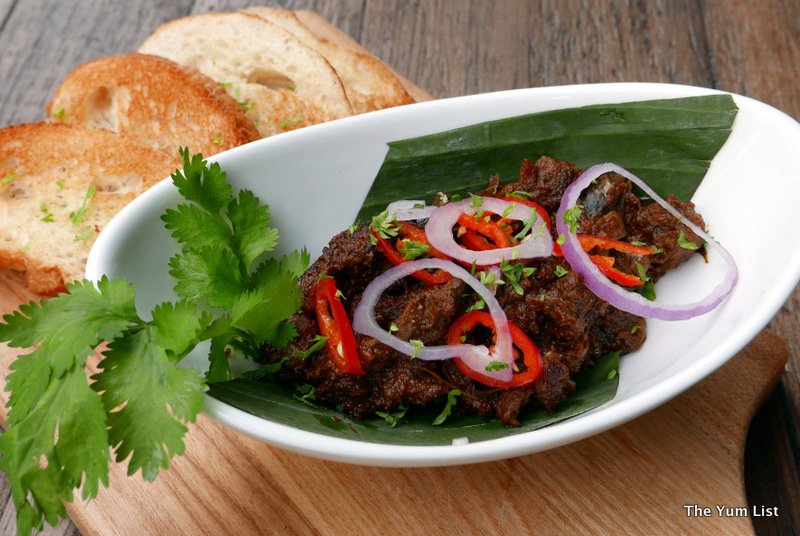 The Kati Rolls gave us a hint of Indian-styled street food. I'm definitely a street food lover, so it was great to experience these. Tasty fillings, being either paneer or beef chilli, are tightly wrapped into tortilla, and served ready-to-eat, al la hand! It's a fun experience, and certainly a tasty one. You will probably discover, as I did, that one plate is not enough – so why not order both. Oh, big in portion – I was simply greedy and wanted more.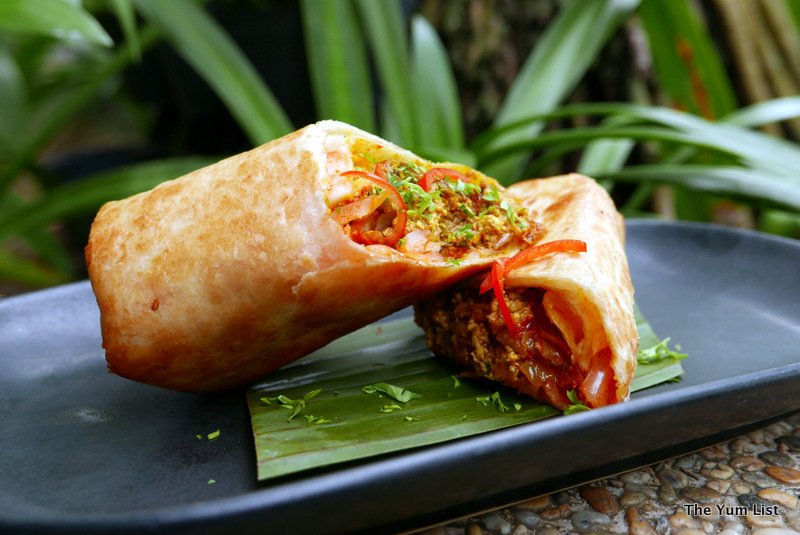 For those who love seafood, we highly recommend the Kerala Shrimp – huge prawns flavoured with tamarind and pepper. These juicy prawns are doused with flavour, and super tender to boot. Great for seafood lovers to share – we certainly found them finger-licking good.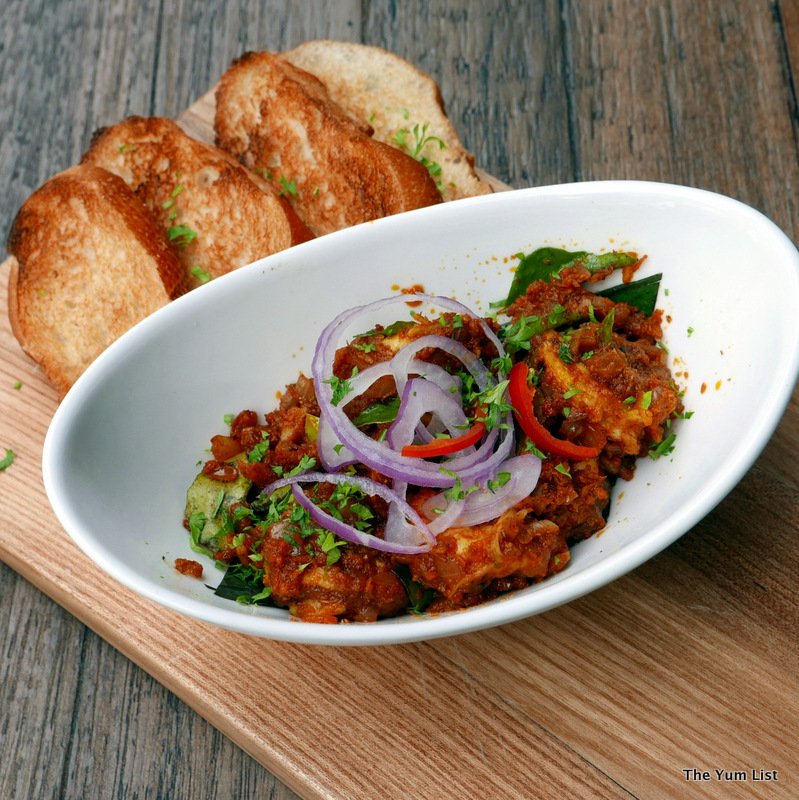 Well, now that our 'introduction' was over, we made headway into the 'A Bigger Share' menu with Spinach Risotto, and Bombay Masala Salmon. Guess who likes masala? Guilty.
The Bombay Masala Salmon is a delightfully cooked slice of salmon accompanied by a chilli pineapple salsa. I opted for this as I wanted to try the salsa first and foremost – spicy, sweet, and easy to eat by the spoonful. Lovely on the salmon too. This is quite a hearty dish, and deserves its place on the bigger share menu. Take a bite of salmon, smother the salsa over it, and enjoy. Have a sip of cocktail at the ready too, just in case the chilli pineapple hits home hard. But I think you'll be safe. Chilli and pineapple are a great complement and work well with pan fried salmon – you will be impressed.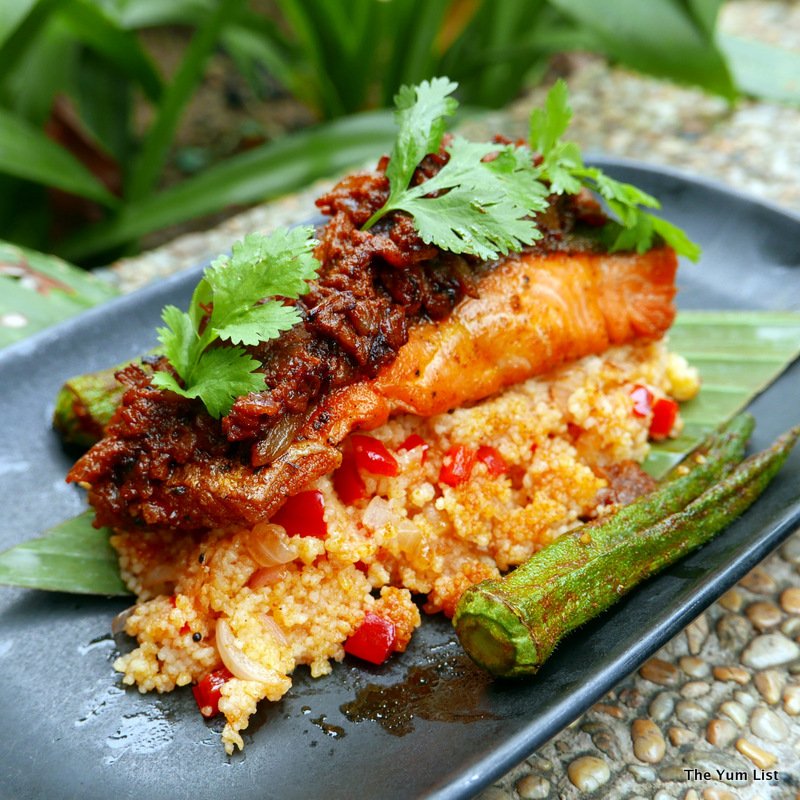 The Spinach Risotto was flavourful and creamy. Great to see a fusion dish which marries amazing Indian and European vegetarian techniques. Lightly peppered, and served with fresh mint for pop, cubed potato for added texture, this is a dish that I went back for spoonful after spoonful. Its subtle aroma left a lasting impression on us, proving that sometimes the simplest food is in fact the best.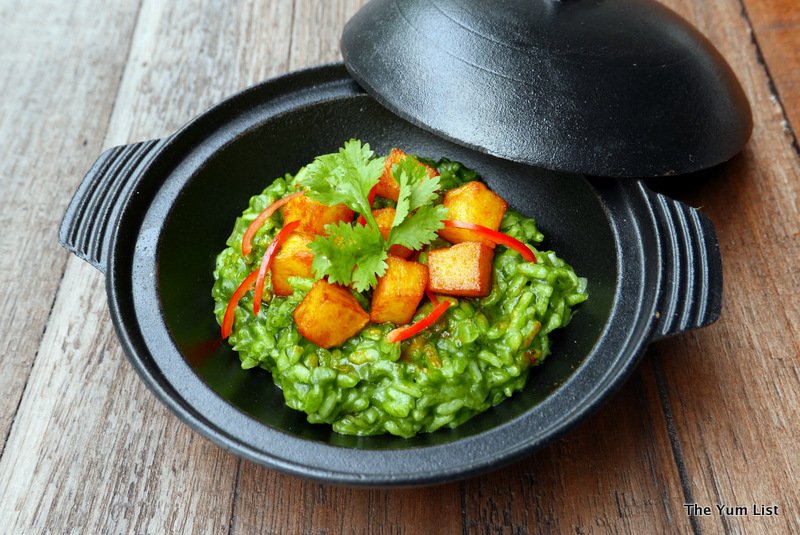 For dessert, we shared a duo of Tiramisu and Bread and Butter Pudding. The Tiramisu was decadent and rich, of course with the help of alcohol. Probably best to share this one, as it will certainly fulfil your sugar cravings – it did mine; but then again, I couldn't eat it all (read: sizeable portions). The Bread and Butter Pudding stood out from the rest. Using croissant instead of bread as the base meant that it was both light and fluffy, as well as softer in flavour. This is a must try dessert on the Gin Rik Sha menu.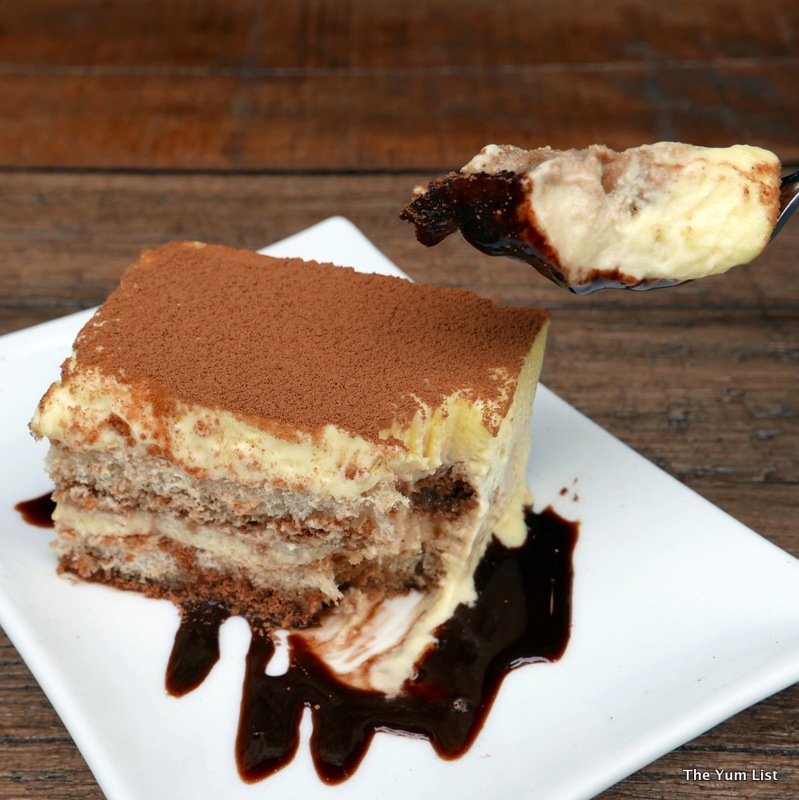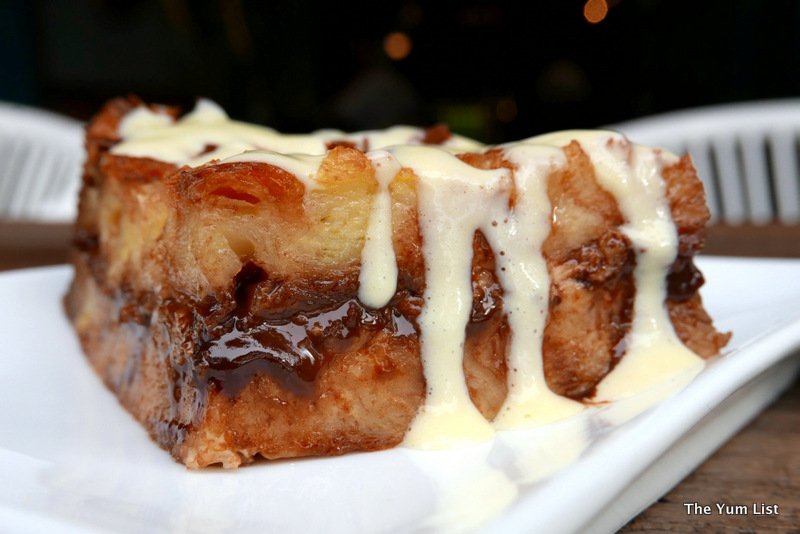 To finish, Monica indulged in the Espresso Yourself – rum with coffee, or was that coffee with rum? Either way, it was a great way to finish, and carried its own punch. I had the Spiced Whiskey Sour – I'm a huge whiskey fan, and just love how the treatment of spices add complexity to an already perfect drink.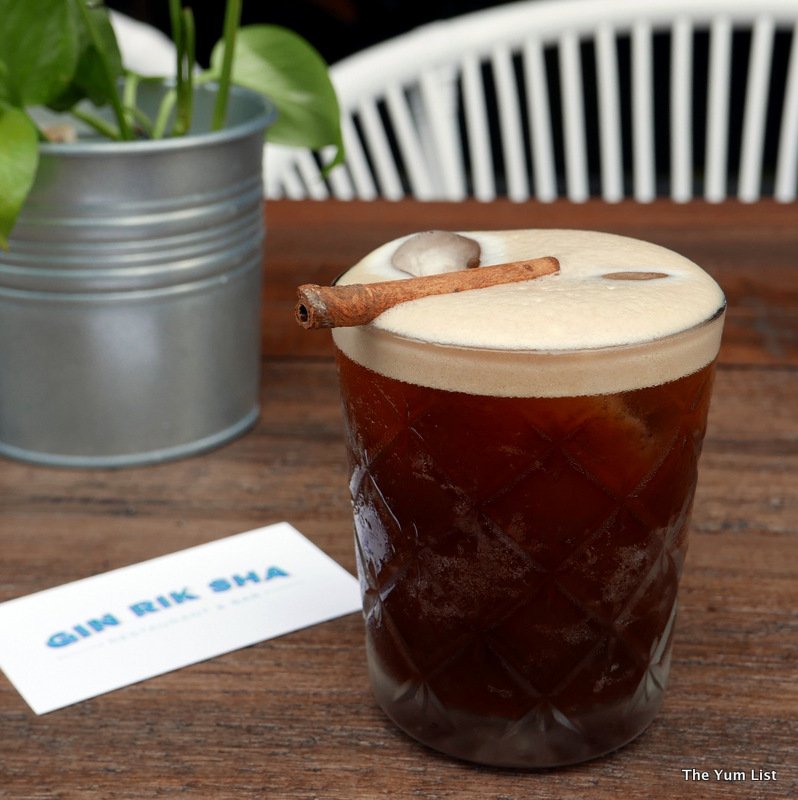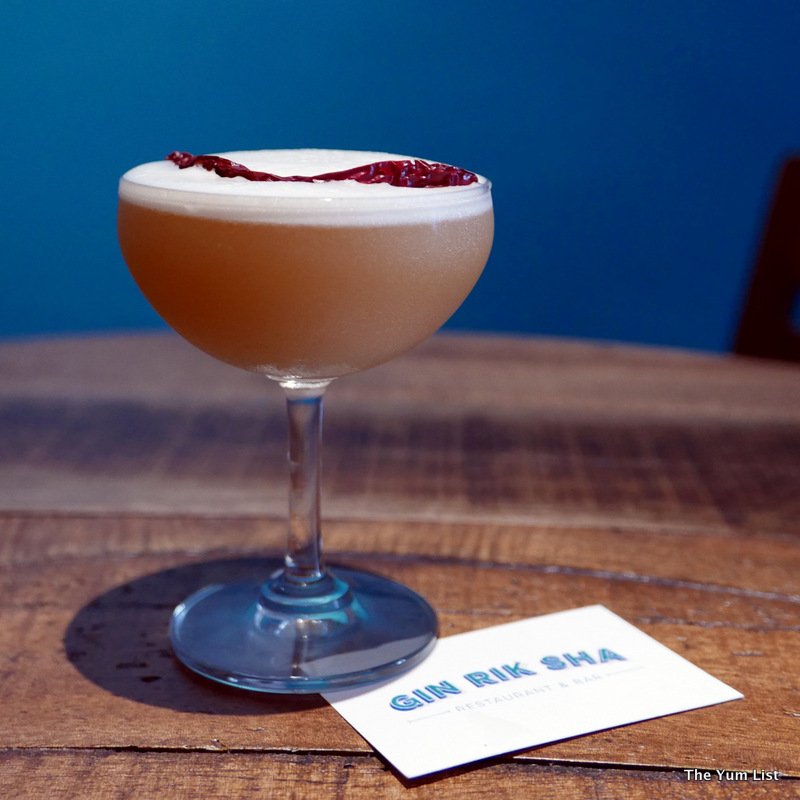 Reasons to visit: Gin Rik Sha is certainly different. And spot-on for that matter too. Definitely worth coming here for innovative Indian cuisine – infused with gorgeous spice combinations, as well as their brilliant take on cocktails. Friendly staff too – that's always a positive. We look forward to our next visit; this time for lunch.
Gin Rick Sha
37 Ground Floor Plaza Damansara
Jalan Medan Setia 1
Bukit Damansara
Kuala Lumpur, Malaysia
+6 03 2011 1266
www.facebook.com/Ginriksha