Words: Craig J Selby     Photos: Monica Tindall
Many of us love our wine, our whiskey, and even our beer. But have we ventured further to explore the unique wines and spirits available in Asia? On a recent review at Kung Jung Restaurant in PNB Darby Park, not only did I get to enjoy some pretty amazing Korean cuisine, but I also had the chance to sample a selection of popular Korean wines and spirits.
I believe that Korean alcohol is lesser known, but is growing in popularity. It is certainly something that we can get at Korean restaurants such as Kung Jung, but also now, we are starting to see limited selections in popular supermarkets and alcohol stores.
Personally, I love the variety of unexpected flavour that Korean alcohol offers – it is certainly different to your usual table wine (even though it may be called wine), and significantly different to a western styled vodka or whiskey.
For those who seek a lighter alcoholic drink, a popular one is makgeolli. This beverage offers an almost sparkling wine sensation, but tends to appear milky. It can be served as original, or it can be infused with different flavours, such as pineapple or strawberry. I like this over lunch, as it doesn't leave too much of an impression on the head – and one can function quite well afterwards.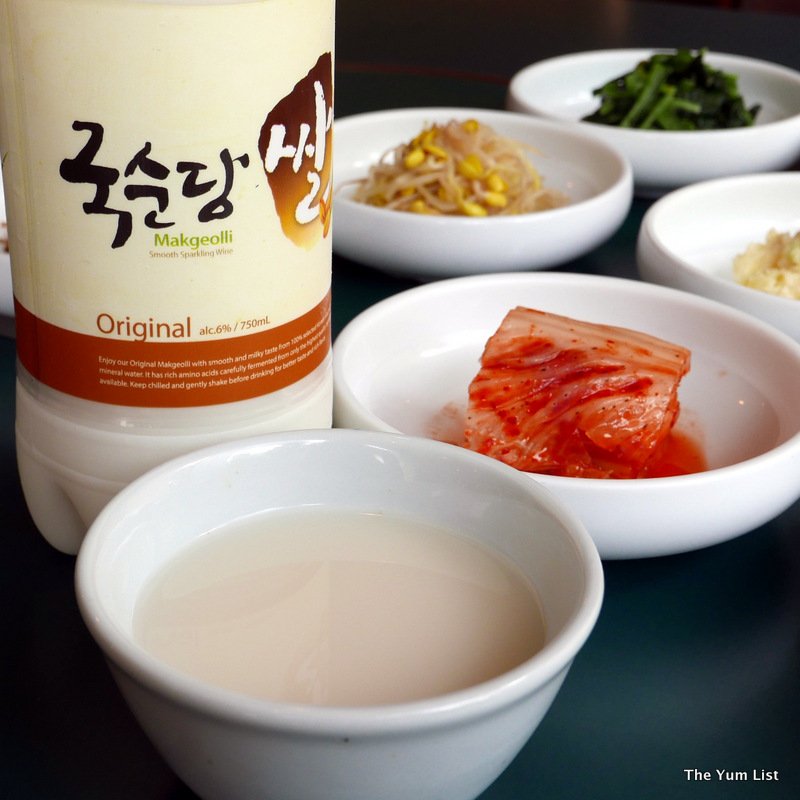 Soju is however a more popular spirit. Similar in appearance to Sake from Japan, Soju is still uniquely Korean. It has a strong aroma, and if gulped by the shot, a strong taste. Beginners are advised to sip it. Soju is extremely smooth, with a distinctive flavour. In its original form, it can be considered a tad harsh for some, but infused with flavour as Jinro has done, and you are pleasantly surprised by a new world of flavour.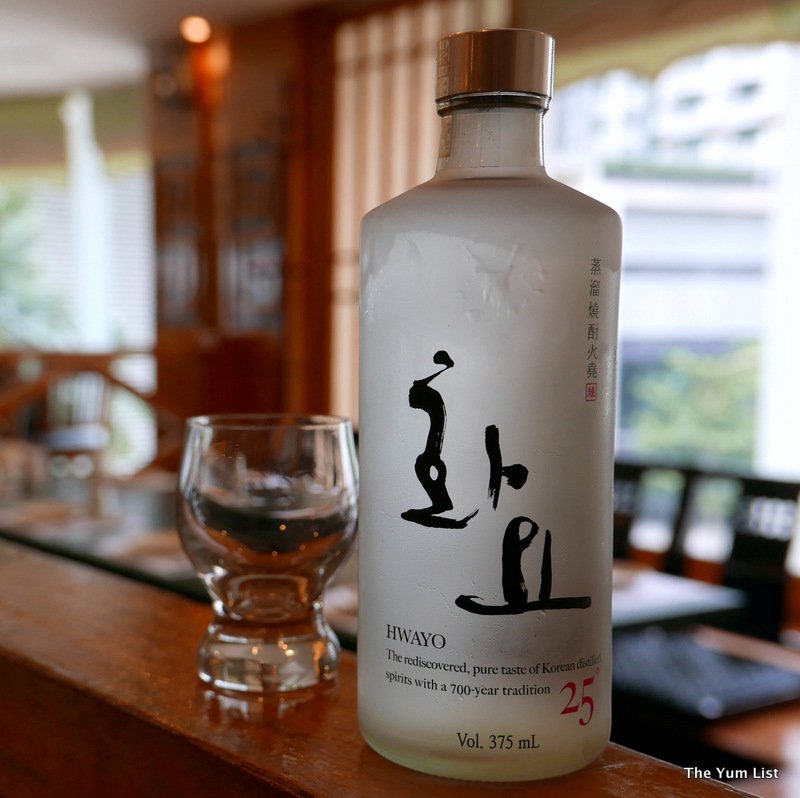 As much as I enjoy Jinro soju on its own, our host, Mary from Kung Jung, offered me an infused / flavoured soju. This one was subtly infused with grapefruit. The aroma changed, and it was reminiscent of fresh juice. The grapefruit infusion somehow softened the soju, making it feel a little more like a fruit-based cocktail. I instantly fell in love – the grapefruit lifted the experience – it wasn't too sweet or too tart, just a delightful additional layer to the wine. Ideal for an afternoon tipple (I have subsequently bought bottles to share with my team in the office), it still will slow you down though – so don't drink too much. With original soju I tend to drink shots, but with grapefruit soju, I prefer to sip and savour. Personally, this went very well with Kung Jung's steak tartar!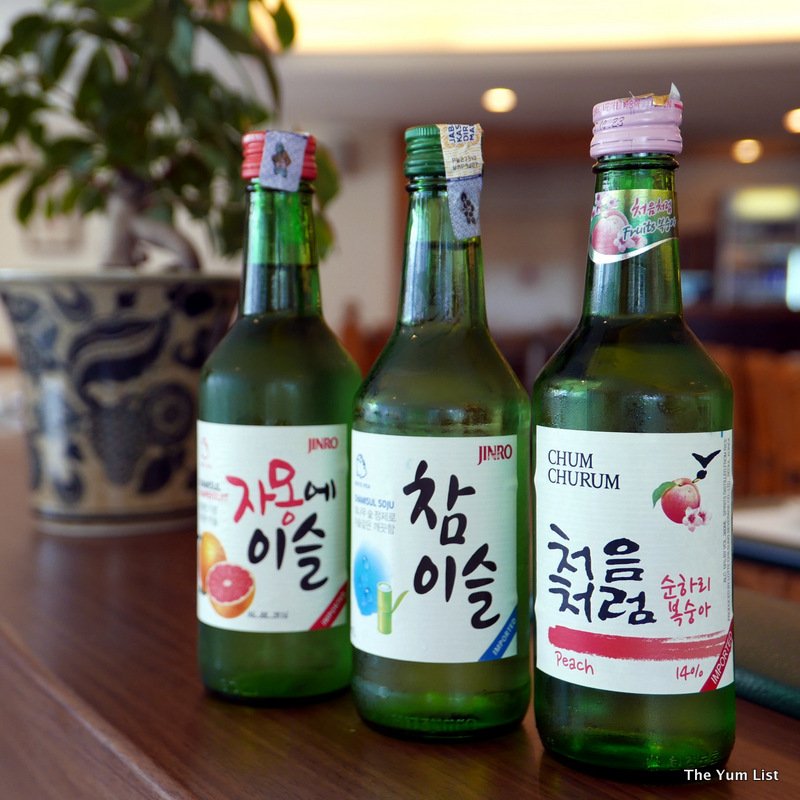 Bokbunjajoo, or black raspberry wine, was a new experience for me. One definitely tastes the essence of raspberries in it, which strengthen it. To me, it gives an almost fortified wine flavour – not quite as strong as a port, but definitely heading in that direction. Its fruity aromatics are great though – even if only to confuse the nose and redirect ones expectations.
Something quite spectacular was the plum wine with gold fleck. This wine was very sweet (the plums influence this I believe), but the real gold fleck inside is said to help ones health. I have only ever had gold fleck before with mead – the Korean version is certainly smoother and more approachable. This is ideal for the end of a meal, to accompany a dessert, or perhaps fresh fruit. Don't let the sweet taste fool you – this is strong liquor, and not for the faint-hearted.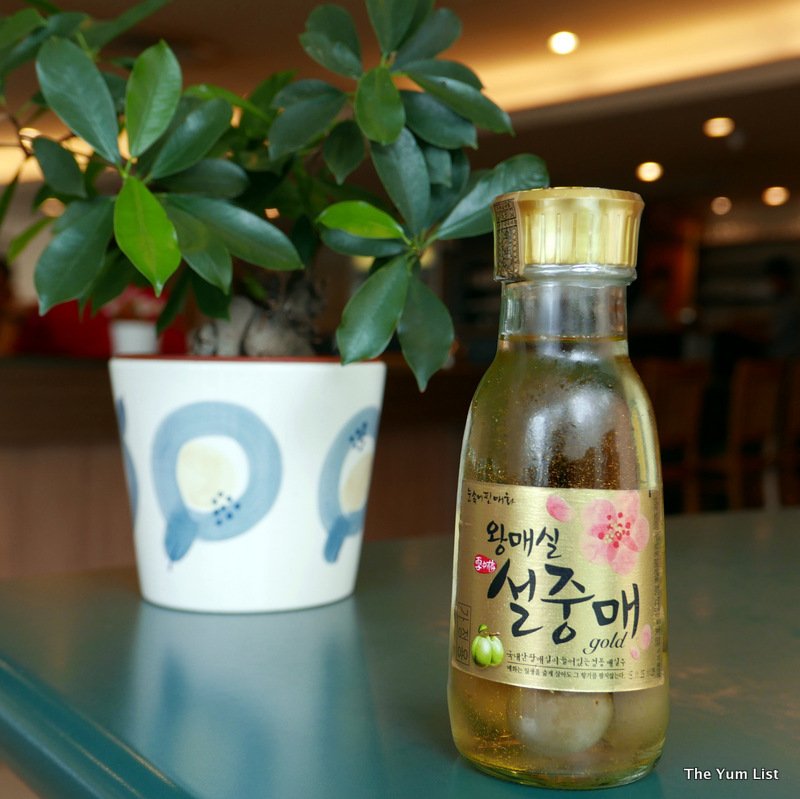 My favourite of the Korean experience was a special soju, only (apparently) available at Kung Jung. The smoothness of this soju; its light flavour and aroma, and ease of drinking was marvellous. Consider it the champagne of soju – you've hit the motherload enjoying this one. Still rather strong, its very flavour invites you to sip slowly, rather than to drink by other method. It warms the throat as it goes down, but it doesn't leave you with any harsh aftertaste that some other varieties can do.
If you haven't had the opportunity to explore some of the great Korean wines and spirits, why not give it a try. Perhaps over an express lunch at Kung Jung, or a more substantial meal. Start out light if you're a beginner – makgeolli and a fruit-infused soju; and if you've had your first taste and want to explore something stronger, grab a few friends and explore something a little deeper in flavour.
Restoran Kung Jung
Lot No. 3.1, Level 3
PNB Darby Park
Jalan Binjai
Kuala Lumpur, Malaysia
+ 03 2166 7181