Monica Tindall
Multi award-winning executive chef Lino Sauro from the acclaimed Gattopardo Ristorante di Mare in Singapore graces the kitchen of The Library at The Ritz-Carlton, KualaLumpur for five days this week.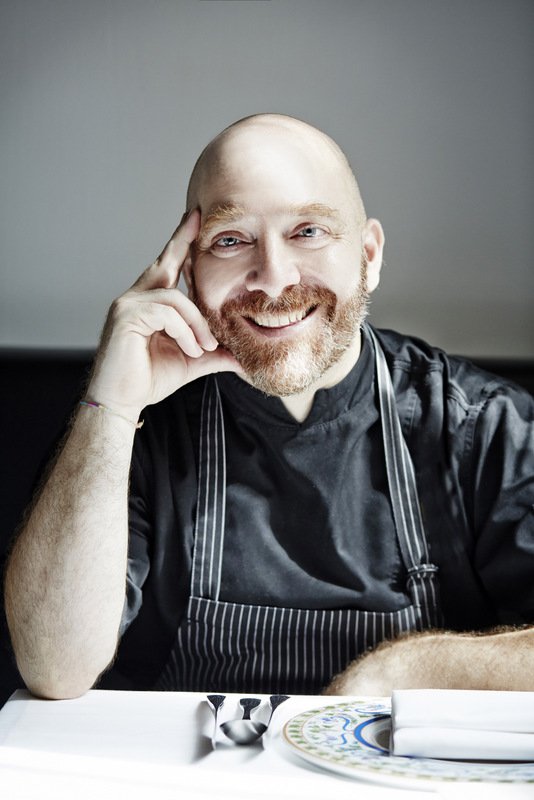 Chef Lino, originally from Sicily and currently one of Singapore's leading chefs, has curated a four-course dinner menu featuring his signature Sicilian creations with a focus on the use of sustainable ingredients. From all reports, chef's talent is established in uniting contemporary cooking techniques with traditional southern Italian flavours. And this, we're about to ascertain at the opening of the culinary showcase.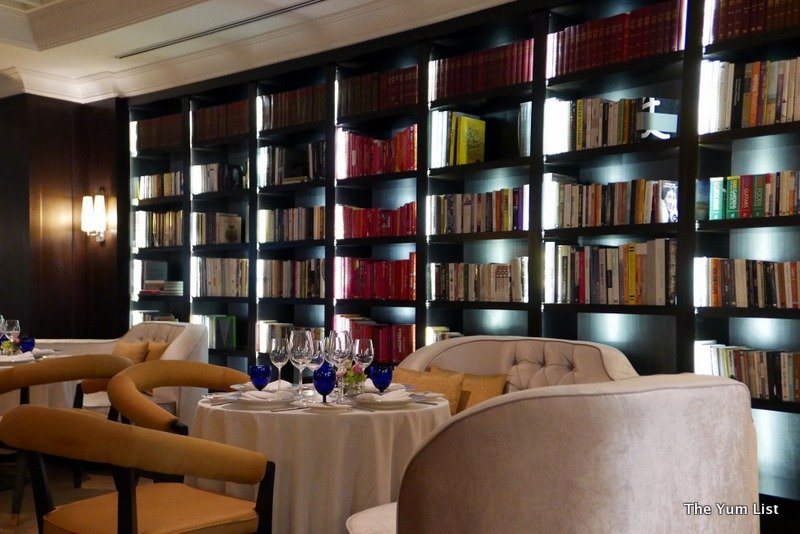 When quizzed on the choice of sustainable cuisine, chef says he was "born sustainable." Mum produced her own cheese, dad raised chickens, and the family lived on a farm. In the past they brought very little from the store. Now he realizes the importance of this style of living, but when he was a child, that was just the way things were. As an adult he recognizes that he might not be able to make great change, but always tries to ensure his actions are in line with his life philosophy, and hopes that in some small way he too can influence others to make wise choices for the environment and their health.
The intimate setting of The Library is the site for our first meeting with chef Lino, and our well-loved friends, Rossini and Negroni, greet us as a selection of Italian aperitif. Both are refreshing choices, and fittingly executed as the lubricating entrance to this journey through the south.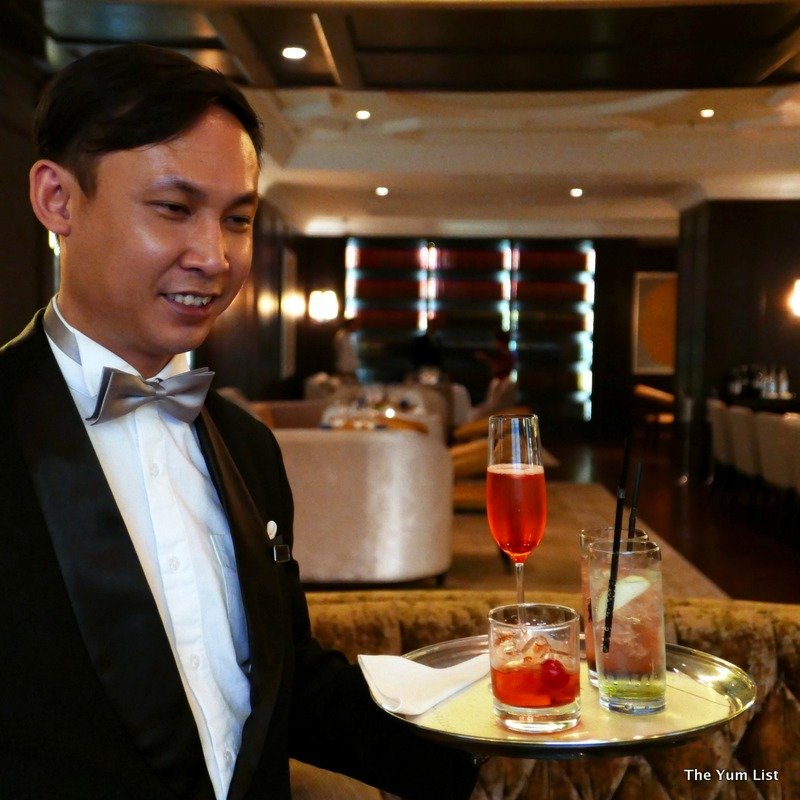 Amuse Bouche
An amuse bouche, Ostrica, achieves its job of enticing our mouths for more. A fresh oyster dressed in sherry vinegar jelly, wasabi chips and topped off with a droplet of Avruga caviar prepares our mouths for a taste of the sea, which is promised in the upcoming courses. Now Australian oysters are in season and this batch comes from a small sustainable oyster farm in Sydney called Smokey Bay. The San Feletto prosecco offered with the first course cleanses the palate, providing a terrific complement.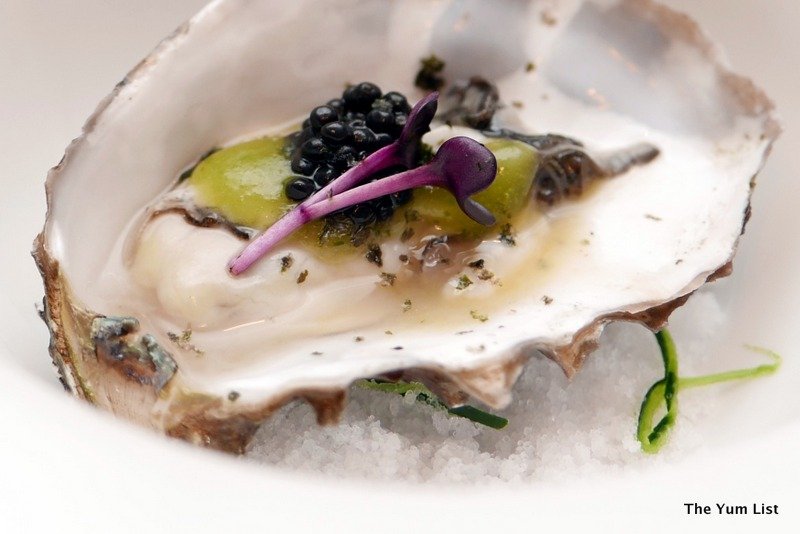 Appetiser
Polipo, the appetiser of charred citrus glazed Spanish octopus is soft in the palate and coated in a scrumptious capsicum and sun-dried tomato aioli. Tiny pasta granules resembling rice (risone) are grey with squid ink and slide down the throat in an 'I-love-carbs' triumph. A dash of chili and the sporadic crunch of pistachio pesto polish off the recipe.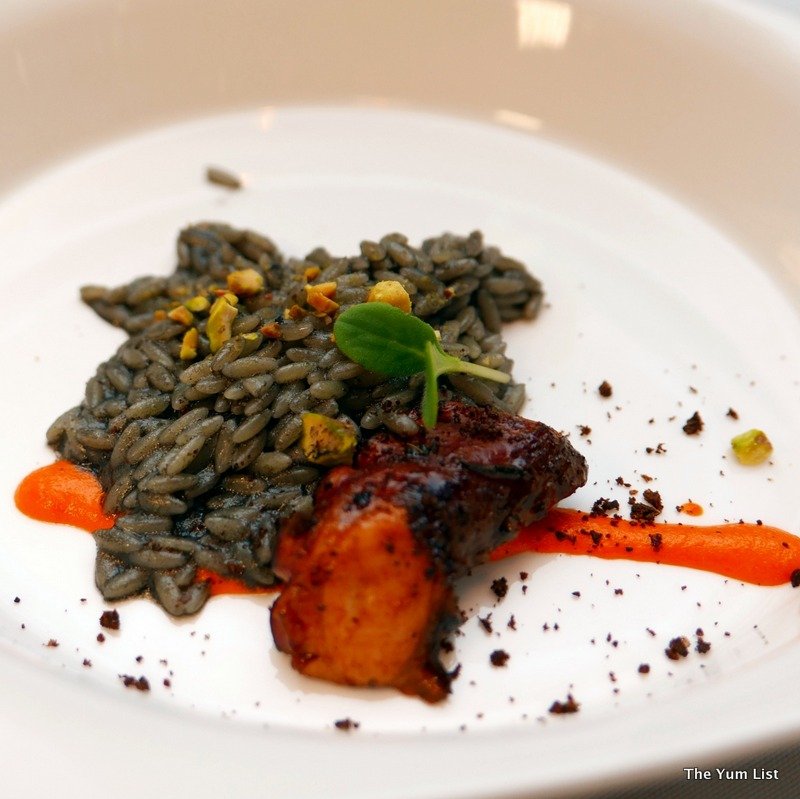 A south Italian white, Vigneti Zabu Grillo, Terre Siciliane IGT 2015, harmonizes well with both our appetizer and entrée. It brings the flavours of the first to full fruition and slices through the light olive oil dressing of the entrée.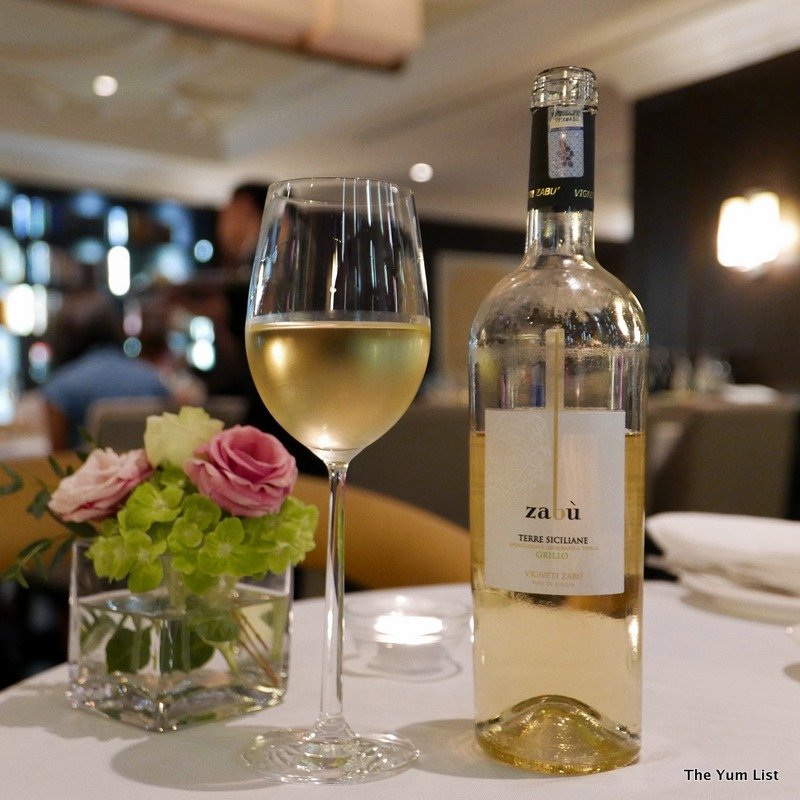 Entrée
A wispy tangle of angel hair pasta is crowned with a beautifully pink and white chunk of lobster in the Capellini con Aracosta. Finely chopped carrot and a sprinkling of seaweed dance across the plate. The dish is uncomplicated, and clearly flourishes in showcasing quality ingredients.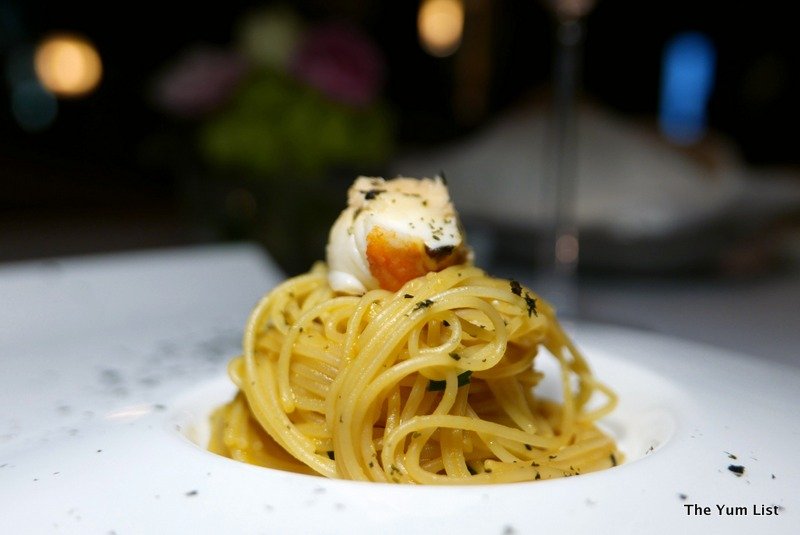 Mains
The seafood journey continues with my choice of Zuppa di Pesce 'Gattopardo', chef's signature Gattopardo seafood stew. Don't be deceived into thinking this is just a light soup. It's on the mains for a reason. The broth is rich and thick and the liquid is packed with pieces of seafood; fish, mussels, squid and prawns fill the bowl. This soup is something chef prepared 12 years ago when he first arrived in Singapore and French bouillabaisse was the trend. He introduced the Sicilian version in the terracotta pot, and has not changed it since. Extra virgin olive oil, nice tomato sauce and good fish stock he says are the key ingredients. It's something he remembers his mum making when he was young. He's quick to admit however that his mum's is still much better.
While I've stayed in the sea, Hubby returns to land with the Manzo Australiano; Australian tenderloin wagyu, with morel mushrooms, sweet peas, half a baked potato and a piquant horseradish and wasabi sauce. Chef notes that the sauce is not something traditional to Sicilian cuisine, but is used in this plate to contrast the fattiness of the beef. Hubby sums up the experience as, "Simply delicious." I'm more interested in the wine however, and as he's mmming and aaahing over the beef, I'm sipping on the pairing of a Mezzei Zisola Sicilia DOC 2013. It's graceful, rich and has great depth.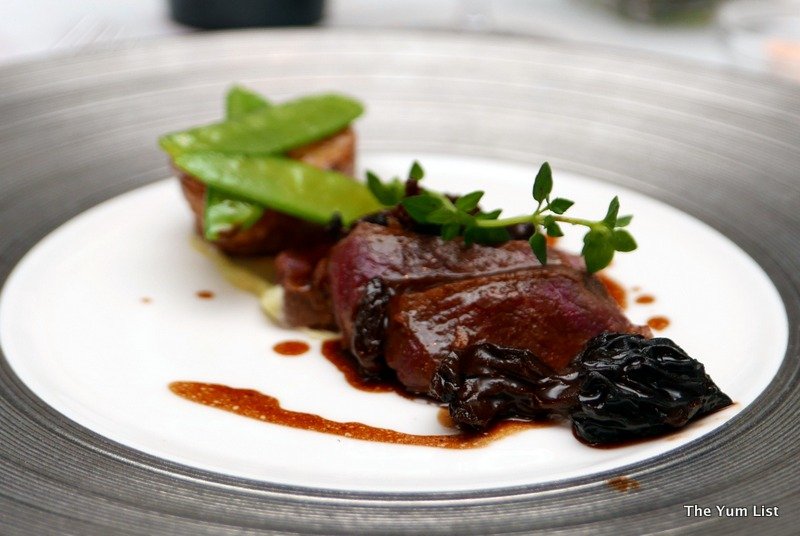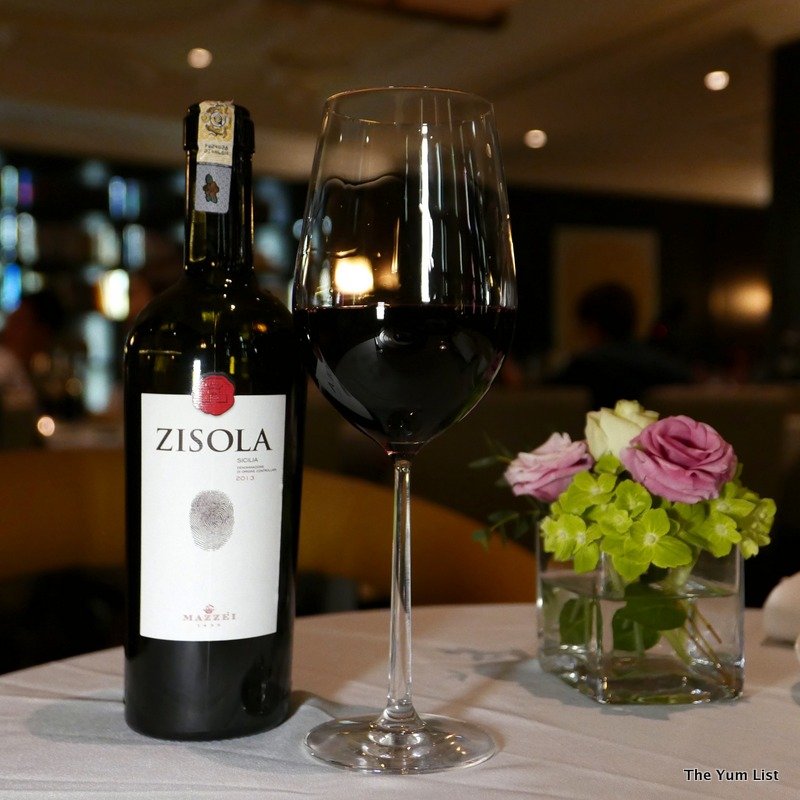 Dessert
Chef shares his signature Cassata, a twist on the traditional Sicilian ricotta cheesecake, and I'm sure I hear marriage proposals to the chef being blurted (or at least offers to be taken home) when guests take their first spoon of this creamy delight. It's chocolate. It's raspberry. It's ricotta cheese cream. It's sprinkled with candied lemon and orange zest. It's crunchy dehydrated tart berries and crumbled shortbread on the side. It's, "Mmmm," says hubby. It's, "Yum!" says I. It's a lovely conclusion to the four courses: a wonderful destination to arrive to on this journey through Italy's south.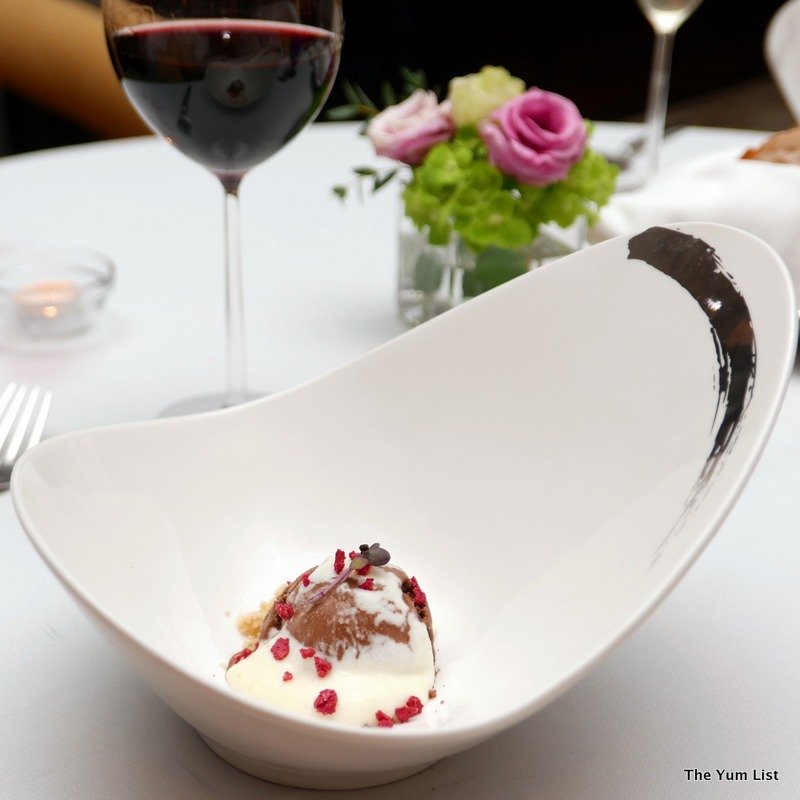 Petit Fours
Petit fours ensure every last craving has been satisfied, and freshly brewed coffee or tea rinse the palate completing the meal with a gratifying finish.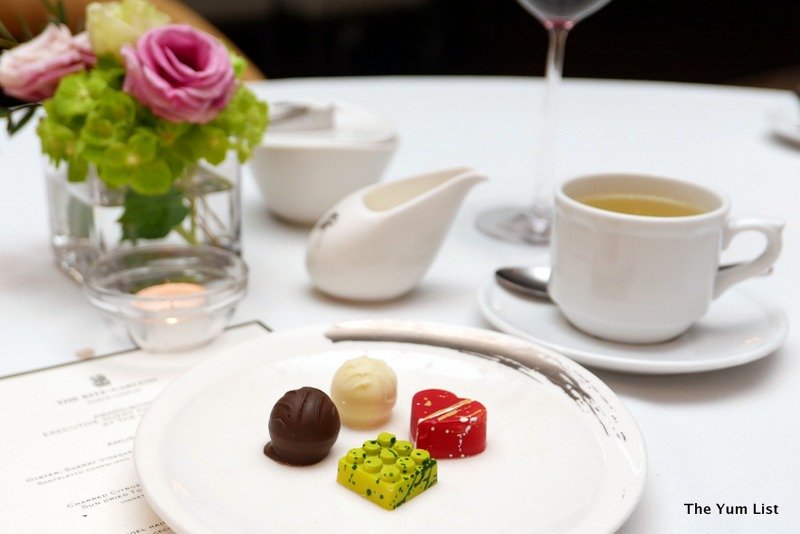 The four-course Sicilian dinner at The Library is priced at RM250 with an option of wine pairing priced at RM375 per person. Dinner is available from 7pm. For reservations and enquiries, please email [email protected] or call +60 3 2142 8000.
Reasons to visit: only three days left to sample authentic Sicilian cuisine from an award winning chef in a very attractive environment.
The Library
The Ritz-Carlton, Kuala Lumpur
168 Jalan Imbi
55100 Kuala Lumpur
Malaysia
+6 03 2142 8000
www.facebook.com/RitzCarltonKL
www.ritzcarlton.com/en/hotels/malaysia/kuala-lumpur