Words: Matt Jones     Photos: Monica Tindall
If you're looking for that taste of Spain in your non-typical Kuala Lumpur surroundings, El Meson is a great place worth making the trip to. Situated on the edge of the lake at Desa Park City, it resonates a casual relaxed vibe that makes you feel like time has slowed down a tad and you can linger a little longer over a meal or beverage.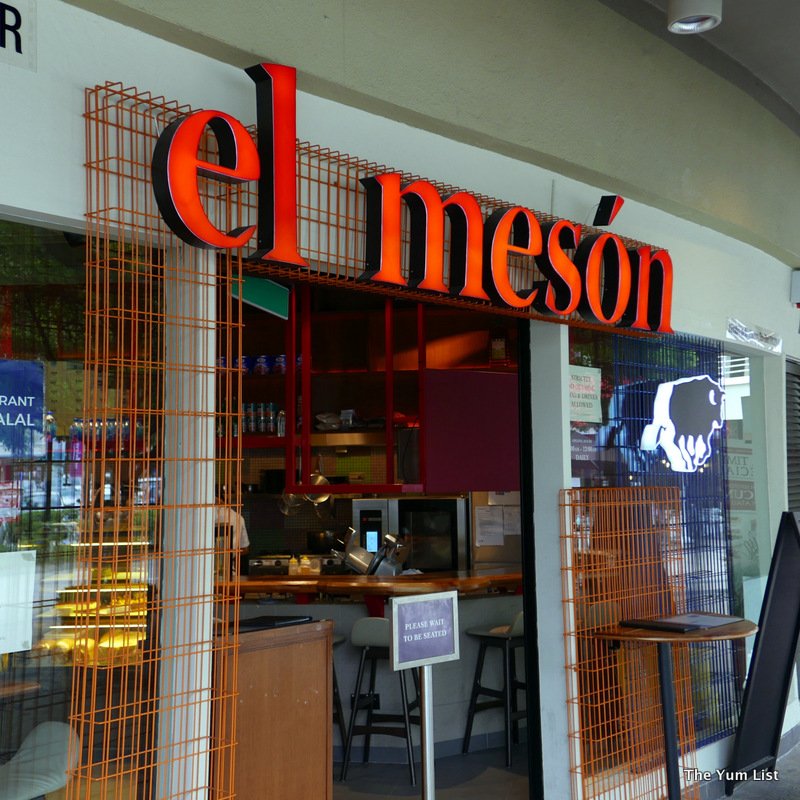 Zoned into four separate sections; a front kitchen area at the entrance, which evolves into the main long bar, an indoor table section and a covered outdoor riverfront area, the layout lends itself to multiple uses all the time. From the Australian guy having a few beers on a stool at the open bar while working on his laptop, to the business boys organising deals at the table near us, and the family of five outside on the terrace enjoying a long late lunch by the water, the whole vibe is relaxed and friendly.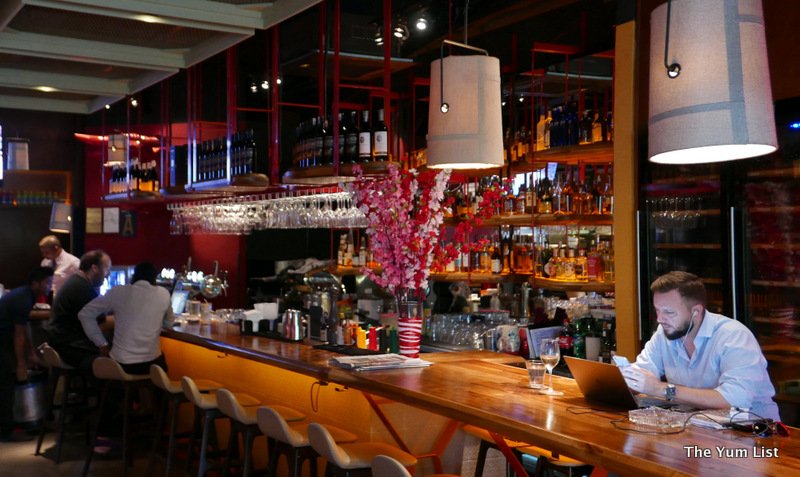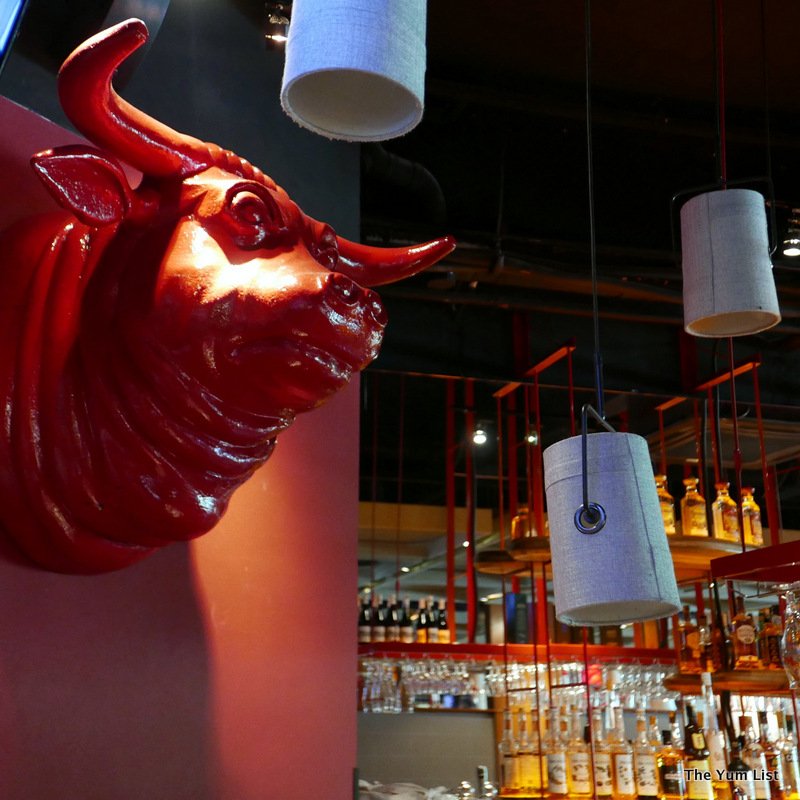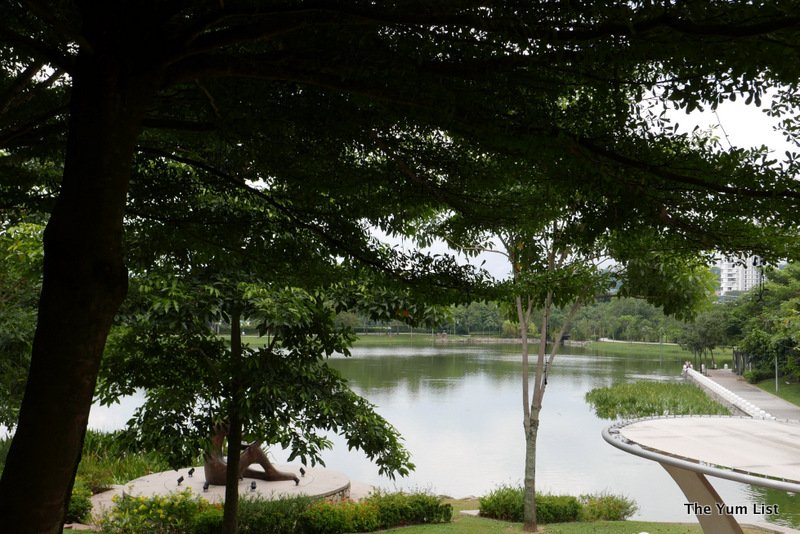 With an effervescent and charmingly friendly team of wait staff, we let Che our Nepalese waiter (he used to be a cook there so he knows his stuff) guide us through their cocktail specialties and new menu items.
Being Spanish, of course you have to hit up the Sangrias, and El Meson does them like no other! Generously served in tall hurricane cocktail glasses, we went with a Traditional Red (RM30), and an Apple Sangria (RM33). The red did the classic proud, and just like a big fat alcoholic apple juice, the twist on the second, made with white wine and set with chunks of green apple, well – "Now that's a Sangria!"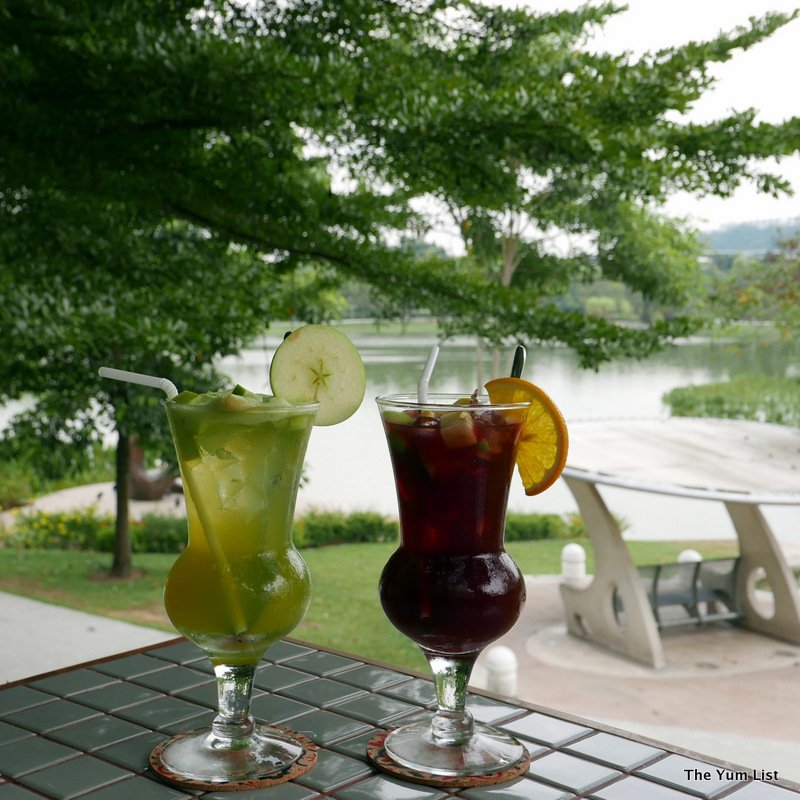 If you're feeling a bit fruity and want a holiday in a drink, try the Tropical Coconut Sangria, again made with white wine, Malibu and vodka, and served filled to the brim in a whole fresh coconut. Loved the Carmen Miranda garnish on top of skewered apple and orange slices with Maraschino cherries (RM36).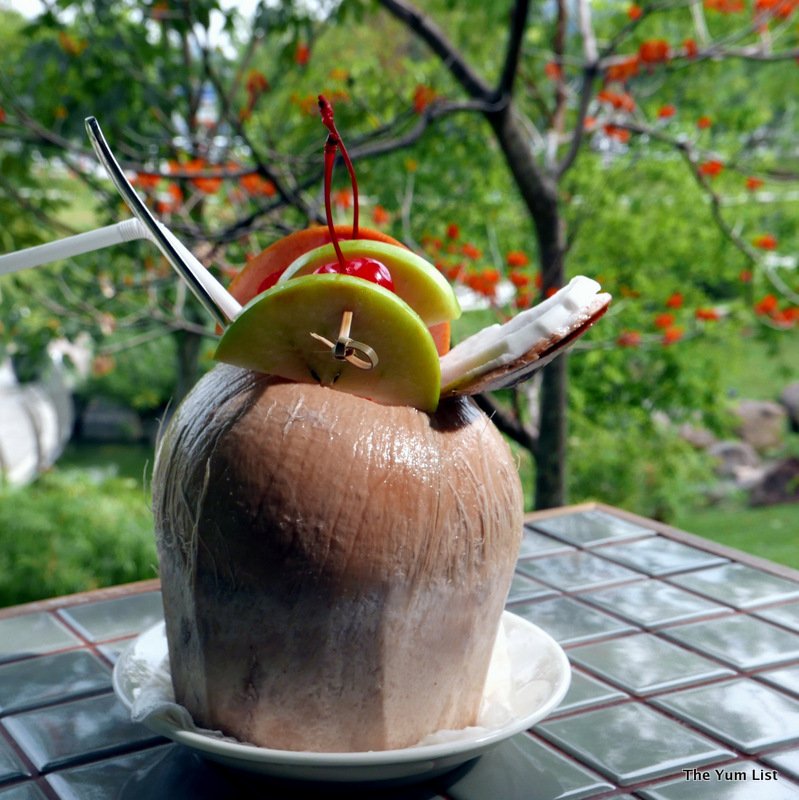 Can't go past a cocktail and with Sidirit gin on the menu (voted the world's number one gin in 2016), we couldn't resist the Sidirit Hibiscus; simple and refreshing in a stemmed wine glass featuring the Sidirit over a tennis ball of ice, a cinnamon stick and a twist of orange peel (RM29).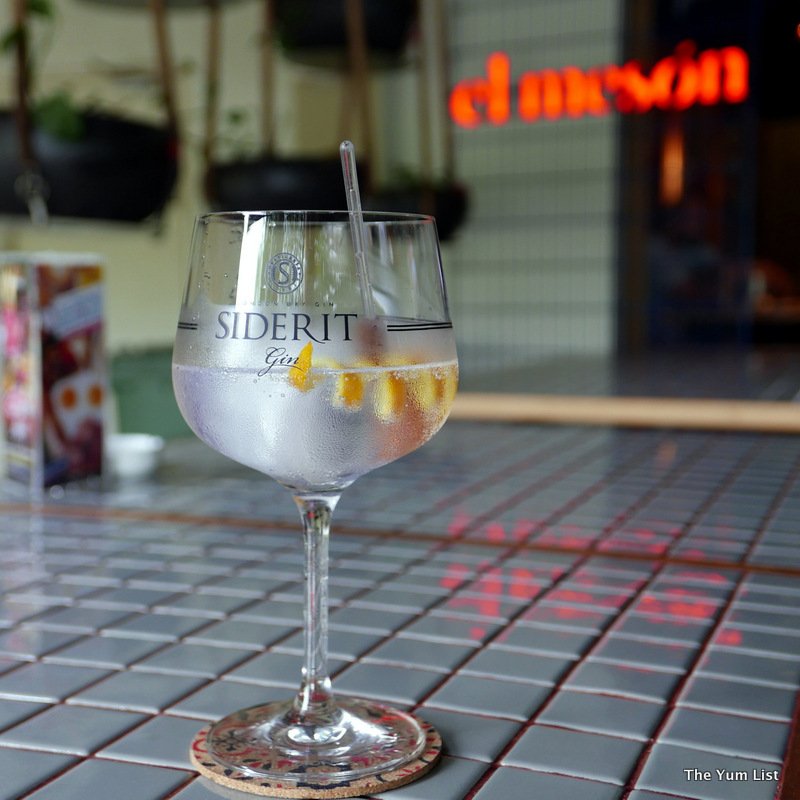 Being a new menu and being Spanish, Chef Pedro came out to personally deliver and explain each of the new dishes. A big happy ball of personality and clearly a man who is passionate about his food, he insisted we try everything.
First up, Alubias Con Almejas, a typically Spanish tapas pot of white beans, clams and chorizo in a rich gravy sauce and topped with a couple of piparras; fat green peppers from the Basque region in Spain, that aren't hot at all, you can eat them whole (RM20).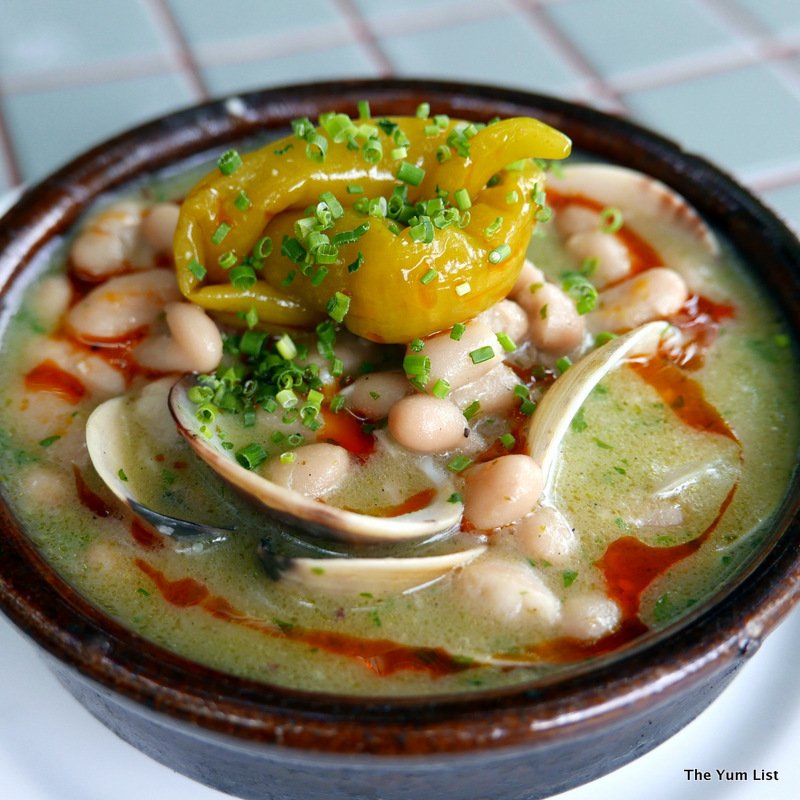 The Smoked Duck Salad is a lovely light dish of sliced smoked duck breasts served on a lettuce wedge with onion jam – so good it landed as one of my favourite dishes of the day (RM30).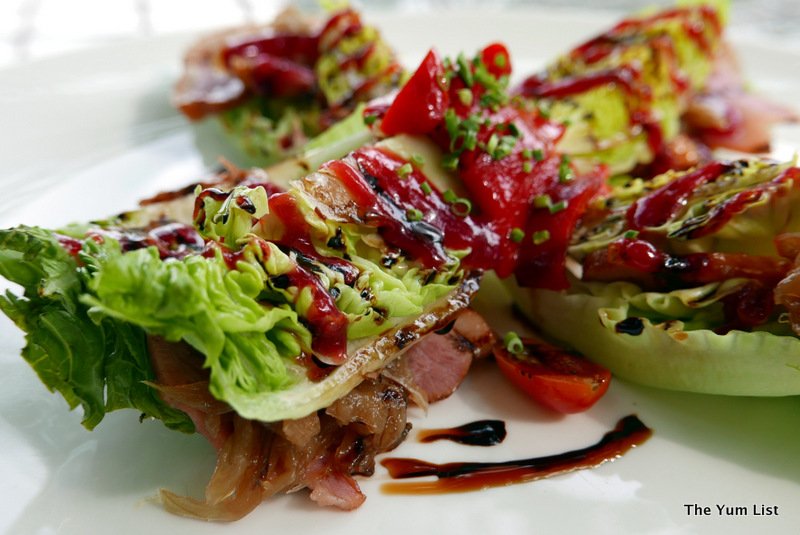 The other was the Escargot Puff Pastry Mushrooms, a truly 'oh my god' moment. It's presented as a large square puff pastry pie topping a creamy white one and leak sauce to set the escargot in. You know it's good when you accidentally sneak Monica's portion off the plate and are reluctantly forced to give some back so she can try it too, but it was worth it for the "So delicious!!" accompaniment. I'm going to go back to El Meson just to try that one dish again.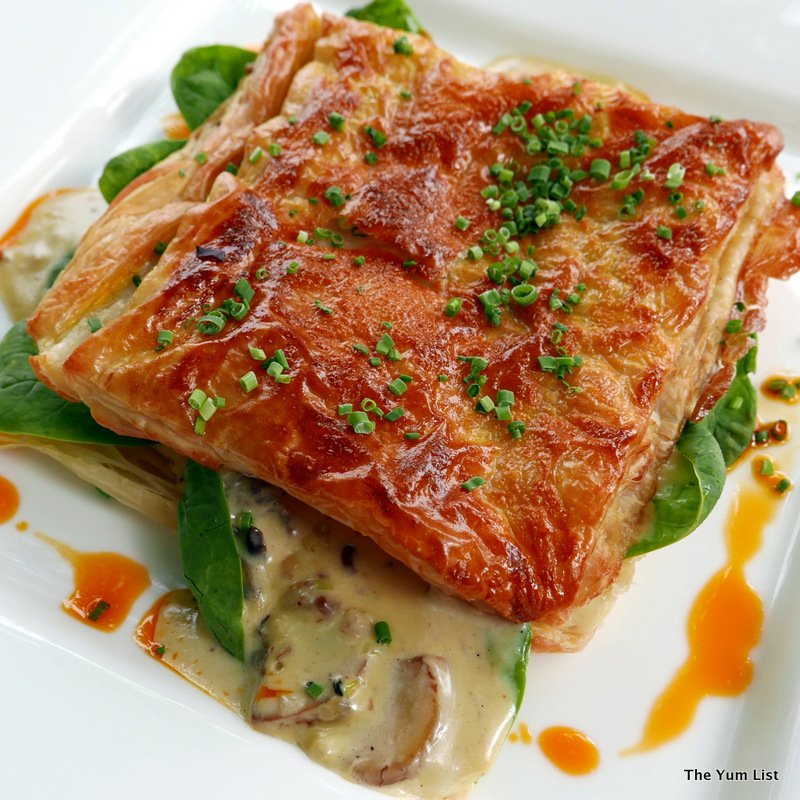 Basically you can share any and all of the dishes, including the Pinchos Morinos, a set of three chargrilled skewers that you can choose a mix of three flavours (chicken, pork or beef) or three of one flavour. They come with a smoky red capsicum, almond and paprika dipping sauce (RM25).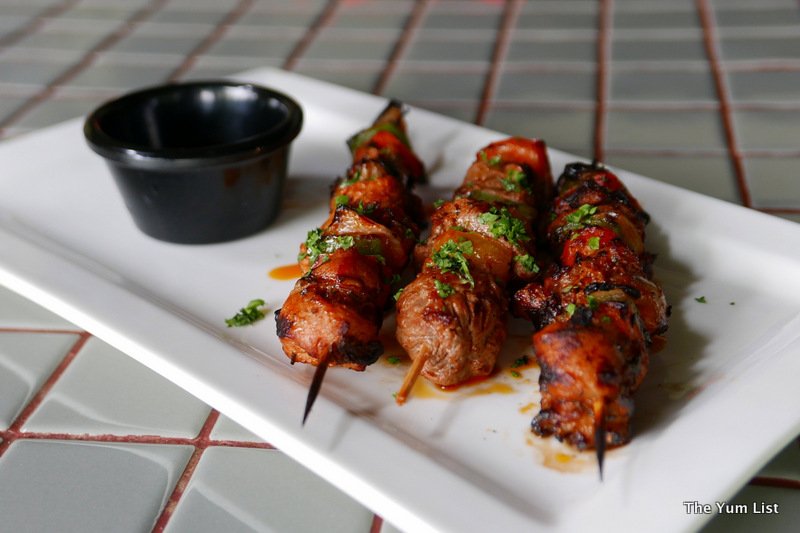 Paella!! El Meson naturally serves up a whole menu selection of paella, so chef Pedro brought us his Paella Salsa Verde. Waiter Che ceremoniously squeezes the lemon wedge over the top and carefully mixes and serves the dish at the table. It's a huge pan (we ended up taking most of it home) of rice, clams and artichokes in a Spanish green sauce, with an olive oil and fried garlic sauce that mixes through. In two sizes, the small is RM68 and the large (ours) RM128.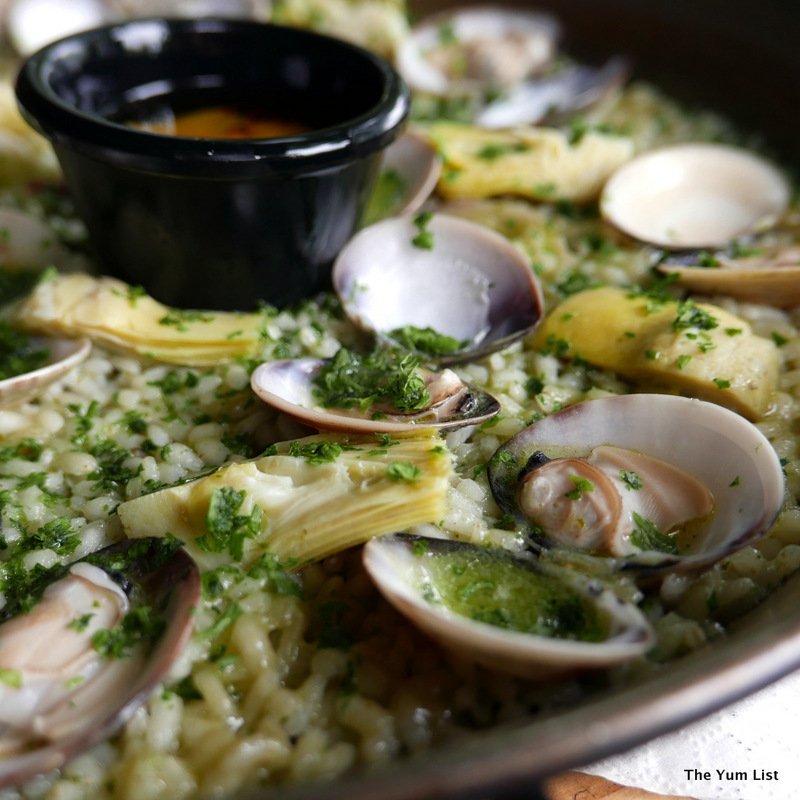 Sweet tooth? El Meson certainly doesn't disappoint, serving up enormous wedges of cake, baked daily in their in-house kitchen. Offerings change daily (RM 12-16) and if you're as lucky as us you'll get to choose from a selection of cheesecakes (we sampled a Cranberry and a Lemon – both divine), or the definite table favourite (think more your shared portion as it's so, so rich) the Peanut Butter Mousse Cake. Add to that their full barista coffee menu and tea selection, and there's morning and afternoon tea sorted!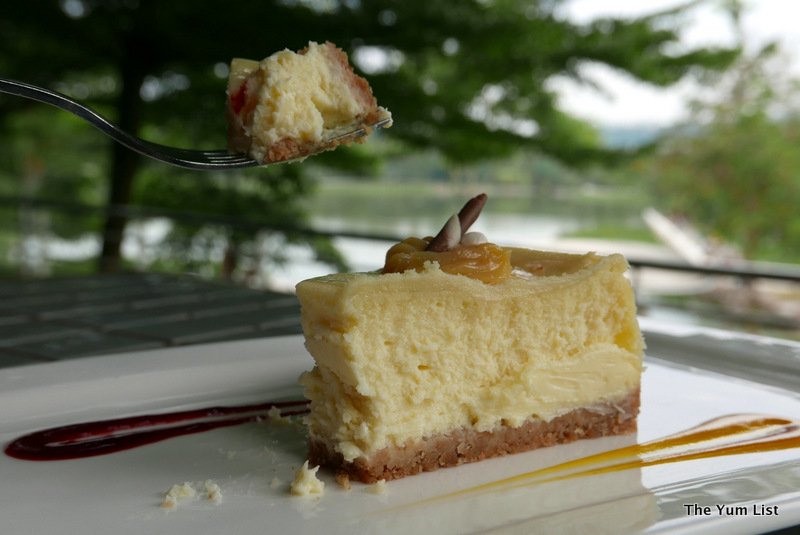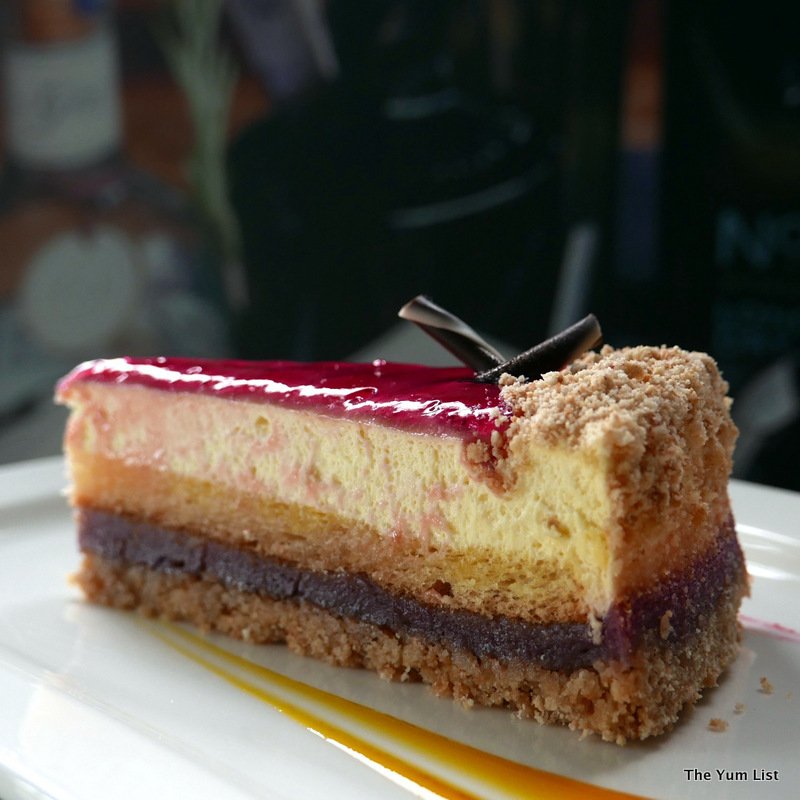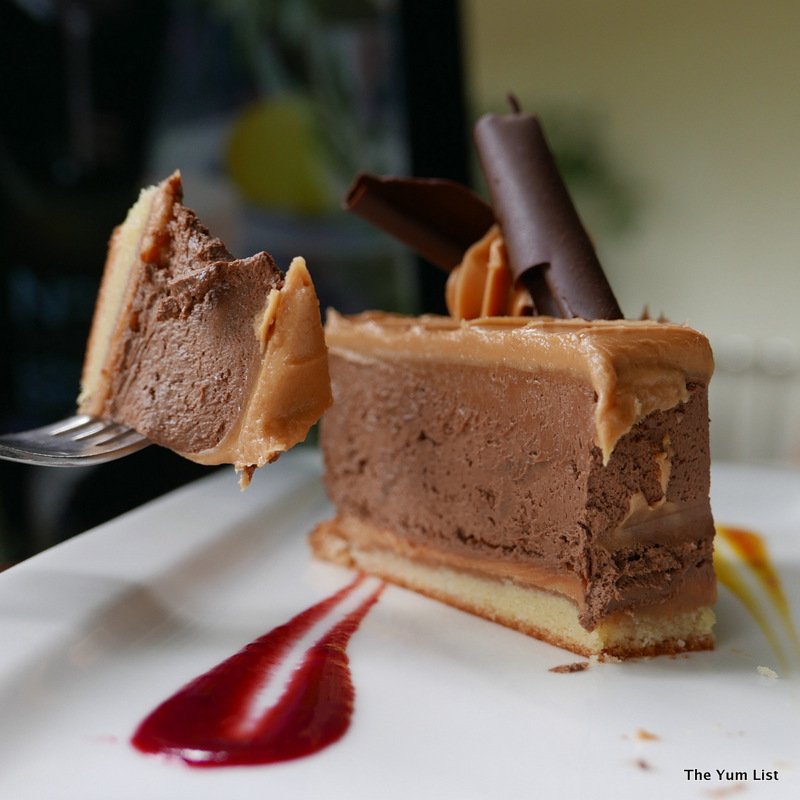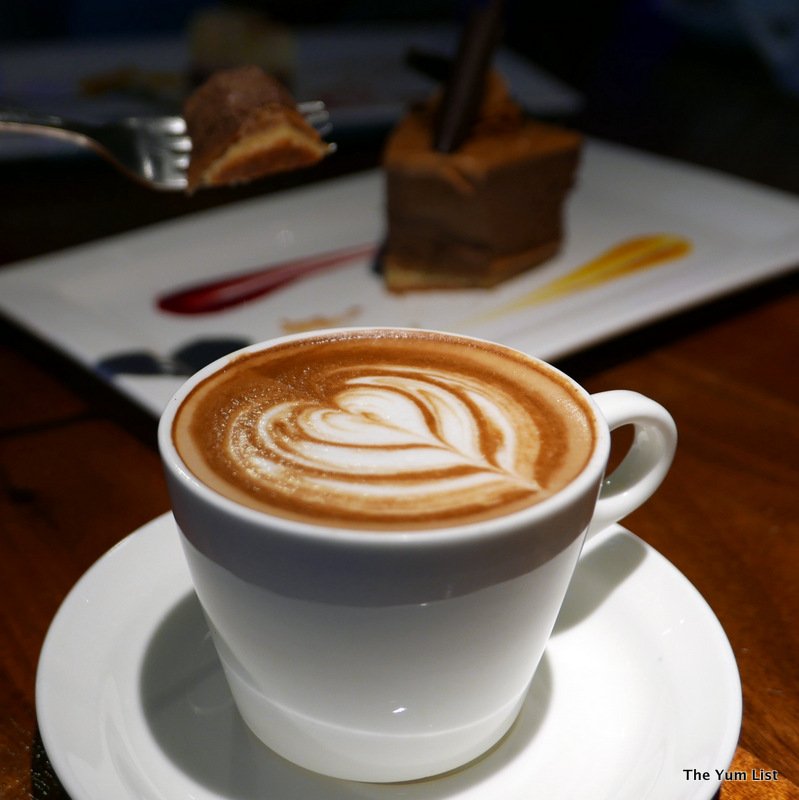 El Meson also features a daily weekday lunch menu, "Hola Lunch" from 11- 3pm, where for RM29 you can grab two courses with a soft drink. I recommend going with one of the paella pan pizzas (we had chef's special of the day with cherry tomatoes, black olives and rocket).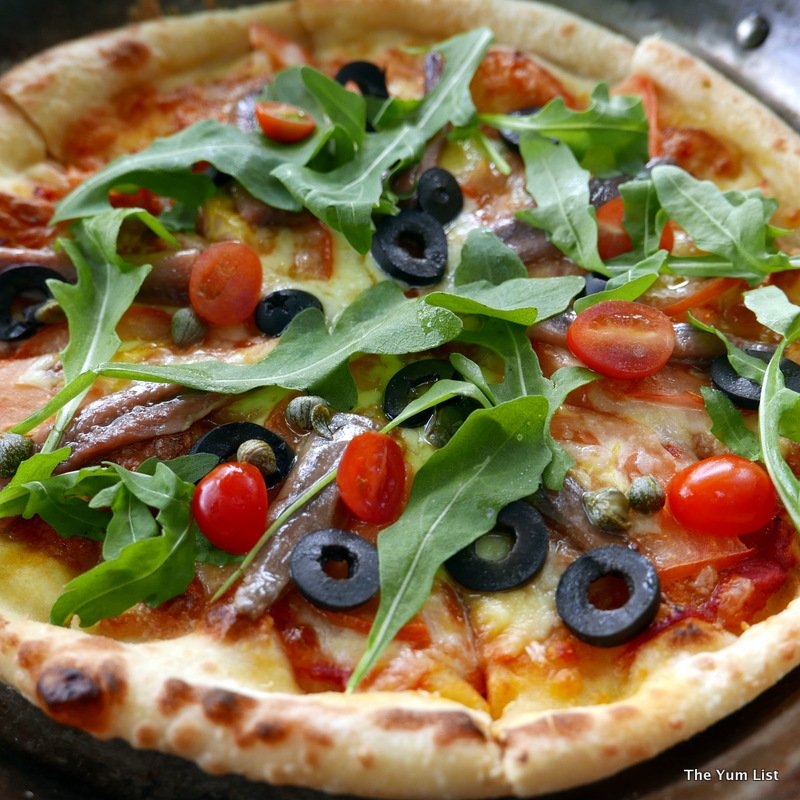 Buenos Dias! Breakfast is served seven days a week from 9am to 3pm, with Spanish interpretations of everybody's brekkie time favourites. Eggs on Toast are eggs cooked your way with sauteed white beans, smoked salmon and hollandaise sauce on a fat slice of toasted brioche (RM29), or try a Pluma Montadito mini sandwich (served in a muffin) of Iberico pork steak with padron peppers (RM29).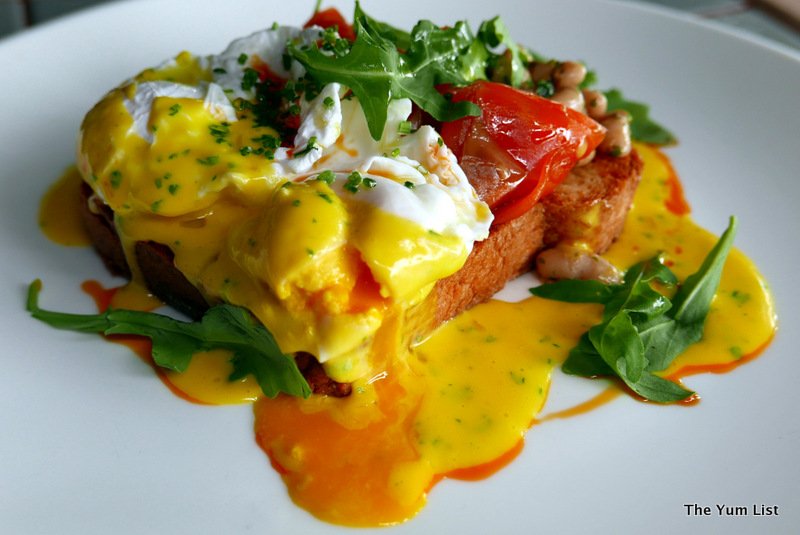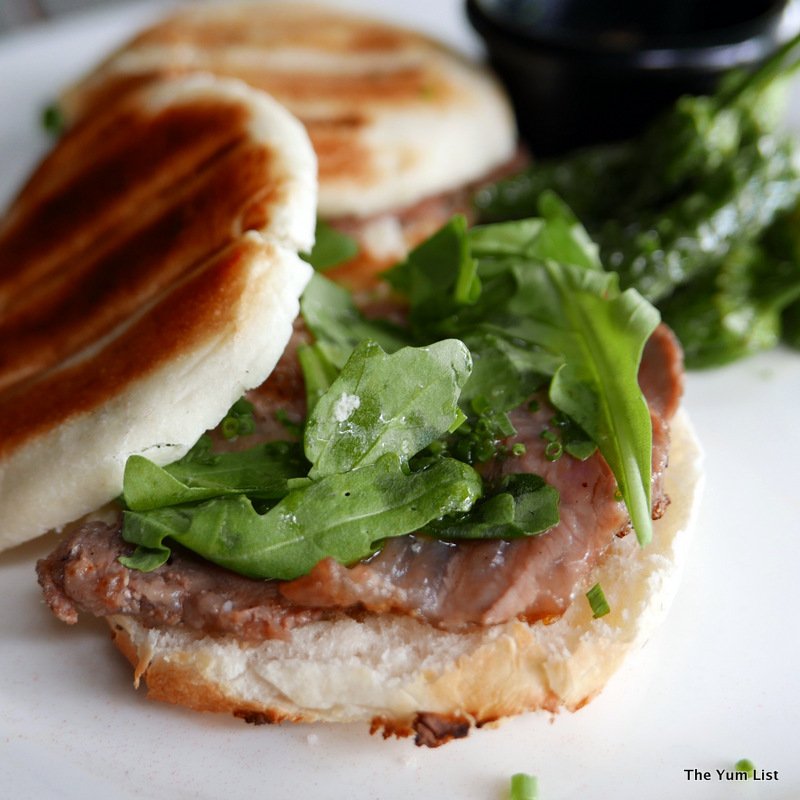 From the individual hand made pottery plates to the bright red and timber interior, the lakefront position and menus to take you right throughout the day, El Meson is probably going to be one of your favourite go-to places.
Reasons to visit: lovely lakeside setting; excellent sangria variations; don't miss the Escargot Puff Pastry Mushrooms, Smoked Duck Salad and the desserts!
El Meson – Spanish Restaurant and Bar
Lot GF5, The Waterfront @ Parkcity
Persiaran Residen
Desa Parkcity
52200 Kuala Lumpur
Malaysia
http://elmeson.com.my/wp/
+6 03 6263 6227