Crafted Coffee Co.
Monica Tindall
Less than a year old, Crafted Coffee Co., at The Kitchens in Robina Town Centre, is delighting coffee fans with their extensive options of beans from the roaster, to the machine and even to the shaker.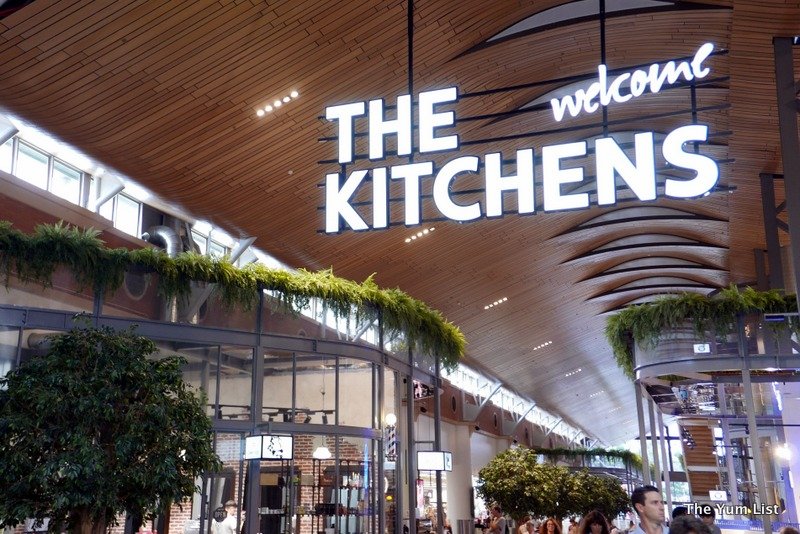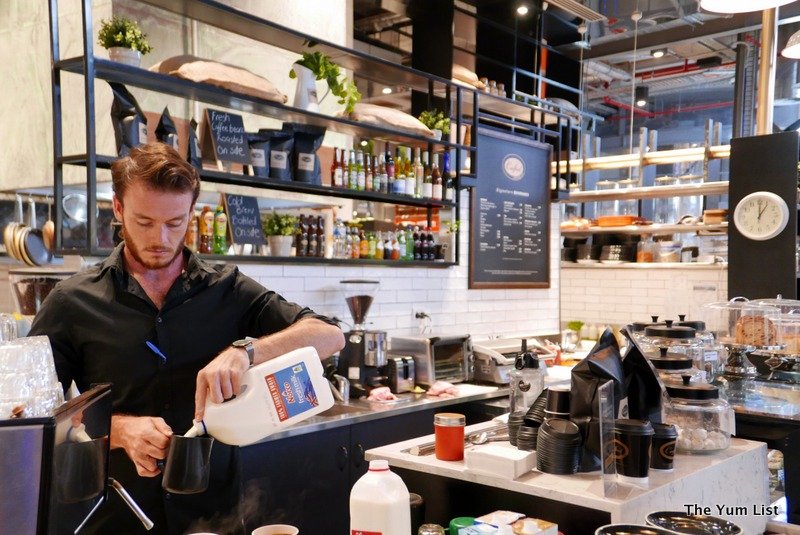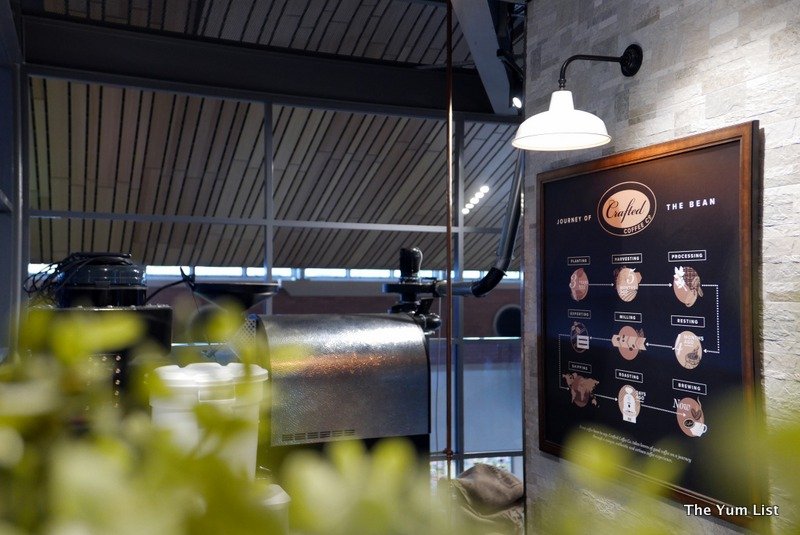 Owners, Sarah, Gary, Adrian and Svetlana, wanted to create more than a café; they aim to be a destination where all of your coffee desires are met. Unfurling over two levels in the Gold Coast's latest dining hub, The Kitchens, Crafted Coffee Co., offers a retail shop and café downstairs, and a roastery and bar upstairs. Future plans include supplying wholesale beans, cupping sessions and classes. You might even call it a "coffee department store," Svetlana reveals with a smile.
In my opinion, it's nothing like the Gold Coast has seen before. I've appreciated a number of small roasters sprouting around the area, and certainly a greater knowledge and appreciation for coffee, but Crafted Coffee Co., is something new, something exciting.
A roasting consultant helps the team to make direct connections with coffee bean farmers. They feel a responsibility to know the farmers, their families, their working conditions, and are passionate about ensuring the source is ethical.
The crew at Crafted Coffee Co. is also committed to helping people understand coffee. It's similar to wine in that various taste profiles are expressed depending on the terroir in which beans are grown, the type of bean and the roasting and extraction methods. Customers have the opportunity to taste various combinations and hopefully find something that most appeals.
It doesn't just end with drinking coffee though. Svetlana explains, "We love coffee so much that we want to bring it through everything. From the coffee infused rye bread to the ricotta cheesecake, and of course the cocktails, the concept is woven discerningly across the menu." So… that leads us to the menu!
Beverages
Espresso based beverages, such as our Cappuccino ($3.90), are made on Crafted Coffee Co.'s Signature Blend. Beans from Brazil, Papua New Guinea and Colombia are given a medium to dark roast producing dark chocolate and creamy caramel flavours and aromas with a natural sweetness and bright acidity. Home baristas can take a bag of this away too, or any other blend or single origin for the matter, from the retail shop downstairs.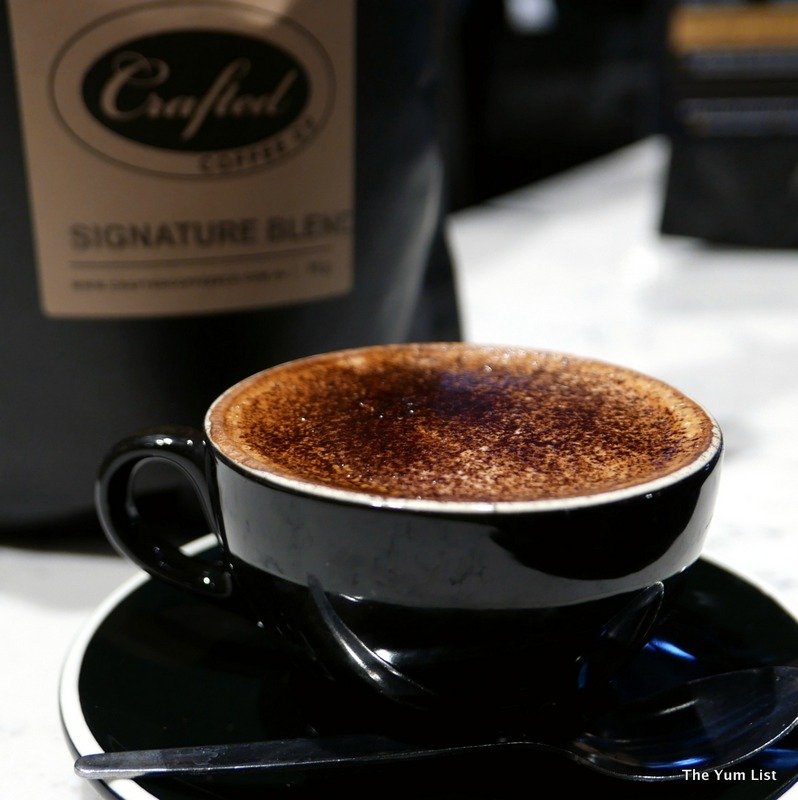 Combining both a love for coffee and for liquor, the Espresso Martini Bar upstairs definitely has our attention. When afternoon morphs into evening, the house espresso martini glides the way from work to fun. Crafted Coffee Co. Signature ($16) features Ketel One vodka, white chocolate liqueur, Kahlua coffee liqueur and Crafted Coffee Co. Signature espresso shaken and served straight up. A single coffee bean and sprinkling of cinnamon dust garnish the top. Scrumptious!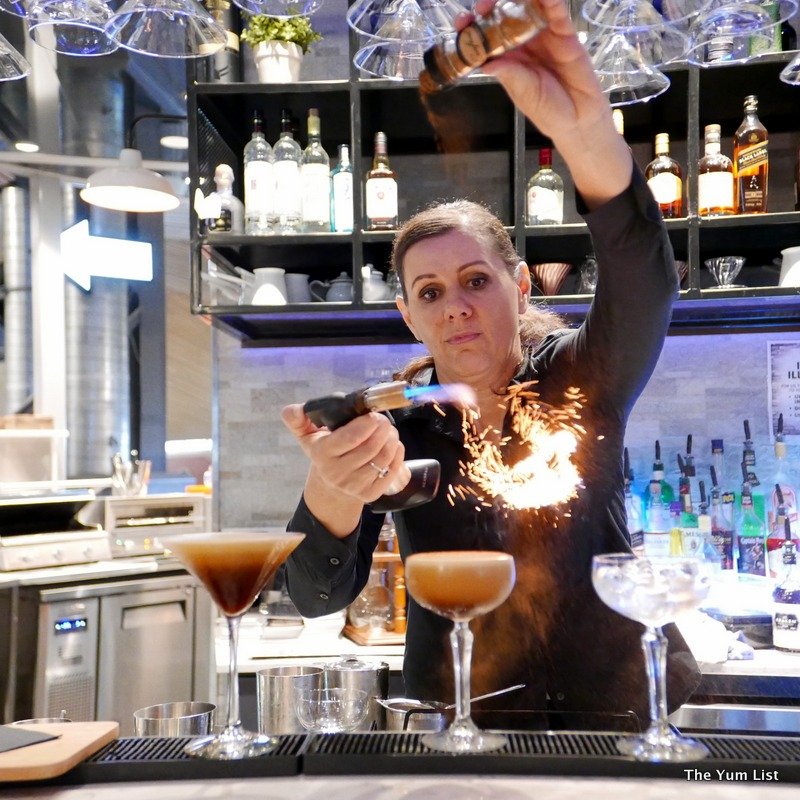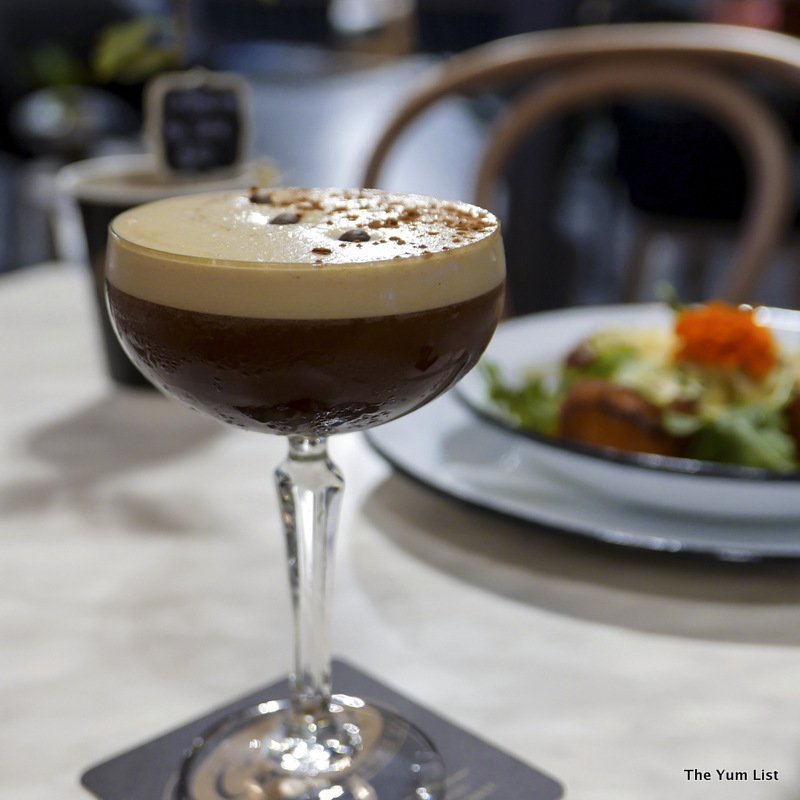 All Day Breakfast, Lunch and Light Meals
Sweet Potato Chips ($7.90) are a hit all round. Seasoned with a "secret" recipe, the Italian chef won't divulge the ingredients no matter how much I press him. The rich aioli is a fab companion. These are seriously addictive.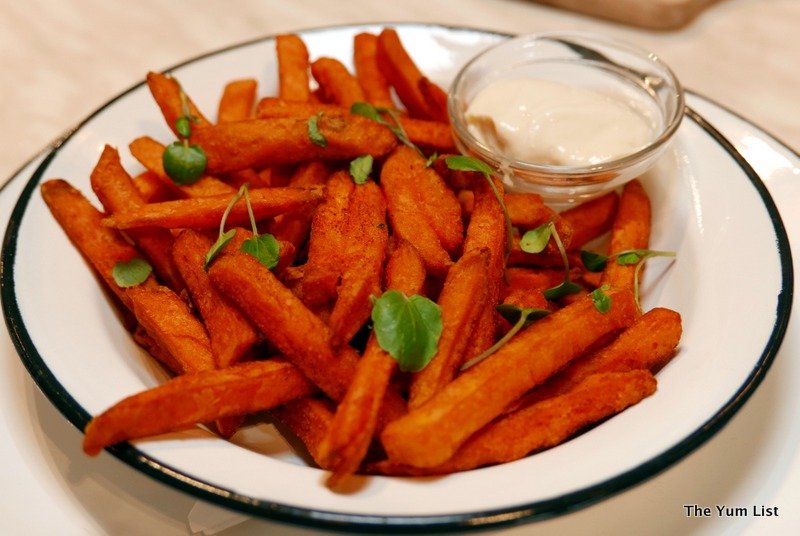 Bruschetta ($10.90) sees thick slices of coffee infused rye toast topped with fresh chunky tomato salsa and finished off with a balsamic glaze. The bread is gorgeous. A supplier makes the bread to order using Crafted Coffee Co.'s beans. I'm hoping they'll sell me a loaf to take home.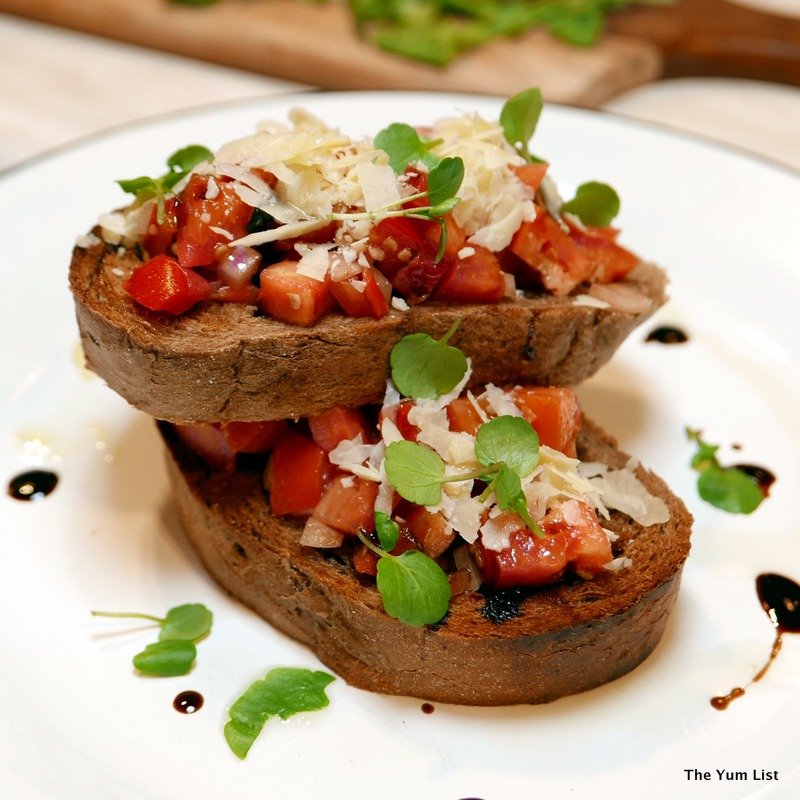 Arancini Balls ($14.90) are presented as a generous portion with a trio of plump spheres. A perfectly crunchy bread crumble casing holds short grain Arborio rice (over cooked just a little to make it sticky), feta, pumpkin and basil. Napoli sauce cushions and adds moisture, while shavings of Parmesan add a little savoury zing to the crown. Quickly deep-fried at a high temperature, the shell is crisp and dry, while the insides remain decadently gooey. Mmmm…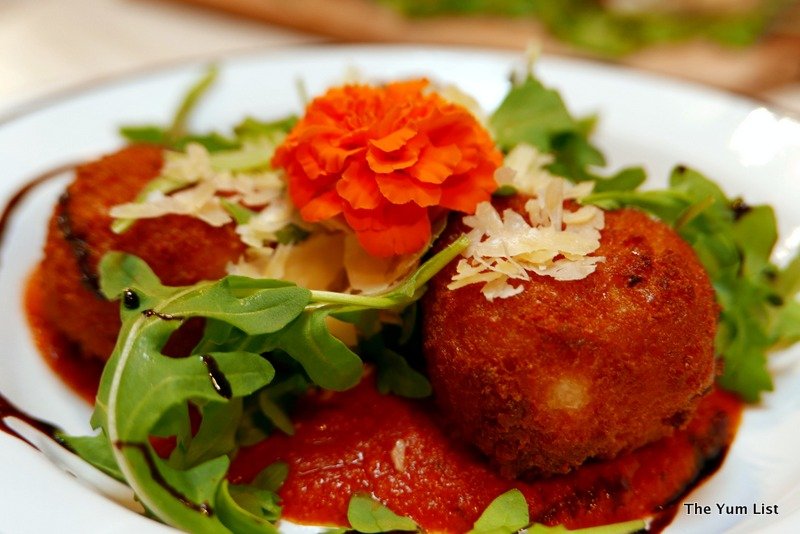 We can choose from three flavours for the Trio of Sliders ($15.90). In the interest of our readers, we select one of each. Pulled pork, rocket, slaw and barbecue sauce makes us lick and suck the residue off our fingers without shame. The vegetarian option pleases me to no end, with pan-fried halloumi, roasted capsicum, grilled zucchini, Spanish onion and a tzatziki sauce moistening it all. Chicken, Swiss cheese, crispy beetroot, lettuce, cucumber and aioli offer a real taste of the grill with the meat charred around the edges.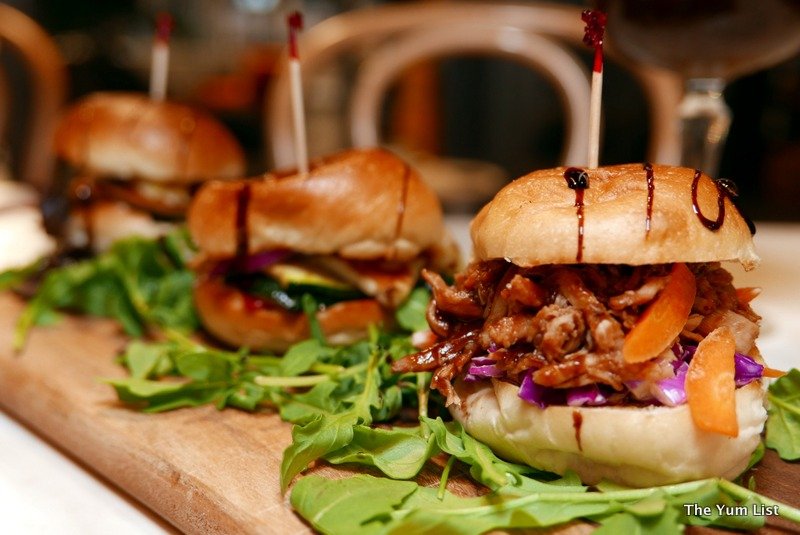 Sweets
Nearly two handfuls of different versions of the affogato take up a whole page. Of course there's the traditional, but wow, there are so many more to consider! How does this sound, "Salted Honeycomb Crumble," or Jaffa", or our option for today, "Cherry Delight Affogato" ($7.90)? Two scoops of ice cream topped with cherries, shaved dark chocolate and coconut are melted with a double shot of espresso. Delizioso!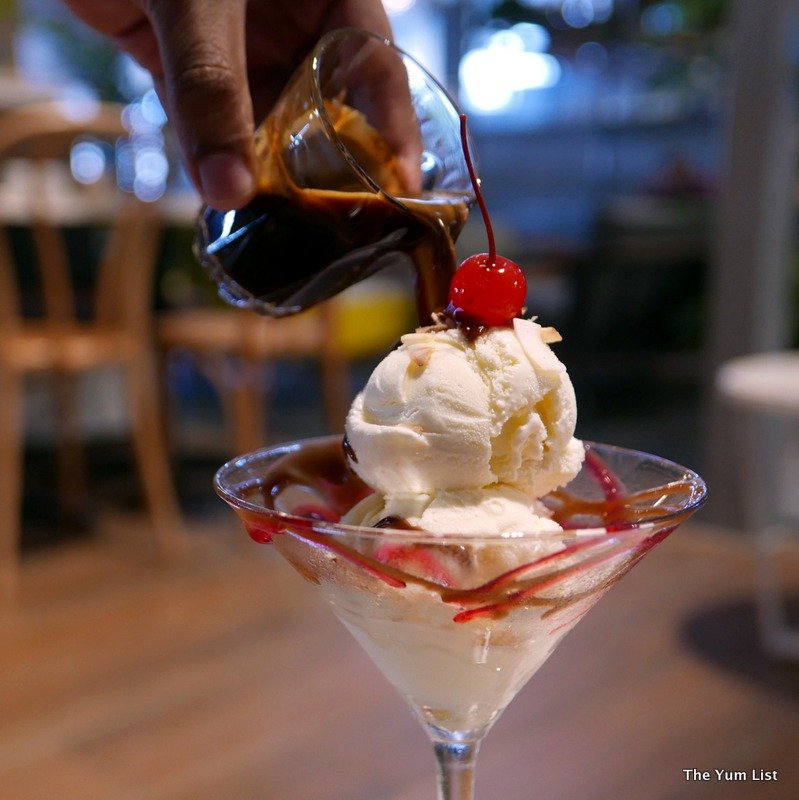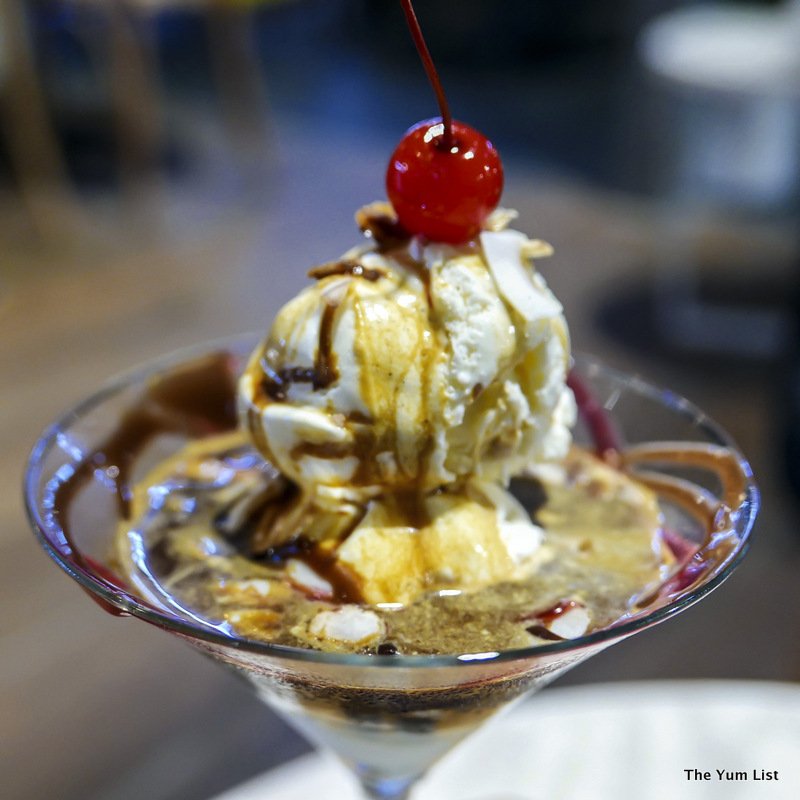 Tiramisu provides a traditional Italian finish. Savoiardi, finger sponge biscuits are moistened with mascarpone cream, coffee, a little sugar and Kahlua liqueur. A generous spire of whipped cream ensures there are no complaints from us about not being well fed!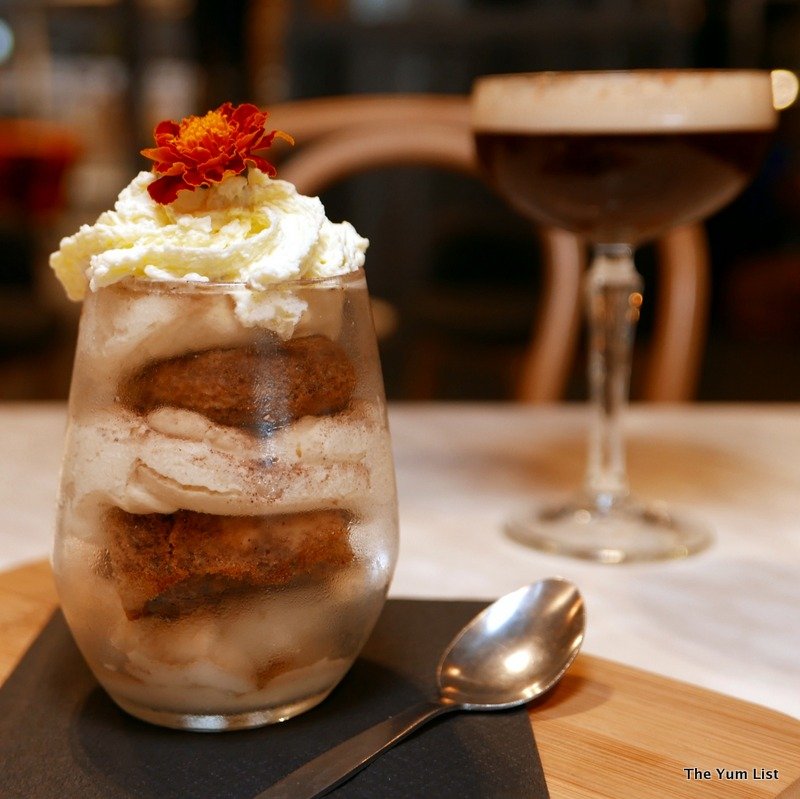 Crafted Coffee Co. offers a complete experience no matter what your level of fascination with coffee. From casual cappuccino sippers to serious single origin hand pour connoisseurs, there's something here for everyone to discover.
Reasons to visit: a destination for coffee lovers on the Gold Coast; choice of experiences with a downstairs café and upstairs espresso bar; arancini and bruschetta are highlights of the menu; be sure to try a martini and affogato – take your pick of flavours; and remember to grab a bag of their house roasted beans to take home.
Crafted Coffee Co.
The Kitchens @ Robina Town Centre
Robina,
Gold Coast, Queensland
Australia
www.facebook.com/craftedcoffeeco
+61 7 5562 5626