Words: Viktor Simonic      Photos: Monica Tindall
It can be a hard thing to find a slice of quiet, relaxed ambience, combined with quality, contemporary European cuisine near the heart of Kuala Lumpur. Even scarcer in the city are European dishes, whose ingredients are sourced locally as part of a farm-to-fork concept. This is exactly what Roost, nestled away amidst the bustle of Bangsar, offers. A neat, refined and remarkably fresh look into the goodness of local ingredients, elevated to pleasant heights by Danish head chef Albert Frantzen and his team.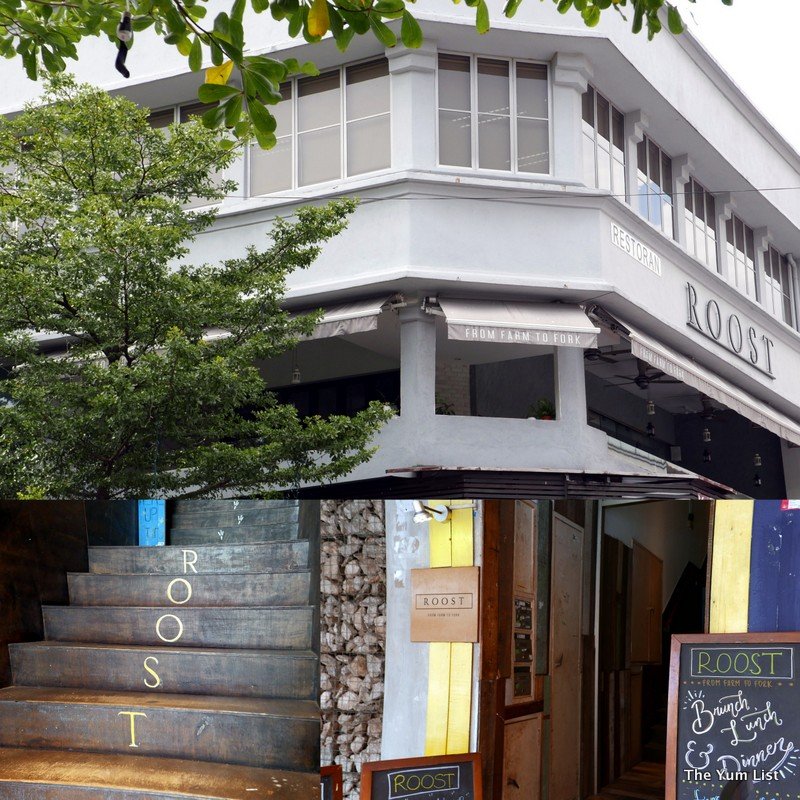 At first glance, Roost's décor invites simplicity with its clean, pastel and wood hues framed with greenery, and proves welcoming with its open-kitchen concept. Belying that simplicity however lies the deep-rooted touch of family; as its walls and windows, and even Roost's own logo (a hornbill proudly holding up a fork), are adorned by the hand-drawn artistry of head chef Albert's own father. Not to mention the deceptively comfy circular chair cushions, all crafted by Albert's own mother. This, along with its light, homely furnishings and pleasant views overlooking trees, gives a warm, relaxed and inviting feel.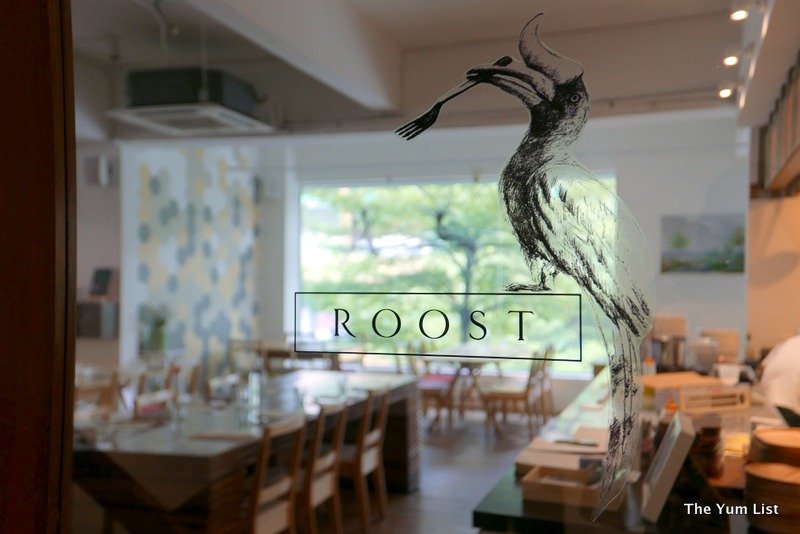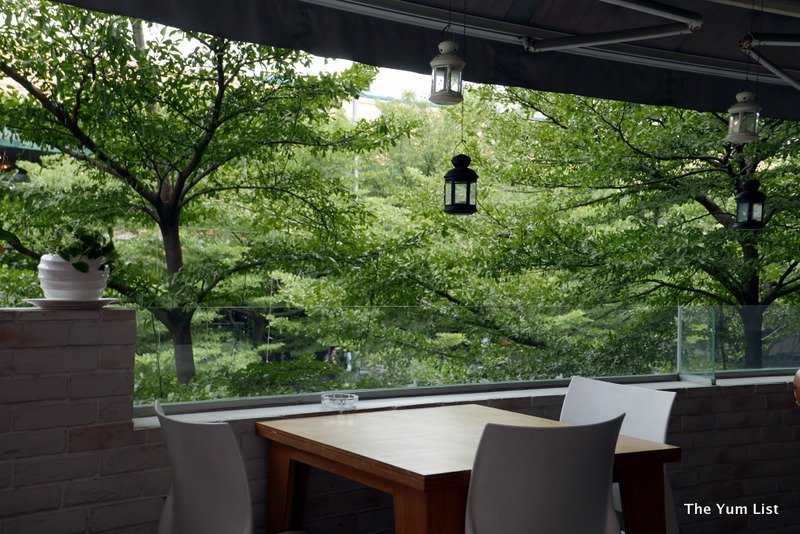 Priscilla, Roost's manager, kicked things off for us with a trio of their signature cocktails (RM22): Roost Peach Tea (Earl Grey infused gin, lemon juice and peach liqueur), Strawberry Basil Gin & Tonic (strawberry basil infusion, tonic and bitters), and the Spritz Twist (a clean combination of red wine, soda, elderflower and berry tea steeped for three days with edible berries). All tread the delicate line of 'not too sweet and just sour enough' beautifully – a rarity, as I often find cocktails overtly sweet and excessive, so it's great to see the bartender holding restraint. You may notice a theme of combining teas with alcohol in their offerings, a trend I more than approve of and one which definitely pays off. As an avid Early Grey drinker, I have to particularly recommend the Roost Peach tea, being both light and full of subtle, peachy Early Grey goodness.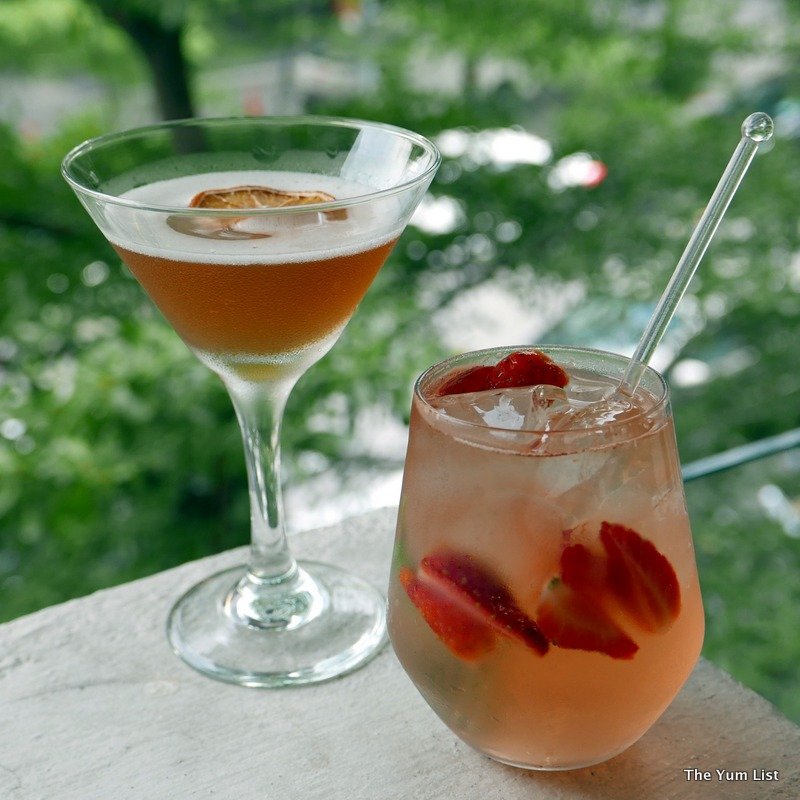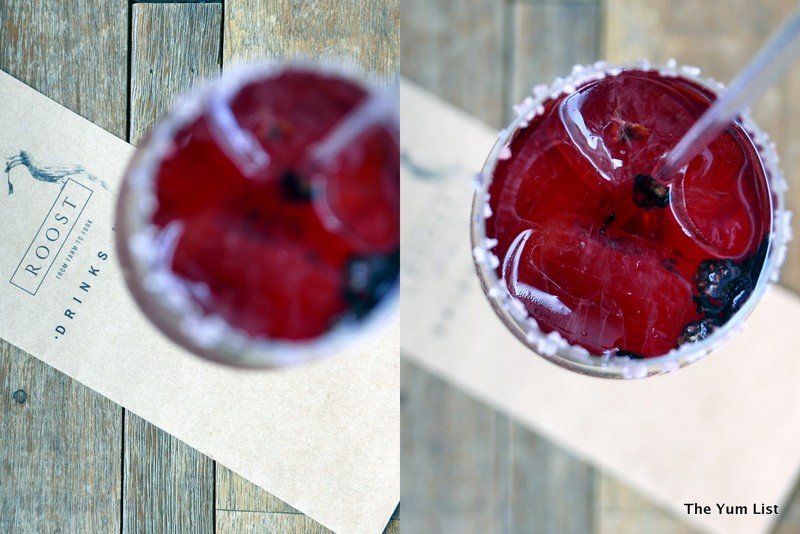 As more of a whisky and wine kind of guy, the next offering of one of Roost's craft beers, Rogue (Hazelnut Brown Nectar RM30) truly surprised me. Its subtle hints of caramel, honey and vanilla overlain with a generous profile of woody, smoky hazelnut ensured repeat business from me and has me looking forward to coming back and trying out their collection (with an assortment of craft beers from Scotland, Japan, the US and Denmark).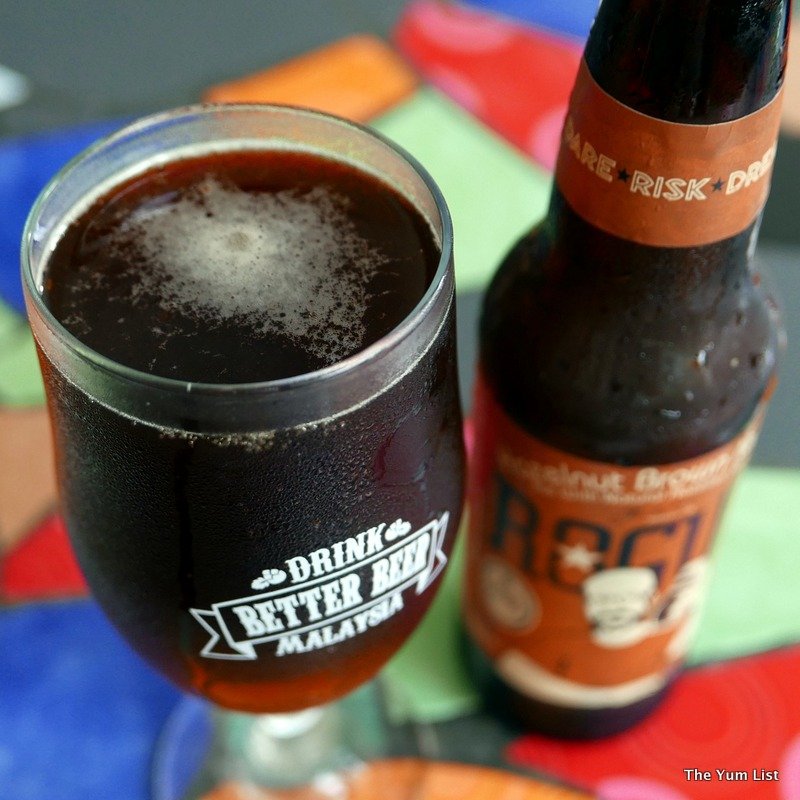 Right on cue, we were greeted by the traditionally Danish "Smørrebrød" selection (RM15/28/38 dependant on number), meaning 'butter and bread' consisting of 'baked-on-site' crunchy, lusciously seeded dark rye bread, made from all locally sourced ingredients (bar the flour which is from Germany). Now I have to confess that a good bread is a true raison d'etre of mine, and here the head chef clearly does not disappoint. The Rugbrød (sour-dough based rye bread) are all decorated with an assortment of toppings including:
– Marinated Herrings, Shallots and Capers – highlighting the chefs' home-grown roots with a phenomenal rustic taste offset with the sharp acidity of the herrings. A key favourite.
– Roast Beef, Remoulade, Crispy Onion & Dill, with the beef wonderfully seared.
– Beetroot Cured Salmon and Cream – generously overlain, thoroughly flavourful.
– Heirloom Tomatoes, Egg and Chives – a European Classic.
– Prawn, Egg, Homemade Mayo and Lemon.
– Chicken Salad, Apple, Celery, Pecan and Duck Bacon – an absolute explosion of balanced deliciousness – another favourite!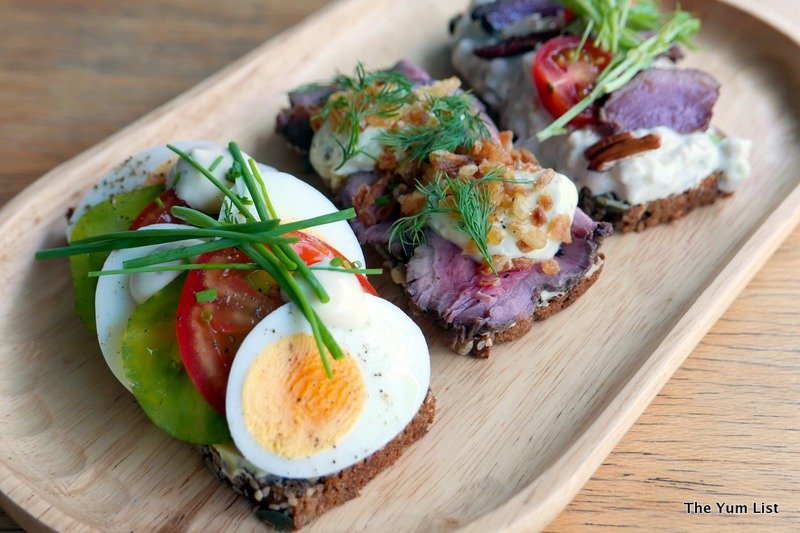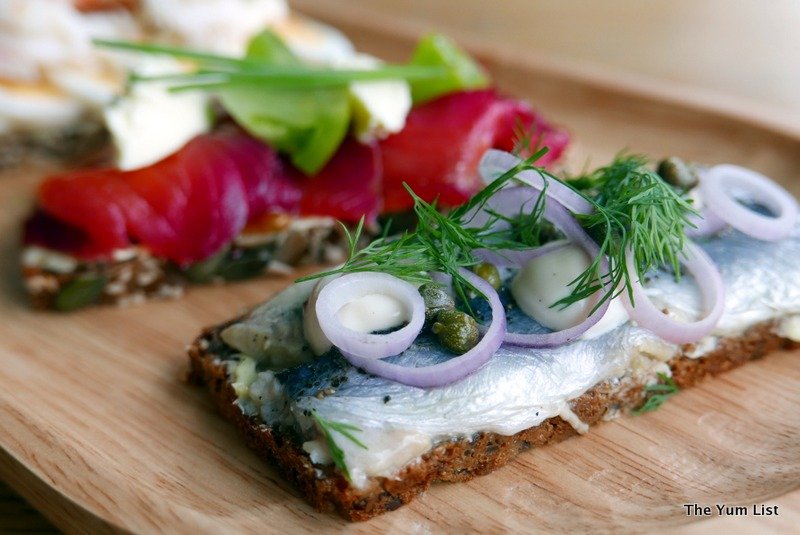 After swiftly sweeping away the delightful Smørrebrød, we were presented with the tomato-based 'Classic Minestrone' (RM20) soup, which effused rusticity thanks its addition of smoked duck bacon.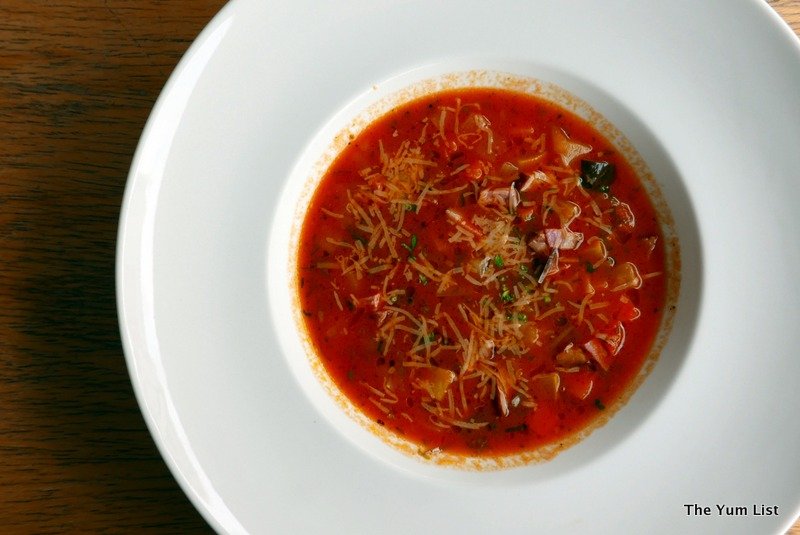 Continuing along the theme of smoked duck, we sampled the 'Smoked Duck, Mango and Crispy Rye Salad' (RM18), which much like Roost itself, was simple, elegant and with a great punch of fresh colourful flavour. The rye crisps perfectly balanced the tangy flavour of the locally sourced mangoes.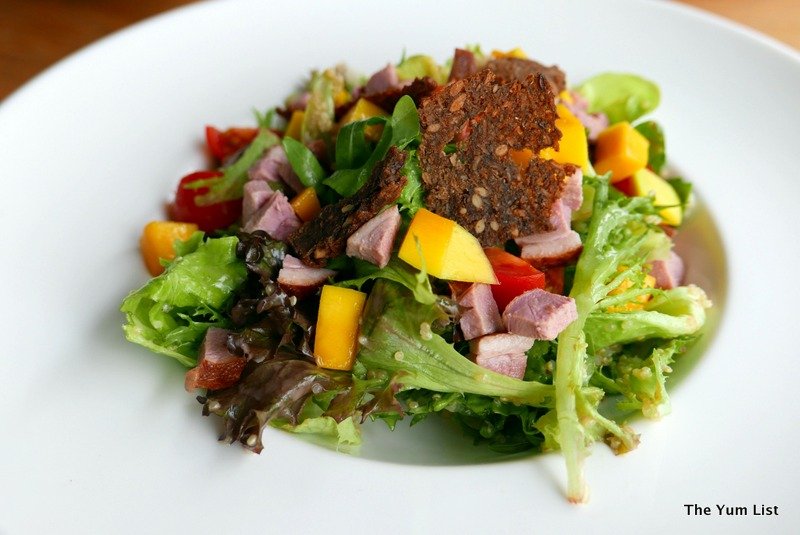 'Confit Duck' (RM28), thoroughly melting away from the bone, was next, with a Persimmon Puree that elevated a traditionally heavy dish into something much lighter. The finely seasoned, softened creamy risotto really had me asking for more and kept to the 'lightness' of the dish perfectly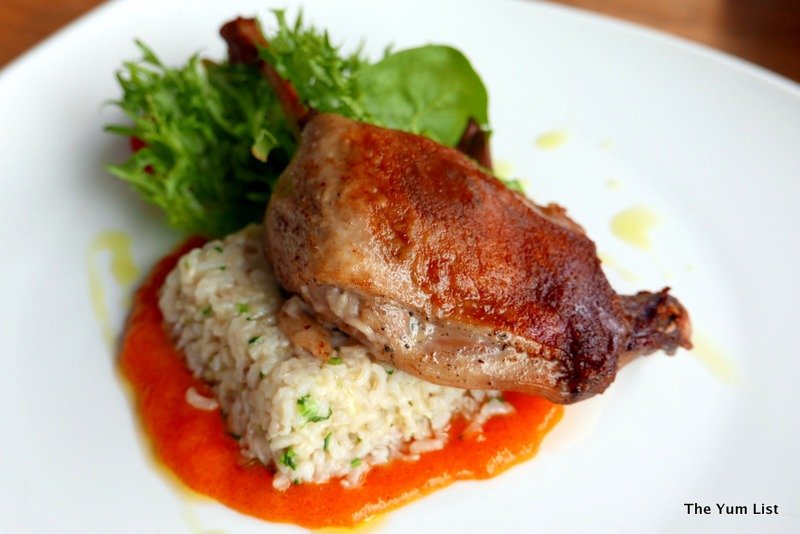 Our lunch menu sampling wouldn't be complete without trying out one of their sandwiches, the 'Chicken, Hummus, Shallots, Salsa Verde Sandwich' (RM18), once again with in-house baked bread. A strong showcase of cosy comfort food, though I would have loved a dash more of the salsa verde.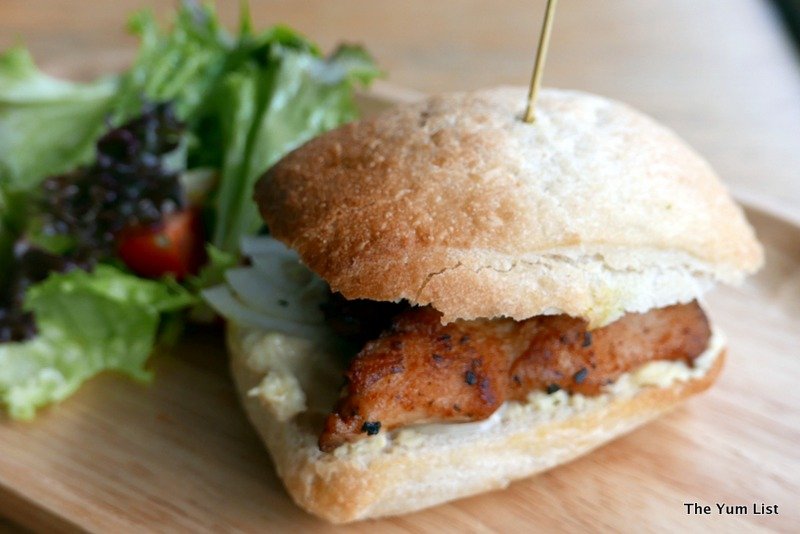 Now the highlight of the evening, humble in both name and nature, the 'Fish of the Day' (RM28) truly hammered home the theme of local ingredients – elevated.  The fish this week, the Bronze Croaker (or Gelama Selampai in local Malay) was seasoned and seared to perfection, with a flawless flake, and underlain with a pumpkin puree, pecans and assorted greenery. Humble sure, but absolutely delicious.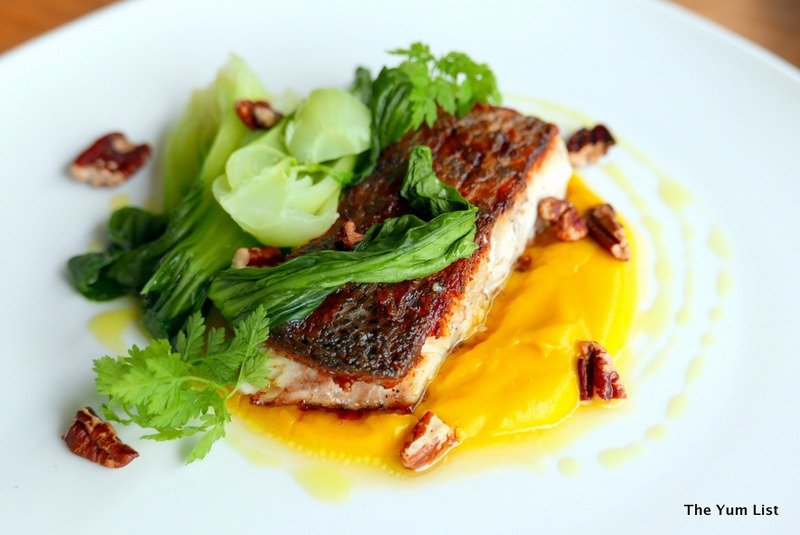 Minimal use of gelatin leads to the creaminess of the only dessert we sampled, the 'Jersey Milk Panna Cotta' (coconut based panna cotta, with a passion fruit coulis and shaved chocolate to complement) which is beautifully offset by the acidity of the passion coulis.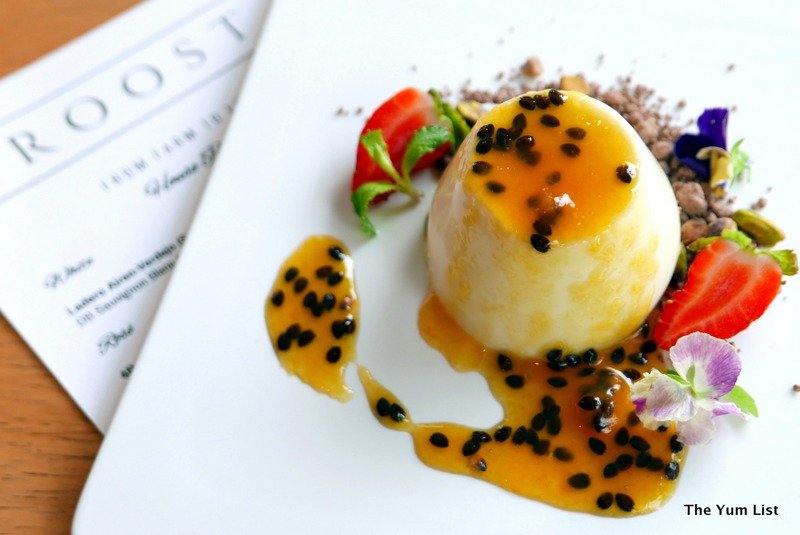 To top off the evening we tried out an organic Tempranillo (RM155/bottle) from central Spain, which was rather good and for the coffee connoisseurs Roost still offers its unique and widely regarded watermelon and orange juice coffees! (I didn't have a chance to sample them this round, but Mon and Caning assured me that they are something worth trying at least once.)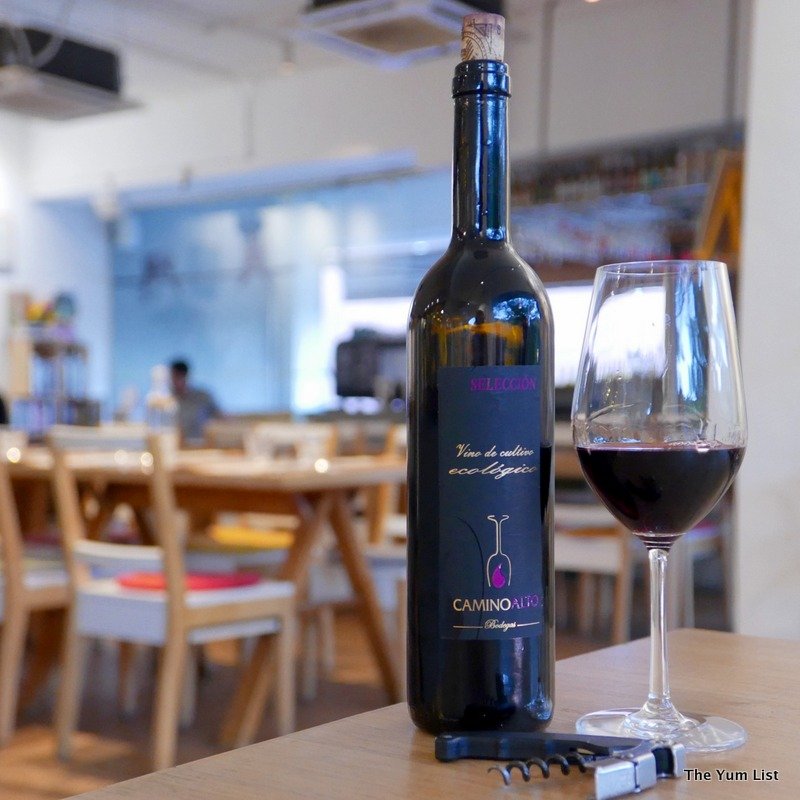 Roost in essence describes itself: a place of comfort and relaxation with homely and family touches throughout, allowing one to unwind or 'roost' with some truly special culinary delights.
Reasons to visit: very pleasant setting; a real effort to source local produce; don't miss trying the Smørrebrød and the Fish of the Day!
ROOST
, Field to Fork, European Dining
69-1 Jalan Telawi 3
Bangsar Baru
59100, Kuala Lumpur, Malaysia
www.facebook.com/Roostkl
Pork-free
Serves alcohol
+6 03 2201 1710
Open: Tuesday – Sunday 11:30am – 23:30pm (Closed Mondays)