Iketeru
Monica Tindall
Waterfalls, ponds and tropical greenery induce a feeling of overall wellness and peace as we leisurely enter Iketeru from the eighth floor of the Hilton Kuala Lumpur. While other restaurants in the hotel have been through facelifts and revamp, the Japanese restaurant has been a long-standing success. Defying the test of time, it remains a favourite in Kuala Lumpur and we're here today to find out why.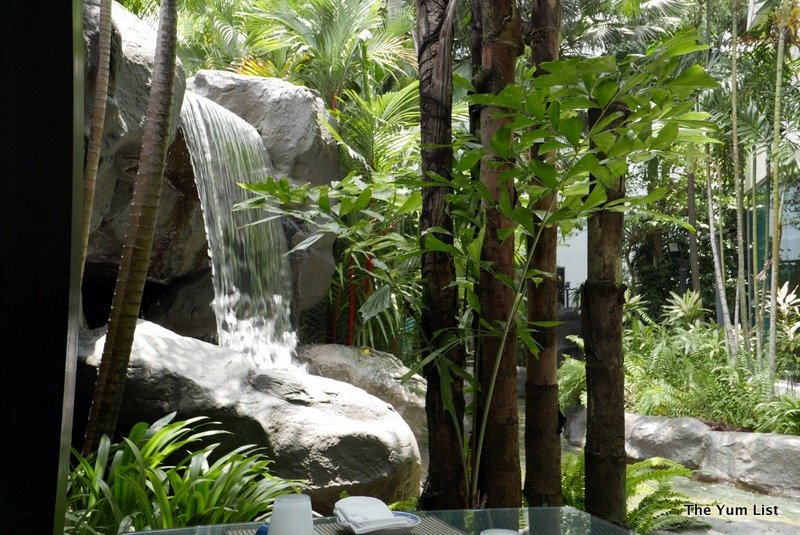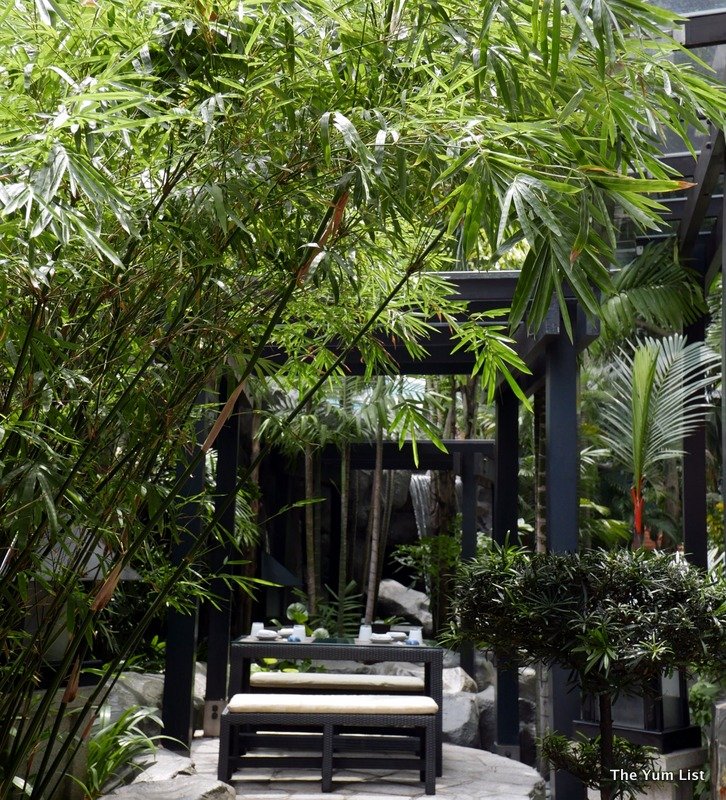 As we make our way from the Iketeru garden to indoors, we find a teppan grill on the right, sushi bar directly in front of us, and aquariums filled with colourful fish and coral on our left. We arrive right on opening so manage to capture a few shots of the dining area. By the time we leave, however, the tables are full, demonstrating its popularity. A number of tatami rooms furnish quieter, more private locations to dine, but if it weren't so warm outside, my pick would be a table for two, alfresco style by the waterfall.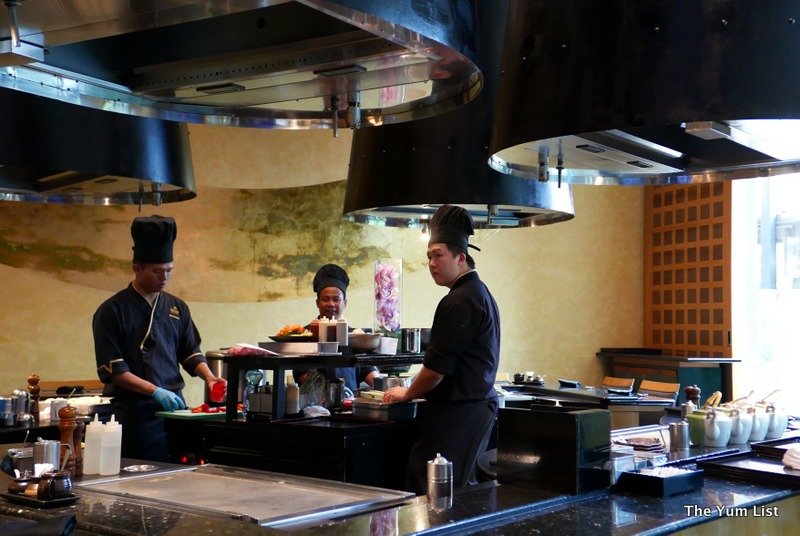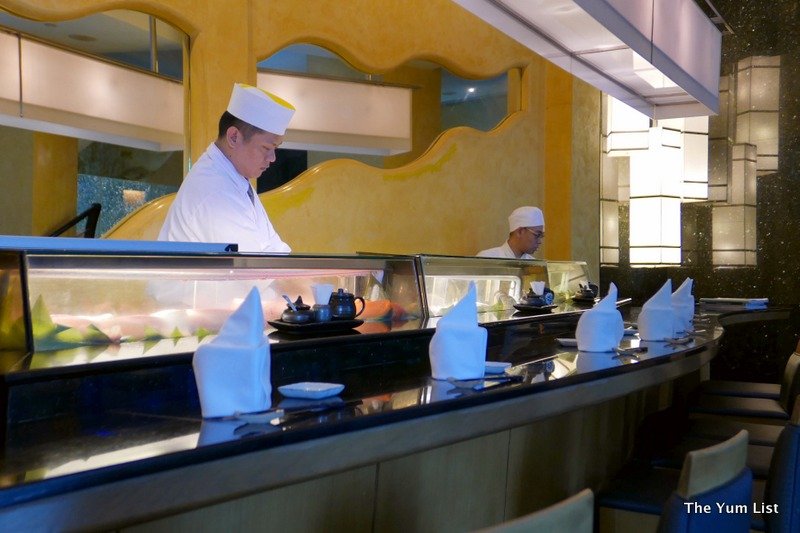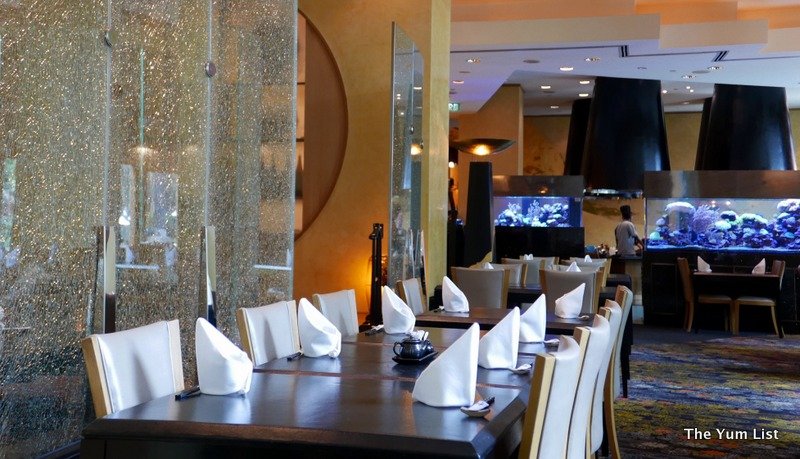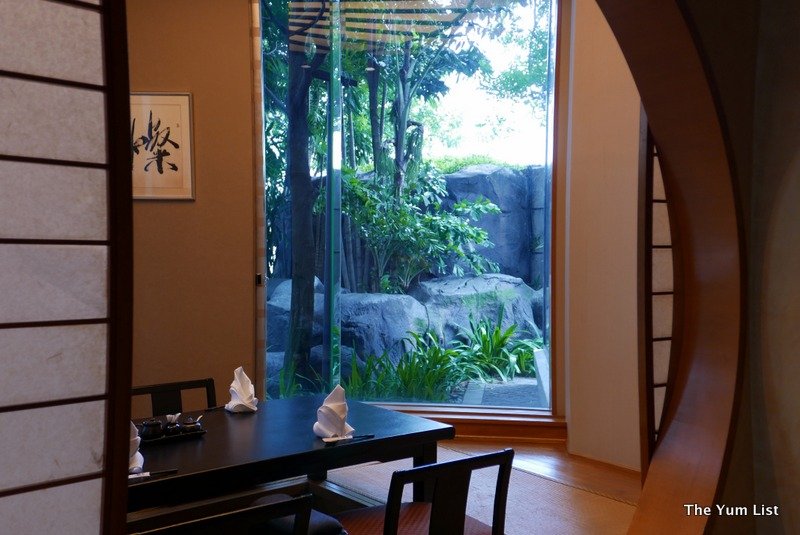 Sake
Sake seems the appropriate choice of beverage and warm Hakkaisan Tokubetsu Jyunmai from Nigata (RM130 carafe) is recommended. It is well balanced with a mellow, elegant flavour, making it an easy pairing for the entire meal.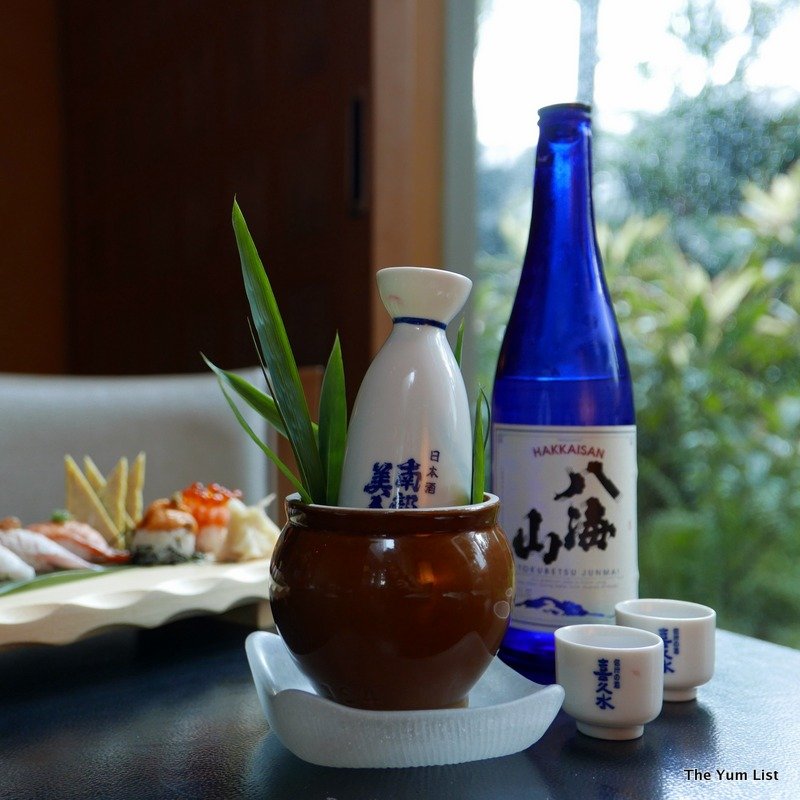 Appetisers
Seasonal appetisers at Iketeru: blossom vegetables, firefly squid, broad beans, bamboo shoots from Japan, and live prawn cooked with sake, showcase produce from the period of the cherry blossoms. Everything is wonderfully fresh highlighting the benefits of eating in season. The leafy greens, done in a mildly mustardy dressing, take my fancy, while hubby thinks the prawn that is firm to the bite, and the bamboo and seaweed are 'knockouts.'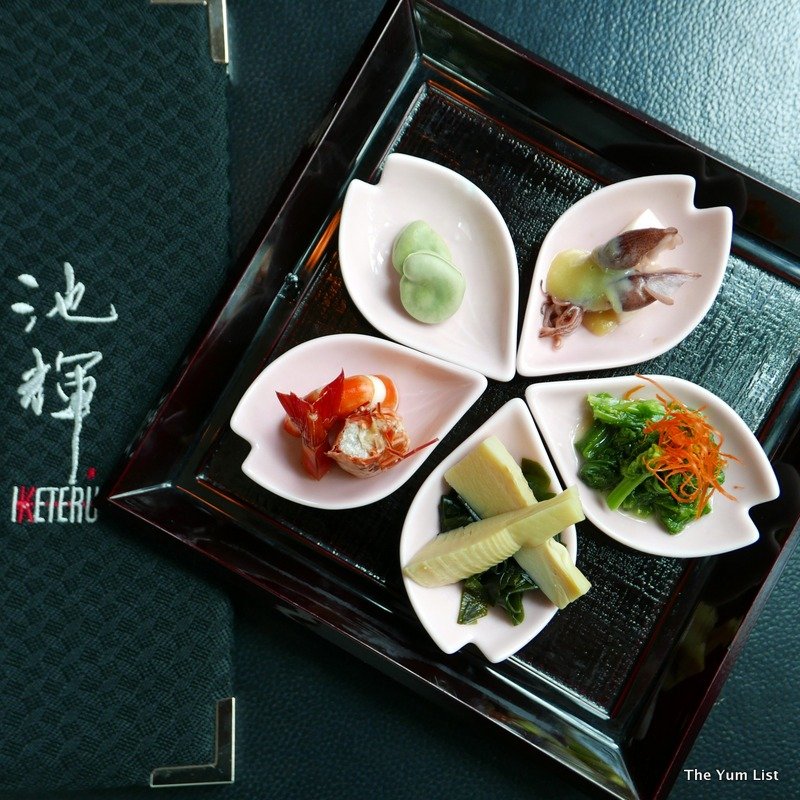 Sashimi
A beautiful spring blossom themed platter of sashimi arrives at our table in a mist of swirling fog. Adorned with sakura branches and chef's handmade 'flowers' (carved white radish), it's a sight to behold. Tuna belly, Japanese amberjack, tuna tenderloin, sea bream and flounder fin are chilled atop a bowl of crushed ice.
Chef recommends taking a sip of sake first to prepare our palates. He instructs the best way to eat this sashimi is to put a piece on the plate, add on a dob of freshly grated wasabi (which is sitting in olive oil serving to enhance the flavour), and lastly quickly dip the fish into chef's special shoyu. The soy sauce has been imported from Japan and chef enhances it with own secret ingredients in which he lets it marinate for two weeks to bring out its best. This is more than enough, but for those who like to experiment, fresh ginger flower and spicy sprouts enliven the palate with a small sprig too. The fish is fresh. The sauces are fine complements. A lovely course.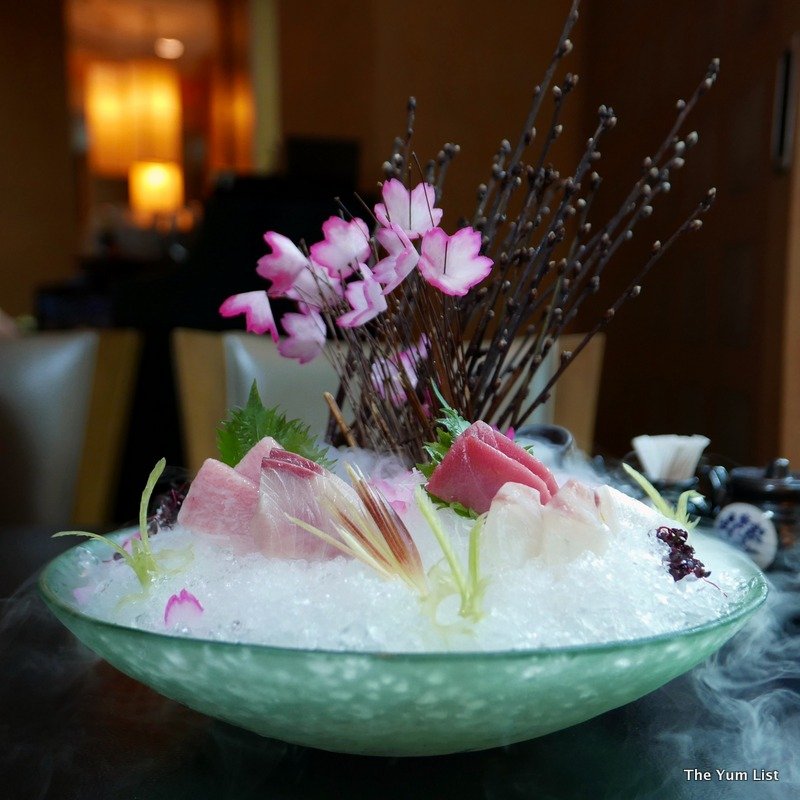 Chef's Signature
Chef's latest signature creation presents two bold slices of tuna belly, which have been simmered in soy sauce. Onsen tomago (hot spring eggs) made for dipping the fish, get their name from the original cooking method of slowly cooking them in hot springs to create a silky texture. The tuna on its own is delicious, but with the egg yolk supplement, rises to a whole new level. A bundle of spinach breaks up the colour.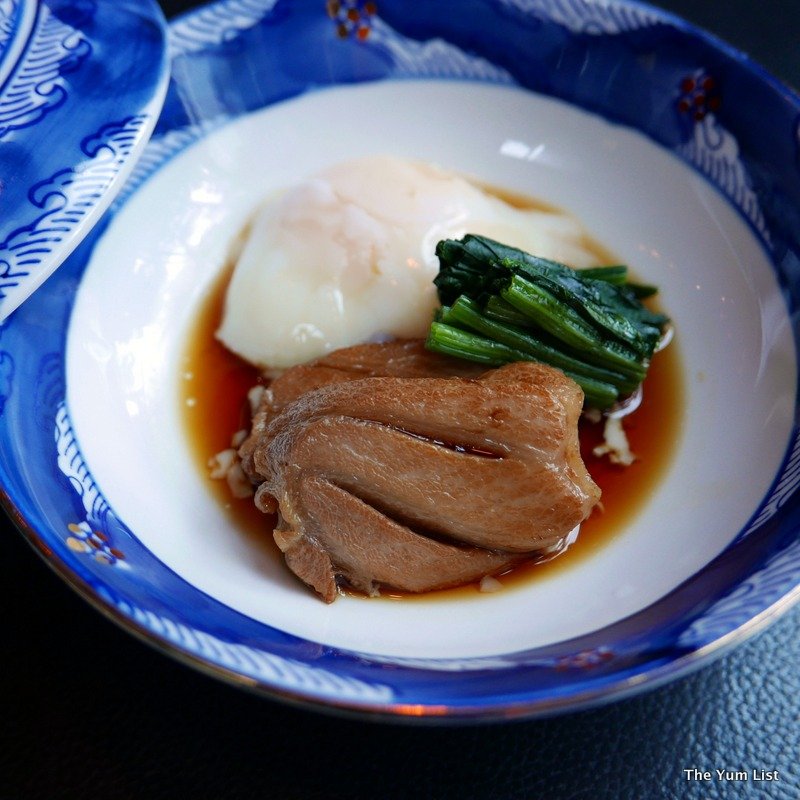 Codfish
Codfish teriyaki smells divine with its caramelized edges. It flakes open to moist, succulent pieces. Hubby is quick to declare this his favourite but then annexes that the sashimi was right up at the top too. Laid across a prettily painted rectangular platter, the fish is sided with Japanese tempura eggplant (no sauce needed as fine Japanese sea salt, moshio, has been sprinkled in the mix). Crispy chicken with skin, and slow-cooked baby octopus, also in season, balance out the other end.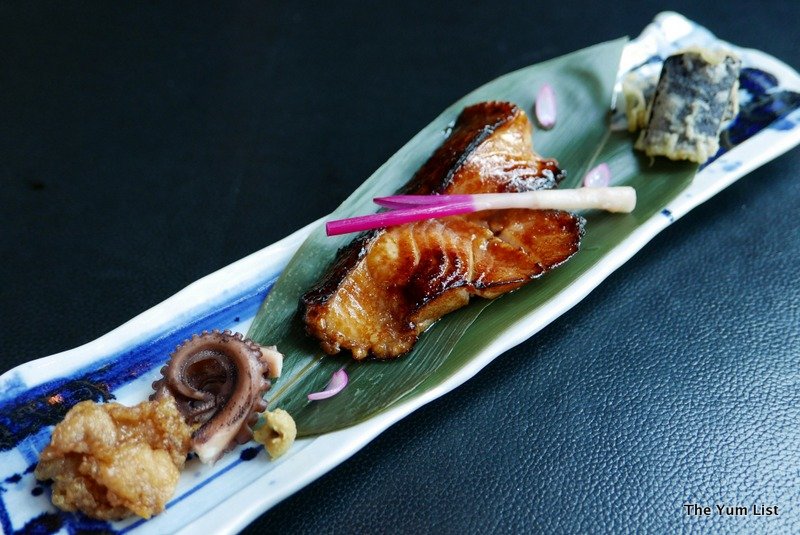 Lobster
A spectacular looking tray of Australian spiny rock lobster has us drooling as we admire the toasted flame-coloured shell and abundant chunks of flesh piled over the tail. Chef says the cooking method is simple: cooked until medium on the teppan grill and then melted in chef's special prawn butter sauce. Spring onions scattered on top contrast the rich red of the shell and white of the flesh. It has plenty of flavour on its own, but it would be a shame to miss a small dip in the yummy house-made mayonnaise too.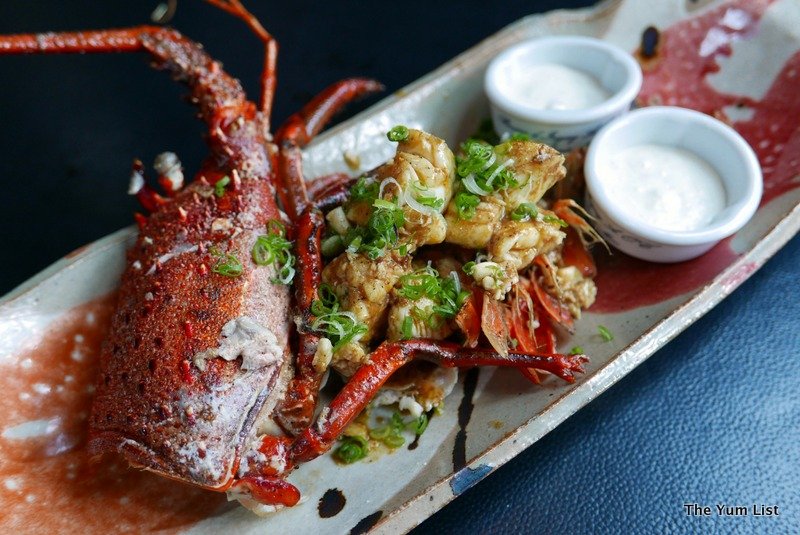 Sushi
Another attractive presentation at Iketeru is delivered in a mixed sushi platter. From left to right we have: negitoro maki roll; otoro (tuna belly) with uni (sea urchin); flounder fin with spicy snow crab meat; yellowtail with shallot soyu; ocean trout with olive oil wasabi; Japanese omelette; sea urchin based with seaweed and topped with yuzu kosho; and ocean trout temari sushi crowned with salmon trout row. The middle four pieces are a special type of sushi, aburi, which torches the top of fish immediately before serving. This is not on the menu, but something that chef prepares for this regulars (ask for it if you're looking for a something special).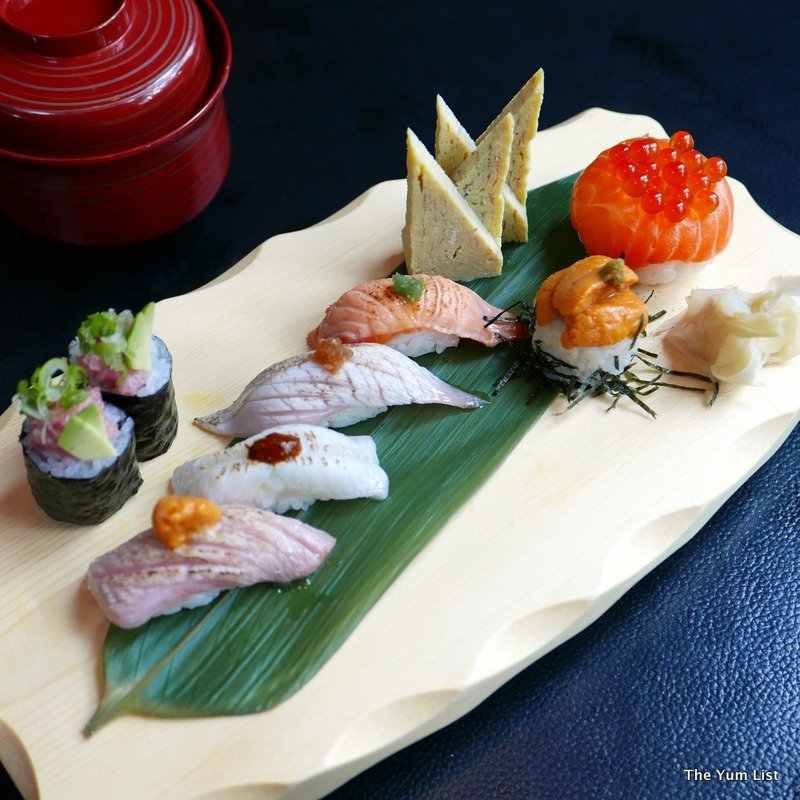 Dessert
While everything else on the menu is proudly made in house, the dessert tray is a proud trio of treats from Japan. Cheese sticks, chocolate drops filled with vanilla ice cream, and vanilla mochi ice cream make up a plate of frozen sweets. Each bite is something special, and it sure is fun to taste some popular items from Japan.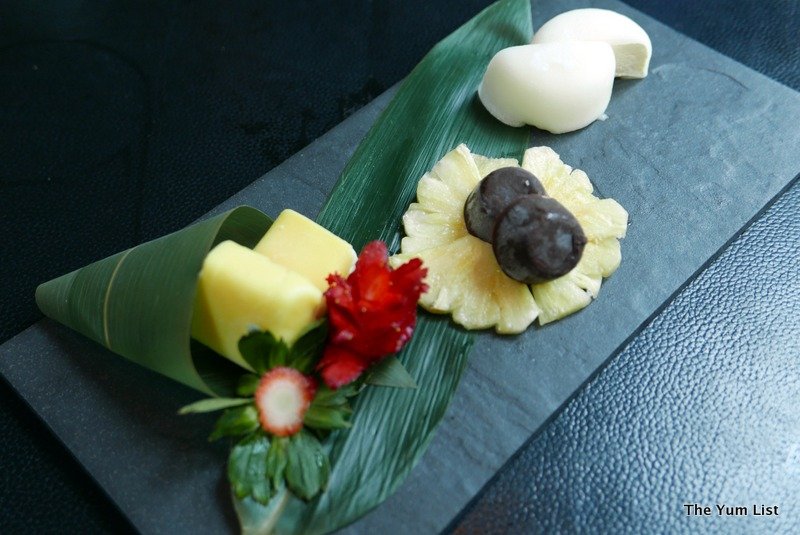 Japanese food lovers should not miss an experience at Iketeru. The environment, service and quality of food are all exceptional. For those wanting a taste without breaking their wallets, keep an eye out for weekend and lunch specials such as the Bento box menu.
Reasons to visit Iketeru: peaceful setting in amongst greenery and water; beautiful plating; everything is high quality – take your pick!
Iketeru, Japanese Restaurant
Hilton Kuala Lumpur at KL Sentral
3 Jalan Stesen Sentral
Kuala Lumpur 50470
Malaysia
+6 03 2264 2264
[email protected]
http://life.hiltonkl.com/Restaurants/Iketeru/
Find more Japanese restaurants here.