Monica Tindall
If you have one fine dining experience in Nai Yang Beach & National Park make it dinner at Black Ginger. If you're looking to woo a date, visit Black Ginger. If you just want a very pretty dining experience, you got it, visit Black Ginger.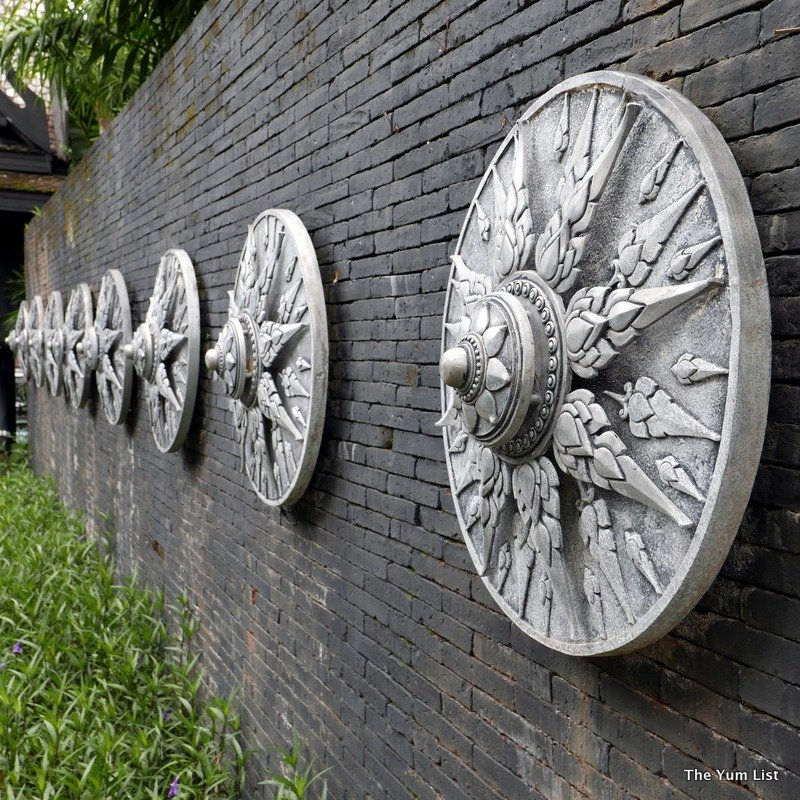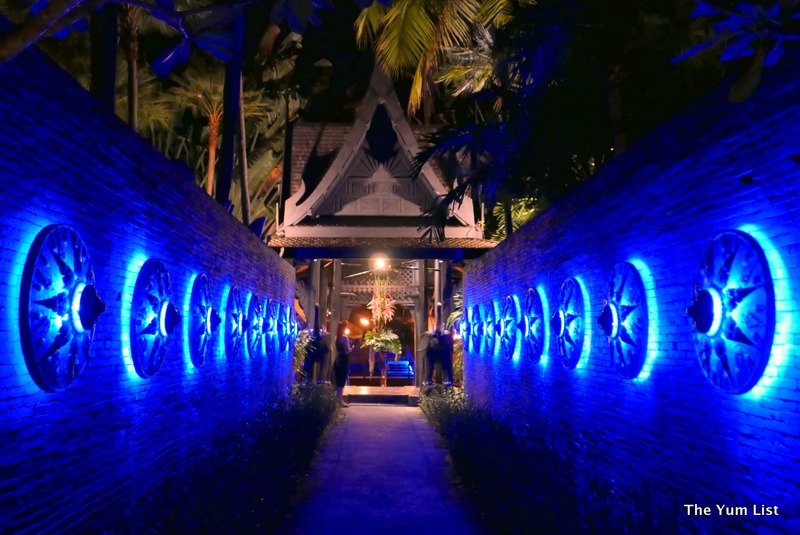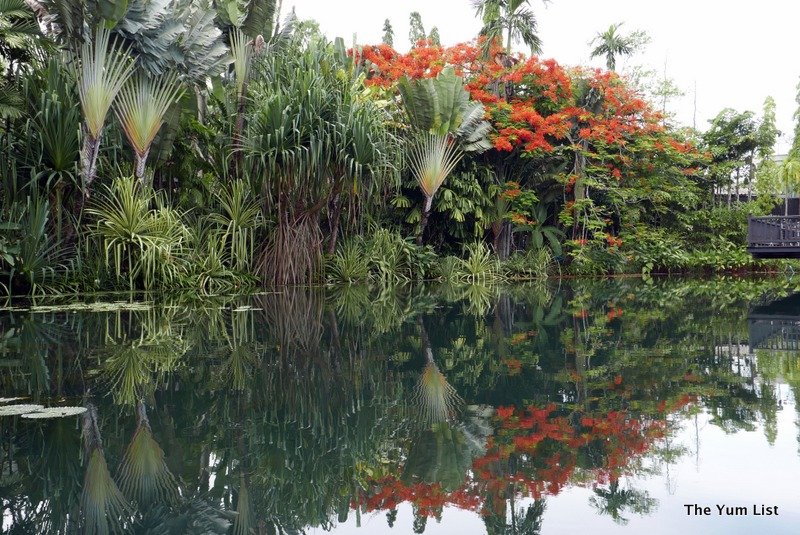 A walkway illuminated by lanterns leads us to a dock where a raft, equipped with a smiley rope-puller, is waiting to glide us across a lake – a lily filled body of water between dry land and our final stilt-supported over-water destination, Black Ginger. Torches burn, flickering an air of exotica, and the hush of the water streaming alongside our vessel is almost in tune with our pulse. As we draw near gentle Thai music spirals in a seemingly endless melody. It's a striking setting.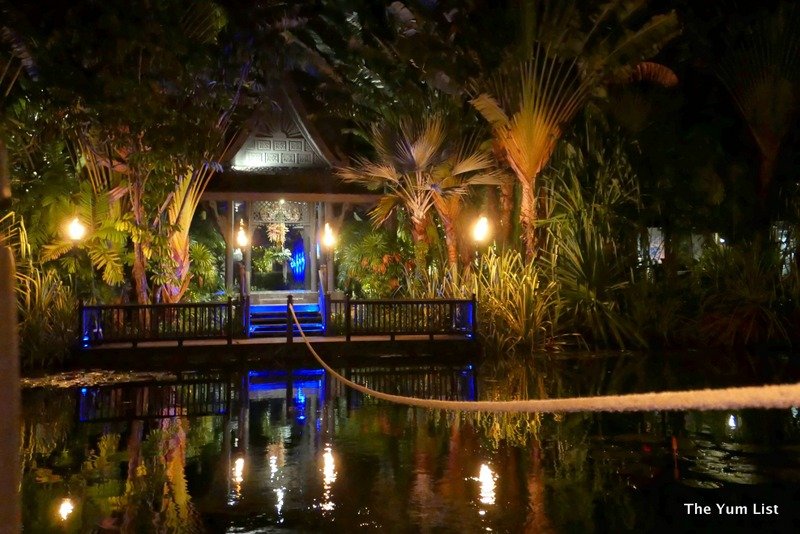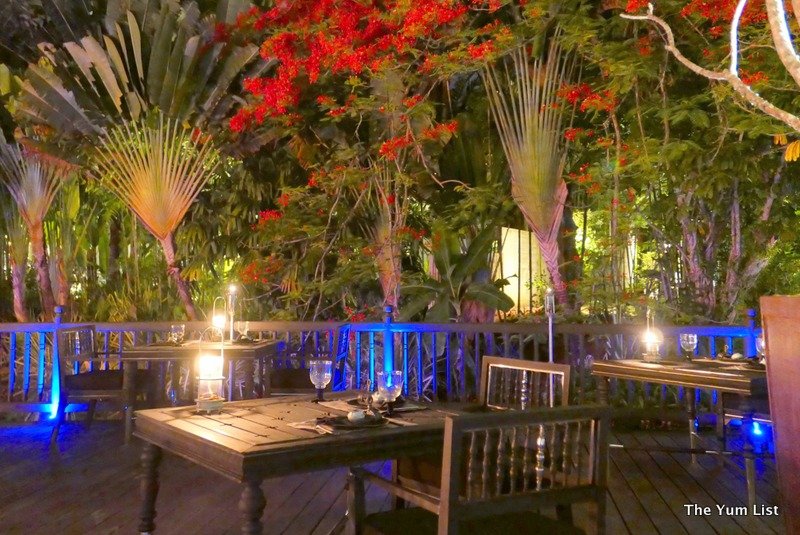 We've just had a very happy, happy-hour-hopping session around The Slate (the pools, bars and restaurants have a no-rush one-for-one menu that basically led us bar by bar around the resort). Anyway, we are primed and ready for some beverage so our first order is a bottle of house wine to bide us over as we browse the extensive menu.
An Aussie white, a 2014 Little Yering from Yering Station in the Yarra Valley (1770), is the house Chardonnay. It offers a breath of minerality on the nose alongside some citrus notes. A balanced acidity is immediately present in a relatively straight lined body. Oak comes through at the end and lingers languidly in the back of the throat.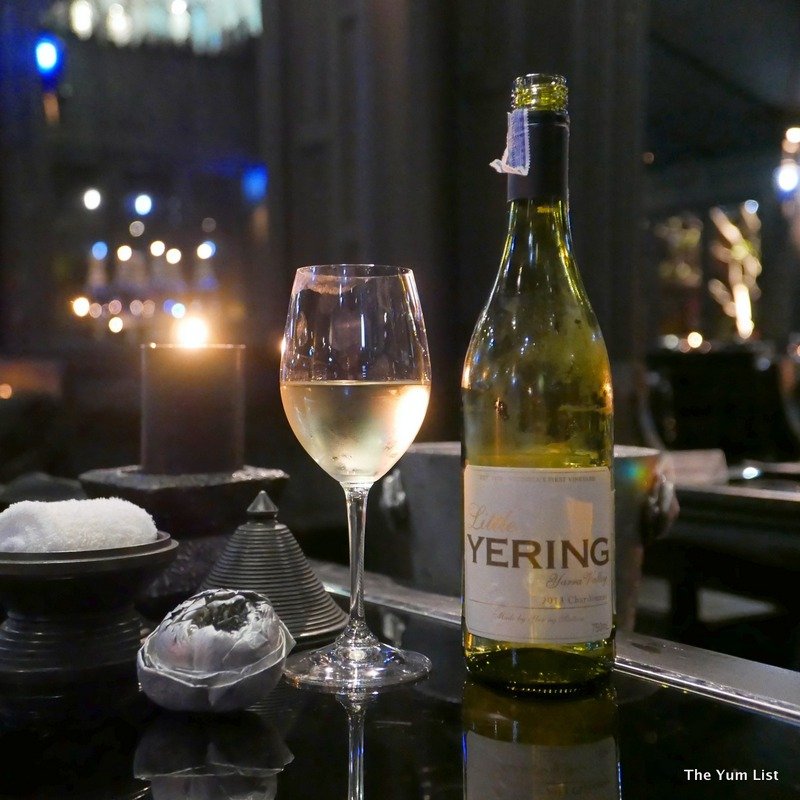 The menu is extensive, but hubby is quite clear (annoyingly so) in what he wants and has already rattled off six dishes before I've even made my way through the appetizers. He wants EVEYTHING non spicy and with all of the ingredients separated so that he can add what he wants when he wants it.
Finally we agree on what we're having and a very patient and amiable waitress takes my order. Hubby cannot help but continue to interrupt, claiming that Thai is phonetic just like Spanish, and is emphatically confirming our waitress' reinterpretation of my order with every language he thinks he knows but Thai (Yes! Si! Oui! Hai! Exacto!) I'm trying laboriously to restrain my eye rolls, and have already vowed, "No Happy Hour hopping tomorrow!" Our waitress however is calm and composed, (she's seen it all before) and assures that all is possible – non-spicy, ingredients separated – they have no problem accommodating.
I smile, sip more wine, and am overjoyed for a break in the ramble with the arrival of a complimentary amuse bouche from the chef: spoons of mango salad and crispy rice coins. The crackers are multi-coloured and would make stellar movie snacks. The salad, with its fishy sweet, sour and salty dressing has us salivating for more.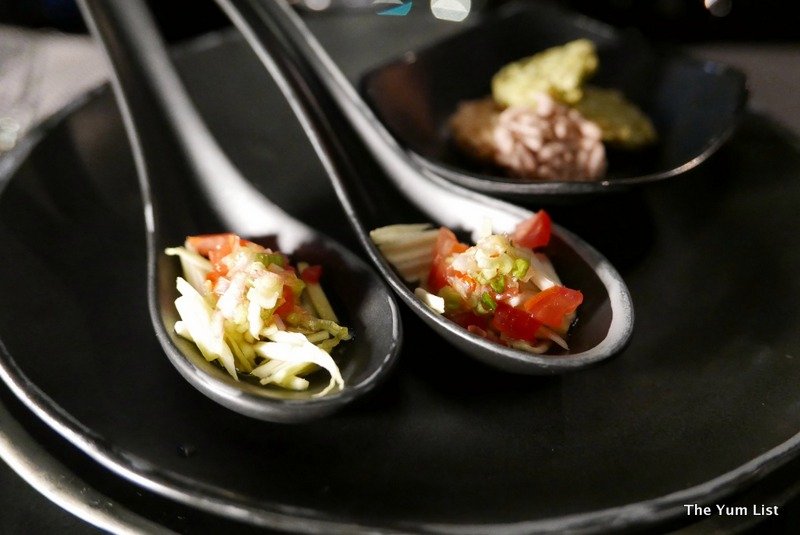 Appetizers
Poh Pia Sod Phuket, Black Ginger's special recipe of roll-your-own fresh spring rolls (650), entices us with its adaptability. Hubby can leave out all of the spice, and I can add as much chili and garlic as I please. Garlic, coriander, lettuce, bean sprouts and chili puree, can be taken as desired with a mixture of crab and pork on a traditional Thai pancake. A lip-smacking tamarind sauce furnishes supplementary kick.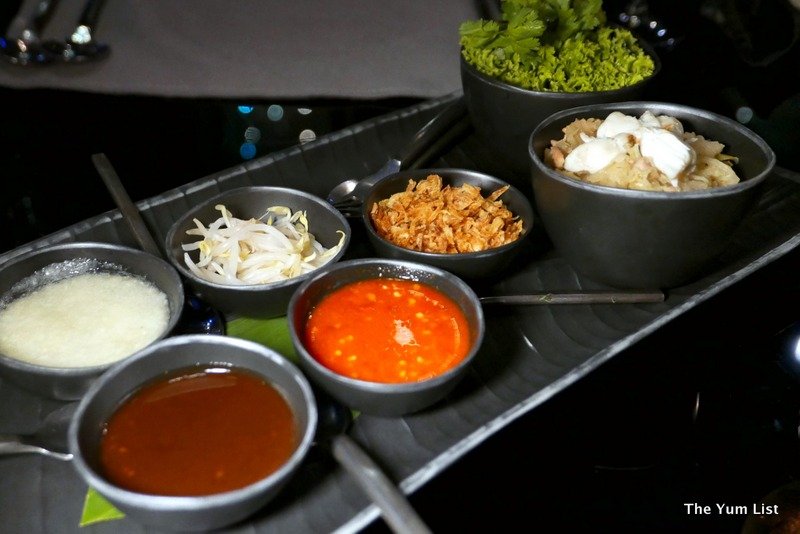 It is made apparent to us after our first dish that we haven't ordered enough of Chef de Cuisine Piak's signature dishes, as she arrives to our table with spoon-sized tasters of two of her favourites. She tells us with a broad smile that this is what she likes to eat, and also shares a rapid run down of her 30 years of experience, of which (after a couple of glasses of wine and happy hour cocktail hopping) I can't keep up. There are however Michelin starred chefs and TV shows as part of the resume, and from the quality of the food we've had so far, I'm guessing she is quite a figure in the Thai food scene.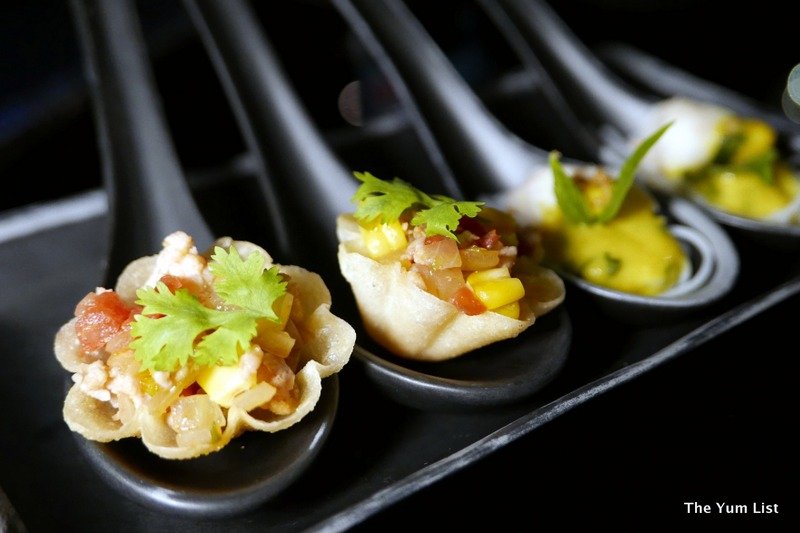 The two dishes we haven't ordered (but clearly should have, and so should you!) are: Kratong Thong (290) and Gaeng Poo Bai Cha Ploo (800). The former are crispy baskets of diced chicken with sweet corn, and the latter a southern style crab curry that has substituted turmeric in place of chili for those who (hubby) can't handle the heat. We understand very quickly why these are two delicious favourites, and upon return these (especially the curry), would be our top orders.
Salads
Hubby 'pretended' earlier to order a salad with the Nua Yang Namtok (1750), and dictated that all the ingredients must be served separately. Our waitress was obviously experienced and just said, "of course, as you wish." Now that it arrives, we see that it predominantly features strips of grilled premium U.S. rib eye, done to perfection. A fantastic spicy shallot, chili and lime sauce chaperones the steak, as do sprigs of fresh herbs. Meat or no meat, the sauce is addictive. May I take some of this home please?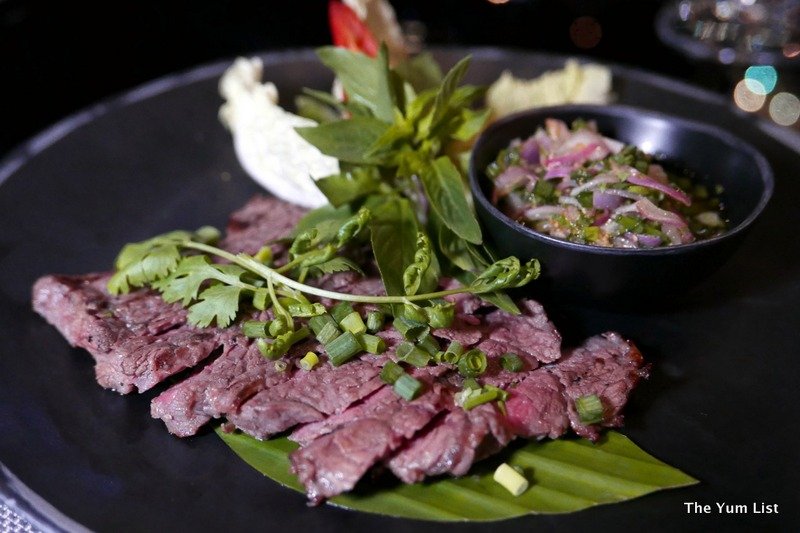 Yum Dock Dala (220) captivated me with its description of being "aesthetically pleasing," and so ended up as my salad order. Besides promising eye candy, flavour and texture are supplied with finely chopped dala flower mixed with diced chicken and boosted with fresh Thai herbs. It's a winner, a definite reorder.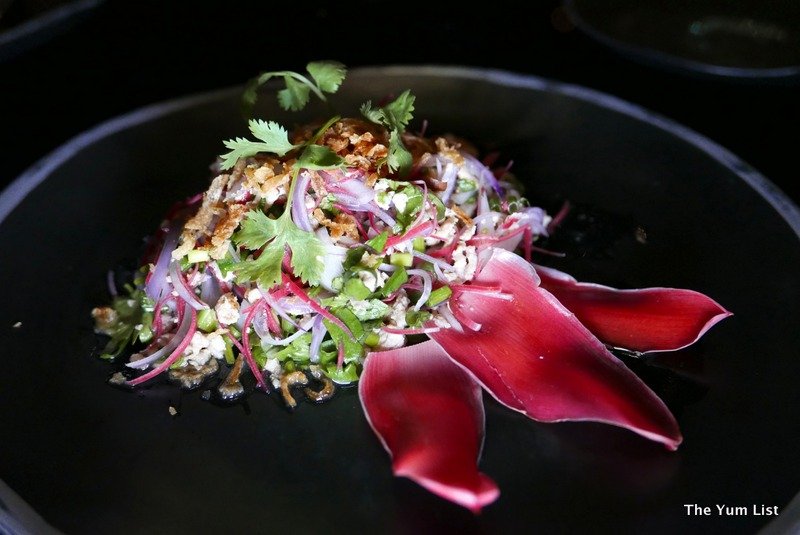 Soups
Hubby takes comfort in the Gaeng Liang (175), a Thai herbal soup containing a medley of local vegetables. In that wonderful Thai way of cooking, it's balanced in salty, sweet and tangy.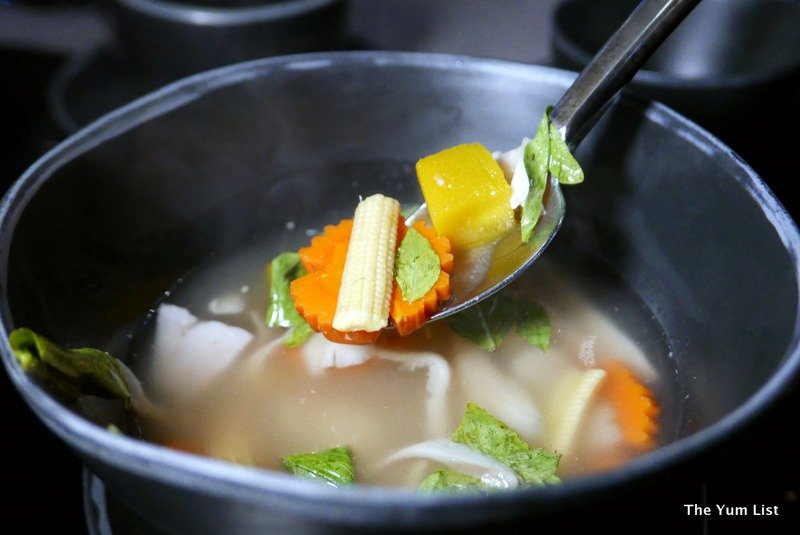 Stir-Fried Dishes
Fresh seafood stir-fried with shallots, garlic and wild herbs makes a tasty Pad Cha Talay (450). Bold chunks of fish, prawns and squid rings are cooked with generous slices of onion and herbs. Hubby congratulates himself on this order.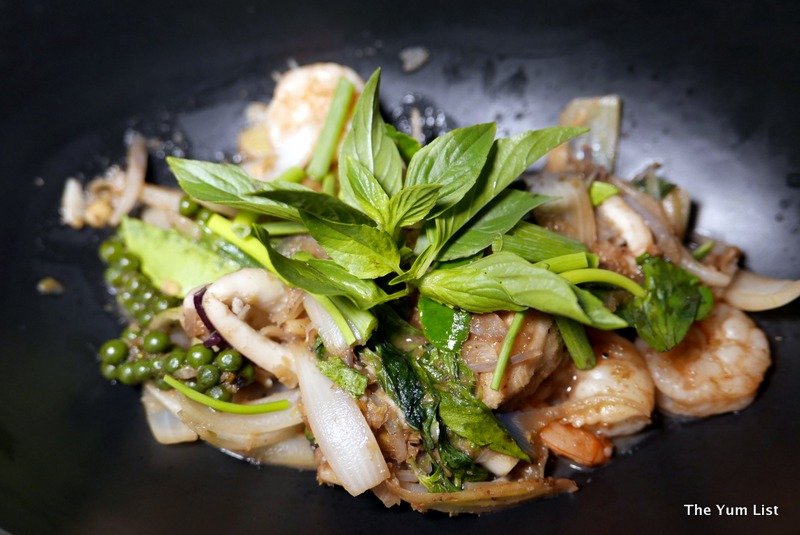 Curry
Even though my other half is avoiding the curries, I can't visit a Thai restaurant without ordering one. The Chu Chee Pla Hima (750) showcases a beautiful white fillet of grilled snow fish served with creamy red curry topped with coconut milk. Fish and sauce apart, we are free to drown (me) or drizzle (hubby) as we please. The flesh is moist and flaky and the creamy curry is absolutely delicious.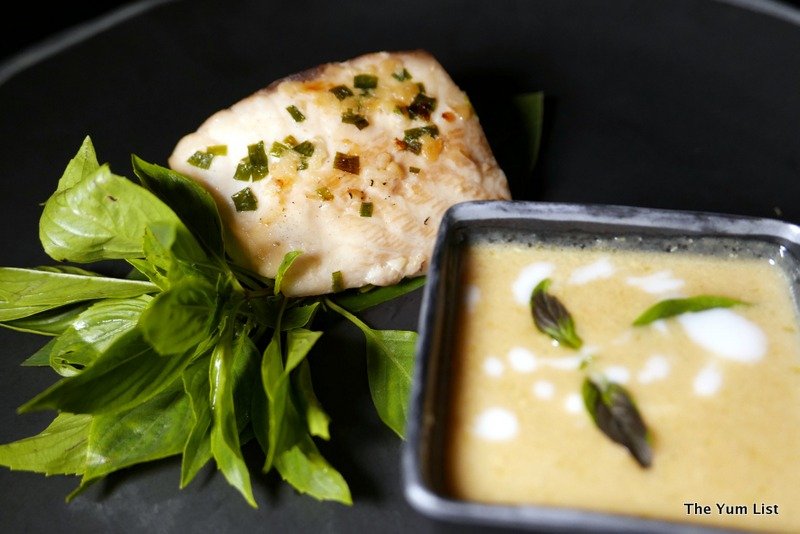 Chef Piak's Suggestions
Being by the sea hubby is insisting on eating more fish. I'd prefer something steamed, but he won't back down from the fried whole grouper, so Pla Gao Thod (650) it is. The whole fish is fried until crisp and is accompanied by a garlic-pepper sauce served apart allowing us to add to our own preference. Yeah it's nice, but I guess I didn't get into it quite as much as hubby did, who has now picked up the entire carcass and is eating it with his hands, Venezuelan fried-fish beach style: moans of "la playa" and "pescadito frito" as enthusiastic accompaniment.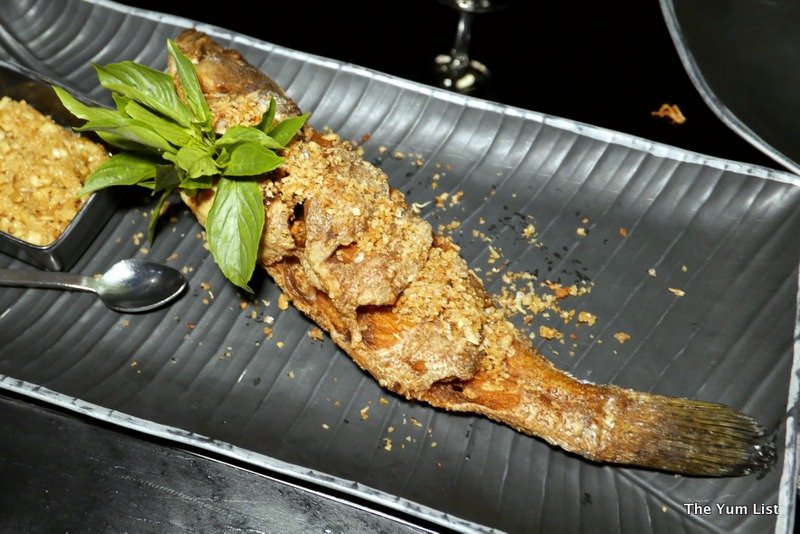 Desserts
I can't resist anything that claims to be a signature, so the Bua Loy Ma Praw Orn (150) is my order. Tender purple dumplings (given their shade by the local butterfly pea) swim in a pond of creamy coconut milk with succulent pieces of young coconut joining them.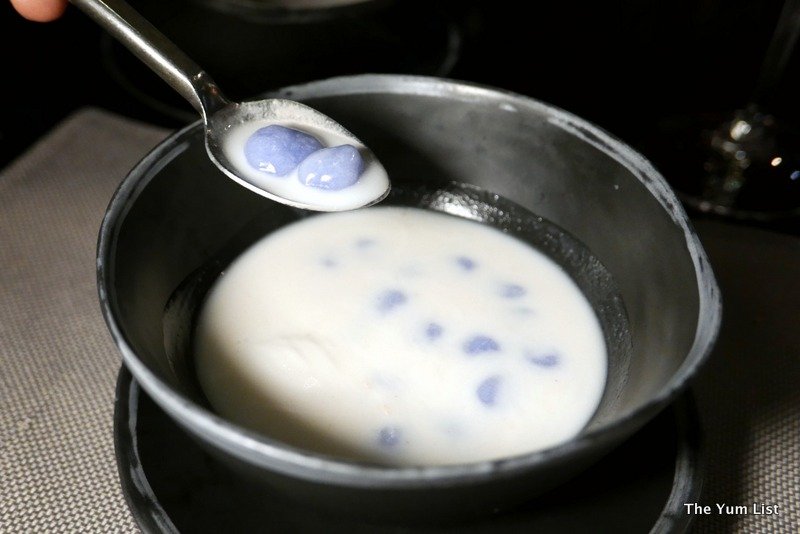 Predictably hubby's choice is the Gluay Buad Chee (150) or blissful bananas. Ripe Thai bananas are split lengthwise down the middle and simmered in sweet coconut milk until tender. It does sound 'blissful' doesn't it?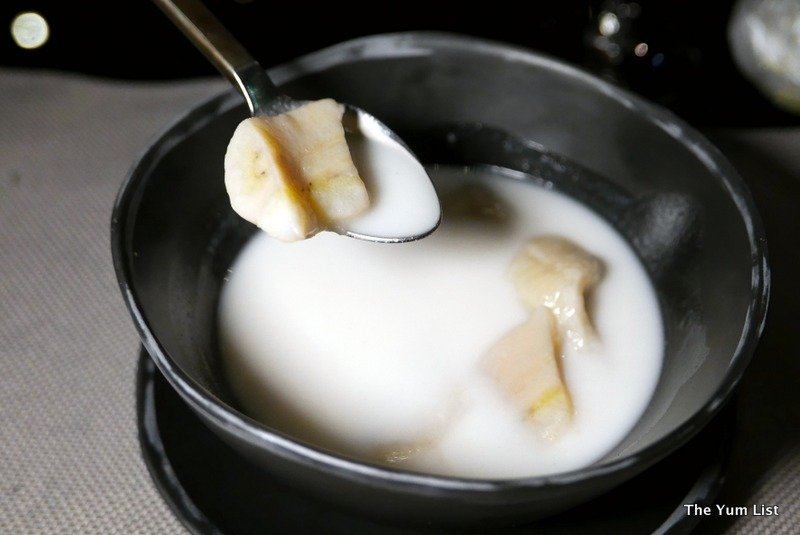 Reasons to visit: Stunning setting; excellent Thai menu that is adapted to more or less spicy as desired without fuss; don't miss trying the Yum Dock Dala, Nua Yang Namtok and the Gaeng Poo Bai Cha Ploo.
Black Ginger, Fine Thai Restaurant
The Slate (formerly Indigo Pearl)
Nai Yang Beach & National Park
Phuket 83110
Thailand
+66 (0)76 327 006
www.theslatephuket.com