Monica Tindall
For foodies and gourmet travellers, a dining experience at Pollen in Singapore's Garden's by the Bay should be high on the to-experience list. It would be easy for a restaurant in such a stunning location (inside the Flower Dome!) to present average food and still draw a crowd, as the environment is an attraction in itself. This is not the case however at Pollen: here, food and service are determined competition for the setting with a meticulously sourced, well executed and graciously presented menu.
Our journey begins with a chauffeur-driven buggy transfer from the Gardens by the Bay's arrival plaza. A cheery meander through magnificent landscaping soon sets us at the entrance of POLLEN.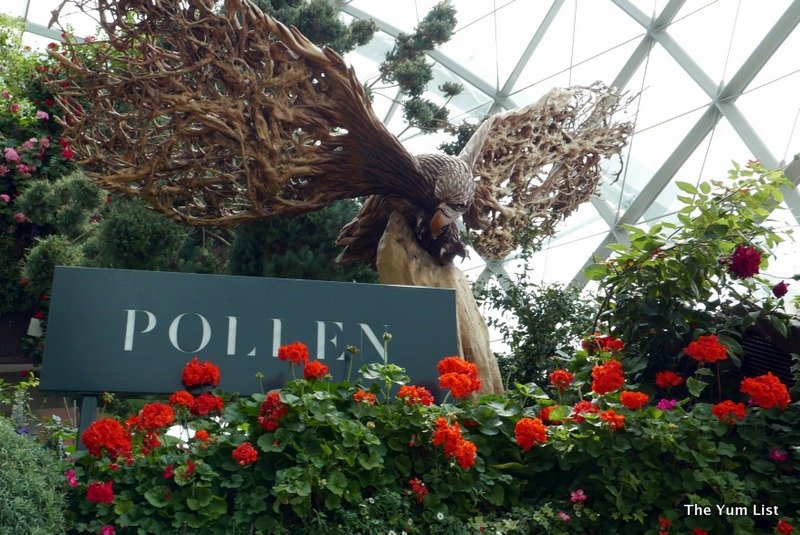 Executive chef Steve Allen is no stranger to us. We heard of his upcoming arrival to Kuala Lumpur with Michelin Stars lighting the path a few years back. We feasted on innovative dishes and watched his journey through Malaysia from head chef of a highly respected restaurant to group executive chef and consultant to various others. Now we eagerly follow him to Singapore, to his latest kitchen in POLLEN. Assisted by sous chef Carmine La Farciola, chef Steve and the team strive to put the freshest of regional produce on the tables of POLLEN, stamped with their signature French-Mediterranean influence.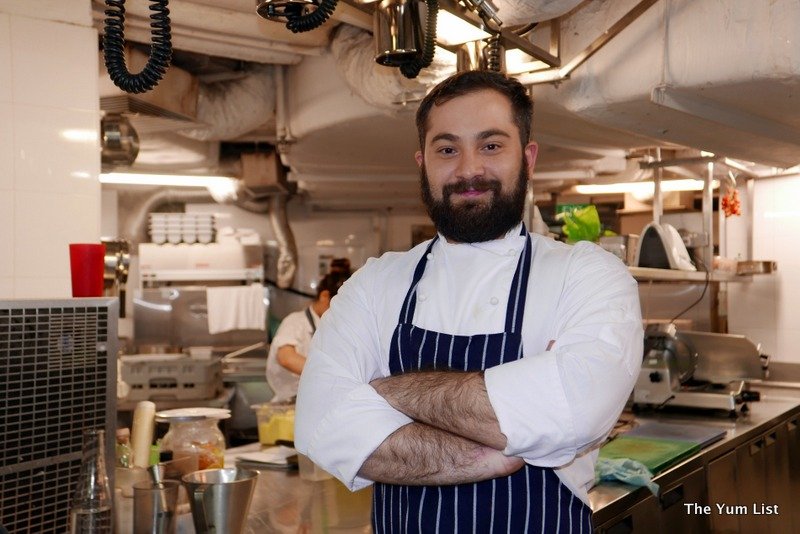 A flute of Champagne Canard-Duchare Cuvee Lonie makes a flawless entrance. Toasty aromas are followed through with delicate traces of fruit, vanilla and spice. Its elegance matches the setting, and its mature complexity gives us something to mull over while browsing the menu.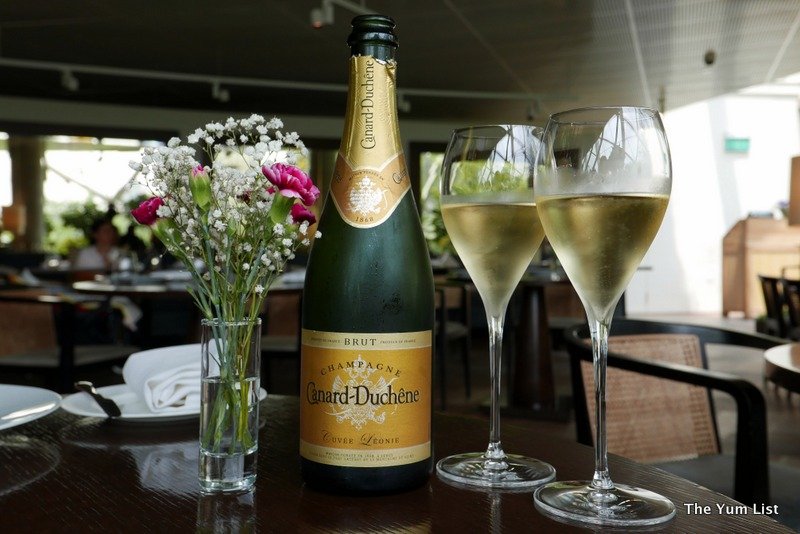 The lunch recommendation is either a three-course ($55) or five-course ($85) menu, which is taken in the main dining area on the ground floor. Alternatively, afternoon tea is served on the terrace upstairs and bookings are highly recommended, especially for weekends. We choose the five-courses and dine within a border of lush landscaping with cool Mediterranean temperatures to match.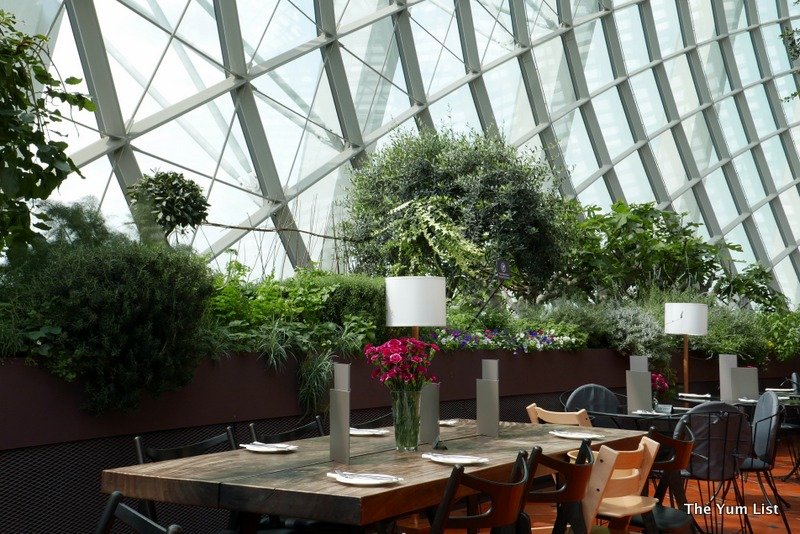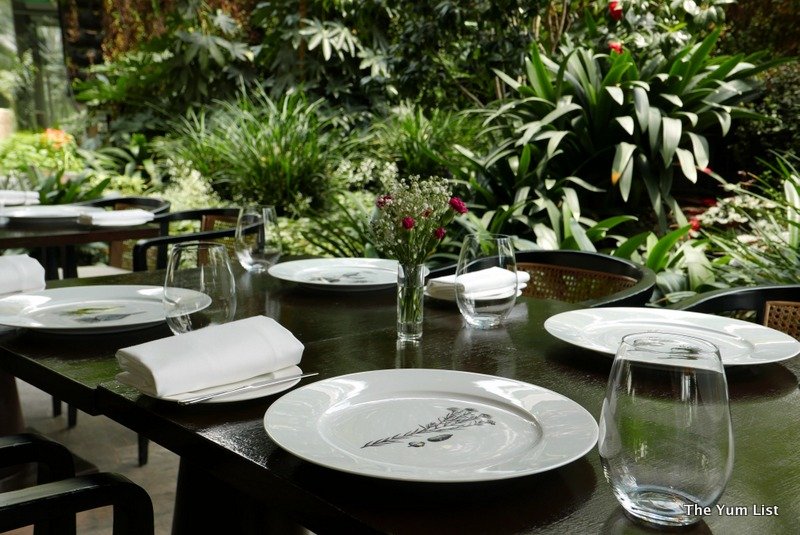 Snacks
Whetting our appetites and imaginations, snacks are delivered in a trio. Corn consommé with lovage oil and clarified butter is poured from a glass teapot over grilled sweet corn. The sweetness from the grain works well with the savoury mild-herbiness of the soup and the juicy kernels burst with freshness. Petite chicken skin crackers are topped with drops of corn puree, puffed sorghum (the little white bits on top that look like popcorn) and a garnish of wheatgrass. Lastly, what resembles a plump ripe cherry is actually a ball of chicken liver parfait on toasted brioche, coated in a beetroot jelly with a rosemary sprig hinting at the stem of the fruit. Sweet, savoury and tart: it's a winning threesome.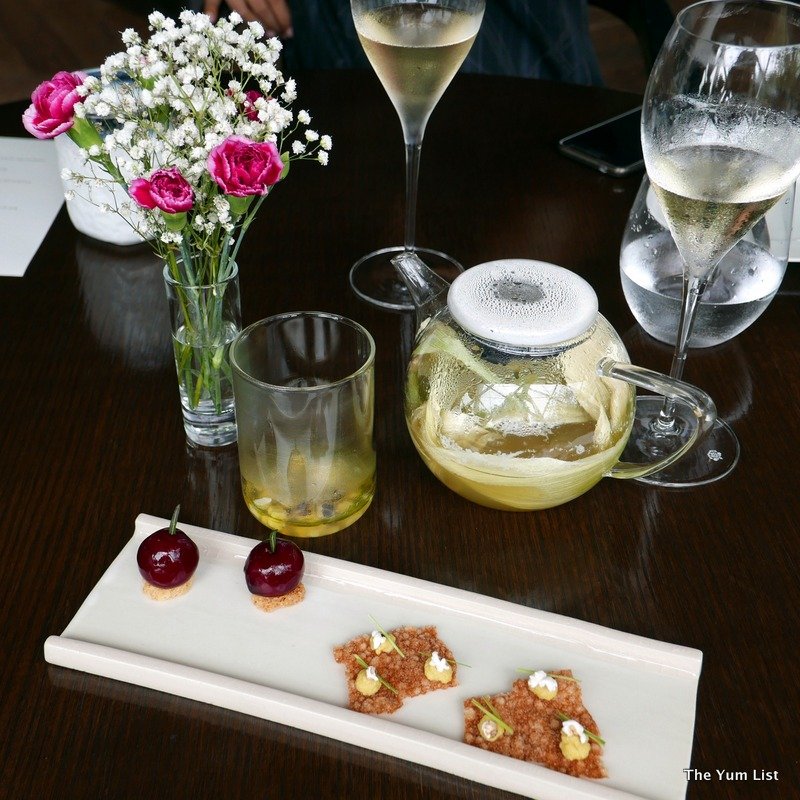 Bread
Rarely does the bread deserve a paragraph all of its own, but at POLLEN the bread merits every word. A thick slice of warm sourdough and another of multigrain are served with whipped onion butter sprinkled with leek ash and chives. A tiny jug (designed by the chefs themselves) of leek oil can be poured over the butter to enhance the flavour. The loaves are perfect: incredibly moist, spongy in the middle and hugged by a crunchy crust with a whisper of smokiness thanks to a final five-minute stint in the Josper oven. It is so good that I request to purchase a loaf to take home.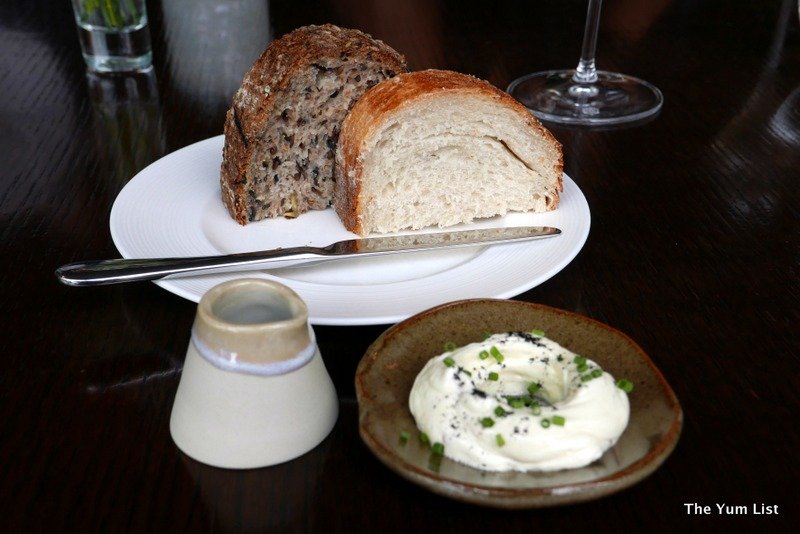 First Course
Shreds of Scottish brown crab are arranged to centre a white plate. Dobs of butternut squash puree, crumbled pancetta, round pumpkin slices, drops of home made sage ricotta and fried sage leaves form a ring on top. This is the way to eat crab: delightful!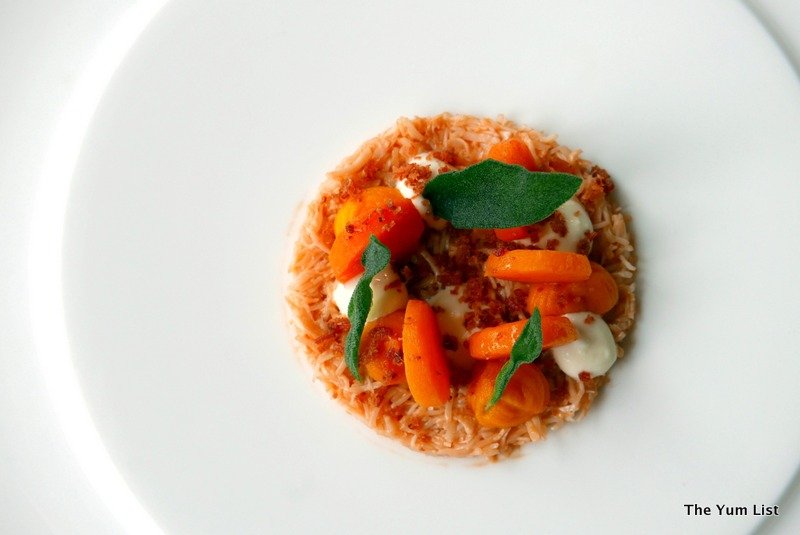 Second Course
The wonders of kale are celebrated in the next dish. Three varieties, all proudly grown in Singapore: green kale, kale sprouts and Tuscan kale showcase the versatility of this green. Soft pillows of gnocchi are made with the chlorophyll from the kale. Kale stock and Parmesan fondue lubricate the dish, while sautéed kale, black kale chips with sesame, fresh Tuscan kale, and a mix of toasted breadcrumbs and pine nuts give crunch. Grilled white shimeji mushrooms contribute earthiness. It's a dish where each ingredient is a vital component. I find it fun eating each separately, but the total experience is with a little of everything on the fork.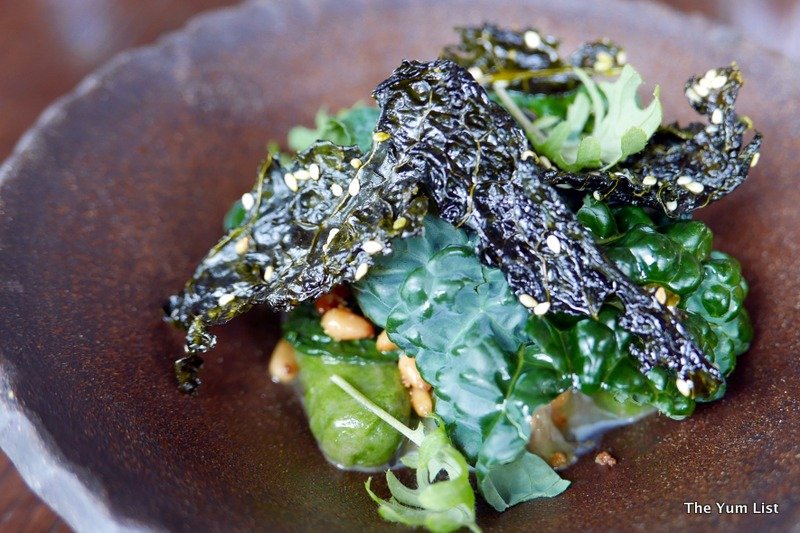 Third Course
The apple-cured salmon is another example of all elements playing essential benefaction to the whole. The salmon is poached for 10 minutes, then rested and torched to sear the edges. The effect is what seems to be an undercooked middle with its pinkness, but this is not the case. The moist, juicy interior is different to the flakiness you get with a pan fry: the result of poaching lay in contrast to the blowtorch scorched periphery. The garnish should not be dismissed, as previously mentioned it is crucial to the sum. Green apple gel, salsa verde, radish sprouts, ikura (salmon roe), green apple crudités and radishes are best scooped up and eaten with each piece of fish. Hubby is quick to claim it his "favourite dish of the year."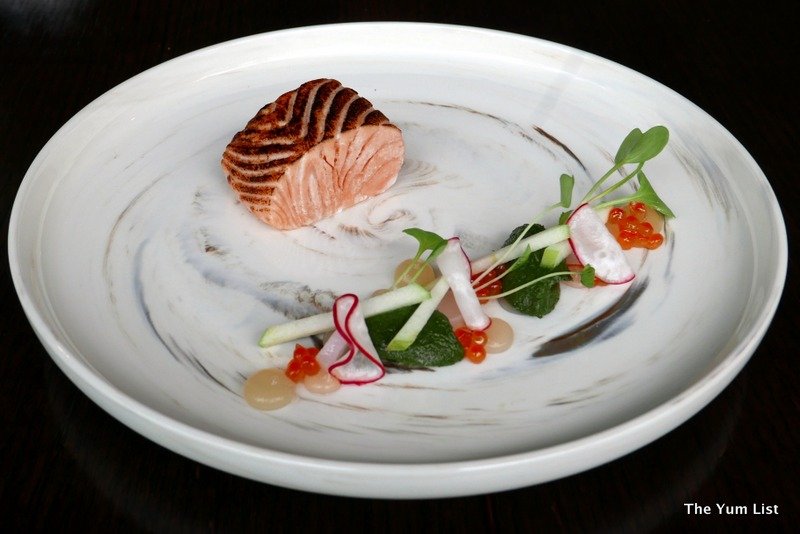 Main Course
Duck seems a popular protein in Asia, but there have been very few instances where I've felt it has been cooked optimally. The chefs at Pollen, however, display their skill in this main by showing how it's done with a poached breast and roasted leg. Ceps and pepper relish, pear finished off with black current dust and juniper berry salt, discs of celeriac, pickled orange and marjoram leaves plucked fresh from their garden, are surrounded by a ring of sticky anise jus. It's superb.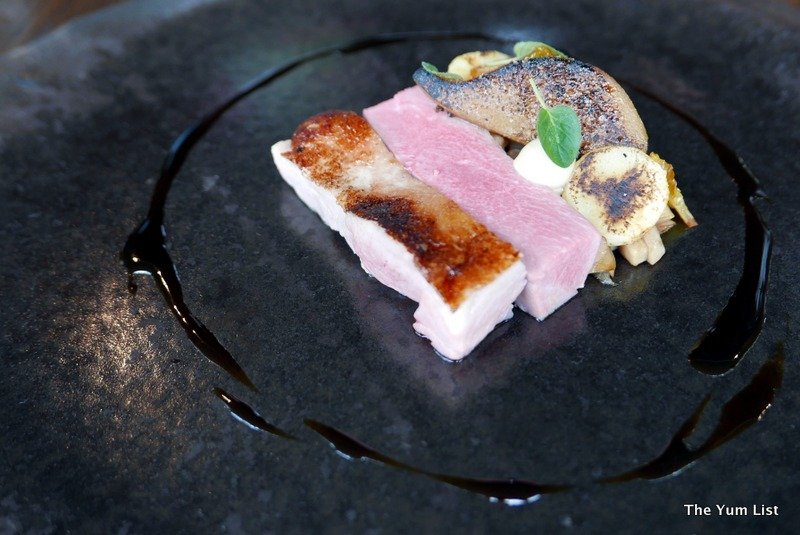 A 2010 Tempranillo Reserva from Montecillo, Rioja, Spain is a friendly mate for our duck. Aged for over three years with at least half of that in oak barrels, it's cherry red in colour with a bouquet of anise and ripe fruit. The anise does the tango with the aromatic sauce, and the soft tannins elegantly work on the small amount of fat found in the leg.
Have you noticed the plates in the photos? Most are hand made in Poland, with each piece unique and given a guarantee that they will not be found in any other restaurant. The boutique production means each piece can take up to two days to make, so be sure to appreciate their rustic charm and admire not only the form but the glaze on each as well.
Pre-Dessert
Pre-dessert might be one of my most-loved inventions of modern day fine dining. It's a chance to justify two desserts without explicitly ordering them and risking looking like a glutton (even though I bet neighbouring diners would just be envious that they didn't have the spunk to do the same). The first is usually a little milder, often my preferred, while the second often serves to complete the meal ensuring that no taste bud has gone untouched or stomach pocket remains unfilled.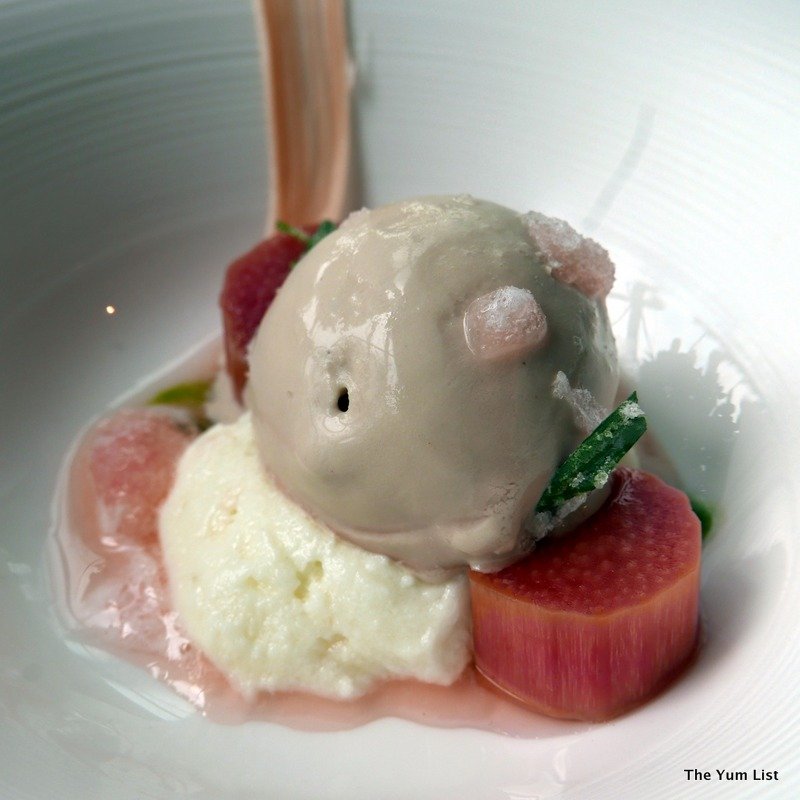 In this case, the penultimate is a lovely cool treat of poached rhubarb, rhubarb granita, lemon milk foam, Earl grey ice cream, tarragon gel and candied tarragon leaves to top it all off. It looks simple in the bowl, but pirouettes across the palate in gracefully choreographed sequence.
At the same time, the pre-dessert is presented, four teas are offered to complement the dessert. Exotic blends sound like desserts themselves, and the white tea with coconut grabs our attention.
Dessert
The menu has built in intensity over the courses and with dessert reaches its final peak. A log of whisky ganache (more of a parfait that's semi-frozen), chocolate orange ganache, aerated chocolate, twill made from cocoa nibs, smoked yoghurt sorbet, whisky jelly and droplets of passion fruit gel are purposefully scattered around the plate, but come to full fruition when eaten together. It's a winner, and even hubby who could usually take or leave chocolate scoops up every last dot.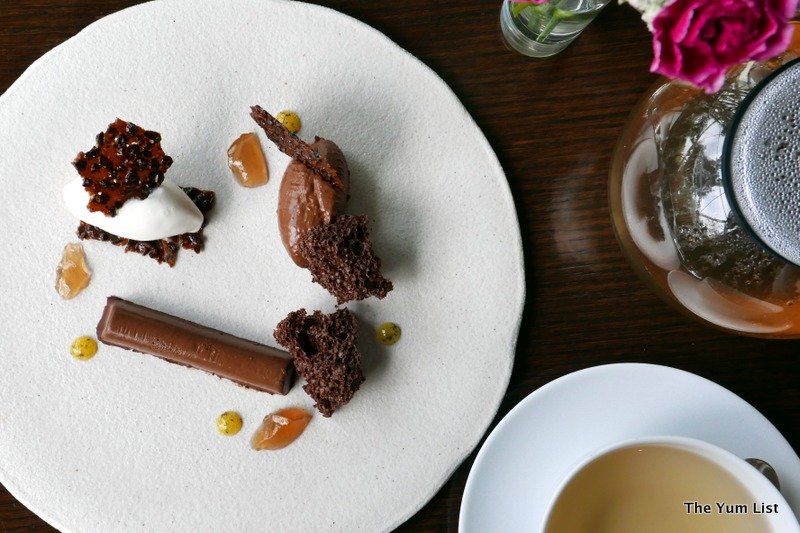 While our gastronomical trip is complete, the full expedition is not yet over. All diners are granted complimentary access to the Flower Dome, and we find the stroll through the sub 20-degree Mediterranean garden a splendid aid to digestion. Tulips are in season during our visit and make a spectacular display of colour and beauty.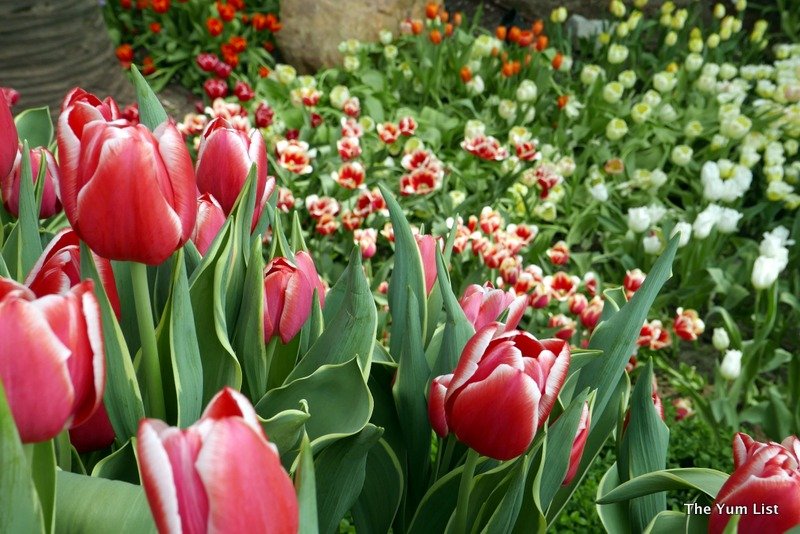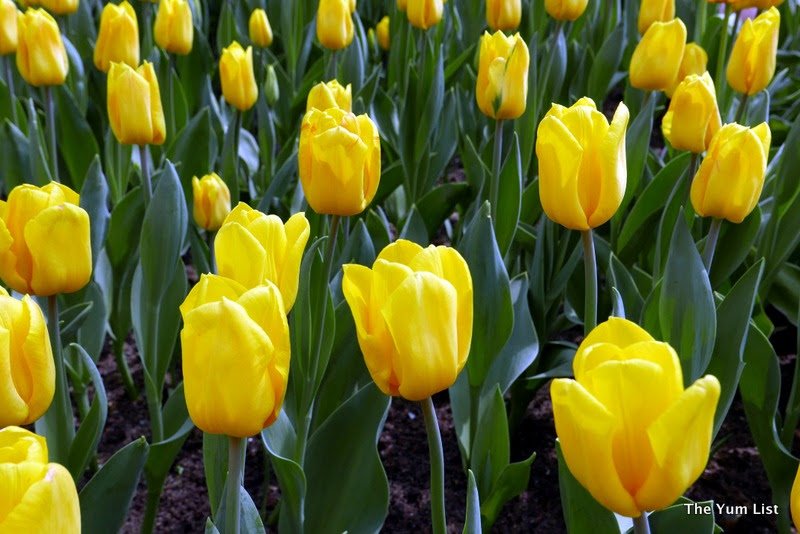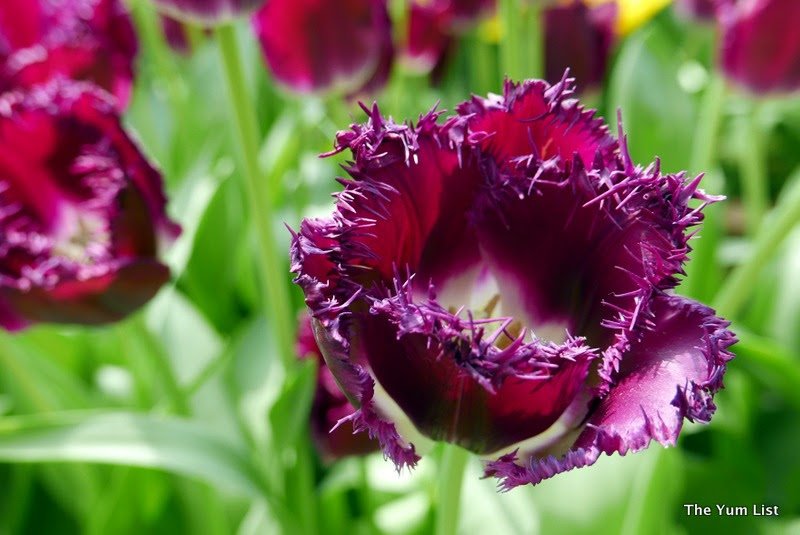 Unlike a number of restaurants that rest on the laurels of their striking setting, the kitchen and service crew at POLLEN ensure that what's on the table is as equally as pleasing as the backdrop. It's an exquisite affair: one that we do hope to repeat.
Reasons to visit: beautiful setting; complimentary entrance to the Flower Dome; wonderful bread; well-timed and professional service; while hubby's top dish pick was the salmon, mine were the kale and the crab, and well dessert was something special too – just go with the five courses and taste it all!
POLLEN
Flower Dome, Gardens by the Bay
18 Marina Gardens Drive
Singapore 018953
www.pollen.com.sg
+65 6604 9988
[email protected]
* Bookings are highly recommended, especially for busy weekend periods.
** The climate controlled flower dome can be a little chilly so a light cardigan or long sleeves are suggested.
*** Buggy transfer picks up near the Gardens by the Bay information centre near the South entrance. The driver has a list of bookings so will mark off your name once collected.