Words: Katrina de Laszlo     Photos: Monica Tindall
One of my favourite things to do when I lived in London was to go out to one of the small, independent cinemas where you could sit in a comfortable seat, watch a great film and eat and drink at the same time. I'm not talking your standard bucket of popcorn and litre of Coca-Cola here, but a proper meal on a China plate, delivered to the table shared with your companion and a glass, or bottle, of wine that you can savour throughout the film. I, therefore, jumped at the opportunity to accompany Monica to the Ciné-Dîner at Nathalie's Gourmet Studio on Tuesday evening. Fine French Dining whilst watching a French film; how could I resist?
Le French Festival Kuala Lumpur
Hosted by the Alliance Française as part of Le French Festival (4th May to 17th June 2017 in Kuala Lumpur), the Ciné-Diner experience allowed guests to relish a tasting menu inspired by dishes seen in the French film Le grand restaurant (1966) directed by Jacques Besnard and starring the comedic actor Louis de Funès. The film centres around a high-end Parisian restaurant called 'Septime'. Aside from the exquisite dishes served in the film, I am pleased to say that that is where any similarities between Nathalie's Gourmet Studio and 'Septime' end! Fortunately, or perhaps, unfortunately, depending on your point of view, we experienced no kidnappings, exploding desserts, suffering waiters or outrageous restaurant owners. Instead, we were treated to a sublime six-course menu, preceded by les mises en bouche and concluding with Nathalie Gourmet Studio's renowned macarons.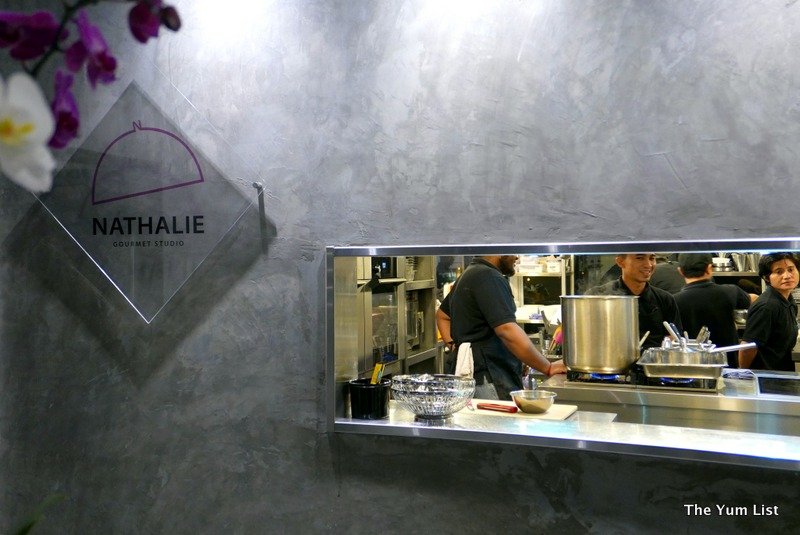 Appetisers
Whilst waiting for the film to start, we were served the appetisers, which consisted of a Chicken Cordon Bleu Croquette, a Raspberry Foie Gras Tart and Savoury biscuit topped with Bouillabaisse Royale, Rouille and Roasted Sea Prawn. These were bite-sized pieces of heaven with my particular favourite being the incredibly rich Bouillabaisse and Monica's being the Foie Gras Tart, which brought together the tartness of the raspberry with the smooth and powerful foie gras to create a superb combination.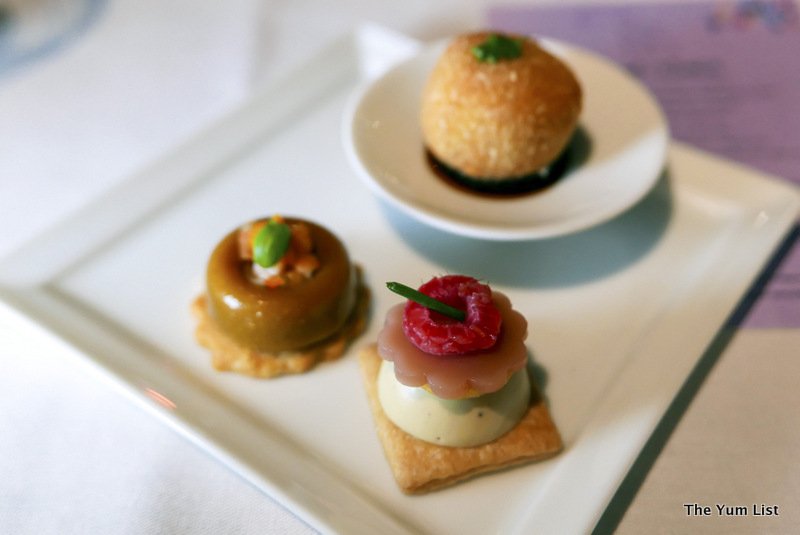 Starters
As the film started, the animated crowd's chatter diminished and the arrival of the first starter indicated that the culinary fun had really begun. The Hokkaido Scallop Aspic with Avocado Yuzu was one of the most attractively presented dishes I've seen. And its flavour certainly lived up to its beauty. The colourful entrée was served cold in a beautifully crafted glass bowl, reminiscent of a fish bowl, encouraging the diner to admire the dish from all angles. The tender scallop was cut into tiny bite-sized pieces, and accompanied by small cubes of avocado, grapefruit, pomegranate seeds and perfectly toasted croutons. This starter provided a wonderful variety of textures and flavours, which joined together to form a refreshing and light course.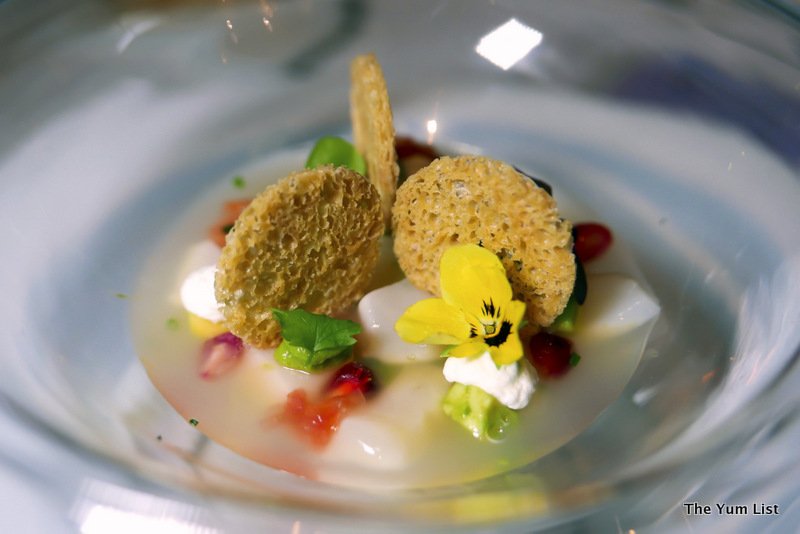 The second starter was exquisite! Freshly made Lobster Tortellini was served in a White Asparagus Cream Soup, decorated by a Meat Jus. The lobster meat was succulent, the white asparagus soup a luxurious and flavoursome dream, and the meat jus added perfect colour and depth. I will return to Nathalie Gourmet Studio purely to taste this dish again!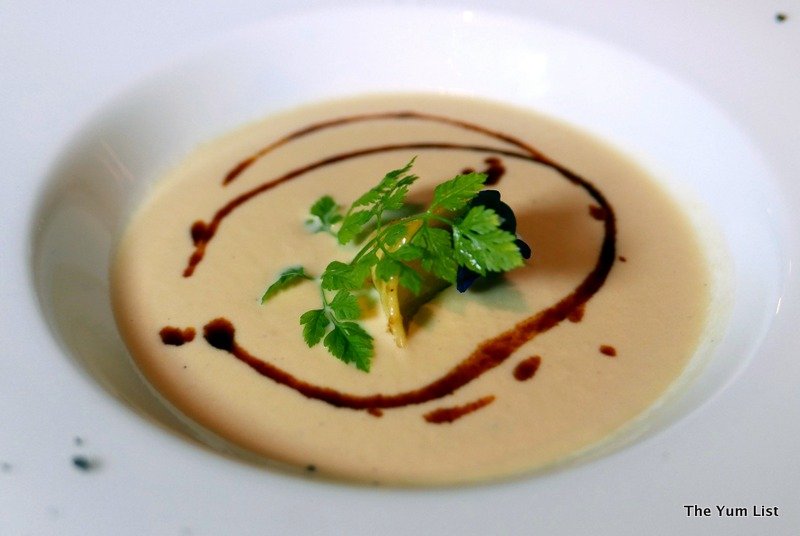 Main Courses
The first of the main courses was a Slowly Cooked Sea Bass with Crispy Textures of a Dieppoise. Fresh and tender, the lightness of this dish was a welcome follow-on after the intensity of the previous course, and gave our digestion a slight break before the upcoming meat course! Again, it was a marvellous combination of textures, flavours and colours. The fish was tender, the herb crust full of flavour, and the foam sauce lifted the entire course leaving us with a feeling of lightness.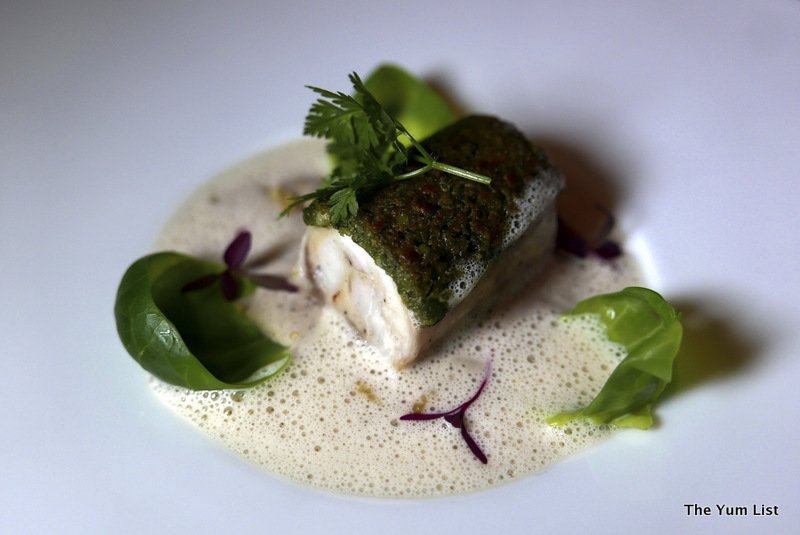 Le grand restaurant continued and became more outrageous with every passing scene. Somehow I couldn't quite imagine the calm and collected waiting staff at Nathalie's Gourmet Studio having been subjected to the ridiculous training (think group dancing with gravy boats…) that the poor waiters endured in the film. The wait staff and the team of chefs in the open kitchen behind us looked far too happy to be likened in any way to the tortured staff in the 'Septime' restaurant! And in spite of the developing chaos in the film, our dining experience remained as professional and focused throughout the evening.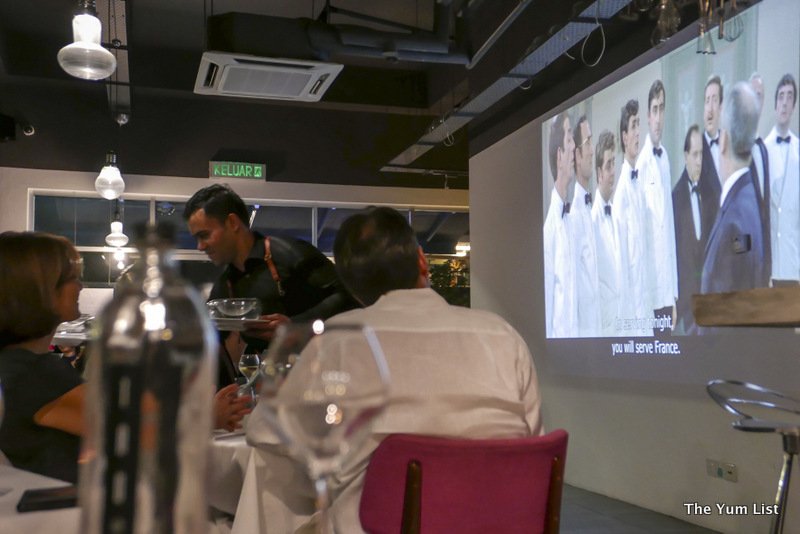 The meat course came in the form of Wagyu Rumsteck Rossini with Dauphinois Potato Gratin. A potentially heavy one for the fourth course but the portion was sized appropriately with there being enough food to truly enjoy and savour but not so much we became defeated. The steak was tender and matched with a magnificently intense sauce, whilst the Dauphinois Potato Gratin was luxuriously creamy and again, the perfect amount for customers who were beginning to fill up!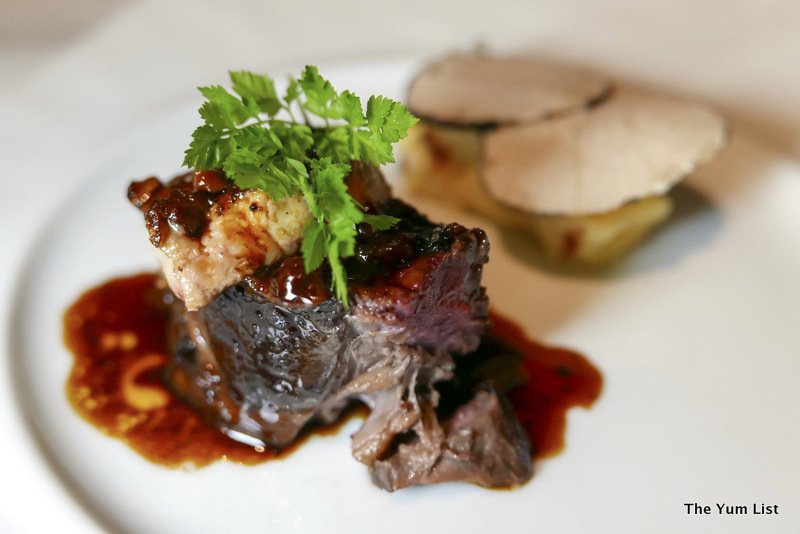 Cheese Course
I had never had the fortune to experience a cheese course served in this way. Brie Cheese Espuma with Green Apple Jelly was such an interesting dish. The deep and rich flavour of the silky Brie Espuma was flawlessly united and the cubes of fresh apple alongside the cubes of green apple jelly and held together by a delicate skinny piece of toast. What a fabulous arrangement of textures!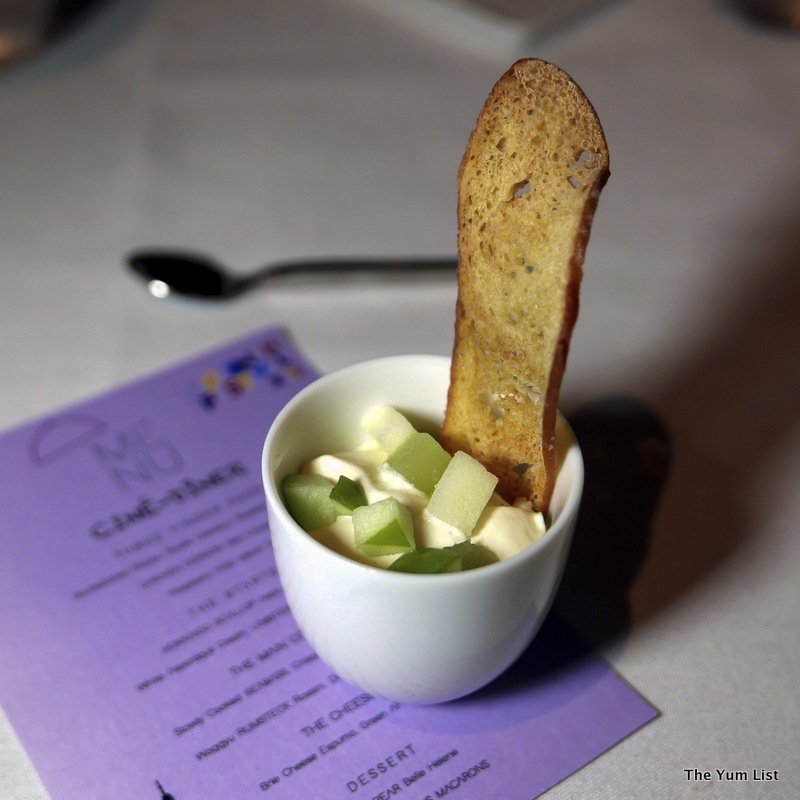 Dessert
Now, I may need to eat my words here. I have mentioned that I would return to this fine French restaurant just to experience the Lobster Tortellini once more, but there is another dish that I am determined to try at least once more whilst I live in Kuala Lumpur. Revised Pear Belle Helene was nothing short of extraordinary. The creativity and detail that had gone into this dessert cannot be sufficiently captured in a photograph so let me try with words. Failing that, book a table at Nathalie's Gourmet Studio as soon as possible to try for yourself!
A dome of icy pear sorbet, sat atop a smooth and hollow meringue base, which contained an even more extraordinary surprise of mouthwatering chocolate sauce with tiny cubes of fresh pear in the mix. This structure sat on top of another ring of textured meringue and just enough chocolate sauce had been poured over the whole plate to add moistness to what can potentially be a dry and dusty sweet. Wow. This really was an outstanding finale and totally and utterly converted me, a somewhat reluctant dessert eater, to maybe going out in the future and cutting straight to the sweet offerings if they can ever be as good as this. Le dessert was as decadent as any of the food that appeared in Le Grand restaurant and reminded the diners that the entire menu had been inspired by the film.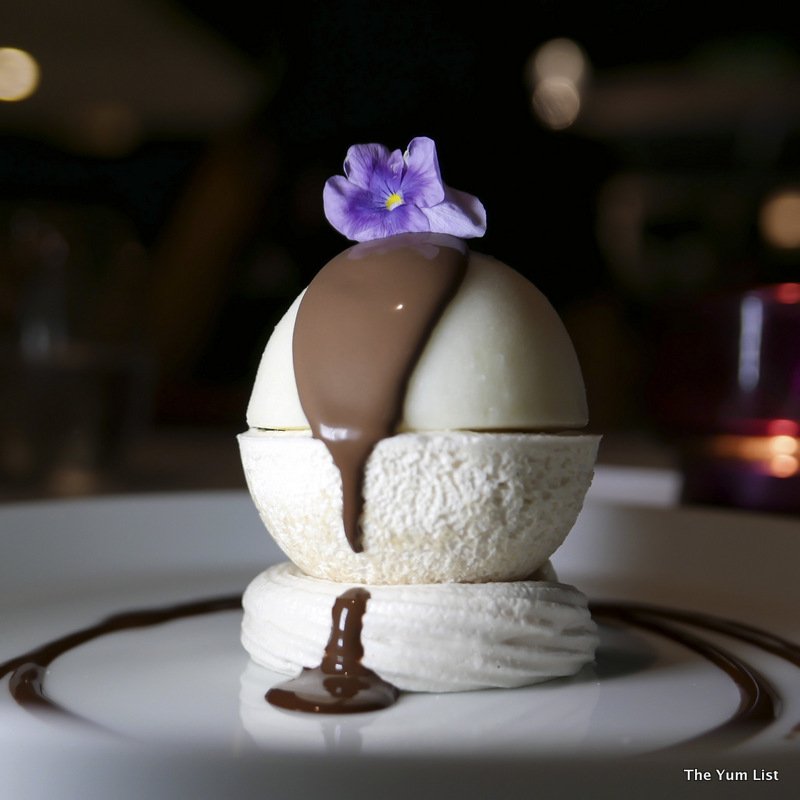 Nathalie's Gourmet Studio Famous Macarons
I mustn't forget to mention the renowned Macarons that Nathalie's Gourmet Studio is so famous for. Each table was given a selection of these airy yet firm round discs to try and I will definitely go back to sample more of the numerous flavours on offer.
The evening at Nathalie's Gourmet Studio was rounded off as it started with a warm thank you from the Alliance Française and certainly let me wanting to experience more of what Le French Festival has to offer.
Reasons to visit: Fine French dining at its best. A restaurant totally focused on the food with a menu created by a passionate and talented self-taught chef, Nathalie. Lobster Tortellini. Revised Pear Belle Helene. If the Ciné-Dîner sets the standard for the rest of what Le French Festival has to offer, then their events are certainly worth a visit: www.lefrenchfestival.com.my
Nathalie's Gourmet Studio
Unit A4-1-05, Solaris Dutamas,
Jalan Dutamas 1,
50480 Kuala Lumpur
Malaysia
Tel: +60 (0) 3 6207 9572
Email: [email protected]
Website: www.nathaliegourmetstudio.com