Monica Tindall
Yesterday I shared with you The 200 Dollar Pizza. You might be wondering what could possibly follow as dessert? Well, at Taj Exotica Resort and Spa Maldives, nothing less than a 24-carat gold ending will do!
One of a kind and certainly a culinary experience as equally as memorable as the stunning Maldivian location itself, the 24-Carat Gold Dessert is priced at $100 USD and is layered with a line-up of the finest ingredients from around the world.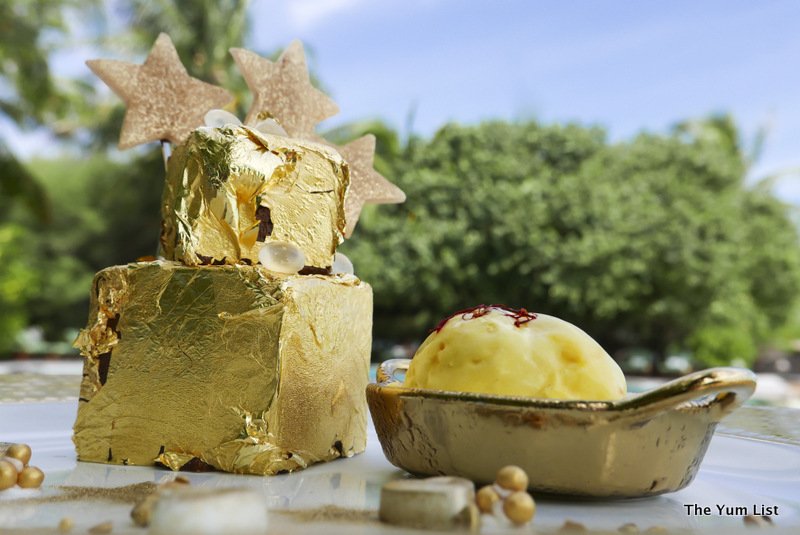 What's Inside the 24-Carat Gold Dessert?
Starting with a base of Valrhona single origin dark chocolate (64%) mousseline, it's then followed with a Peruvian milk chocolate (43%) cremeux, hazelnut and almond milk parfait, and Zanzibar vanilla pot de crème. The whole thing is covered with a rich Valrhona "Gran Couva" bitter chocolate (68%) ganache. Add to that a single origin Droste cocoa pie and Castilian Spanish saffron ice cream and you have yourself one mouth-watering temptation.
But, that's not all! Jewels and precious metals add the necessary bling to further justify the price tag and the extravagance. 24-Carat angel tears and solitaire sugar diamonds are scattered across the plate, before the final showstopper covers it all: 24-carat gold leaves, shimmer and stars.
It's rich, delicious and decadent, and if you're in the Maldives and have just indulged in The 200 Dollar Pizza, there's no choice but to follow with this 24-Carat Gold Dessert! Right?!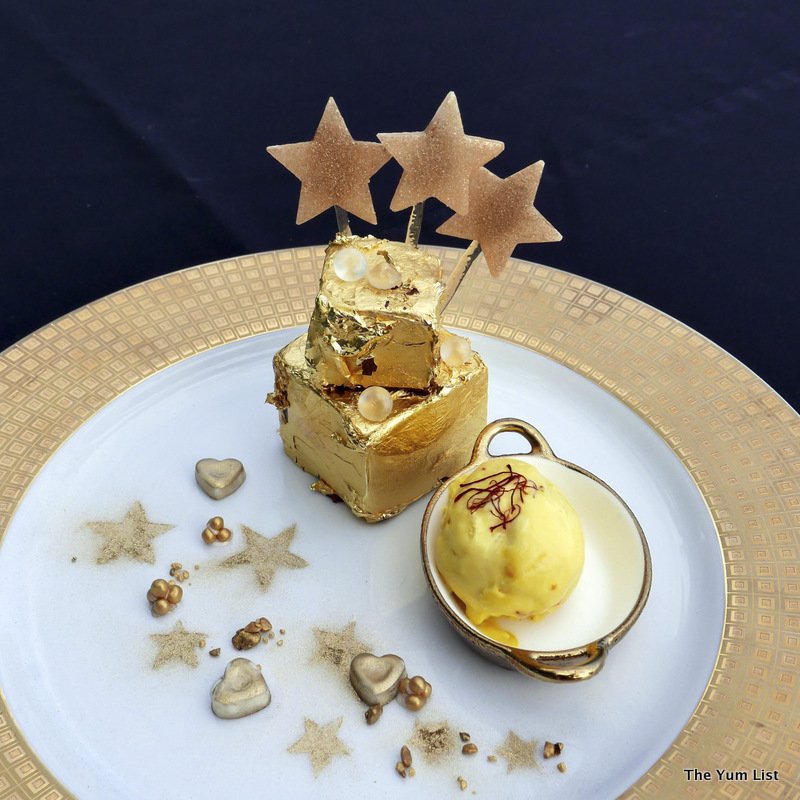 Taj Exotica Resort and Spa Maldives
Emboodhu Finolhu
South Male Atoll 02117, Maldives
+960 664-2200
https://taj.tajhotels.com/en-in/taj-exotica-maldives/