Monica Tindall
24 Degrees is Taj Exotica Resort & Spa Maldives' all-day dining outlet. Unlike many resort restaurants, however, there are zero buffets. Everything (same goes for the other food and beverage services on the island) is ordered a la carte. Not only does the resort avoid wastage but customers are guaranteed freshness of food and given the option to personalise dishes too.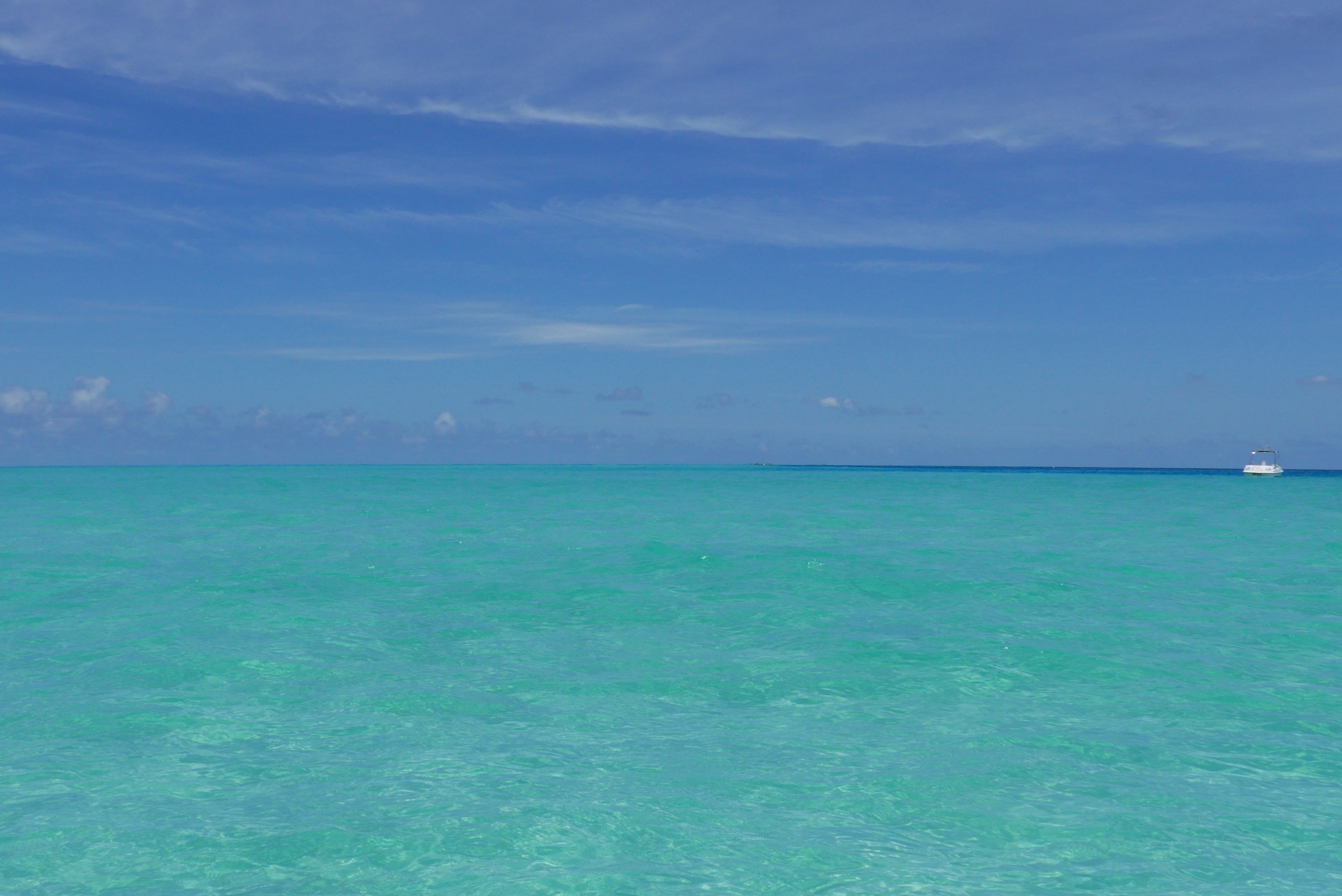 24 Degrees has an extraordinary number of menu items. Indian and Maldivian cuisine and a gob-smacking number of vegetarian options are clear highlights. Chefs though, live the Taj Hotel hospitality philosophy (the art of Tajiness) and are only too happy to custom make dishes catering to individual guests' dietary requirements and preferences.
Breakfast, lunch and dinner are available at 24 Degrees with the menu changing for each. We take a morning meal here on a number of days, and visit once for lunch and another time for dinner.
As you might imagine, with daily restaurant reviews we don't often eat our preferred cuisine, which is light and healthy. When given the chance to choose for ourselves, we like to keep things simple. So, apologies in advance for not doing justice to the wonderful variety of cuisine found here; but we're watching our waistlines.
Breakfast at 24 Degrees Restaurant
The possibility to eat around the world is presented in the morning menu. From fresh fruit to fried rice, porridge to okonomiyaki, toast to fish curry, you'd be an awful fuss if you couldn't find something to please here.
Our taste buds want the comfort of western food for brekkie. It's not until later in the day that we become more adventurous. Freshly squeezed juices, coffee, fruit, oatmeal, muesli, egg white omelets, poached eggs, avocado and yoghurt ensure a healthy start. Hubby's shortstack of buttermilk and cottage cheese pancakes add a bit of holiday decadence, as do our sweet banana hotcakes.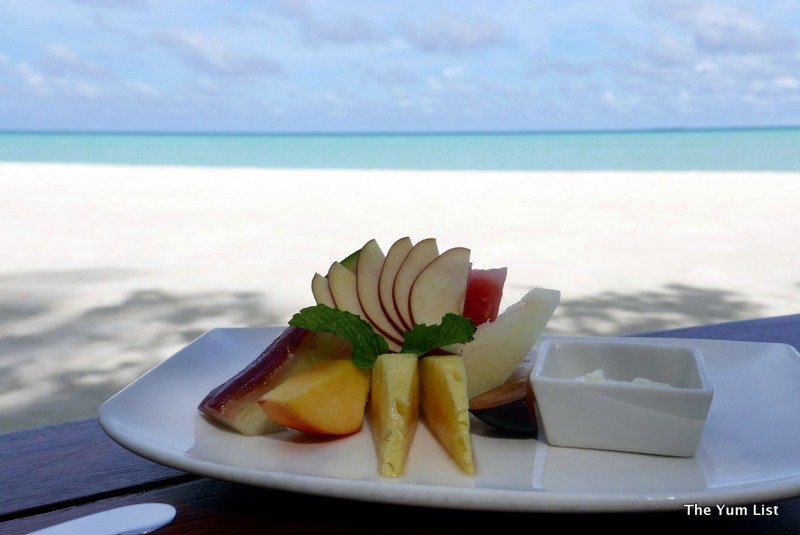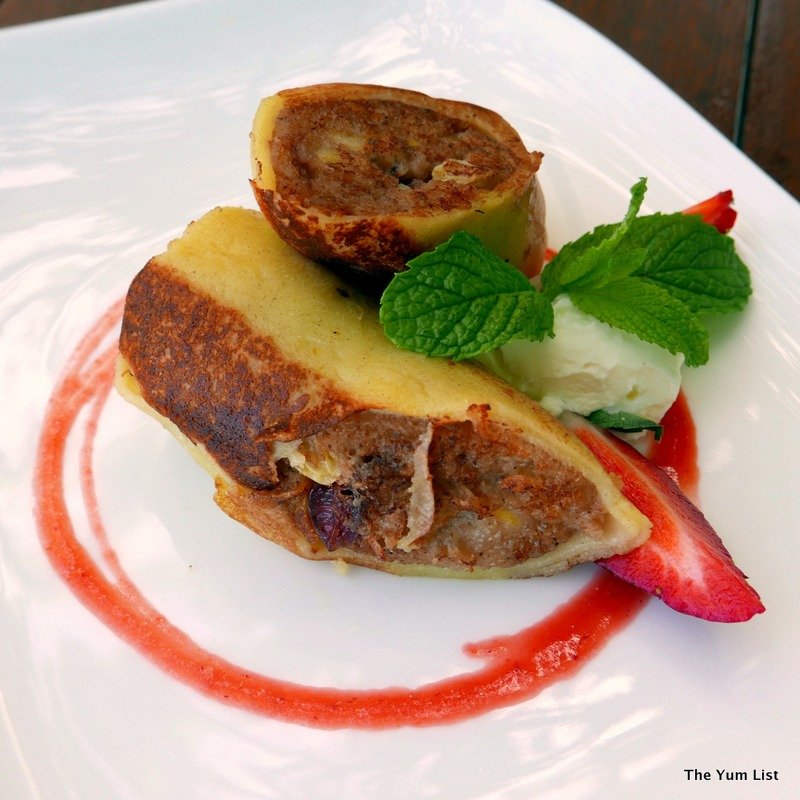 Lunch at 24 Degrees Restaurant
Starters
A cool Spanish inspired Roasted Pepper Gazpacho ($19 USD) with Parmesan cracknel and avocado salsa works in nicely with the warm weather. Emboodhu Seafood Salad ($29 USD) is packed with fresh Maldivian catch of char grilled baby octopus, reef fish, squid and Arabian sea prawns with palm hearts, green papaya and raw island mango. Both starters are tasty and light – although do note that if this is your first time eating palm hearts, they have a distinctive pungency that may not be suited to all.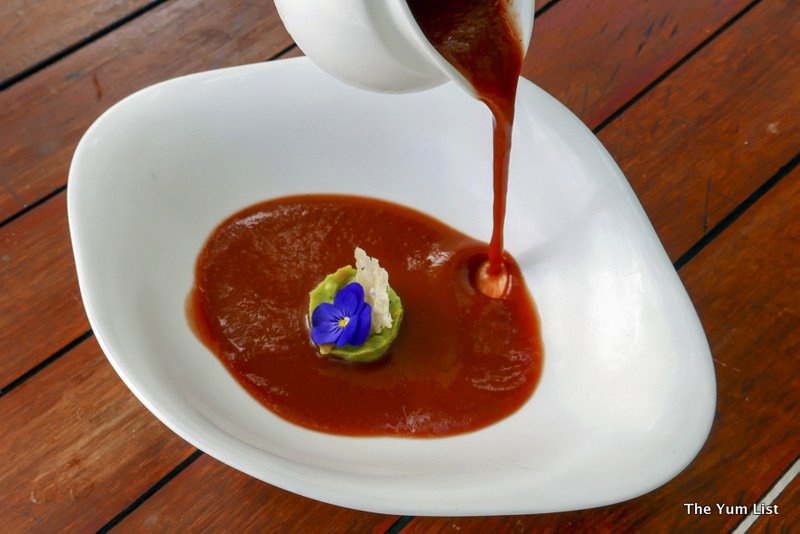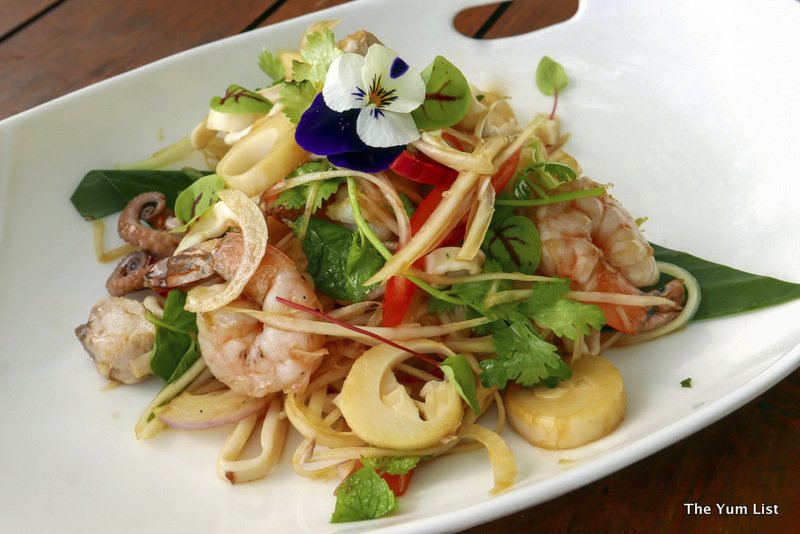 Mains
If you are a burger fan you better make sure you have a huge appetite to tackle one of 24 Degrees' signatures. Hubby's Chicken Burger features a fat chicken patty, squeezed in between the halves of a thick wholemeal sesame bun. Cheddar cheese, tomato slices, onion and lettuce are stacked in the tower too. It's big. It's juicy. It's delicious.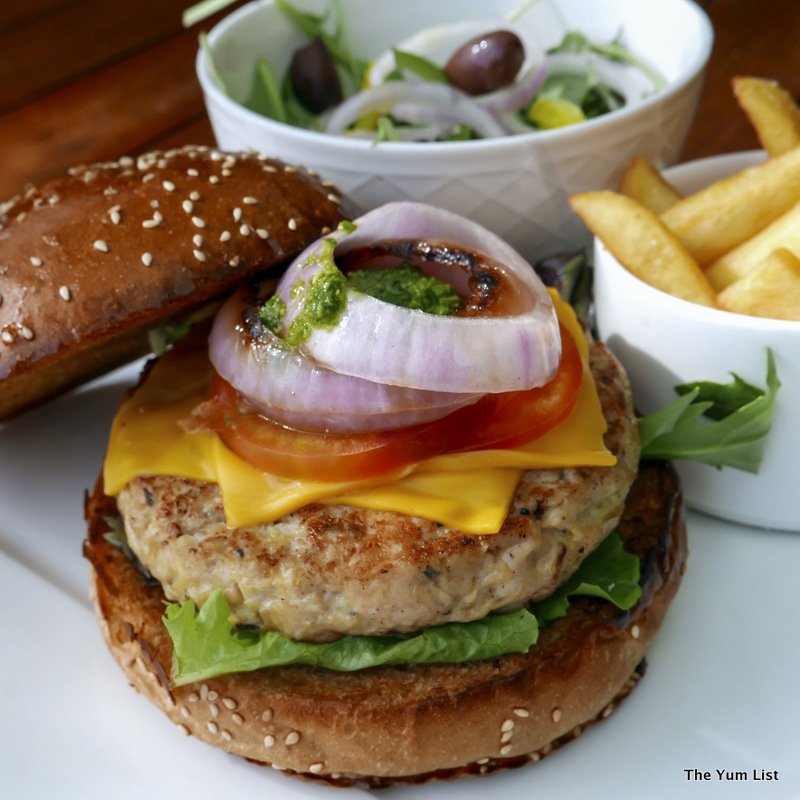 Local Maldivian produce is celebrated in the Palace Platter, and given due respect, the presentation matches its regal name. Spread around a silver plate, individual bowls of beef, prawn, chicken and tuna curries surround yellow rice and a very moreish bowl of coconut infused dahl. The level of heat can be adjusted to various tolerance levels, so even if your spice proclivity is low, this is certainly one meal not to be missed.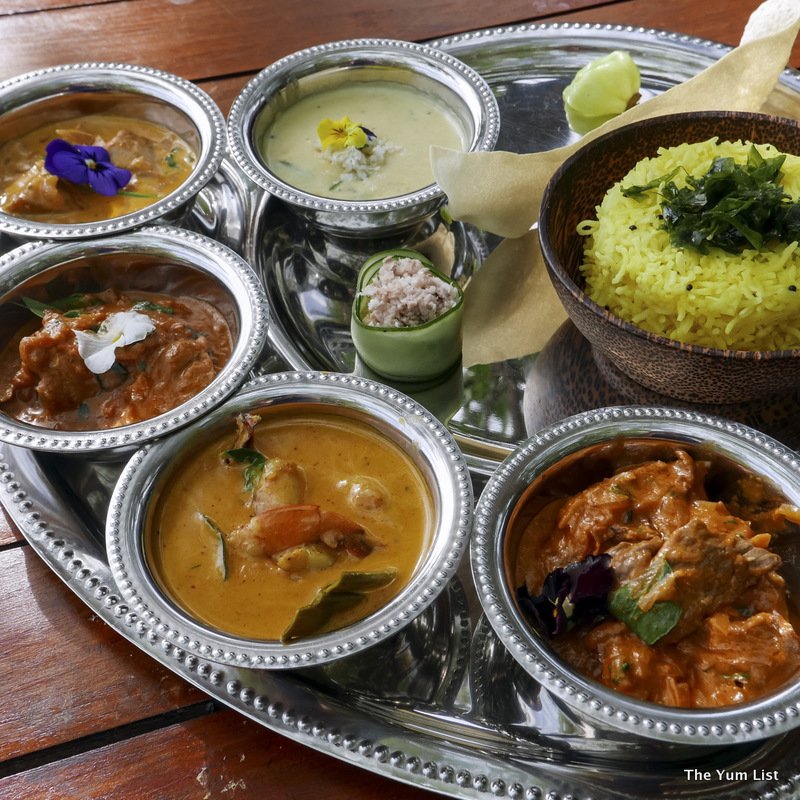 Dessert
For something sweet, we try the Tranquil ($18). Lychee panna cotta, raspberry foam (yum!), almond crisp, berry coulis and raspberry sorbet (double yum!) make a highly inviting plate. The fruit is subtly infused into the creamy centrepiece and the tangy berries balance out its richness.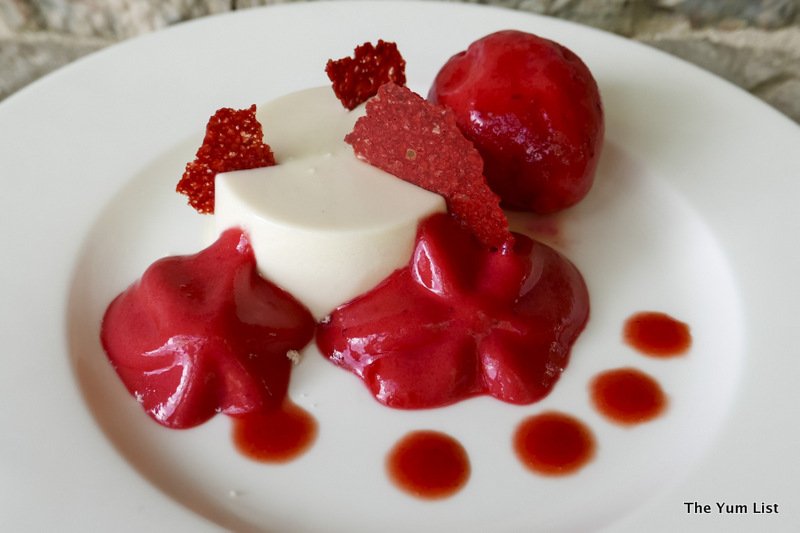 Dinner at 24 Degrees Restaurant
Dinner is as equally overloaded with options, with a heavy Pan- Asian influence across 20 or more pages. As mentioned earlier, we try to keep things light so choose some veggie loving beginnings and head to the grill for the mains.
Soup
Clear Chicken Broth is brimming with chicken strips and veggies: carrot, baby corn, Chinese cabbage, spring onions, mushrooms and more. The soup is flavourful yet light. It's comforting and something you might crave when under the weather. The Roasted Pumpkin & Garlic Soup ($19) is just as delicious, but of a much richer nature. With a creamy coconut veloute and hint of spice, it has a whisper of Thai in its profile. Both are excellent choices.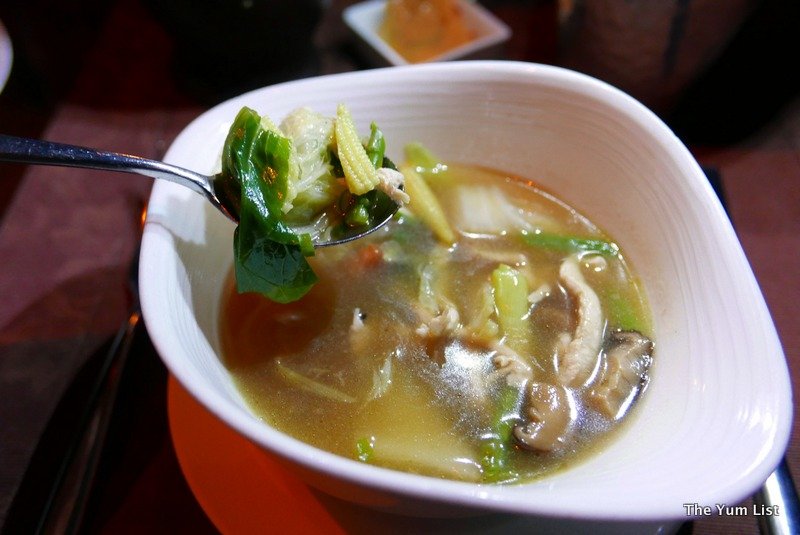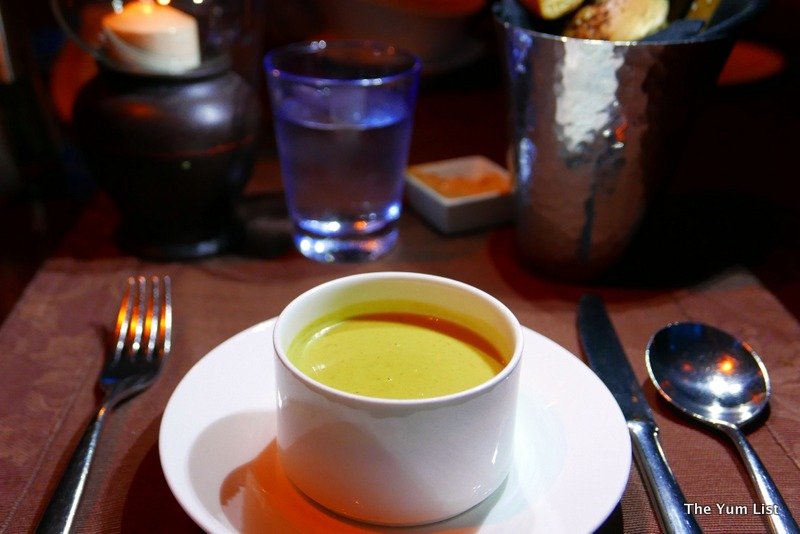 Mains
From the Island Grills we order the Tenderloin Medallions ($49) and a Maldivian reef fish, the Green Job ($43). Both are partnered with grilled vegetables and either herbed butter jacket potatoes or mash. Hubby's happy with his beef. He claims that the chef has read his mind in preparing exactly what he desired. The meat sports nicely charred edges and a moist tender centre. My fish is executed comparably well with a tasty light marinade of salt, lemon and herbs. Portions are large and after a bowl of soup and piece of the warm house bread, we struggle to clean our plates. There is, however, always room for something a little sweet.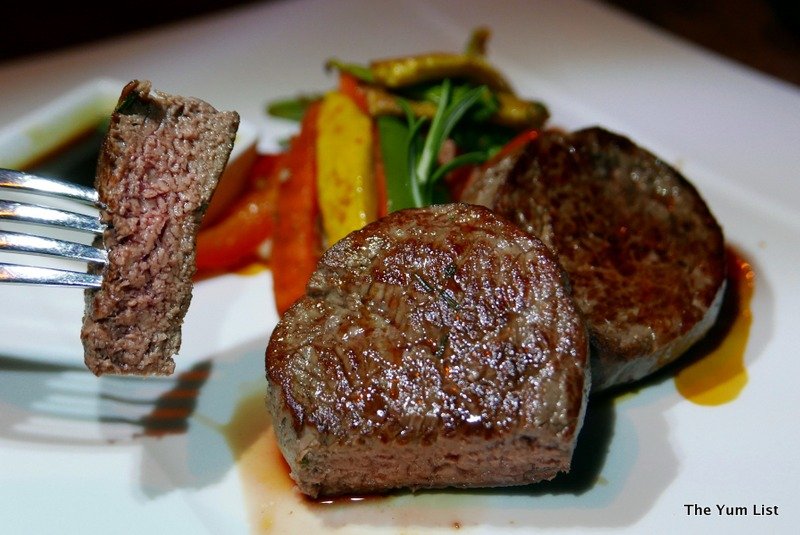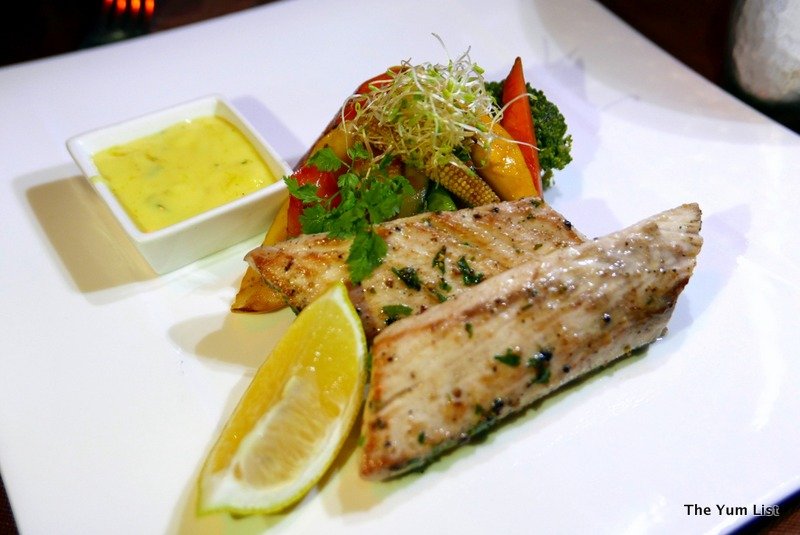 Dessert
The dessert menu is extensive. We could sample something new for every meal during our stay and still not try them all. Warm weather warrants something chilled and light and both the Citrus Sundae ($18) and Sorbet ($17) fit the bill. The first is a pretty glass bowl layered with mandarin segments, blood orange sorbet, marshmallows, candied orange, kumquat confit, Meyer lemon sorbet and mango coulis. It's simply delicious with a tart citrus cleanse. Hubby's sorbets of mango and passion fruit resonate with the natural flavours of real fruit. It's another refreshing choice.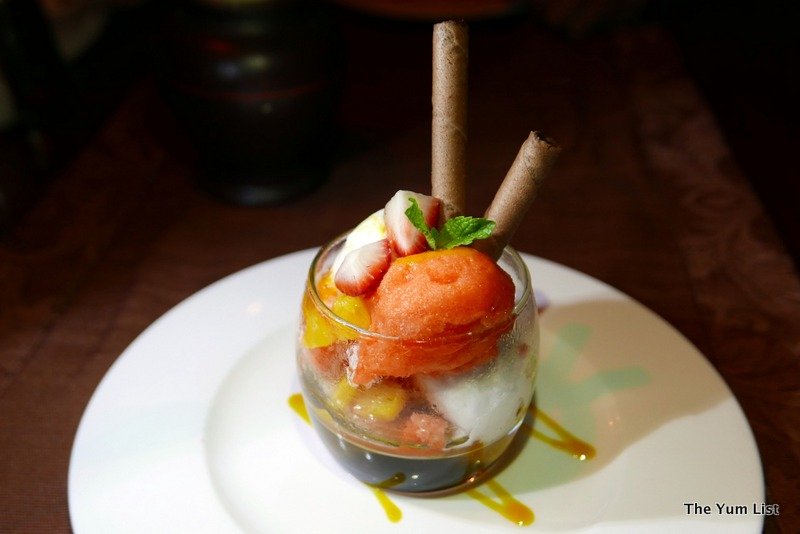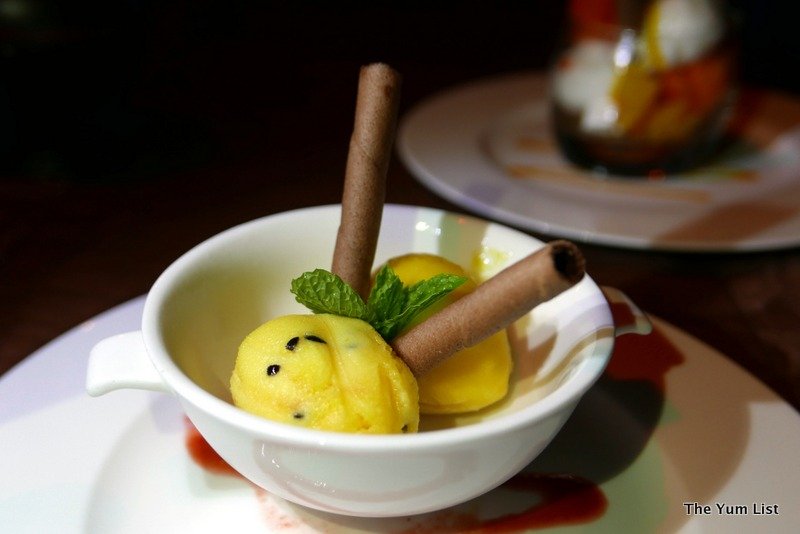 We're not quite done with the menu, mind you. There's one last item that we must try before we depart the island, and that's a 24 carat gold dessert! Stay tuned for that in an upcoming article. Until then, bon appetite!
Reasons to visit: excellent variety of dishes with an extensive number of vegetarian options; chefs who are willing to adapt meals to personal preferences; lovely seaside location with cool sea breezes in the evenings.
24 Degrees Restaurant
Taj Exotica Resort and Spa Maldives
Emboodhu Finolhu
South Male Atoll 02117, Maldives
+960 664-2200
https://taj.tajhotels.com/en-in/taj-exotica-maldives/