Louise Miller
It's not often that I get to combine my foodie passion with my day job of teaching French in an international school. However, a chance encounter with the professional chef who was running after school cooking classes there presented an opportunity to do just that! Since our first meeting, Jean-Michel Loubatières has conducted cooking classes entirely in French for my students and kindly come along to judge my students' culinary offerings in a potluck meal. The Toulousain's natural warmth, rapport and passion for what he does has made all of our sessions so enjoyable. I was therefore delighted to hear that he had started to offer classes to a wider public and equally so to spend a Saturday morning in his company whilst enhancing my own culinary skills with his guidance.
My cooking class was to take place chez Jean-Michel whose bright kitchen and dining area is spacious enough to accommodate up to twenty participants. Jean-Michel had chosen to focus on chicken so throughout the two hours we had set aside, I was to prepare no fewer than three chicken dishes using only one bird. What better way to start than with the absolute basics – jointing and deboning.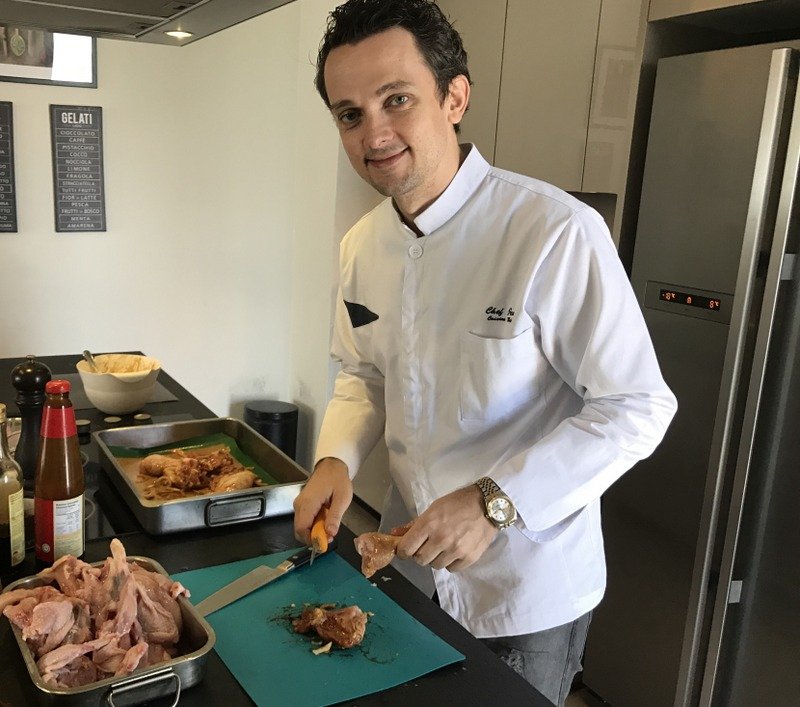 No stranger to the kitchen, I can generally rustle up something half decent when it comes to mealtimes at home. Almost immediately though, I was picking up simple tips from the professional: placing a damp piece of kitchen roll under the chopping board to prevent slipping for example, and the most efficient way to dissect the bird to keep the joints intact and preserve the tender chicken oysters. After watching him expertly demonstrate the process, I separated the legs, breast and wings of my own bird and we were ready for recipe number one.
Asian marinated chicken required very little effort and few ingredients. The legs and wings were placed in a bowl with a marinade consisting of oyster sauce, soy sauce, thyme, bay leaves and red onion slices. Ten minutes marination followed by 20 minutes in the oven produced an aromatic and succulent dish.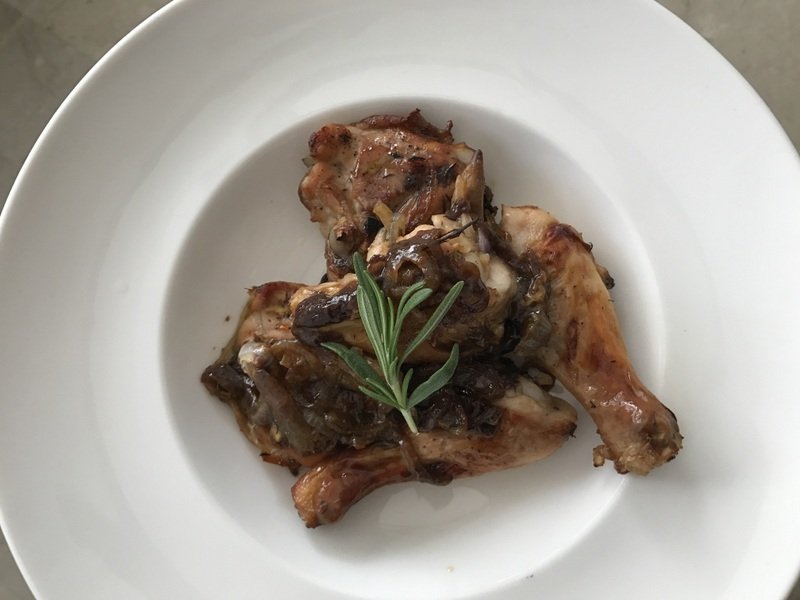 Cordon Bleu was dish number two. Again, I watched Jean-Michel demonstrate before attempting the process. In turns, we butterflied a chicken breast and seasoned it on both sides before filling it with an envelope of ham stuffed with grated mozzarella. We then dipped the breasts in flour, beaten egg and finally breadcrumbs before pan frying in olive oil until golden brown and then finishing in the oven. The result was perfectly cooked and tender chicken with a toothsome ham and melted cheese centre.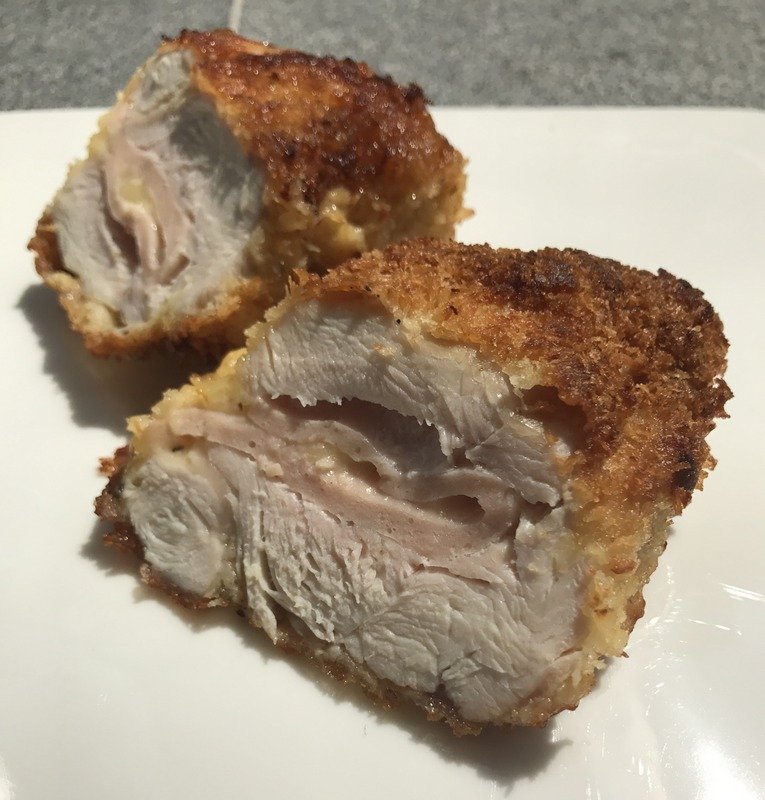 The final dish of the trio was a Chicken Ballotine. In turns, we flattened the second chicken breasts with a meat tenderizer to increase the surface area and make it easier to roll. Jean-Michel showed me how to make the mousse filling. First, he sautéed some oyster mushrooms in olive oil with minced garlic and thyme leaves and then deglazed the pan with the dramatic addition of whisky. The mixture was then blitzed in a food processor along with whipping cream and then generously spread over the breast before rolling this in on itself with the help of the cling film that had been placed beneath it. With further rolling, the sausage-shaped parcel was packed even more tightly, the ends tied up and then placed in a bain-marie in the oven. When ready, Jean-Michel sliced the ballotine diagonally into pretty marbled cross-sections before plating.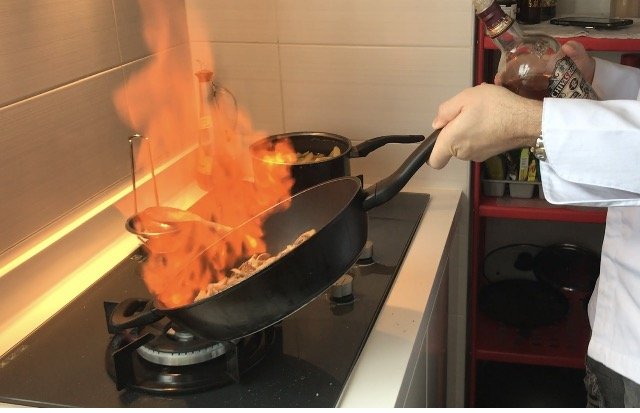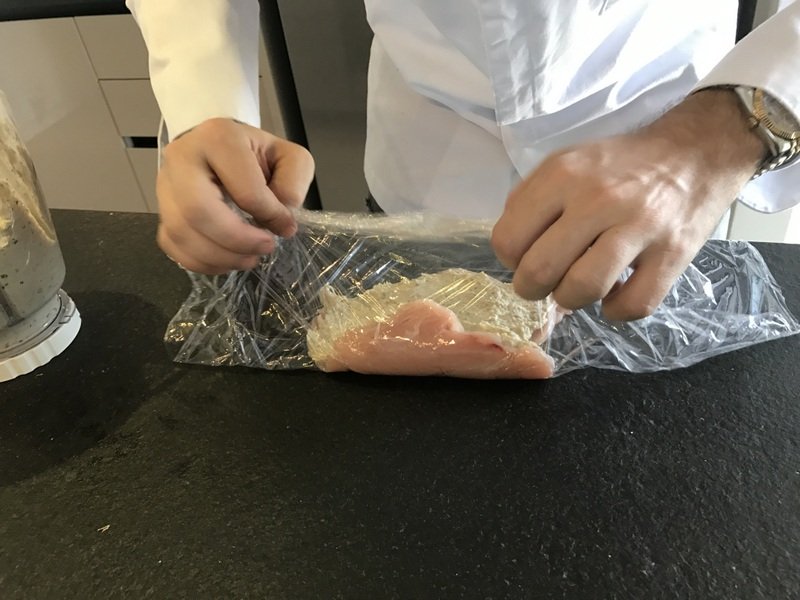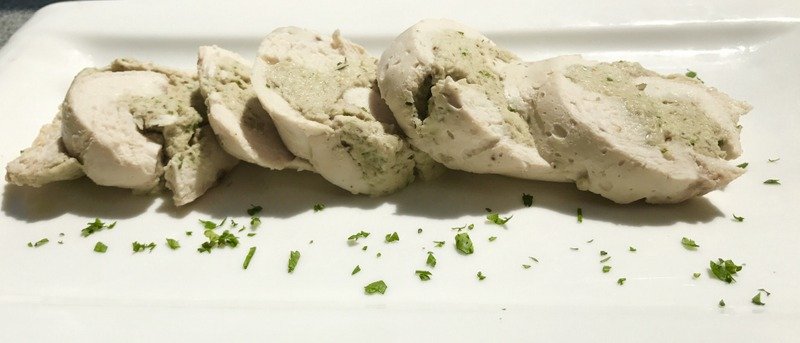 Looking at the results of our labour I felt proud and very confident that I would be able to replicate all three of these impressive dishes at home. My morning had been as enjoyable and productive as I had expected it to be and the big bonus was that I was returning home with three delicious meals all boxed up ready to be enjoyed throughout the rest of the weekend.
Jean-Michel offers a range of two-hour cooking classes for kids (RM130) and adults (RM150). He is entirely flexible in terms of being able to accommodate participants at home or come to where you are. His classes are a great idea for team building or just having fun culminating in a tasty meal amongst friends afterwards. Check out his blog or get in touch with him to discuss your ideas for a bespoke class.
Reasons to visit: A relaxed and very enjoyable experience improving culinary skills.
+6 018 977-6687