My choice of hair salons has changed over the fourteen years I've lived in Kuala Lumpur. For one thing, proximity and convenience play a huge factor. Another key element in selecting and staying with a salon is their understanding of Caucasian hair – in particular, thin wispy locks. Last but not least, I try to use as few chemicals as possible. So, the third criterion is a team who value natural ingredients over chemical ones. All of these, I find in Groom Artistry at The Intermark, Kuala Lumpur.
Groom Artistry Location
Conveniently located in The Intermark, parking is easy, but it could also be comfortably reached by public transport with Ampang Park LRT station right across the road. And, although the walls are glass, there's a certain sense of privacy with its location on Floor 2 – away from the busier parts of the mall.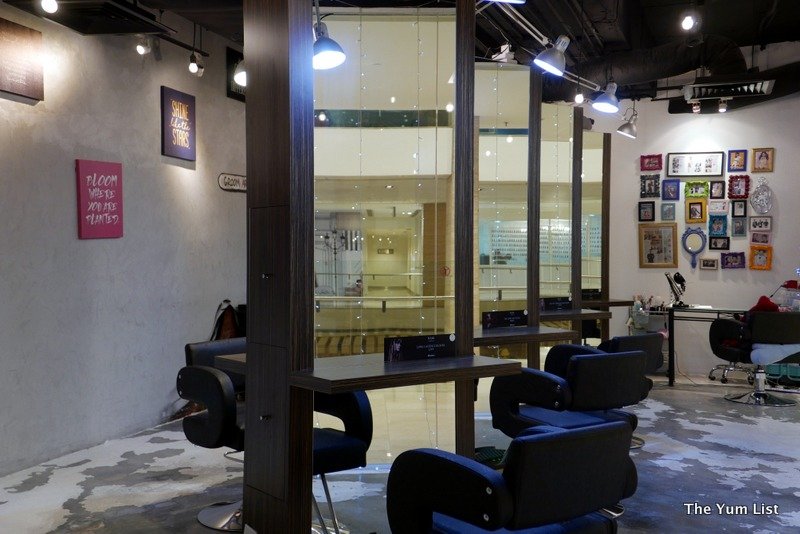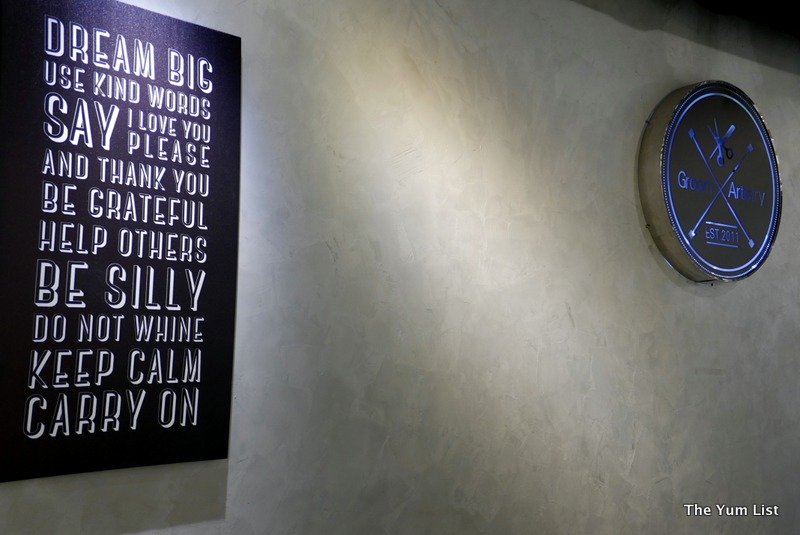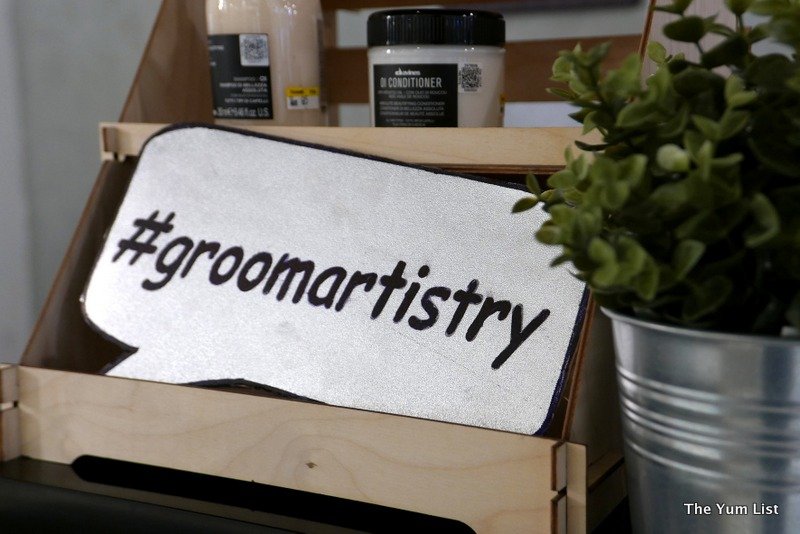 Groom Artistry Values
I first met Jerry Thoong, Technician Stylist, when I raced in for a quick wash and blow before an event. So impressed I was with the level of professionalism in something as seemingly as simple as a wash and dry, I thought this might be someone I could trust with something longer term such as a colour.
Jerry knew how to treat my fly-aways and split ends and was very articulate when describing the pros and cons of various treatments. What I respected most however, was his knowledge of the ingredients in various products. He clearly valued his health and that of his clients, using the best he could find on the market with a minimal use of chemicals.
Groom Artistry – The Hair Doctor
Jerry likes to joke that his clients have dubbed him the Hair Doctor. He sees a number of people who have come in after a 'hair disaster,' looking for him to 'fix' the problem. He sees his role not only as a stylist but as an educator too. He says it's important for clients to know how to take care of their hair after leaving the salon. He will never suggest a treatment without first discussing the next steps – this can mean from what follow-up needs to be carried out at home, to what to expect in the following days and weeks after a treatment, to when and what will need to be done in the next session.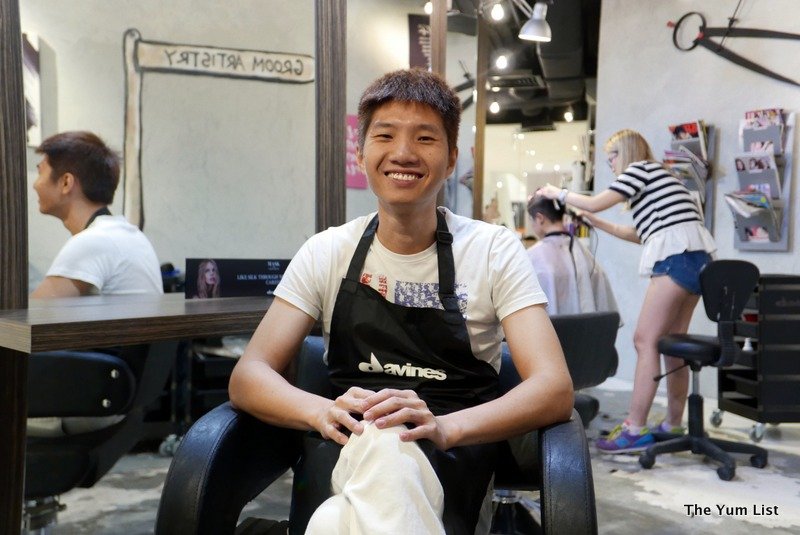 Getting ready for some extended summer travel (Gold Coast, Maldives, Italy, Austria and the U.A.E.), I make an appointment with Jerry to help make the best me.
Colour
Starting with my colour, Jerry assesses the regrowth and spread of hue throughout the rest of the hair. He checks for evenness and wear since the previous treatment. Unlike many products, the smell of the colour used at Groom Artistry is quite pleasant – not toxic, unlike what I've found with the use of other brands. I learn that this is because of the importance placed on finding the most natural of products possible.
Davines Mask with Vibrachrom is the salon's choice of colour because of its low use of chemicals. In fact, its ingredients are 86% natural and the level of ammonia is one of the lowest on the entire market. Omega 9 enhances shine and the hair is strengthened with quinoa. This family owned company from the south of Italy has resisted selling out to larger companies, insisting on maintaining the quality of their brand. The stylists at Groom Artistry are the ambassadors and colour specialists for the label. They teach other stylists how to use the product, so I know I'm in expert hands.
The team at Groom Artistry consider education a major part of their role, so, of course, Jerry is full of post colour care recommendations. He says it's best to use a gentle shampoo with colour protection. Paraben and sulphur-free products are the best, and a UV filter is also important.
Oxidation colour starts from RM200 depending on the length and thickness of hair (and hence the amount of product used). The initial whole head of hair is usually the most expensive and then follow-up retouching of the roots is less as not as much product is needed.
Cut
Jerry considers three things when consulting on the best cut for each client: scalp, bone structure, and lastly hair. Apparently, our heads are not all perfectly shaped, and this makes a huge difference in outcome, especially for shorter cuts. The scalp can be oily, dry or sensitive, but the scalp also tells the growth pattern of the hair. Lastly, the hair itself – straight, curly, fine or thick – will hang differently with various cuts.
Clients often come in with photos from magazines of their desired haircut. Jerry explains that these images have been digitally edited, there's special lighting and so on, and so what you see in print doesn't reflect reality. Besides the three factors mentioned above, Jerry advises to look at your own colouring, face shape, lifestyle and time for grooming when deliberating over the best cut.
And what does Jerry think about hair trends? He doesn't believe in them. He says if you have a cut and colour that suits you, then you set your own trend. You are unique, so do what looks good on you.
A cut with Jerry is RM128 for females and RM118 for males. Earlier Jerry had told me that cutting male hair is more difficult than female hair because shorter cuts expose lack of symmetry of the skull. The feminist in me immediately asks why then is a female cut more expensive. The answer: it's for the extra time needed in blow-drying long hair. Men usually get a quick blast, while longer hair takes much more time to style.
Keratin Treatment
I have a tremendous amount of split ends and flyaways. My hair has always been dry, no matter how much conditioner I use or home moisturising masks I apply. Jerry recommends a keratin treatment to reduce the frizz.
K-Gloss from New York City promises to reduce frizz by 90%, cut drying time in half, and last between three to four months. It's safe to use on chemically treated hair and works on all hair types, from straight to curly. The product is applied to clean, dry hair. Hair is then dried and straightened with a hair iron.
Keratin Treatment – Before and After
I take a before and after photo (below) to capture the difference. The image on the left shows my freshly washed hair that has been blow-dried straight. As you can see, the picture on the right, post K-Gloss application shows a dramatic reduction in frizz!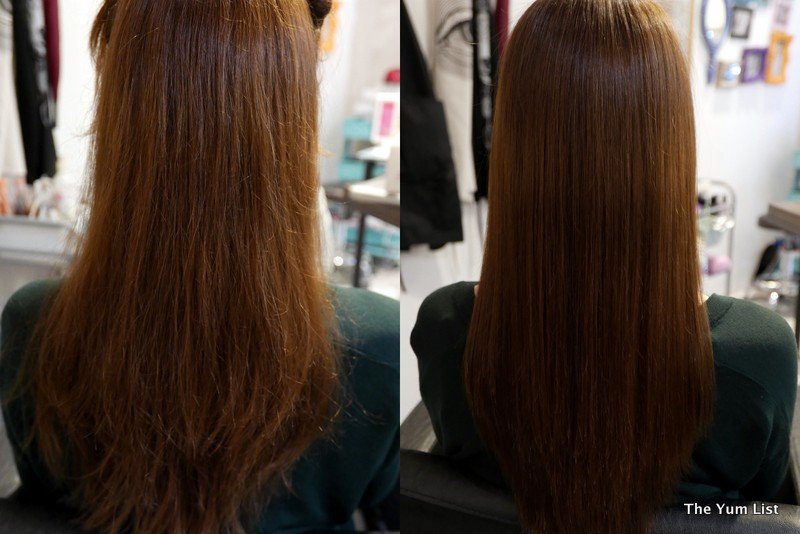 After treatment, you should avoid getting the hair wet for 72 hours for maximum results. That means lightening your exercise routine so as not to sweat, wearing a shower cap and avoiding going outside if the weather is drizzling. If you happen to get hair wet by mistake you should dry it straight away.
After the three-day wait period, you wash hair as normal but avoid products that contain Sodium Lauryl Sulfate (SLS – also known as Sodium Dodecyl Sulphate, Lauryl Sodium Sulphate, Sodium n-Dodecyl Sulphate and Lauryl Sulphate Sodium Salt). To be on the safe side you can purchase shampoo and conditioner from the salon that is specially formulated to care for treated hair. It's not a surprise, that the brand that produces the low chemical colours used in the salon, Davines, is their product of choice too. I do love that the staff are not pushy though about purchasing their products. They say they're not necessary, just to read the labels on whatever you choose and be sure they don't include SLS.
The price of the K-Gloss treatment depends on the quantity of product used, starting from RM500 onwards. The price usually increases with length and thickness of hair.
Nails Too!
If you, like me, like to maximise your time, you'll be glad to know that the team at Groom Artistry work in conjunction with a nail artist. Particularly useful for longer treatments such as colour and conditioning, it's great to come out of the salon with nails done too!
The Details
It's the details that differentiate an average salon from a great one. At Groom Artistry gowns are of high quality, tea and coffee are offered, and ear protectors are used to prevent contact of colour or heating tools with skin. They even have a service where clients can order food from restaurants in The Intermark! Most of all though, I appreciate the knowledge of the staff at Groom Artistry and their drive to educate customers. Groom Artistry is my salon of choice and I recommend you try them too!
Reasons to visit: limited use of chemicals, natural products used when available; highly skilled hair stylists; easy location with parking in The Intermark Mall.
Groom Artistry, Hair Salon
The Intermark Mall
Level 2, Lot 2-03
No. 348, Jalan Tun Razak
Kuala Lumpur, 50400
Malaysia
+60 3-2181 8116
www.facebook.com/GroomArtistry/
Open 11 am – 9 pm – Monday to Saturday
11 am – 8 pm – Sunday
Bookings are highly recommended, but during non-busy periods walk-ins are accepted.