Monica Tindall
Maldives is one of the places in the world where the reality is actually more spectacular than the postcards. Sitting at Taj Exotica Resort and Spa Maldives' Poolside restaurant and bar we can't help but feel incredibly fortunate.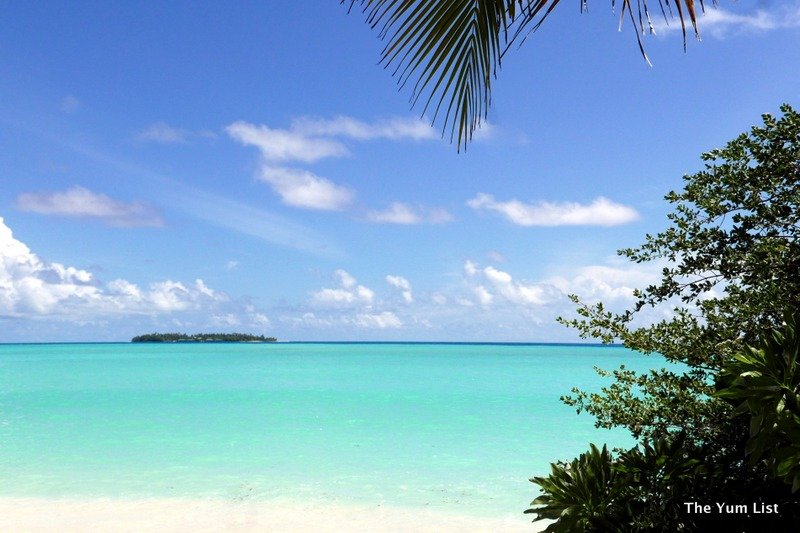 All we see is a kaleidoscope of blue: from the pool, to the shallow waters, to the depths on the other side of the lagoon and finally out to the brilliant blue sky. Wooden tables and green cushioned sun chairs complement the sandy floor. Tropical trees and shrubbery shelter all. But best of all are the warm-hearted smiles of the Maldivian staff.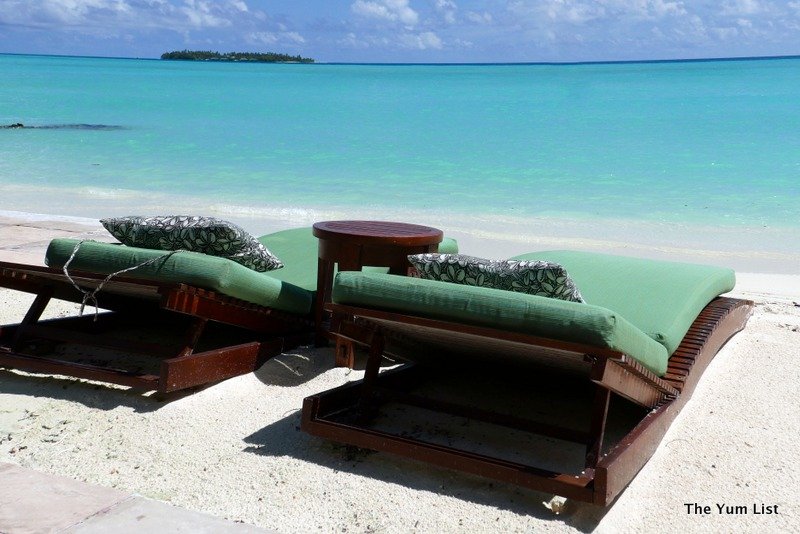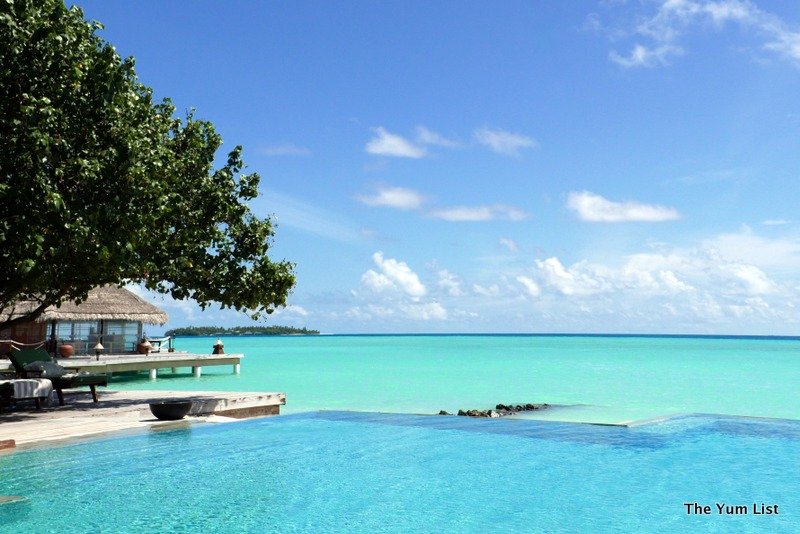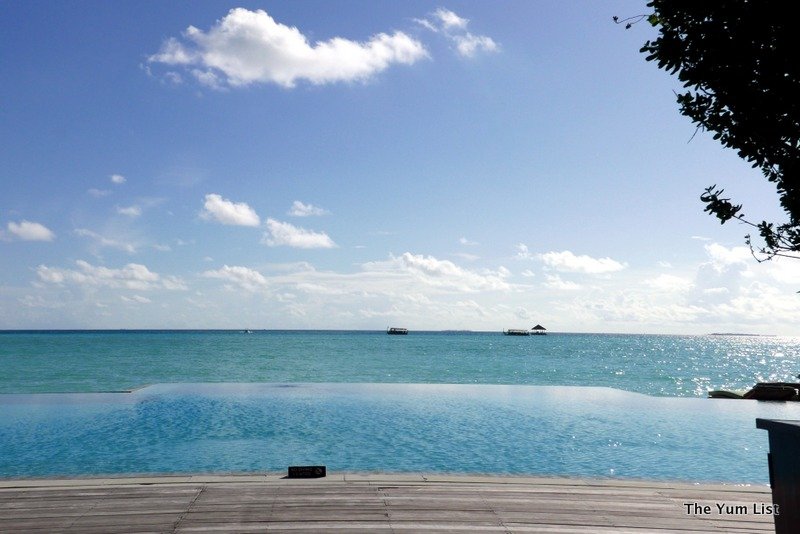 Poolside is Taj Exotica Resort and Spa's lighter themed restaurant. Serving up salads, pizzas, burgers and grilled fish, it provides perfect beachside fare. An extensive beverage list accompanies the food and that's where we begin.
Beverages at Taj Exotica Resort and Spa's Poolside
I try the Ginger Berry ($21), The Poolside's twist on a Mojito, featuring white rum, ginger, lime, mint, raspberry and strawberry puree. Hubby meanwhile tries to shame me for drinking in the middle of the day by going with a mocktail. Frozen Mangorita ($14) is a wonderfully chilled beverage with sweet and sour, mango, lime and orange blended with ice. Both are extremely refreshing and perfect for the warm weather.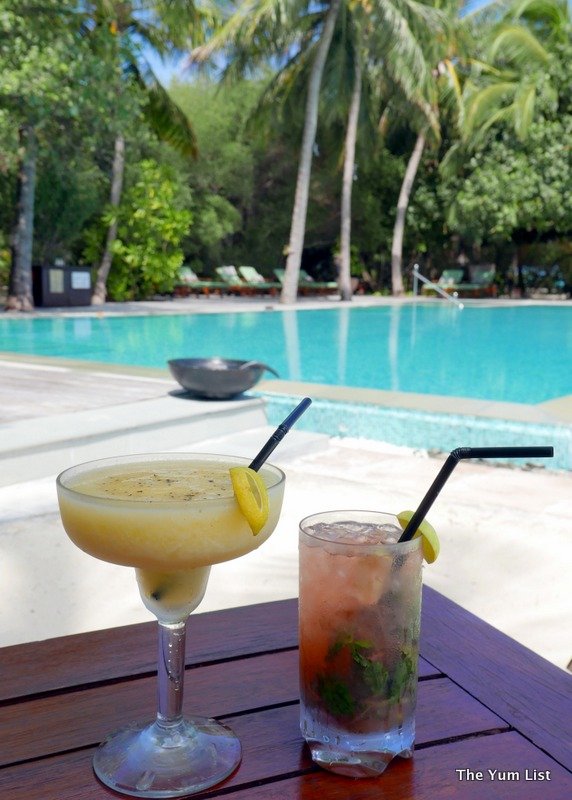 Starters
With our mixed drinks, Vegetarian Nachos ($29) are a good sharing option. Crispy potato wafers (instead of corn tortilla chips) are topped with grilled vegetables, coriander, kidney beans and melted cheese. Additional flavour is added with guacamole and tomato salsa.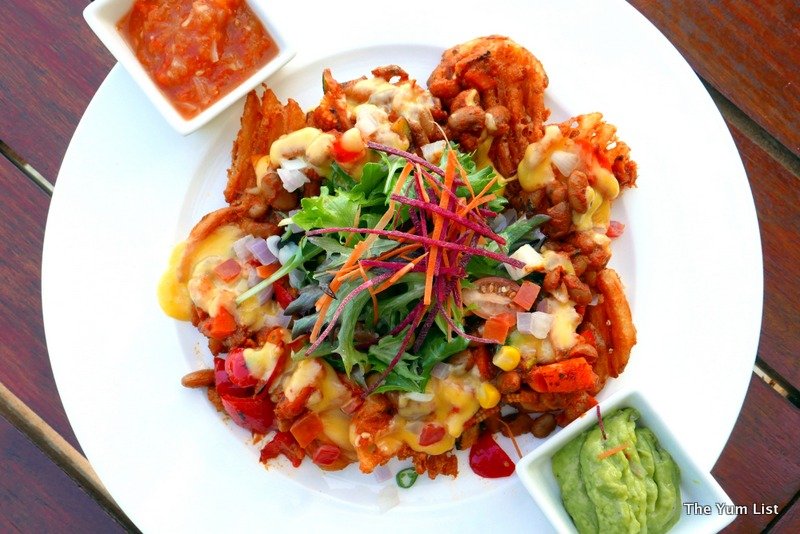 We share a Vegetarian Pizza ($33USD) and I'm impressed that we can choose between a regular base and a wholewheat one. Grilled herbed vegetables, arugula, tandoori paneer, marinated olives, corn, pesto, multi-coloured peppers, scallions, sautéed greens and capers make for a super-stacked topping. While I've had better bases, this is still a nice thin crust doing well to hold the generous blanket of veg.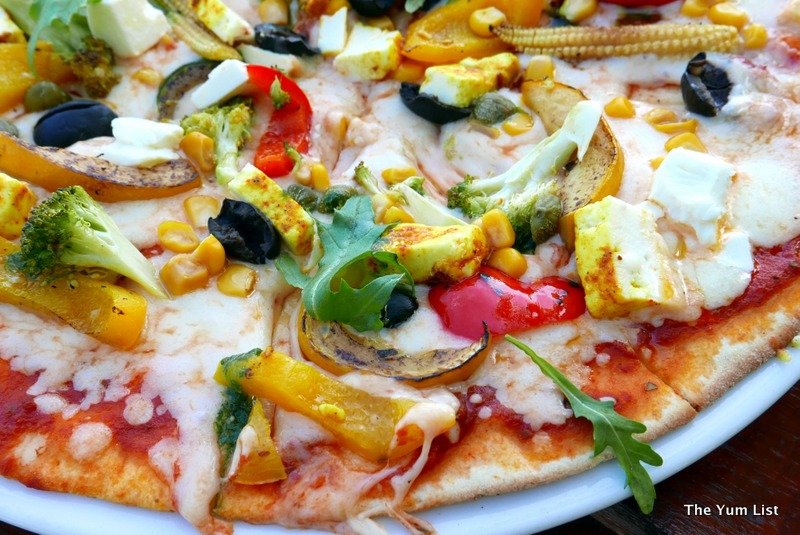 Mains at the Poolside
My main, Arabian Ocean Scampi ($38), features beautiful specimens of crustaceans sided with coleslaw, house made pickles, and, would usually come with skinny chips, but I ask for salad instead. The marks of the grill are visible and the flesh is just cooked through leaving the meat succulent and tender.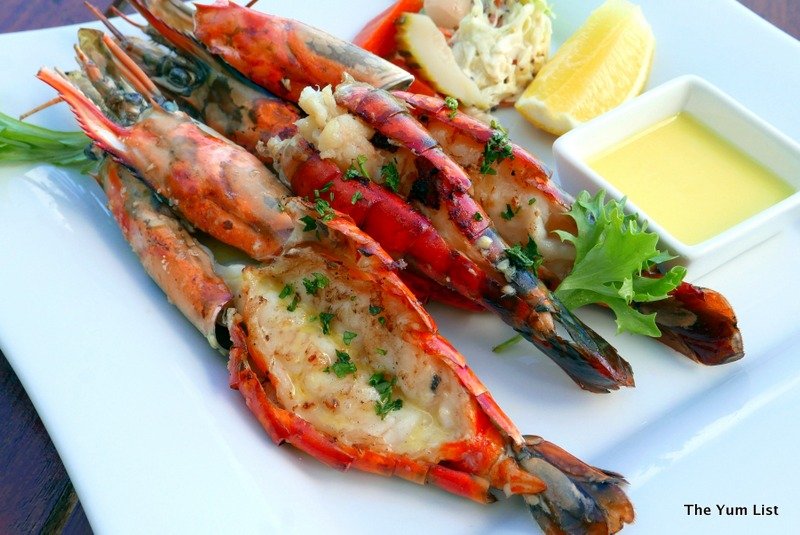 Labeled at "low carbon foot print" as the primary ingredients come from the surrounding islands, and also "light and healthy" the Maldivian Reef Green Job is an attractive selection. A thyme marinated fish fillet is golden around the edges and moist and flaky within. It's based with grilled vegetables and sided with a lemon beurre blanc. Again, fries come on the side, but we request that they be replaced with salad instead. It's a yummy choice.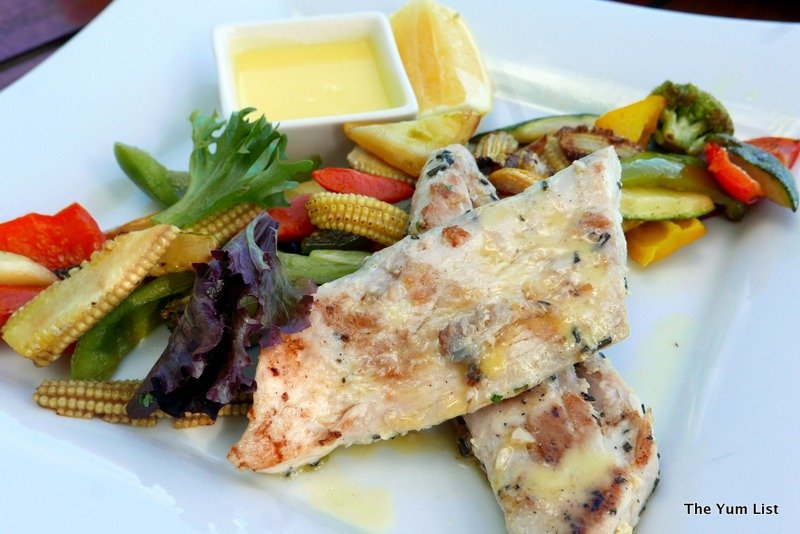 Tea and Coffee
The Poolside offers a significant number of artisanal teas and specialty coffees of single origin from around the world. We're coffee fans so this is pure delight. French press and espresso-based coffees are sourced from the finest estates with the likes of the famous Jamaican Blue Mountain, Indian Tiger Mountain and Peru Villa Ricca Grace on the menu.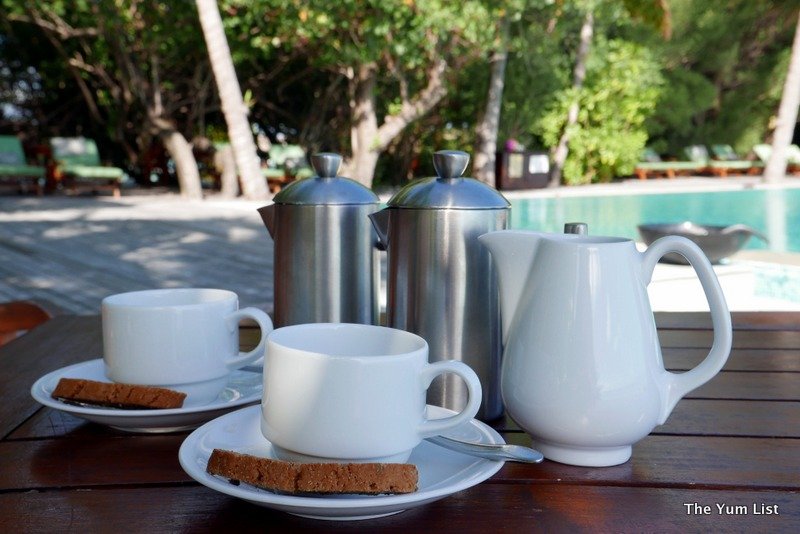 With Taj Hotels being an Indian company we can't resist trying the Indian Tiger Mountain ($6) from Bababudan Giris, the birthplace of coffee in India from over 400 years ago! The aroma is distinctive, the body intense and bitter chocolate comes to the forefront of flavours. Best served with milk, it's ending is smooth and creamy.
Our waiter also recommends the Turkish Coffee ($8) as a popular choice. It's strong with a full body and we learn that our fortunes can even be told by the remaining coffee grinds at the bottom of the cup.
But, that's not all the Poolside has to offer. We're intrigued by a $200 (!) pizza and a gold dessert! More on those to come in another story.
Reasons to visit: gorgeous setting; lighter fare; good drinks list; be sure to try the Nachos and the Maldivian Reef Green Job.
Poolside
Taj Exotica Resort and Spa Maldives
Emboodhu Finolhu
South Male Atoll 02117, Maldives
+960 664-2200
https://taj.tajhotels.com/en-in/taj-exotica-maldives/